Taco Salad Recipe – with optional homemade dressing
This is the best classic taco salad recipe that everyone LOVES. You'll also find lots of ways to adapt it and make it just the way you like it!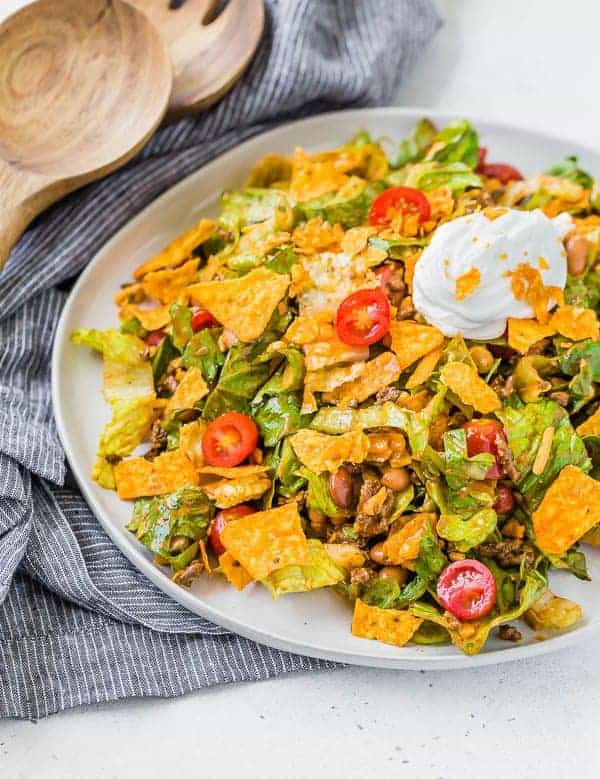 There is just something about the classic taco salad recipe that is so appealing to me. Whoever originally decided to crush up Doritos and put them into a salad with all the taco fixings deserves a medal.
I put my own spin on this classic recipe to make it a touch healthier by using homemade catalina dressing. Of course, you're more than welcome to use the bottled dressing, too. I may or may not have a bottle in my fridge right now as a back-up plan. No judgment here!
I'll also, as usual, suggest some ways to make this your own or tweak it to fit a certain diet or make it a tad healthier. I wanted to start with a really classic version of taco salad though, because it's just so great in that form. It's a universal crowd pleaser (although I'm sitting next to my mom right now and I'm willing to bet if I asked her, she'd probably turn her nose up just a bit at the ground beef and Doritos – going to ask her, stay tuned), and it's a picnic and BBQ staple.
So let's start with the basics.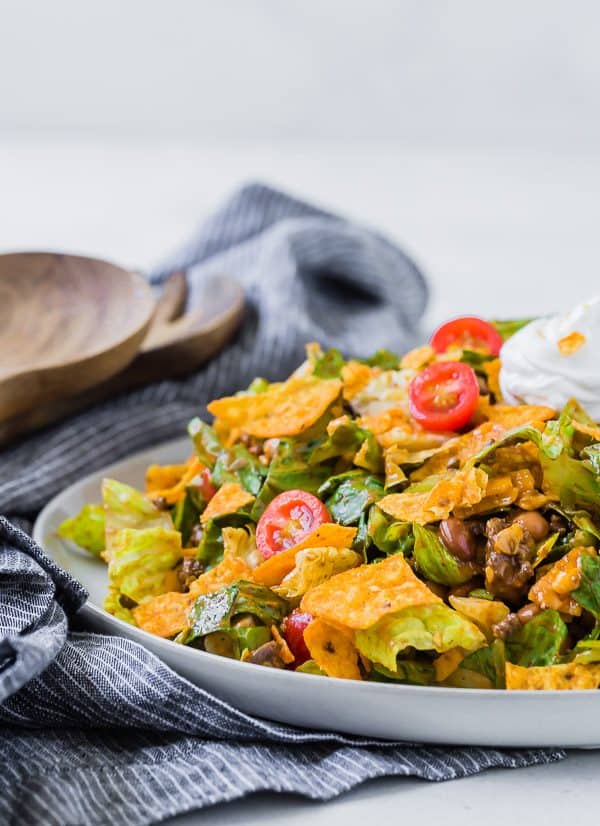 What's in a taco salad?
Clearly, this is up to you. You're the boss! Here are the basics, and then we'll talk about how you can switch it up.
Lettuce
Cheese
Beans
Seasoned Ground Beef
Doritos
Dressing
So those are the ingredients, boiled down to the very basics. But it's a salad, and salads are made for fixing up and making them just the way you want them.
How I make taco salad & how you can do it differently:
Lettuce: Obviously lettuce is the base of the recipe, and usually iceberg lettuce is the standard option. I went for romaine because I like my lettuce to be a little more green than iceberg typically is. Either one will work! Leaf lettuce would also be good.
Cheese: I like the bold taste of sharp cheddar. Like things a little hotter? Try a pepper jack. Wanna get a little fancy? Try cotija or queso fresco.
Ground Beef: I go with an extra lean ground beef, but you could also use ground turkey or ground chicken if you're not into red meat. The beef gets browned with taco seasoning. I, of course, always use my recipe for homemade taco seasoning. You could also make it vegetarian by leaving out the meat and doubling up on the beans.
Beans: I always choose pinto. Black beans would also work well.
Green Onion: Not a classic add-in, but I love the flavor it adds.
Dressing: I use my homemade Catalina but you could also do store-bought. You could use French dressing as well (store-bought or homemade). Or try homemade Thousand Island for a creamier salad.
Doritos: I just love them in this. I think they're what makes this salad so irresistible, but if you want to leave them out, go for it! Fritos would be delicious too, if you wanted to mix it up a little.
Add-ins: I went with the classics, but try adding in cilantro, jalapeño, chopped bell peppers, or whatever your heart desires!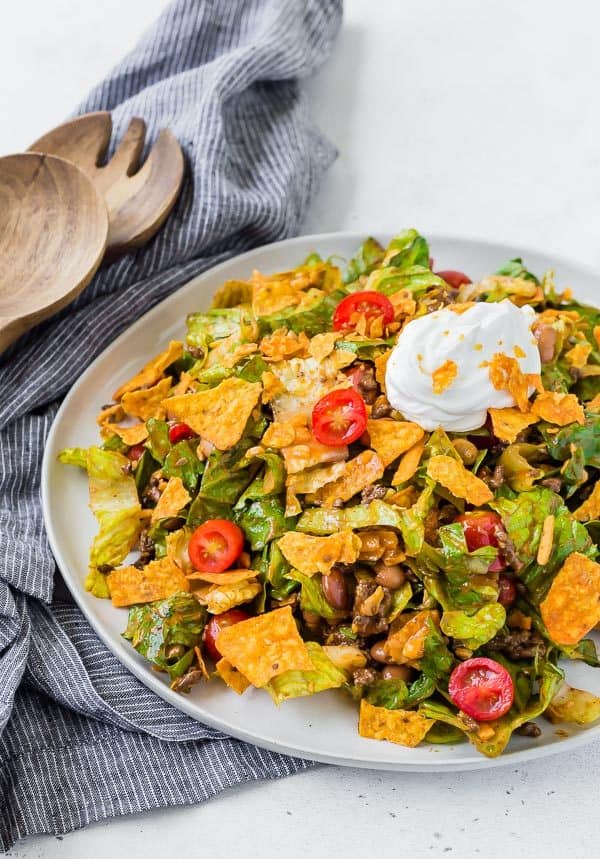 The "don'ts" of taco salad:
Of course, there are lots of things you can do, but there are a few things you shouldn't do.
Lettuce: This is not the place for fancy microgreens or even a spring mix. They'll get trampled by all the other salad mix-ins here. You need a sturdier lettuce to hold up to all of that. Stick with romaine, romaine hearts, leaf lettuce, or good ol' iceberg lettuce.
Don't mix in the chips until immediately prior to serving. They'll get soggy and gross and the point of the chips is to add that great crunch.
That's all really!
PS: I asked my mom and she embarrassedly admitted, "Oh yeah, I actually really do like taco salad. There's just something about it." There really is just something about it. It's so stinking good.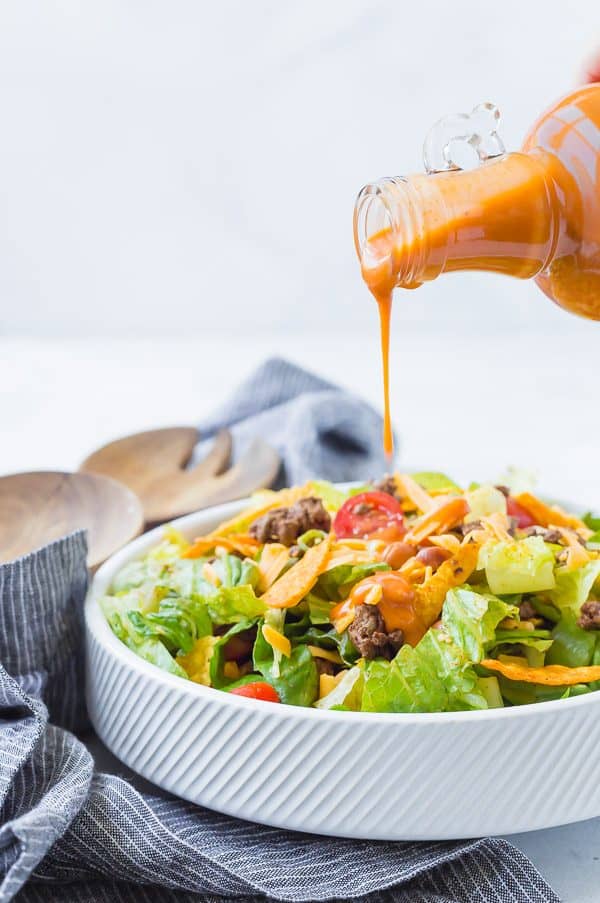 More great salads that can work as a meal: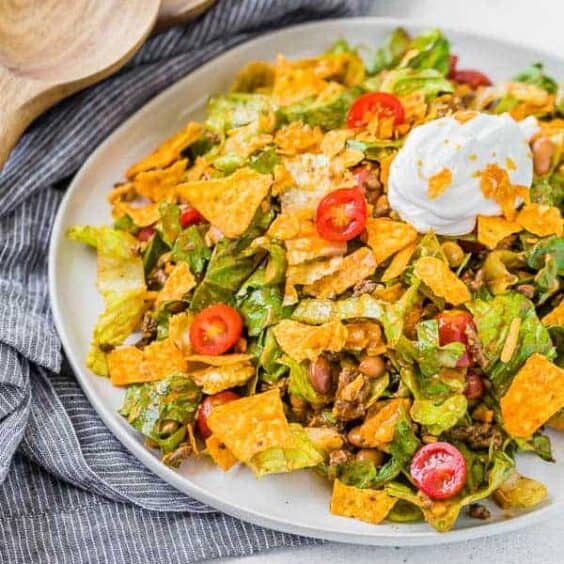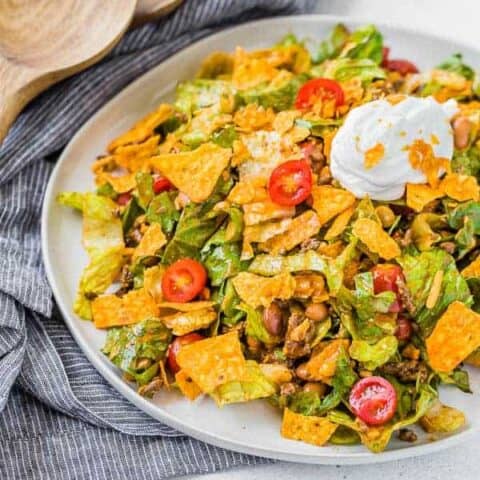 Taco Salad Recipe
Yield: 8 servings
Prep Time: 15 minutes
Cook Time: 10 minutes
Total Time: 25 minutes
This is the best classic taco salad recipe that everyone LOVES. You'll also find lots of ways to adapt it and make it just the way you like it!
Ingredients
1 pound lean ground beef
2 tablespoons taco seasoning (or one 1.25 oz package)
1 head iceberg or romaine lettuce, washed and chopped
1 can (15.5 oz) pinto beans, rinsed and drained
2 cups shredded sharp cheddar cheese
2 cups halved grape tomatoes
3 green onions, finely chopped
2 cups crushed nacho cheese tortilla chips (Doritos) (more if desired)
Salsa and sour cream for topping, if desired
Instructions
In a frying pan or skillet, brown ground beef over medium-high heat until fully cooked. Add taco seasoning and 1/4 cup of water and cook until the water has evaporated and seasoning is distributed. Set aside to cool.
In a large bowl, combine lettuce, pinto beans, cheese, tomatoes, and green onions. Add cooked and cooled ground beef. If serving immediately, add dressing and chips. Otherwise, wait to add those two ingredients until immediately prior to serving. Top with sour cream and salsa if desired.
Nutrition Information:
Yield: 8
Serving Size: 1
Amount Per Serving:
Calories: 547
Total Fat: 33g
Saturated Fat: 15g
Trans Fat: 3g
Unsaturated Fat: 14g
Cholesterol: 107mg
Sodium: 1397mg
Carbohydrates: 27g
Fiber: 6g
Sugar: 13g
Protein: 34g
RachelCooks.com sometimes provides nutritional information, but these figures should be considered estimates, as they are not calculated by a registered dietician. Please consult a medical professional for any specific nutrition, diet, or allergy advice.
Verdict:
I'm obsessed with this taco salad recipe, you guys. Guilty pleasure? Actually, I don't feel guilty about it one bit.
Husband's take:
I honestly wasn't sure if Ben liked taco salad or not, but it turns out everyone does. He went crazy over this!
Changes I would make:
None are necessary, but I filled you in on all the ways you can mix it up should you so desire.
Difficulty:
Easy!