Rhubarb Cardamom Shortbread Bars
These rhubarb cardamom shortbread bars with buttery crumb pastry, tart rhubarb and sweet strawberry jam, are perfectly spiced with cardamom.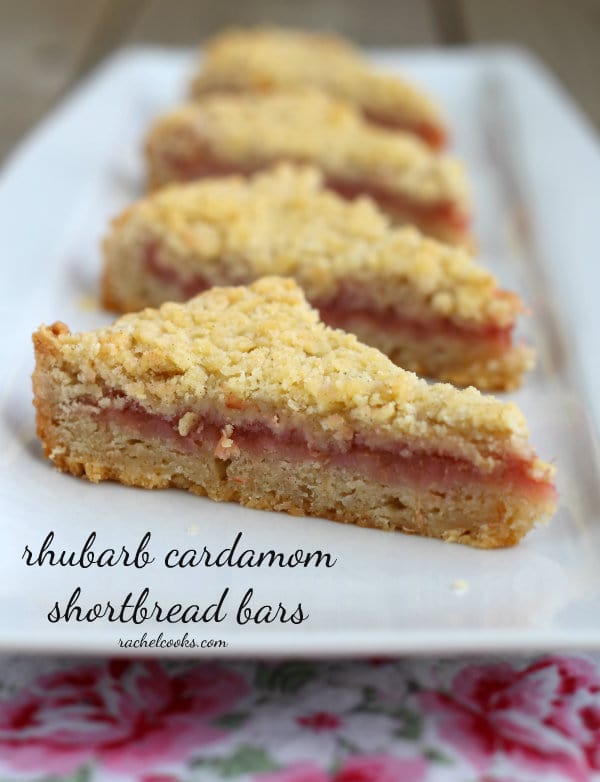 Are you a rhubarb lover or hater? I'm firmly on the "love" side of the equation. I posed the question on my facebook page and surprisingly (sort of), more people seem to love it than hate it. Yay!
My mom makes a rhubarb cream pie that is to die for. She grows the rhubarb in her backyard. This carries on a tradition in my family. My grandma and great-grandma always had rhubarb growing in their backyard gardens. In fact, I believe that my mom's rhubarb plants are grown from cuttings received from my great-grandma. The recipe for rhubarb cream pie came from my great-grandma, too!
These rhubarb cardamom shortbread bars come in as a close second to the rhubarb cream pie. The cardamom pairs perfectly with the tart rhubarb and the sweet shortbread. Great with a cup of coffee or tea! Or put a scoop of vanilla ice cream on a slice for a decadent dessert.
Funny story about this shortbread. I was adapting it from PBS.org, and totally spaced out on my butter measurement. I momentarily forgot that that one cup of butter equals two sticks. I swear having two kids turns your brain to mush. Or maybe I'm just so used to doing my own thing in the kitchen that I forgot how to follow a recipe. Yeah…I think that must be it.
So anyways, I'm mixing this dough and thinking that it looks really dry. I look back to the recipe and start hitting my head against the wall when I notice my mistake. Do I bake it and see what happens? Or do I dump it and start over? Missing a WHOLE STICK of butter is kind of a big deal…right? Especially when it's half the amount required.
I decide to cross my fingers and throw it in the oven to bake. Guess what? The bars turned out fantastic! Such a happy surprise! Didn't have to waste any dough plus I saved myself about 1,349,340,930 calories (give or take). Win!



Have a sweet tooth?

Looking for more bar recipes to satisfy your sweet tooth? Try some of my favorites:
Rhubarb Cardamom Shortbread Bars
Yield: 10 slices
Prep Time: 30 minutes
Cook Time: 40 minutes
Additional Time: 1 hour
Total Time: 2 hours 10 minutes
These rhubarb cardamom shortbread bars with buttery crumb pastry, tart rhubarb and sweet strawberry jam, are perfectly spiced with cardamom.
Ingredients
Crust:
2 cups all-purpose flour
1 teaspoon baking powder
2 teaspoons ground cardamom
pinch of salt
1 stick unsalted butter, softened
1 cup granulated sugar
2 egg yolks
1 teaspoon vanilla extract
Filling:
2 cups chopped rhubarb
1/4 cup strawberry jam
1/3 cup granulated sugar
1 tablespoon water
1 teaspoon vanilla extract
Instructions
For the dough: In a large bowl, stir together flour, baking powder, cardamom, and salt. In the bowl of a stand mixer, cream together butter and sugar until fluffy. Add egg yolks and vanilla extract and mix until well combined. Gradually add in dry ingredients while mixer is on low, until combined. Will be crumbly.
Pack dough into two balls, one which is slightly smaller than the other. Wrap each ball separately in plastic wrap and freeze for at least an hour.
While the dough is in the freezer, prepare the filling. Combine rhubarb, strawberry jam, sugar, and water in a small saucepan over low heat. Cook, stirring frequently, until rhubarb is softened and breaks down. This should take about 10 to 15 minutes. Remove from heat and stir in vanilla. Place in a bowl to cool (you can stick it in the fridge if necessary).
Preheat oven to 350°F. Prepare a 10-inch springform pan by greasing or spraying it. Using a box grater, grate the larger ball of dough into the springform pan (using the largest holes). Pat down gently to form the bottom crust. Spread rhubarb filling over the bottom layer, leaving a border of about a half inch around the edge. Then grate the smaller ball of dough over the top. Pat down gently if necessary.
Bake until golden brown, about 30 minutes. Cool completely before slicing and serving.
Nutrition Information:
Yield: 10
Serving Size: 1
Amount Per Serving:
Calories: 317
Total Fat: 10g
Saturated Fat: 6g
Trans Fat: 0g
Unsaturated Fat: 4g
Cholesterol: 61mg
Sodium: 69mg
Carbohydrates: 53g
Fiber: 1g
Sugar: 31g
Protein: 4g
RachelCooks.com sometimes provides nutritional information, but these figures should be considered estimates, as they are not calculated by a registered dietitian. Please consult a medical professional for any specific nutrition, diet, or allergy advice.
Verdict:
These rhubarb cardamom bars are so good! I'm thankful I left a stick of the butter out. That way I don't feel so bad about eating ridiculous amounts of these bars.
Husband's take:
He doesn't like rhubarb but he loved these rhubarb cardamom shortbread bars!
Changes I would make:
None are necessary.
Difficulty:
Slightly time consuming to grate the dough, but it gives it a great texture. Other than that, easy!