Asian Salad – Crunchy & Flavorful!
Asian salad with ramen noodles combines a variety of tastes and textures and makes enough to feed a crowd! With a soy vinaigrette dressing, it's sure to please everyone.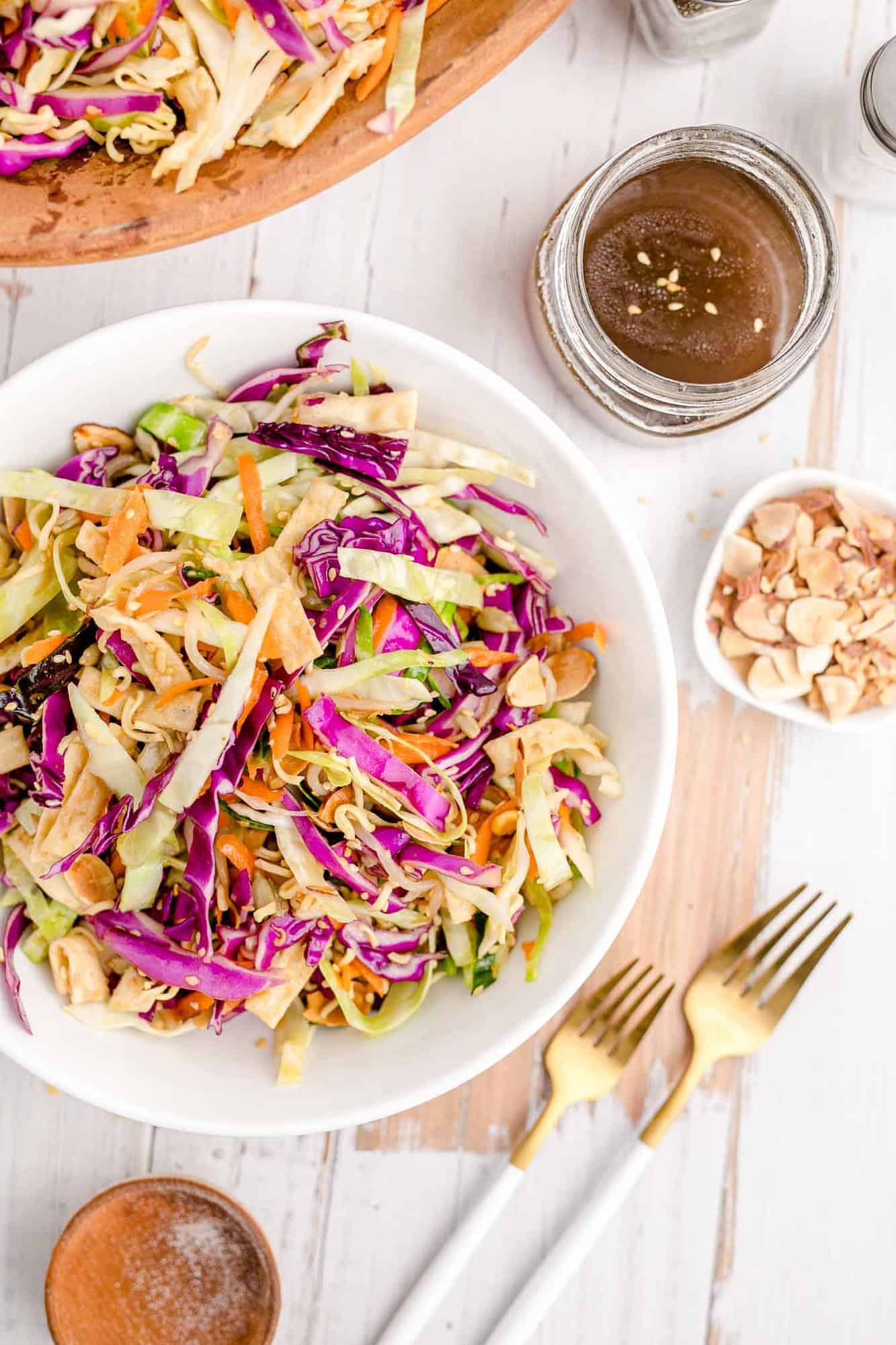 Each bite of this salad contains so much excitement! Particularly enjoyable are all the crunchy elements in this salad: toasted sliced almonds, sunflower seeds, and sesame seeds; wonton strips and ramen noodles.
Along with shredded cabbage, carrots, green onions, and bean sprouts, Asian salad boasts a very tasty vinaigrette dressing with soy sauce and toasted sesame oil.
You may recognize this salad. It's often brought to get-togethers because it makes a big batch. Everyone likes it and it's easy to serve since it's a form of coleslaw. This Asian-style salad with crispy noodles goes well with nearly everything and has great flavor. Since it doesn't have mayonnaise like a traditional creamy coleslaw, it's a good warm weather salad, just like vinegar coleslaw.
And it's surprisingly low in calories, only 185 calories for a generous serving. Cabbage is super good for you, too, with lots of vitamin C and other goodies. Read more about this super food here.
If you've never tried Asian salad, don't delay! It may become your new favorite!
About this Asian salad
There are three main components to this salad: a cabbage mixture, crunchy stuff (almonds, seeds, wonton strips, ramen noodles), and dressing. I like to keep the three components separate until serving time.
Find the biggest bowl you have. Seriously. This makes a really big salad!
Keep reading for the complete printable recipe at the end of the post.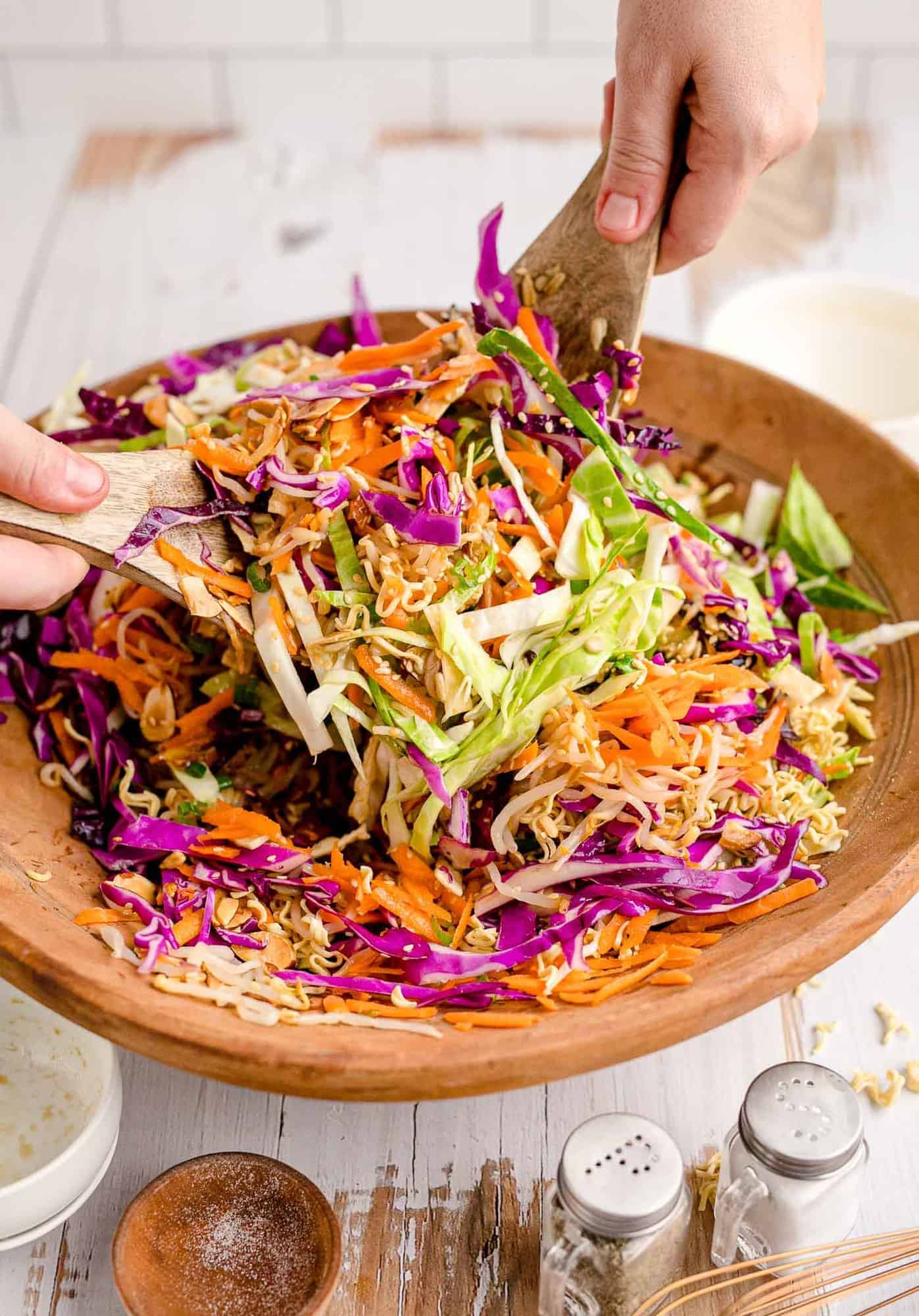 What you need
Shredded Cabbage and Carrots: Shred your own or buy a package of coleslaw mix. Feel free to mix it up with shredded red cabbage for lots of color.
Crunchies: Sesame seeds, sliced almonds, and sunflower seeds are toasted first to bring out all that great flavor. Ramen noodles and wonton strips add even more crunch.
More Veggies: Sliced green onion and bean sprouts round out the salad. I like to use fresh bean sprouts but if they aren't available, use canned sprouts. Rinse them well to remove the canned taste.
Homemade Vinaigrette: Comprised of olive oil (vegetable oil or grapeseed oil would also work well), white vinegar, soy sauce, toasted sesame oil (optional), sugar, salt and pepper, this dressing is easy to make with pantry items.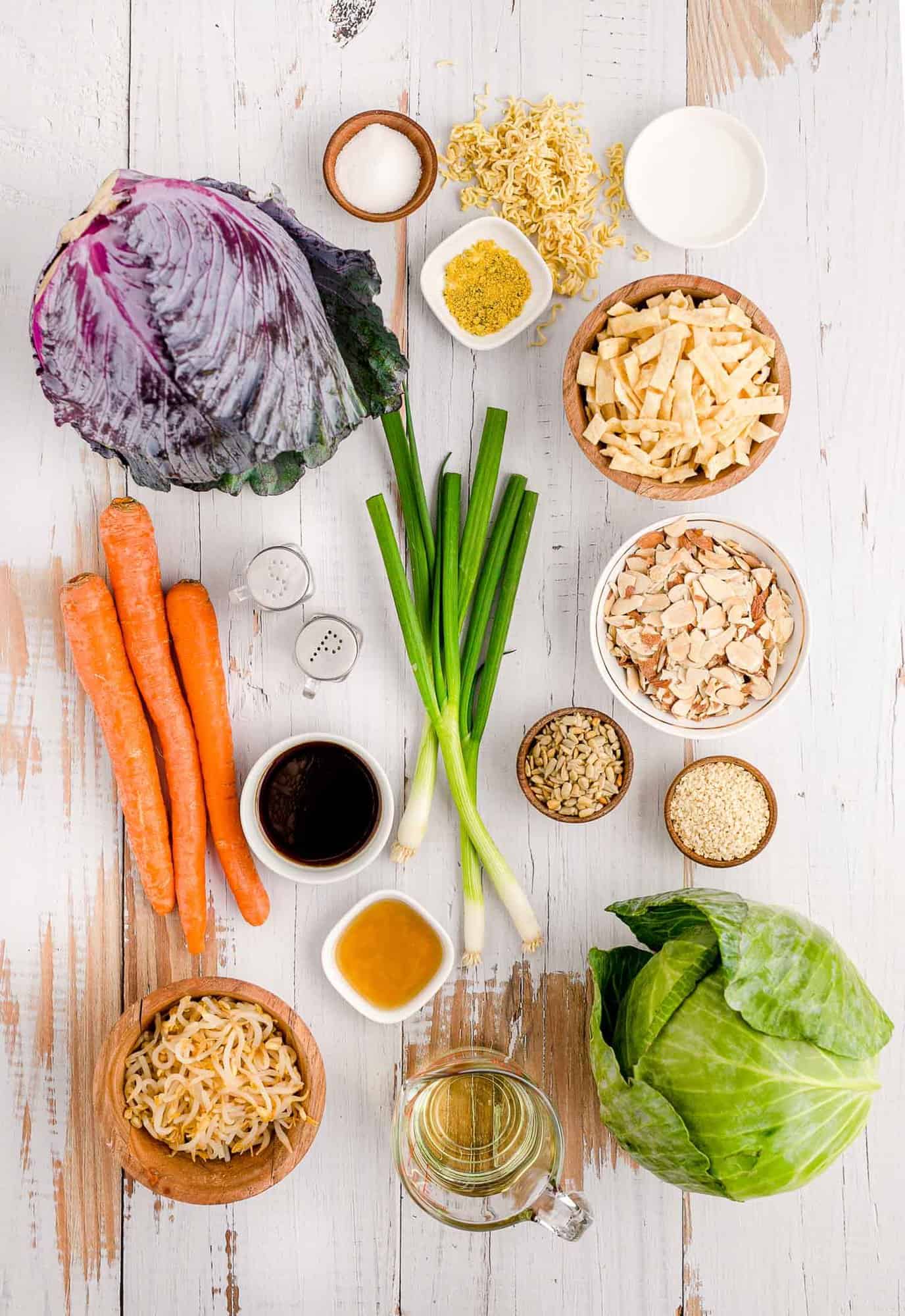 How to make this salad recipe
First of all, toast the almonds, sunflower seeds, and sesame seeds. There are two methods to do this: bake them in the oven or toast them in a skillet on the stove.
Remove them from the pan as soon as they are toasted to stop them from toasting more and burning. Spread them on a plate to fully cool.
Prep the cabbage, carrots, green onions, and sprouts. Finely slice the cabbage with a sharp knife or use a mandoline or food processor to shred it. Another alternative is to buy already shredded cabbage (a 14 oz. bag holds about 8 cups so you'll need two bags).
Mix the cabbage and other vegetables in a very large bowl. I usually use my extra large stainless steel bowl.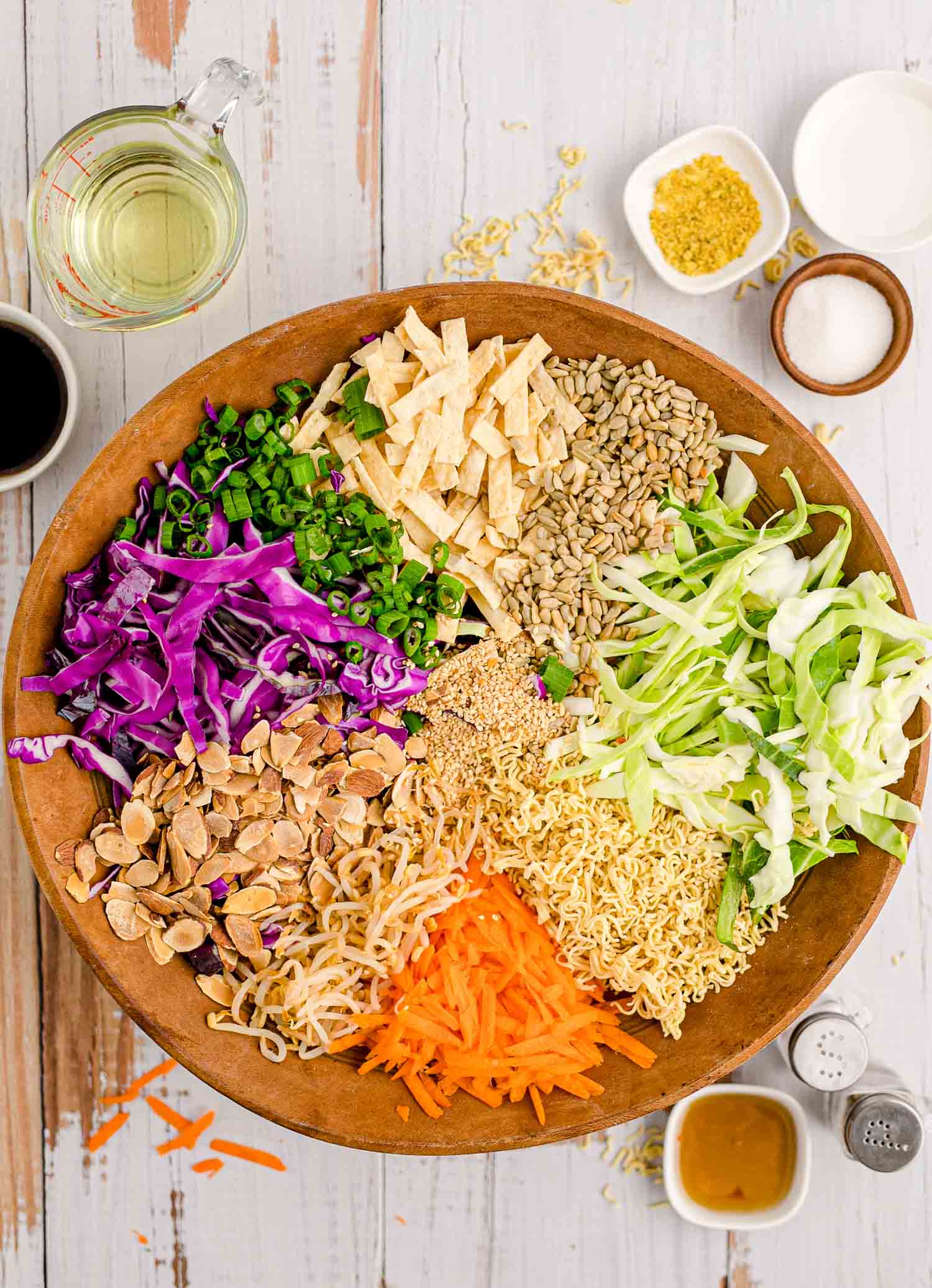 Combine the dressing ingredients in a jar or bowl. Shake (or whisk) until well-blended.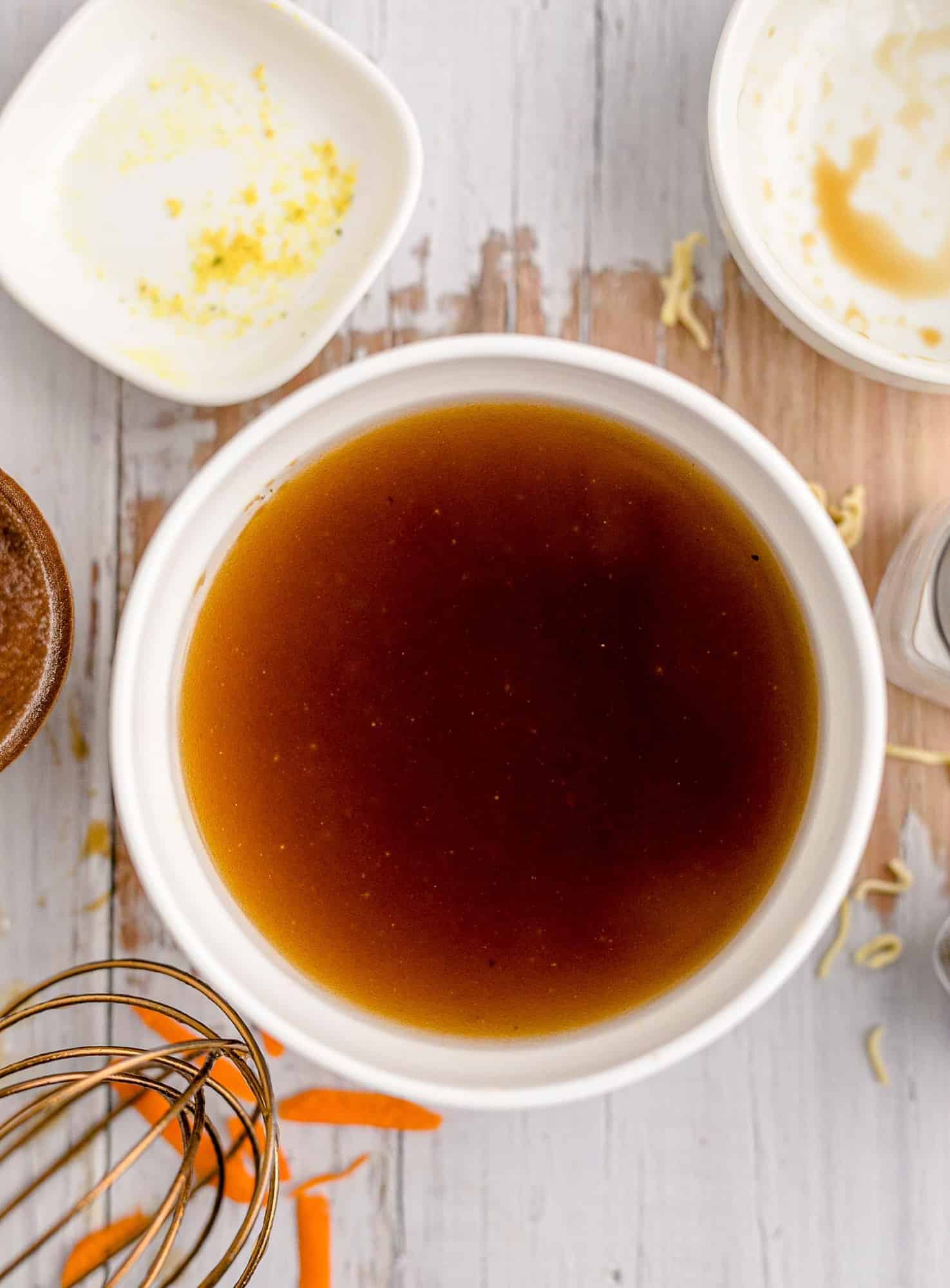 When you're ready to serve the salad, add the dressing to the cabbage mixture and stir well. Add seeds, nuts, wonton strips, and ramen noodles and serve immediately.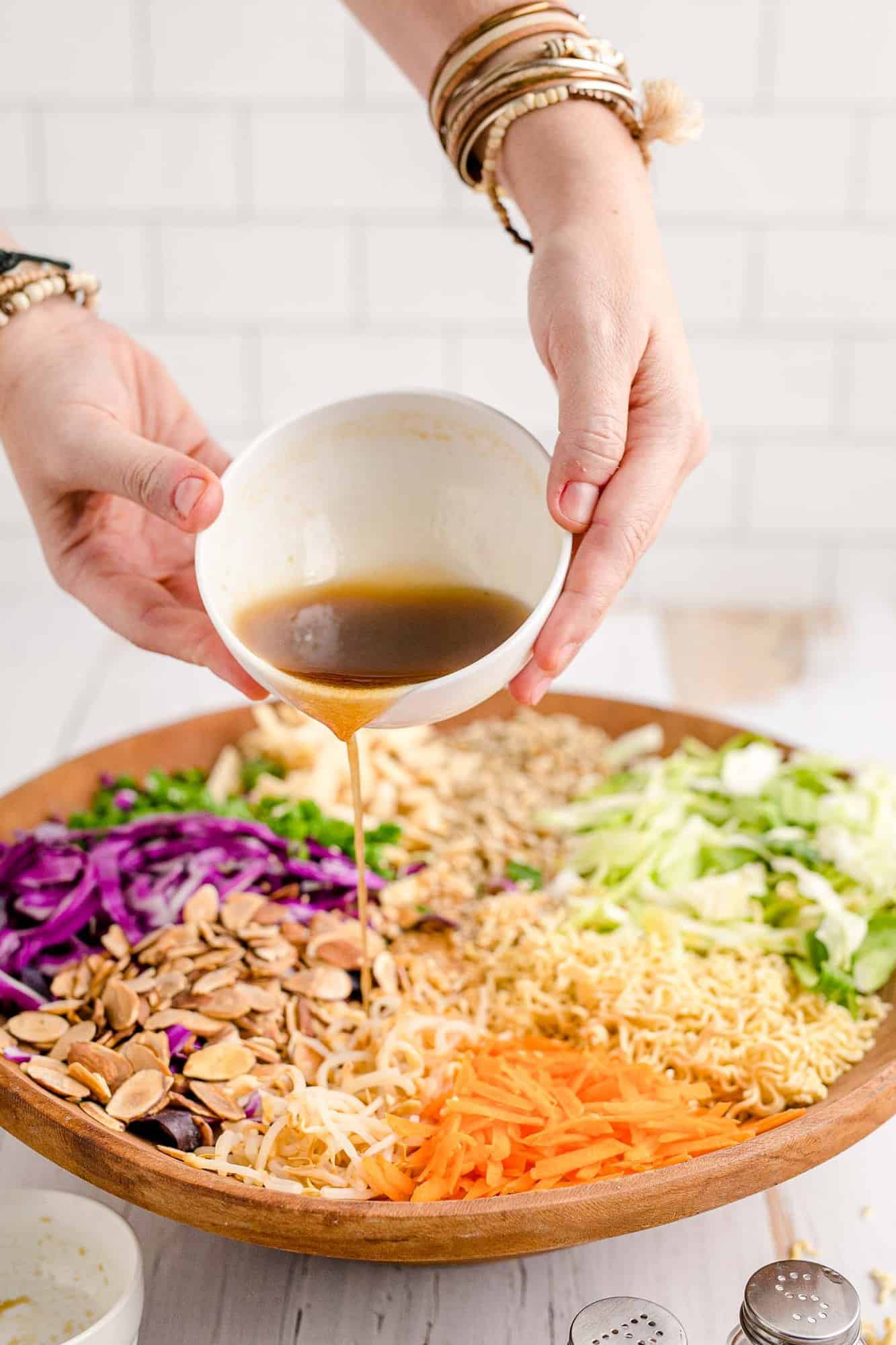 FAQ
Is there an easy way to shred the cabbage?
Use a sharp knife to slice the cabbage in half or quarters. Core the cabbage. Then, place the flat side of the half on your cutting board. Slice the cabbage into very thin ribbons. Watch this short video to learn how.
A mandolin or food processor also works well for shredding the cabbage. Or buy pre-shredded cabbage for an easy shortcut.
What flavor of instant noodles should I use?
I like chicken, but that is just a preference. Use what you like. If you're vegan or vegetarian, buy one of the non-meat choices.
Do I really need to toast the seeds and almonds?
You don't have to but give it a try! It really enhances the flavor.
Is there a way to toast the seeds and almonds without heating up my oven?
Another way to toast your seeds and almonds is to use a dry skillet on the stovetop. It will take about 3 minutes at medium temperature to toast the sesame seeds, and about 5 minutes for the sunflower seeds and almonds. Just stir them and watch closely because they burn quickly. Remove them when they're toasted golden or a light brown and spread them on a plate to cool. If you leave them in the skillet, they will continue to brown.
Can I make this salad ahead of time?
Sort of. I usually wait to mix in the dressing until right before serving, and then stir in the nuts, wonton strips, and ramen noodles so they stay crisp. It just takes a few minutes to stir everything together and it's worth it to wait.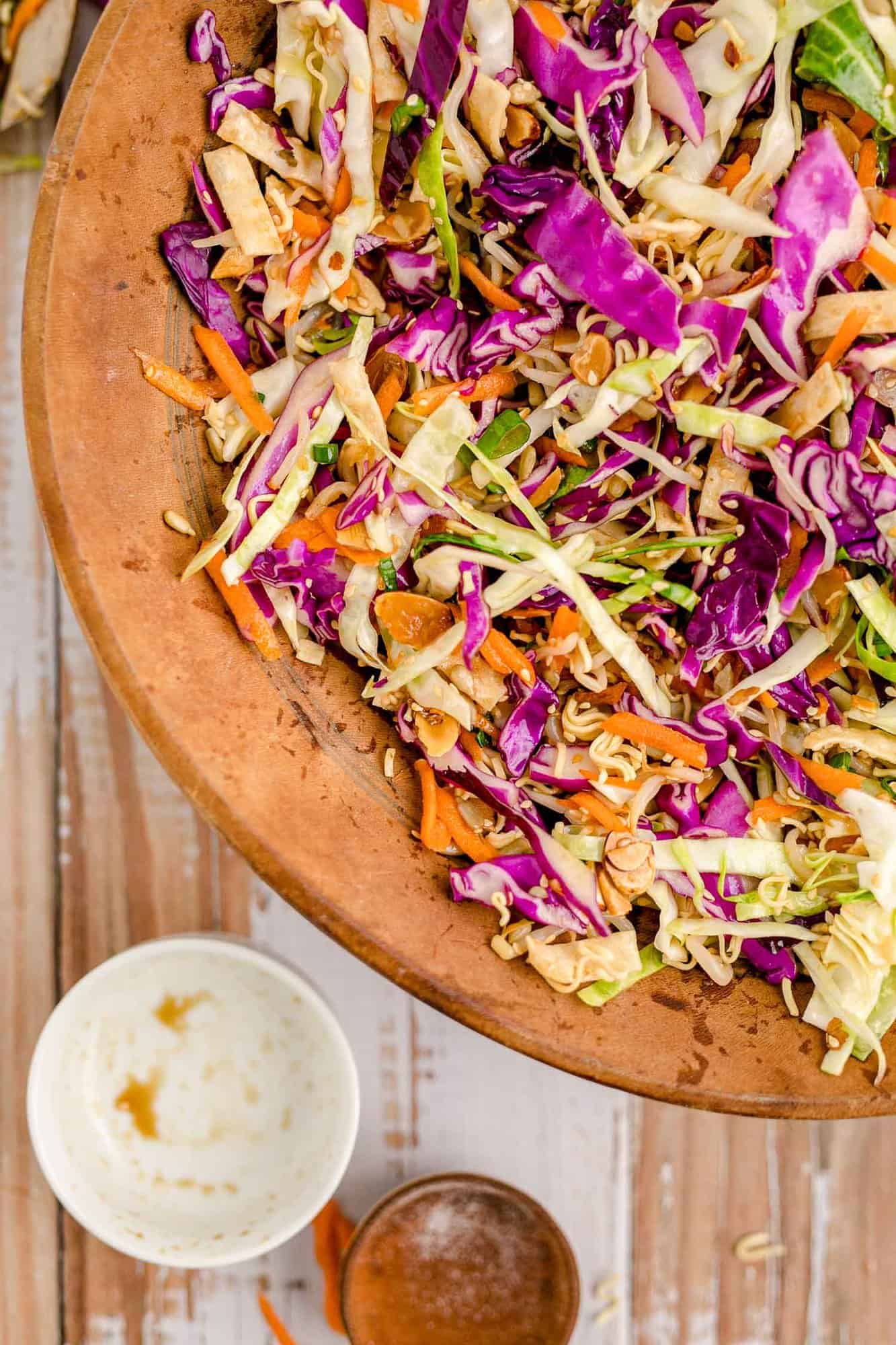 How to make this salad your own
This recipe can easily be halved. It makes a giant batch which is great for a crowd but not so great for a small family. Just make however much you want. The salad is pretty flexible so don't worry if yours has extra noodles or not enough almonds or whatever. No one will notice, trust me.
Add more veggies or substitute ones you like better. I love to add chopped bell peppers to this salad. Pea pods are really good, or finely chopped broccoli. Shredded kale, Brussels sprouts, or spinach can be substituted for some of the cabbage.
Mix and match the seeds and nuts. Since there's a whole array of crunchy stuff in this salad, you can easily omit one or two, or substitute ones you like better. Roasted peanuts are really good. I always eliminate the sesame seeds (and sesame oil) since my family is allergic to them. Often I just use sunflower seeds and ramen noodles if I'm making a smaller salad and it's totally great.
Add protein and make a main course salad. Baked or air fryer tofu, shredded chicken, sautéed shrimp, or salmon are great on this salad. I love this main course cabbage salad with rotisserie chicken and honey lime dressing.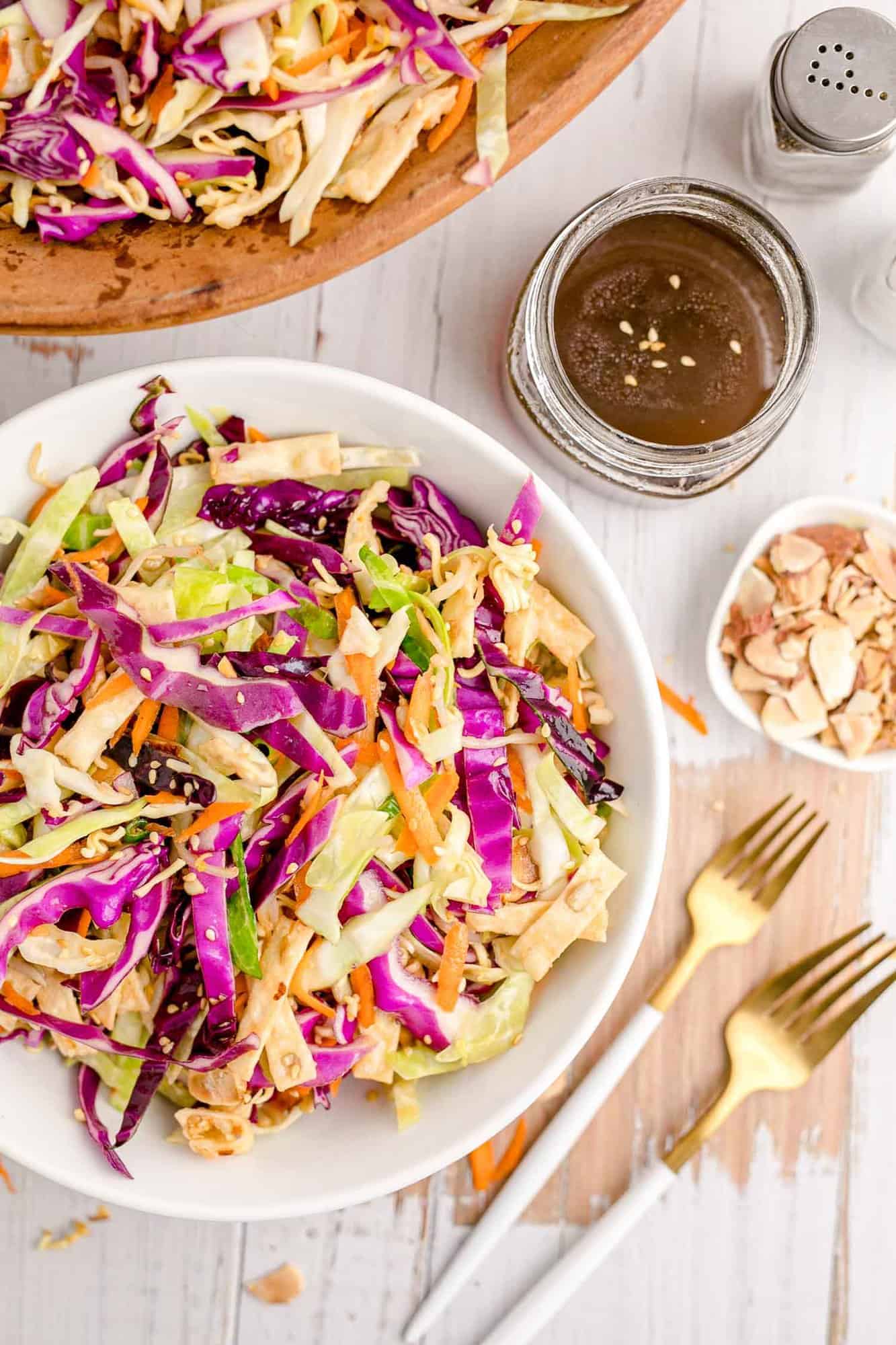 Make Ahead Ideas
Prep all three components of the salad (cabbage mixture, toasted nuts and seeds, dressing) up to a day ahead of time, storing the cabbage mixture in the fridge. It's easy to stir in the dressing and toppings when you're ready to serve the salad.
Storage Suggestions
Cover leftover salad tightly and store it in the fridge for up to two days. This salad will completely change as it sits over time. It will no longer be crunchy, but still very flavorful. If desired, stir in fresh wonton strips, seeds and almonds to give it more crunch!
Leftover Love
Getting sick of eating leftover salad? Mix it up by cooking up some ground chicken and sautéing this salad with the chicken. Roll it up in egg roll wrappers and make air fryer egg rolls! Follow the recipe, except for the filling, only use the ground chicken and add about 3 cups of salad as a substitute for the remaining filling ingredients.
More crowd-pleasing salads
Looking for more salad recipes that are sure to please? From cabbage to orzo to potatoes, I've got you covered! Try: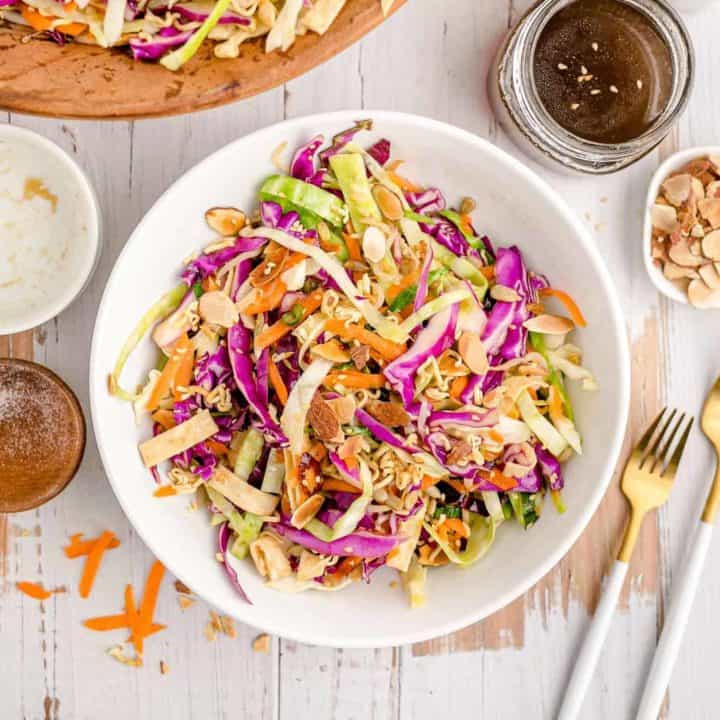 Asian Salad
Yield: 16 servings
Prep Time: 20 minutes
Cook Time: 10 minutes
Total Time: 30 minutes
Asian salad with ramen noodles combines a variety of tastes and textures and makes enough to feed a crowd! With a soy vinaigrette dressing, it's sure to please everyone.
Ingredients
Salad
3 tablespoons sesame seeds
¾ cup sliced raw almonds
3 tablespoons raw, unsalted sunflower seeds
16-18 cups shredded cabbage, green or red, or a combination (about 1 head of cabbage) or 2 (14 oz.) bags
1 ½ cups shredded carrot (1 large carrot)
¾ cup chopped green onions (about 1 bunch)
1 cup bean sprouts (fresh is best but if using canned, rinse, drain and pat dry)
1 (3.5 oz.) pkg. wonton strips (about 2 cups)
1 (3 ounce) pkg. instant ramen noodles (chicken flavor, or any flavor you like)
Dressing
½ cup olive oil (or vegetable oil)
3 tablespoons granulated sugar
2 tablespoons reduced-sodium soy sauce
1 ½ tablespoons vinegar
½ teaspoon ground black pepper
¼ teaspoon toasted sesame oil, or to taste, opt.
1 flavor packet from instant noodles
Instructions
Preheat the oven to 350ºF. Spread sesame seeds, almonds, and sunflower seeds on a large baking pan. Bake the seeds and almonds for about 10 minutes or until golden brown. Watch closely near the end of the baking time as they can burn quickly. Remove from baking pan, spreading on a plate to cool completely. Don't leave them in the pan because they will continue to brown. (See note for toasting nuts in skillet.)
Remove flavor packet from ramen noodle package, set aside. Crush noodles into bite size pieces using your hands.
In a very large mixing bowl, combine the cabbage, carrot, green onion, and bean sprouts.
Make the dressing in a jar or small bowl. Add olive oil, sugar, soy sauce, vinegar, salt, pepper, sesame oil, and flavor packet from the noodles to bowl or container. If using a bowl, whisk ingredients together thoroughly. If using a jar, shake ingredients until well combined. Make sure the oil and vinegar are mixed together well and not separated.
When you are ready to serve, pour the dressing over the salad and use salad tongs to combine. Stir in wonton strips, crushed ramen noodles, seeds and almonds. Serve immediately.
Notes
Toasting almonds and seeds in skillet on the stovetop: At medium low heat, toast the sesame seeds about three minutes, stirring often; remove from pan. Add sunflower seeds and almonds, stirring often, toast for 5 minutes. Watch closely because they burn quickly. Remove when they're toasted and spread them on a plate to cool. If you leave them in the skillet, they will continue to brown.
Nutrition Information:
Yield: 16
Serving Size: 3/4 cup
Amount Per Serving:
Calories: 185
Total Fat: 12g
Saturated Fat: 2g
Trans Fat: 0g
Unsaturated Fat: 10g
Cholesterol: 0mg
Sodium: 280mg
Carbohydrates: 18g
Fiber: 5g
Sugar: 8g
Protein: 5g
RachelCooks.com sometimes provides nutritional information, but these figures should be considered estimates, as they are not calculated by a registered dietitian. Please consult a medical professional for any specific nutrition, diet, or allergy advice.