Besides having a very fun name, egg roll in a bowl is a delicious and healthy entrée that's similar to deep-fried egg rolls (and much easier to make!).
Recipe Overview
Why you'll love it: It's a one pan dinner that's ready in a half hour.
How long it takes: 30 minutes
Equipment you'll need: large skillet
Servings: 4 (2 cup servings)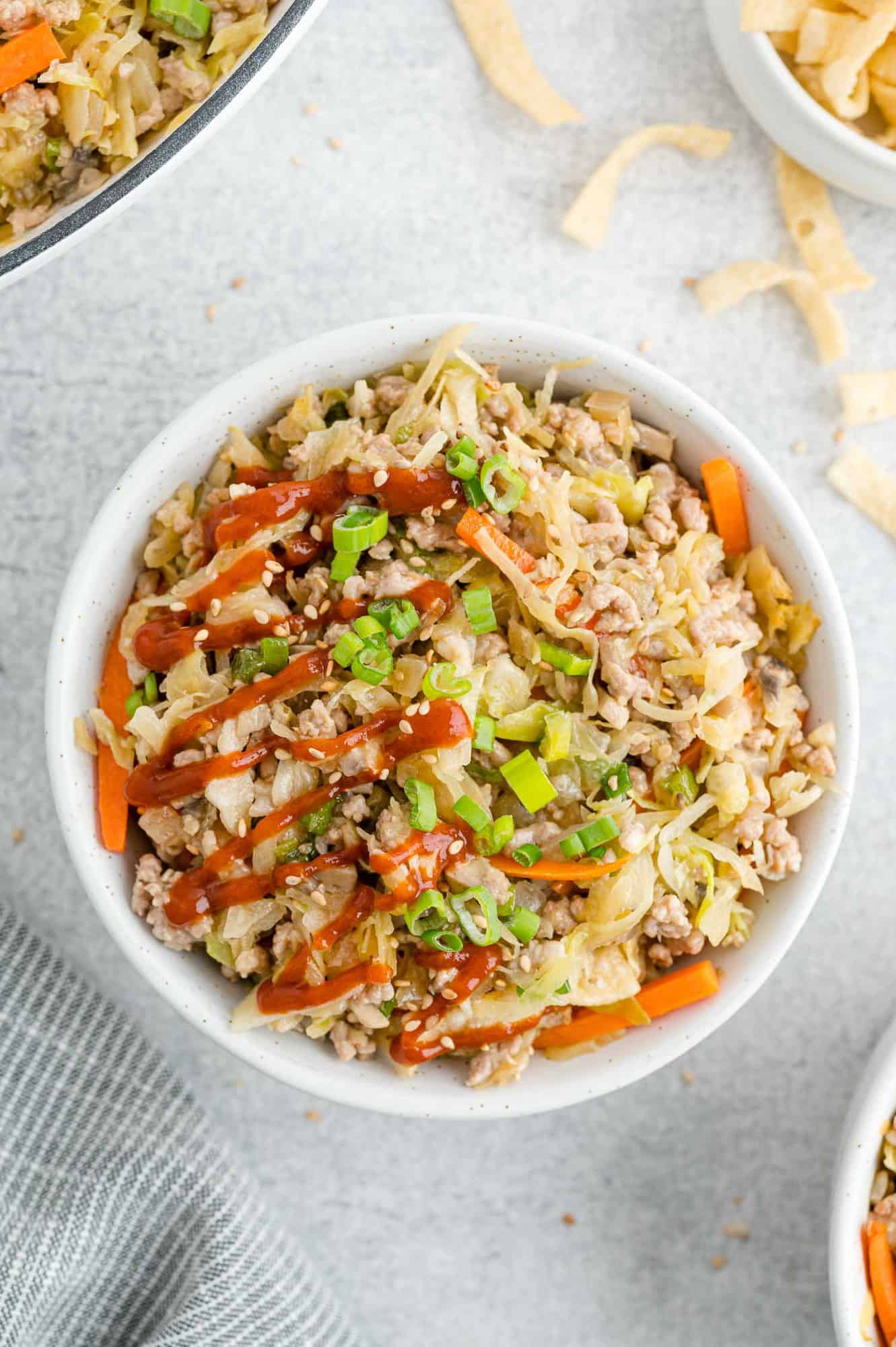 You'll find all the goodies that are usually wrapped up in an egg roll in this easy skillet dinner: ground pork, shredded cabbage, carrots, and mushrooms. The mixture is seasoned with a spicy tangy sauce and just a hint of toasted sesame. Top the bowl with crispy wonton strips and a drizzle of sriracha and you have some good eating!
I can't believe how much I like this recipe! It's become one of my go-to dinners especially when I've been on the run all day. A meal in a bowl is also really perfect for those evenings when Ben works late, as school superintendents often do.
We all love egg rolls, don't we? I know I sure do. But usually they are deep-fried and let's face it, kind of greasy. While I love my air fryer egg rolls because they aren't deep-fried, they take a bit longer to prep with all the rolling and "frying." And they feel like more of an appetizer, not a dinner.
Enter egg roll in a bowl. It's definitely a dinner: meat and vegetables. You could serve it on steamed rice for an even more filling entrée but I find it's very satisfying on its own.
And "egg roll in a bowl" is fun to say! I just keep thinking of an egg rolling around in a bowl. Or some sort of game where you roll (or bowl) eggs. The name is kind of a misnomer though. You won't find any eggs in this recipe at all.
P.S. If you like a "meal in a bowl" idea, try BBQ chicken bowl, southwestern quinoa bowl with chicken, or broccoli tabbouleh bowl with lentils.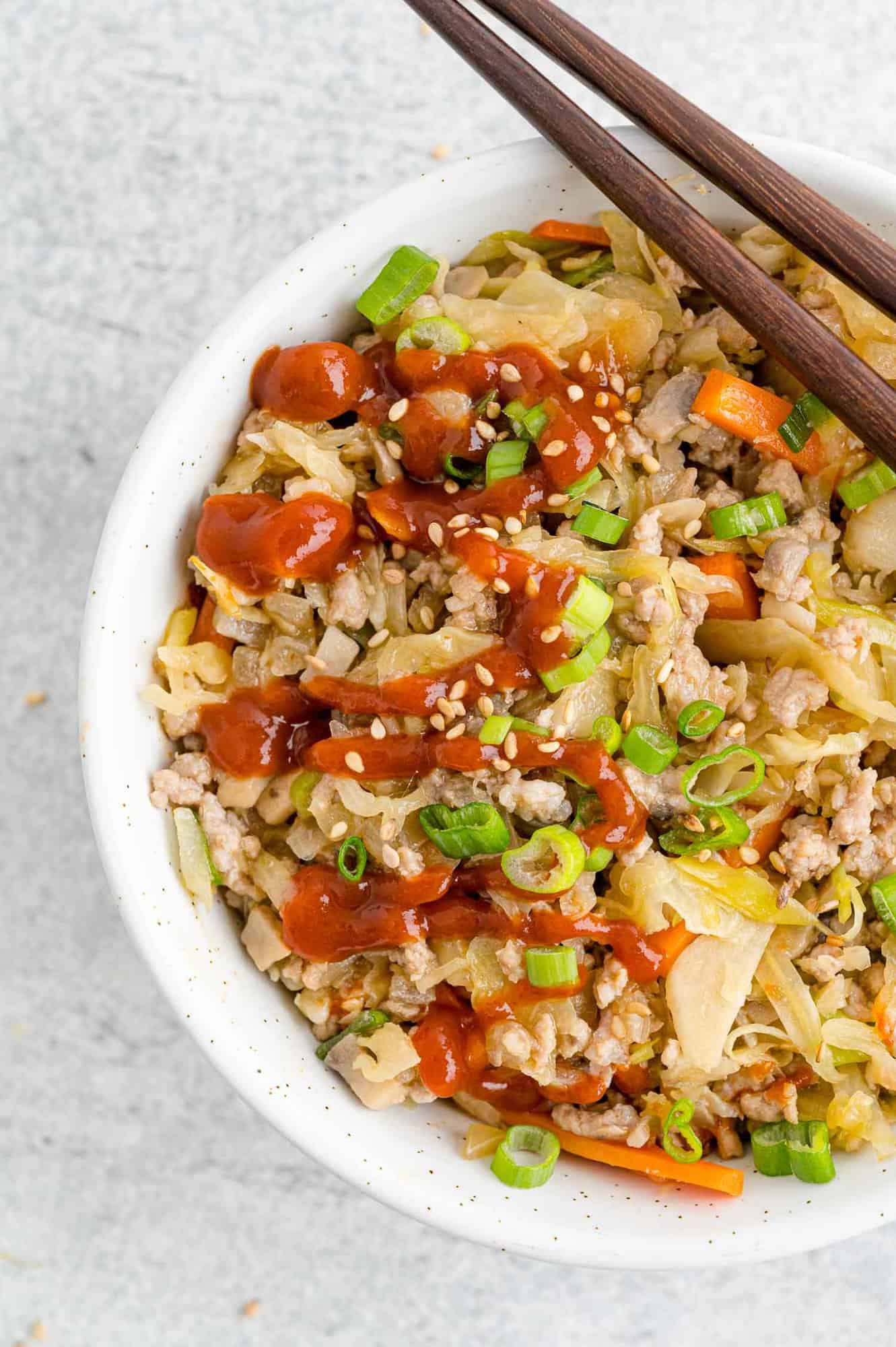 Reasons to Love Egg Roll In a Bowl
Easy cleanup: Egg roll bowl is made in one pan, a large skillet.
Shortcuts: We all love the idea of shortcuts, right? I like to use a couple of shortcuts and make this recipe with packaged coleslaw mix and matchstick carrots.
Versatile: While egg rolls are typically made with pork, you can use whatever type of ground meat you like best: beef, chicken, turkey or pork. I find that ground turkey or chicken is leaner. Vegetarians or vegans could choose extra firm tofu or tempeh.
Healthy: It's low carb, has lots of protein, and only 268 calories for a generous serving.
You only need 30 minutes to make it! If you have just a half hour, you can make this easy dinner. Let's get rolling! Yeah, the pun is intended.
I'll get you started on the recipe right here and give you lots of helpful tips and information. As always, you'll find the printable recipe card near the end of the post. It has complete instructions, measurements, and nutrition information.
What you'll need
Ground Meat: Choose your favorite: chicken, pork, turkey, or beef. Each one naturally will have a distinct flavor profile in this dish. I prefer the subtler flavor of ground chicken or ground pork. Make sure you choose a lean cut. If the meat is fatty, drain off the excess grease.
Sesame Oil: Use plain sesame oil (not toasted sesame oil) to fry the meat and vegetables. Other types of mild flavored oils can be used instead.
Onion: You'll need one medium sized onion. Any type of onion will do.
Mushrooms: Choose white button or cremini mushrooms.
Fresh Garlic and Ginger Root: This duo packs a powerful punch of flavor. Fresh garlic and ginger are definitely best, but ground ginger will do in a pinch.
Coleslaw Mix (or Shredded Cabbage): For convenience, use a package of coleslaw mix. It's easy and has a good texture for this recipe. If you prefer, shred your own cabbage. Totally up to you!
Carrots: Packaged matchstick carrots are easy and work well. If you prefer smaller, less noticeable pieces of carrot, shred a whole carrot instead.
Green Onions (Scallions): Green onions add mild onion flavor and color.
Soy Sauce: Choose low-sodium soy sauce if you can. If you're on a Whole30 diet, substitute coconut aminos.
Rice Vinegar: Use plain rice vinegar, not seasoned rice vinegar which has added salt and sugar.
Sriracha: This spicy red chile sauce originated in Thailand. Use as much or as little as you like.
Cornstarch: Used for thickening the sauce. If you're on a Whole30 diet, substitute arrowroot starch. Cornstarch can usually be found in the baking aisle.
Sesame Seeds, Wonton Strips, Sriracha, Green Onions: Used as toppings, you can choose one or all of them, or maybe you have something else you'd like to use. I like these spicy Korean pickles!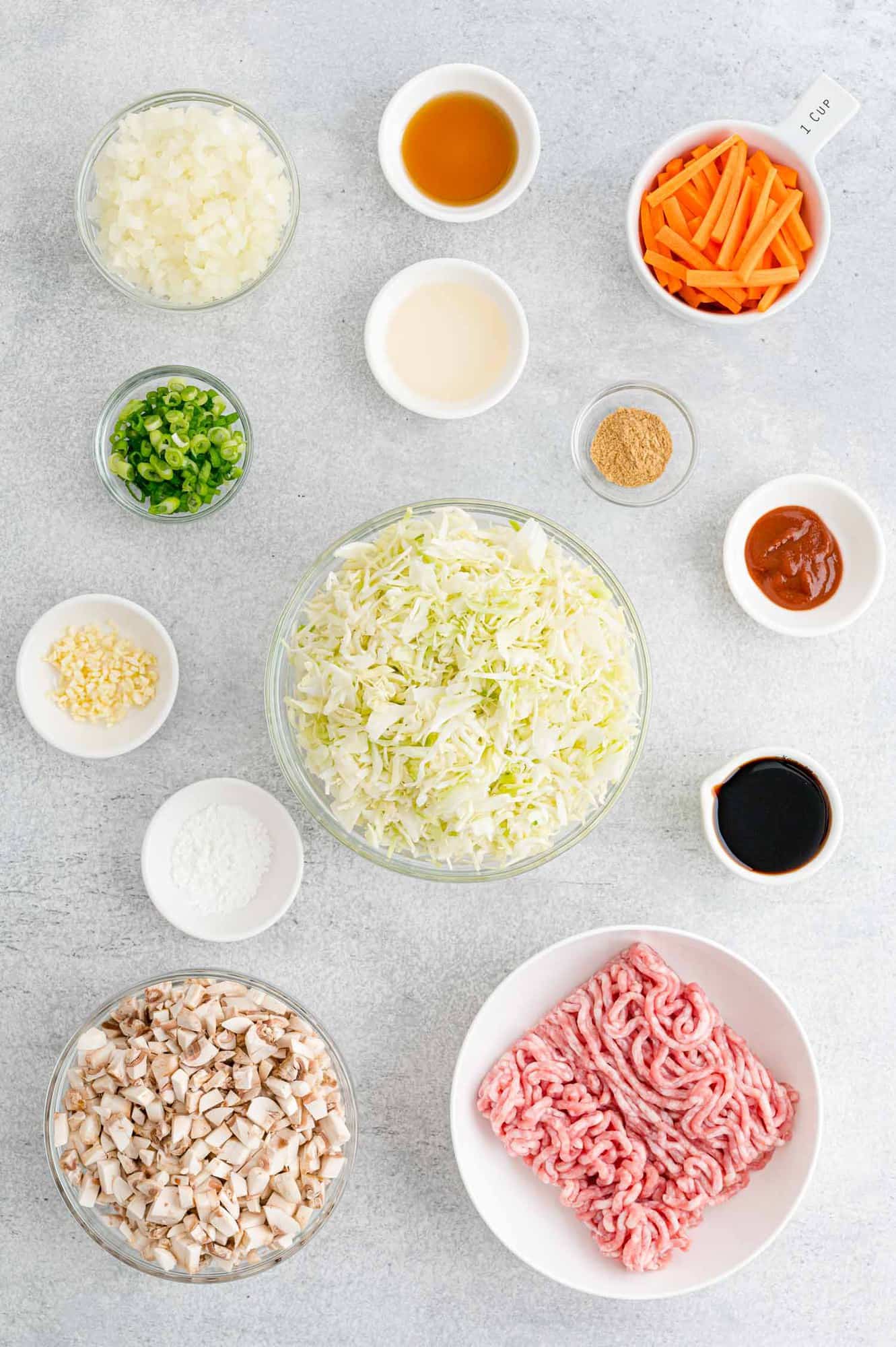 Sesame Oil vs Toasted Sesame Oil
Plain sesame oil is pressed from sesame seeds and is has a neutral flavor and is light in color. It's good for frying because it has a high smoke point.
Toasted sesame oil is dark brown in color and has a very distinctive flavor: toasted, nutty, earthy. Because it has a strong flavor, it's used sparingly as a finishing oil. A few drops go a long way!
How to make Egg Roll in a Bowl
Helpful tip: Gather everything you need before putting the pan on the burner. Once you get started frying, you won't have time to start chopping veggies or mixing up a sauce.
Prep the veggies: Dice the onion and mushrooms. Mince the garlic and grate the ginger root. Slice the green onions and grate the carrots if you're not using matchstick carrots.
Make the sauce: Mix up the sauce ingredients (soy sauce, rice vinegar, sriracha, cornstarch) in a small bowl or measuring cup.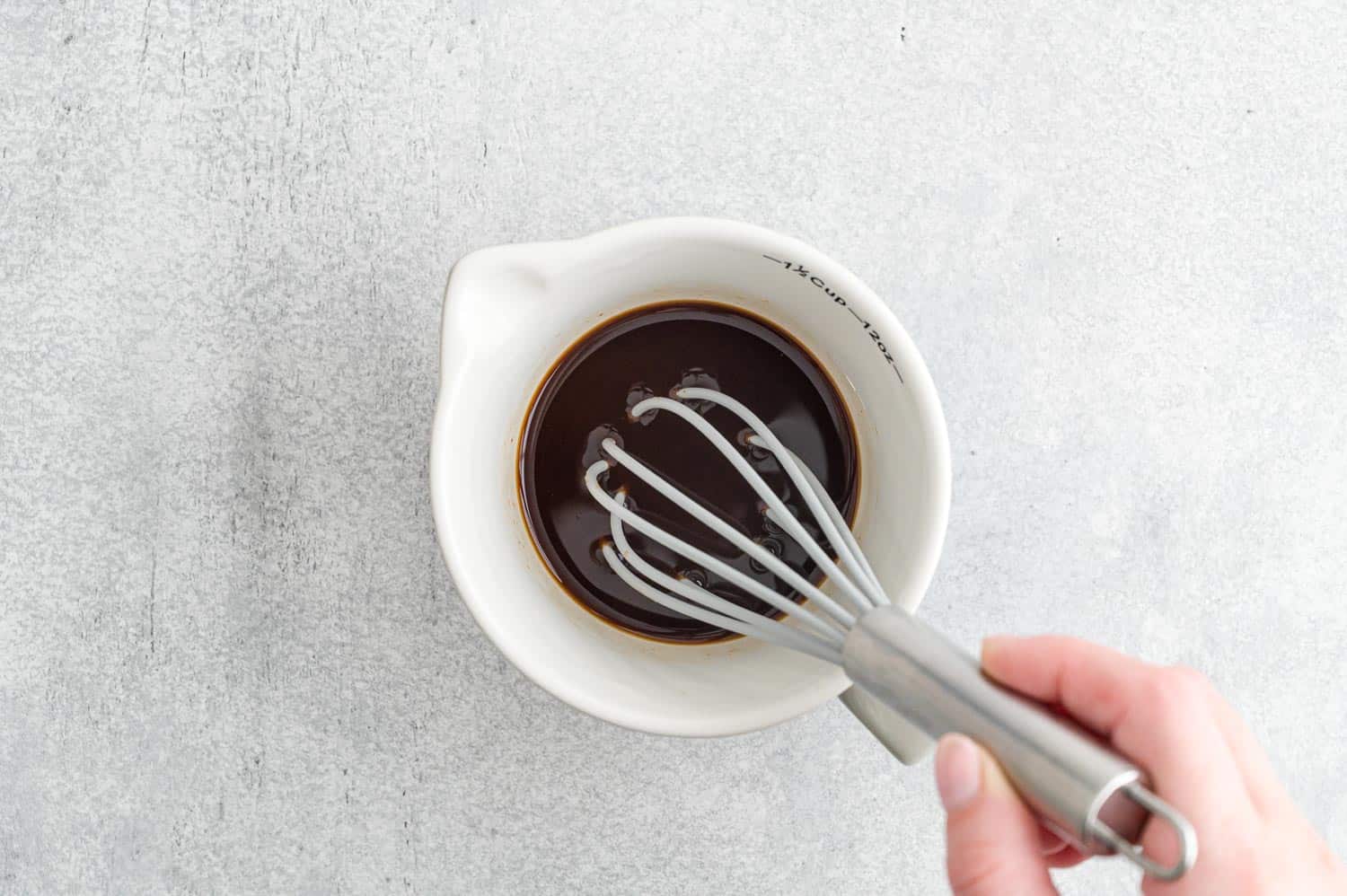 Brown the ground meat: Okay, now put a nice big skillet on the stove over medium high heat. Add a couple teaspoons of oil and then add the ground meat, onions, and mushrooms. Break up the large chunks of meat with a spatula or wooden scraper. Cook it until there's no longer any pink color and the vegetables are beginning to soften, about 10 minutes.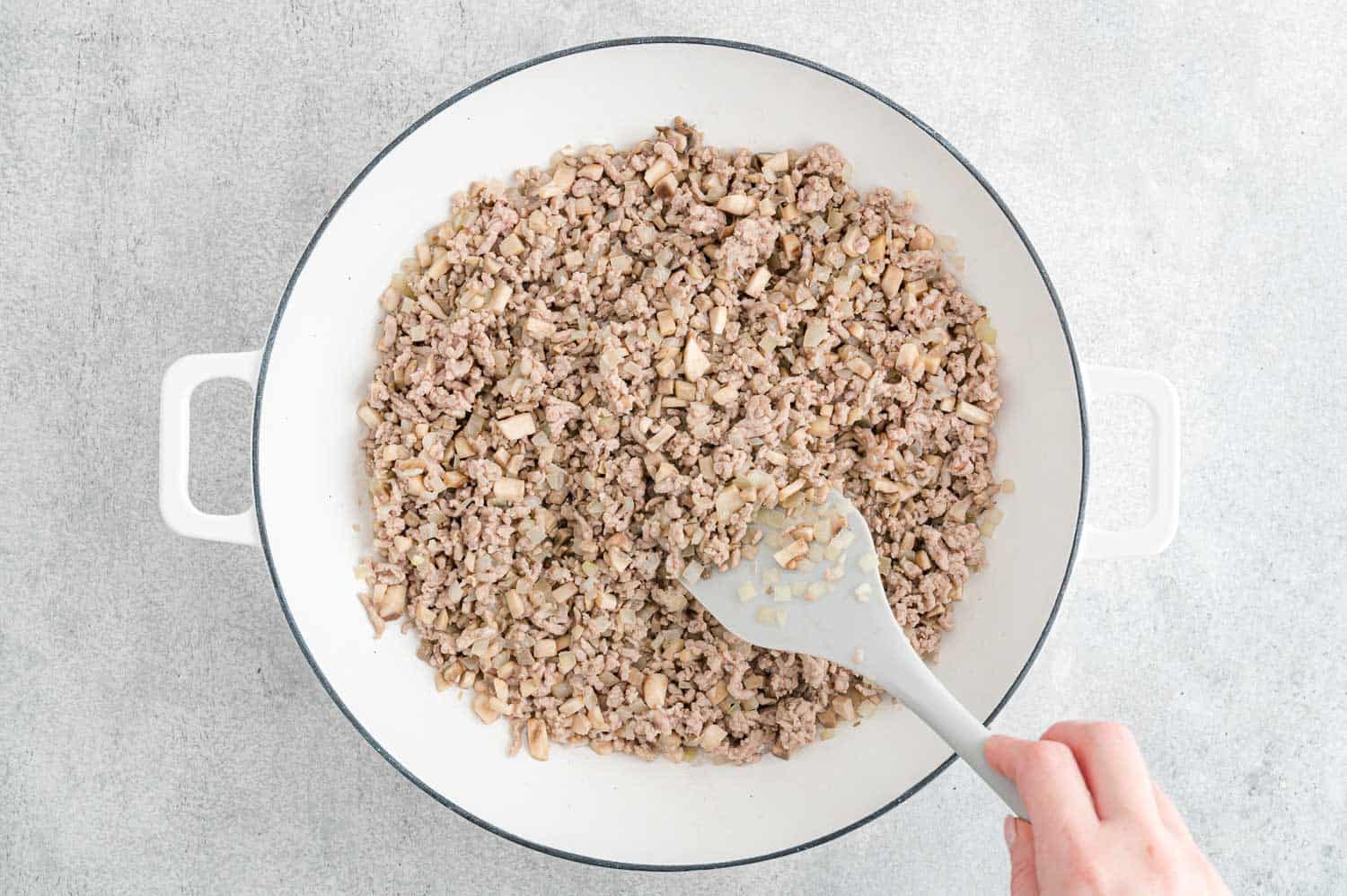 Add the aromatics: Add the garlic and ginger, stirring constantly for about a minute. It should smell really fragrant.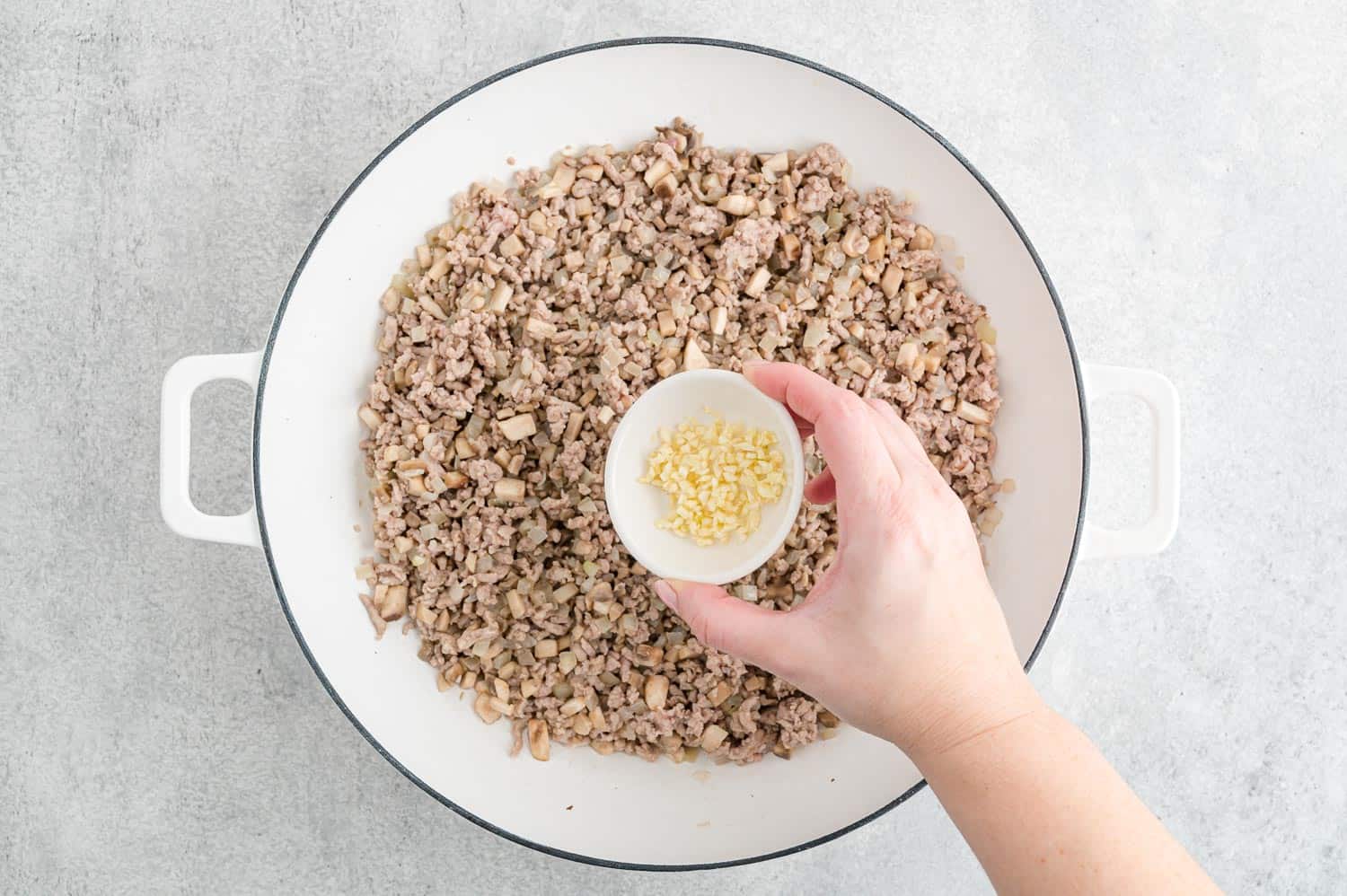 Add the veggies: Stir in the coleslaw mix, carrots, and green onions. Here's why you need a large skillet. Six cups of cabbage is a lot of cabbage but don't worry, it cooks down a lot. If it doesn't all fit at first, put as much as you can in, cook it a minute or two until it settles down a little, then add the rest.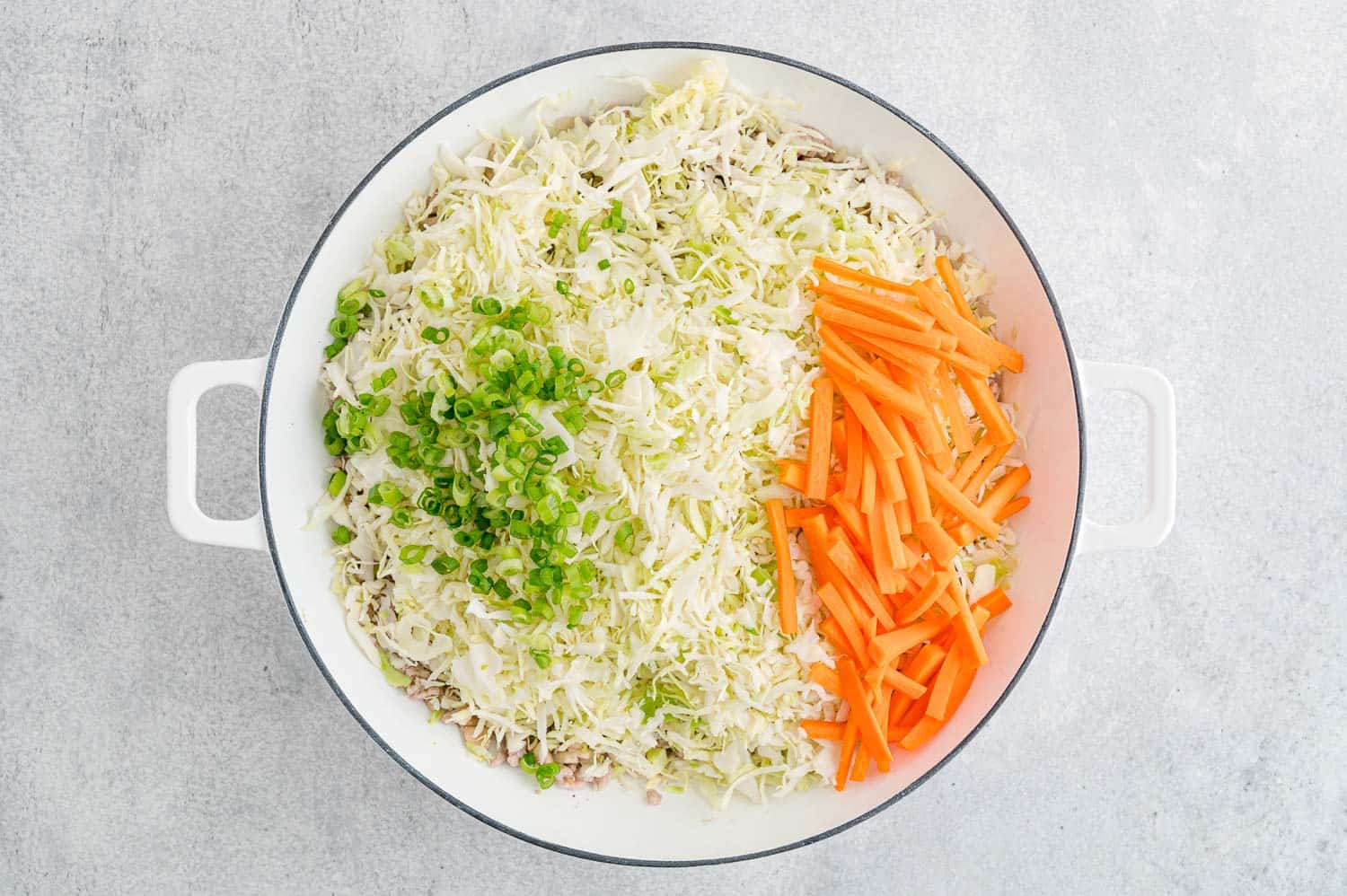 Stir in the sauce: Give the bowl of sauce ingredients a little stir to make sure the cornstarch hasn't settled to the bottom. It has a tendency to do that. Add the sauce to the pan and stir until the sauce coats the vegetables and meat.
That's it! You're ready to garnish and serve your egg roll in a bowl.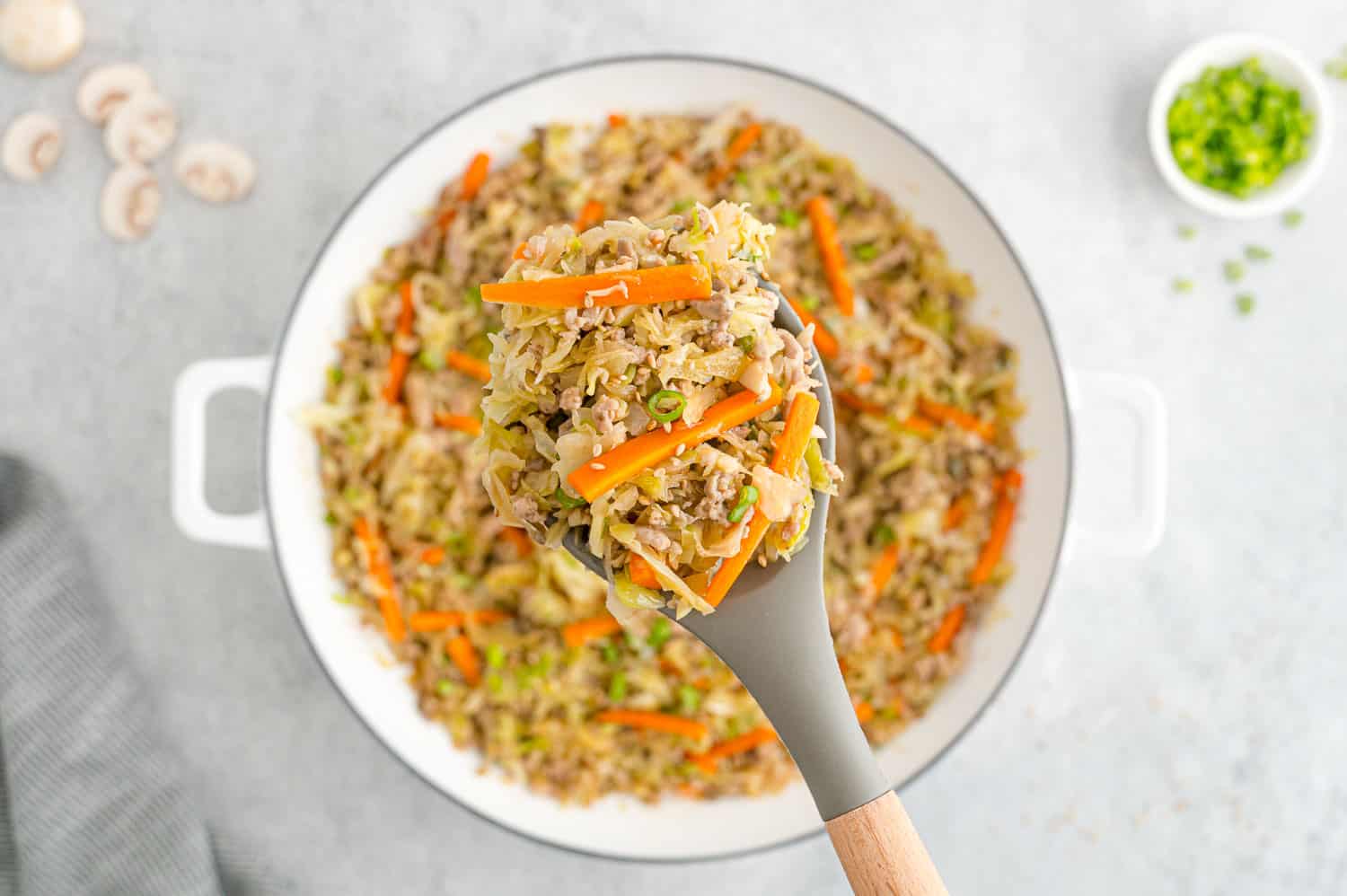 Garnish each serving with toppings of your choice: a drizzle of Sriracha, crispy wonton strips (which are like the crisp wrapping of an egg roll), a few sliced green onions, and/or sesame seeds.
FAQs
What is egg roll filling made of?
Egg rolls are an American Chinese restaurant favorite. Usually they are filled with shredded cabbage and ground pork, and a variety of other ingredients such as carrots, garlic, ginger, and baby shrimp. The filling is contained in a wheat wrapper, folded and rolled into a cylindrical shape, and deep fried.
Why is it called an egg roll?
That's a very good question since egg rolls usually don't contain any eggs. There's lots of speculation about the source of the name "egg roll" and it's thought that originally the wrapper was made from a batter containing eggs. It's possible that egg rolls were wrapped in a thin omelet or crepe and deep-fried.
Egg rolls are similar to spring rolls which are common in several Asian cuisines.
Make It Your Own
Choose your protein: Use whatever type of ground meat you like best (or happen to have) or make it vegetarian with extra-firm tofu or tempeh. A couple of scrambled eggs stirred in is really good too.
Serve it as a side dish. Omit the meat altogether and serve "egg roll on a plate" with Asian marinated grilled chicken or soy glazed salmon.
Serve it with rice. Cooked rice, couscous, quinoa, or another grain rounds out the meal nicely.
Omit the mushrooms: Substitute finely chopped bell peppers or another vegetable of your choice.
Leave out the sesame: My family is allergic to sesame so I omit both the sesame oil and sesame seed garnish. This dish has plenty of flavor regardless. If you're a big fan of sesame, a few drops of toasted sesame oil adds another dimension of flavor that is really wonderful.
Rather have a stir fry? Try beef stir fry with vegetables. It's a good all-purpose stir fry with lots of different options.
This recipe is somewhat similar to chicken lettuce wraps without the lettuce.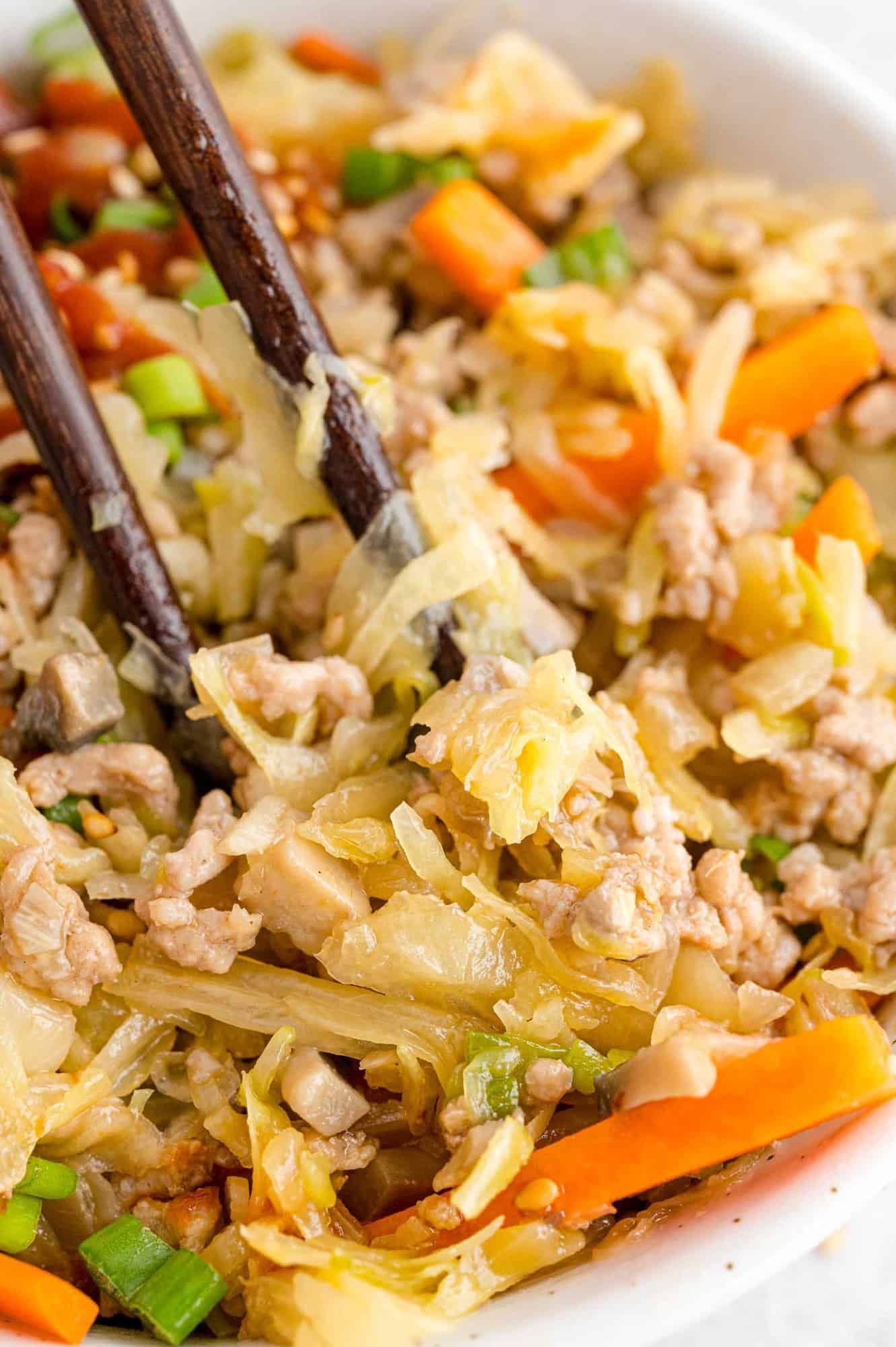 Make-Ahead Ideas
This dinner is really quite good reheated. You'll find that it's enjoyable for lunch the next day.
Storage & Reheating Tips
Refrigerate: Store leftovers in the refrigerator in a tightly covered container. It will keep for three days or so. I haven't tried freezing it. I'd love to hear back from you if you happen to try it.
Reheat: Warm up individual portions in the microwave or reheat larger amounts in a skillet until warmed through.
Leftover Love
For an easy lunch, prepare a package of ramen noodles (such as Maruchan) and add a few good spoonfuls of "egg roll in a bowl" to enrich the soup.
Did you make this? Be sure to leave a review below and tag me @rachelcooksblog on Facebook, Instagram, or Pinterest!
Egg roll in a bowl is a delicious and healthy entrée that's similar to deep-fried egg rolls (and much easier to make!).
Ingredients
2

teaspoons

sesame oil

1

pound

ground meat

(chicken, pork, turkey, or beef)

1

cup

diced onion

(about 1 medium onion)

8

ounces

mushrooms (white or cremini), finely diced

2

large cloves garlic, minced

(about 1 teaspoon)

1

tablespoon

grated fresh ginger root

(or 1 teaspoon ground ginger)

1

bag

(16 oz.) coleslaw mix

(or 6 cups shredded cabbage)

1

cup

grated or matchstick carrots

3

green onions, thinly sliced

(more for garnish)

¼

cup

low-sodium soy sauce

(see note)

1

tablespoon

rice vinegar

2

teaspoons

Sriracha, more to taste

1

teaspoon

cornstarch

(see note)

Sesame seeds, optional

Wonton strips, optional
Instructions
In a large skillet, heat oil over medium-high heat. Add ground meat, onion, and mushrooms, and cook until meat is browned and cooked all the way through, about 10 minutes. Add garlic and ginger and continue to cook for one minute or until fragrant.

Add coleslaw mix, carrots, and green onions. Cook, stirring occasionally, until cabbage is tender, about 5 minutes.

Meanwhile, in a small bowl or measuring cup, whisk together soy sauce, vinegar, Sriracha, and cornstarch. Pour into pan and cook, stirring, until all ingredients are coated with sauce.

Serve sprinkled with additional green onions, Sriracha, wonton strips, or sesame seeds.
Notes
Makes about 8 cups, or 4 servings (2 cups each).

Nutrition information is for a 2-cup serving, made with ground chicken. It does not include toppings.
To make keto or Whole30, use coconut aminos instead of soy sauce, and arrowroot starch instead of cornstarch.
To make it vegetarian or vegan, use extra-firm tofu, pressed and crumbled, or tempeh, instead of ground meat.
Nutrition Information
Serving:
2
cups
,
Calories:
268
kcal
,
Carbohydrates:
19
g
,
Protein:
25
g
,
Fat:
12
g
,
Saturated Fat:
3
g
,
Polyunsaturated Fat:
3
g
,
Monounsaturated Fat:
5
g
,
Trans Fat:
1
g
,
Cholesterol:
98
mg
,
Sodium:
701
mg
,
Potassium:
1193
mg
,
Fiber:
5
g
,
Sugar:
8
g
,
Vitamin A:
5550
IU
,
Vitamin C:
51
mg
,
Calcium:
86
mg
,
Iron:
3
mg
This website provides approximate nutrition information for convenience and as a courtesy only. Nutrition data is gathered primarily from the USDA Food Composition Database, whenever available, or otherwise other online calculators.