These spicy Korean pickles are crisp and delicious! Great for topping sloppy Joes and hamburgers, or as a zesty snack.
Recipe Overview
Why you'll love it: These pickles are quick pickles so you can eat them right away or put them in the refrigerator to eat later. No canning necessary!
How long it takes: 15 minutes
Equipment you'll need: sharp knife, bowl
Servings: 6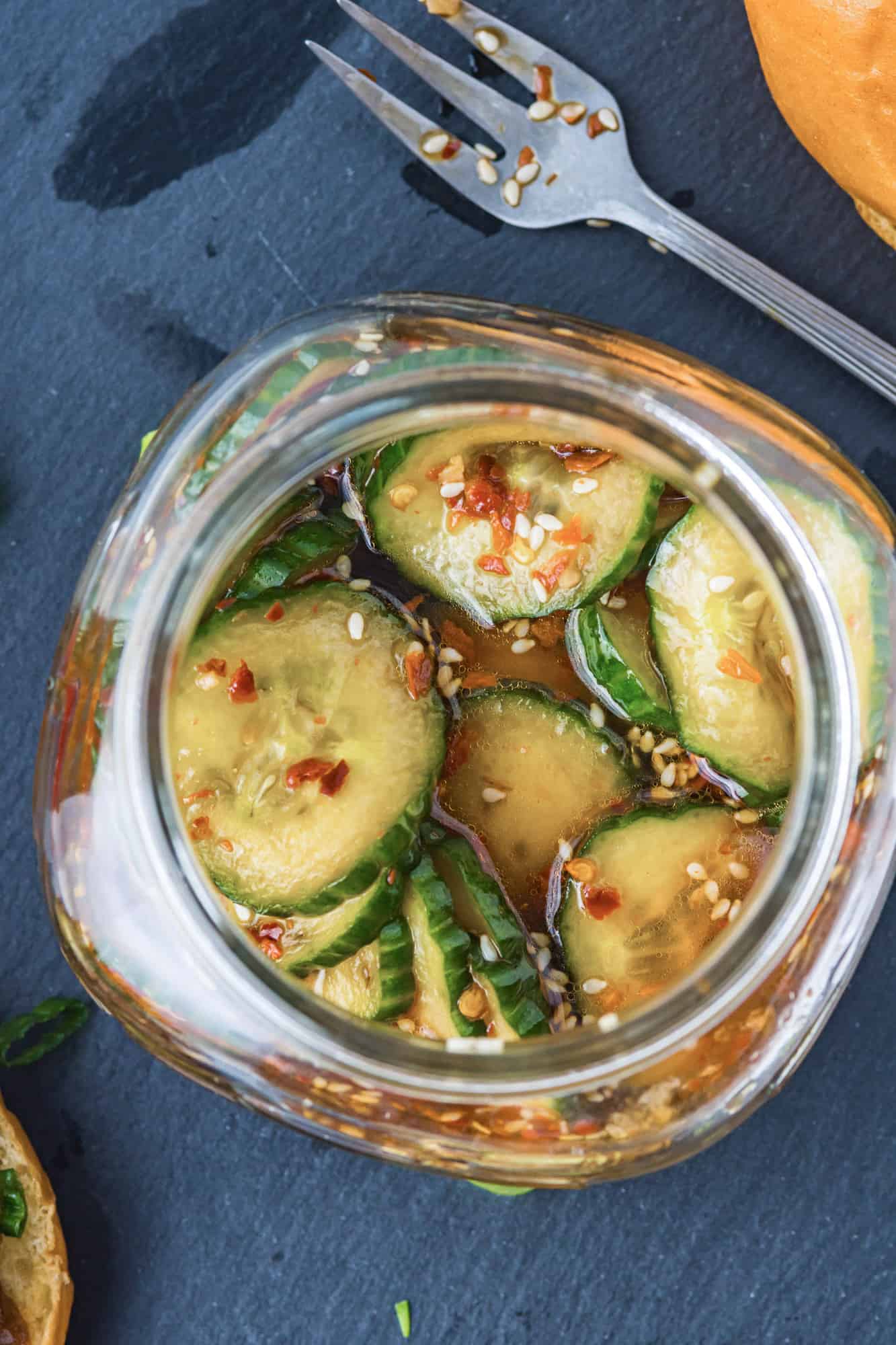 Spicy Korean pickles are a taste sensation. They are peppery, garlicky, and just a bit sweet. They are often served with Korean sloppy Joes or bulgogi.
Korean pickled cucumbers are made with a good amount of red pepper flakes. Look for gochugaru, a staple in Korean cooking, which is coarsely ground dried chili peppers. It has a slightly sweet and smoky flavor.
Maybe you're wondering about the difference between gochugaru and gochujang. While they are both made from the same type of red chili pepper (taeyangcho), gochugaru is a dried spice and and gochujang is a fermented paste that includes additional ingredients. Kimchi and Korean style coleslaws usually include gochugaru.
These Korean style pickles are easy to make since they are a "quick pickle." They can be ready to eat in just 15 minutes, and that includes 10 minutes of "resting" time. Why eat plain cucumbers when you can make a delicious pickle?
What Is A Quick Pickle?
Many pickles are canned. They are processed at a high heat and are shelf stable. Quick pickles are not canned and have to be refrigerated. They are usually more crisp, fresher tasting, and retain their bright colors. Most vegetables and some fruits can be quick pickled. They will keep for up to a month in the refrigerator.
About This Recipe
Here at Rachel Cooks, we've pickled many different vegetables (not just dill pickles!), from asparagus to cauliflower. Pickled red onions are a staple in my refrigerator. I use them to top everything from avocado toast to nachos, sometimes even scrambled eggs. I love them in a veggie wrap, too.
Pickled vegetables are common in many cultures. It's a great way to preserve vegetables and add a little excitement to them, and quick pickles are so incredibly easy. Cut the vegetable up, put it in a jar or bowl, add a little brine, and that's it!
You'll love that you can keep a jar in your fridge for at least a couple of weeks, all ready to snack on, to eat as a salad, or to jazz up your menu in all sorts of ways.
We'll run through the recipe here with lots of extra tips to help you get started.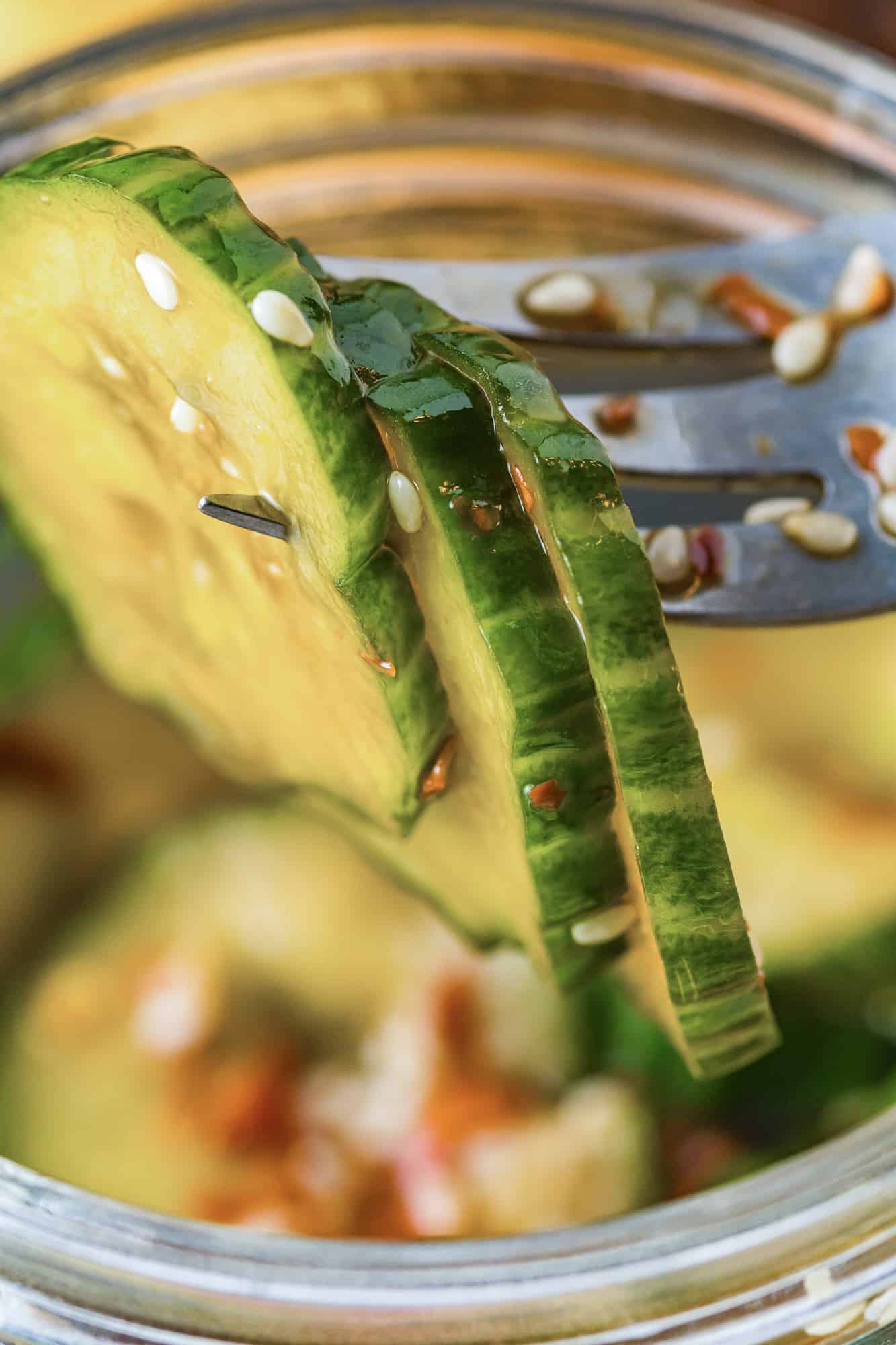 As always, look for the printable recipe card with complete instructions, measurements, and nutrition information near the end of the post.
What you'll need
English Cucumber: Look for a tender skinned cucumber; any variety will do (i.e. Persian cucumbers, hot house cucumbers, seedless cucumbers, Armenian cucumbers, mini cucumbers). They are usually wrapped in plastic because they don't have a waxy coating. If you can't find any tender-skinned cucumbers, use a garden cucumber but remove the peeling. If they have a lot of seeds, you may want o remove the seeds as well.
Kosher Salt: The recipe calls for 2 teaspoons which may seem like a lot. Keep in mind two things: The salt is part of the brine and you don't eat all of the brine. In addition, kosher salt is coarse so less fits in a teaspoon. If you use fine salt, decrease the amount slightly.
Garlic: Use fresh garlic, about one clove, depending on how garlicky you like it. Minced garlic that comes in a jar is fine, too.
Gochugaru: This Korean chili powder is similar to crushed red pepper flakes and has a spicy, slightly sweet, smoky flavor. For more about gochugaru, check out this post by Chili Pepper Madness. You can also use crushed red pepper flakes if you prefer to stick with an ingredient you have on hand.
Rice Wine Vinegar: This may be called rice vinegar; the two products are the same. Don't buy seasoned rice vinegar which has added sugar and salt.
Sugar: Granulated white sugar balances the tangy vinegar and spicy chili flakes.
Toasted Sesame Oil: Dark brown toasted sesame oil adds umami to the pickles. If your sesame oil is very light or clear in color, it's not toasted and it won't have the same flavor.
Sesame Seeds (Optional): Toasted sesame seeds add flavor and texture and also visual appeal.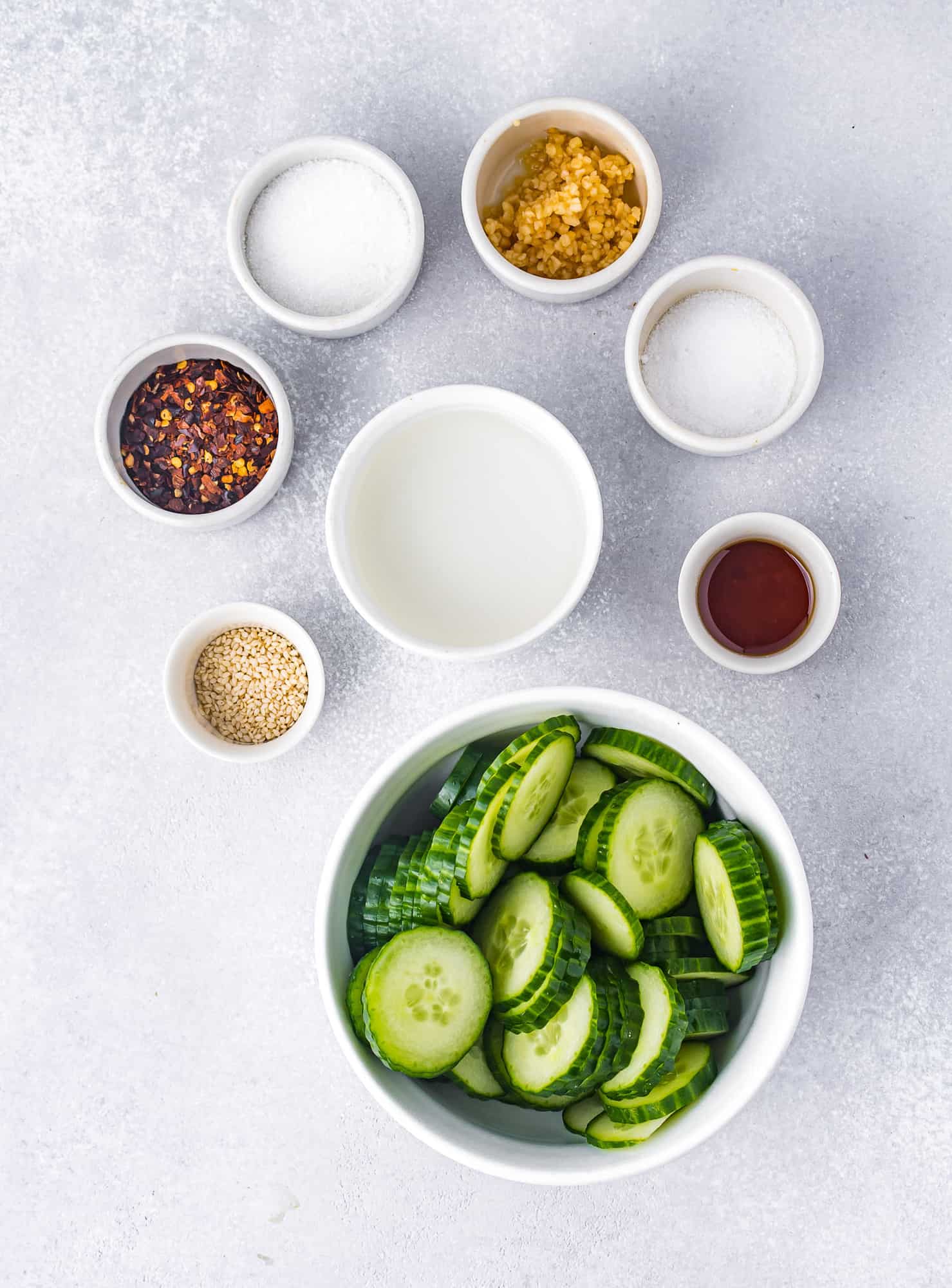 How To Make This Recipe
Begin by washing and drying the cucumber. With a sharp knife, thinly slice the cucumber into round slices, about 1/8 inch thick. Thinner slices soften more; thicker slices stay more crisp. It's really up to you! Put the slices into a non-reactive bowl (glass or stainless steel).
Mix together the brine ingredients: salt, garlic, rice vinegar, sugar, gochugaru, and sesame oil. Pour the brine over the sliced cucumbers and stir well.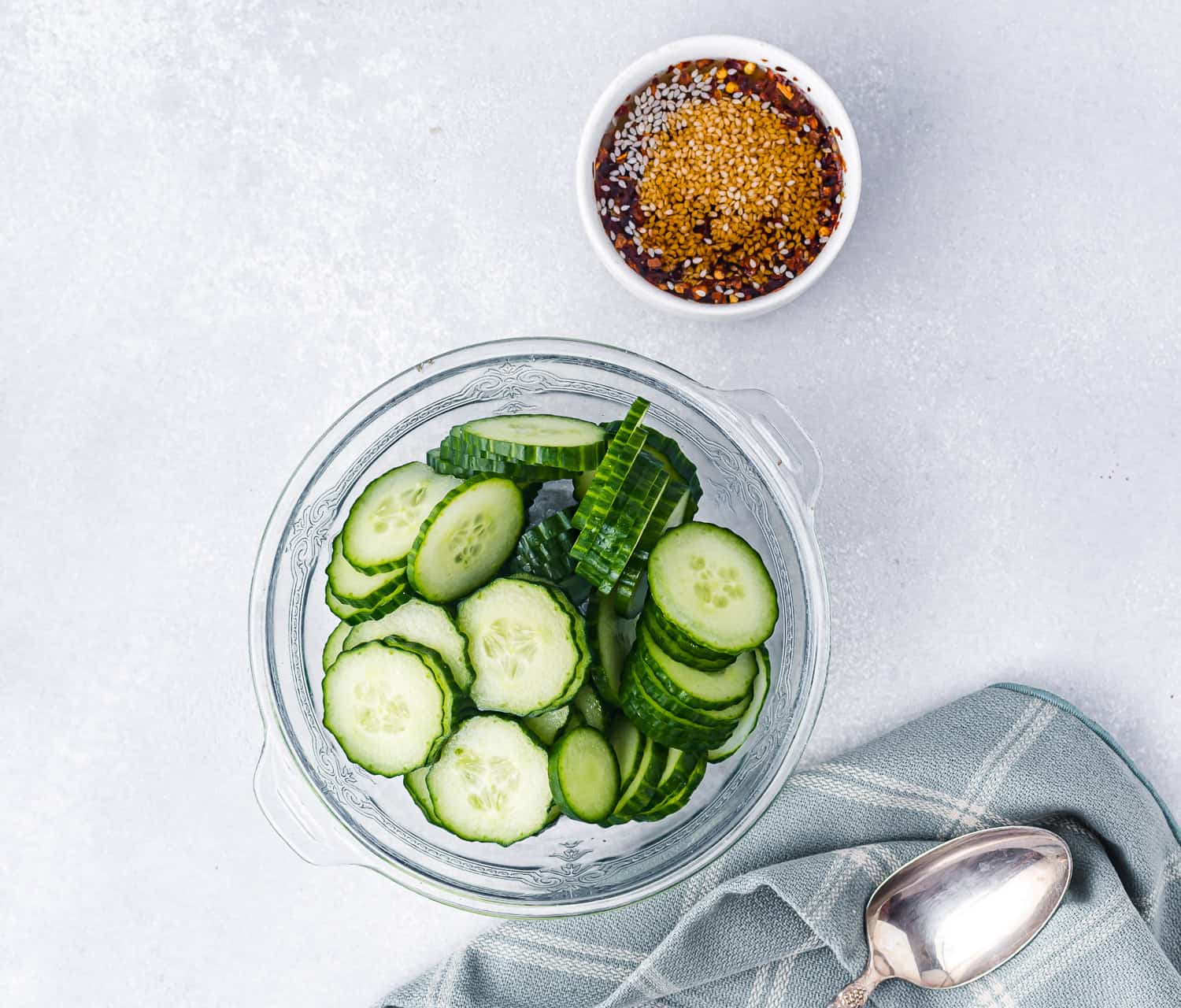 Let the pickles set for at least 10 minutes. The longer they set, the more flavorful they'll be, so I usually cover them and put them into the refrigerator if I'm not serving them right away.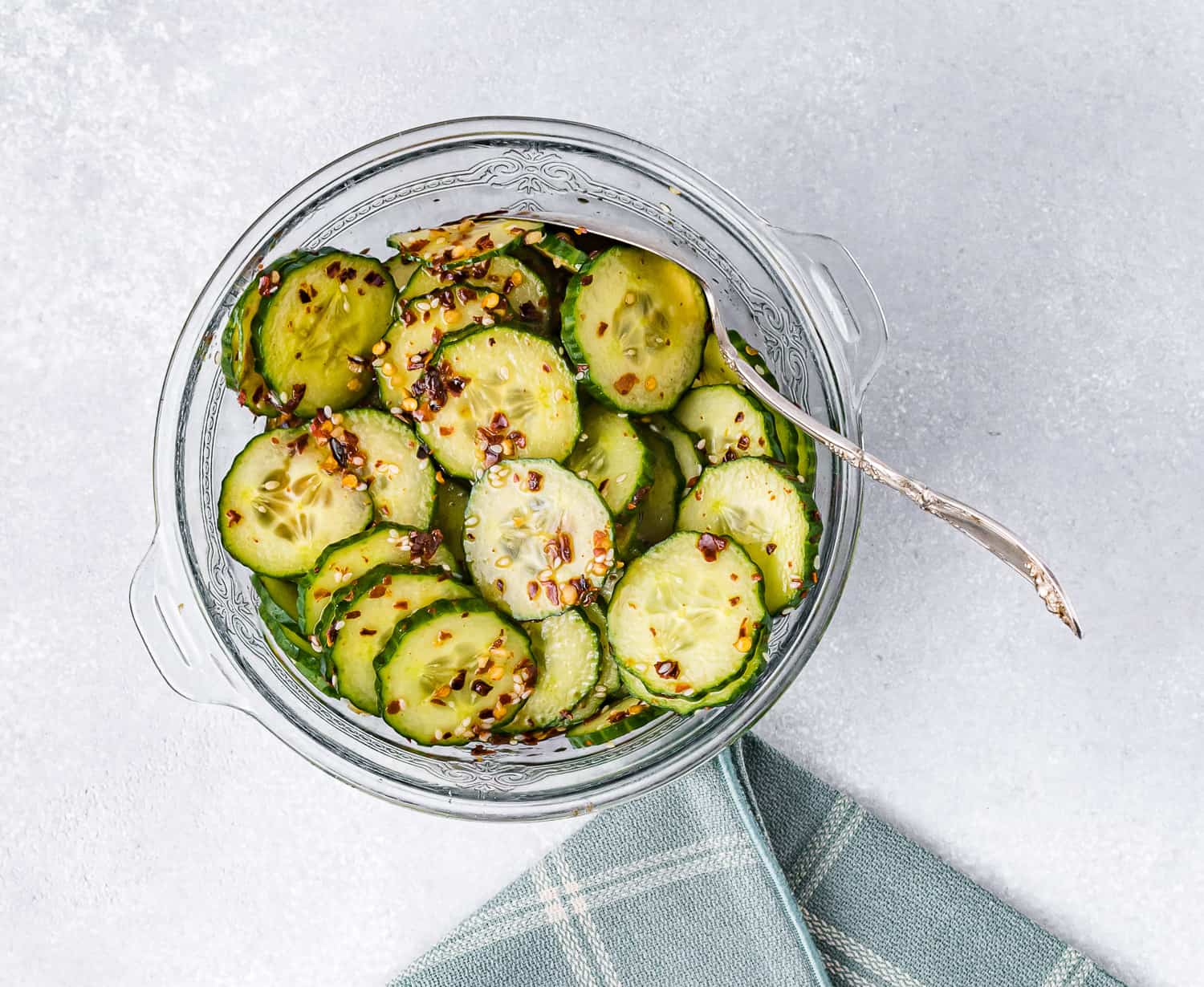 The pickles will keep in the refrigerator for up to two weeks.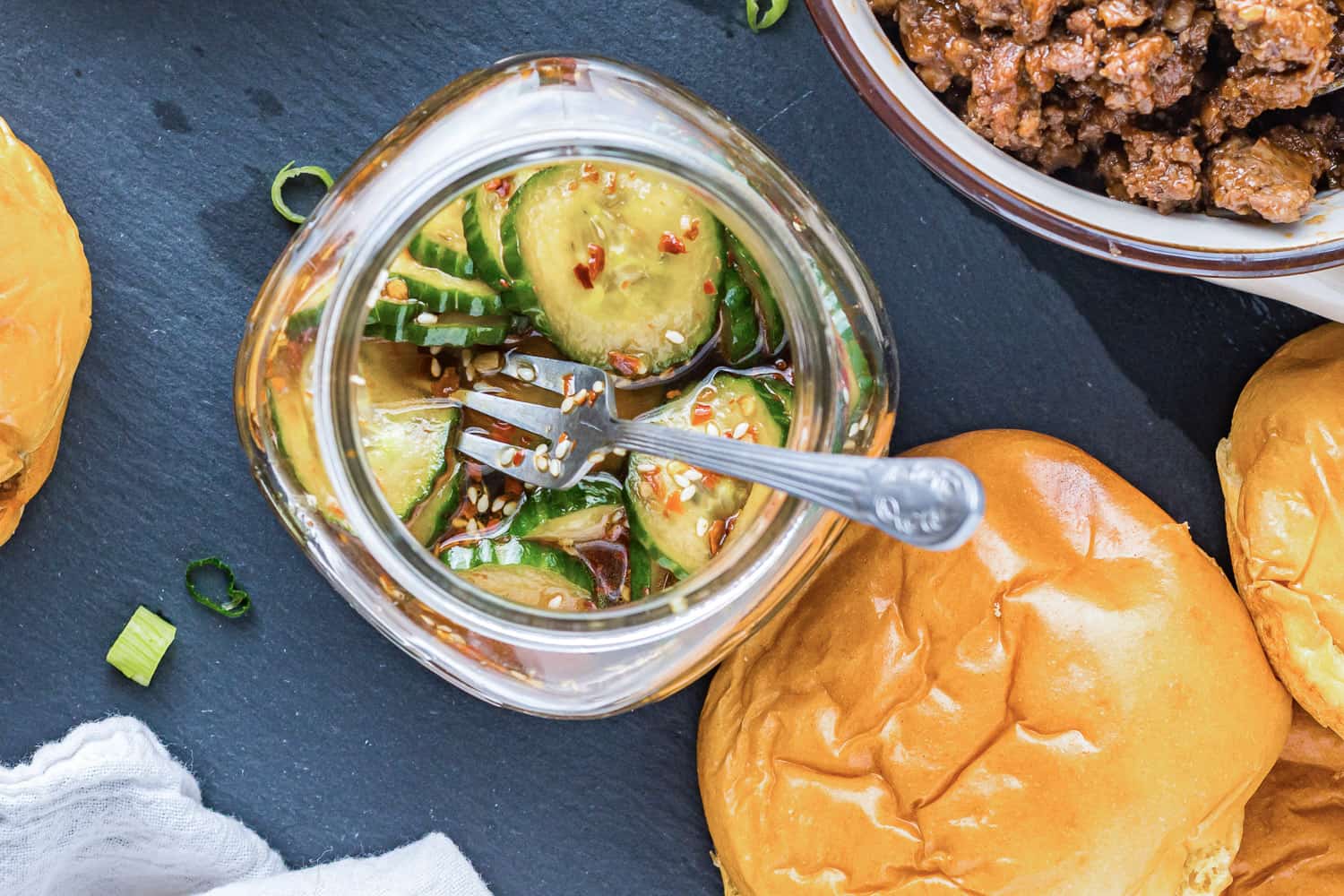 Enjoy Korean pickles with sloppy Joes or on burgers. Serve the pickles with grilled chicken that's been marinated with Asian chicken marinade. They're great on turkey burgers or black bean burgers, too. Make it a meal with crunchy Asian coleslaw and air fryer French fries.
FAQs
What do Korean cucumbers taste like?
Korean cucumbers are a tender-skinned variety with small seeds. They are long and slender, and may be light green in color. They are crunchy and sweet, with no bitterness. Korean cucumber salad is similar to this recipe.
What does it mean to sweat cucumbers?
Sweating actually is a light sauté over medium heat with a minimum amount of oil. You probably wouldn't want to do that with this recipe. Some cooks salt cucumbers or other vegetables that contain a lot of water to draw out the excess moisture. If you would like to try that, mix the sliced cucumber with salt in a colander. Set the colander in the sink to drain for 20-30 minutes. Dry with paper towels, if desired.
What do Korean pickles taste like?
Korean pickled cucumbers (oi muchim) are zesty fresh pickles. While they are tangy and acidic due to the vinegar, they also have plenty of spicy chili pepper heat. Garlic and toasted sesame oil lend umami. Salt and sugar round out the flavor profile. They really hit all the taste sensations.
Make It Your Own
Adjust the spice level to your liking.
Substitute red pepper flakes for the gochugaru.
Omit the garlic or increase the garlic, depending on how you like it.
If you find that you really love the brine in these pickles, try making pickled radishes, onions, or another vegetable of your choice using the same recipe.
If you're looking for more of a salad recipe, try this cucumber salad with onions and a vinegar dressing or cucumber ribbon salad with a yogurt herb dressing.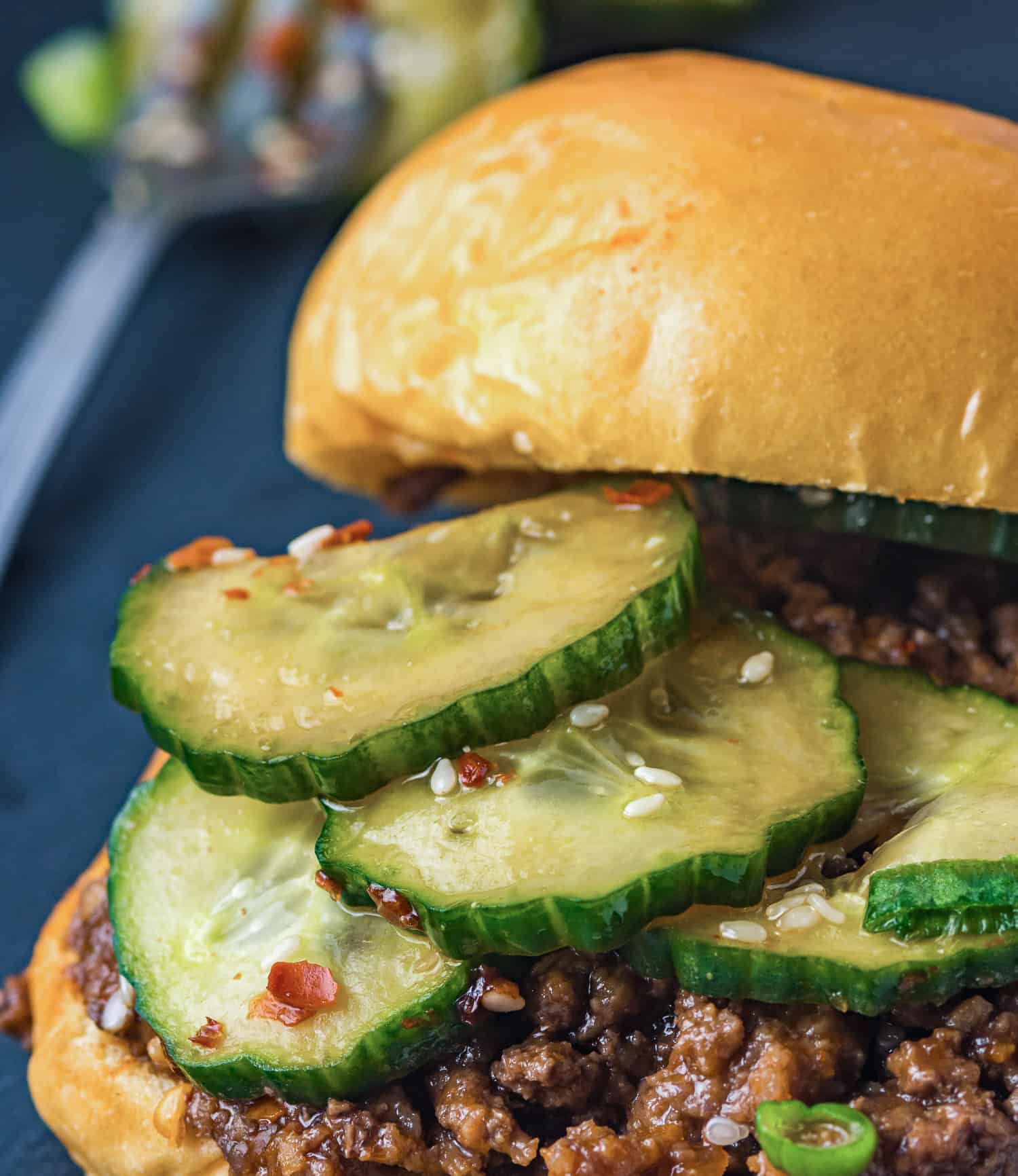 Make-Ahead Ideas
Quick pickles are actually best if you make them ahead. It gives the cucumbers a little extra time to absorb all that great flavor.
Storage Tips
The pickles can be stored in the refrigerator in a tightly covered jar or container for up to two weeks. Discard the pickles if the liquid is cloudy or smells off.
Did you make this? Be sure to leave a review below and tag me @rachelcooksblog on Facebook, Instagram, or Pinterest!
These spicy Korean pickles are crisp and delicious! Great for topping sloppy Joes and hamburgers, or as a zesty snack.
Ingredients
1

large English cucumber (about 1 lb.), thinly sliced

(⅛ inch thick)

2

teaspoons

kosher salt

1

teaspoon

minced garlic (1 large clove), optional

1

tablespoon

gochugaru, or to taste

(or ½ teaspoon crushed red pepper flakes)

¼

cup

rice wine vinegar

2

tablespoons

granulated sugar

1

teaspoon

toasted sesame oil

1

teaspoon

toasted sesame seeds, optional
Instructions
Place the cucumber slices in a bowl.

In a small bowl, combine the remaining ingredients and stir until sugar and salt have dissolved.

Pour over the cucumbers and toss to coat.

Let stand 10 minutes before serving. Refrigerate until ready to serve.
Notes
You can serve these immediately after making them but they are even better if they can sit for at least an hour or overnight.

Serve these pickles on hamburgers, Korean sloppy Joes, or just eat them as is.

Store in an airtight container in the refrigerator for up to 2 weeks.
Nutrition Information
Calories:
35
kcal
,
Carbohydrates:
7
g
,
Protein:
1
g
,
Fat:
1
g
,
Saturated Fat:
1
g
,
Polyunsaturated Fat:
1
g
,
Monounsaturated Fat:
1
g
,
Sodium:
798
mg
,
Potassium:
102
mg
,
Fiber:
1
g
,
Sugar:
5
g
,
Vitamin A:
448
IU
,
Vitamin C:
2
mg
,
Calcium:
14
mg
,
Iron:
1
mg
This website provides approximate nutrition information for convenience and as a courtesy only. Nutrition data is gathered primarily from the USDA Food Composition Database, whenever available, or otherwise other online calculators.