Looking for an easy way to make burgers especially when it isn't grilling season? Try air fryer hamburgers! They're tender on the inside with a perfect crust on the outside, just like you get when you grill them.
Recipe Overview
Why you'll love it: Juicy on the inside with a nice "crust" on the outside, and perfectly seasoned, an air fryer burger is just what a burger should be.
How long it takes: just 10 minutes in the air fryer
Equipment you'll need: large bowl, air fryer,
Servings: 4 burgers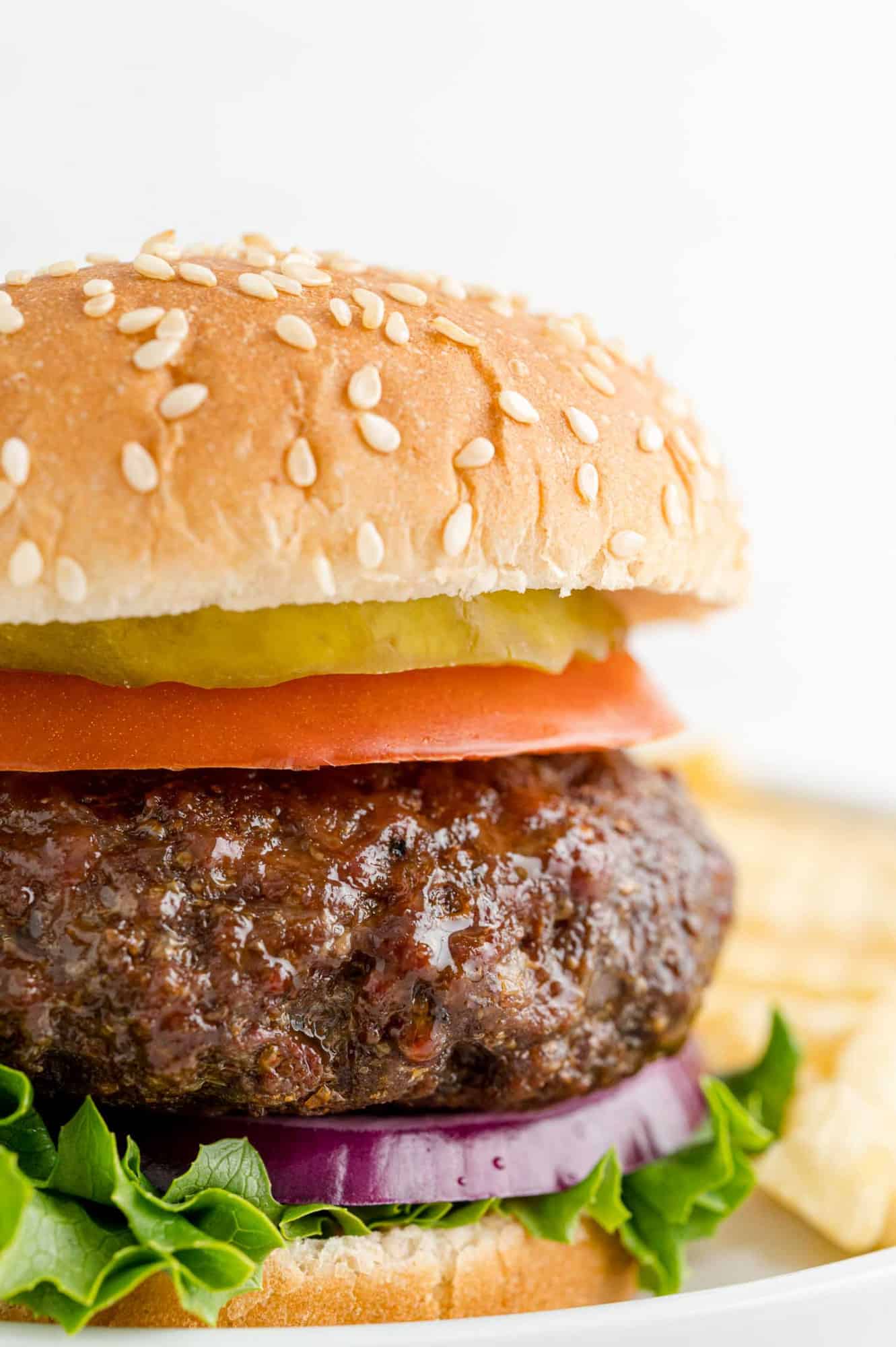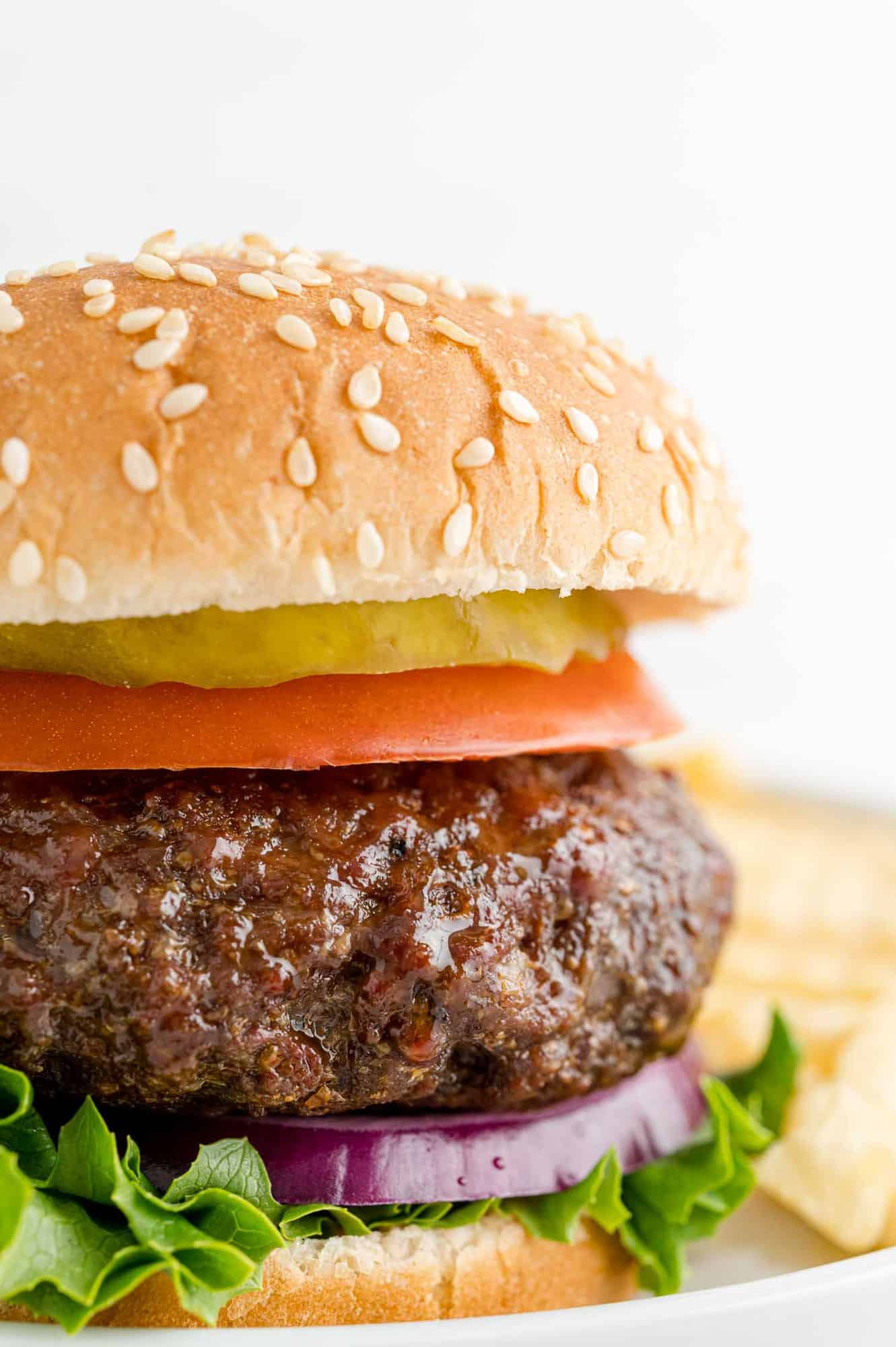 We all love a perfectly grilled burger on a big bun with all the fixings, right? The problem is that it isn't always grilling season. Here in Michigan, grilling is pretty much out of the question for at least five months of the year unless you're a hearty soul who doesn't mind standing in the snow while you grill.
We don't really care for pan-fried burgers. They just aren't the same. Once again, our friend the air fryer has come to the rescue! Turns out you can make an incredible hamburger right in your air fryer. They are juicy on the inside with just the right "crust" on the outside. It may revolutionize your winter menu!
I don't know why I would be surprised. We use our air fryer for so much of our cooking now, from homemade French fries to salmon to zucchini chips to baked potatoes. Why not hamburgers? It's quick and easy. Clean-up is a snap.
Why You'll Love These Air Fryer Hamburgers
Easy. You'll be amazed by how simple it is to make burgers in your air fryer. I'd even go so far as to say it requires less effort than making them on the grill!
Perfectly cooked. These hamburgers have a crust on the outside yet are tender and juicy on the inside. Biting into one of these burgers with all the fixings and a fluffy bun is pure heaven.
Flavorful. These burgers are seasoned before they are cooked. The seasonings are mixed right into the meat so the flavor isn't only on the outside of the burger. That's one of the reasons they're so tasty.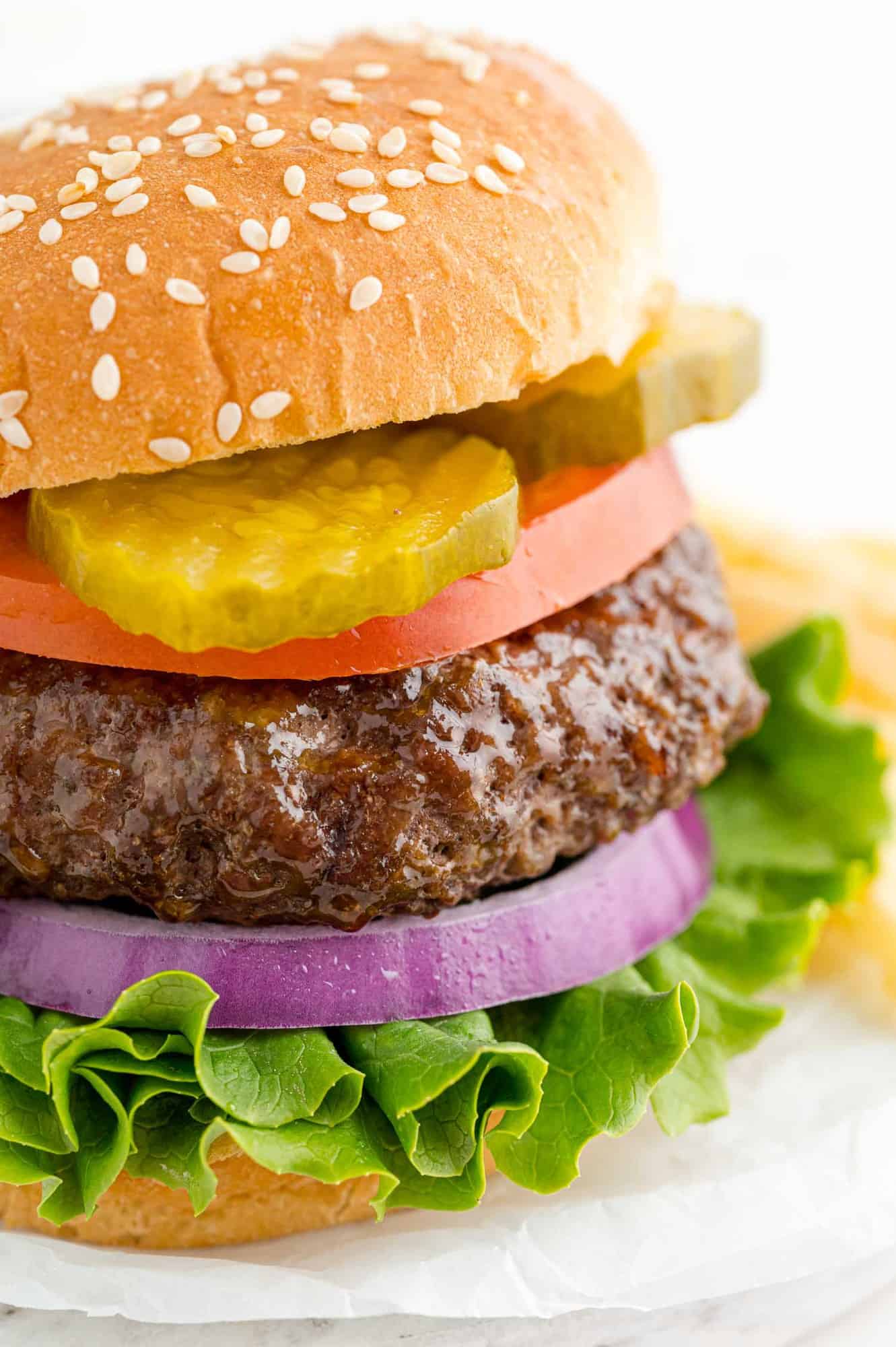 Keep reading for the how-to's or skip on down to the printable recipe card. It has complete instructions and nutrition information.
What you'll need
Lean Ground Beef: We tested this recipe with lean ground beef (85/15) and extra lean ground beef (92/8). There was no discernible difference in taste between the two, so choose what you like best.
Worcestershire Sauce: Mixing this sauce into the ground beef adds lots of flavor. It's made from vinegar, molasses, anchovies, garlic, tamarind extract, chili pepper extract, sugar, salt and additional undisclosed items. Some brands are gluten-free but always read the label if that's a concern.
Garlic Powder: Be sure to use garlic powder and not garlic salt. If you only have garlic salt, don't add any extra salt. If you prefer, add a clove of minced or pressed garlic instead.
Onion Powder: Same here, don't confuse onion powder and onion salt.
Salt and Pepper: Add salt and pepper to taste!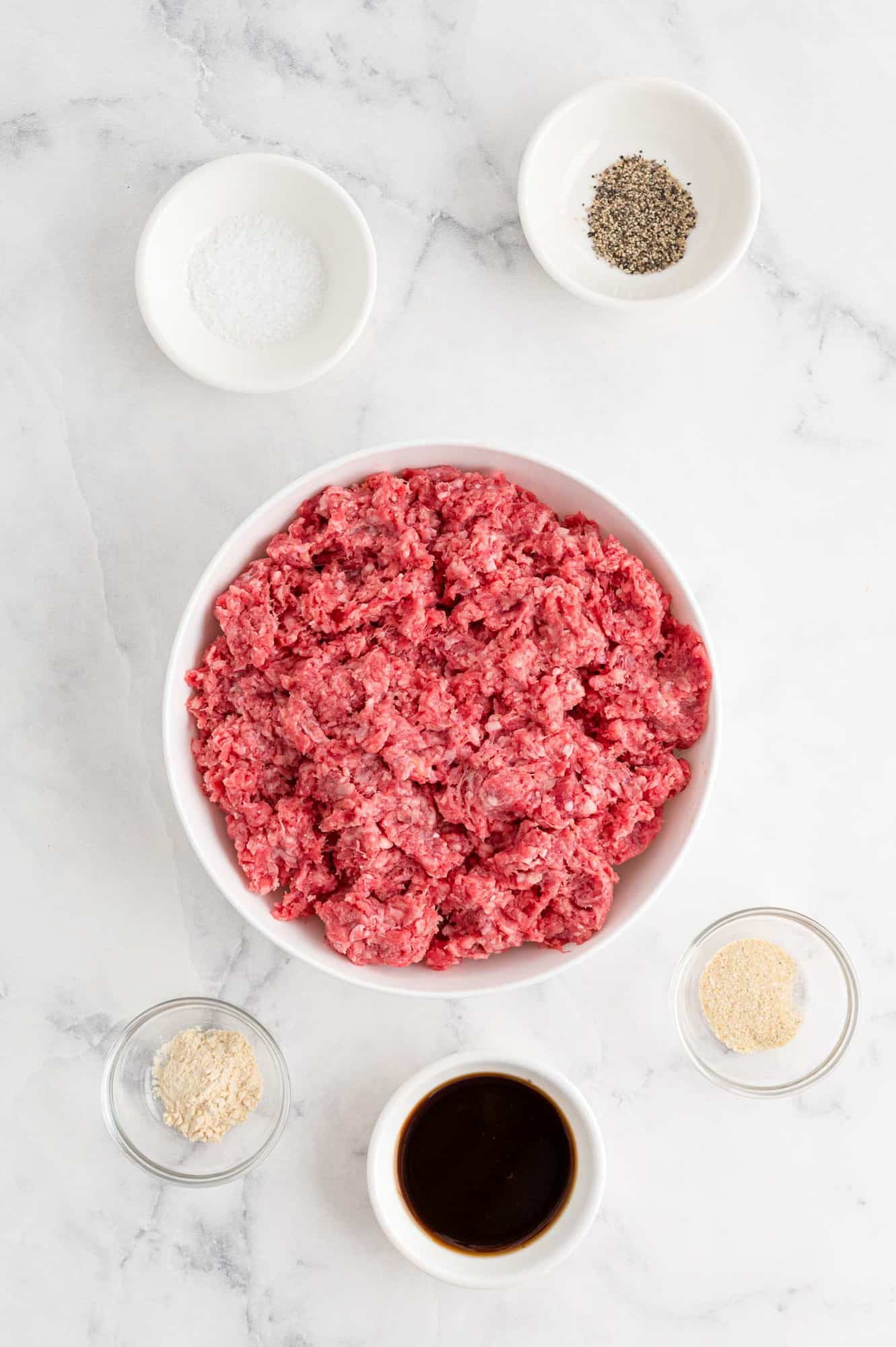 How to make Burgers in An Air Fryer
Are you ready to make the best hamburgers with your air fryer? It's pretty easy. Here's how to do it: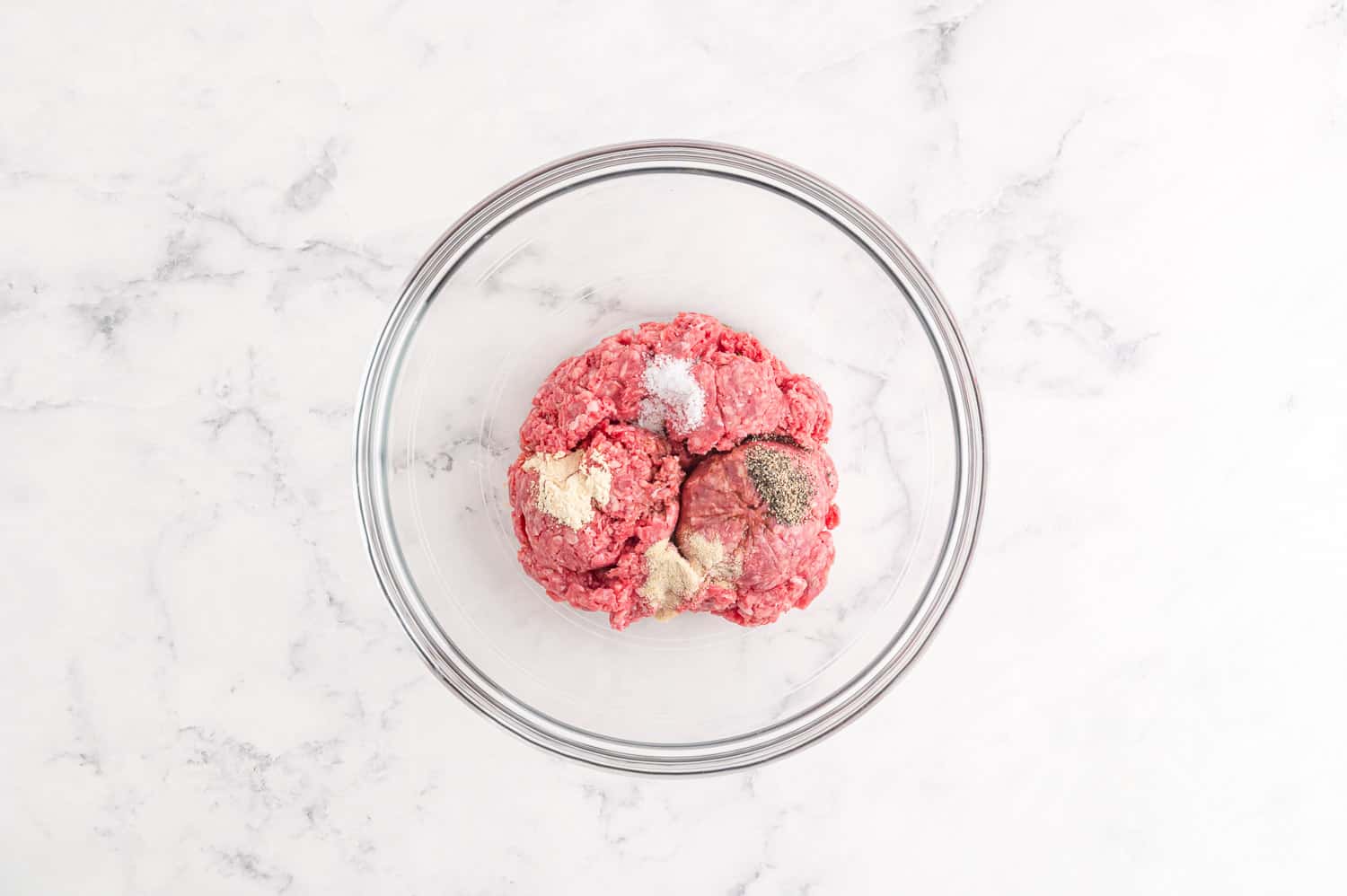 Place ingredients in a bowl. Add the ground beef to a large bowl with the rest of the ingredients.
Mix everything together. Try not to go crazy here. Just lightly blend the mixture together. Your fingers are the best tool for this.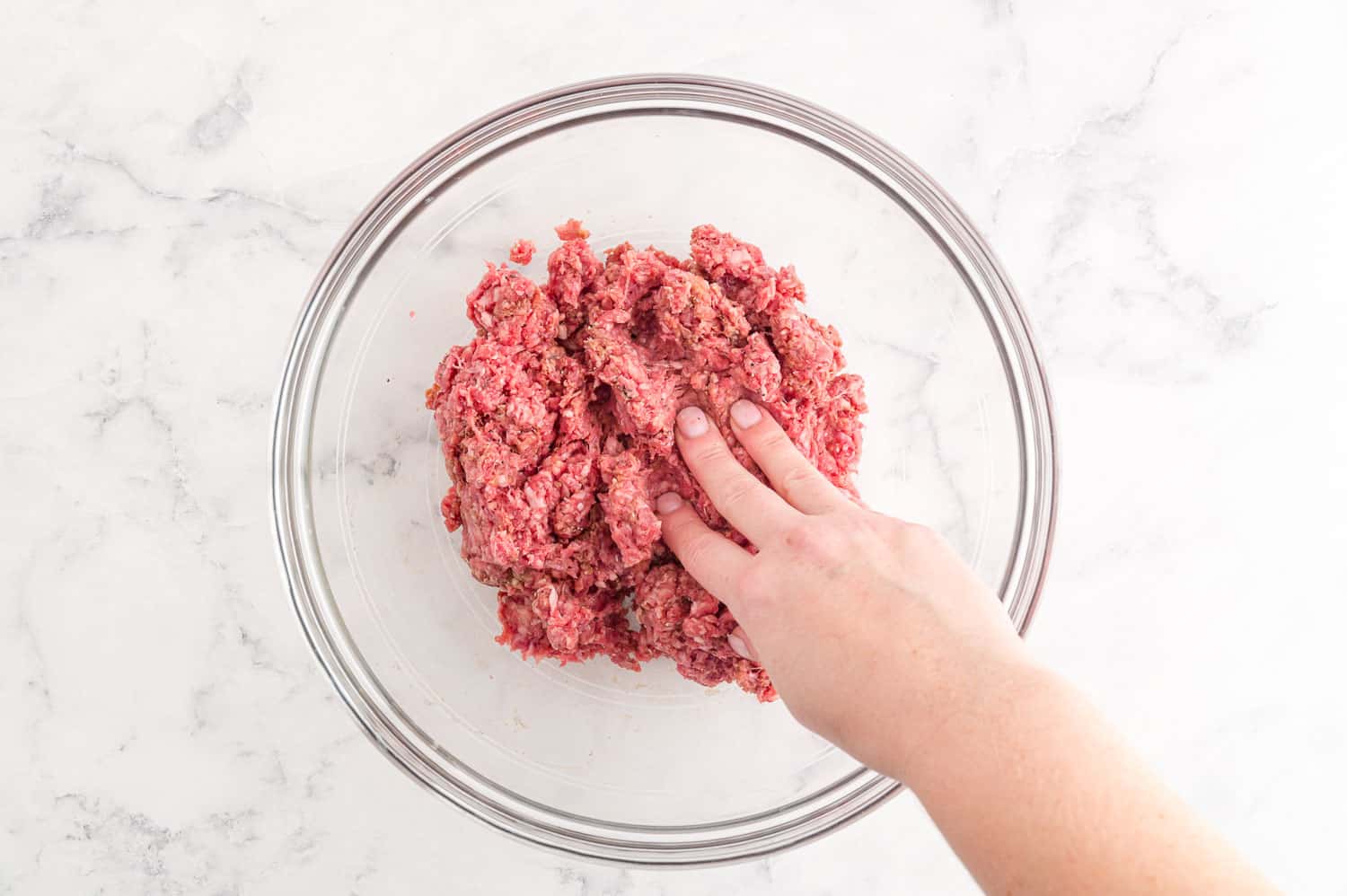 Form the burgers. Okay, now that you have hamburger all over your hands, divide the meat into four even portions and make the patties. They should be about a half inch thick.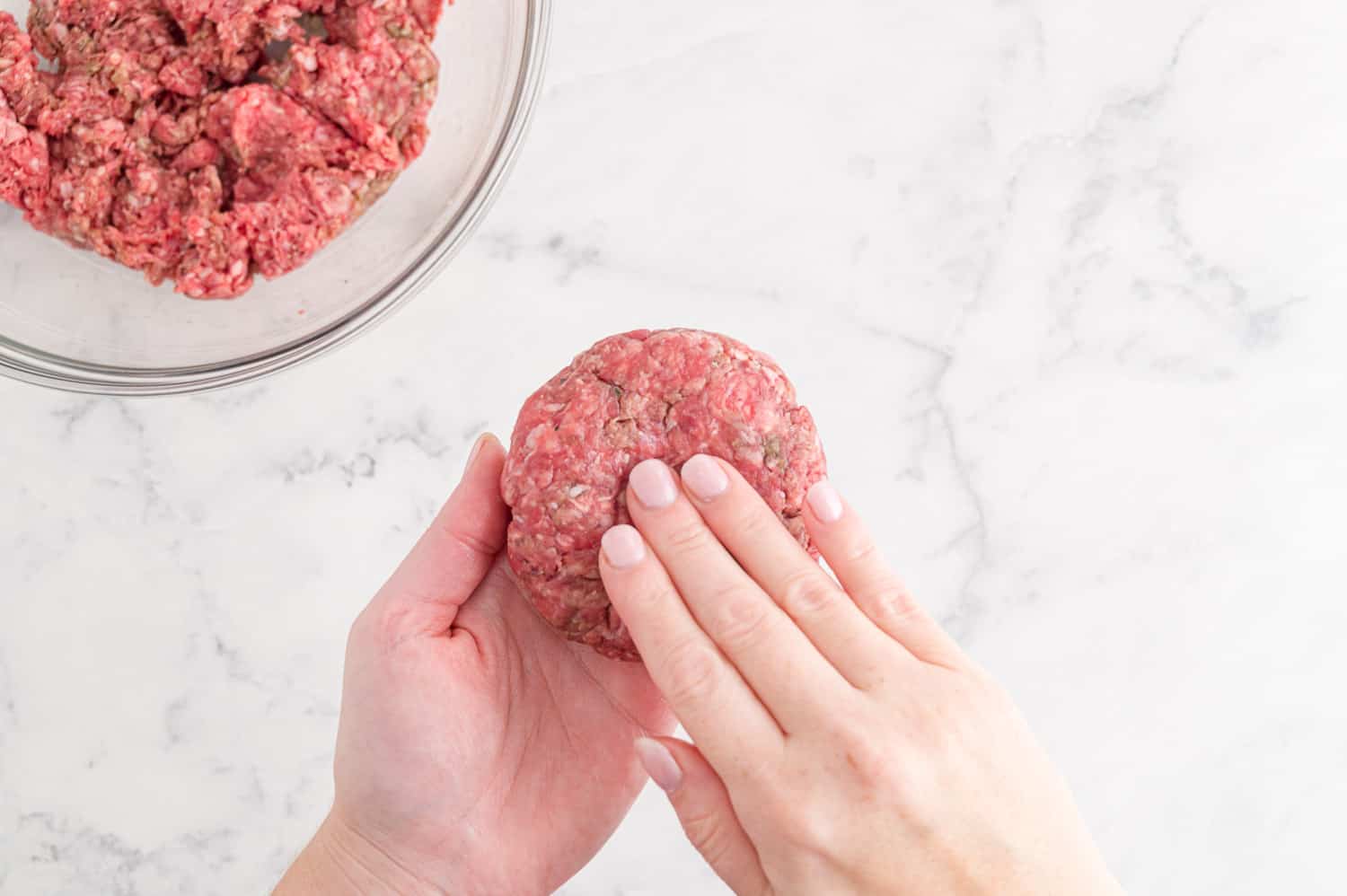 Make a small indentation in the centers with your thumb or a spoon. That helps the burgers get done more evenly.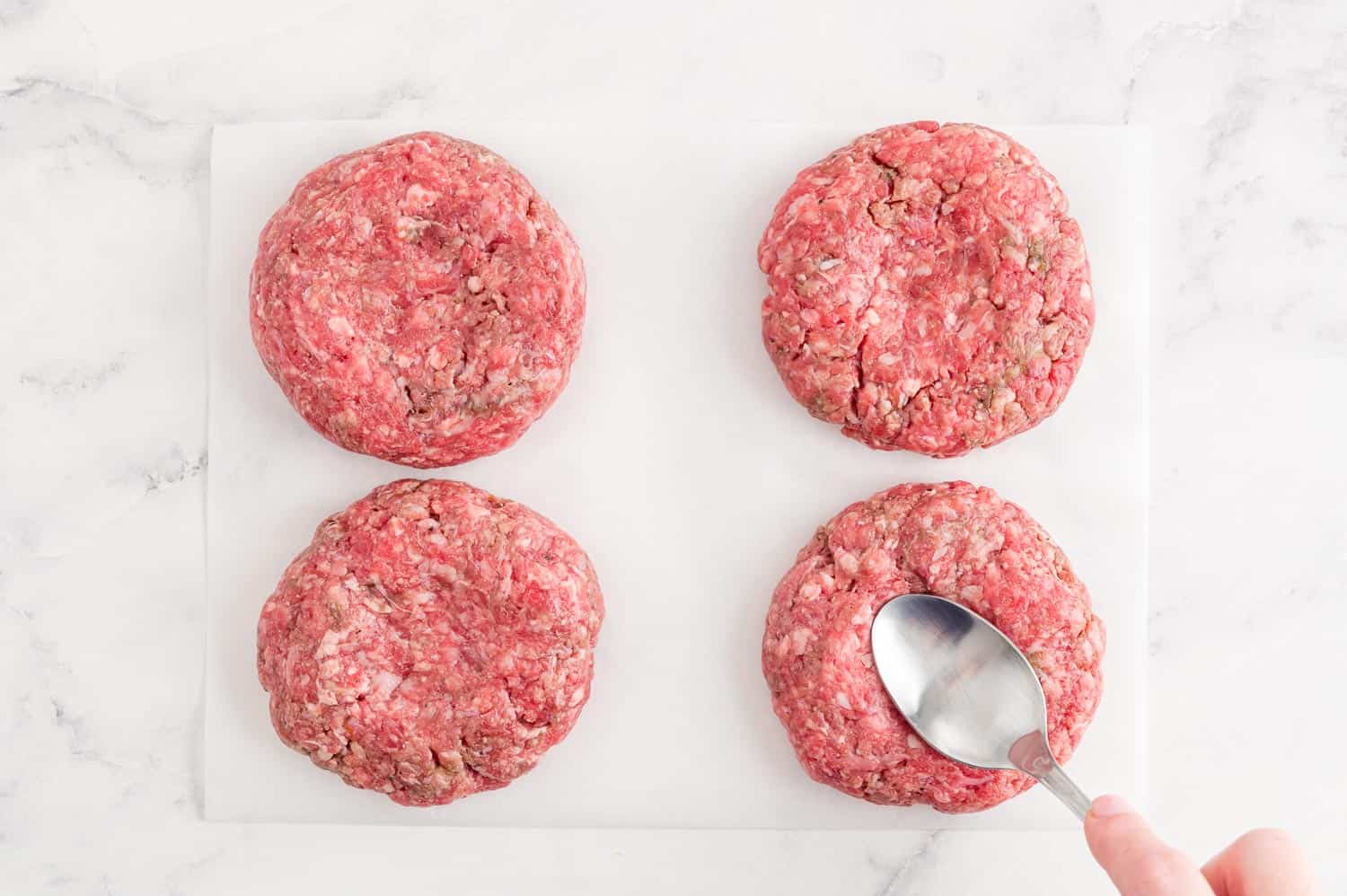 Place the burgers on the grate in your air fryer. Remember to wash your hands thoroughly with warm soapy water. Do I sound like your mother? Sorry.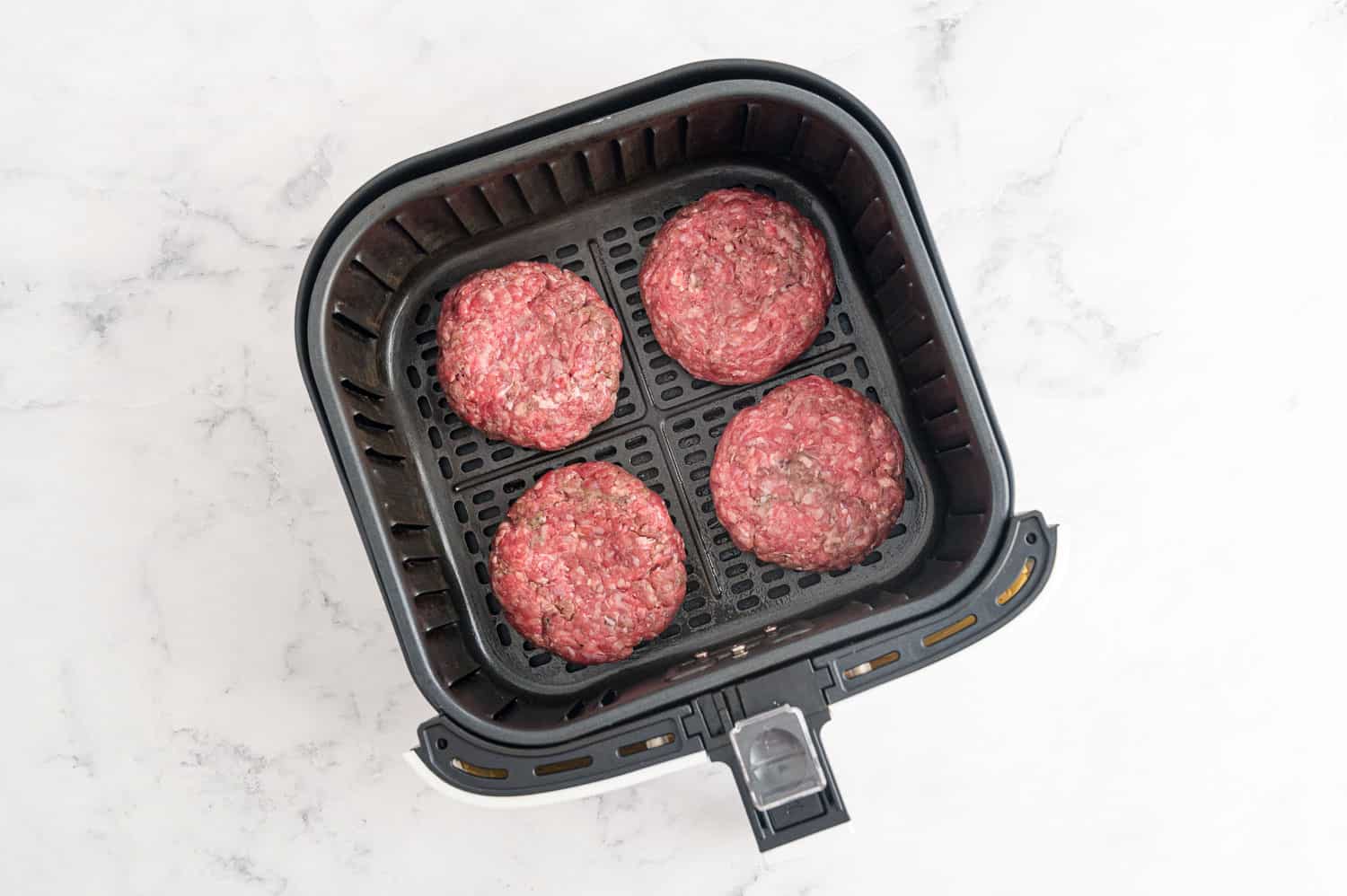 Cook the burgers. Set your air fryer to "Air Fry" or 380ºF. After 7 minutes, open the air fryer and flip the burgers. Continue cooking for three to five minutes. Check the burgers for doneness.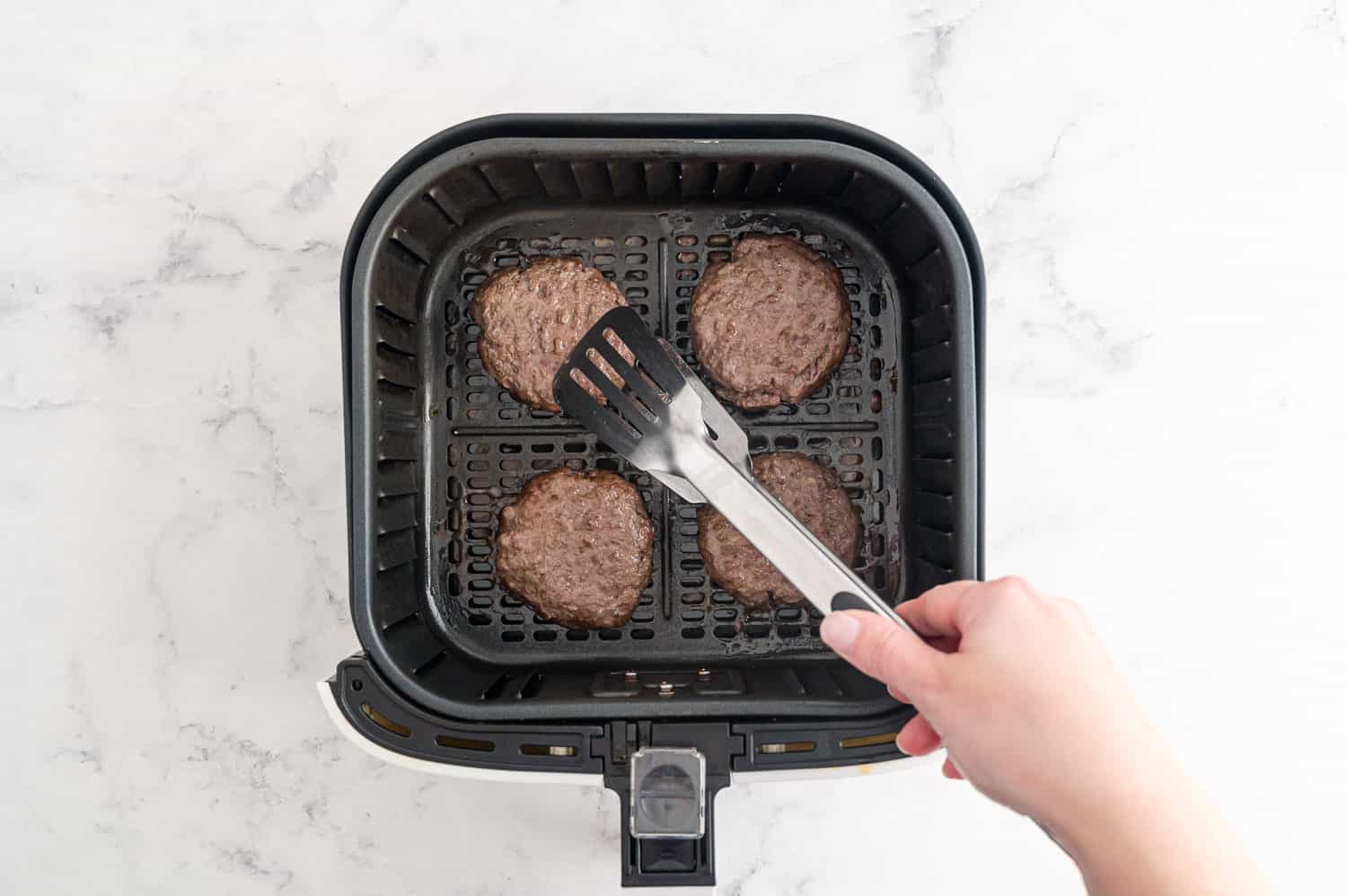 Want to add cheese? If you like cheeseburgers, immediately add a thin slice of cheese to each burger. Put them back into the air fryer for a minute or less. The residual heat will melt the cheese quickly.
At What Temperature is a Burger Done?
For a well-done hamburger, the internal temperature should be 160ºF according to the USDA. There won't be any pink in the center. The burger will continue to cook a bit after you take it out so if the internal temperature is 150ºF or above, it should be okay.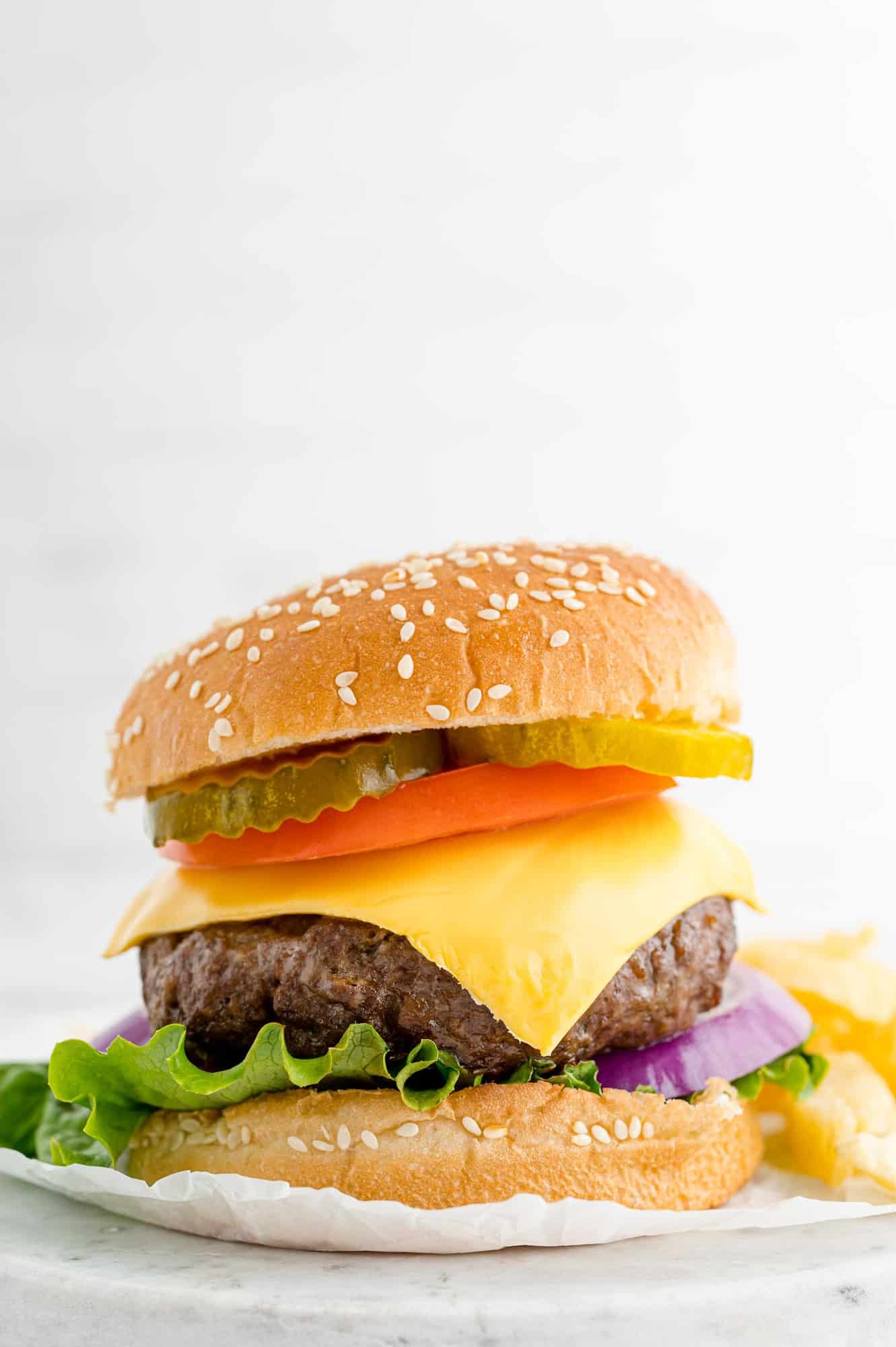 Serving Suggestions
Serve the burgers on warm toasted buns with the toppings you like. Burgers go great with creamy potato salad or coleslaw. We really like broccoli salad or baked beans, too. On cold days, warm up with a bowl of creamy tomato soup to go along with your burger.
You can also be creative with your toppings. Add homemade guacamole, Thousand Island dressing, or fry sauce (it's like the secret sauce on a Big Mac). Dress up your burgers with caramelized onions and blue cheese. Or, make it a bacon and cheddar burger with BBQ sauce.
Are burgers healthier in an air fryer?
Air fryer burgers are healthier than fried burgers because the excess grease drips through the grates and is discarded.
Air fryer burgers may be healthier than grilled burgers, too. Grilled burgers can have carcinogens caused by the interaction between the fat and the high temperatures. Some types of charcoals may contain harmful substances as well. For more information, check out what Healthline has to say.
Make It Your Own
Try different seasonings: As I mentioned above, seasoning the hamburger is a great way to personalize your burgers. Add chili powder, Italian seasoning, ketchup, or whatever you like. Stir in dry onion soup mix. Increase the garlic or omit it. If you're more of a purist, stick to salt and pepper.
Buns: A good quality bun can make all the difference. Butter the bun and toast it briefly for a really great burger. You can toast them in the air fryer if you like.
Add cheese! Most any type of cheese goes well on a burger. Simply add a slice to the cooked burger and put it back into the air fryer to melt it.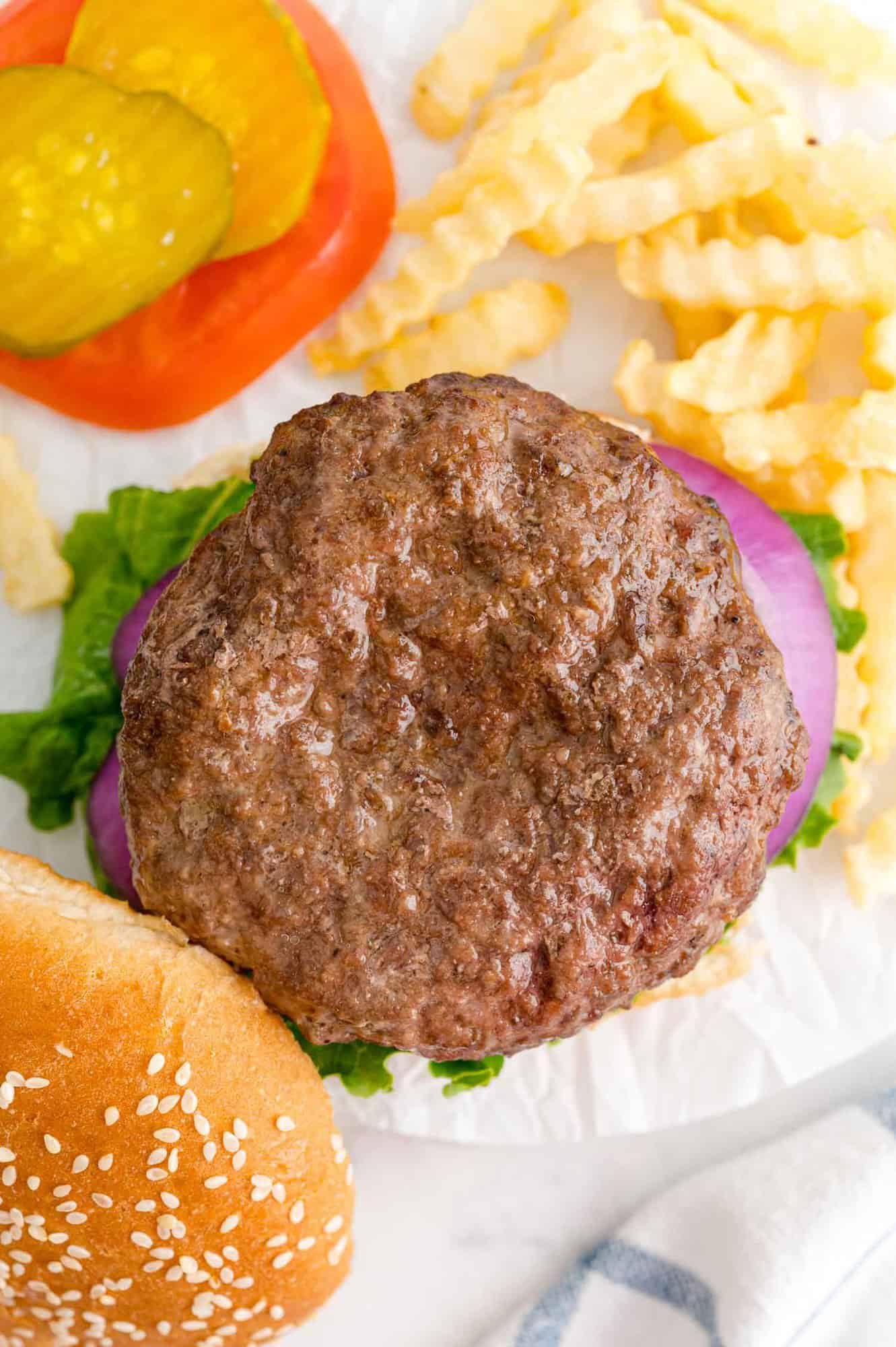 Make Ahead Ideas
It's easy to make the burger patties ahead of time and refrigerate them up to a day in advance. Put the pre-made hamburger patties on a plate and wrap them with plastic wrap. You'll be able to have dinner on the table in no time.
The burger patties can be frozen, too, for up 3 months. Store them in a freezer-safe container or bag with waxed paper in between layers. Frozen patties can go right from the freezer to the air fryer but they will take a bit longer to cook.
Storage & Reheating Tips
Leftover cooked hamburger patties will keep in the refrigerator for three to four days or in the freezer for up to four months as long as they are wrapped securely. For best results, frozen cooked patties should be thawed in the refrigerator overnight before reheating.
To reheat, put the patties into the air fryer for a few minutes until heated through. They can be warmed up in a skillet or in the microwave, too. Don't overheat them because they may get too dry.
Leftover Love
If you happen to have a few leftover cooked burgers that you don't know what to do with, crumble or chop them up and add them to chili, spaghetti sauce, or sloppy Joe mix. You can also break them up and turn them into tacos or burritos.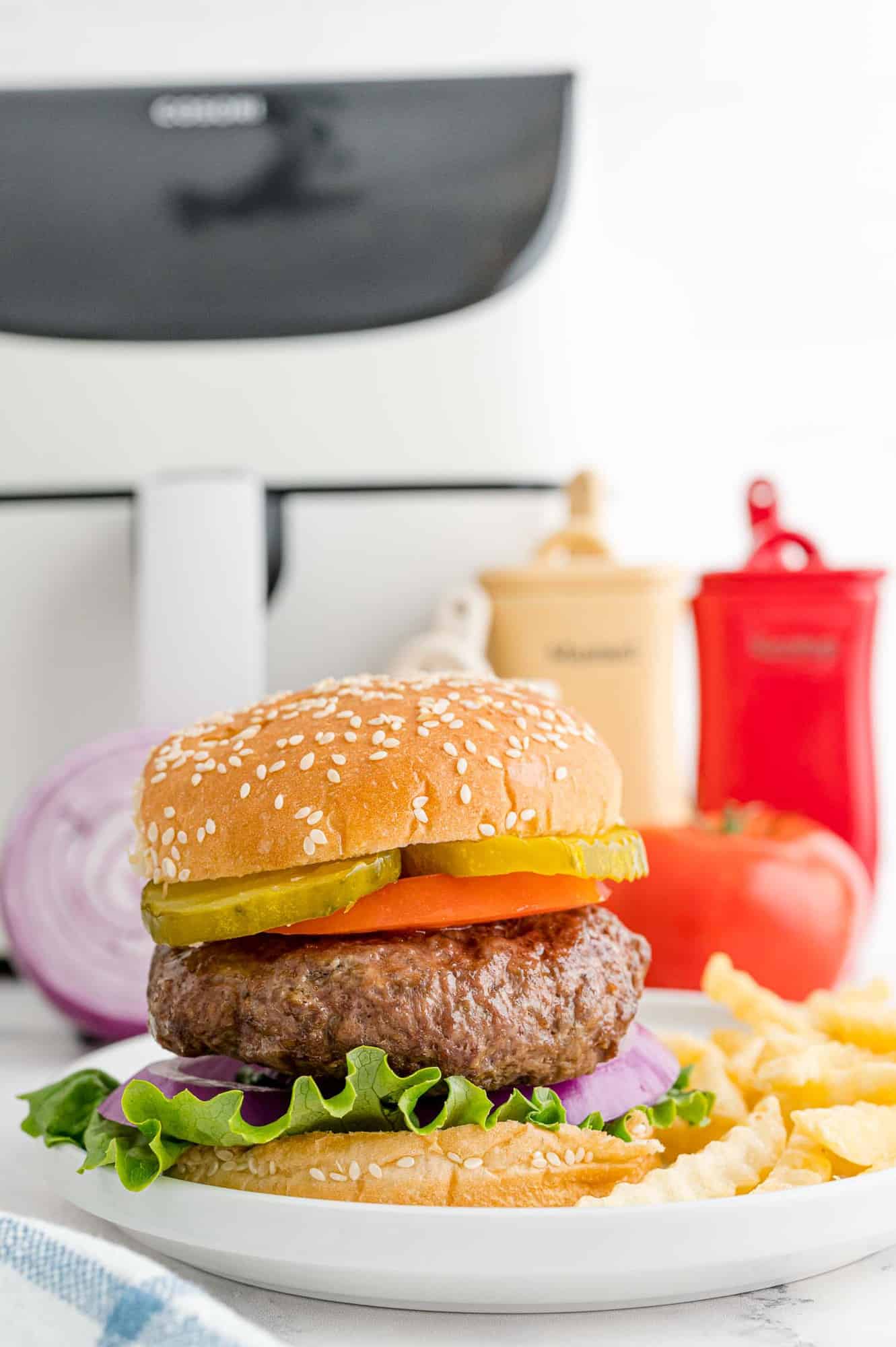 Interested in a weekly meal plan (it's free!) that includes this recipe? Take a look at my Meal Plan (#3) or Meal Plan (#17). You'll find a wholesome recipe for each weekday plus a categorized grocery list. Let me do the planning for you this week!
We'll be adding a new meal plan weekly. If you're interested, browse all of our meal plans.
Did you make this? Be sure to leave a review below and tag me @rachelcooksblog on Facebook, Instagram, or Pinterest!
Looking for an easy way to make burgers especially when it isn't grilling season? Try air fryer burgers! You may be surprised at how well they turn out.
Ingredients
1

pound

lean ground beef

(see note)

1

tablespoon

Worcestershire sauce

½

teaspoon

garlic powder

½

teaspoon

kosher salt

¼

teaspoon

coarse ground black pepper, more to taste

¼

teaspoon

onion powder
Instructions
In a large bowl, combine beef, Worcestershire sauce, garlic powder, salt, pepper, and onion powder until well mixed but not overmixed (your hands work great for this!).

Form beef mixture into 4 even patties (about 1/2-inch thick), and make a slight indentation in the middle of each burger.

Place in air fryer basket and set temperature to 380ºF. Cook for 7 minutes, flip, and cook for an additional 3-5 minutes. When fully cooked, internal temperature of burgers should be 160ºF for a well done burger (see note). Burgers will continue to cook after they are removed from the air fryer so if they are 150ºF to 155ºF, you can take them out. Don't overcook the burgers or they'll get too dry.

If desired, add a slice of cheese when burgers have finished cooking, return to air fryer and let the residual heat melt the cheese (should take a minute or less).
Notes
We tested the recipe with both 85% lean and 92% lean ground beef and found them to be very similar. Choose what you like best! Nutrition information is based on 85% lean ground beef.
Use a quick read meat thermometer to check the internal temperature of your burgers in the thickest middle part of the patty. Air fryers vary and cooking time also varies depending on the thickness of the hamburger patties, so checking the internal temperature of the hamburgers is the best way to ensure they're cooked perfectly.
For frozen patties, increase cooking time. Cook for 9 minutes, flip, and continue to cook for 6-9 minutes or until internal temperature reaches 160ºF.
Nutrition Information
Serving:
1
burger
,
Calories:
249
kcal
,
Carbohydrates:
1
g
,
Protein:
21
g
,
Fat:
17
g
,
Saturated Fat:
7
g
,
Polyunsaturated Fat:
1
g
,
Monounsaturated Fat:
7
g
,
Trans Fat:
1
g
,
Cholesterol:
77
mg
,
Sodium:
408
mg
,
Potassium:
376
mg
,
Fiber:
1
g
,
Sugar:
1
g
,
Vitamin A:
4
IU
,
Vitamin C:
1
mg
,
Calcium:
23
mg
,
Iron:
3
mg
This website provides approximate nutrition information for convenience and as a courtesy only. Nutrition data is gathered primarily from the USDA Food Composition Database, whenever available, or otherwise other online calculators.