Love grilled hot dogs but don't like the hassle? Try air fryer hot dogs, perfectly browned in just 5 minutes. This is a game-changer!
Recipe Overview
Why you'll love it: The hot dogs cook perfectly; it's fast and easy. Toast the buns in the air fryer, too!
How long it takes: 5 minutes
Equipment you'll need: sharp knife, air fryer
Servings: as many as you like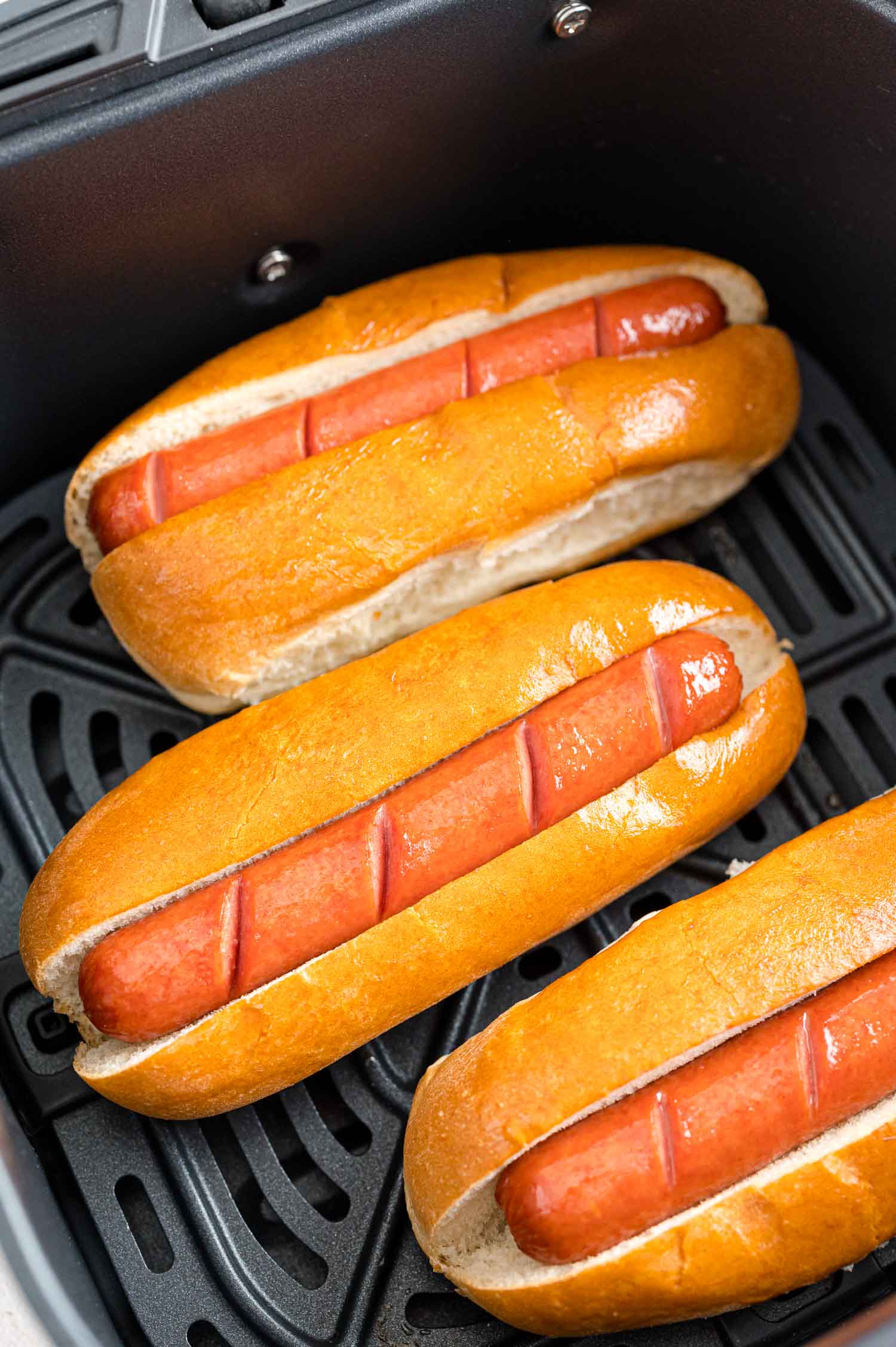 I almost always have a package of hot dogs in my fridge for a quick lunch or dinner. My son isn't a big fan of meat, generally, so a hot dog is an easy alternative for him. Once we tried cooking hot dogs in our air fryer, I find that I crave hot dogs now and then, too. There's nothing quite like a perfectly cooked fully loaded hot dog. Sometimes it really hits the spot.
You're going to want to try this cooking technique soon. The hot dogs turn out so well, juicy, browned and slightly crisp, and the warm toasted buns just take it to the next level.
Why Air Fry Hot Dogs?
They turn out so well! Air fryer hot dogs are really tasty. They have the same great qualities as a grilled hot dog: lightly browned with just a hint of crispness and juicy on the inside. An air fried hot dog is way better than a boiled or microwave hot dog.
It's fast and easy. They're ready to eat in less than 10 minutes. You don't need to boil water, turn on the grill, or mess up your stove.
There's minimal clean-up. Simply wipe out your air fryer with a damp paper towel.
You can toast the buns, too. In my mind, a toasted bun makes all the difference in the world. The additional minute or two it takes is totally worth it. Even slightly stale buns are freshened up by toasting.
What You'll Need
Hot Dogs: Choose whatever type of hot dog you like best. Higher quality hot dogs usually taste better. You can cook as many as you like as long as you can arrange them in a single layer in your air fryer basket, with a little space between. The diameter of the hot dog will determine how long to cook it. The instructions are written for standard hot dogs. Beef hot dogs will brown more nicely than turkey dogs.
Hot Dog Buns: Again, choose whatever you like best. We prefer whole wheat buns but there are so many options to choose from. I like buns that are top cut so I can really load on the toppings.
Toppings (Condiments): What's a hot dog without the toppings? Keep reading for lots of suggestions.
How To Make Air Fryer Hot Dogs
Use a sharp knife to cut four or five shallow slits crosswise in each hot dog. Don't cut all the way through. I like to make the slices slightly slanted because it looks more attractive. (If you cut a lot of slits, you can fan the hot dog out slightly and it will curl into a semi-circle as it cooks.)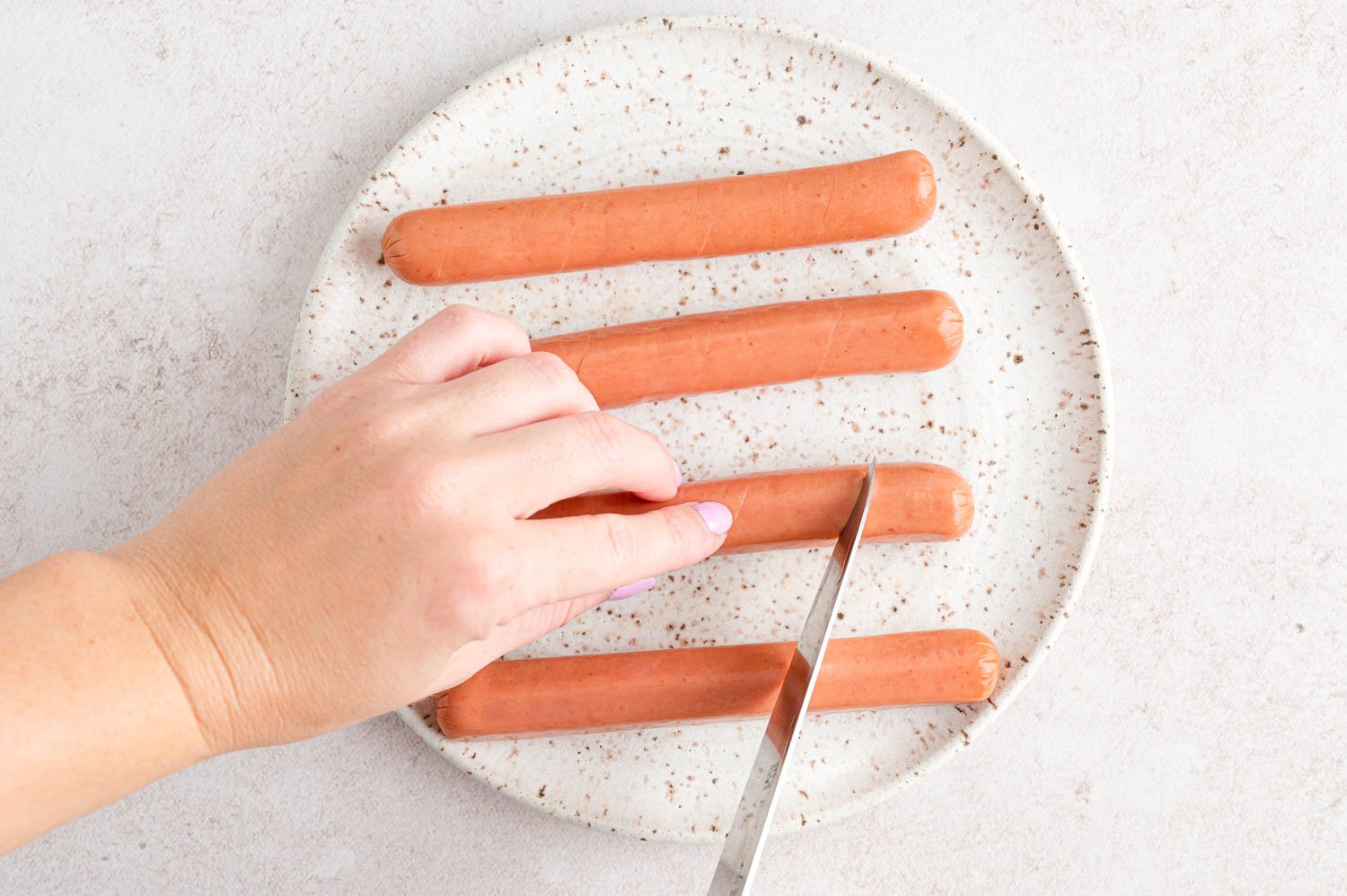 Why Cut Slits in Hot Dogs?
The hot dog will cook more evenly because the slits allow the heat to penetrate to the center of the meat and the hot dog will cook more quickly.
It prevents the hot dog from splitting down the center unattractively.
The cut edges crisp up a bit for maximum flavor.
The accordion-like cuts hold more toppings.
Arrange the hot dogs in the basket of your air fryer. Allow a little space between each dog for good air circulation.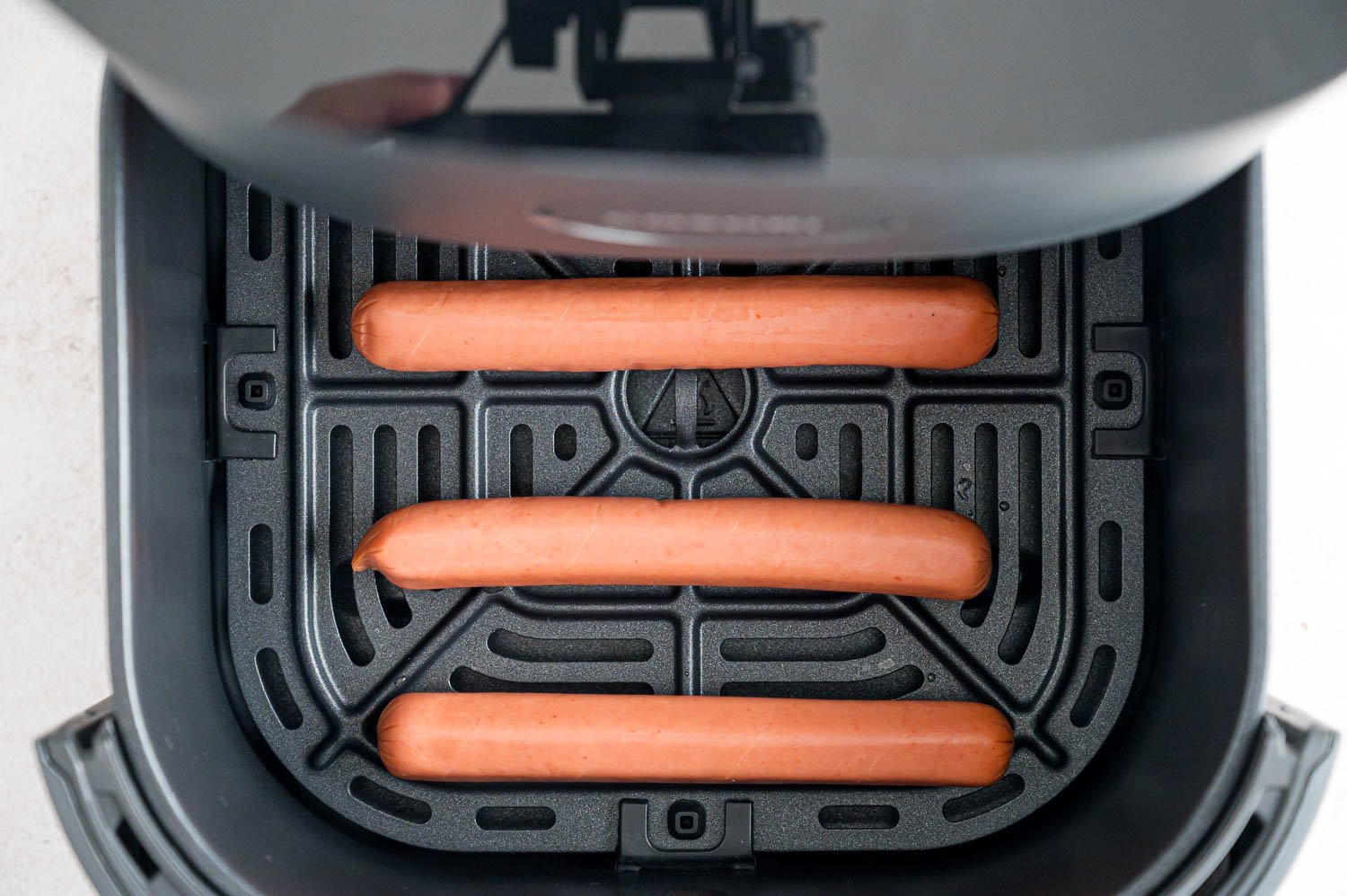 Set the air fryer to 400°F and air fry the hot dogs for 5 to 7 minutes, or until they are browned as desired. If you preheat the air fryer, it will take slightly less time. Really, you can choose what temperature you like. If you set it slightly lower, the hot dogs will just take a bit longer to cook.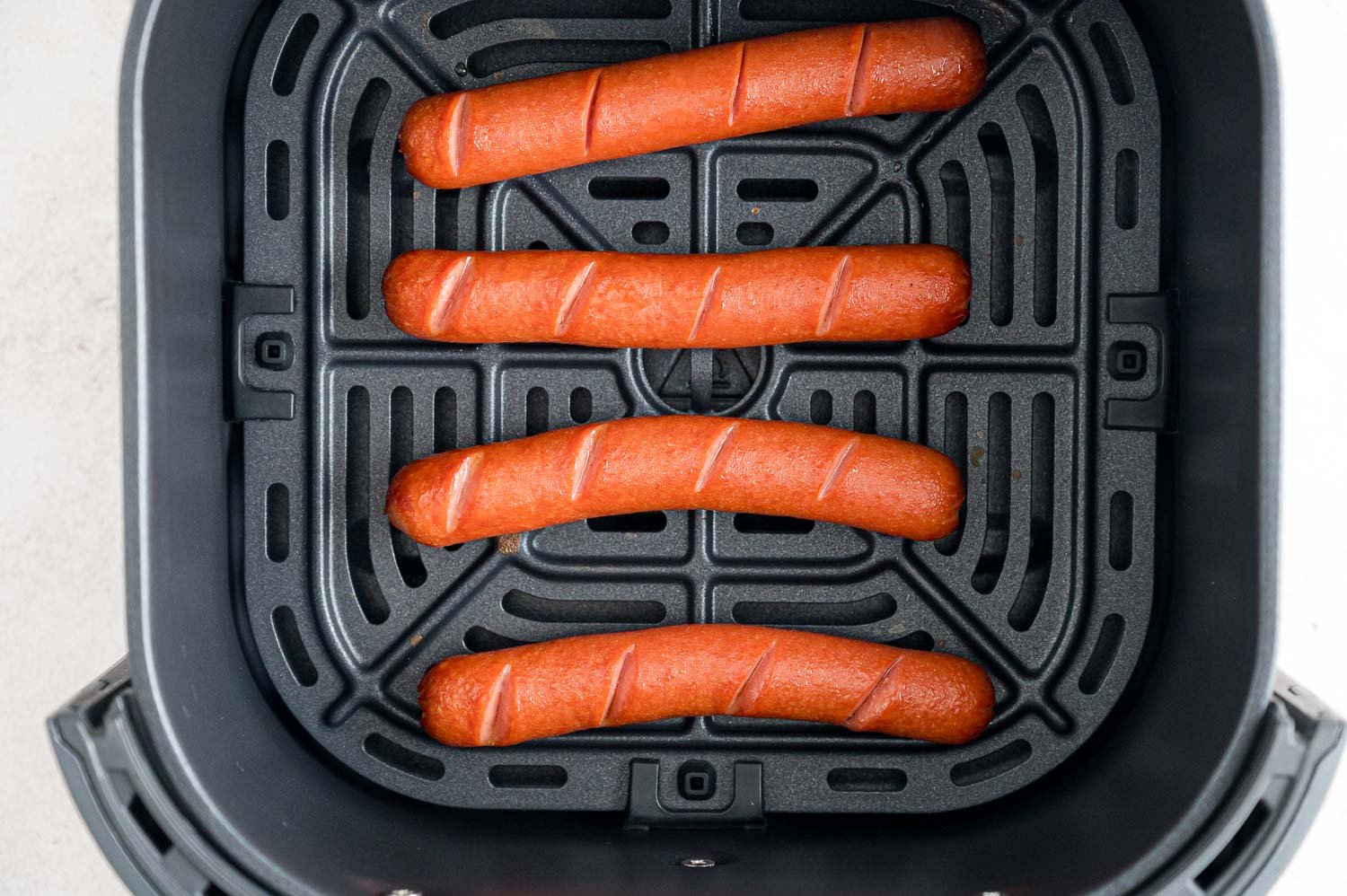 Remove the hot dogs from the air fryer and put them into buns (if you like, butter the buns first). Air fry the hot dogs in the buns for a minute or so, or until the buns are slightly toasted and warm. This step is optional but it's really worth the extra minute.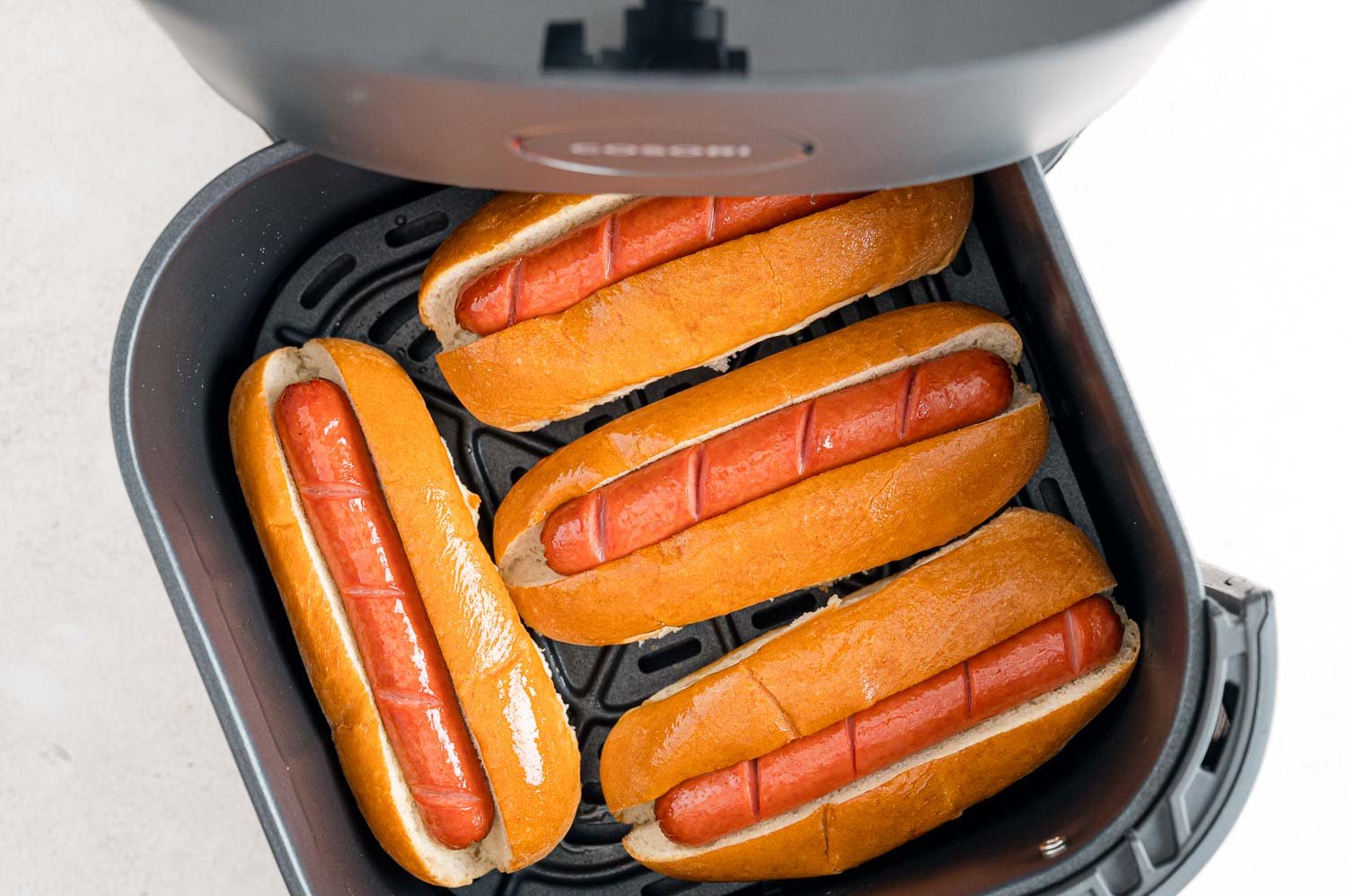 Top each hot dog with the desired toppings and enjoy!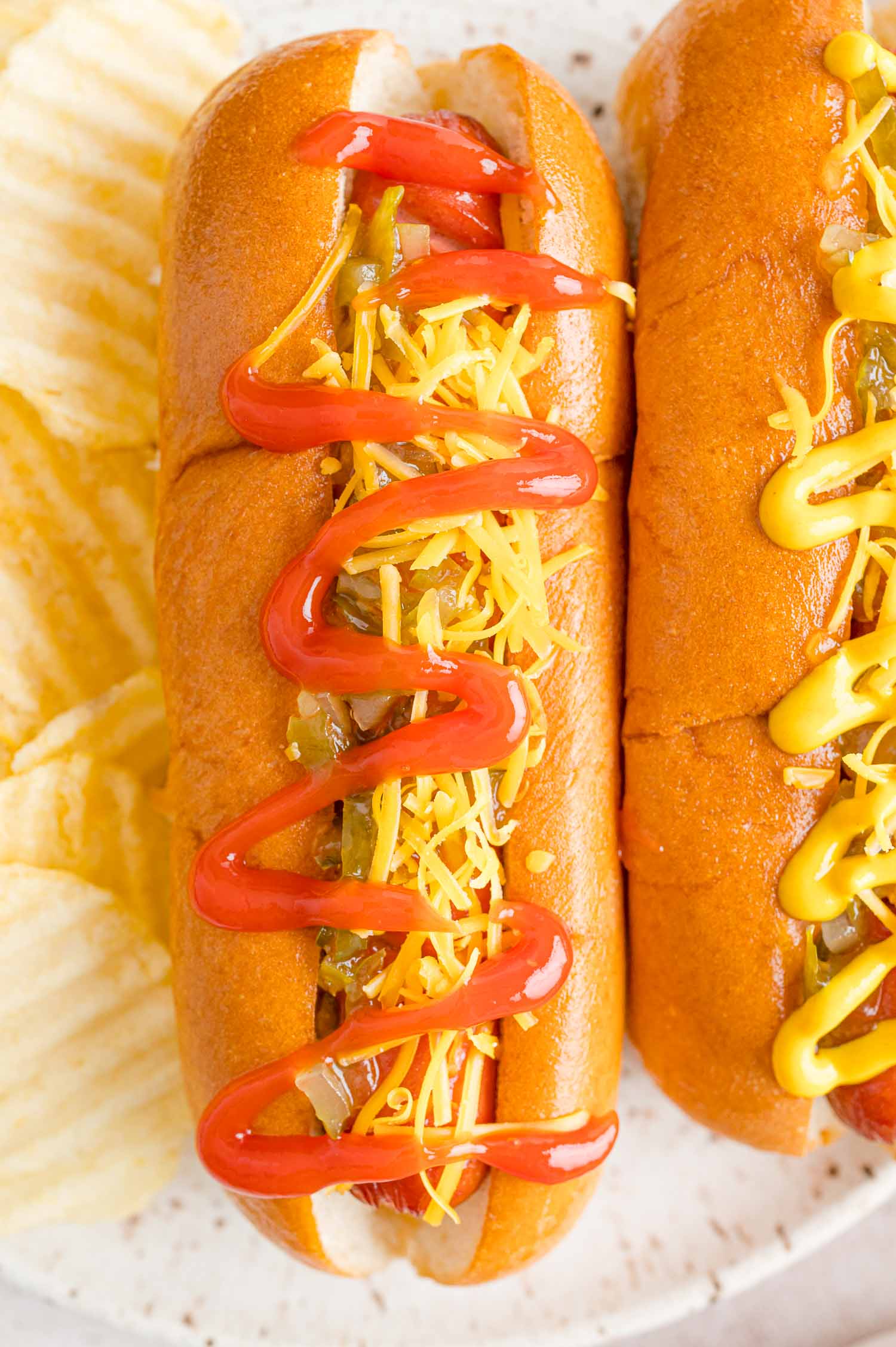 How To Top Hot Dogs
Get as creative as you like — there's no wrong way to top a hot dog! Here's a few regional combinations to get you started (there are many variations of these combinations!):
Classic: ketchup, yellow mustard, chopped raw onions, and pickle relish.
New York Dog: Brown mustard, onion relish, and sauerkraut.
Chicago Dog: Poppy seed bun, yellow mustard, pickle relish, chopped raw onions, tomato wedges, dill pickle spear, a couple of sport peppers, and a dash of celery salt.
Coney Island Dog: All meat chili, chopped raw onions, and yellow mustard, sometimes shredded cheddar.
Seattle Dog: A squirt of cream cheese and grilled onions (jalapeño peppers and sriracha may be added, too).
Sonoran Dog: Bacon-wrapped grilled hot dog topped with pinto beans, salsa or pico de gallo, mayo and mustard.
Slaw Dog: Coleslaw or seasoned cabbage, chili or chili sauce, mustard, onion.
What To Serve With Hot Dogs
Hot dogs and fries are always popular. Keep it simple with potato chips and french onion dip. Homemade creamy coleslaw or potato salad are good choices for a salad. Try crock pot baked beans or oven baked beans (sweet, tangy, and easy to make).
German red cabbage makes a good side or enjoy it as a topping for the hot dogs. Try crockpot mac and cheese or crockpot cheesy potatoes, they are always a hit.
Storage & Reheating Tips
Uncooked hot dogs: According to the USDA, an unopened package of hot dogs can be refrigerated for up to two weeks. Frozen dogs should be used within 2 months for best quality. Always refer to the "sell by" or "use by" date on the package. An opened package of hot dogs will keep in the refrigerator for up to 1 week.
Cooked hot dogs: If you have extra cooked hot dogs, be sure to get them into the refrigerator promptly. If they set out for more than a couple of hours, they should be discarded. Wrap leftover hot dogs in an airtight container, refrigerate promptly, and they'll be good for three to four days.
Reheat: The best way to reheat hot dogs is to briefly air fry them until they are heated through. They can also be microwaved. Wrap one or two in a paper towel and microwave in 30 second increments until the hot dog is warmed through.
Did you make this? Be sure to leave a review below and tag me @rachelcooksblog on Facebook, Instagram, or Pinterest!
Love grilled hot dogs but don't like the hassle? Try air fryer hot dogs, perfectly browned in just 5 minutes. This is a game-changer!
Ingredients
4

hot dogs

(more if desired)

4

hot dog buns

(more if desired)

condiments of your choice

(ketchup, mustard, relish, onions, etc.)
Instructions
Cut 4 to 5 diagonal shallow slits in the top of each hot dog, about 1 inch apart.

Place the hot dogs in the air fryer basket in a single layer. If needed, cook in batches to avoid overcrowding the basket.

Air fry at 400°F for 5 to 7 minutes or until the hot dogs are heated through and lightly browned.

If desired, when hot dogs are cooked, place them in buns and cook for another minute to warm and lightly toast buns.

Add condiments of your choice and serve hot.
Notes
If desired, butter buns before inserting hot dogs and toasting.
Nutrition information is calculated for beef franks and whole wheat hot dog buns. It does not include condiments.
Refer to the post for topping suggestions.
Nutrition Information
Serving:
1
hot dog
,
Calories:
259
kcal
,
Carbohydrates:
20
g
,
Protein:
9
g
,
Fat:
16
g
,
Saturated Fat:
6
g
,
Polyunsaturated Fat:
1
g
,
Monounsaturated Fat:
8
g
,
Cholesterol:
25
mg
,
Sodium:
656
mg
,
Potassium:
127
mg
,
Fiber:
2
g
,
Sugar:
3
g
,
Calcium:
45
mg
,
Iron:
2
mg
This website provides approximate nutrition information for convenience and as a courtesy only. Nutrition data is gathered primarily from the USDA Food Composition Database, whenever available, or otherwise other online calculators.