German Red Cabbage (sweet & sour)
Classic German red cabbage makes a memorable side dish. This inexpensive winter vegetable is tasty, nutritious, and easy to prepare.
Recipe Overview
Why you'll love it: Sautéed red cabbage is quite strikingly purple, making it rather fun to eat (and it tastes great, too).
How long it takes: 10 minutes to prep, 35 minutes to cook, depending on how tender you like. it.
Equipment you'll need: sharp knife, large skillet with a lid
Servings: 8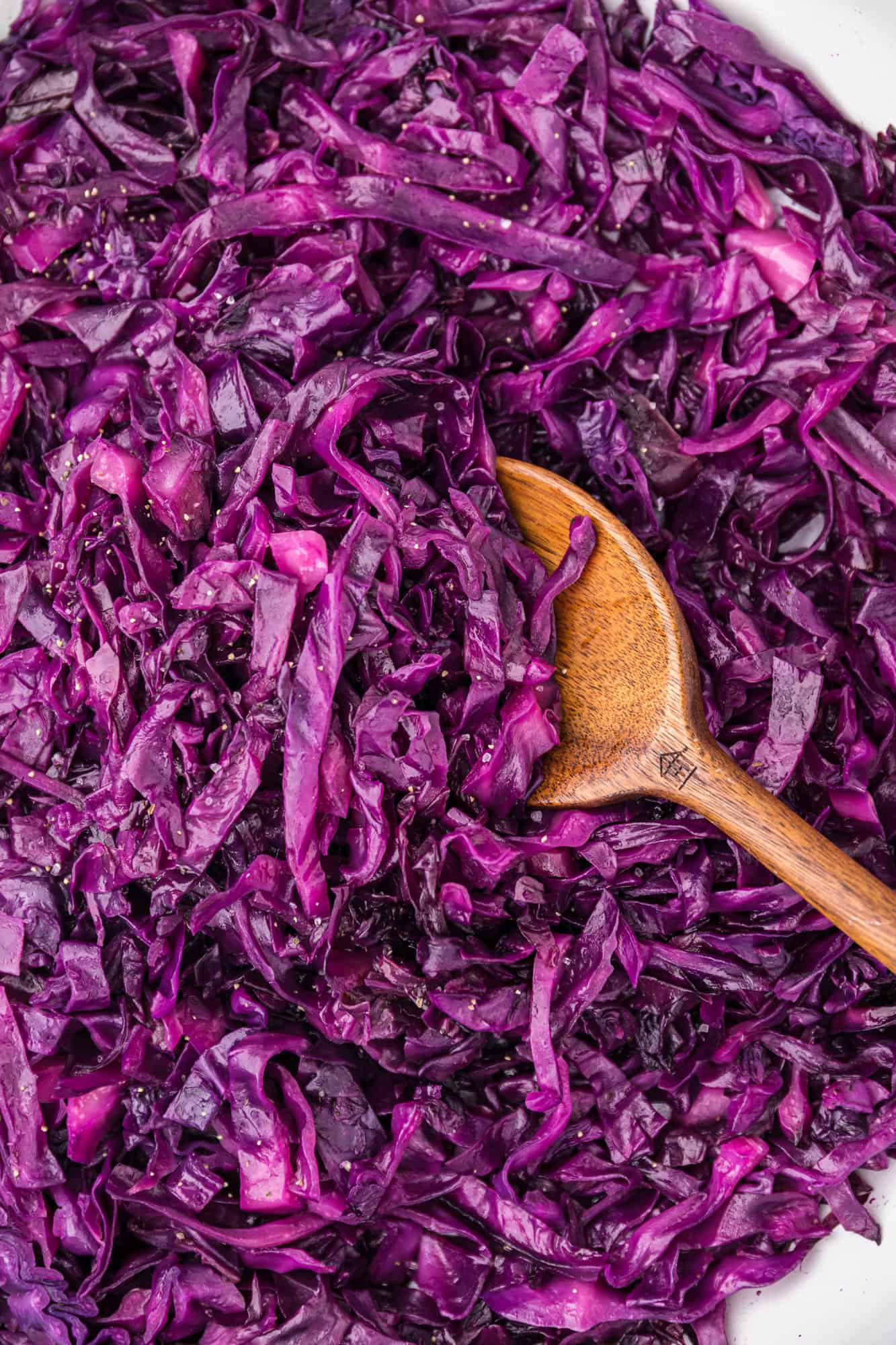 I'm not sure why it's called red cabbage. To me, it looks amazingly purple, a rather brilliant shade of purple, in fact. Not lavender or violet or mauve, it's about as purple as it gets, both raw and cooked.
It's really quite beautiful, don't you think? Isn't purple a royal color? Maybe the royal people didn't want to be associated with the humble cabbage, often considered a poor man's food in the past, so they named it "red" instead of calling it like it really is.
Anyhow, enough musing about the color. Sweet and sour red cabbage has Germanic origins. It's often served with roasted meat, such as pork, goose, or duck. The tangy/sweet flavor complements rich meat perfectly.
Cabbage is super nutritious. It's part of the Brassica group of vegetables, along with Brussels sprouts, broccoli, and kale. Red cabbage has lots of health benefits, according to Healthline. It contains 4.5 times more antioxidants than green cabbage!
So, you can see, it's a good idea to include more red cabbage in your diet, and this simple recipe is a perfect way to do it. It tastes great and you will add a little royal color to your dinner plate.
About This Recipe
The red cabbage is braised for this recipe. First, it's sautéed in a bit of oil, then slowly simmered until tender. This cooking method is often used to cook tougher cuts of meat. Try my braised lamb shanks or my Instant Pot pot roast. They turn out meltingly tender using the braising method of cooking (and would go great with this red cabbage).
By the way, adding vinegar to the red cabbage has more than one purpose. Vinegar is the tangy part of the sweet and sour flavor, and it also keeps the cabbage looking good. The compounds that give red cabbage its color and antioxidants (anthocyanins) are water-soluble. Without a mild acid like vinegar or lemon juice, the cabbage will turn an unappetizing grayish blue color.
I didn't know this before but you can freeze cooked cabbage, both red and green. It freezes well and you don't even have to thaw it before you reheat it. Just put the cooked cabbage in resealable bags and it's ready when you are. I love that idea!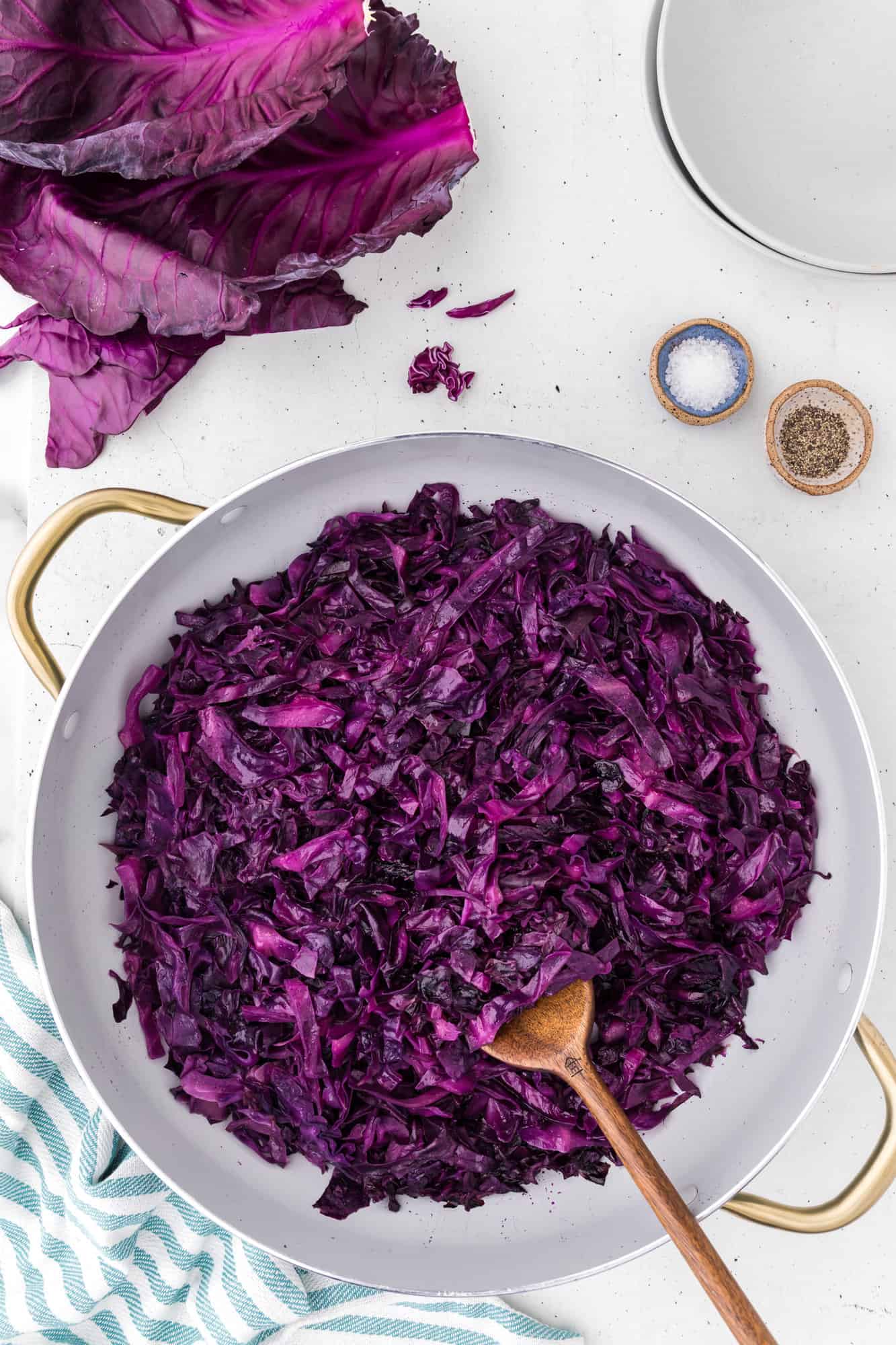 How To Store Red Cabbage
Leave the head whole and unwashed. Cutting it will make it spoil more quickly. Store the cabbage in a plastic bag in the crisper drawer of your refrigerator. It will keep for a month, and often up to two months.
What You'll Need
Red Cabbage: Look for a head of cabbage in the produce section of your grocery store. It should feel quite heavy and very firm. The outside leaves should be shiny and crisp. You'll need a cabbage that is about one and half pounds, more or less. If you buy an extra large cabbage and don't use it all, use the remainder to make this cabbage salad with honey lime dressing.
Olive Oil and Butter: Combining these two oils has a couple of benefits: more flavor and a higher smoke point. If you'd rather use one or the other, that will work, too.
Red Wine Vinegar: This is the sour part of sweet and sour red cabbage. Red wine vinegar is tangy with a hint of sweetness.
Sugar: Granulated white sugar is the sweet part. Both the vinegar and sugar are pantry staples, inexpensive and convenient.
Salt and Pepper: These simple seasonings are all you need. Be fairly generous with the salt.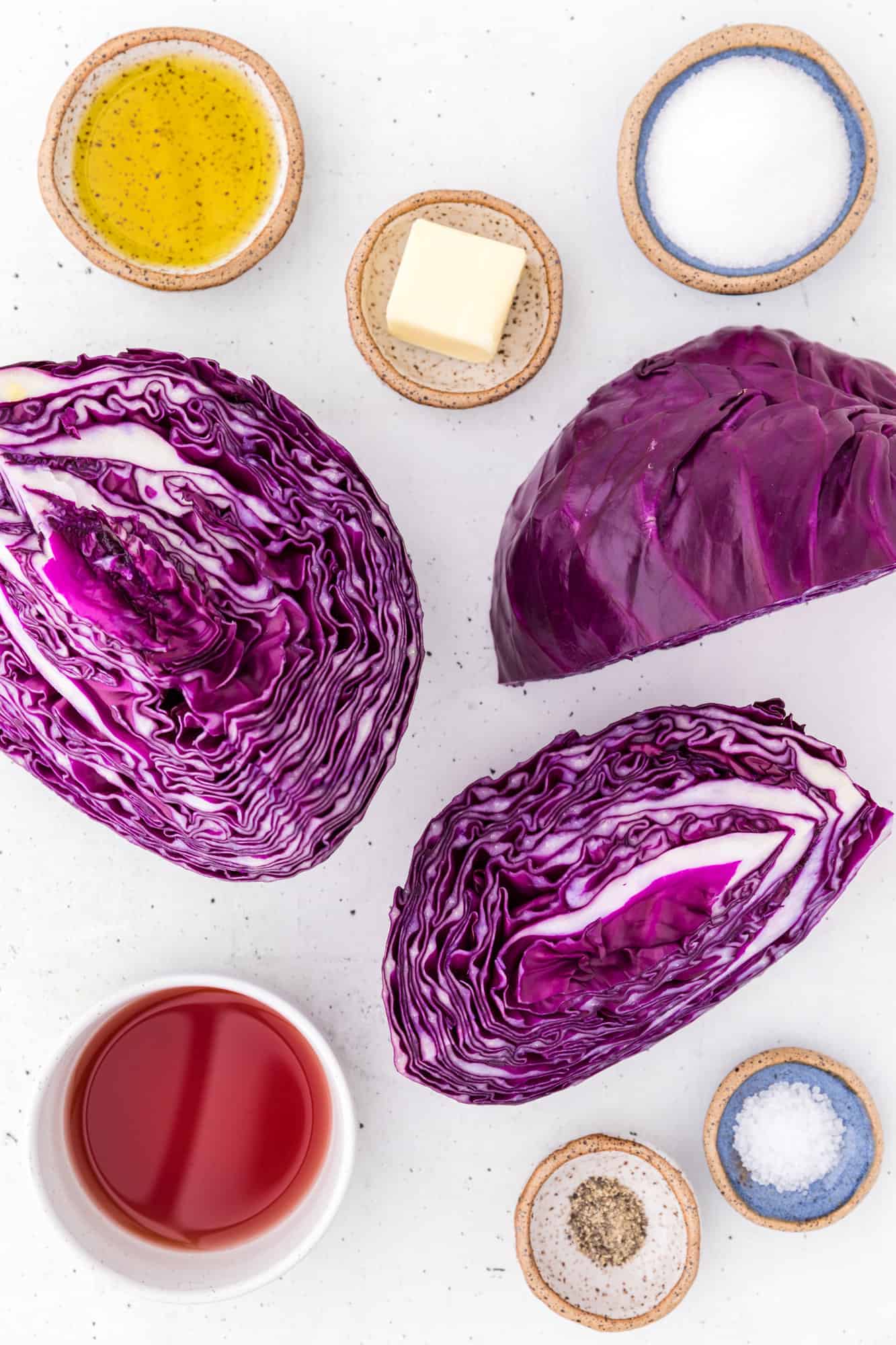 How To Cut A Head of Cabbage
Remove the outer leaves if they are wilted. Rinse the outside of the cabbage and shake off excess water.
Cut the cabbage in half from top to bottom, through the core. Remove the core by making vertical cuts on either side and lifting it out.
Place the cabbage halves cut side down on the cutting board and thinly slice. Cut across the slices for bite size pieces.
Watch a short YouTube video (Martha Stewart) to see a demonstration.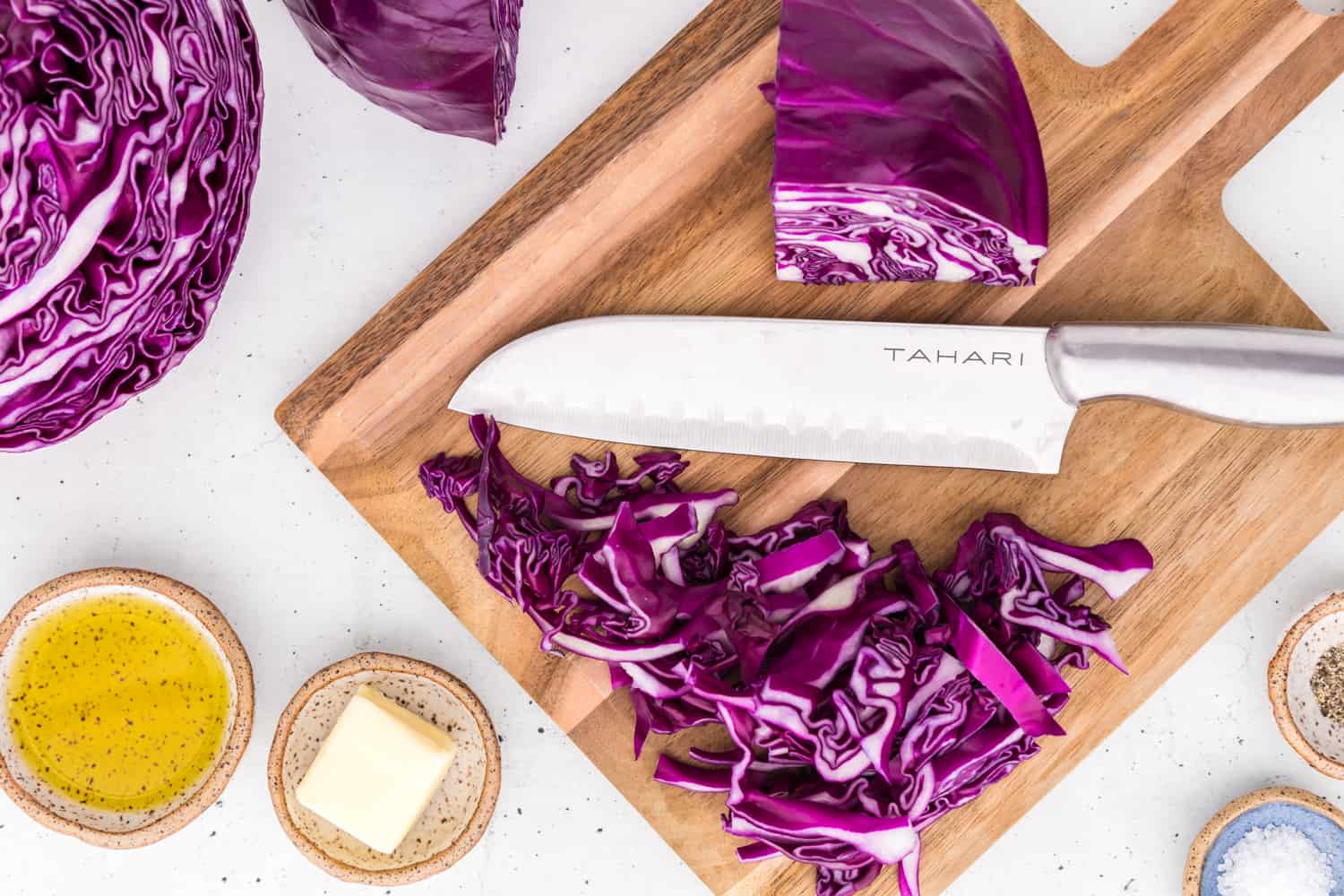 How To Make It
You'll need a large skillet with a lid, or a Dutch oven. The cabbage cooks down quite a lot but when you first put it into the pan, it will fill it up.
Over medium heat, melt the butter and olive oil together. When the butter is melted, add the chopped red cabbage. Season it with salt and pepper, and continue to cook, stirring frequently until the cabbage begins to wilt, about 5 minutes.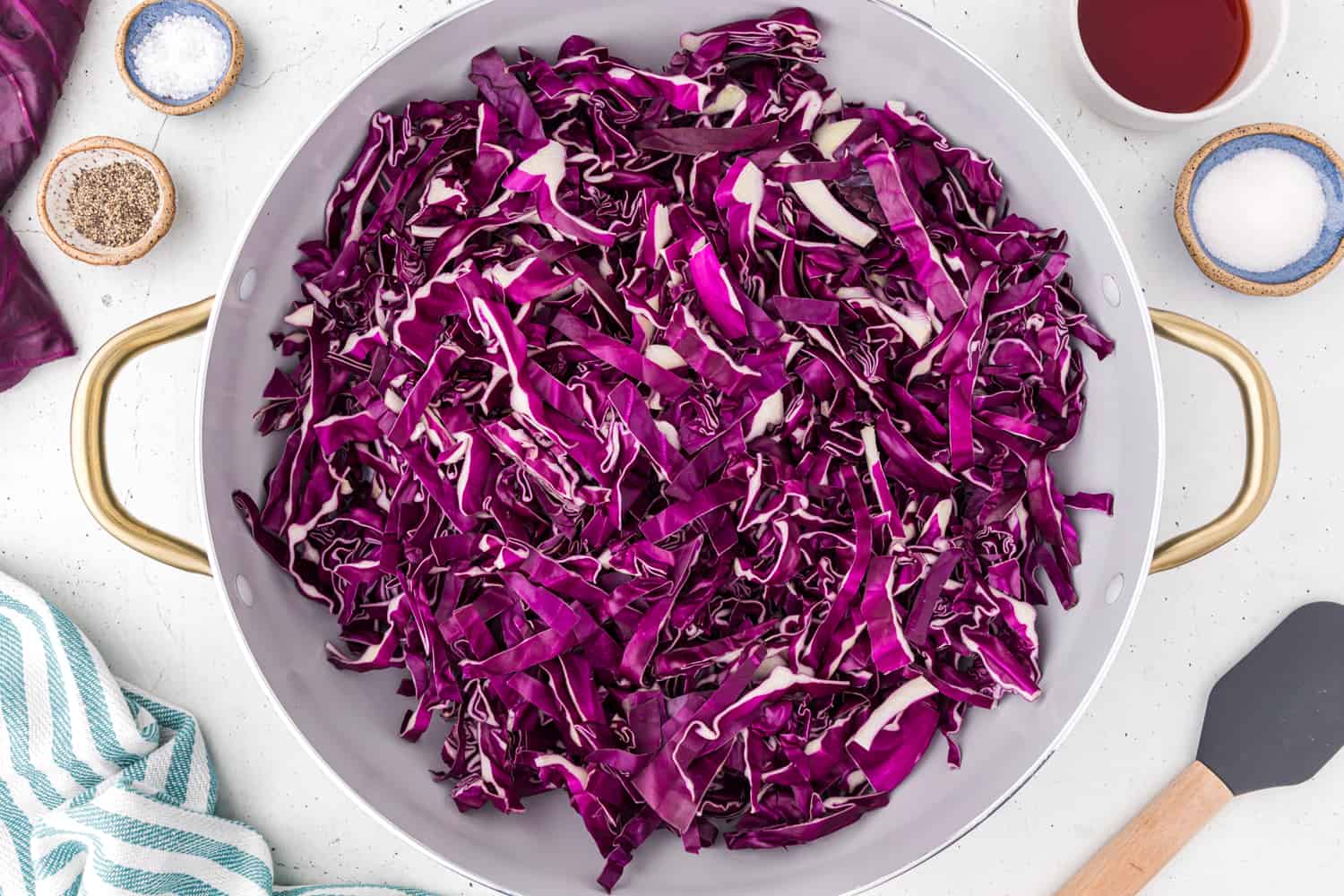 Stir in the cider vinegar and sugar, and lower the heat to a simmer. Cover the pan and simmer the cabbage until it's tender, about 30 minutes, giving it a stir now and then.
How can you tell when the cabbage is tender? The best way is to take a bite and see what you think. It's really a matter of personal preference. Some folks like the cabbage to have a crisp tender texture, with a little crunch. Others like it to be melt-in-your-mouth tender. If it's not what you'd like it to be, give it a little more cooking time.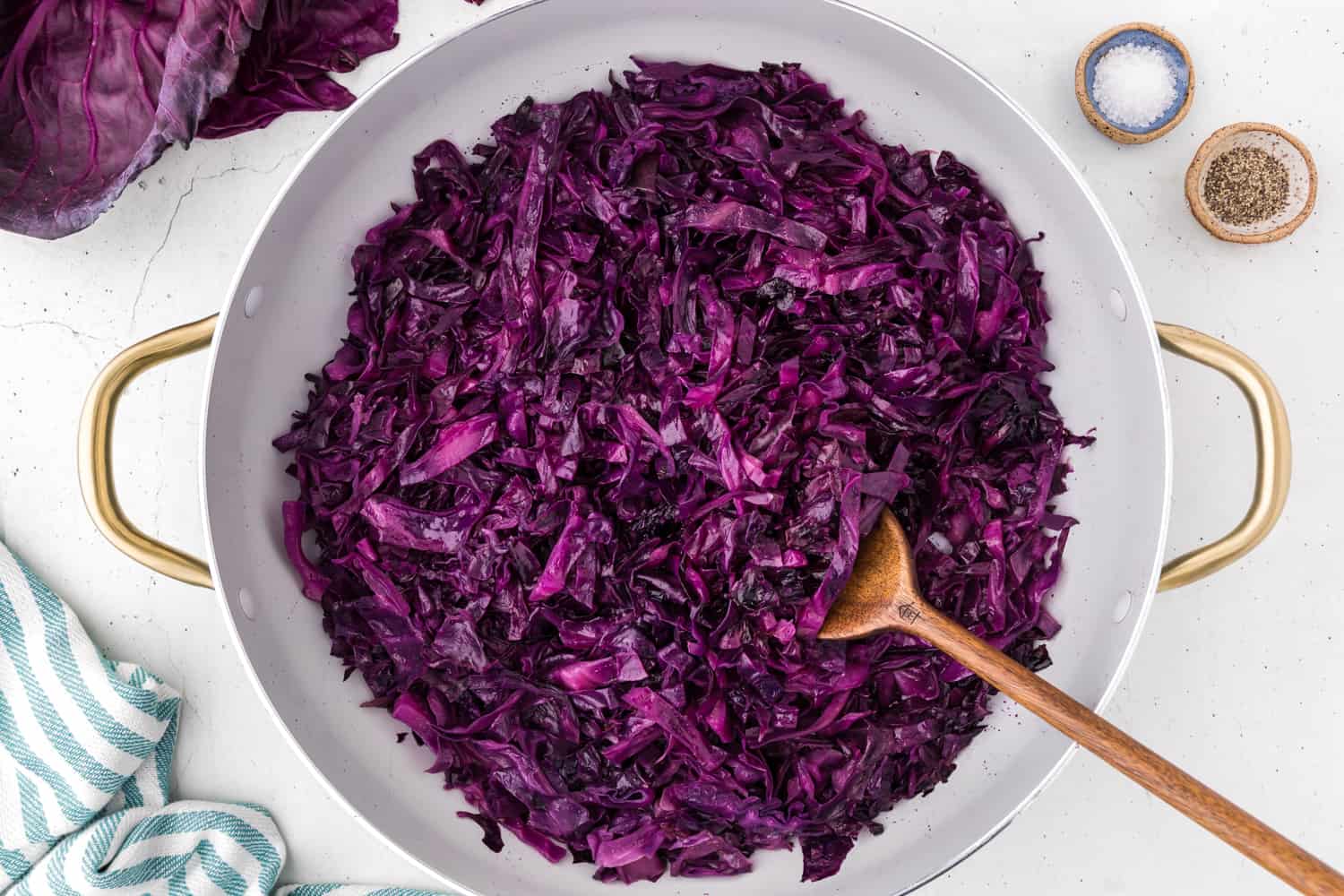 Be sure to check the seasoning before serving the cabbage, and add more salt and/or pepper, if you like. Check out the section below if you're wondering what to eat with your German red cabbage.
What To Serve With German Red Cabbage
FAQs
What is the healthiest way to eat red cabbage?
According to WebMD, the healthiest way to eat red cabbage is raw. Shredded red cabbage is delicious in salads and coleslaws.
Red cabbage can also be sautéed, steamed, or braised. It will retain much of its nutrients no matter how it's prepared. Fermented red cabbage is a powerful probiotic; it improves gut health, immune system, and digestion.
Do you cook red cabbage the same as green cabbage?
Red cabbage is usually cooked a bit longer than green cabbage; it takes longer to become tender. In addition, either vinegar or lemon juice is often added to red cabbage. Without it, the color can leach out, resulting in an unappetizing grayish blue color.
Make It Your Own
Add an onion. Thinly slice it and add it to the pan when you add the cabbage.
Add apples. One or two Granny Smith apples, thinly sliced, can be added with the cabbage.
Make it with bacon. Saute bacon in the skillet until mostly crisp. Add the cabbage to the pan and continue with the recipe as directed, omitting the oil and butter.
Substitute a different type of vinegar such as balsamic vinegar, cider vinegar, or plain white vinegar.
Make this recipe dairy free and vegan by omitting the butter and using 2 tablespoons of olive oil.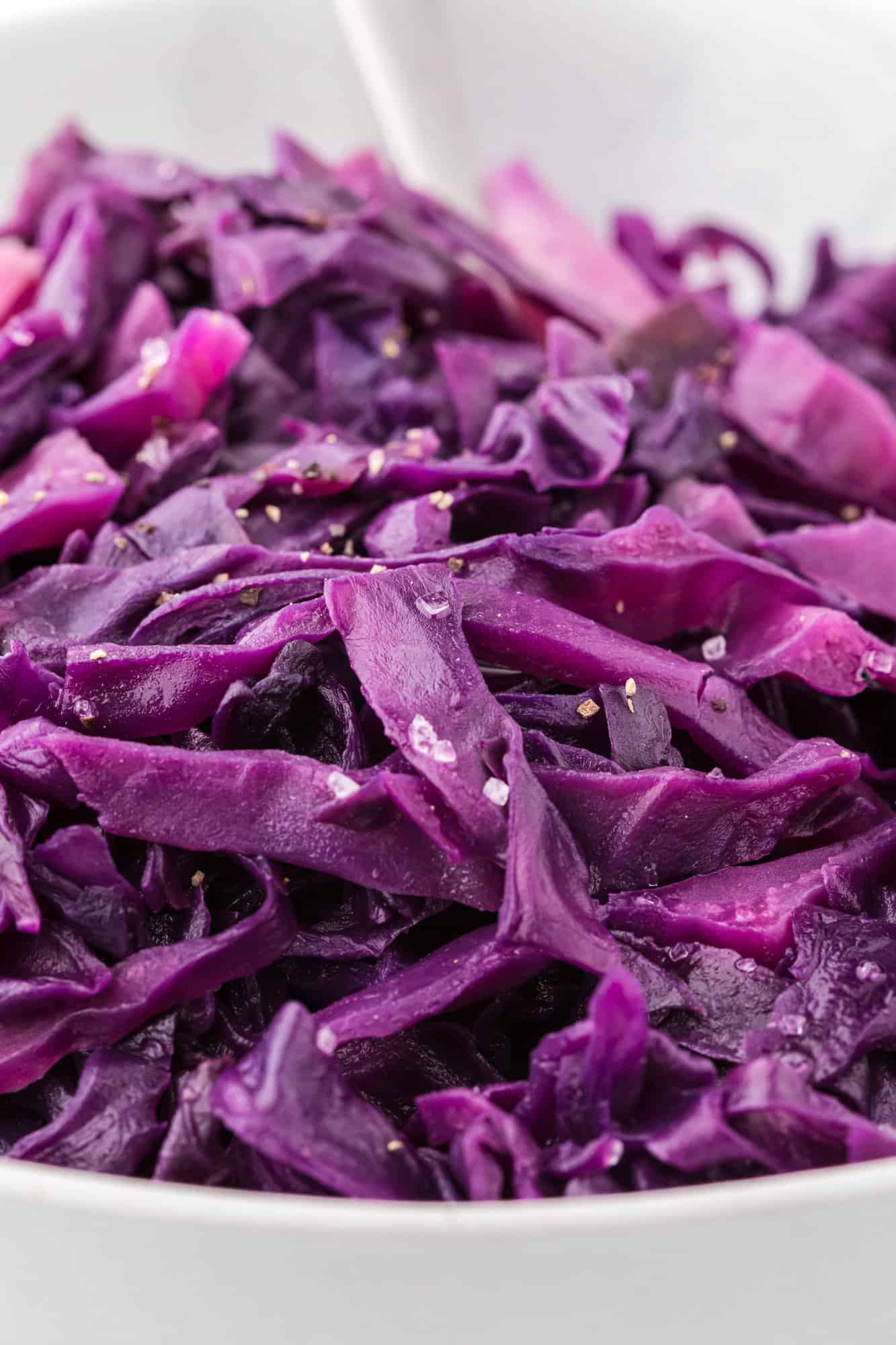 Make-Ahead Ideas
Since red cabbage freezes well, it can be made ahead. Make a big batch and freeze it in portion-sized resealable bags for later use. It's perfect when you want to add another veggie to your menu.
Storage & Reheating Tips
Cooked red cabbage will keep in the refrigerator for up to five days if refrigerated promptly and covered. You can freeze cabbage, too, for at least three months. The texture does get a bit softer when the cabbage is reheated. To freeze, cool the cooked cabbage and place in resealable freezer bags. Flatten the bags and label. There's no need to thaw the cabbage out before reheating.
To reheat, place cabbage, either chilled or frozen, in a skillet over low to medium heat. Heat until warmed through. If the cabbage seems dry, add a splash of water. Individual portions can be reheated in the microwave.
Leftover Love
Stir leftover red cabbage into vegetable soup or to add flavor and nutrition.
Did you make this? Be sure to leave a review below and tag me @rachelcooksblog on Facebook, Instagram, or Pinterest!
Classic German red cabbage makes a memorable side dish. This inexpensive winter vegetable is delicious, nutritious, and easy to prepare.
Ingredients
1

head

(

1.5

pounds) red cabbage

1

tablespoon

olive oil

1

tablespoon

butter

(see note)

½

teaspoon

kosher salt, more to taste

¼

teaspoon

pepper, more to taste

3

tablespoons

red wine vinegar

2

tablespoons

sugar
Instructions
Halve cabbage and cut out core. Thinly slice cabbage halves into ¼ to ½ inch slices; cut across slices for bite-size pieces. You should have about 8 to 10 cups.

In a large deep skillet or Dutch oven, over medium heat, melt butter and olive oil together. When butter is melted, add cabbage and season with salt and pepper. Stir well. Cook until wilted, about 5 minutes, stirring frequently.

Add vinegar and sugar. Bring to a simmer, reduce heat to low. Cover, and cook for 30 minutes or until tender, stirring frequently. If cabbage starts to stick to bottom of the pan, add water, a tablespoon at a time.

Taste and season with more salt and pepper, if needed. Serve immediately.
Notes
To make this recipe vegan and dairy-free, use 2 tablespoons olive oil and omit the butter.
Flavor variations: Add an onion or apple, thinly sliced, to cook with the red cabbage. Stir in a half teaspoon of caraway seeds, if desired. Use balsamic vinegar instead of red vinegar.
Cooked red cabbage can be frozen in freezer safe bags for up to 3 months. There's no need to thaw it before reheating.
Nutrition Information
Serving:
0.5
cup
,
Calories:
67
kcal
,
Carbohydrates:
9
g
,
Protein:
1
g
,
Fat:
3
g
,
Saturated Fat:
1
g
,
Polyunsaturated Fat:
0.3
g
,
Monounsaturated Fat:
2
g
,
Trans Fat:
0.1
g
,
Cholesterol:
4
mg
,
Sodium:
180
mg
,
Potassium:
210
mg
,
Fiber:
2
g
,
Sugar:
6
g
,
Vitamin A:
993
IU
,
Vitamin C:
49
mg
,
Calcium:
39
mg
,
Iron:
1
mg
This website provides approximate nutrition information for convenience and as a courtesy only. Nutrition data is gathered primarily from the USDA Food Composition Database, whenever available, or otherwise other online calculators.