Tender and buttery, sautéed cabbage is a delicious side dish that goes well with almost anything. The bonus? Cabbage is super nutritious and economical, too.
Recipe Overview
Why you'll love it: A head of green cabbage keeps really well in the fridge, up to 2 weeks, it's easy to prepare, and makes a great side dish.
How long it takes: less than a half hour
Equipment you'll need: large pan, sharp knife
Servings: 8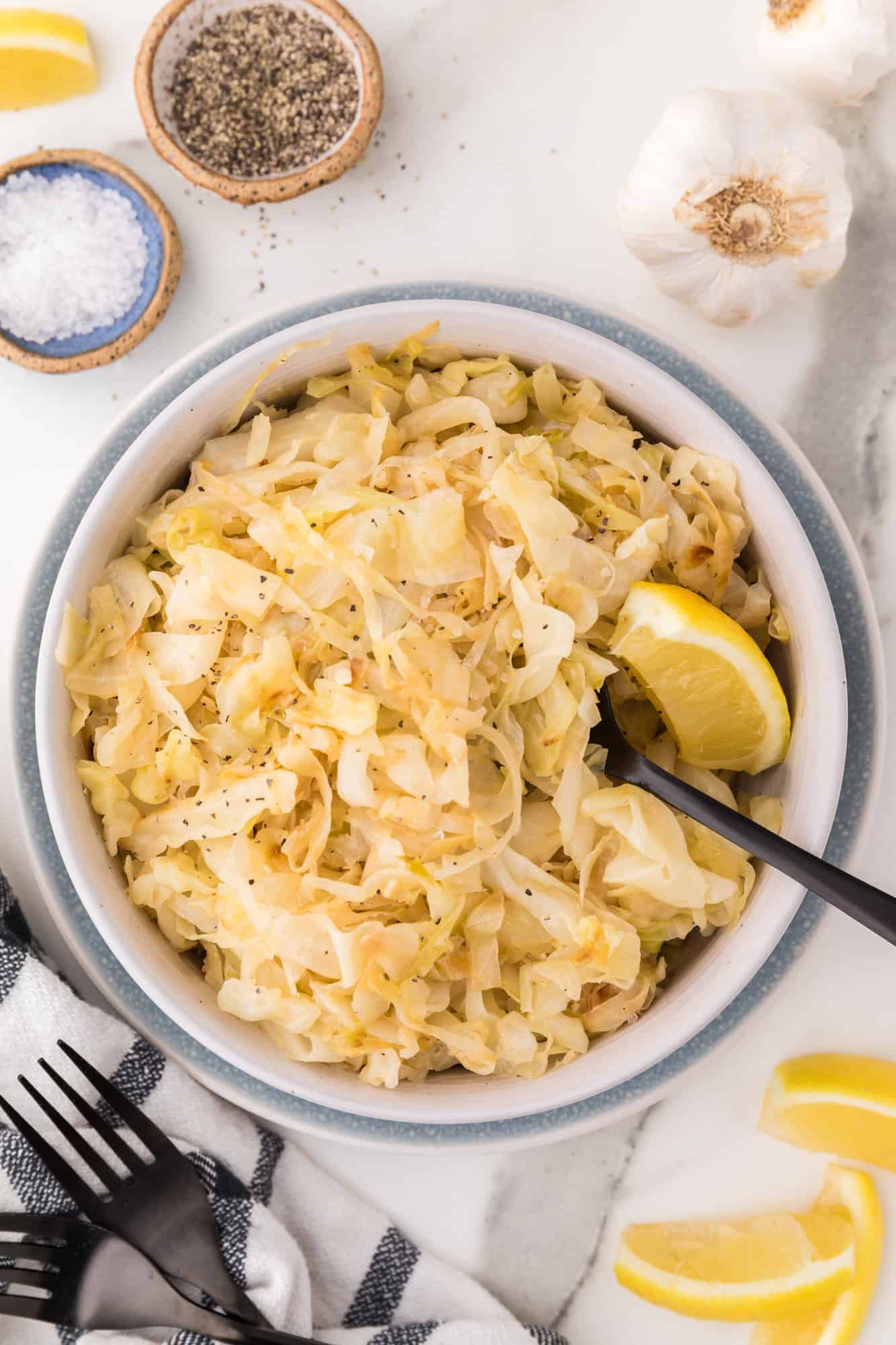 Sometimes green cabbage gets a bum rap. Many of you have had unpleasant run-ins with overcooked boiled cabbage: mushy, gray, and stinky. Don't let that turn you off cabbage forever. Cabbage is sorta like those bad boy Brussels sprouts which also got an undeserved bad rap.
Let's give these guys a second chance. Brussels sprouts are already regaining popularity. Gone are the days of boiled Brussels! We've been introduced to new and improved Brussels: roasted Brussels sprouts, air fryer Brussels sprouts, sautéed Brussels sprouts, cheesy Brussels sprouts au gratin. They've been remade and now we love 'em!
Let's start a love affair with cooked cabbage. And why not? Cabbage is super nutritious, inexpensive, keeps well, and it tastes great. It's in the same family as Brussels sprouts (but Brussels sprouts are not baby cabbages). Don't forget, cabbage is the main ingredient in coleslaw and everyone pretty much loves that, from creamy coleslaw to vinegar coleslaw to Asian coleslaw salad.
Give sautéed cabbage a try. I think you'll be pleasantly surprised (or maybe I'm preaching to the choir). It's mild-tasting, almost buttery in flavor, and just tender, with a little bit of crispness remaining. Why should kale and spinach get all the glory?
Cooked cabbage is traditionally served on St. Patrick's Day (be sure to check out my list of St. Patrick's Day recipes), so you'll likely see good deals on cabbage this time of year. Since it's a cold weather crop, cabbage is readily available in fall, winter, and spring.
About This Recipe
This simple side dish goes well with most meals. Sautéed cabbage is easy to prepare and can be on the table in less than a half hour. Just slice it up and cook it until it's lightly browned, tender, and oh, so good.
There are many ways you can enhance the cooked cabbage. This recipe includes a clove of minced garlic, a squeeze of lemon, and optional red pepper flakes. Feel free to change things up however you prefer. I'll give you some ideas in the Make It Your Own section below.
Be sure to try my sweet and sour red cabbage, too!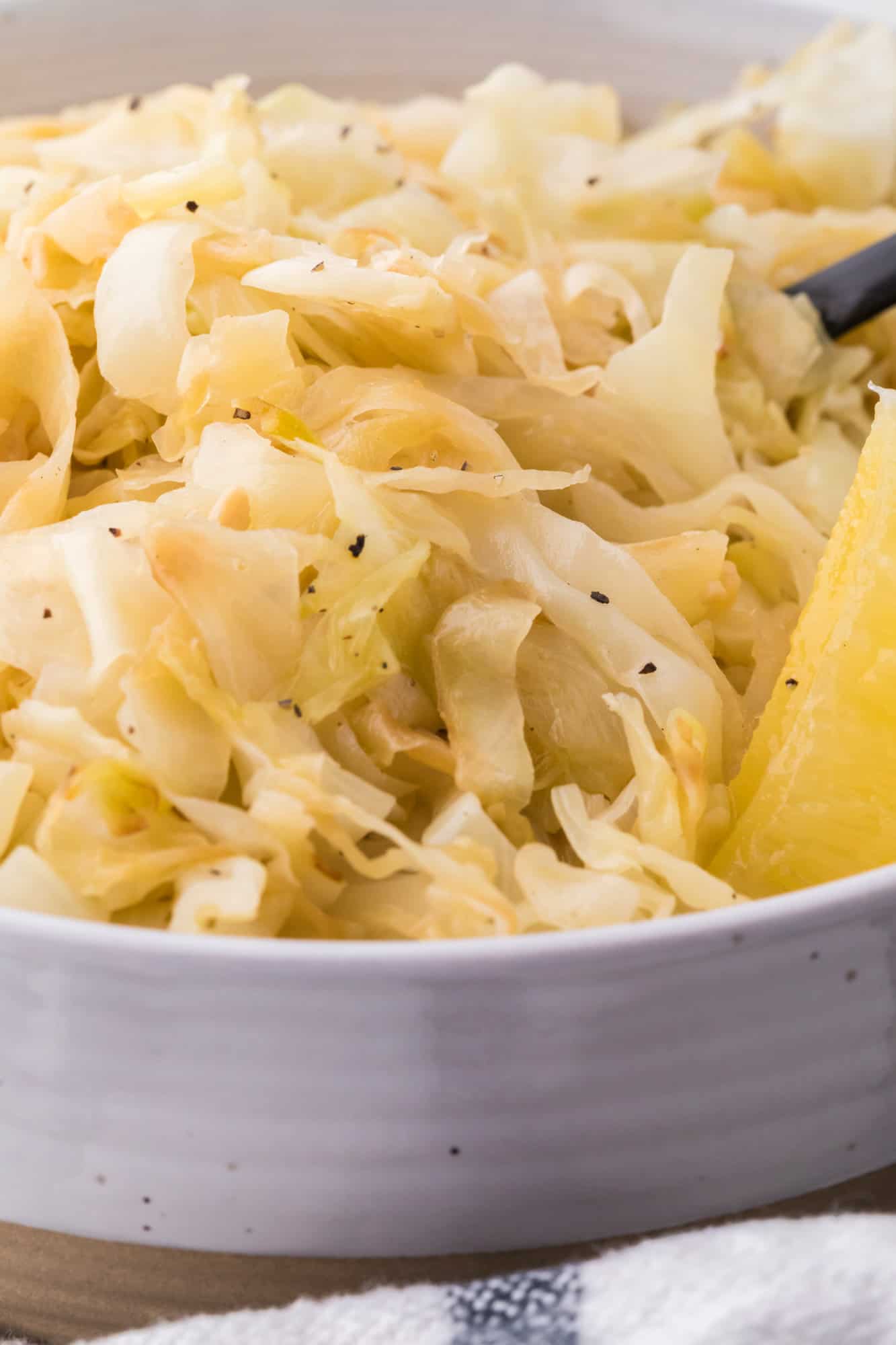 It's very easy to sauté cabbage. I'll get you started with helpful extra information. The recipe card near the bottom of the post has specific measurements, instructions, and nutrition information.
Cabbage 101
How to Choose a Cabbage:
Look for a firm cabbage with good color.
It should smell fresh and the inner leaves should be glossy.
Avoid cabbages that have soft or discolored outer leaves.
How to Store Cabbage:
To store uncooked cabbage, put the whole head in a plastic bag and refrigerate it.
Cut/sliced cabbage loses Vitamin C more quickly than a whole head and the cut edges tend to discolor.
A head of cabbage will keep for about 2 weeks in the crisper drawer of your fridge.
What You'll Need
Cabbage: This recipe is written for green cabbage. Buy a small head of cabbage, about one and a half pounds. If you can only find large cabbages, use half for this recipe and the other half to make coleslaw later on this week.
Butter & Olive Oil: Use a combination of butter and oil to sauté the cabbage. Butter gives the cabbage good flavor; oil has a higher smoke point. Omit the butter and use all oil to make this dish vegan and non-dairy.
Garlic: Just a hint of garlic really enhances the flavor. If you are a garlic lover, you may want to add more than one clove, or the garlic can be left out if you prefer.
Salt & Pepper: Season the cabbage to taste. Red pepper flakes can be used instead of black pepper.
Lemon: This ingredient is optional but I encourage you to give it a try. The lemon juice really perks up the recipe with bright acidic flavor.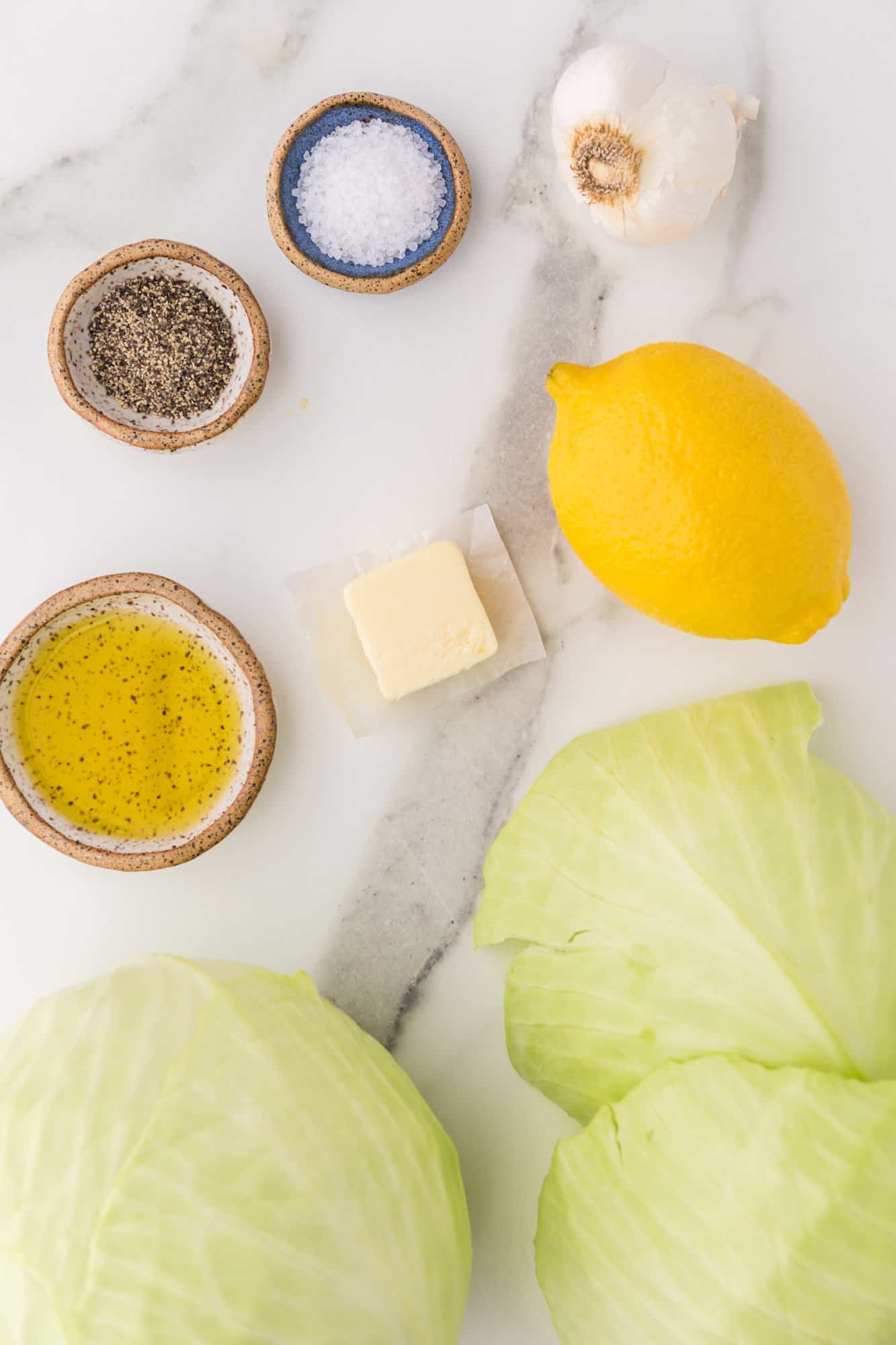 How To Make It
The first step is prepping the cabbage. Remove the loose outer leaves and rinse the cabbage thoroughly under cool running water. Place the cabbage on a cutting board and, using a large sharp knife, cut it in half, then into quarters.
Next, remove the solid core from each quarter. Slice into the cabbage, using a triangular cut, and lift the core out.
Slice each quarter into thin slices, from top to bottom. It will look like a big pile of cabbage; in fact, you should end up with eight to ten cups of sliced cabbage. The cabbage cooks down quite a bit, to about 4 cups.
You'll need a large deep skillet or Dutch oven to sauté the cabbage. Put the butter and oil into the pan, and heat it until the butter melts. Add the garlic and cook it briefly, just until it starts to smell really great.
Throw in all the cabbage, sprinkle it with salt and pepper, and stir well. It takes a bit of stirring to distribute the oil, garlic, and seasonings. Continue to cook the cabbage, giving it a stir now and then, for about fifteen minutes.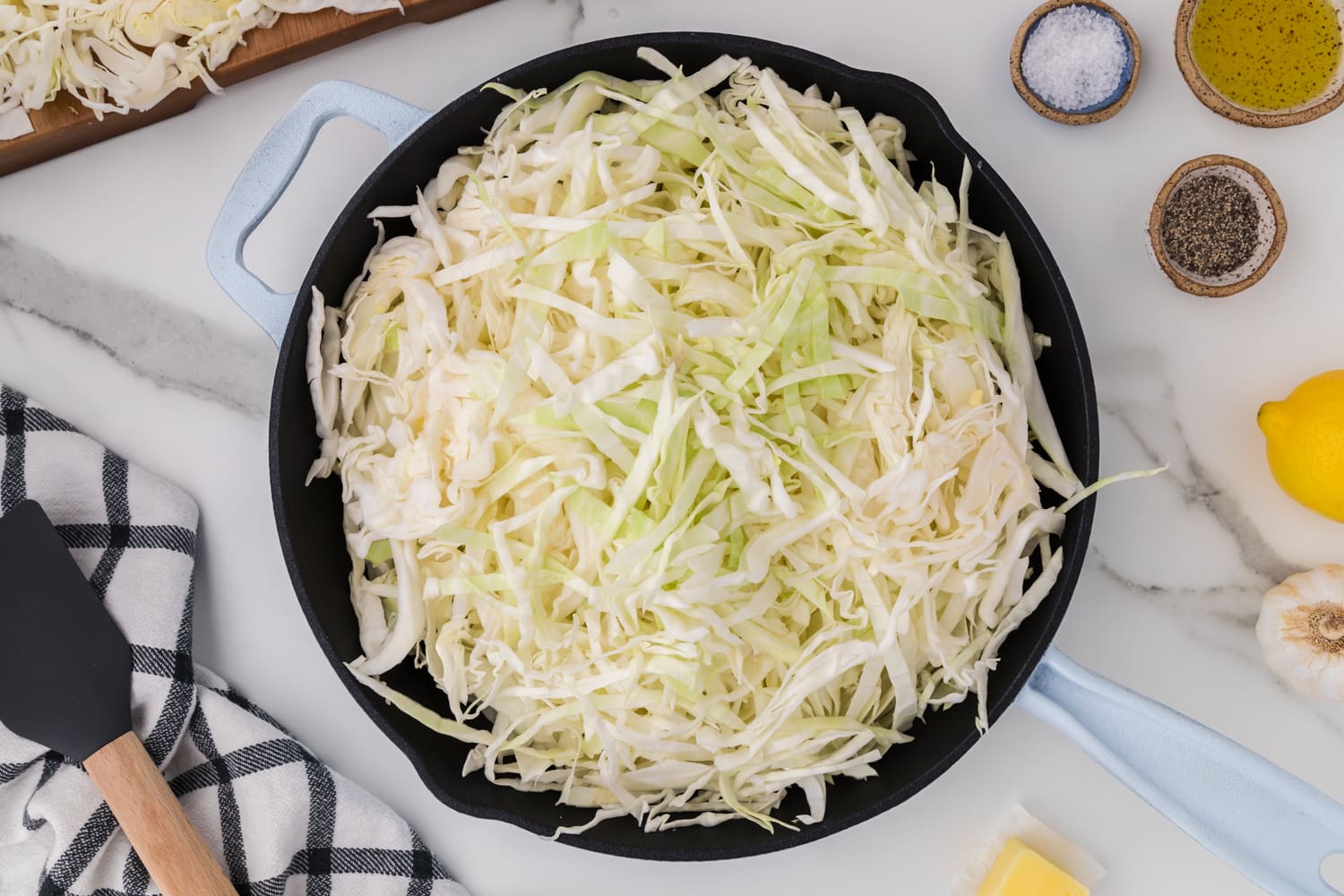 Really, the cooking time is a suggestion. Some folks like their cabbage to retain a bit of crispness and color; other prefer the cabbage to be soft and well-cooked. Use your own discretion. You're the cook in your kitchen!
Hint: If you prefer the cabbage well done, cover the pan while the cabbage cooks. The cover will hold in the steam which helps the cabbage soften.
Right before serving, spritz the cabbage with a squeeze of lemon juice. Stir it in and taste the cabbage. You may want to add a bit more salt and pepper. I write my recipes using a minimal amount of salt so that you can season it the way you prefer. Salt is easy to add but really difficult to remove once it's in the dish.
Sautéed cabbage is a great side dish. It's an easy vegetable to prepare and the mild buttery flavor goes with pretty much anything. Try it with breaded pork chops (we love air fryer breaded pork chops, too!), orange glazed salmon, or Swedish meatballs. It goes well with grilled or barbecued meat, too.
FAQs
Do you need to soak cabbage before cooking?
Ordinarily, you don't need to soak cabbage before cooking. There are two reasons to soak cabbage. If you cut into the cabbage and notice worms or insects, soak the cut cabbage in salt water for 10 to 20 minutes. This will drown unwanted critters. Home-grown cabbages often carry more pests because gardeners use fewer pesticides than commercial growers.
Some cooks soak sliced cabbage to crisp it up before adding it to a coleslaw or salad; soaking isn't necessary when you are cooking cabbage.

What is the healthiest way to eat cabbage?
According to the information provided in this article by Scientific American, the answer to this question is complex. The bottom line is that vegetables have many health benefits both when they are eaten raw and when they are cooked (the only exception is deep frying). Some of the nutrients are enhanced by cooking and some are lost. The takeaway is to include a wide selection of vegetables in your diet, both raw and cooked. It matters more that you eat lots of vegetables than how you prepare them.
Make It Your Own
Like fried cabbage? Omit oil and butter. Brown 3 to 4 strips of bacon cut into one inch pieces. Remove bacon from pan when crisp. Sauté cabbage in bacon grease. If desired, add 1 teaspoon cider vinegar or sugar to taste. Garnish with crisp bacon bits.
Add onion: Cabbage and onions is a good combination. Cook one thinly sliced onion in the oil before you add the garlic, until it softens somewhat. Add the garlic, then continue with the recipe as directed.
Skip the lemon juice. If you like, add a bit of cider vinegar or a teaspoon of sugar instead.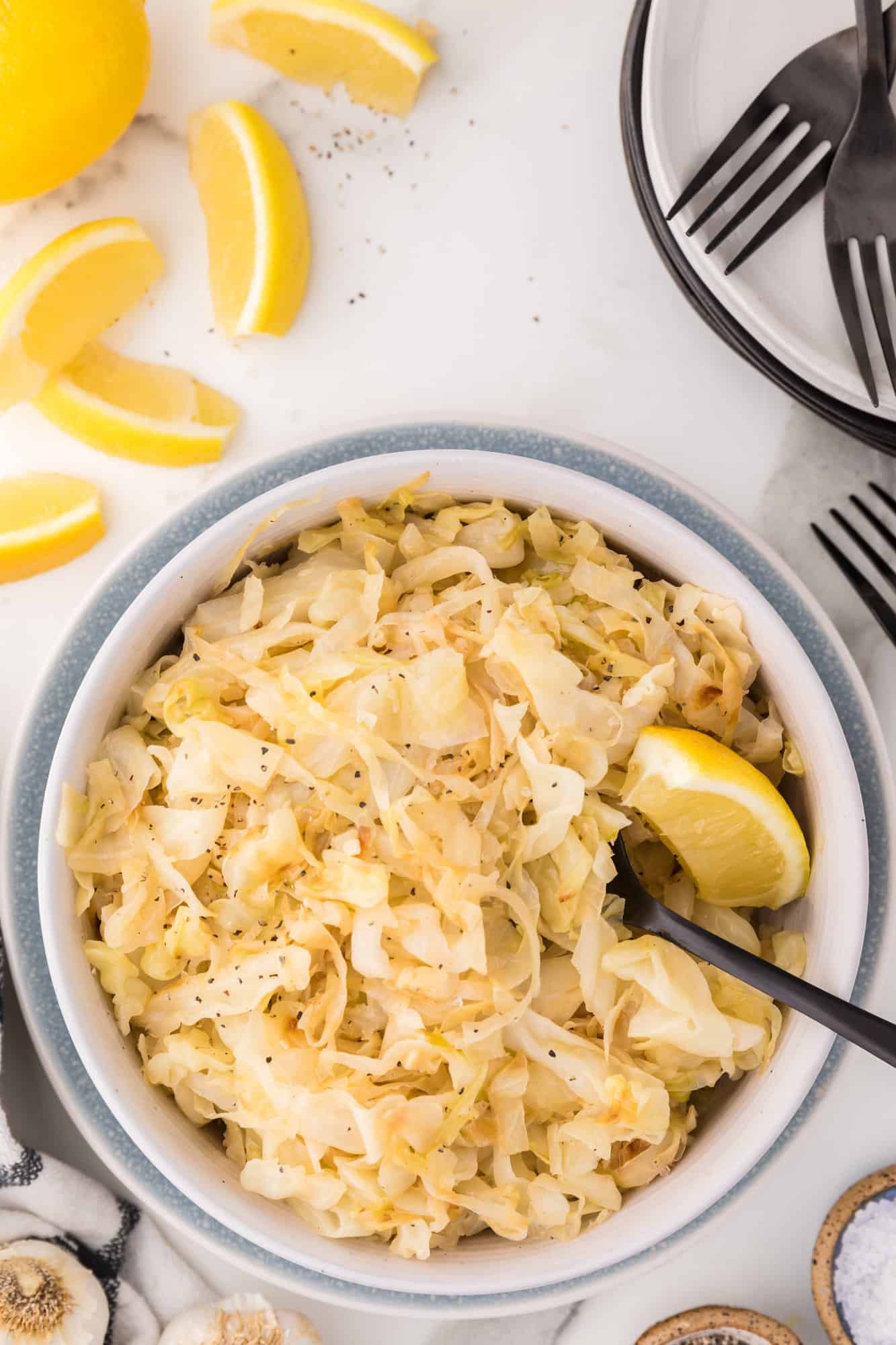 Storage & Reheating Tips
Leftover sautéed cabbage can be stored in a covered container and refrigerated for three to five days. If you have a lot of cabbage leftover, it can be frozen. Let it cool down, put it into resealable bags and flatten. Freeze for up to six months. There's no need to thaw it before reheating.
Reheat individual portions of cabbage in the microwave; larger portions can be warmed up in a skillet.
Leftover Love
Add flavor and nutrition to soups with leftover cabbage. Even canned soups benefit from the addition of cabbage.
Did you make this? Be sure to leave a review below and tag me @rachelcooksblog on Facebook, Instagram, or Pinterest!
Tender and buttery, sautéed cabbage is a delicious side dish that goes well with almost anything. Cabbage is nutritious and economical, too.
Ingredients
1

head

(1.5 pounds) green cabbage

1

tablespoon

butter

1

tablespoon

olive oil

1

clove

garlic, minced

½

teaspoon

kosher salt

¼

teaspoon

coarsely ground black pepper, or red pepper flakes

2

teaspoons

lemon juice, more if desired

Lemon wedges, for serving, optional
Instructions
Quarter cabbage and cut out core. Thinly slice cabbage into ¼ to ½ inch slices. You should have about 8 to 10 cups.

In a large deep skillet, over medium heat, heat butter and olive oil, until butter is melted. Add garlic and cook, stirring constantly, for 1 minute until fragrant.

Add cabbage, sprinkle with salt and pepper, stir well. Cook, stirring occasionally, for 15 minutes or until softened and lightly browned.

Turn off heat, and stir in lemon juice. Taste and season with more salt, pepper, and lemon juice if desired. Serve garnished with lemon wedges, if desired.
Notes
Fried cabbage: Omit oil and butter. Brown 3 to 4 strips of bacon cut into one inch pieces. Remove bacon from pan when crisp, reserving grease. Sauté cabbage in bacon grease. If desired, add 1 teaspoon cider vinegar or sugar to taste. Garnish with crisp bacon bits.
If you like, add one thinly sliced onion. Cook the onion in the oil until it begins to soften, add the garlic, stirring for one minute, then add the cabbage and continue with recipe as directed.
Leftover cabbage can be refrigerated for 3 to 5 days, or frozen for up to 6 months.
Nutrition Information
Serving:
0.5
cup
,
Calories:
57
kcal
,
Carbohydrates:
7
g
,
Protein:
2
g
,
Fat:
3
g
,
Saturated Fat:
1
g
,
Polyunsaturated Fat:
0.3
g
,
Monounsaturated Fat:
2
g
,
Trans Fat:
0.1
g
,
Cholesterol:
4
mg
,
Sodium:
177
mg
,
Potassium:
197
mg
,
Fiber:
3
g
,
Sugar:
4
g
,
Vitamin A:
155
IU
,
Vitamin C:
42
mg
,
Calcium:
47
mg
,
Iron:
1
mg
This website provides approximate nutrition information for convenience and as a courtesy only. Nutrition data is gathered primarily from the USDA Food Composition Database, whenever available, or otherwise other online calculators.