You'll love homemade Swedish meatballs! They are a real treat, perfect for guests or for a special dinner at home. The creamy sauce is so good!
Recipe Overview
Why you'll love it: Homemade meatballs are so much better than purchased ones and aren't difficult to make. I've included a time-saving make ahead tip.
How long it takes: just over an hour
Equipment you'll need: mixing bowl, large skillet, measuring utensils
Servings: 6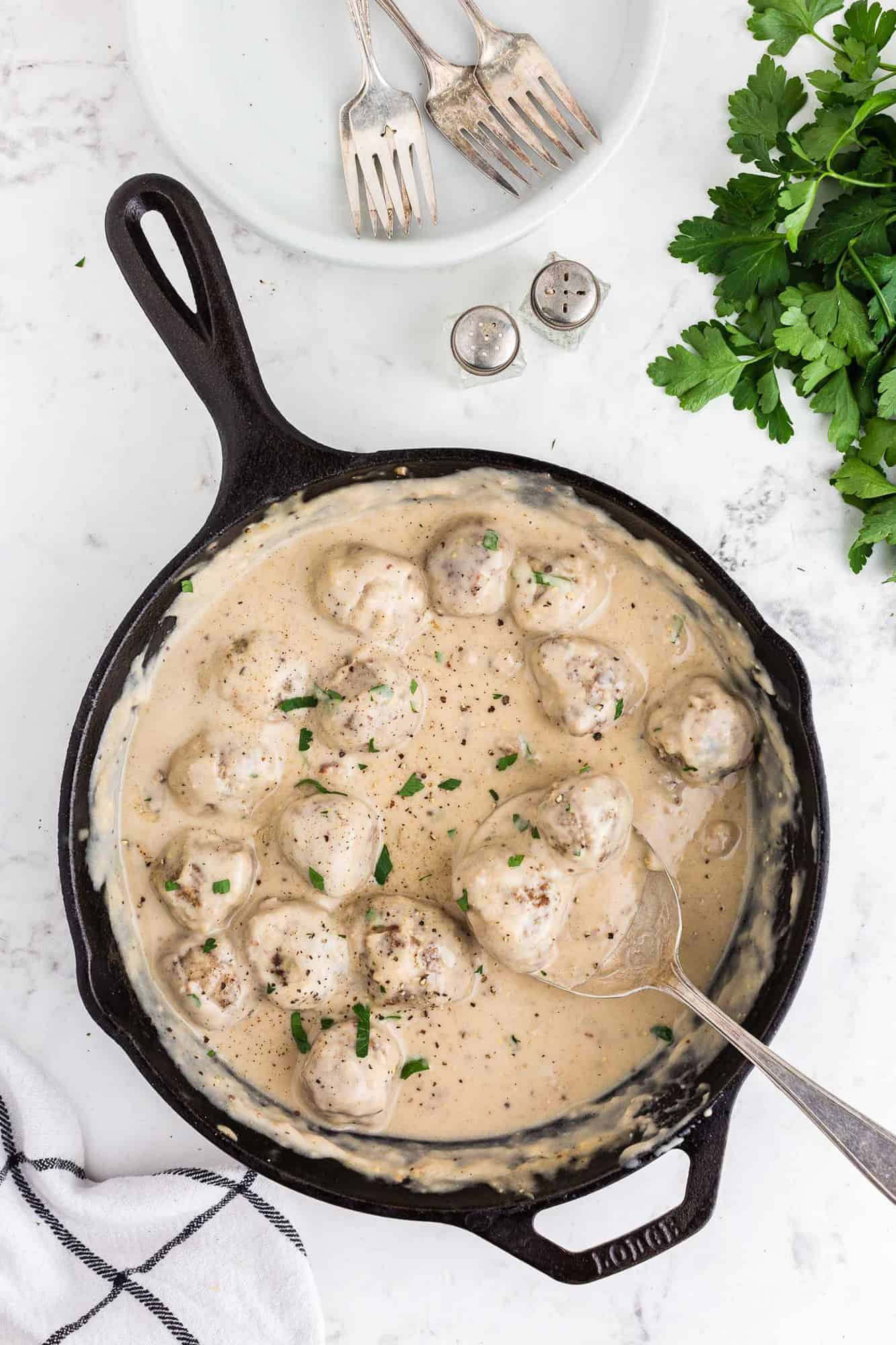 Tender Swedish meatballs, bathed in a luxurious creamy gravy, served atop a bed of glistening noodles or a mound of fluffy mashed potatoes, are so delightfully delicious. Garnished with fresh green parsley and a dab of tart lingonberry jam, these meatballs will have everyone asking for seconds.
Many of us are familiar with the Swedish meatballs popularized by IKEA stores. Going to IKEA has become sort of an annual pilgrimage for my sister, mom, and me and of course, we always enjoy a taste of Sweden at the cafeteria. It's arguably the best part of the trip although we always manage to fill our car to the brim with our purchases.
So naturally, I had to try to replicate their famous meatballs. I think you'll agree that your homemade Swedish meatballs far outshine purchased meatballs. There are no mystery ingredients and you can be assured that every bite is wholesome and healthy, not to mention lip-smacking delicious.
About This Recipe
While the list of ingredients may look a little daunting, you'll find most of them in your pantry already. The hardest item on the list may be lingonberry jam which may not be familiar to you (but truthfully, it's optional). Other items to put on your shopping list are ground beef and ground pork, heavy cream, and beef broth.
What is Lingonberry Jam?
Lingonberries are tart red berries commonly found in Scandinavian countries. They are somewhat similar to cranberries. The jam is dark red and is a little tart. If you can't find it (or don't want to buy it), substitute red raspberry jam or red currant jam.
You may be thinking, meatballs are meatballs, right? Why go through the trouble of making special "Swedish" meatballs? Why not just make the creamy gravy, add it to ordinary meatballs, and call it good?
I admit, I thought the same thing but upon doing a little research, discovered the actual Swedish meatball recipe differs quite a lot from a conventional meatball. Read more about the differences in the FAQ section.
However, if you do have meatballs in your freezer that you'd like to substitute, by all means, go ahead. Sometimes easy shortcuts are totally worth it if you're short on time. The goal here is to be successful in producing a wonderful dinner that everyone will love. No one is going to be a snob about meatballs especially when they get a taste of the creamy sauce. Or is it gravy? Whatever, it's good.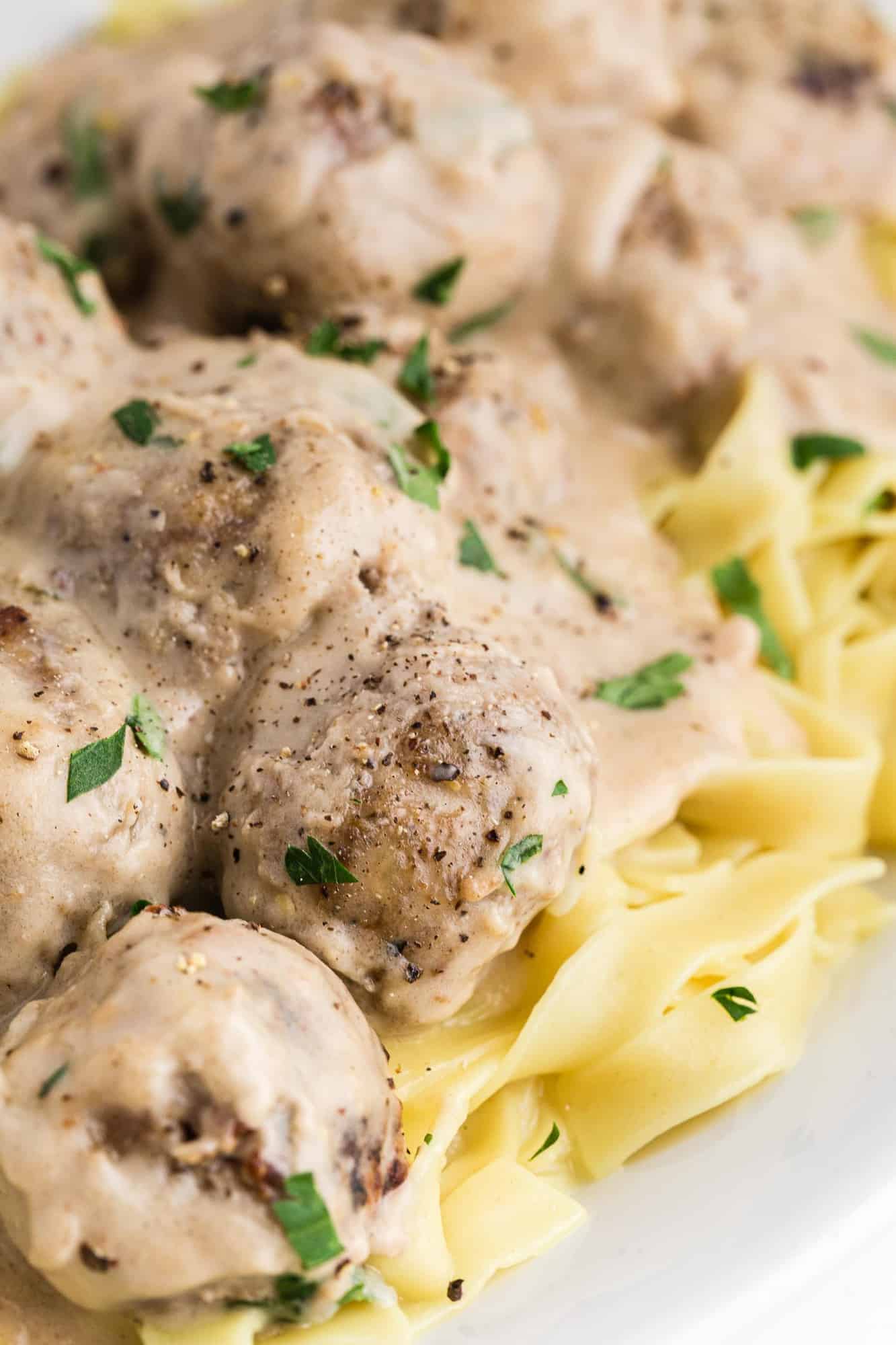 I'll get you started on the recipe right here and give you lots of extra helpful tips. As always, look for the printable recipe card near the end of the post for complete instructions, measurements, and nutrition information.
What you'll need
Ground Beef/Ground Pork: Swedish meatballs are usually made with a 50/50 combination of beef and pork. Use lean beef such as ground round ( 85/15 or 90/10) because the pork will have enough fat to make the meatballs juicy and delicious.
Bread Crumbs soaked in Milk: You'll want to look for plain bread crumbs, not seasoned. If you don't have them, substitute panko, dry bread or even soda cracker crumbs. This mixture of bread and milk acts as a binder and will keep the meatballs tender.
Egg: The egg is also a binder.
Fresh Parsley: You'll need finely chopped parsley to add to the meatball mixture but save some for a garnish, too.
Brown Sugar: Just a tablespoon helps balance the flavors but doesn't make the meatballs taste sweet.
Salt and Pepper, Nutmeg, Allspice, Garlic Powder: Simple spices from your pantry that season the meatballs. Nutmeg and allspice are common to Swedish meatballs and make them unique.
White Sauce made with Butter, Flour, and Heavy Cream: These ingredients form the backbone of the gravy. It's a basic creamy white sauce.
Beef Broth: Rich beef broth flavors the sauce and thins it a bit.
Dijon Mustard: Choose a smooth Dijon mustard. Normally, I like whole grain or coarse ground mustards but for this recipe, the smooth mustard is the best. Don't use plain yellow mustard; it just won't "cut the mustard" for Swedish meatballs.
Worcestershire Sauce: Adds umami to the gravy.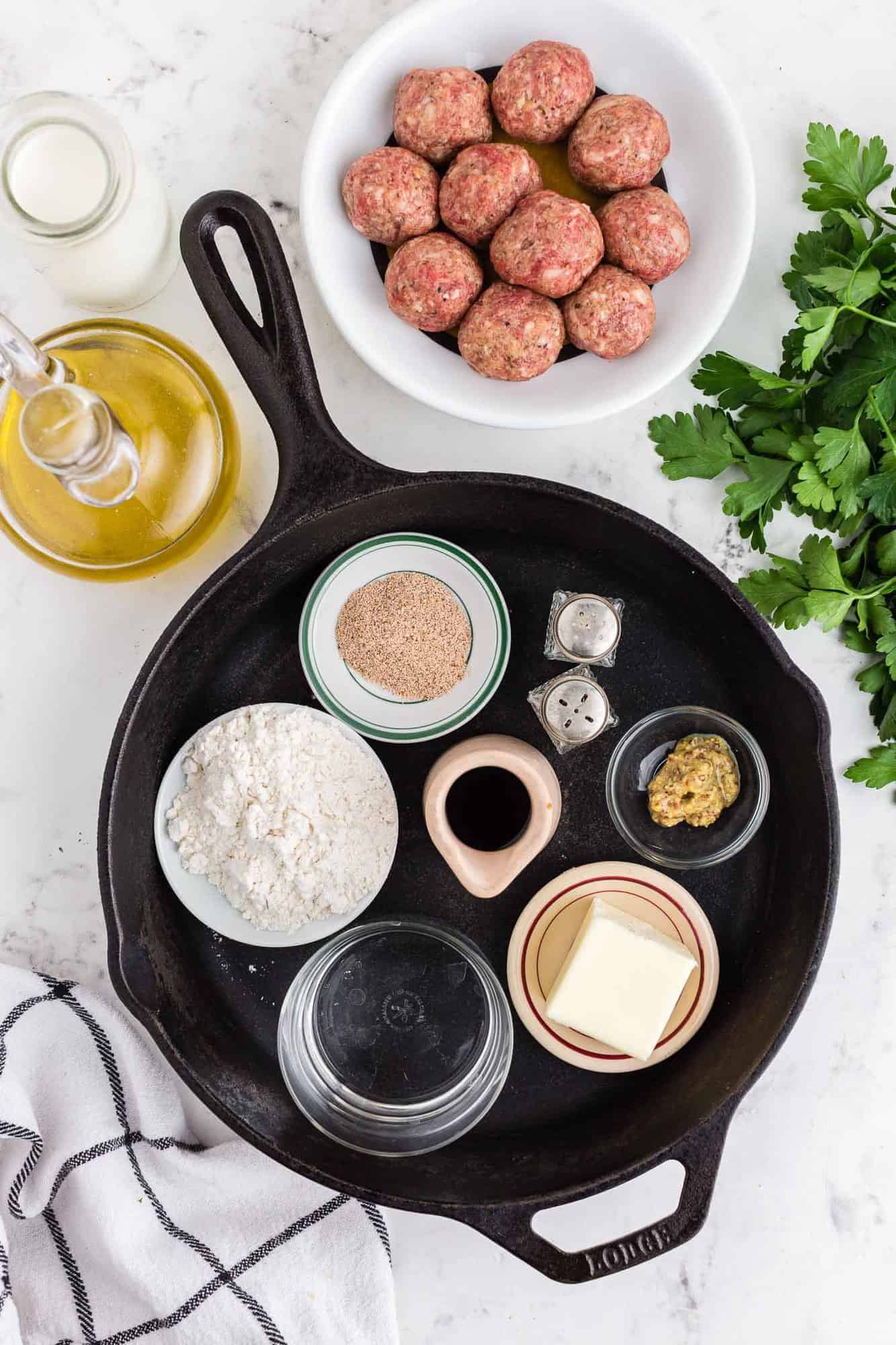 How To Make This Recipe
The first step is making the meatballs. In a large bowl, soak the bread crumbs in milk while you gather together the rest of the ingredients.
Next, remove the ground meat from the packaging and put it into the bowl with the breadcrumbs. Add the egg, parsley, brown sugar, and seasonings. With your hands, mix everything together, scooping and squishing lightly until the mixture comes together. It should look well-blended and sticky. Overworking the meatball mixture can cause the meatballs to become tough so gentle is the key here.
Using a small scoop or a spoon and your fingers, make the meatballs. Remember, Swedish meatballs are usually fairly small in size, about a rounded tablespoon of meat. You should be able to make around 45 meatballs. Put them in a single layer on a baking pan or tray as you make them.
Shaping Meatballs
Here's a little trick to make the process easier and less annoying. Before you get started with the formation process, set a small bowl of water to one side of your work surface. When your fingers get sticky and the meat is clinging to them, dip your fingertips in the water. Don't dry them, just continue making meatballs. You'll be amazed at how much easier it is. Do a dip every time your fingers get too sticky.
If you're making the meatballs ahead to serve later in the day or even in the future, bake the meatballs. There's no need to flip them; they'll brown pretty evenly in the oven. Cool them and store in the refrigerator or freezer until you're ready to use them.
If you're continuing with the recipe, use a large skillet to brown the meatballs. A nonstick skillet works best. It will take about 8-10 minutes. If you don't have a large enough skillet for them to fit in a single layer, you may have to brown them in batches. The meatballs don't have to be cooked all the way through but they should be well-browned and mostly cooked. Remove them from the skillet to a plate; cover to keep warm.
Meanwhile, mix together the beef broth, mustard, and Worcestershire sauce. Set it aside. Put the butter in the skillet over medium low heat. Once it's melted, add the flour, salt and pepper and mix together, scraping any brown bits off the bottom of the pan. Cook, stirring constantly, for two to three minutes. The butter/flour mixture will brown and will impart a rich flavor to the sauce.
Slowly whisk in the broth mixture and then whisk in the cream. The sauce should thicken and be really lovely. Don't boil it vigorously. A low simmer is perfect.
Add the meatballs, cover, and simmer gently for five to ten minutes or until the meatballs are cooked completely (or heated through if they were frozen). If the sauce seems too thin, remove the cover and simmer a bit longer.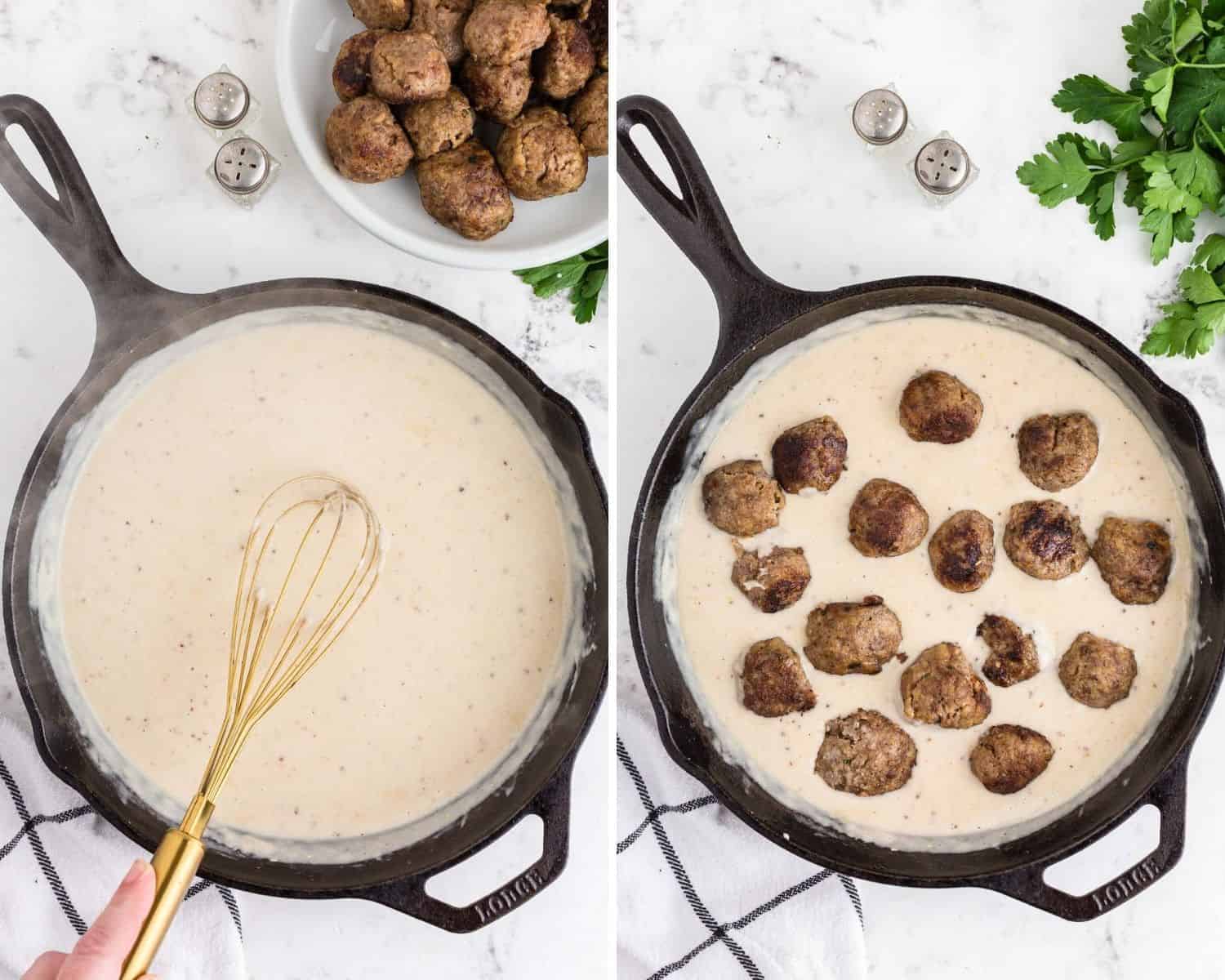 What To Serve with Swedish meatballs
Mashed potatoes are a traditional accompaniment to Swedish meatballs but you'll love them with hot buttered egg noodles, too. It will remind you of beef stroganoff with noodles. Cooked rice is a good choice, or really anything that will soak up that yummy sauce.
The tart red lingonberry jam provides a nice counterbalance to the rich cream-based gravy. Red raspberry or currant jam are good substitutes. A nice homemade cranberry sauce is wonderful as well. You could just skip the jam but it really is the icing on the cake.
A green vegetable like roasted broccoli, steamed asparagus, roasted green beans, or crisp sugar snap peas is a great go-along. You can never go wrong with a crisp green arugula salad.
Of course, small-sized meatballs are perfect for an appetizer. Your guests will love these Swedish meatballs! Keep them warm in a crockpot, cast iron skillet, or chafing dish. For a charcuterie board, serve the meatballs in a small crock along with a small bowl of lingonberry jam and crackers.
FAQs
What is Swedish meatball sauce made of?
This creamy sauce is so delicious, you could just eat it plain. It's a simple white sauce made with beef broth and heavy cream and seasoned with Dijon mustard and Worcestershire sauce.
What makes Swedish meatballs different?
Swedish meatballs are distinguished by the addition of nutmeg and allspice. Many meatball recipes use seasonings such as oregano or basil that are more typically seen in Italian cooking. Often they include Parmesan and garlic.
Swedish meatballs are usually smaller in size than their Italian cousins. They are the size of a walnut or a chocolate truffle, perfectly sized to spear on a toothpick.
The most noticeable difference is the gravy. Instead of a tangy tomato-based sauce, Swedish meatballs are served with a creamy gravy and lingonberry jam.
Make It Your Own
Skip the meatballs and sauté 16 oz. of mushrooms instead for a vegetarian entrée. They go perfectly with the sauce. Instead of beef broth, substitute vegetable broth.
Use pre-made commercially frozen meatballs instead of homemade. Look for plain meatballs that don't have Italian seasoning added, if possible.
Substitute lean ground turkey or chicken for the beef/pork combination.
Make-Ahead Ideas
If you'd like to get a head start on this recipe, bake the meatballs. They can be refrigerated for 3 to 4 days, or frozen for up to 3 months. For a real time-saver, make a double batch to freeze. Frozen meatballs thaw quickly and are a wonderful shortcut. With frozen meatballs, you'll be able to serve these Swedish meatballs in less than a half hour!
Thaw frozen meatballs in the fridge for best results. When you're ready to make the sauce, skip the browning step and just begin with the sauce. Add the meatballs as directed. Cook until heated through.
Storage & Reheating Tips
Leftover meatballs and sauce can be stored in the refrigerator for up to four days. The creamy sauce does not freeze well.
To reheat, put the meatballs and sauce in a skillet or sauce pan and reheat over low heat until warmed through. Try not to boil the sauce or it may separate. Individual portions can be heated in the microwave.
Leftover Love
Have leftover meatballs? Make a meatball sandwich with a hearty bun or bread. Add a layer of warmed meatballs and sauce, and drizzle on lingonberry jam.
Did you make this? Be sure to leave a review below and tag me @rachelcooksblog on Facebook, Instagram, or Pinterest!
You'll love homemade Swedish meatballs! They are a real treat, perfect for guests or for a special dinner at home. The creamy sauce is so good!
Ingredients
Meatballs
1

cup

plain bread crumbs

¾

cup

whole milk

1

pound

ground pork

1

pound

ground beef

1

large egg

2

tablespoons

finely chopped parsley

1

tablespoon

light brown sugar

1

teaspoon

kosher salt

½

teaspoon

coarsely ground black pepper

½

teaspoon

garlic powder

¼

teaspoon

allspice

¼

teaspoon

ground nutmeg
Sauce
1 ½

cups

beef broth

(low or no-sodium preferred)

1

teaspoon

Dijon mustard

2

teaspoons

Worcestershire sauce

1

tablespoon

canola oil

4

tablespoons

unsalted butter

3

tablespoons

all-purpose flour

¼

teaspoon

kosher salt

¼

teaspoon

coarsely ground black pepper

(or to taste)

¾

cup

heavy cream

2

tablespoons

chopped fresh parsley, for garnish

Lingonberry jam, for serving

Cooked egg noodles or mashed potatoes, for serving
Instructions
To Make Meatballs:
In a large bowl, combine bread crumbs and milk. Stir together so that the breadcrumbs soak up the milk.

To the breadcrumb/milk mixture, add ground pork, ground beef, egg, parsley, brown sugar, garlic powder, allspice, nutmeg, black pepper, and salt. Use your hands to mix the ingredients thoroughly but do not overmix.

Use a 1 ½ tablespoon scoop to form balls or form them with your hands. Makes 45. Meatballs can be made ahead of time, covered, and refrigerated or frozen, raw or baked (see note).
To Make Sauce:
In a medium sized bowl, whisk together beef broth, mustard, and Worcestershire until well blended. Set aside.

In a large skillet, heat canola oil over medium. Brown meatballs on all sides in the heated oil, 8-10 minutes. You may have to do this in two batches. Meatballs may not be cooked through. Remove browned meatballs from the skillet, cover with foil, and set aside. Pour out excess grease, if any.

Turn heat to medium low and melt the butter in the skillet. Add flour, salt, and pepper and continue cooking, scraping up browned bits from the bottom of the pan. Cook the flour mixture for 2-3 minutes, stirring constantly. It's important to brown the butter and flour when preparing the sauce. This gives the dish an extra layer of richness and flavor.

Slowly add broth to pan, whisking constantly. Slowly whisk cream into sauce.

Return meatballs to skillet and simmer (low simmer) over medium-low heat, covered, 5-10 minutes or just until meatballs are cooked through (165°F). If sauce seems too thin, simmer 5-10 minutes longer with the lid off.

Serve immediately, garnished with parsley and lingonberry jam, if desired.
Notes
Storage: Store in an airtight container in the refrigerator for 3-4 days. Sauces with dairy typically separate in the freezer, so freezing the sauce or finished dish is not recommended.
Make Ahead: Meatballs can be baked ahead (12-14 minutes at 425

°F)

and refrigerated for 3 to 4 days, or frozen for up to 3 months. If you are using cooked meatballs from the freezer, skip the browning step and just begin with the sauce. Add the meatballs as directed. Cook until heated through.
Red currant or red raspberry jam may be substituted for the lingonberry jam.
Nutrition information is for meatballs and sauce only.
Nutrition Information
Calories:
682
kcal
,
Carbohydrates:
21
g
,
Protein:
33
g
,
Fat:
51
g
,
Saturated Fat:
23
g
,
Polyunsaturated Fat:
4
g
,
Monounsaturated Fat:
19
g
,
Trans Fat:
1
g
,
Cholesterol:
197
mg
,
Sodium:
999
mg
,
Potassium:
629
mg
,
Fiber:
1
g
,
Sugar:
5
g
,
Vitamin A:
994
IU
,
Vitamin C:
5
mg
,
Calcium:
129
mg
,
Iron:
4
mg
This website provides approximate nutrition information for convenience and as a courtesy only. Nutrition data is gathered primarily from the USDA Food Composition Database, whenever available, or otherwise other online calculators.