Cauliflower rice is a great way to cut carbs and incorporate a nutritious vegetable into your menu. You'll love this healthy eating "trick."
Recipe Overview
Why you'll love it: Cauliflower rice is really versatile: as a delicious side dish, as a substitute for rice with stir fries, etc., or turned into something completely surprising, such as tortillas or pizza crust.
How long it takes: 25 minutes (cooked)
Equipment you'll need: food processor, large skillet
Servings: 4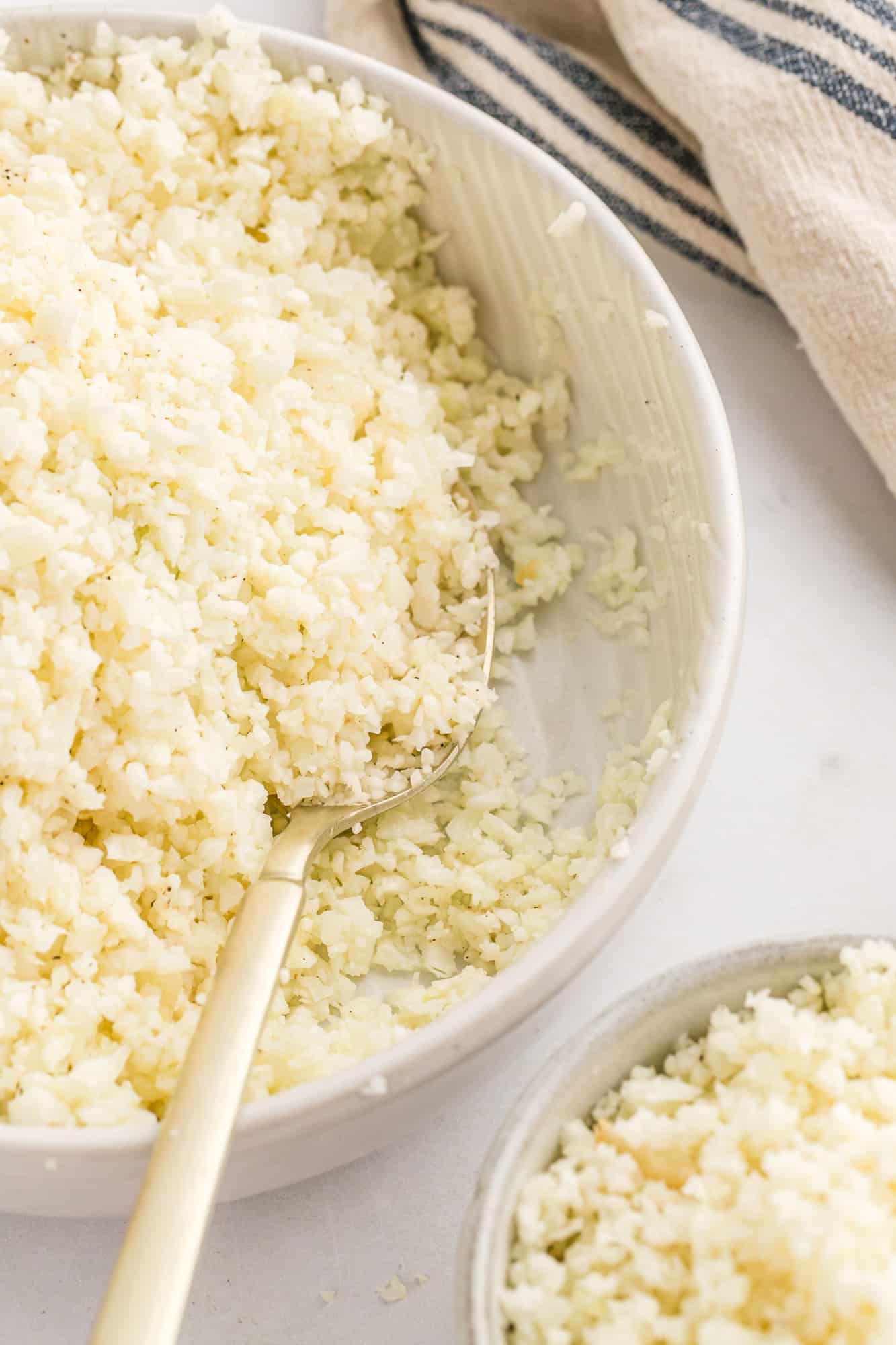 Cauliflower rice. Have you all tried this yet? Cauliflower is just little Miss Popularity these days. Call it a trend, call it a shift towards healthier eating, call it whatever you want.
I'm always looking for ways to incorporate more veggies into my meal plans and cauliflower is a nutritious low-carb option that's very low in calories, to boot. I love my cauliflower alfredo sauce and Instant Pot cauliflower potato soup. Both recipes are super creamy due to puréed cauliflower slyly standing in for heavy cream.
I'm guilty of watching a few of the Real Housewives series and in one of the episodes, a housewife was talking about how people from the Midwest are all fat because they have to have a carb/starch at every meal. Well, major ouch!!
I'd take offense if it weren't a little true. Well, we aren't all fat but there are plenty of meat and potato meals to go around. I find myself thinking about starches every time I plan a dinner. We love pasta in every form and bread is pretty popular, too.
I've been trying to shift away from that thinking (not always, but sometimes) and instead focusing on having two vegetables, or a vegetable and a salad, instead of a vegetable and a starch.
This cauliflower rice recipe is the perfect solution. It acts like rice but it's a vegetable. It's about as phony as all the Real Housewives but it's a delicious and healthy substitute for white rice.
About This Recipe
There are two parts to this recipe. The first part is learning how to make cauliflower rice, i.e. turn the head of cauliflower into "rice". You can convert this uncooked cauliflower rice into lots of recipes, from pizza crusts to tortillas. It can be added to soups or salads. To save time, freeze the raw cauliflower rice so it's handy. You don't even have to thaw it before using it in a recipe.
The second part of this recipe is cooking the rice to serve with stir fries or other meals where you would usually enjoy rice, or turning it into a tasty side dish seasoned with garlic, onions, and butter.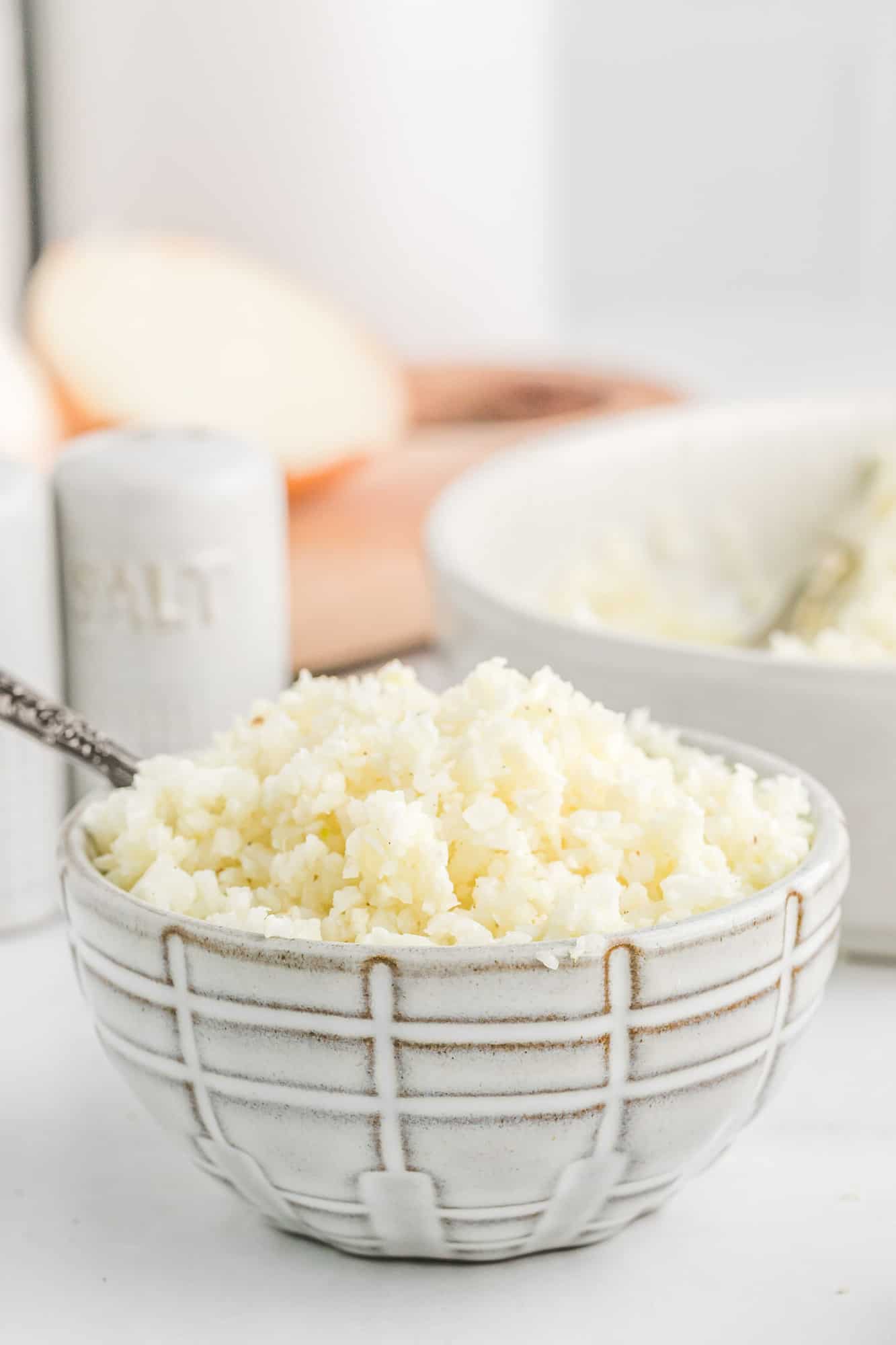 What You'll Need
Cauliflower: Look for a firm unblemished white head with compact florets. The outer leaves should be green and fairly fresh looking. The larger the cauliflower, the more rice you'll get.
Garlic: Just one clove is enough to gently season the rice.
Onion: An onion is optional but it does add flavor and a nice texture.
Butter: A tablespoon of butter gives the cauliflower good flavor.
Olive Oil: Just a bit of heart-healthy olive oil is added to the butter for sautéing. If you prefer, you can omit the butter and use all olive oil, or another oil of your choice.
Salt and Pepper: Simple seasoning that enhances the flavor of the "rice". You can add other seasonings that you like. Herbs are really good, too.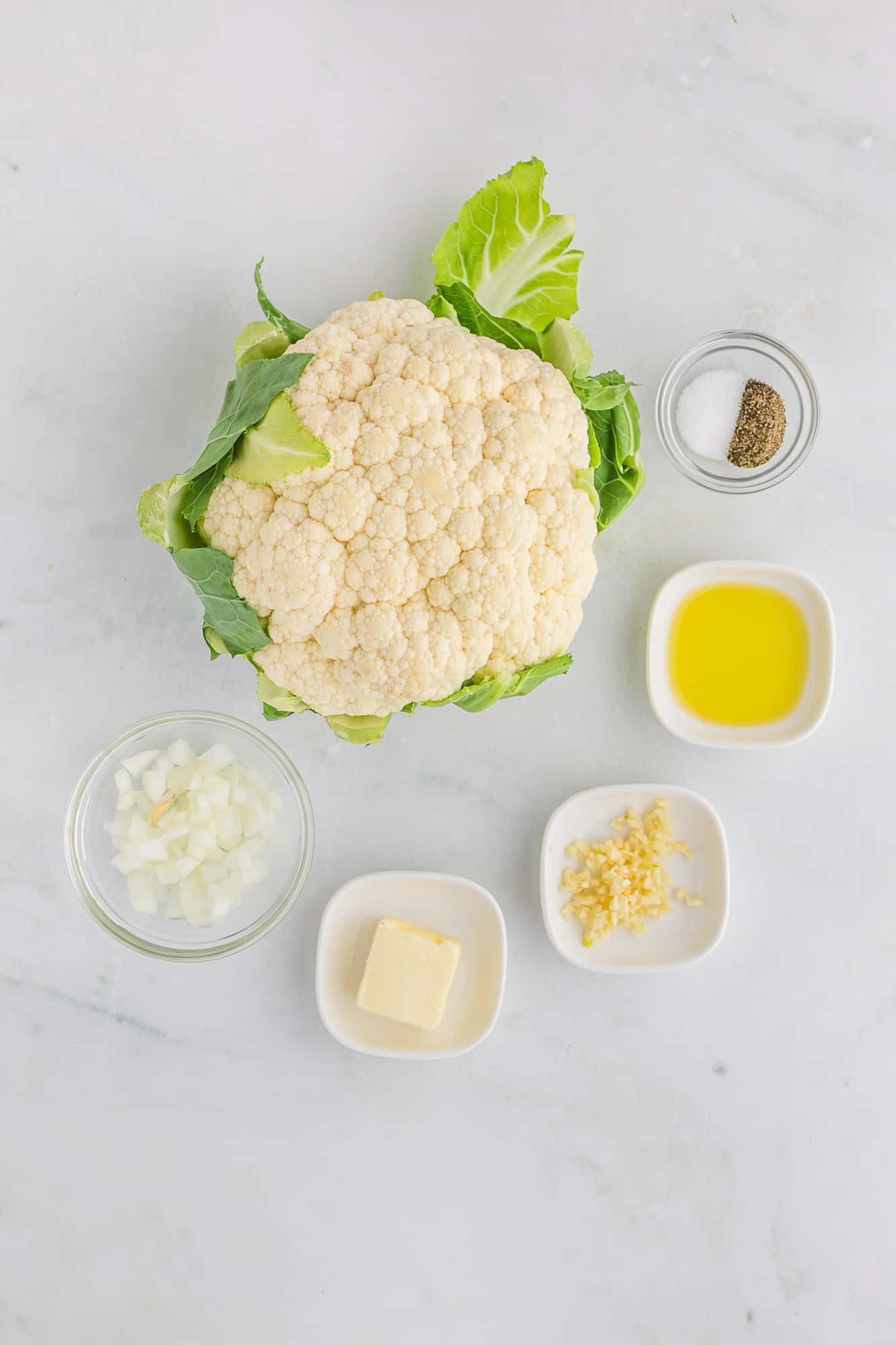 How To Make Cauliflower Rice
First of all, you need to turn that big ol' head of cauliflower into something that has the texture of white rice (or couscous, if that's how you prefer to think of it).
Begin by cutting the cauliflower into florets. Use as much of the stems as you want, except for the really woody part right at the bottom.
A (Fun) Way to Prep Cauliflower
I love this trick! Leaving the cauliflower in the plastic wrapper, simply give it a few sharp raps, stem side down, on the counter. It will easily and naturally break into florets, all contained in the wrapper.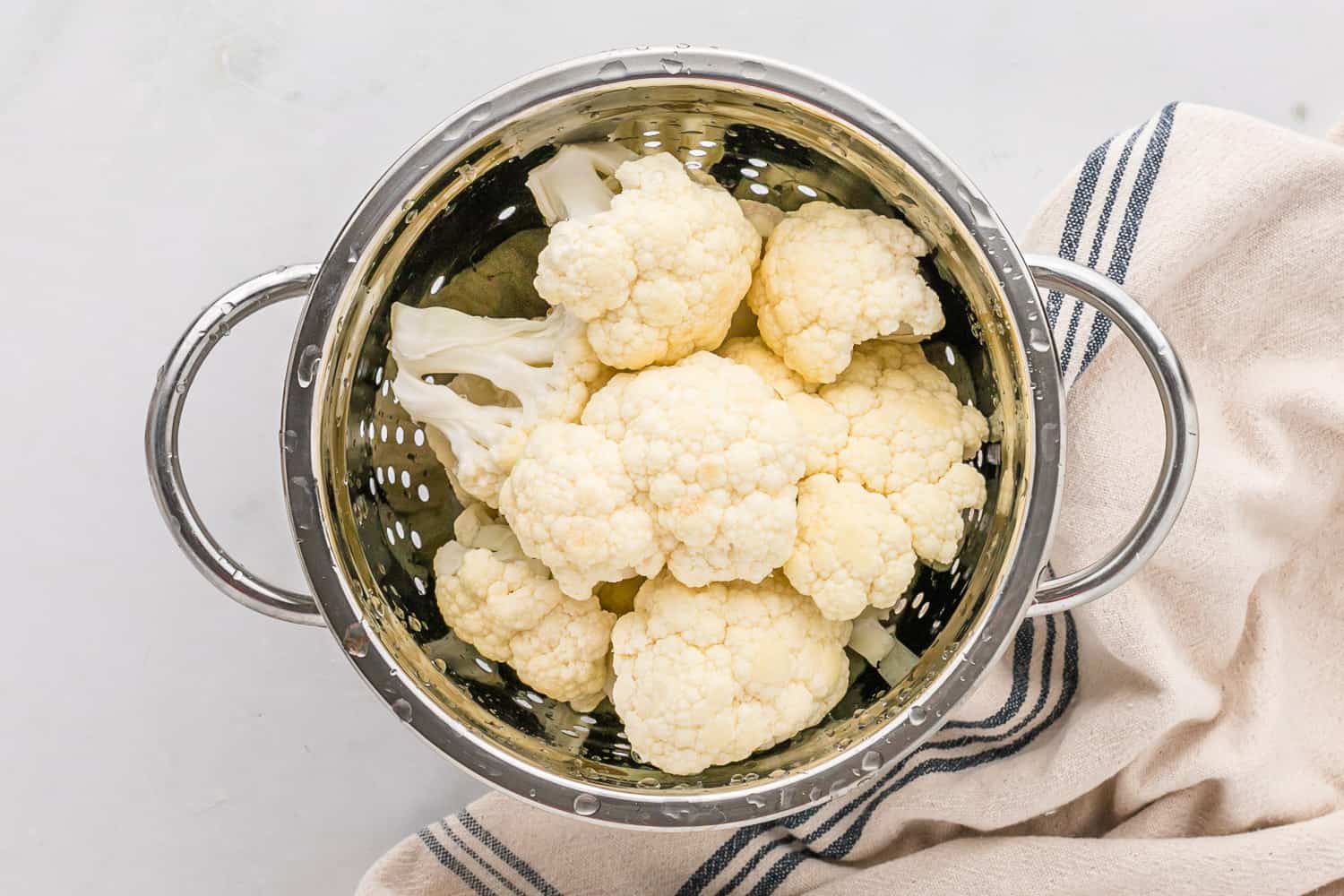 Rinse the cauliflower and drain it well. I usually give it a spin in my salad spinner to remove the excess water.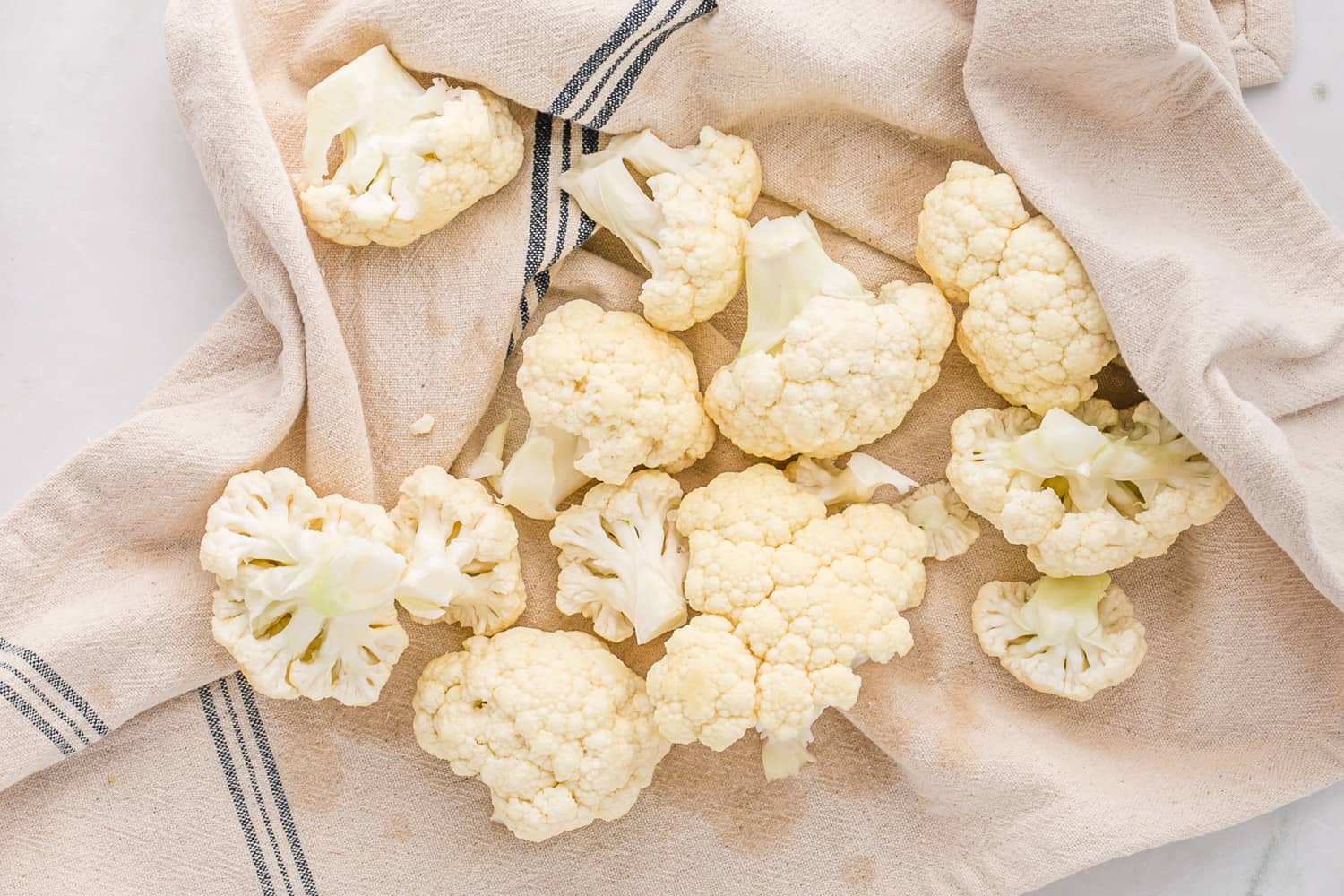 Put the cauliflower florets in your food processor with the S-blade. They won't all fit at once so you'll have to do it in batches. It's better not to stuff it super full.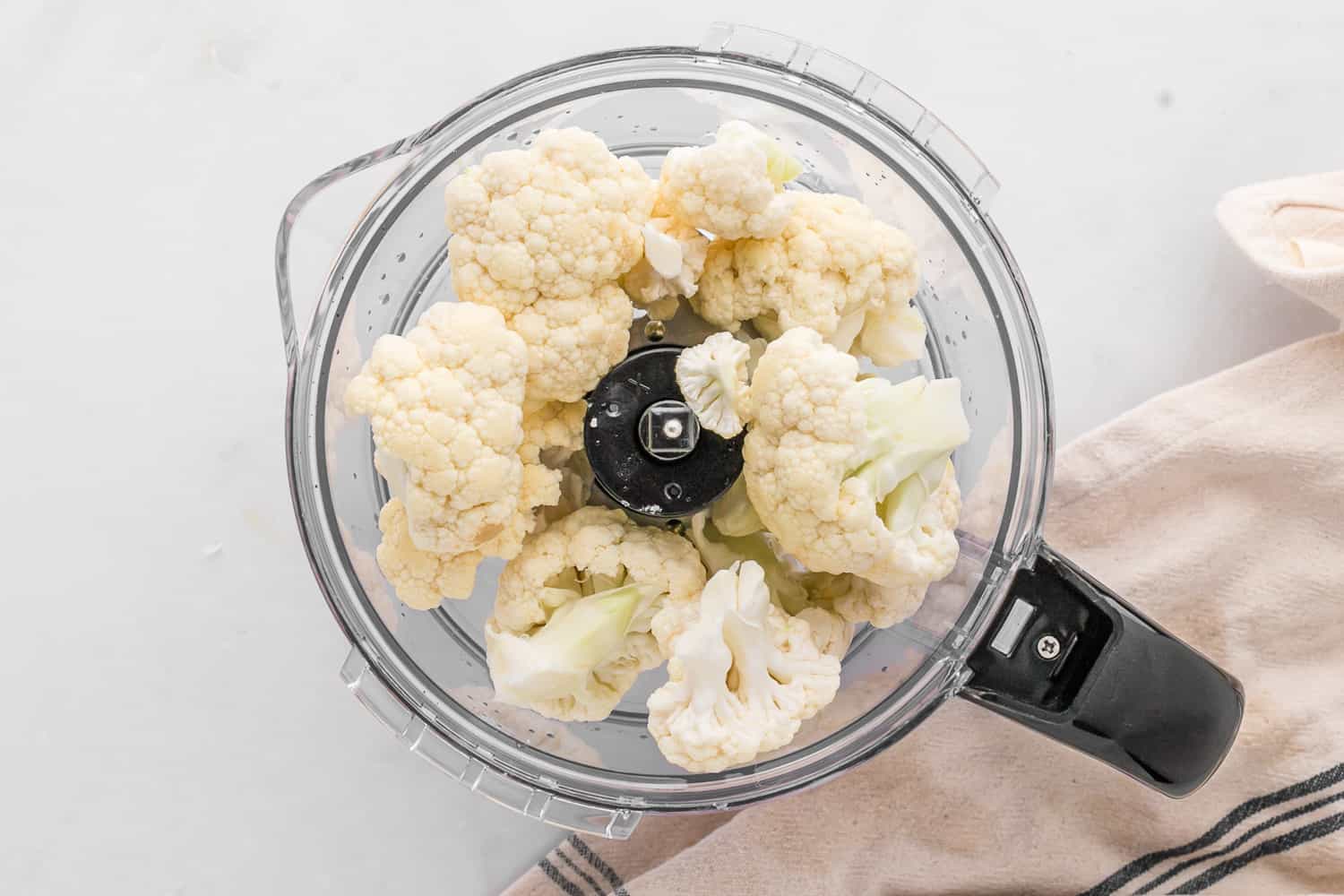 Pulse/process until the cauliflower resembles rice.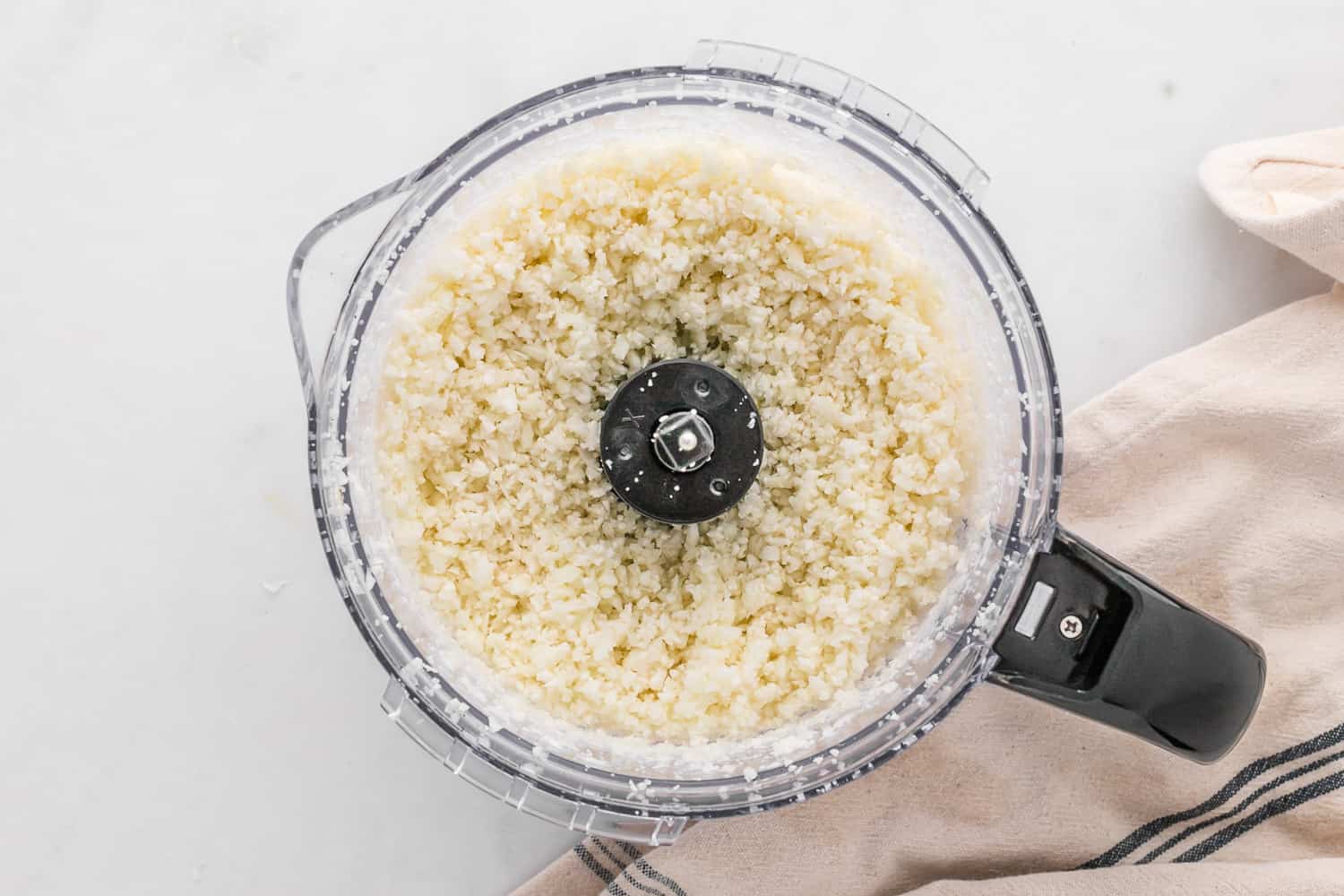 Note: When you see that most of the cauliflower in the processor has the right texture but there are still a few large pieces, stop. Remove the larger pieces, scrape the rice out of the processor into a large bowl, and put the large pieces into the next batch. Don't over process the cauliflower into teensy-weensy bits (i.e., mush).
At this point, the cauliflower can be used in a variety of ways or frozen raw for later use. Check out "10 Awesome Uses for Cauliflower Rice" by Academy of Culinary Nutrition for recipes for pizza crust, sushi, stuffed peppers, fried rice, and more.
If you would like to serve the cauliflower rice as a side dish, continue with the recipe. Sauté the onions and garlic in a olive oil/butter mixture and add the cauliflower rice.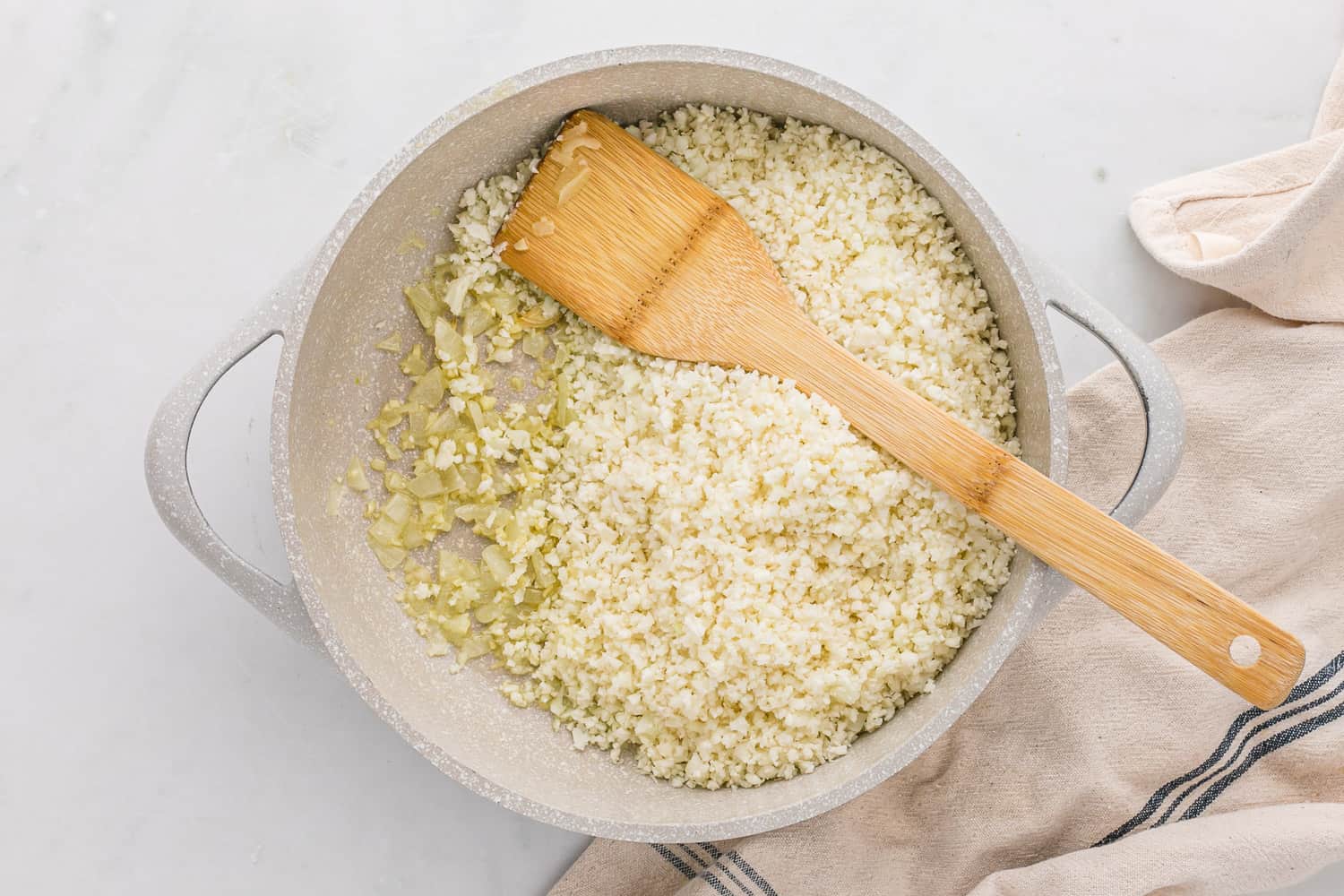 Cover and cook for a few minutes, then uncover and cook for a few more minutes. It becomes tender quickly and is ready to serve in about 10 minutes.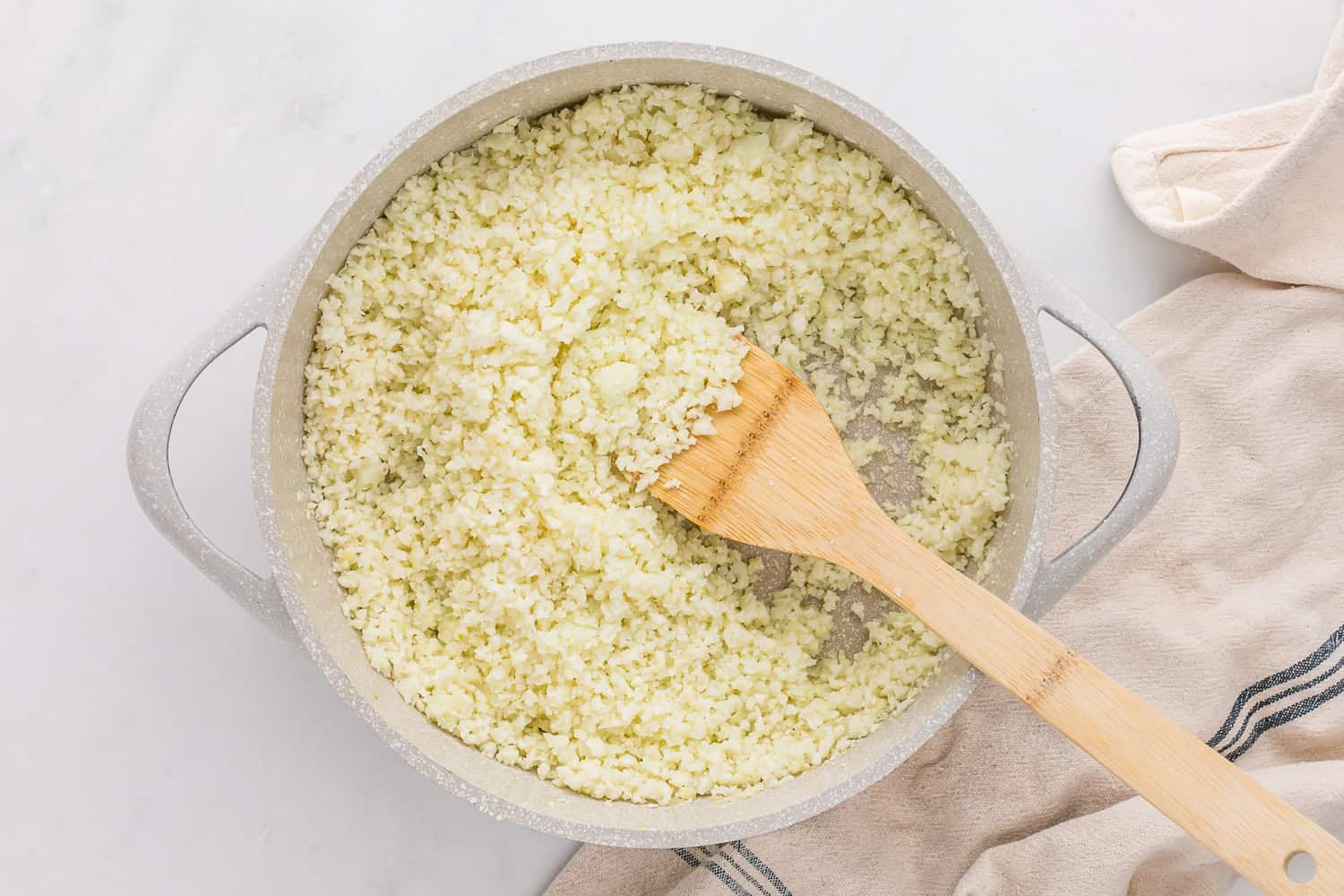 FAQs
Does cauliflower rice taste like rice?
Well, no, it still tastes like cauliflower. This recipe includes onion and garlic which adds a nice savory flavor. Cauliflower rice really has the texture of couscous more than white rice so maybe we should call it cauliflower couscous.
Cauliflower rice will BY NO MEANS replace real rice in our house. I looooove rice. We all do. It's merely a nice alternative.
Is cauliflower rice a carb or a vegetable?
Cauliflower rice is a very low carb vegetable. It's a great alternative to higher carb choices like pasta, rice, or potatoes. Because cauliflower is fairly bland in both taste and color, it goes well with sauces and other embellishments.
Is cauliflower rice healthy?
It really is! Cauliflower rice is a popular choice if you're following a low-carb diet. It's also a great way to get more vegetables into your diet which is always a good idea. Healthline states that cauliflower is an almost perfect source of many vitamins and minerals, it's high in fiber, antioxidants, and choline, an important nutrient that many people are lacking.
Make It Your Own
Don't have a food processor? Use a box grater to turn the florets into "rice". It will take a bit longer to accomplish, be a bit messier, and please watch out for your fingers. Leave the florets as large as possible so you have something to hang onto.
When cooking the rice as a side dish, feel free to season it any way you like. Just like white rice, you can make a pilaf, season it with southwestern spices, or add pretty much whatever you like.
Not a fan of cauliflower or looking for more low-carb alternatives? Try roasted radishes. Radishes that are roasted are mellow in flavor and can stand in for potatoes in many recipes.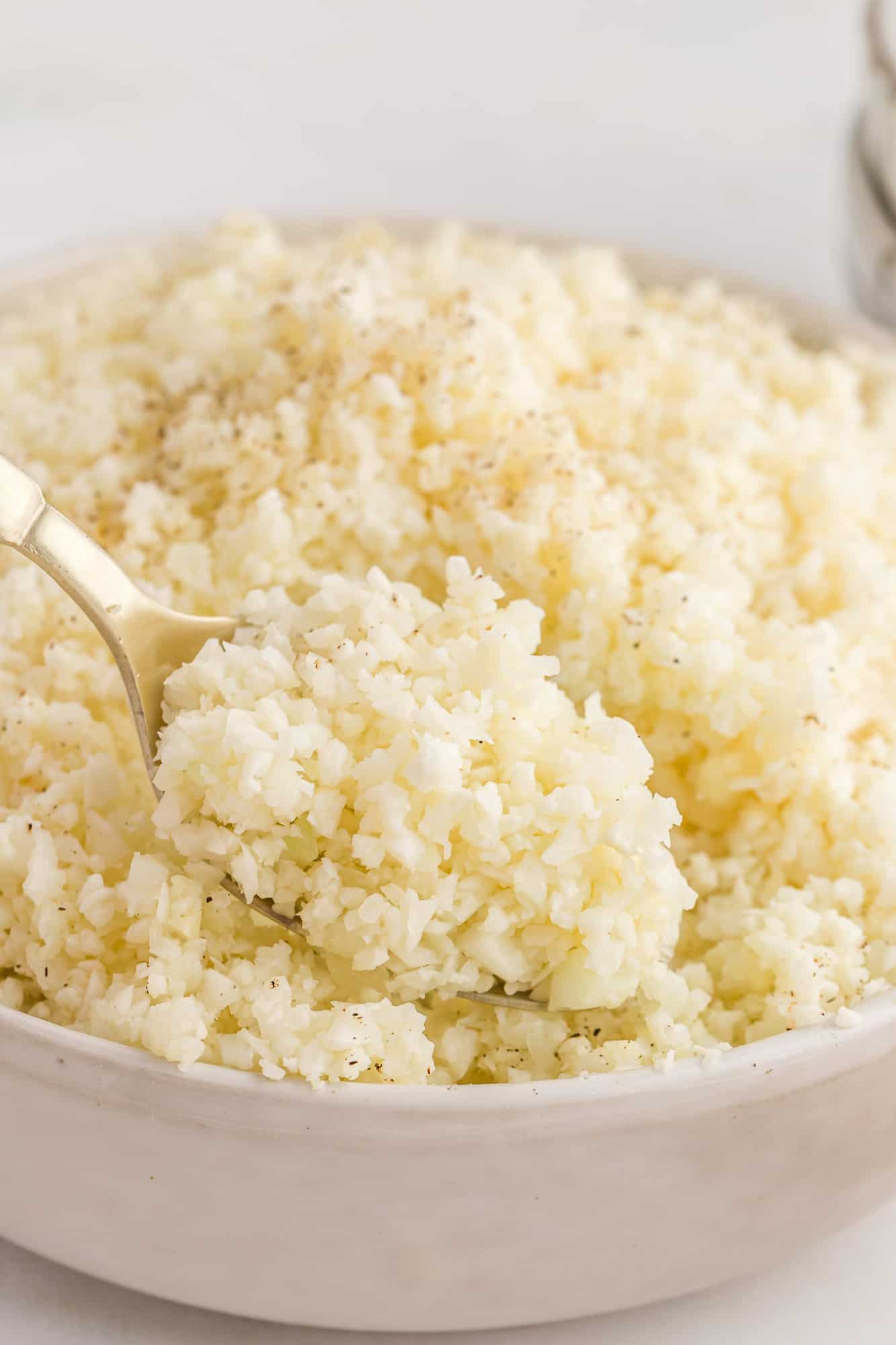 Make-Ahead Ideas
It's easy to turn a whole head of cauliflower into "rice" but it makes a lot! The good news is you can freeze the raw cauliflower rice in labeled freezer bags. It will keep for up to six months.
There's no need to thaw frozen cauliflower rice before cooking it. You may need to add a bit more cooking time
Storage & Reheating Tips
Cooked cauliflower rice will keep in the refrigerator for up to four days. To reheat, warm it up in a skillet or individual portions in the microwave.
More Cauliflower Recipes
Did you make this? Be sure to leave a review below and tag me @rachelcooksblog on Facebook, Instagram, or Pinterest!
Cauliflower rice is a great way to cut carbs and incorporate a nutritious vegetable into your menu. You'll love this healthy eating "trick."
Ingredients
1

head

cauliflower, cut into large chunks

1

tablespoon

unsalted butter

1

teaspoon

extra virgin olive oil

½

diced onion

(optional)

1

clove

garlic, minced

½

teaspoon

kosher salt, or to taste

½

teaspoon

ground black pepper, or to taste
Instructions
Cauliflower Rice (Raw)
Wash cauliflower and dry well. A salad spinner works well.

Using a food processor with the S-blade, pulse the cauliflower to desired rice-like texture. You may need to do in batches. If it is getting trapped at the bottom, remove some and start again so you don't end up pureeing it completely.
Cauliflower Rice Side Dish
Heat the butter and oil in a large skillet over medium heat.

Sauté the onion for 6-7 minutes, or until the onion is translucent.

Add the garlic and continue to saute for about 1 minute or until fragrant.

Add the cauliflower rice, stir and cover for 3 minutes. Uncover and continue to sauté for 3-4 minutes or until tender.

Season with salt and pepper, and serve.
Notes
Nutrition information is for cauliflower rice side dish which includes oil, butter, onion, garlic, and seasonings.
To make this recipe vegan, dairy-free, paleo, or Whole30 compliant, use oil of your choice in place of butter.
If desired, raw cauliflower rice can be frozen up to 6 months in a zip top freezer bag. No need to thaw it before cooking, just cook as directed, adding a little extra time, if necessary.
Nutrition Information
Serving:
1
cup
,
Calories:
77
kcal
,
Carbohydrates:
9
g
,
Protein:
3
g
,
Fat:
4
g
,
Saturated Fat:
2
g
,
Polyunsaturated Fat:
1
g
,
Monounsaturated Fat:
1
g
,
Trans Fat:
1
g
,
Cholesterol:
8
mg
,
Sodium:
335
mg
,
Potassium:
457
mg
,
Fiber:
3
g
,
Sugar:
3
g
,
Vitamin A:
89
IU
,
Vitamin C:
71
mg
,
Calcium:
38
mg
,
Iron:
1
mg
This website provides approximate nutrition information for convenience and as a courtesy only. Nutrition data is gathered primarily from the USDA Food Composition Database, whenever available, or otherwise other online calculators.