Roasted Radishes – How to Roast Radishes
Learn how to make roasted radishes (it's easy!) for a new go-to side dish that everyone will love. Even those who don't love radishes!
Carrying on with the roasted vegetable obsession, I bring you roasted radishes. I know, you're falling into one of three camps right now:
1) I hate radishes, goodbye.
2) I love roasted radishes!
3) HUH? Roast? Radishes? Weird!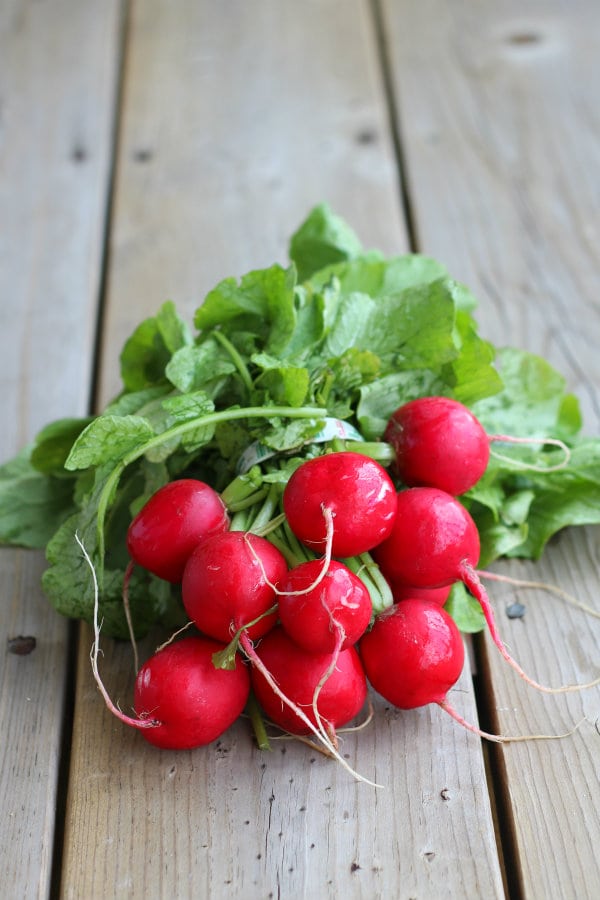 I have something to say to each of you.
1) For you radish-haters: Wait! Don't leave! My husband hates radishes too but he loves these.
2) For you who are reading this thinking, duh — roasted radishes are the best: Woohoo! Let's be friends. PS: How do you make yours?
3) For you who have no clue what I am talking about: Read on. Your life is about to change.
About These Roasted Radishes
Radishes — tossed with a bit of olive oil, honey, lemon juice, salt, and pepper and stuck in a hot, hot, hot oven — become the tastiest little morsels. It's no secret (far from it, actually) that I love roasted vegetables. Remember when I showed you how to roast broccoli? We eat that roasted broccoli at least once a week. But I of course don't discriminate against cauliflower, carrots, beets, sweet potatoes, mushrooms, squash, or any other vegetable under the sun. Even Brussels sprouts! It's all fair game. (PS: Make sure to check out my full list of roasted vegetables!)
The other night…this was my dinner: Sweet potatoes, broccoli, mushrooms, radishes, onions, and a Killian's. It works, right?
I cooked a couple of chicken breasts for the other member(s) of my family who prefer to have meat with dinner. Everyone is happy!
If you want to make these roasted radishes into a complete dinner – try this crispy chicken thigh sheet pan dinner!
I shared how to roast radishes over on Food Fanatic so you can head on over there for the Roasted Radish recipe or you can carry on and find it here too!
Roasted Radishes - How to Roast Radishes
Yield: 5 servings
Prep Time: 10 minutes
Cook Time: 20 minutes
Total Time: 30 minutes
Learn how to make roasted radishes (it's easy!) for a new go-to side dish that everyone will love. Even those who don't love radishes!
Ingredients
2 bunches of fresh radishes (1 1/2 to 2 pounds)
2 tablespoons olive oil
1/2 lemon juiced, or about 2 tablespoons of juice
2 tablespoons honey
salt and pepper to taste
Instructions
Preheat oven to 425°F.
Wash radishes, cut off greens, and then halve or quarter radishes so they are roughly the same size.
In a large bowl, combine the radishes with remaining ingredients, tossing until coated. Spread in a single layer on a rimmed baking sheet.
Bake for 18-20 minutes, stirring once or twice during cooking. Serve immediately.
Nutrition Information:
Yield: 5
Serving Size: 1
Amount Per Serving:
Calories: 78
Total Fat: 5g
Saturated Fat: 1g
Trans Fat: 0g
Unsaturated Fat: 5g
Cholesterol: 0mg
Sodium: 64mg
Carbohydrates: 8g
Fiber: 0g
Sugar: 8g
Protein: 0g
RachelCooks.com sometimes provides nutritional information, but these figures should be considered estimates, as they are not calculated by a registered dietitian. Please consult a medical professional for any specific nutrition, diet, or allergy advice.
So, I'm dying to know….what is your favorite vegetable to roast?