The Best Potato Salad Recipe (easy & creamy!)
This traditional creamy potato salad recipe is the best! Learn how to make easy potato salad for a perfect summer side dish.
Recipe Overview
Why you'll love it: This is a classic potato salad recipe, and it makes a big batch, perfect for picnics and potlucks.
How long it takes: 1 hour prep time, extra time for chilling
Equipment you'll need: large saucepan, mixing bowls, measuring utensils, sharp knife
Servings: 12 servings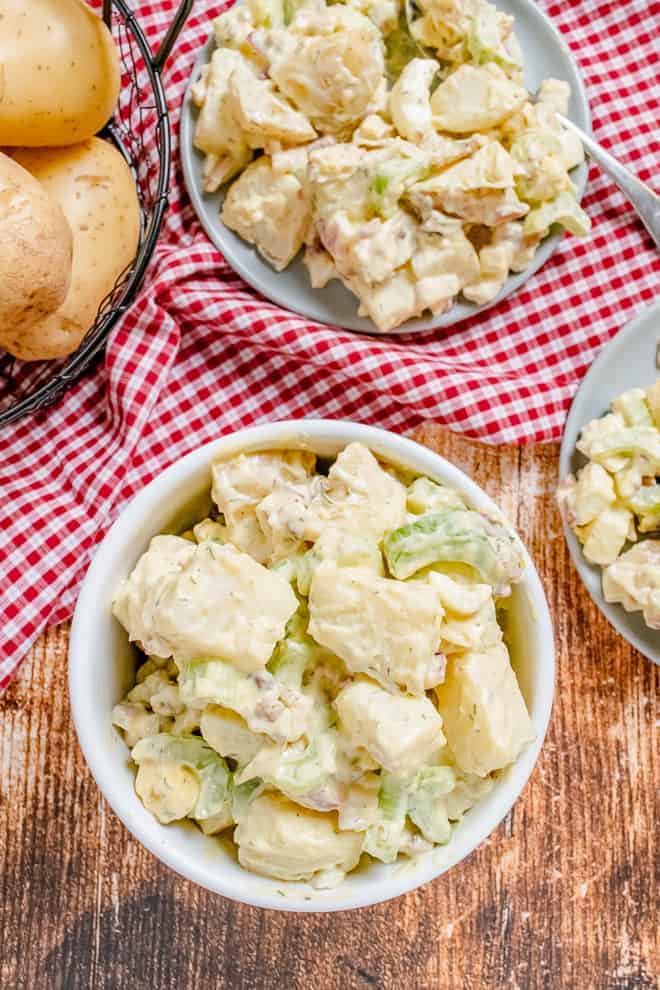 Enliven your summer meals with homemade potato salad: creamy potatoes, crunchy celery and red onion, crisp bits of bacon, hard cooked eggs, graced by a tangy mayonnaise and mustard dressing flecked with sweet pickle relish.
There are a lot of potato salad recipes but I modestly think this creamy potato salad recipe is the best!
I know it's super easy to stop at the deli and pick up a container of ready-made potato salad, and I've done just that plenty of times, but trust me, you want to learn how to make your own. Homemade is so much better!
While potato salad takes a little time to prepare, there's nothing difficult about it, and the result is so delicious. I've included some helpful make-ahead ideas to make things even easier. Try it today!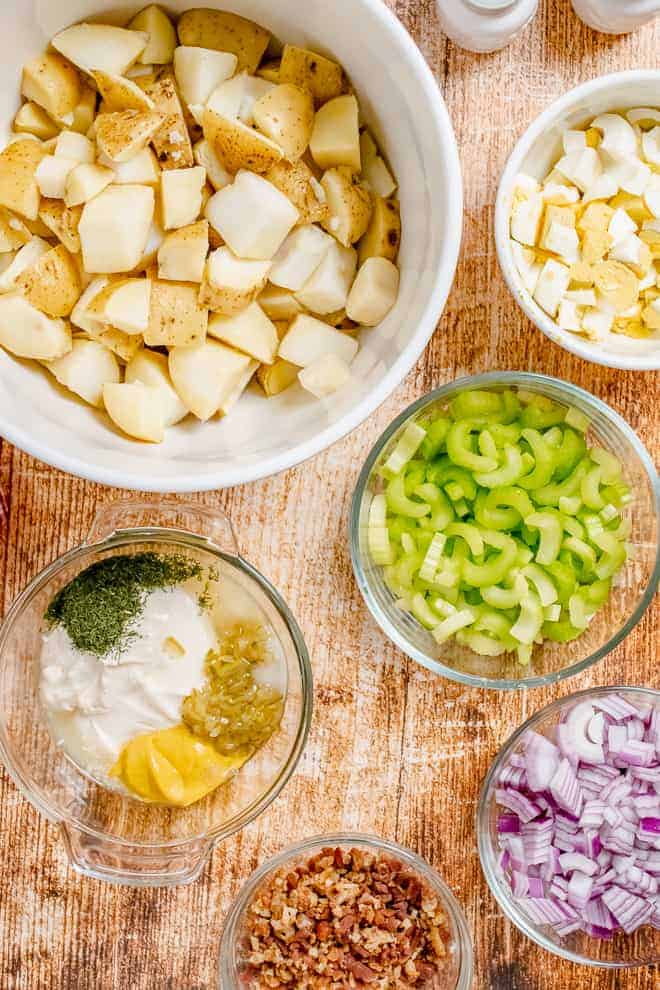 About this potato salad
There's nothing fancy about the ingredients in this recipe. I'm sure you probably have almost everything you need already.
The bacon is optional but I definitely recommend giving it a try. We really love both the taste and the texture it adds to the potato salad.
The dressing is made with mayonnaise. Many of my creamy style salads are made with Greek yogurt in place of all or some of the mayonnaise usually found in this type of salad. My dill potato salad is made with a yogurt and mayo blend and it's amazing. I did test this recipe with yogurt but decided on all mayo for the best traditional flavor.
I'll run through the recipe here with lots of extra helpful tips. You'll find the printable recipe card with full directions and nutrition information at the end of this post.
What You'll Need
Potatoes: Choose a thin-skinned, waxy variety of potatoes for the best results, i.e. Yukon Gold, red potatoes, new potatoes, or fingerlings. Starchy potatoes such as Idaho or Russet tend to fall apart and will soak up a lot of dressing. It's your choice whether you want to peel the potatoes. I like to leave the peelings on.
Hard Boiled Eggs: I usually use my Instant Pot to hard boil eggs. My kids love them so I make a dozen at a time. They are always easy to peel when you use a pressure cooker.
Red Onion: Other types of onion are fine, too. I like a sweet onion so the taste isn't overpowering.
Celery: A classic ingredient in potato salad, celery provides lots of crunch. Add radishes, too, if you like.
Bacon: This is an optional ingredient but it adds tons of flavor to the potato salad.
Dressing: A creamy mixture of Mayonnaise, Yellow Mustard, Sweet Pickle Relish, Lemon Juice, Dried Dill, Salt and Pepper.
How To Make This Recipe
Cook your potatoes until they are just tender. (Make sure to read the recipe notes for Instant Pot directions. I love that you can cook the eggs right with the potatoes with this timesaving method.) You'll want to cool the potatoes down before mixing them with the rest of the ingredients. Plan on about an hour (or overnight) for cooling.
Meanwhile fry up some bacon, or even better, make easy baked bacon. Chop the onion, and get it soaking in ice water to remove some of the strong flavor. Chop a few stalks of celery, and prepare the dressing.
The dressing is so easy: simply mix mayo, yellow mustard, sweet pickle relish, a dash of lemon juice, dried dill, salt, and pepper.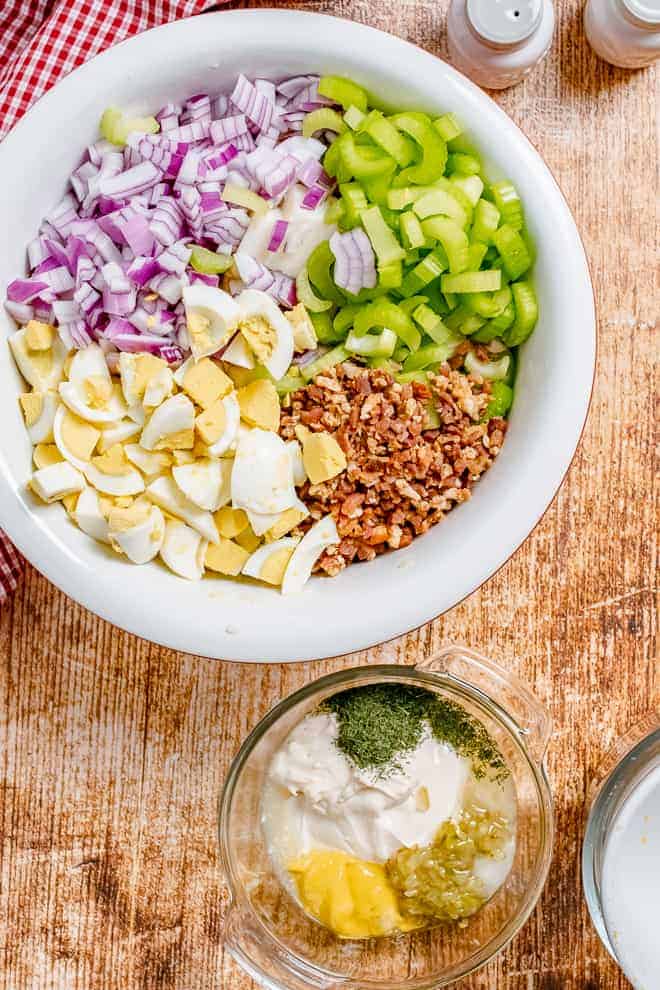 Okay, now you have all the elements of your potato salad ready. In a big bowl, gently mix everything together. That's it! You did it! Cover the bowl and set it in the fridge until you're ready to serve the best. potato. salad. ever.
Fire up your grill and enjoy homemade potato salad as a perfect accompaniment to grilled salmon or chicken, burgers, hot dogs, or brats. And don't forget homemade baked beans!
FAQs
Do you cut a potato before boiling it for potato salad?
Yes, I usually cut the potatoes into chunks that are approximately the same size so that they cook evenly, usually halves or quarters. Once the potatoes have cooked and cooled, cut them into bite-sized pieces.
How do you know when potatoes are done for potato salad?
Great question! Undercooked potatoes will be too crunchy and overcooked potatoes tend to disintegrate or turn into mush; neither scenario is desirable. The potatoes should be tender but still firm. To test for doneness, insert a fork into the potato; you should feel some resistance but the fork will go in pretty easily.
Why is potato salad dangerous?
Potato salad itself is never dangerous. It's how the potato salad is handled that can make it a culprit for food poisoning. Bacteria can grow on any food that is left at room temperature for an extended period of time but especially foods with lots of starch (potatoes) and protein (eggs). While acid can inhibit the growth of bacteria, the mayonnaise dressing in potato salad is pretty low in acid.
Two hours is about the maximum safe time for potato salad at room temperature but if you're outdoors and the temperature is in the 80s or 90s, the safe time is even less, about one hour.
If you're bringing your salad to a picnic, keep it on ice until you're ready to serve it and you won't endanger anyone! Or choose a more acidic salad, like this vinegar coleslaw or Asian coleslaw.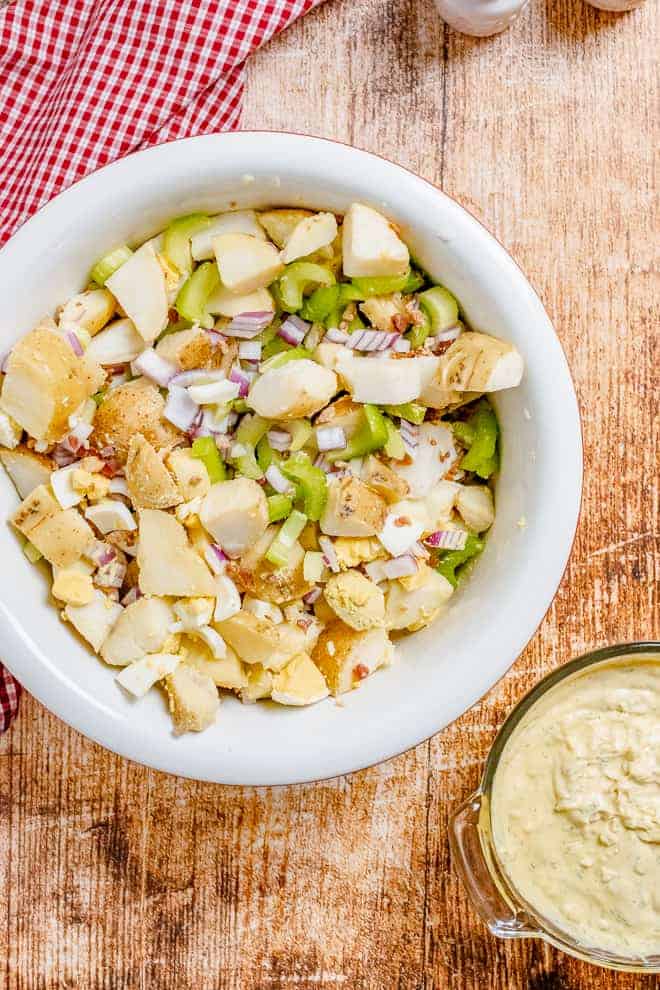 Make It Your Own
There are so many ways to make this southern style salad your own. I'm sure you have something in mind already, thinking about your grandma's version of this recipe or something you've read about in a magazine. Here's a few ideas for you:
Add different vegetables. Many recipes include sliced radishes. Green peas would be good, too. You could add diced bell peppers, corn, or sliced green onions. Add chopped dill or sweet pickles, or black olives.
Omit the bacon for a vegetarian potato salad. Or increase the bacon, if you're a bacon lover,
Leave out the hard boiled eggs. Or mix in half the eggs, and garnish the potato salad with sliced eggs.
Like cheese? Mix in sharp cheddar cheese for a less traditional potato salad.
Tweak the dressing. More mayo, less mayo, relish, no relish, yellow mustard or Dijon, whole grain, or horseradish, whatever you like. Make it just the way you like it. Maybe you like tons of dressing. Or maybe not so much. You decide. Try adding a teaspoon of celery seed. Taste it along the way and season accordingly!
Add a quarter cup of fresh chopped herbs such as parsley, dill, or chives.
Looking for a hot dish instead of a salad? Try loaded mashed potato casserole or crockpot cheesy potatoes. Both recipes are always a hit at potlucks.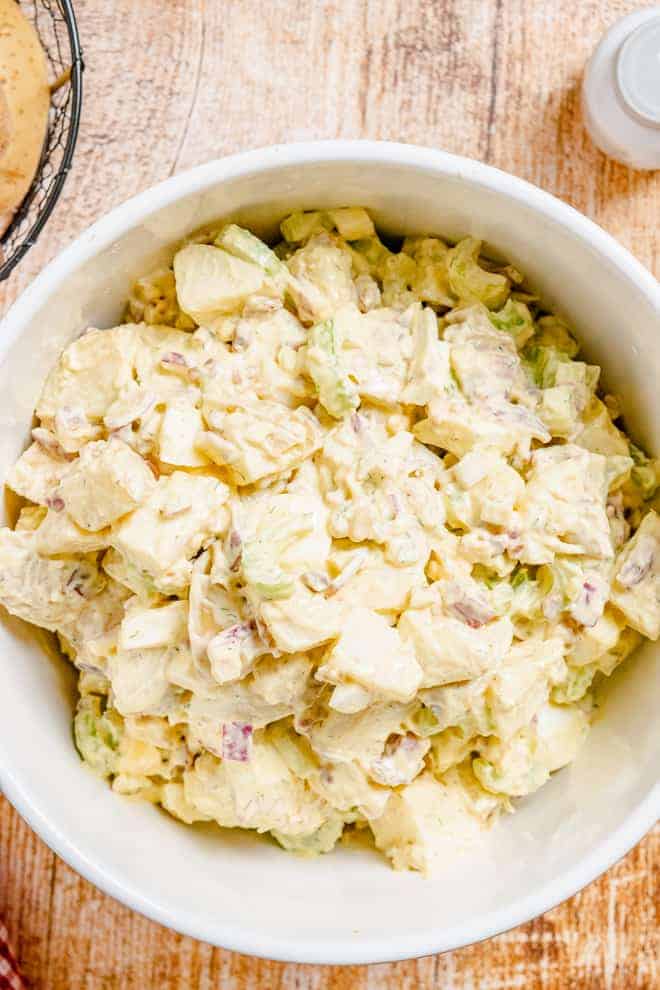 Make-Ahead Ideas
Cook the potatoes, eggs, bacon, chop up the celery and onion, make the dressing, and so on. Refrigerate the ingredients separately overnight until you're ready, and then simply stir everything together.
Or prepare the recipe completely, cover it well, and refrigerate overnight. It's just as good the next day!
Storage Tips
Homemade potato salad will keep three to five days in the refrigerator. Make sure it's covered tightly. Potato salad does not freeze well.
Warning!
If your salad has sat out at room temperature for over two hours (at a picnic or potluck), it should be discarded. Don't take a chance with food poisoning.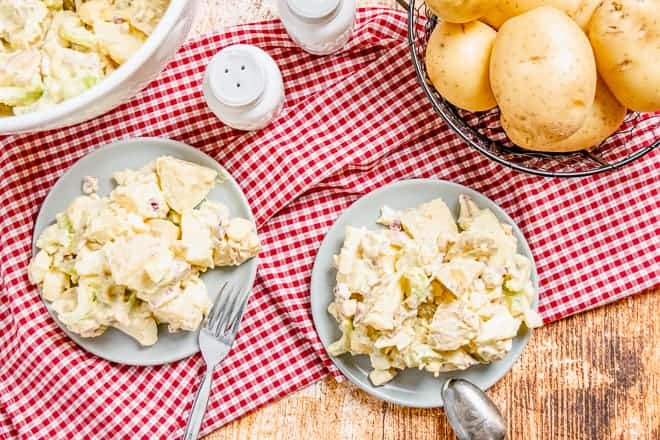 More summer salads
You'll love these delicious summer salads and they're perfect for picnics! Try: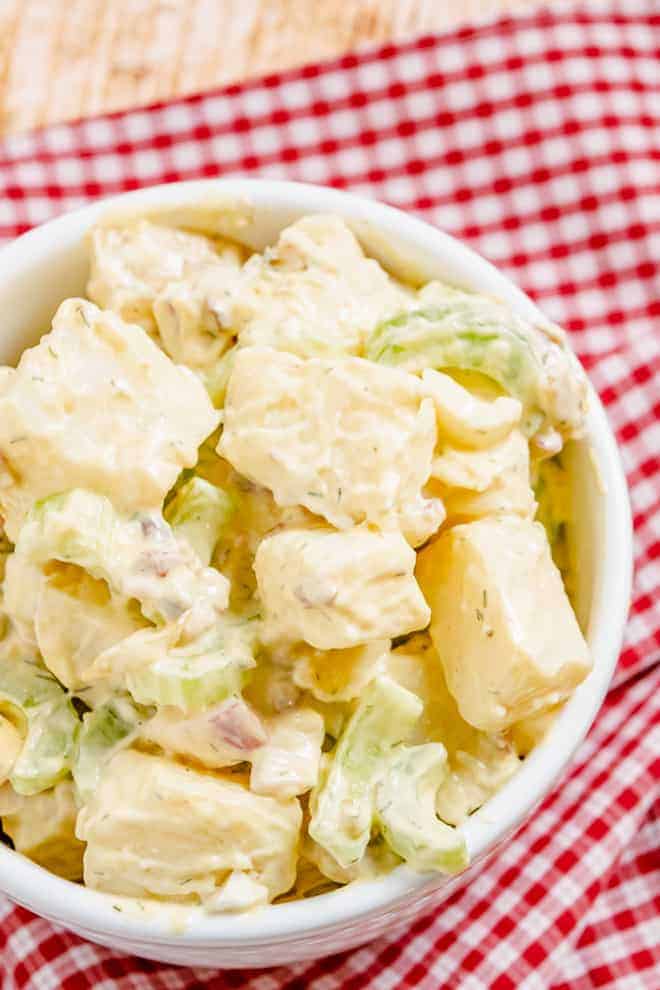 Did you make this? Be sure to leave a review below and tag me @rachelcooksblog on Facebook, Instagram, or Pinterest!
This traditional creamy potato salad recipe is the best! Learn how to make easy potato salad for a perfect summer side dish.
Ingredients
2 ½ to 3

pounds

potatoes

(see note)

1

teaspoon

salt

5

eggs, hard boiled

1 ½

cups

chopped red onion

(see note)

2

cups

chopped celery, about 4 stalks

1

cup

crumbled cooked bacon,

optional
Dressing
1 ½

cups

mayonnaise

⅓

cup

yellow mustard

¼

cup

sweet pickle relish

1

tablespoon

freshly squeezed lemon juice

1

tablespoon

dried dill

½

teaspoon

kosher salt

¼

teaspoon

black pepper
Instructions
Cut potatoes in halves or quarters so they are evenly sized. Put potatoes in large saucepan, add water to cover, and add

1 teaspoon

salt. Over high heat, bring to boil. Turn heat down to medium low, cover pan, and boil potatoes 10 to 12 minutes, or until just tender but still firm.

Drain potatoes well; place in a bowl to cool for at least one hour or overnight.

Peel and chop eggs.

In a large bowl, gently mix potatoes, eggs, onion, celery, and bacon.

In a small bowl or large measuring cup, combine the dressing ingredients: mayonnaise, mustard, relish, dill, lemon juice, salt and pepper.

Pour dressing over potatoes, eggs, onion, celery, and bacon; gently fold in until potatoes are well coated and everything is mixed together. Taste and adjust seasonings. Add salt and pepper, if needed.

Store in refrigerator, covered tightly. Serve chilled.
Notes
Choose a thin-skinned waxy variety of potatoes for best results, i.e. Yukon Gold, red potatoes, new potatoes, or fingerlings. It's your choice whether you want to peel them. I like to leave the peelings on.
If you prefer, don't stir in all of the bacon. Reserve ½ cup to sprinkle on top for a garnish. Or garnish with a sprinkle of chopped parsley or paprika.
If you soak the chopped onions in ice water for about 30 minutes before adding them to the salad, it takes the bite out of them and makes the onion flavor less strong.
Instant Pot cooking method: You can cook the hard boiled eggs and the potatoes together. Cube potatoes and place in Instant Pot with ¾ cup of water and 1 teaspoon salt, place eggs in with potatoes, whole. Set to High Pressure for 5 minutes, when done, do a quick release. Remove the eggs and immediately place in ice water until ready to peel. Drain potatoes well.
To prep ahead: Cook potatoes and eggs using desired method; chill in fridge overnight. Prepare the dressing and store separately. Cook bacon a day ahead.
Nutrition Information
Calories:
363
kcal
,
Carbohydrates:
22
g
,
Protein:
9
g
,
Fat:
27
g
,
Saturated Fat:
5
g
,
Polyunsaturated Fat:
14
g
,
Monounsaturated Fat:
7
g
,
Trans Fat:
1
g
,
Cholesterol:
99
mg
,
Sodium:
796
mg
,
Potassium:
571
mg
,
Fiber:
3
g
,
Sugar:
4
g
,
Vitamin A:
290
IU
,
Vitamin C:
21
mg
,
Calcium:
46
mg
,
Iron:
1
mg
This website provides approximate nutrition information for convenience and as a courtesy only. Nutrition data is gathered primarily from the USDA Food Composition Database, whenever available, or otherwise other online calculators.