Tortellini Pasta Salad with Italian Vinaigrette
This is a classic tortellini pasta salad that's perfect for cookouts, BBQs, and potlucks! It's a universal crowd-pleaser thanks to cheesy pasta pockets and lots of fresh and flavorful ingredients.
Recipe Overview
Why you'll love it: This pasta salad is very easy to make. You can prep it ahead, too.
How long it takes: 30 minutes
Equipment you'll need: pasta pan, colander, large bowl, sharp knife
Servings: 10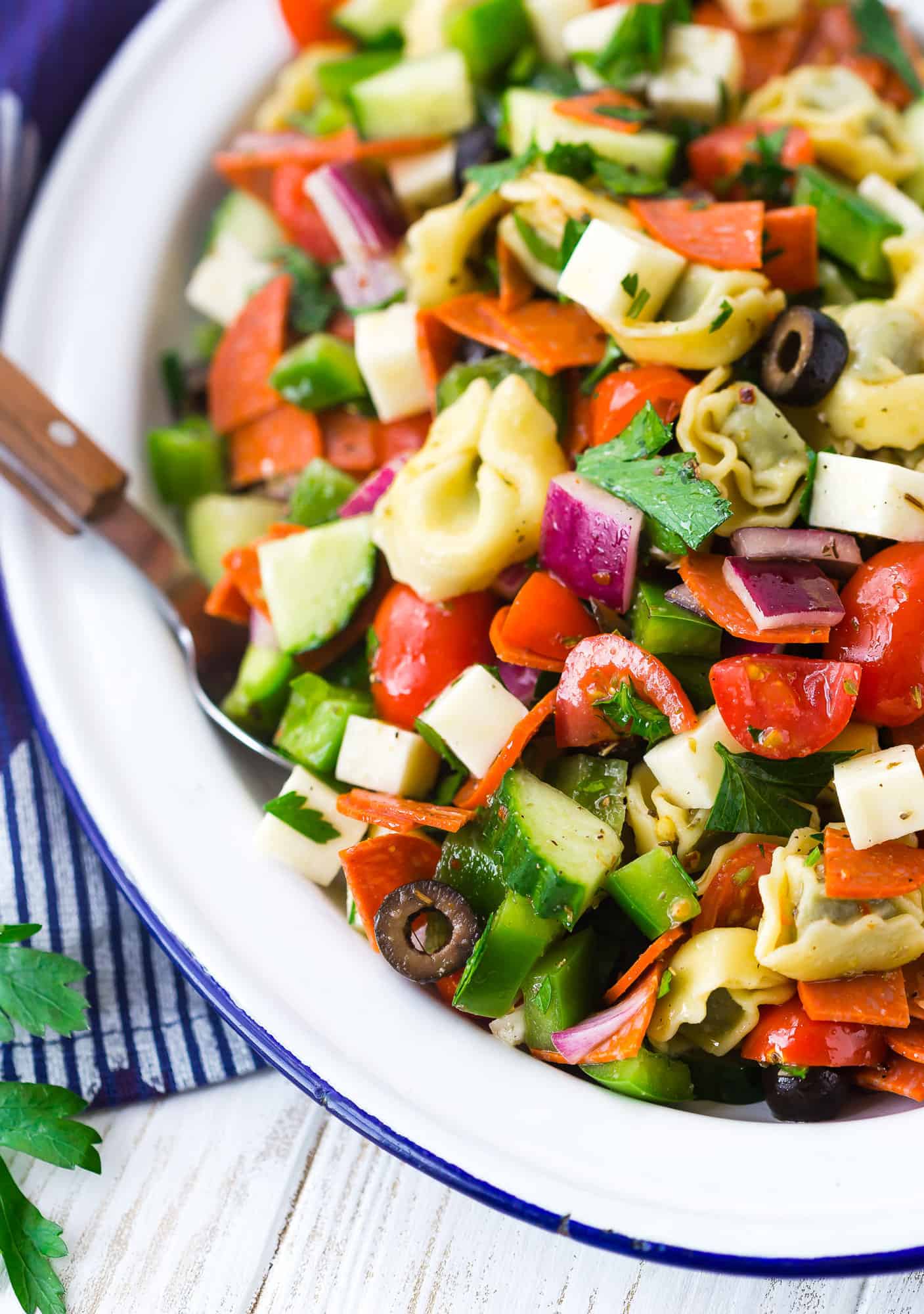 I'm coming at you with another pasta salad recipe because it looks as though warm weather is finally going to stick around for awhile! With lots of picnics and BBQs coming up, this tortellini pasta salad is absolutely perfect for any cookout.
With our basement finished, I have been really itching to have some people over. Well, we don't have furniture down there yet, so maybe I need to cool my jets a little.
We do have outdoor furniture and a very fine big deck so entertaining should be a breeze. With a bounce house set up for the kids' enjoyment, the adults will appreciate a summer cocktail (maybe a refreshing Aperol spritz or sparkling pink lemonade!) and this perfect-for-summer pasta salad.
So fire up the barbecue and let's get summer rolling!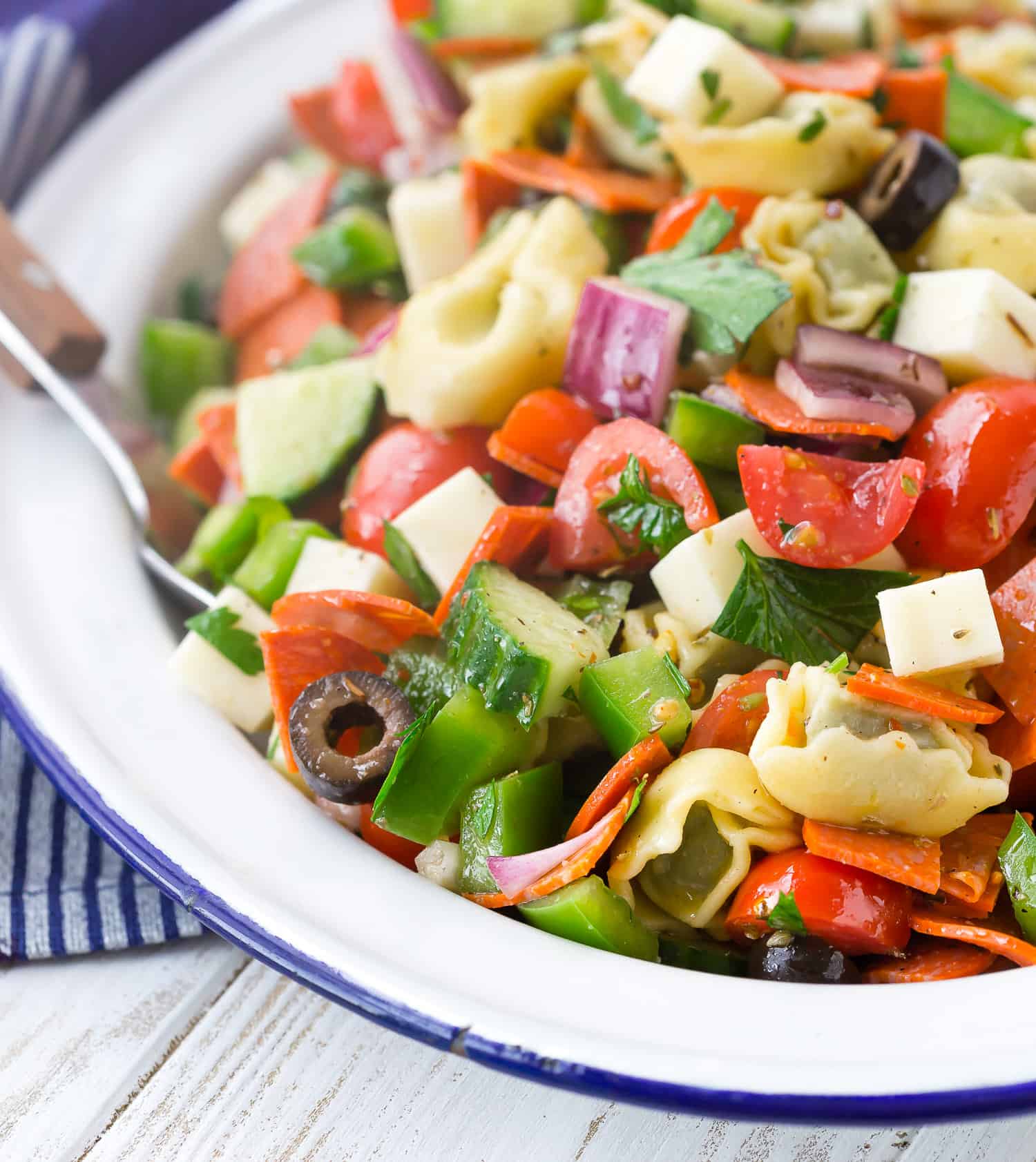 About this tortellini pasta salad
This tortellini pasta salad is a major crowd pleaser with classic pasta salad ingredients like green peppers, olives, onions, pepperoni and flavorful chunks of cheese. I can never get enough vegetables so I also throw in cucumber and tomatoes.
The salad is embellished with tons of fresh parsley and an easy homemade vinaigrette.
Pasta salads are ideal for entertaining because they actually taste better if they spend an hour or two in the fridge so you can make them ahead. They fare better in warm weather than a salad with a creamy dressing, and most people really enjoy them. It's a win-win-win!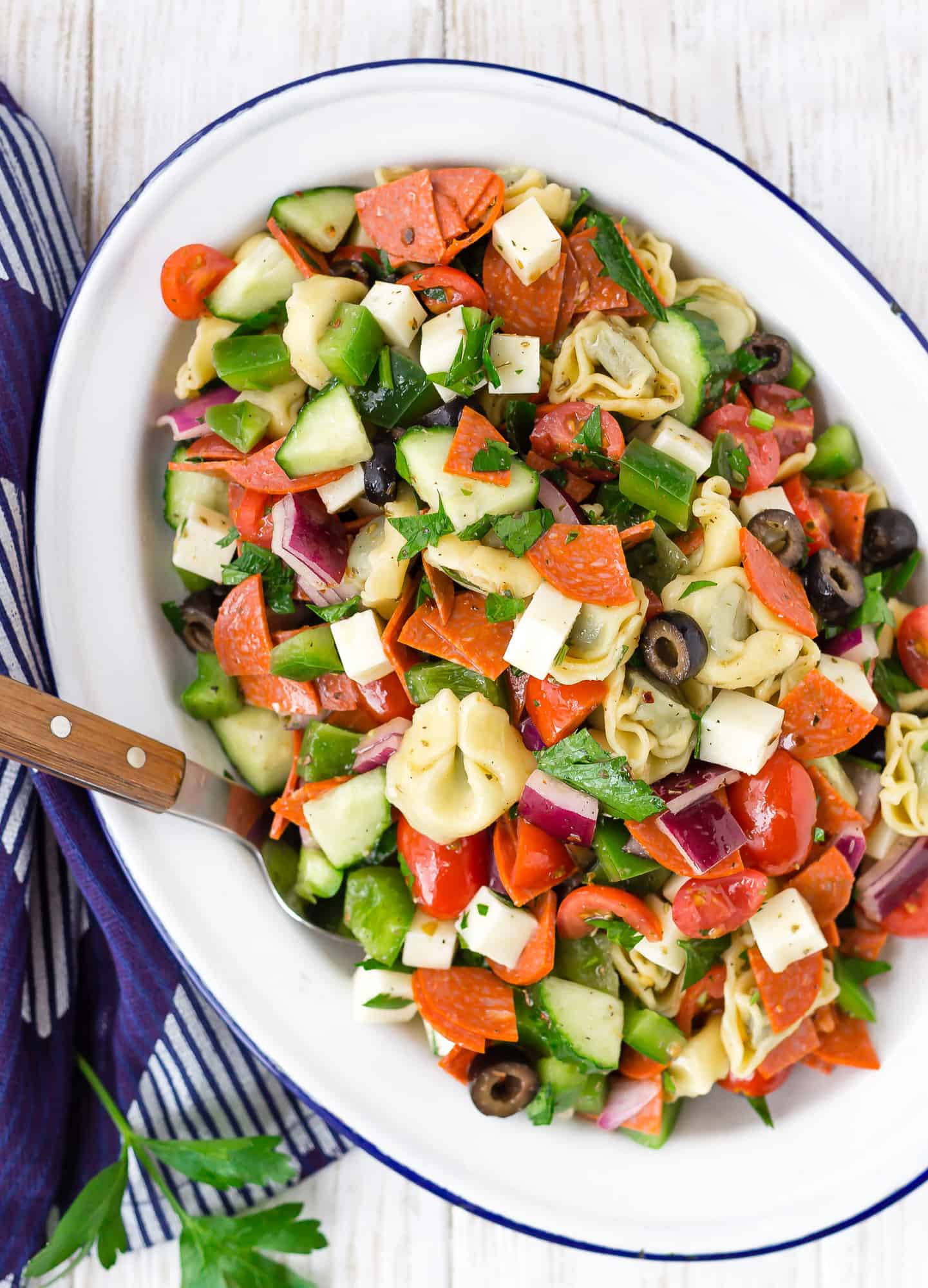 I'll get you started on this super easy recipe and throw in a few helpful tips. Look for the recipe card near the bottom of the post for full instructions, measurements, and nutrition information.
What You'll Need
Tortellini: Choose your favorite brand of tortellini, stuffed with either spinach or cheese. Dried tortellini can be found in boxes with other dry pasta; refrigerated tortellini with the fresh pastas; and frozen tortellini in the freezer section. Choose the one you're most comfortable with. I usually get dried tortellini because it has a long shelf life. Gluten-free tortellini is available, too.
Green Bell Pepper, Grape Tomatoes, Cucumber, Red Onion: Lots of veggies go into this salad. They are crisp, flavorful, and add lots of nutritional value. It's easy to replace them with something else if you're not fond of one or the other.
Mozzarella Cheese: Look for a block of cheese that you can cut into small cubes. Other good choices are smoked provolone or fresh mozzarella.
Pepperoni: There are a couple of choices. If you buy sliced pepperoni, cut it into quarters before you add it to the salad. Mini pepperoni slices are fun, too, and you won't have to cut them. Salami is a flavorful choice, too. If you're making a vegetarian salad, simply omit the pepperoni.
Black Olives: A small can of sliced black olives is a really easy way to add drama to the salad. Another good choice is kalamata olives. If you're not an olive fan, feel free to just leave them out.
Fresh Parsley: Italian flat leaf parsley has the most flavor but curly parsley is fine, too. Parsley gives the salad great color and also is really nutritious (Healthline).
Vinaigrette Ingredients: olive oil, red wine vinegar, dried oregano, garlic powder, red pepper flakes, salt and pepper. You probably have everything you need in your pantry to make this oil and vinegar dressing.
How To Make This Salad
Begin by cooking your tortellini. Bring a large pot of water to a boil and cook the tortellini according to the package directions. Drain the pasta, rinse it well with cold water, and drain thoroughly.
Why Rinse Pasta?
Rinsing the pasta stops the cooking process so it doesn't become mushy. It also removes any starchy liquid that may be clinging to the pasta which would make your salad gummy. It also cools the pasta down so you can proceed with making the salad.
While the pasta is cooking, prep the vegetables. Wash them thoroughly first. If you use a tender skinned greenhouse cucumber, there's no need to peel it. If you have a regular cucumber with waxy skin, you'll want to peel it before cutting the cucumber into small chunks.
If you're using grape or cherry tomatoes, slice them in half. They absorb the dressing better if they are cut and are easier to fork.
The red onion can be diced, or sliced into thin quarter moon slices. If you're worried that the onion flavor may be too strong, soak the cut onion in ice water for 10 minutes or so. Soaking cuts the bite of onions so they aren't too dominant. The ice water keeps the onions crisp. Drain the onions well and pat them dry before adding them to the salad.
Rinse the parsley well and remove the leaves from the large stems. Little stems are okay but the large stems can be bitter. Chop it finely.
By now, you should have a pretty big bowl of chopped veggies. Add the cooled pasta to the bowl, along with the cubed cheese and pepperoni. Don't forget the olives!
In a small bowl or a jar with tight fitting lid, combine the vinaigrette ingredients. If you're using a bowl, a small whisk works well to emulsify the dressing. If you have a jar, just give it a good shake to mix the dressing.
Add the dressing to the salad and stir it well so that the vinaigrette coats the pasta and vegetables. If you're not serving the salad right away, cover the bowl and refrigerate it until you're ready. It actually tastes a bit better if it marinates for an hour or so.
FAQs
How do you cook tortellini from a package?
It really depends if it's frozen, dried, or refrigerated tortellini. All tortellini needs to be boiled but the amount of time needed varies. For best results, follow the package directions.
Do you have to thaw frozen tortellini?
This is a common question and goes along with the question: Can you cook frozen tortellini in sauce? It is not necessary to thaw frozen tortellini whether you are boiling it in water or cooking it right in the sauce.
Add frozen tortellini to soups or broth to make a delicious soup. Simmer it until the tortellini are heated through. Try one of these recipes: slow cooker tomato basil soup with tortellini or chicken tortellini soup with kale and pesto.
If you're looking for a very easy pasta dish, simply put frozen tortellini in a baking dish, pour a jar of sauce over it, sprinkle on mozzarella cheese and pop it into the oven. Cover it with foil and bake it at 400°F for 40 minutes.
Make It Your Own
As always, this is a recipe you can have fun with and make your own!
If you don't like one of the ingredients, leave it out! There is a lot going on in this salad (in a good way) so the omission of one ingredient won't make a huge difference. I mean, don't leave the tortellini out, that's a given, right?
Not a fan of tortellini? Try this summer pasta salad recipe. It's somewhat similar but it's made with bowtie pasta instead.
Vegetarian? Leave out the pepperoni.
Gluten-free? There are several brands of gluten-free tortellini now available.
Like it a little on the spicy side? Add more red pepper flakes to taste.
Have fun with the cheese. I chose mozzarella (it was fitting for the Italian vibe of this pasta salad and it's what I had) but smoked provolone or fresh mozzarella are delicious, too.
Storage Tips
This pasta salad keeps well. That's one thing I really love about pasta salads. As long as it is refrigerated promptly, it will keep for four days in the fridge in a tightly covered container. It's wonderful for an easy lunch or in lunchboxes.
However, if you've brought the salad to a picnic and it's been in the sun for a couple of hours, it should probably be discarded.
Make-Ahead Ideas
This salad actually improves a bit if it spends an hour or so in the fridge. It gives it time to marinate a bit.
However, if you're making this salad well in advance, the pasta may soak up some of the vinaigrette and make the salad seem a little dry. There are two ways to fix this little problem. You can either add half of the dressing and stir in the second half right before serving OR make a little extra dressing right before serving and give the salad an additional shower of vinaigrette love.
Another way to make this salad ahead is to prep the components and store them separately. The pasta can be cooked and refrigerated a day ahead. Chop the veggies and stir up the vinaigrette and store them in containers. It won't take any time at all to stir everything together!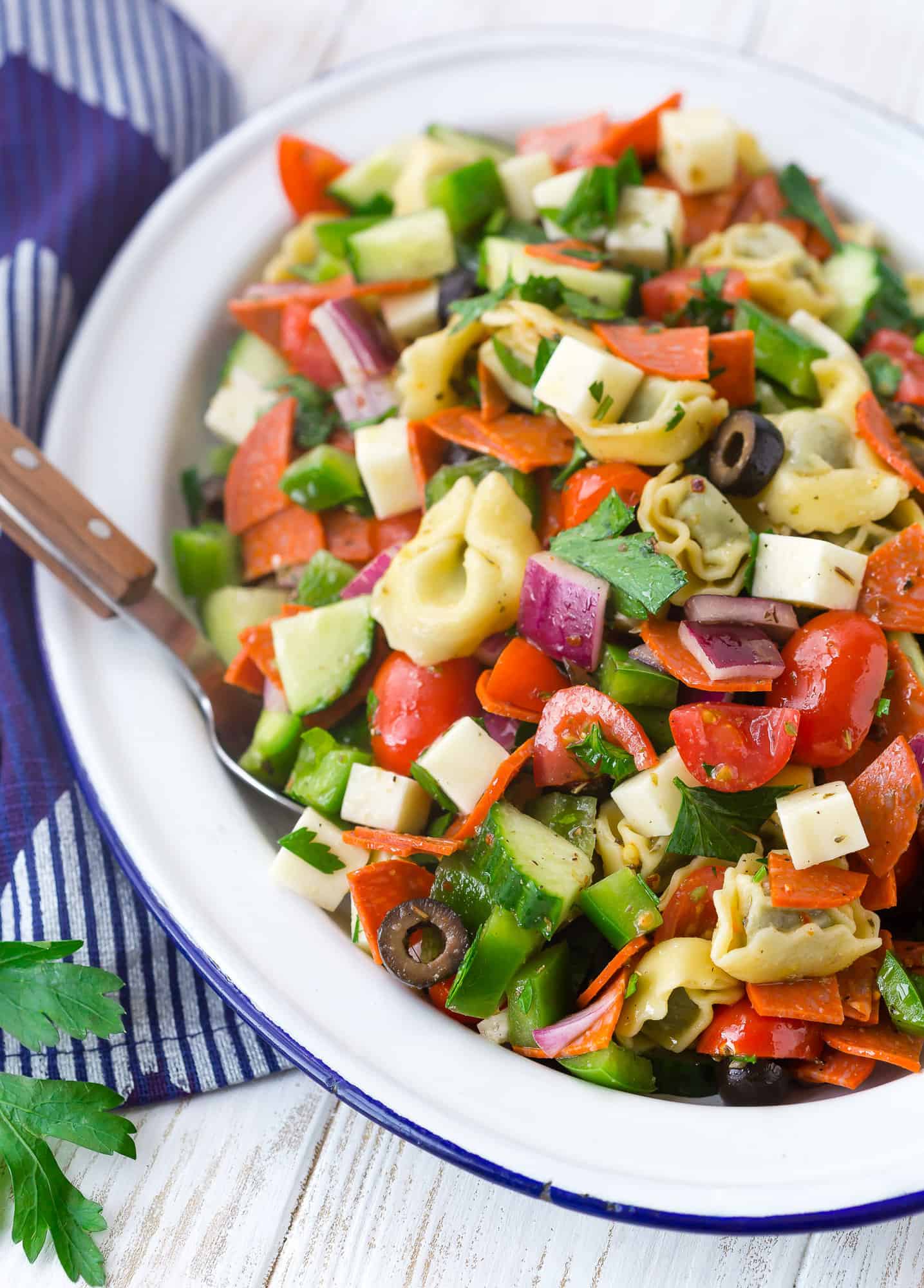 Happy BBQing, friends! You are going to love this salad. I can't wait to make it again.
More Pasta Salad Recipes
Did you make this? Be sure to leave a review below and tag me @rachelcooksblog on Facebook, Instagram, or Pinterest!
This is a classic tortellini pasta salad that's perfect for cookouts, BBQs, and potlucks! It's a universal crowd-pleaser thanks to cheesy pasta pockets and lots of fresh and flavorful ingredients.
Ingredients
For Salad:
10

ounces

spinach or cheese tortellini

(dried, refrigerated, or frozen)

1

cup

diced green bell pepper (about 1 large bell pepper)

1

cup

cup halved or quartered grape tomatoes

1

cup

diced cucumber

½

cup

diced red onions (see note)

1

cup

cubed mozzarella cheese (about 6 ounces)

4

ounces

sliced pepperoni, cut into quarters

1

can

(3.8 oz.) sliced black olives, drained

½

cup

minced fresh parsley
Instructions
Cook tortellini according to package directions. Drain and immediately rinse with cold water; drain again.

In a large bowl, combine cooked and cooled tortellini with bell pepper, grape tomatoes, cucumber, red onions, mozzarella, pepperoni, olives, and parsley.

In a small bowl, measuring cup or jar with a tight-fitting lid, whisk together dressing ingredients: olive oil, red wine vinegar, oregano, garlic powder, red pepper flakes. Taste and season with salt and pepper as needed. Add a bit of sugar or agave to dressing to sweeten it if you prefer it less tangy.

Add dressing to salad; stir well to combine, until all ingredients are coated with dressing.

Serve immediately or store in an airtight container in the refrigerator.
Notes
I soak my onions in ice water for about 10 minutes before adding them to the salad. It's optional, but it takes the strength of them down a notch and prevents them from being overwhelming.
Nutrition information is based on cheese tortellini.
This salad can be made vegetarian by omitting the pepperoni.
Substitution ideas: fresh mozzarella or smoked provolone cheese instead of mozzarella; salami instead of pepperoni; bottled Italian dressing instead of homemade; kalamata olives for black olives; red or orange bell pepper instead of green.
Nutrition Information
Calories:
293
kcal
,
Carbohydrates:
17
g
,
Protein:
10
g
,
Fat:
21
g
,
Saturated Fat:
6
g
,
Polyunsaturated Fat:
2
g
,
Monounsaturated Fat:
11
g
,
Trans Fat:
0.2
g
,
Cholesterol:
29
mg
,
Sodium:
986
mg
,
Potassium:
177
mg
,
Fiber:
3
g
,
Sugar:
2
g
,
Vitamin A:
687
IU
,
Vitamin C:
19
mg
,
Calcium:
170
mg
,
Iron:
2
mg
This website provides approximate nutrition information for convenience and as a courtesy only. Nutrition data is gathered primarily from the USDA Food Composition Database, whenever available, or otherwise other online calculators.