Aperol Spritz (how to make the best Aperol spritz!)
Refreshing and light, an Aperol spritz is a brilliantly colored sparkling cocktail. Festive and easy to make!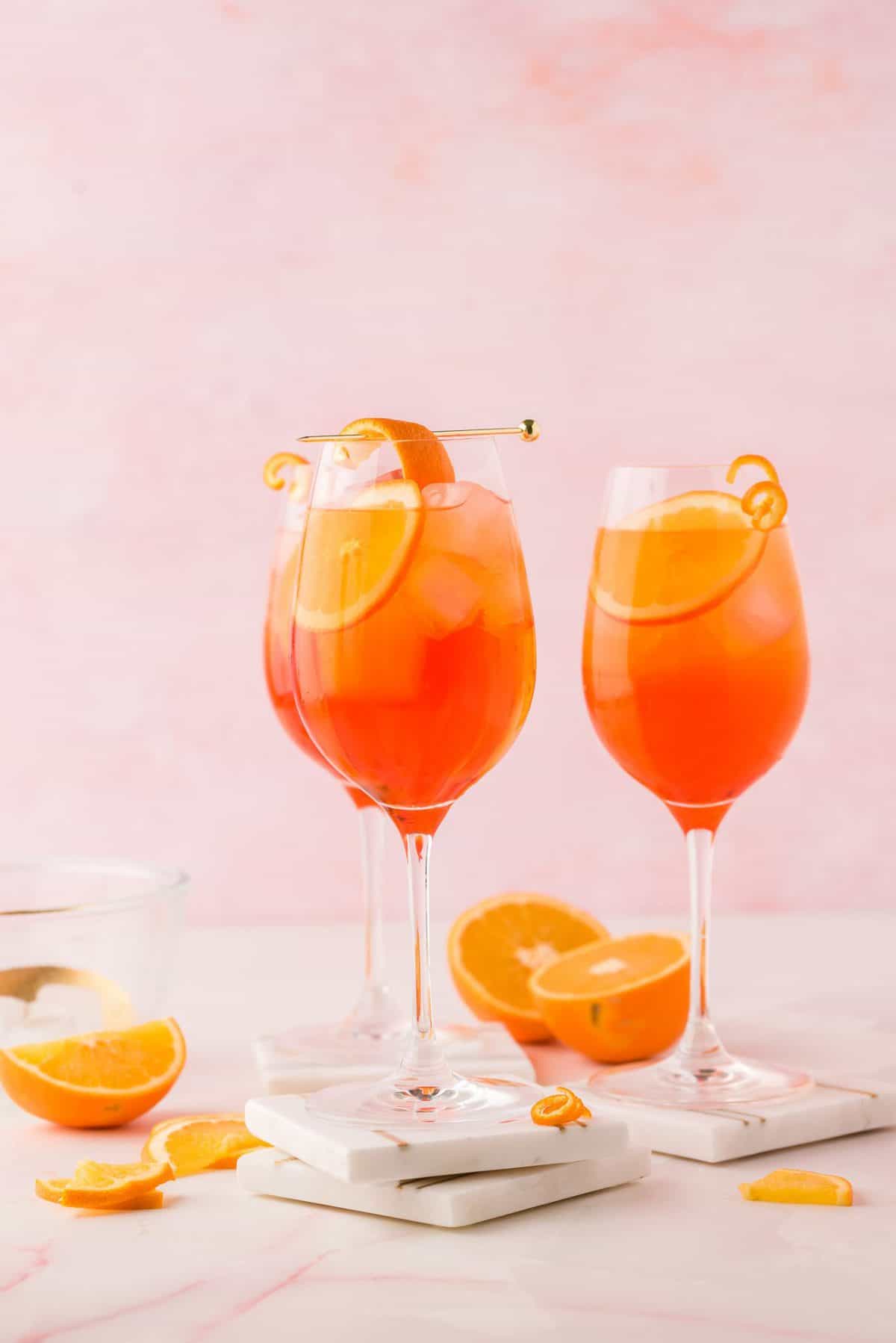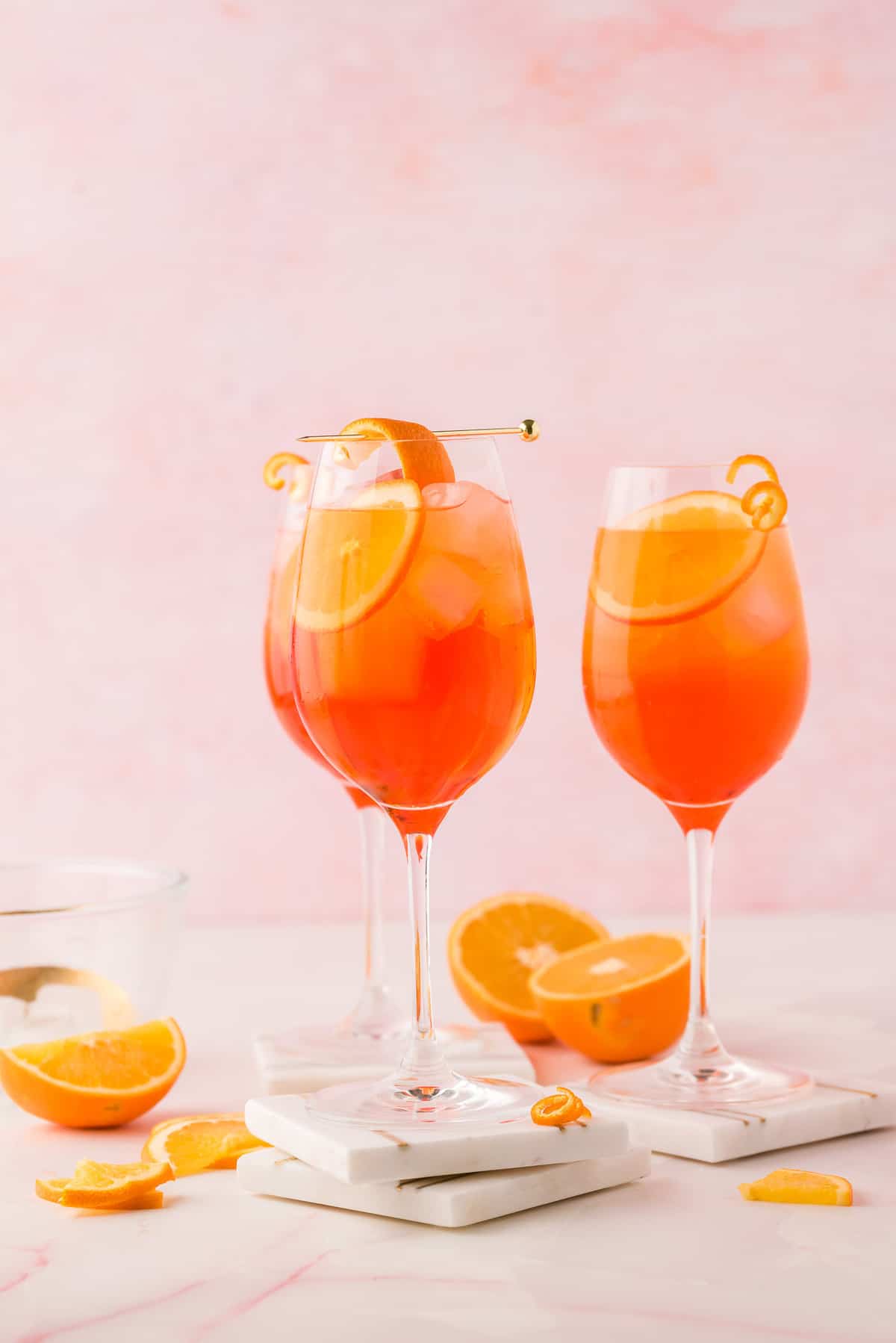 With just three simple ingredients, and embellished with juicy orange slices, an Aperol spritz is a really great little cocktail. It's not too sweet, it's bubbly, refreshing, and quite low in calories, only 227 calories per serving.
If you've visited Italy, you may have tried a "spritz". Apparently, it's very popular there and why not? It's a refreshing light sipper, perfect for a warm summer evening. I think it's about to become very popular on my deck this summer.
Looking for a nibbler to serve with your spritz? How about easy tomato bruschetta, a fresh tomato tart with herbed ricotta, or bacon and mushroom flatbread with shaved asparagus? Rosemary roasted almonds or sweet and spicy candied bourbon pecans are always a hit, too. Everyone loves fresh bread with olive oil dipping sauce (and it's so easy to make!).
About this recipe
3-2-1! That's all you have to remember. Each drink consists of three parts, two parts, one part. Making two drinks? Just start multiplying the parts by two. Making three drinks? Multiply by three. Making a pitcher? Multiply by however many servings you can fit inside your pitcher.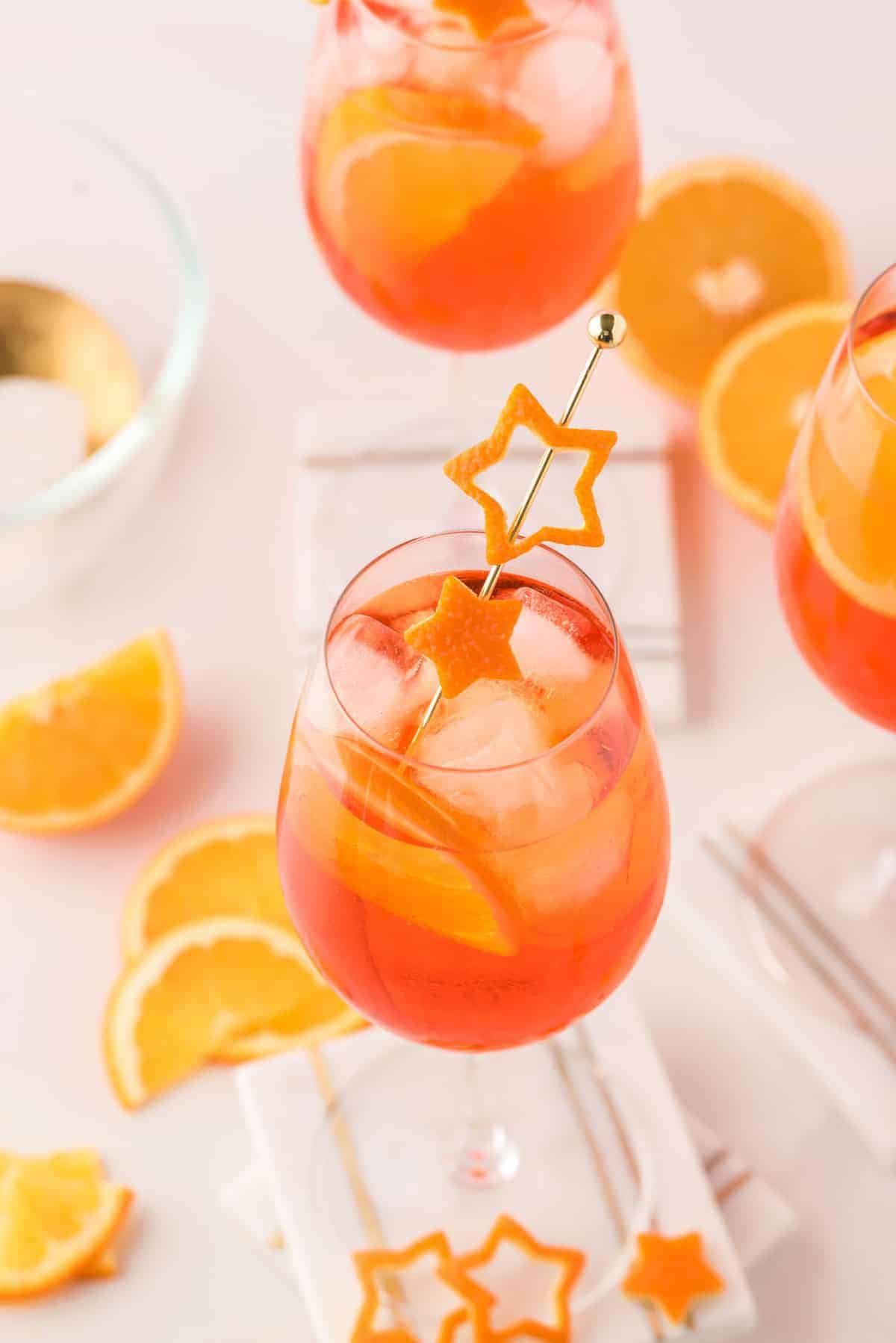 Pour the three ingredients over rocks in the order given, 3-2-1, for a beautiful sparkling cocktail. Don't shake or stir it because you'll lose the bubbles. So easy and so good! The complete printable recipe is on the recipe card at the end of the post.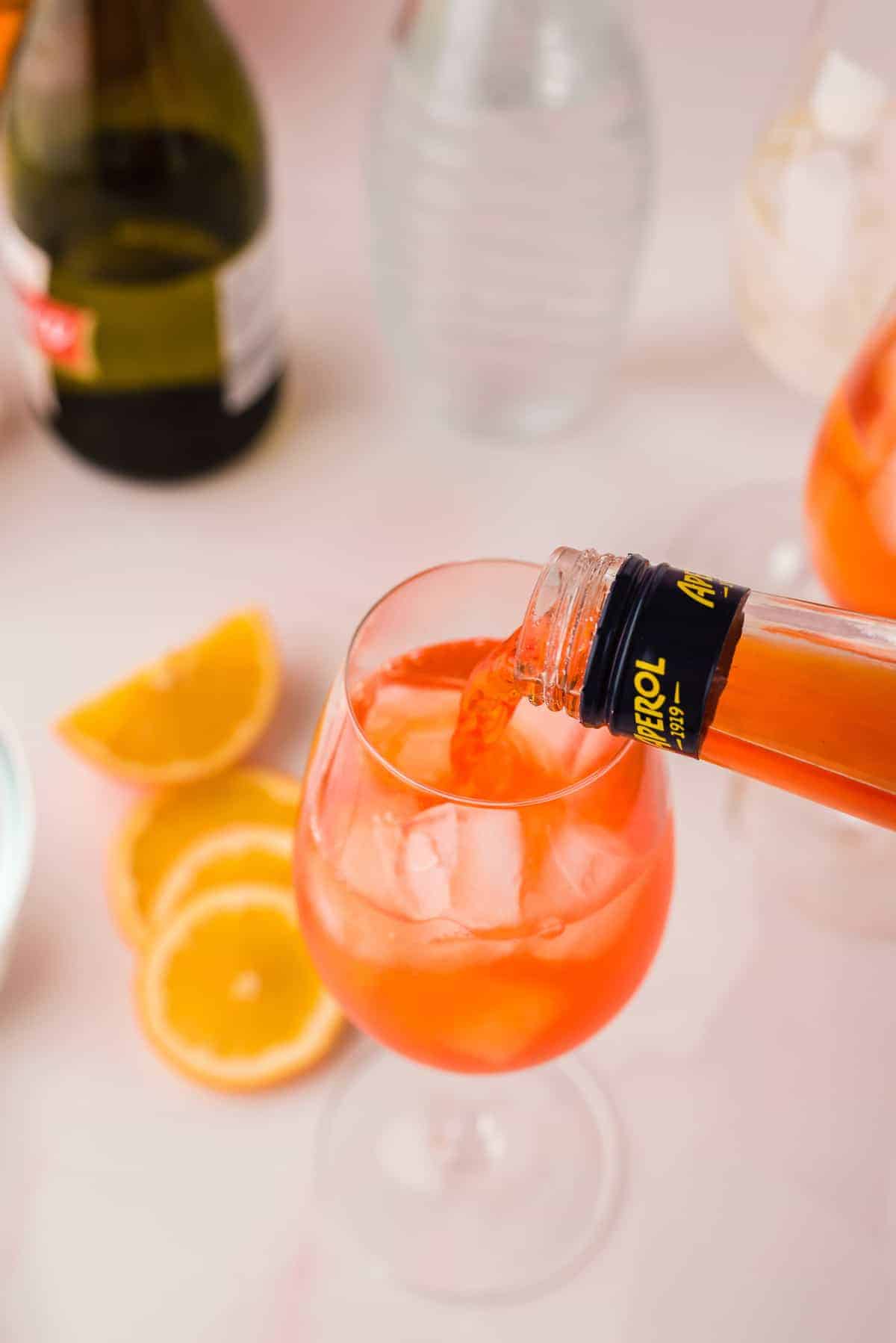 What you need
Prosecco (3 parts) – Prosecco is a sparkling Italian wine. We like prosecco because it's typically not too sweet, and also not too expensive, but you could also use French champagne or Spanish cava.
Aperol (2 parts) – Aperol is an orange-colored Italian bitter apéritif.
Soda (1 part) – Club soda, seltzer, or sparkling water, will all work. It's your choice!
Orange slices – These are technically an optional garnish, but I love the way they look and the taste they add.
Ice – This cocktail is served on the rocks, so make sure you have plenty of ice made.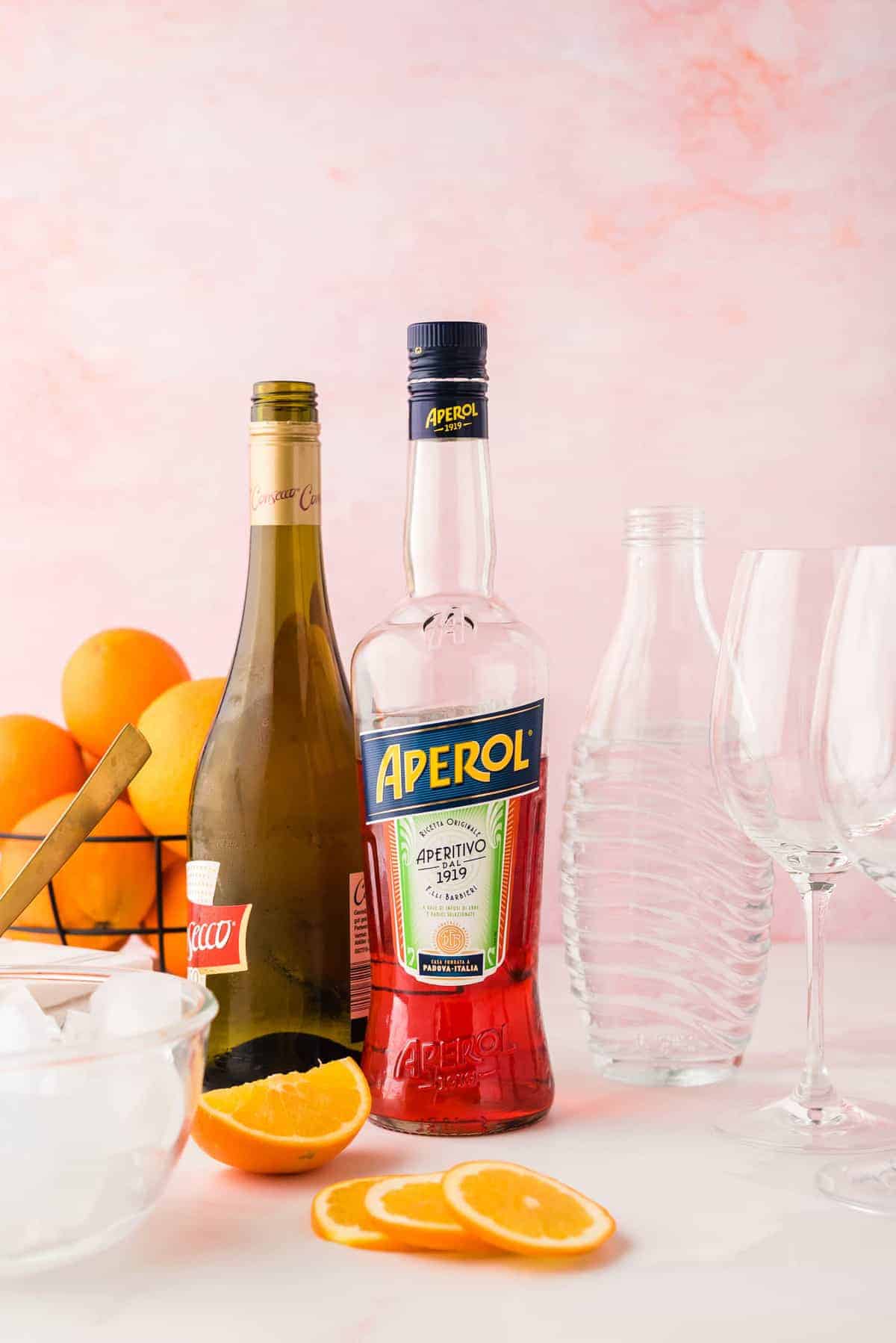 FAQs
What kind of alcohol is Aperol?
Aperol was created as an apéritif type of drink, something you sip on before dinner to stimulate your appetite. Two brothers in Italy worked together seven years before introducing the drink in 1919. The recipe remains a secret but reportedly it contains bitter oranges, rhubarb, herbs, and spices. In contrast to Campari, a bitter red apéritif also from Italy, Aperol has half the alcohol content, only 11%, making it a lighter choice.
What's the best kind of glass for an Aperol spritz?
Serve this cocktail in large stemmed glasses to beautifully display the vibrant orange hue which is intensified with fresh orange slices. A stemless wineglass is lovely, too.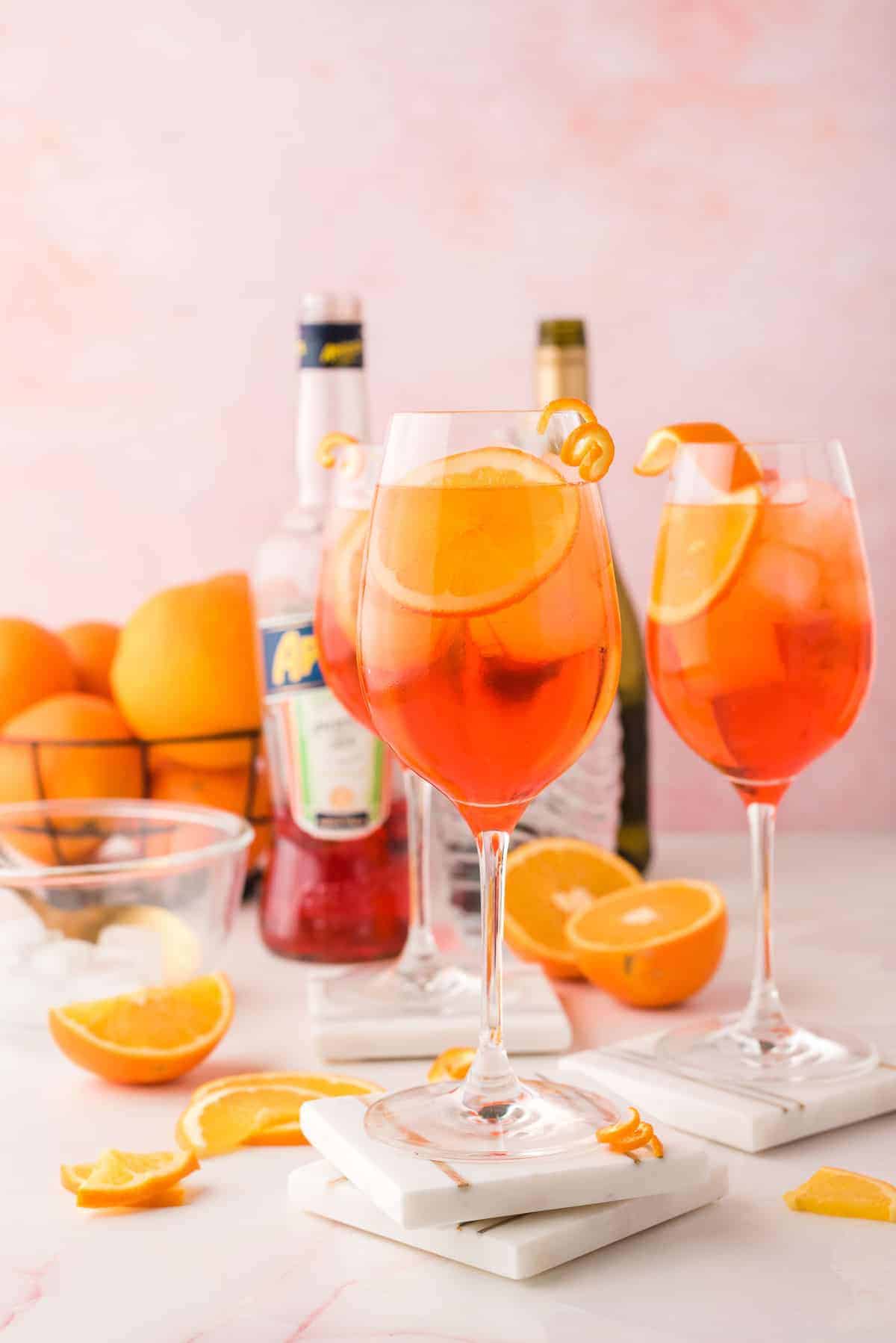 How to make this cocktail your own
Use Sprite instead of soda, for a sweeter flavor. Use diet soda or Sprite to cut calories, if desired.
A dry prosecco (less residual sugar) will make a spritz that will taste less sweet. Chose a prosecco (or sparkling wine) that you would normally drink.
Make-Ahead Tips
Cut orange slices for the garnish and make sure you have plenty of fresh ice on hand. This cocktail takes about three minutes to make. If you make it ahead, it will go flat.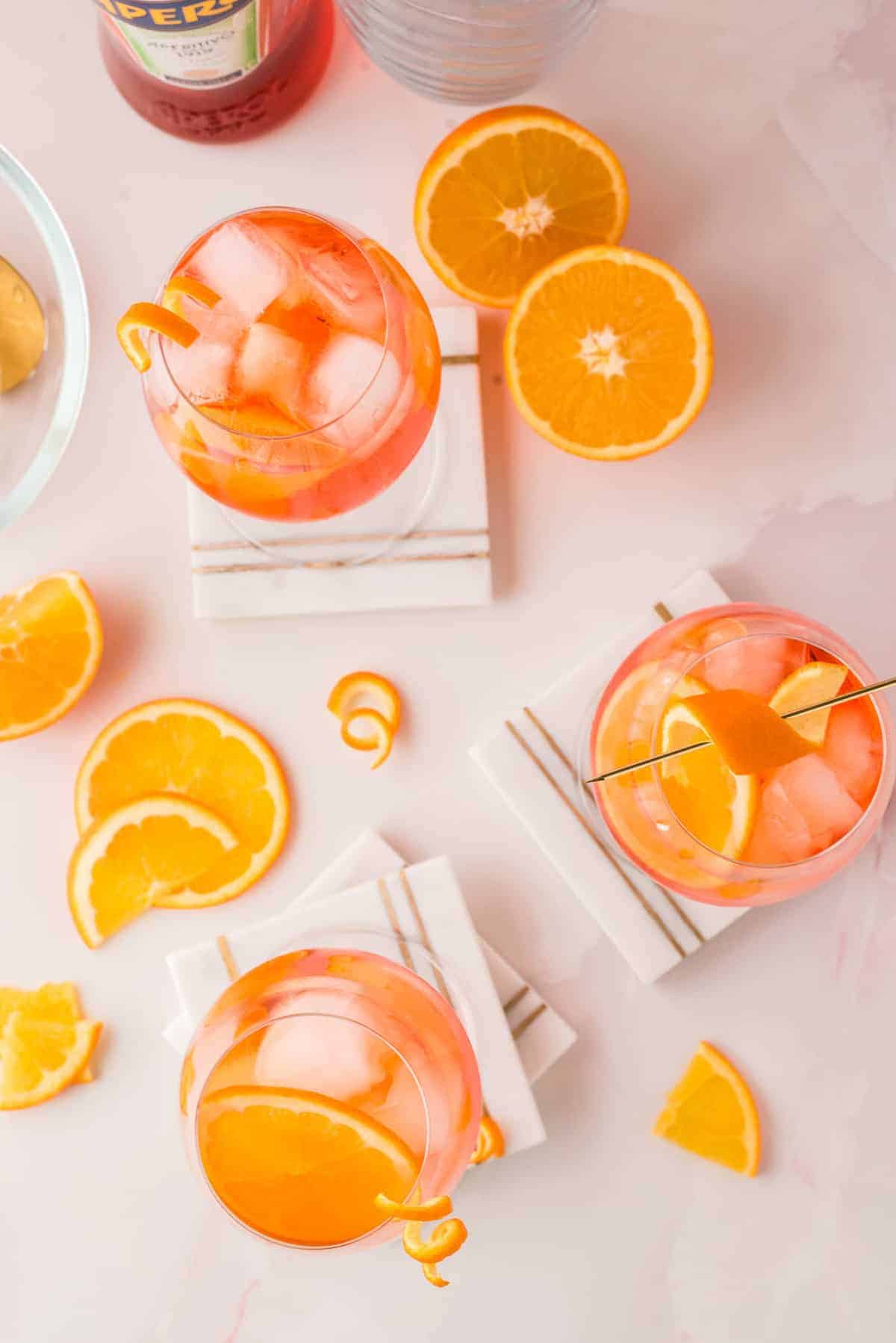 More summer sips
Looking for a lighter cocktail? Try: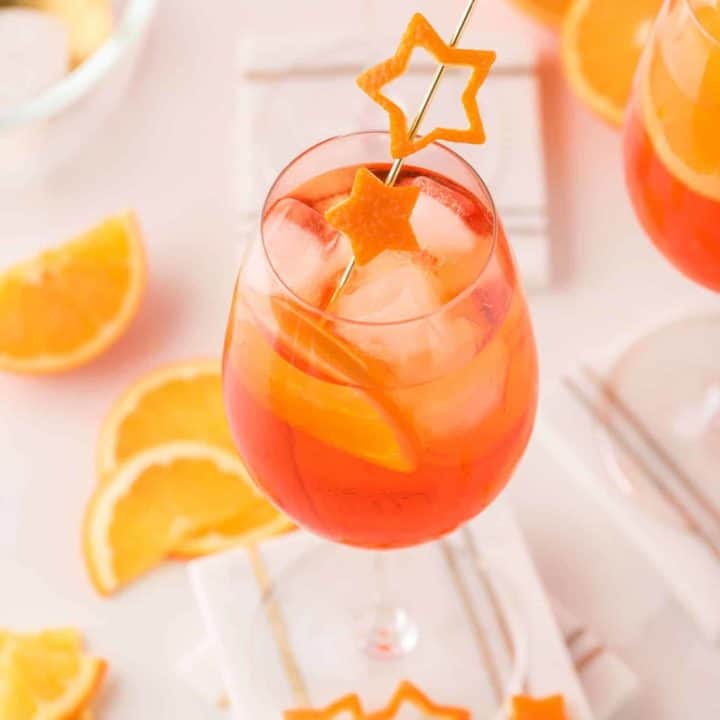 Aperol Spritz Recipe
Yield: 2 cocktails
Prep Time: 3 minutes
Total Time: 3 minutes
Refreshing and light, an Aperol spritz is a brilliantly colored sparkling cocktail. Festive and easy to make!
Ingredients
6 ounces prosecco
4 ounces Aperol
2 ounces soda (sparkling water, club soda, or seltzer)
Ice cubes
Orange slices for garnish
Instructions
Fill both glasses with ice cubes.
Add 3 oz. of prosecco to each glass (around half full).
Add 2 oz. of Aperol to each glass and top with soda (about 1 oz.).
Garnish with orange slices and serve immediately.
Notes
Pouring the prosecco first gives the cocktail a very nice bold orange. Don't stir the cocktail because it will reduce the carbonation (fizziness).
The recipe can be easily increased. Just keep the ratio of 3 parts prosecco, 2 parts Aperol, and 1 part soda.
For a sweeter cocktail, use Sprite instead of soda.
Nutrition Information:
Yield: 2
Serving Size: 1 cocktail
Amount Per Serving:
Calories: 227
Total Fat: 0g
Saturated Fat: 0g
Trans Fat: 0g
Unsaturated Fat: 0g
Cholesterol: 0mg
Sodium: 7mg
Carbohydrates: 27g
Fiber: 0g
Sugar: 25g
Protein: 0g
RachelCooks.com sometimes provides nutritional information, but these figures should be considered estimates, as they are not calculated by a registered dietitian. Please consult a medical professional for any specific nutrition, diet, or allergy advice.