Vibrantly green, air fryer asparagus is crisp, delicious, and so easy to make. Perfect as a side dish, on a salad, or even as a healthy snack!
Recipe Overview
Why you'll love it: If you have an air fryer, this is the way to go for asparagus. It's quick and easy, and the asparagus turns out perfectly every time.
How long it takes: 12 minutes (including prep time)
Equipment you'll need: air fryer
Servings: 4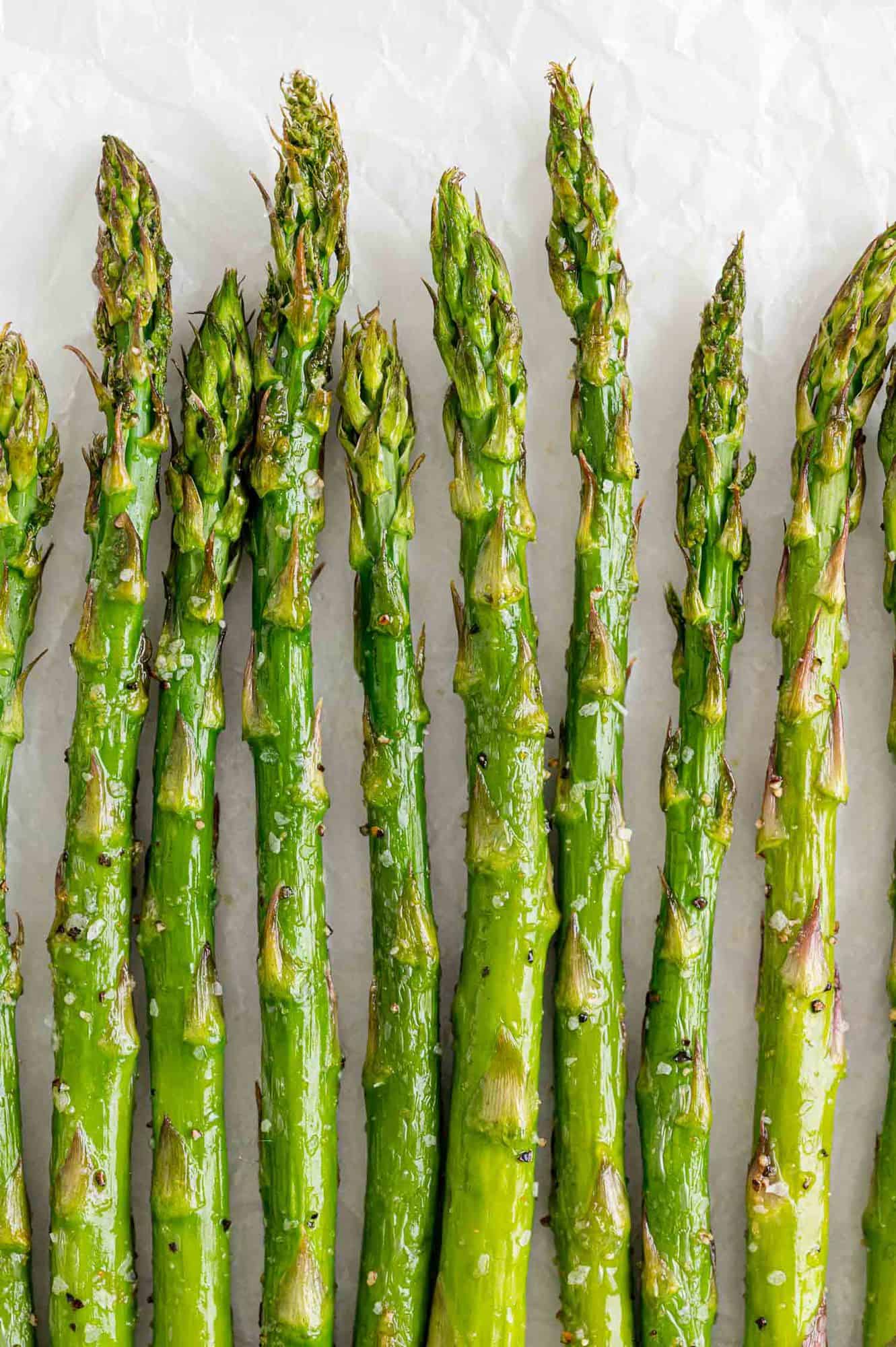 What do you think? Would you rather munch on asparagus spears or fries? I definitely choose asparagus. Sorry, fries, but you're really outclassed here. Asparagus wins! It has beauty and good taste, and yes, I often eat it with my fingers, just like fries. I don't dip it in ketchup though.
Not only that, asparagus' beauty isn't just skin deep. It's really good for you, too. Your love relationship with asparagus will benefit you in every way. Asparagus is low in calories, has lots of fiber, and gobs of vitamins, minerals, and antioxidants. It fights inflammation and promotes bone health, among other benefits (Healthline).
Build on your infatuation with asparagus by adding it to stir fries, sheet pan dinners, salads, pasta dishes, or just enjoy it without any embellishments at all.
Why You'll love this Recipe
Quick and Easy: I've started using my air fryer to roast vegetables and we've been very happy with the results. Air frying is quick and easy, and the vegetables taste great. Try air fryer mushrooms or air fryer roasted Brussels sprouts. Pretty much everything you roast in the oven can be air fried in much less time. Lately we've been enjoying air fryer green beans and air fryer cauliflower. And air fryer corn on the cob turns out amazingly delicious (and no pots of water to boil)!
Flavorful: Crisp tender asparagus spears, roasted quickly in an air fryer, with a barely there coating of olive oil and seasoned simply with salt and pepper, are really just so good! The asparagus tastes super fresh and the tender emerald green stalks with their beautiful compact buds are gorgeous to look at, too. They add splendor to your plate.
Tips for Success
Don't overcook: There are so many ways to prepare asparagus: blanching, steaming, sautéing, grilling, or roasting. The most important thing to remember with any cooking method is don't overcook the asparagus. You want it to be crisp and bright green, not mushy and stringy.
Dry asparagus well: After washing, you'll want to make sure the asparagus is very dry. THis will help it get crisp. If it's wet, it will steam, leading to a softer, mushier result.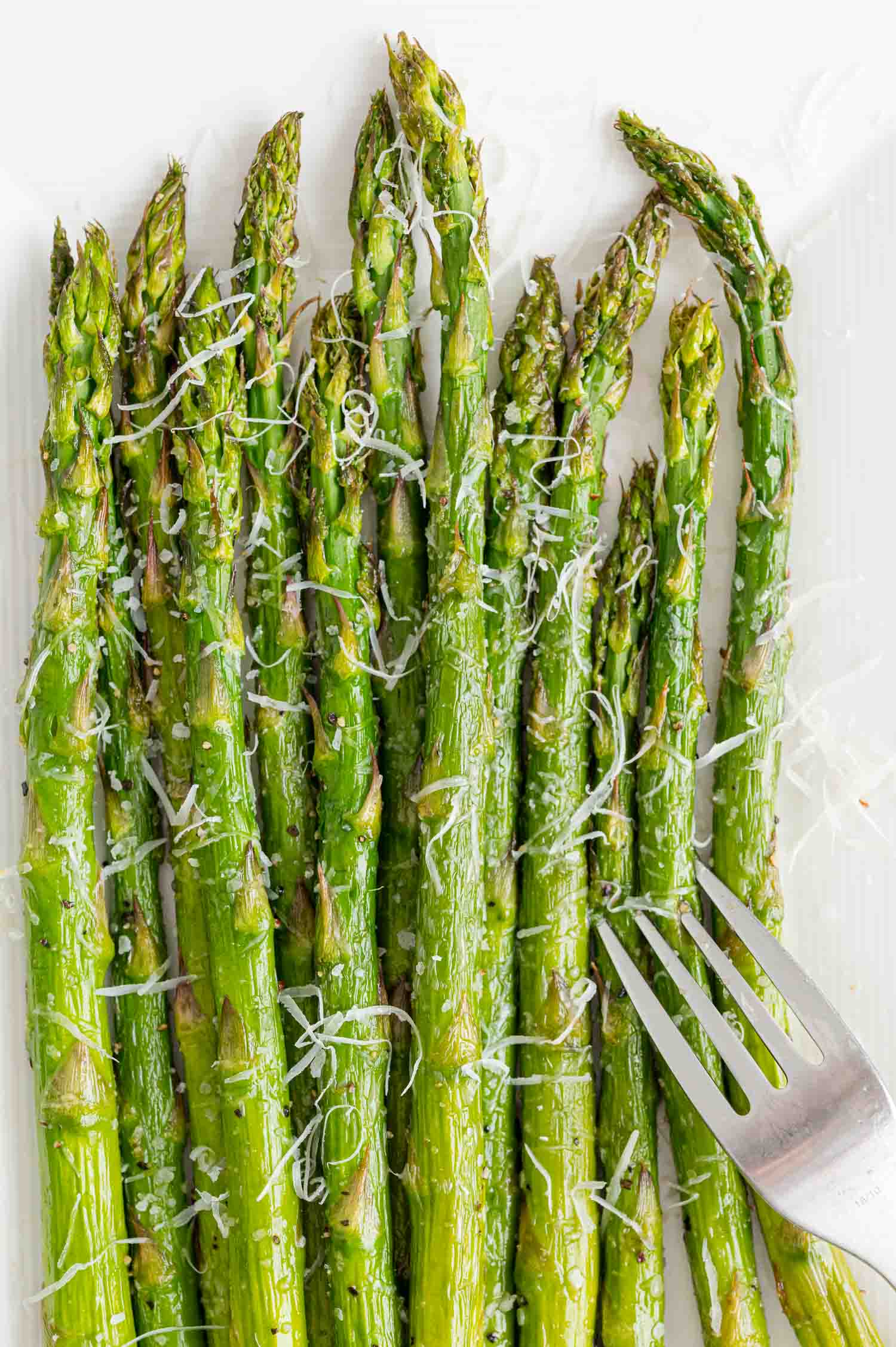 I'll show you how to do it here and give you some helpful tips. Look for the printable recipe card near the end of the post for complete instructions and nutrition information.
How To Buy and Store Asparagus
Look for spears that are firm and crisp. The thickness of the stalks isn't important although some people prefer thin stalks. The buds should be tightly closed and the stalks smooth, not wrinkled. The color may be green, purple, white, or a combination, depending on the variety. Don't buy asparagus that is olive green or yellowish.
Asparagus is especially good in the spring and early summer when it's in season (in Michigan). Look for it at farm markets. It's easy to grow your own too. Asparagus is a perennial so it comes back every year.
To store, remove rubber bands and place loosely in a plastic bag in the refrigerator for up to two days. The sooner you use the asparagus, the better it will taste. I also like to store it standing up with the buds exposed to keep them dry and fresh.
What you'll need
Asparagus: Purchase one pound (roughly) of asparagus. The grocer may bundle the asparagus in varying amounts. A pound of asparagus spears will serve four people. This is an estimate, really, because it depends on how much of the asparagus is trimmed off and how much asparagus you like to eat.
Olive Oil: Use a minimal amount of oil. If you have an olive oil spray, you could just lightly mist the spears. Olive oil is a heart healthy and flavorful oil but grapeseed or avocado oil are good choices, too.
Seasoning: Keep it simple with salt and pepper, or add a bit of garlic powder, or any seasoning you like, really. Try not to overpower the wonderful fresh flavor of the asparagus.
Parmesan Cheese (optional): Shredded or grated Parmesan cheese is an optional seasoning, too. Just a light sprinkling adds a bit of saltiness and flavor.
How to make This Recipe
How to Trim Asparagus
First of all, I want to give you a few pointers on how to trim asparagus spears. The ends of the spears can be woody and inedible. How much you have to trim off depends on how the asparagus was harvested, whether it was snapped or cut.
If you want all the spears to have a uniform length, line them up and use a sharp knife to cut through all of them at once. If you encounter a lot of resistance and the spears seem tough and woody, cut a little higher up, repeating until you reach the tender part.
The second way to quickly trim asparagus takes the guesswork out. This is our preferred method! Simply bend each spear near the bottom. The woody end should easily snap off. The asparagus seems to "know" where it needs to be trimmed. The downside of this method is that the spears may be different lengths but the upside is that you don't waste any. This short YouTube video will show you how.
Do you have to peel asparagus?
As long as you remove the woody ends, there is absolutely no need to peel asparagus. There are no "strings" or inedible parts. Peeling is time consuming, wasteful, and unnecessary.
Wash and Dry Asparagus
Once it's trimmed, rinse the asparagus spears under cold running water to remove sand and dirt. If it's extremely sandy, soak it for a couple of minutes, swishing it through the water. Pay special attention to the buds because they tend to trap dirt.
For this recipe, you'll want to dry the asparagus spears. Use a clean lint free dish towel or paper towels. If you're steaming, blanching, or stir frying it, you won't need to dry it.
Season Asparagus
Toss the spears with a little oil, and season them with salt, pepper, and garlic powder. If you like, add a couple spoonfuls of shredded Parmesan cheese, too, and toss to coat.
Air Fry
Arrange them in your air fryer basket in an even layer. It's okay if they overlap a bit.
Air fry them at 380ºF for six to seven minutes, or until crisp tender. Thick spears may take a minute or two longer.
Serve
Serve air fryer asparagus with lemon salmon and creamy potato salad. Eat it with your pulled pork sandwich or beer marinated chicken thighs. Serve it as a side with grilled shrimp kabobs or to top a lemon dressed arugula salad. The possibilities are endless.
FAQs
Should you soak asparagus before cooking?
Unless the asparagus is unusually sandy or dirty, a quick rinse should be sufficient. Pay special attention to the buds which tend to trap sand. If you feel it's necessary, soak the asparagus five minutes in cold water to loosen dirt before rinsing.
How do you keep asparagus crisp?
To keep asparagus crisp before you cook it, store it in the refrigerator. If it's banded together, cut the bands, and put it loosely in a dry plastic bag. If you like, put the cut ends in a shallow bowl of water or wrap them in a damp cloth but keep the top part of the stalks dry.
To keep cooked asparagus crisp, don't overcook it. The longer you cook it, the softer it will get. It should be crisp tender and bright green.
Why is my asparagus slimy?
If you're talking about raw asparagus, I would say that it's too old or stored in a wet environment. Discard the asparagus if it gets to the point of sliminess, has a bad odor, or is mushy.
While raw asparagus shouldn't be slimy, neither should cooked asparagus. Overcooking asparagus may cause it to have a slimy texture and a bitter flavor.
Make It Your Own
Make it bite-sized: Slice it into bite sized pieces (one inch lengths) before cooking. It's easier to serve and works better for salads. Children may appreciate asparagus more if it's not served as long spears. You never know, and the goal is to get them to try it. Mine like it in long stalks because I let them eat it with their hands and they feel like they're breaking the rules.
Take it up a notch: Add a drizzle of balsamic vinegar reduction. So good! Freshly grated lemon zest and a squeeze of lemon juice is really great, too – similar to these lemon dill green beans.
Freshen it up: Add a sprinkle of fresh herbs to the roasted asparagus. Basil, parsley, dill, chives, summer savory, or lemon balm are especially good. Experiment a little and see what you like best.
Add more seasoning: Try my all purpose seasoning blend or another of your favorites.
Make-Ahead Ideas
The asparagus can be trimmed up to a day ahead. This recipe is really so very easy that it won't take you much more than 10 minutes from start to finish.
Storage & Reheating Tips
Store: If you have leftover asparagus, cover and store it in the refrigerator for up to four days. To be honest, I've never tried freezing cooked asparagus because I never have much left over. Raw asparagus can be blanched and frozen.
Reheat: To reheat asparagus, warm it in the air fryer, in a skillet, or in an oven. Individual portions can be reheated in the microwave. Don't overheat it.
Leftover Love
Make a quiche with leftover air fryer asparagus in place of spinach. Leftover asparagus is a delicious addition to a salad or a grain bowl.
Did you make this? Be sure to leave a review below and tag me @rachelcooksblog on Facebook, Instagram, or Pinterest!
Vibrantly green, air fryer asparagus is crisp, delicious, and so easy to make. Perfect as a side dish, on a salad, or even as a healthy snack!
Instructions
Trim asparagus spears (see note) and rinse well. If the spears are very sandy, soak them in cold water for 5 minutes. Usually a rinse is sufficient. Pat spears dry with a clean towel or paper towels.

Toss asparagus spears with oil and seasonings (and cheese, if using).

Place in an even layer in the air fryer.

Air fry at 380ºF for 6-7 minutes or until tender (see note).
Notes
To quickly trim asparagus, lightly bend each spear near the bottom. The woody end should easily snap off. The asparagus seems to "know" where it needs to be trimmed.
Thicker stalks of asparagus may need to cook slightly longer.
Embellish asparagus with a drizzle of balsamic reduction. Try a squeeze of lemon juice with a sprinkle of lemon zest. Add fresh chopped herbs such as basil, parsley, chives, dill, lemon balm or summer savory.
Nutrition Information
Serving:
0.25
lb
,
Calories:
42
kcal
,
Carbohydrates:
5
g
,
Protein:
3
g
,
Fat:
2
g
,
Saturated Fat:
1
g
,
Polyunsaturated Fat:
1
g
,
Monounsaturated Fat:
1
g
,
Cholesterol:
2
mg
,
Sodium:
188
mg
,
Potassium:
235
mg
,
Fiber:
2
g
,
Sugar:
2
g
,
Vitamin A:
877
IU
,
Vitamin C:
6
mg
,
Calcium:
58
mg
,
Iron:
2
mg
This website provides approximate nutrition information for convenience and as a courtesy only. Nutrition data is gathered primarily from the USDA Food Composition Database, whenever available, or otherwise other online calculators.