If you love roasted green beans, you'll be happy to know that air fryer green beans turn out just tasty and in much less time!
Recipe Overview
Why you'll love it: Simple, delicious, and fast — that pretty much says it all!
How long it takes: a few minutes to prep, 8 minutes to cook
Equipment you'll need: air fryer, large bowl
Servings: 4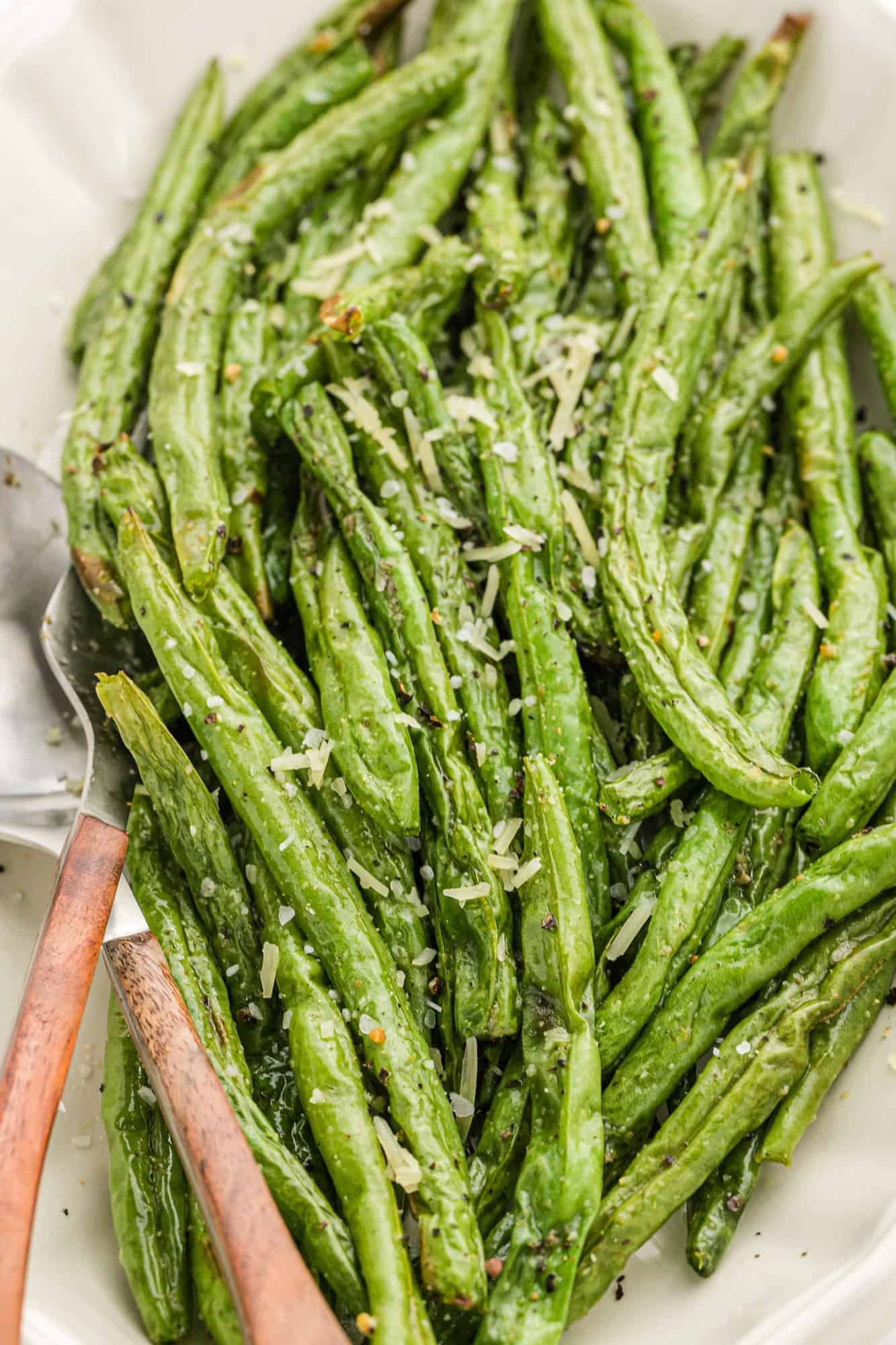 We've been using our air fryer to cook vegetables more and more lately.
You all know that I'm a huge fan of roasted vegetables, from radishes to broccoli to cauliflower. Roasting concentrates the flavor of the vegetable and brings out the natural sweetness. The sugars that are present in vegetables are caramelized by the high heat.
Well, the same thing happens when vegetables are air fried, only it happens much more quickly. Air fryers heat up really fast due to all the hot air being circulated in a small area. What would normally take 20 minutes in the oven (plus 10 minutes preheating) is done in less than half the time in an air fryer.
So, let's talk a minute about air fryer green beans. If you're used to boiled, steamed, or canned green beans, you're in for a pleasant treat. These green beans are chewy (in a good way!), freckled with nicely browned spots, and have loads of flavor. They are pretty irresistible.
About these Air Fryer Green Beans
I hesitate to call this a recipe; it's more of a cooking technique. The beans are tossed with olive oil, seasoned, and air fried. It's as easy as can be!
Do air fried green beans get crispy? No, I wouldn't say they are actually crispy. Many foods do get quite crispy in the air fryer and that's one of the reasons they are so popular: crispy foods without much added oil. Air fryer beans have a bit of crispness but are more chewy.
There are plenty of ways you can add your own special touch. Check out the Make It Your Own section for ideas.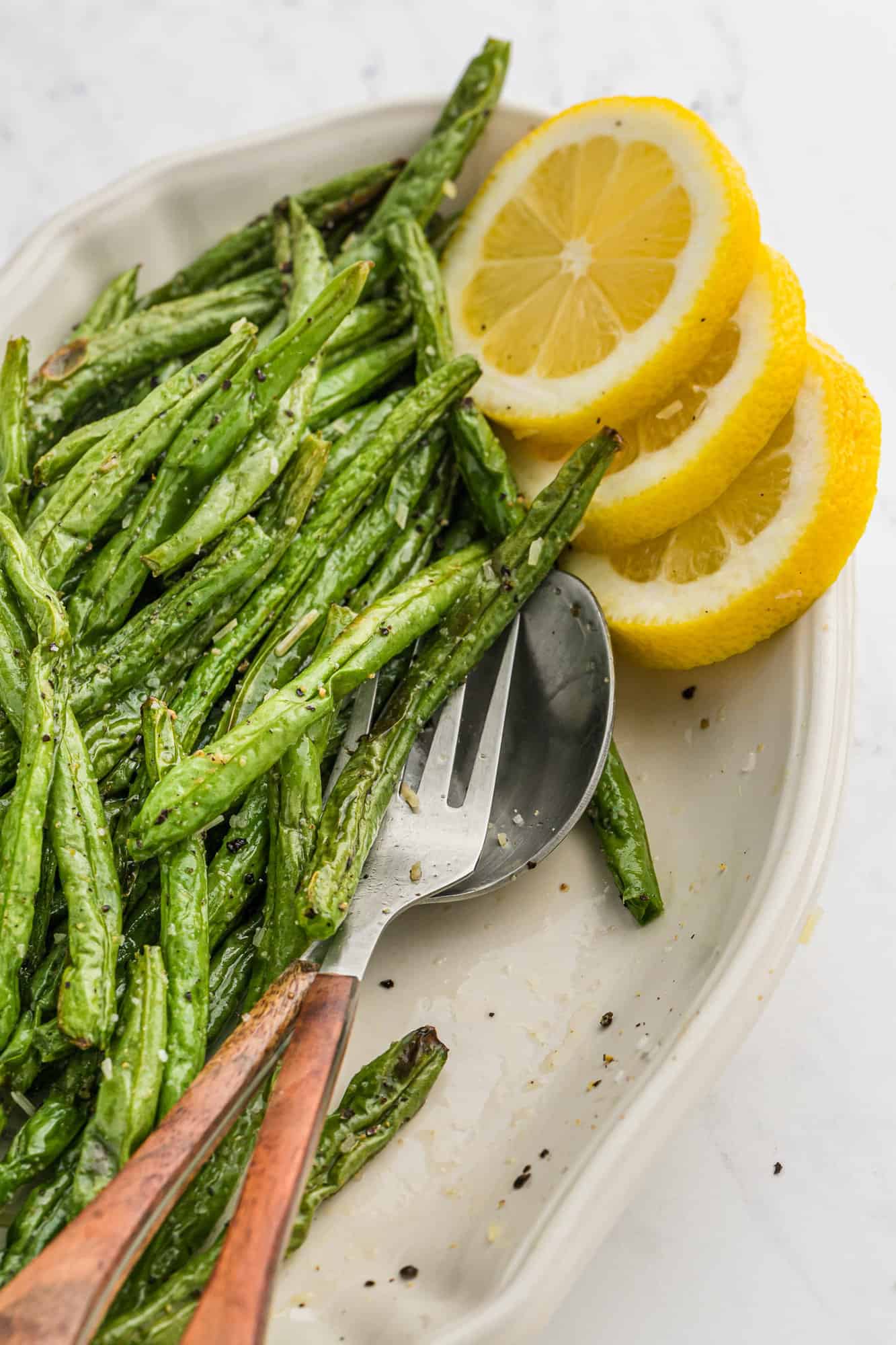 I'll show you how to air fry green beans here to get you started. Look for complete instructions, measurements, and nutrition information on the recipe card below.
Are Green Beans Healthy?
Green beans are highly nutritious and low in carbohydrates and calories. They provide fiber and are a good source of vitamins and minerals (Healthline). Green beans are keto and Whole30 friendly.
What you'll need
Green Beans: Look for fresh green beans that are crisp, unblemished, and unwrinkled. You'll need about a pound of beans for four generous servings.
Olive Oil: Because the green beans are cooked at a fairly high heat, choose an oil with a high smoke point. Olive oil is heart healthy and flavorful so I often use it for roasting and air frying. Avocado oil or grapeseed oil are good choices, too.
Kosher Salt and Coarse Black Pepper: The larger "pieces" of salt and pepper work better for roasting. They have better flavor and are more visually appealing.
Garlic Powder, Optional: If you love garlic, you'll want to add a bit of garlic powder. I find that it enhances the flavor of the beans without being overpowering.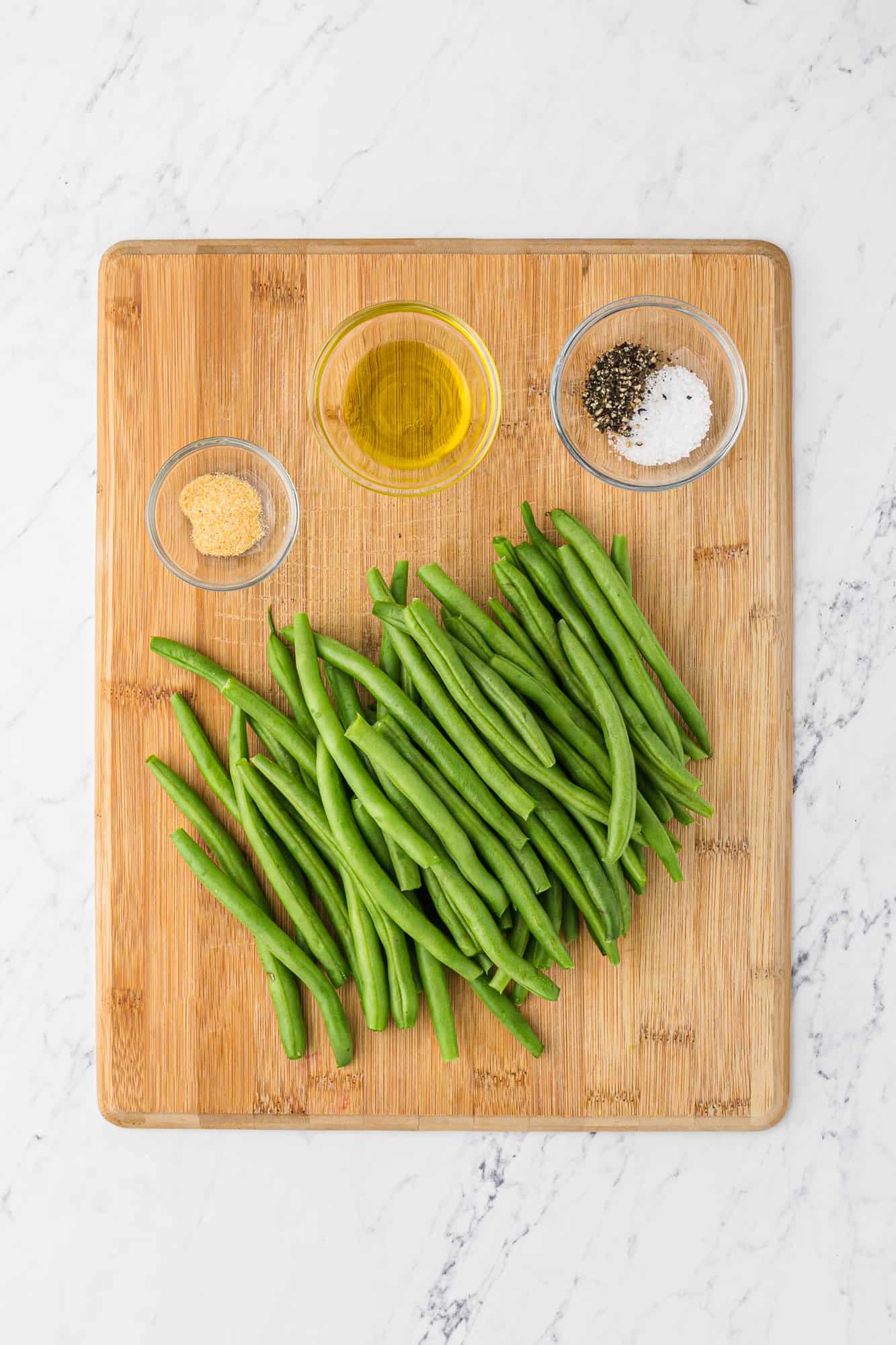 How to make This Recipe
Begin by prepping the green beans. Snip the tough stem end off from each bean. The other end is tender and can be left attached.
Rinse the beans thoroughly with cool water and dry them with paper towels, a clean dish towel, or a salad spinner. If the beans are too wet, the oil won't stick and the beans will steam instead of roast.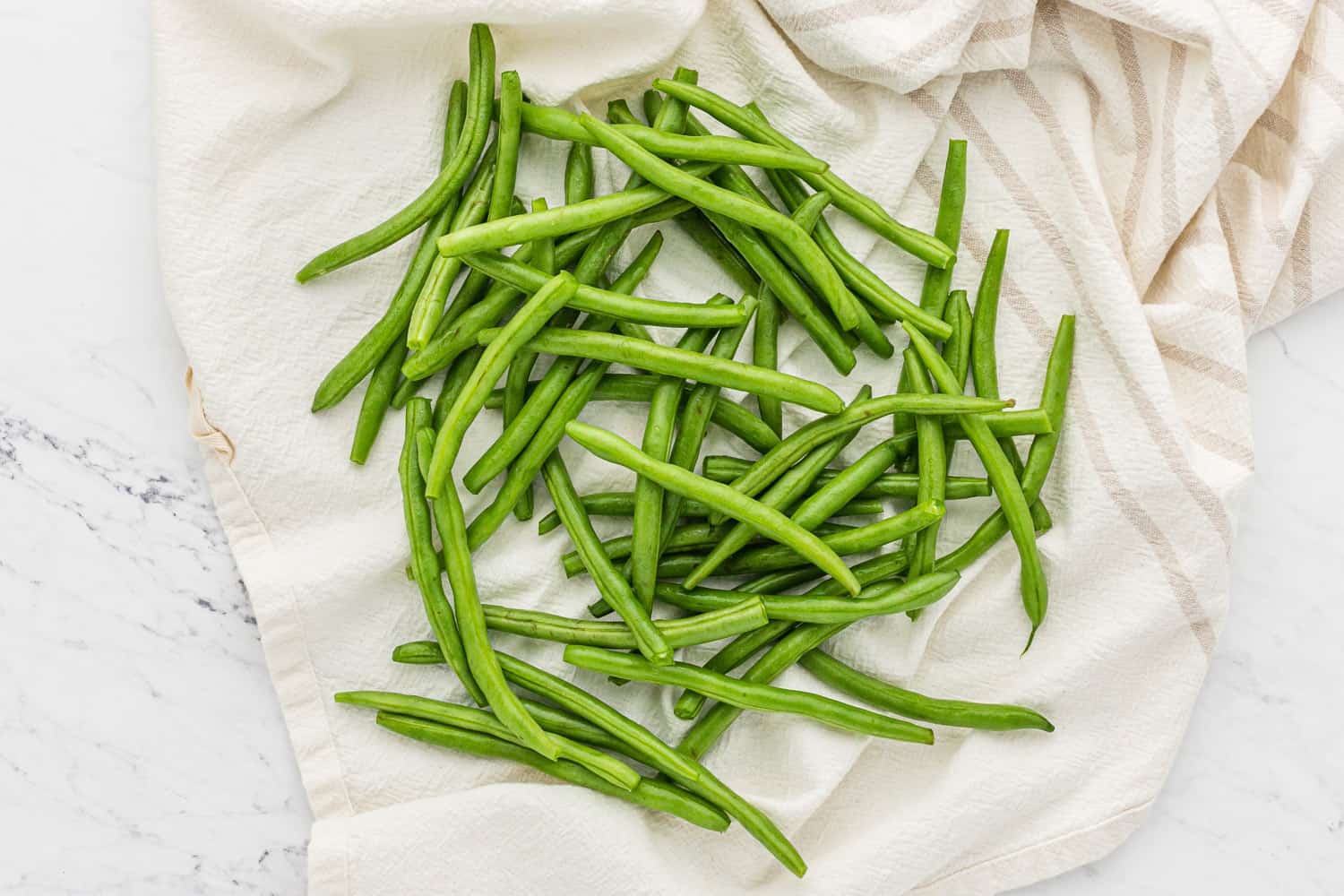 Put the beans in a large bowl, along with olive oil, salt and pepper. Add garlic powder if you wish. Toss the beans with the oil until they are well coated.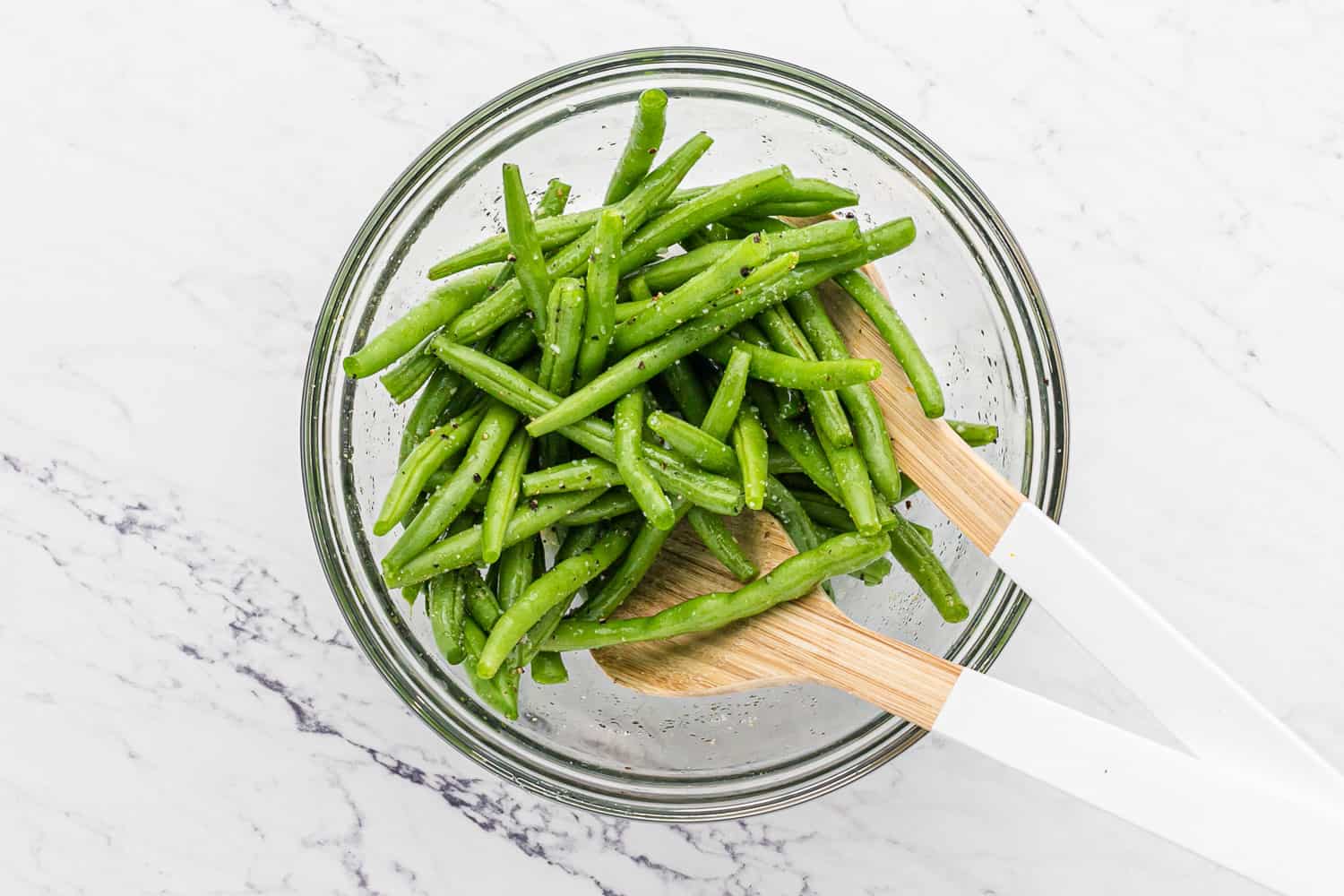 Transfer the beans to the air fryer. Depending on the size of your air fryer, they may or may not fit in a single layer.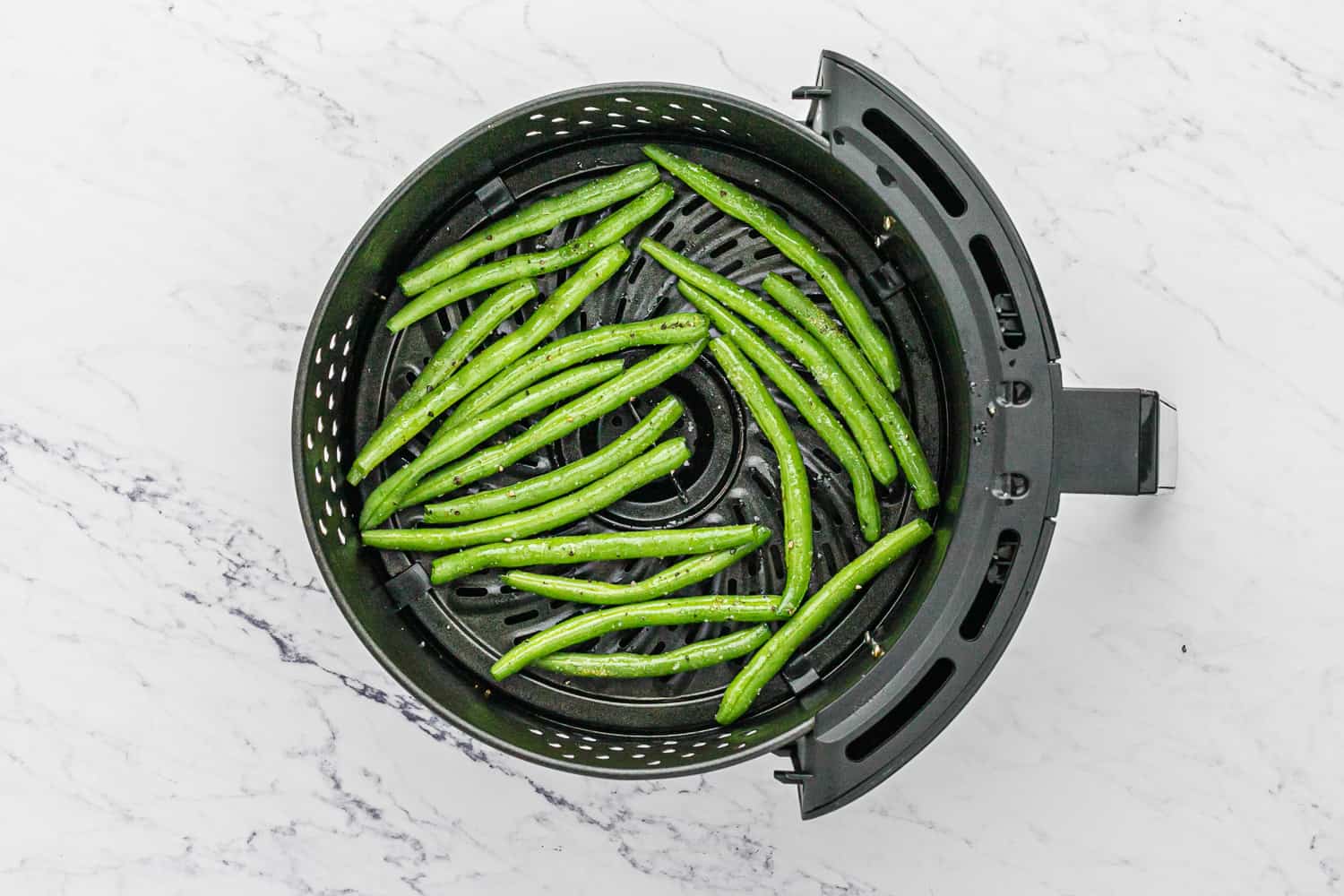 We tested the beans both ways: in a single layer or piled on top of each other. The piled beans took a bit longer to cook (4 minutes) and weren't browned quite as nicely. Both ways are perfectly acceptable; the difference was slight. It's totally up to you.
Air fry the beans for about 8 minutes, shaking the basket once or twice. They should have browned spots and be somewhat tender.
Serve immediately. If you put a plateful on the counter, watch them disappear! They are pretty tempting to nibble on. If you have a picky eater, this may be just the vegetable to tempt them especially if you provide a dipping sauce (even if it's just ketchup or ranch).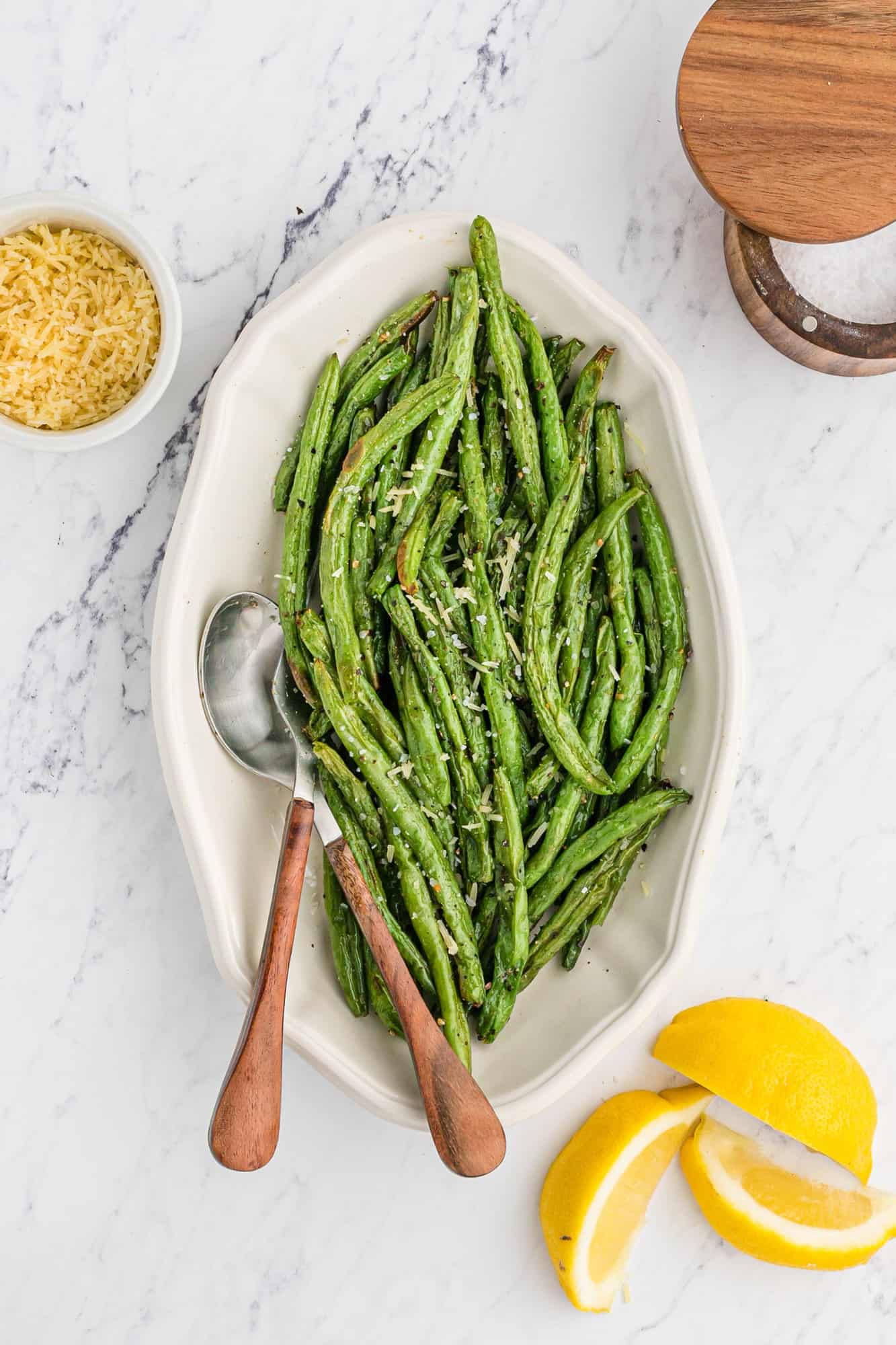 FAQs
Do you have to preheat an air fryer?
Because air fryers heat up very quickly, there is no need to preheat them for most foods. However, if you're looking for a good sear or extra crispiness, it's better if you do preheat the air fryer. Does it make a huge difference? Probably not.
Should I soak green beans before cooking?
Green beans are fresh, not dried, so you won't have to soak them before cooking. Wash the green beans before cooking by rinsing them with water and draining.
Make It Your Own
Embellish with fresh herbs. Add a sprinkle of finely chopped fresh herbs to the cooked beans. Some good choices are dill, basil, parsley, or lemon balm. Really, almost any fresh herb goes well with green beans.
Add cheese! Add Parmesan cheese. Sprinkle a tablespoon of shredded or grated Parmesan cheese on the beans a minute or two before they are done.
Make it tangy. Garnish with a wedge of lemon. A squeeze of fresh lemon juice really brightens the beans' flavor. Pickled red onions are a delicious garnish, too.
Dress them up. Add a sauce or vinaigrette to the cooked beans. Some good choices are lemon basil vinaigrette, Italian dressing, ranch dressing, or green goddess dressing.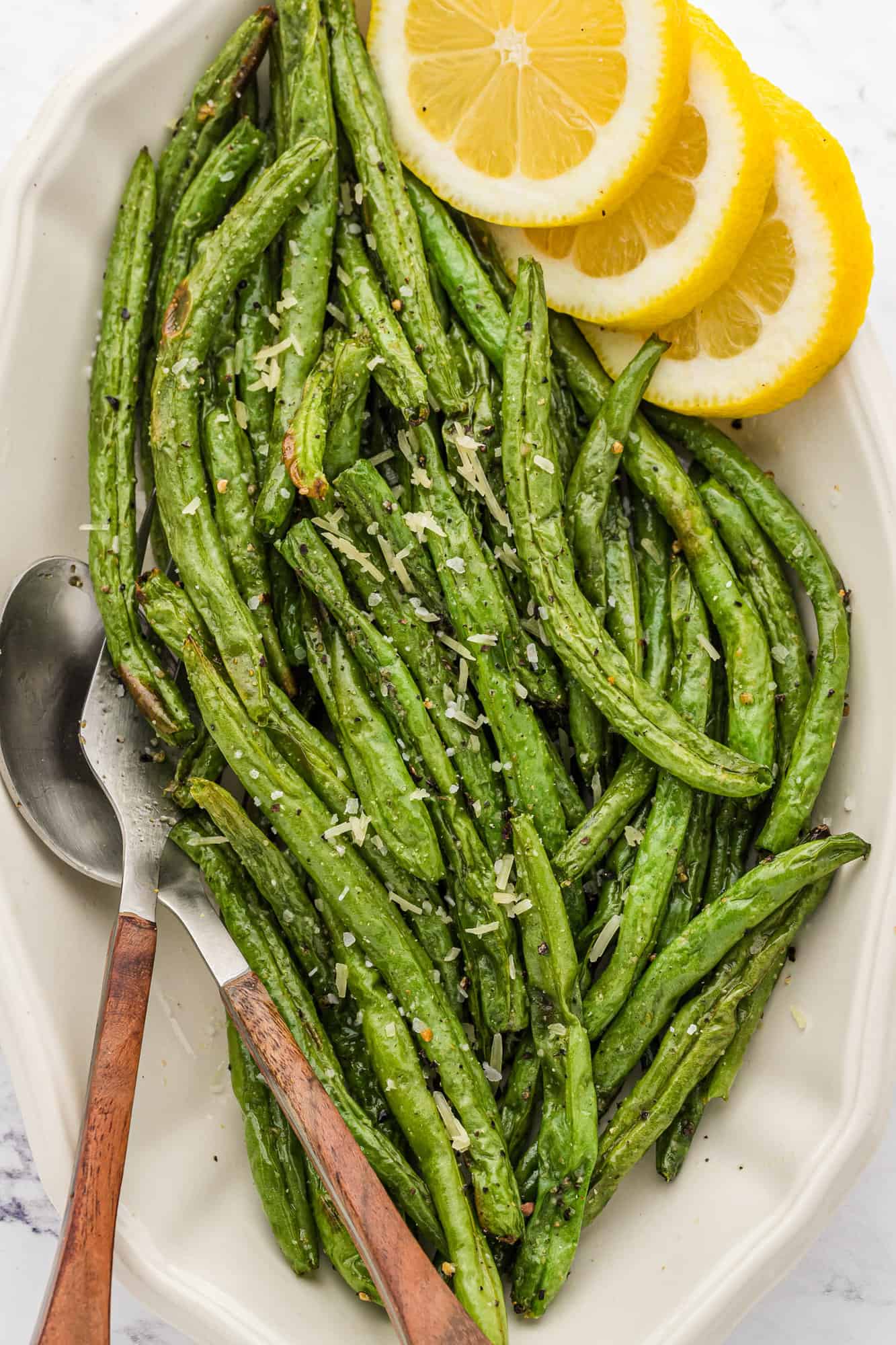 Make-Ahead Ideas
The green beans can be washed and prepped up to a day ahead of time. Refrigerate until ready to use.
Storage & Reheating Tips
Leftover beans should be refrigerated promptly in a covered container. They'll keep for up to five days.
Individual portions can be reheated in the microwave but for best results, air fry the beans for a couple of minutes to reheat them.
Leftover Love
Leftover air fried green beans can be used in a variety of ways. Top fresh greens with green beans, olives, tomatoes, and onions (or anything you choose). Drizzle with creamy Italian dressing and top with homemade croutons.
Add green beans to a grain salad like this autumn quinoa salad with maple mustard vinaigrette.
Top a homemade pizza crust with basil pesto, green beans cut into bite size pieces, sliced red onions, kalamata olives, and smoked provolone cheese. So good!
Did you make this? Be sure to leave a review below and tag me @rachelcooksblog on Facebook, Instagram, or Pinterest!
If you love roasted green beans, you'll be happy to know that air fryer green beans turn out just tasty and in much less time!
Ingredients
1

pound

fresh green beans, stem end trimmed off

1

tablespoon

olive oil

½

teaspoon

kosher salt

¼

teaspoon

coarse ground black pepper, more to taste

¼

teaspoon

garlic powder, optional

1

tablespoon

shredded Parmesan cheese, optional
Instructions
Wash and dry green beans.

In a large bowl, toss together green beans, oil, salt, and pepper until beans are coated with oil.

Add the green beans to air fryer basket, arranging them in a single layer. You may have to cook them in batches (see note).

Air fry at 380ºF until tender but still crisp, about 8 minutes, tossing 1 or 2 times during cooking. If desired, sprinkle Parmesan cheese on beans a couple of minutes before they are done.
Notes
We also tested air frying the beans all at once, not in a single layer, adding 4 minutes to the cooking time. They turn out perfectly acceptable but not quite as flavorful or browned. It's really a matter of preference.
Optional garnishes: lemon wedges, lemon zest, finely chopped fresh parsley, dill, or basil.
Nutrition Information
Calories:
67
kcal
,
Carbohydrates:
8
g
,
Protein:
2
g
,
Fat:
4
g
,
Saturated Fat:
1
g
,
Polyunsaturated Fat:
0.5
g
,
Monounsaturated Fat:
3
g
,
Sodium:
298
mg
,
Potassium:
243
mg
,
Fiber:
3
g
,
Sugar:
4
g
,
Vitamin A:
783
IU
,
Vitamin C:
14
mg
,
Calcium:
43
mg
,
Iron:
1
mg
This website provides approximate nutrition information for convenience and as a courtesy only. Nutrition data is gathered primarily from the USDA Food Composition Database, whenever available, or otherwise other online calculators.