Air fryer broccoli is a healthy and easy side dish. It's so tasty, you may find yourself snacking it on it, too.
Recipe Overview
Why you'll love it: This cooking method is easy and flavorful!
How long it takes: Less than 20 minutes
Equipment you'll need: Air fryer, large bowl
Servings: 5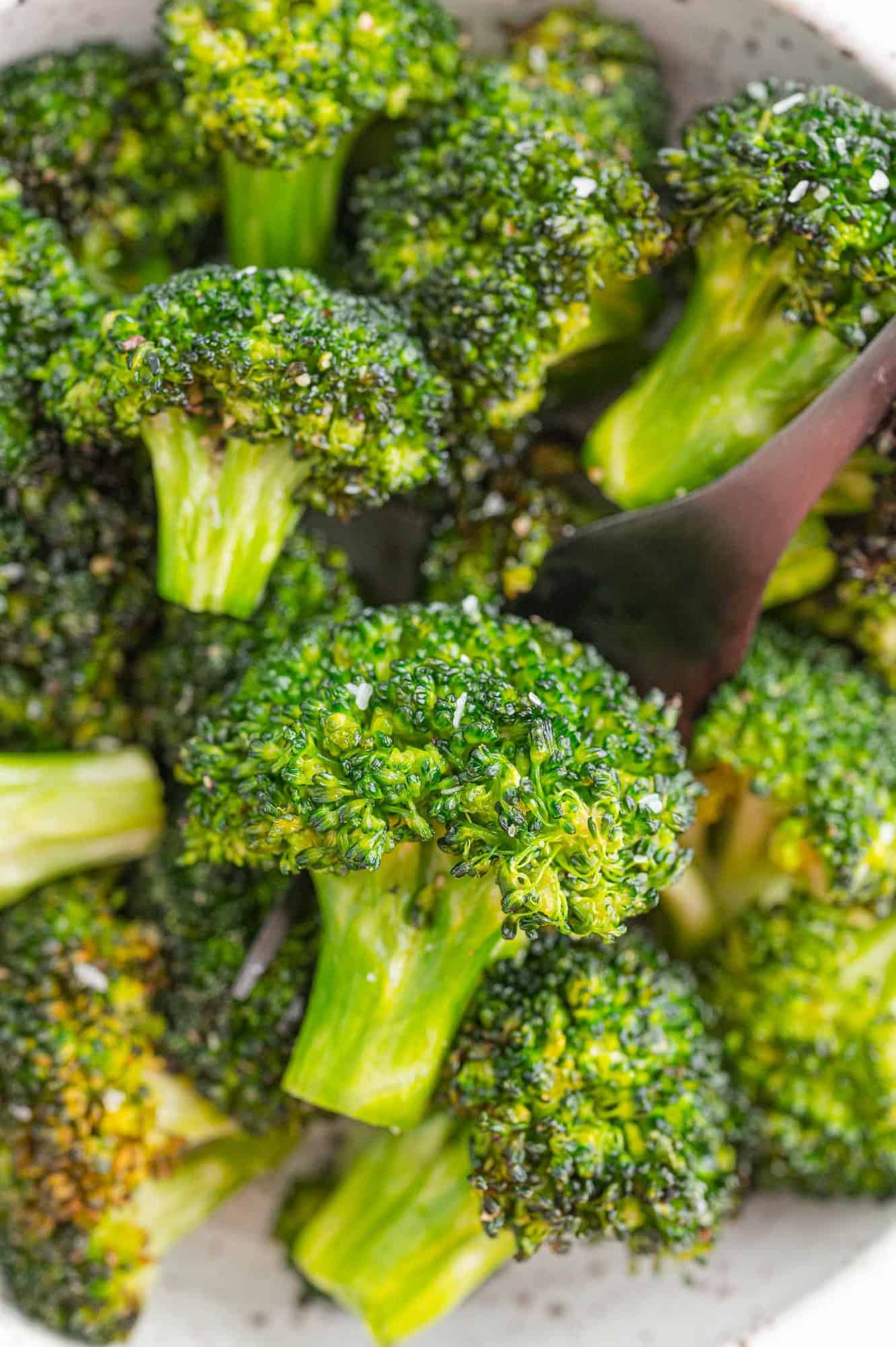 This easy air fryer broccoli recipe is one of my favorite ways to cook broccoli. With hardly any effort, you can make perfectly crisp, flavorful broccoli in a fraction of the time it takes to roast broccoli in the oven. This is the kind of recipe you pull out of your back pocket on busy weeknights when you forgot to plan a side and need something quick, healthy, and tasty to round out your main dish.
When I'm making this for dinner I usually cook a bit extra so that there is still enough to feed everyone even though I can't stop grabbing bites of broccoli while I finish dinner. Yes, it's that good. If you like, you can jazz it up with a little Parmesan, a squeeze of lemon juice, or spicy hot red pepper flakes.
Why You'll Love this Air Fryer Broccoli
Easy. You'll only need a few minutes to put together this simple recipe.
Quick! From start to finish, this air fryer broccoli is ready in 18 minutes.
Flavorful. There's just something irresistible about perfectly crisp broccoli flavored with a bit of olive oil and simple seasonings. I'm telling you, you are going to love this recipe!
Flexible. This healthy side dish goes with a wide variety of mains and you can dress it up by adding cheese, varying the spices, or adding citrus.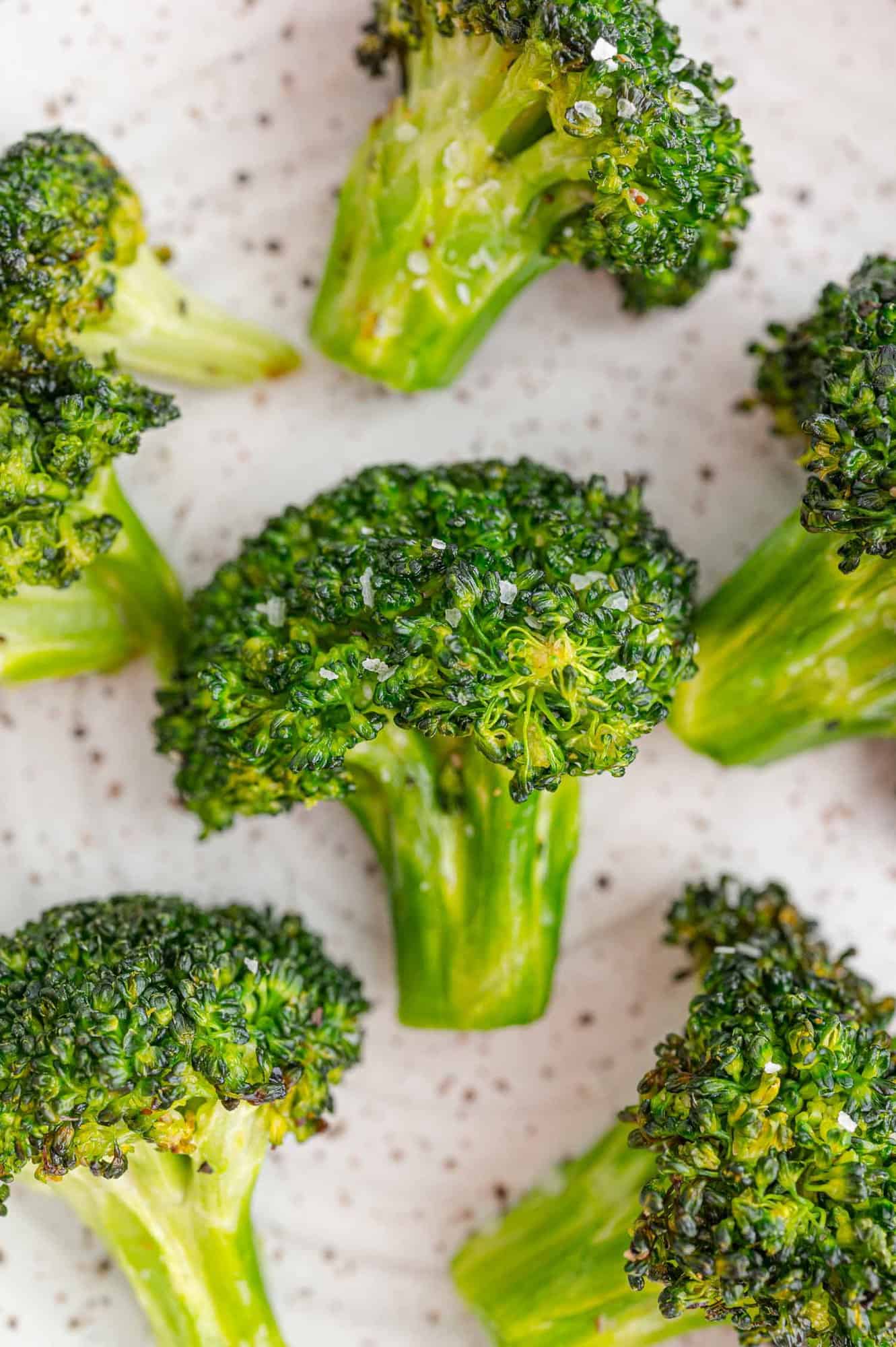 Is Broccoli Healthy?
Well, yes! Green is good, right? According to Healthline, broccoli is packed with vitamins, minerals, antioxidants, and all those good things. It has plenty of fiber and even has protein. It's low in calories and can be part of a low carb or keto diet. It is a cruciferous vegetable, in the same family as Brussels sprouts, cabbage, and kale.
What Makes This Recipe Work
We often enjoy oven roasted broccoli. It's delicious and goes well with everything. When I started using an air fryer, I knew I had to try roasting broccoli in it. An air fryer is much like a convection oven but a big advantage is that air fryers preheat very quickly saving you a ton of time.
There's one fairly significant difference in the method: perfect air fryer broccoli needs a bit of moisture.
If you've tried my recipe for roasting broccoli, you'll know that I really emphasize that the broccoli has to be completely dry before you put it in the oven. After testing the recipe for air fryer broccoli a few times, we found that it's best with a little moisture.
Why? Because of all the dry air that circulates in the air fryer. In the air fryer, if you use dry broccoli it doesn't have a chance to get tender before it crisps up. By allowing a little water to cling to the broccoli, it steams just a tiny bit before getting crisp. That little bit of steaming tenderizes the broccoli, and it's pretty perfect!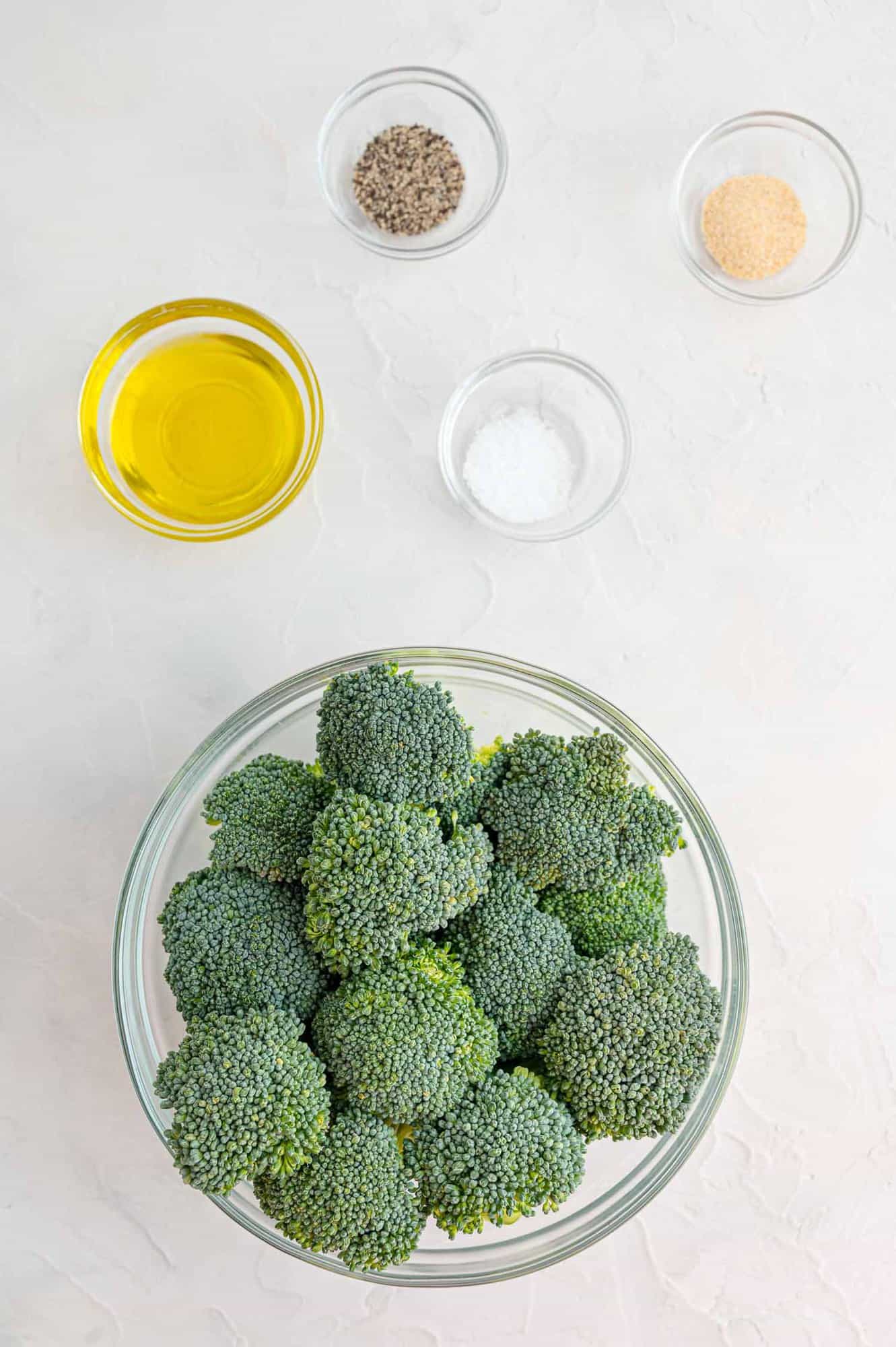 I'll run through this easy cooking method here and give you lots of helpful tips. As always, you'll find the printable recipe card near the end of the post. It has complete instructions, measurements, and nutrition information.
What you'll need
Broccoli: Cut into florets with each piece of broccoli approximately the same size.
Olive Oil: This heart-healthy oil adds flavor and helps the broccoli brown nicely.
Salt and Pepper: Use coarse salt and coarsely ground pepper if you can. It's more attractive and you'll enjoy the nice little pops of flavor.
Garlic Powder: This is 100% garlic that's been dehydrated and then ground into a fine powder. Don't confuse it with garlic salt which has added ingredients. If you don't care for garlic, it's fine to omit it.
How to Select Broccoli
Look for a nice fresh head of broccoli. The crown should be compact and dark green, with no yellowing flowers. You can choose either a whole head of broccoli on a large stem or 2-3 crowns (without the large stem). Broccoli will keep in the refrigerator for up to a week.
Can I Use Frozen Broccoli?
Yes! Frozen vegetables can be air-fried and frozen broccoli is especially delicious. The important thing to remember is that no thawing is necessary! It's best to air fry vegetables right from the freezer. Just proceed with the recipe as directed. Frozen broccoli is partially cooked so it gets done in about the same amount of time as raw. It may not get as crisp.
How to make Air Fryer Broccoli
Are you ready to make this easy air fryer broccoli recipe? Here's how to do it:
Prep the broccoli
Begin by cutting the broccoli into florets. As you know, a head of broccoli includes a few crowns and a large stem. Cut off the large stem and separate the florets into evenly sized pieces, not too gigantic but not teeny-tiny either.
Peel the stem. You can use the stem, too. Peel off the tough outer layer using a vegetable peeler or a sharp knife, and then cut the stem into round coins. I actually like the stem pieces better than the florets. They are sweeter in flavor and have a great texture.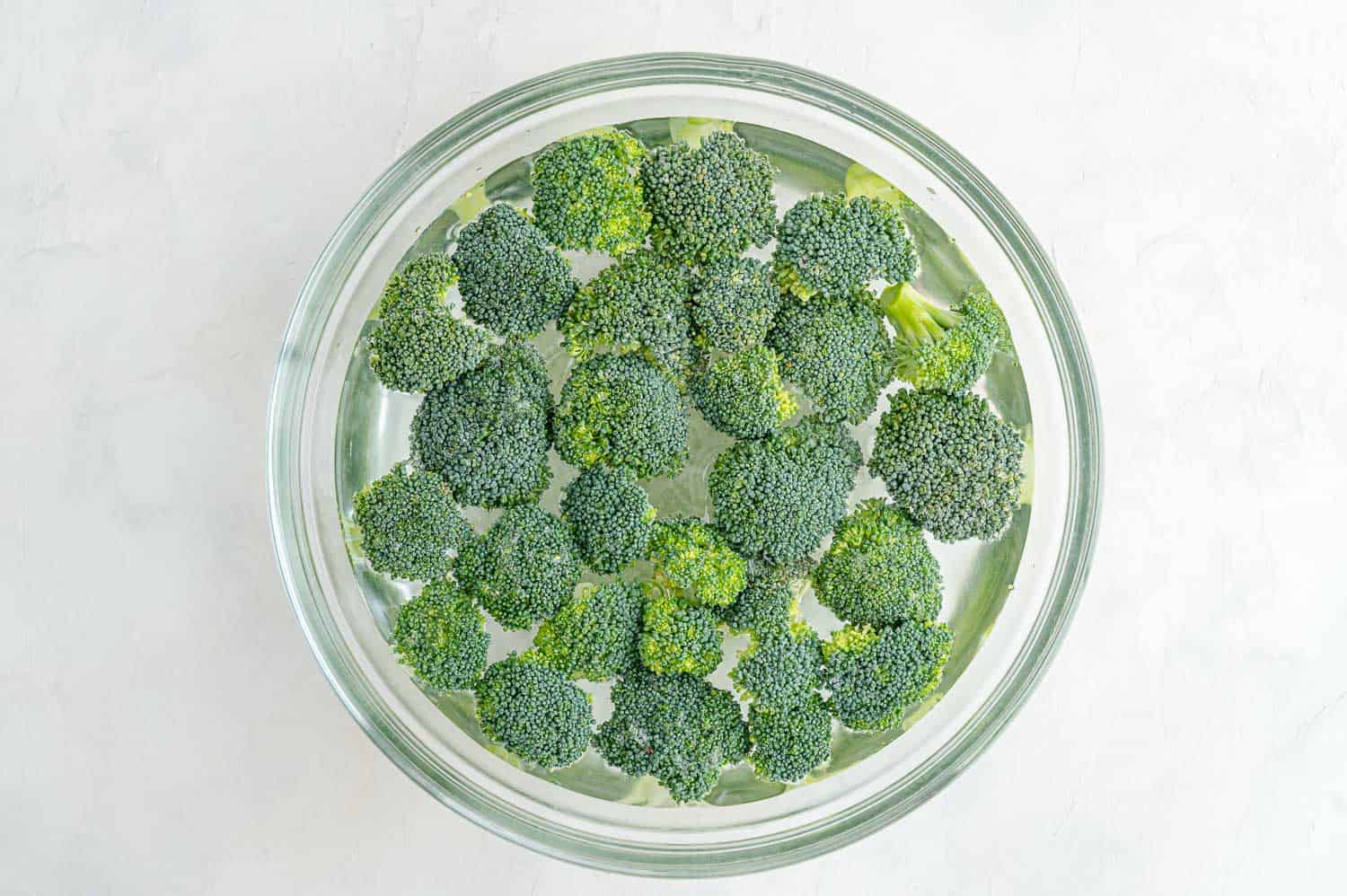 Rinse the broccoli well. As I mentioned above, a little moisture is essential for tender air-fried broccoli. To accomplish that goal, the broccoli florets are soaked in a bowlful of water for a few minutes. That's all there is to it! Nothing fancy but this simple step makes a difference.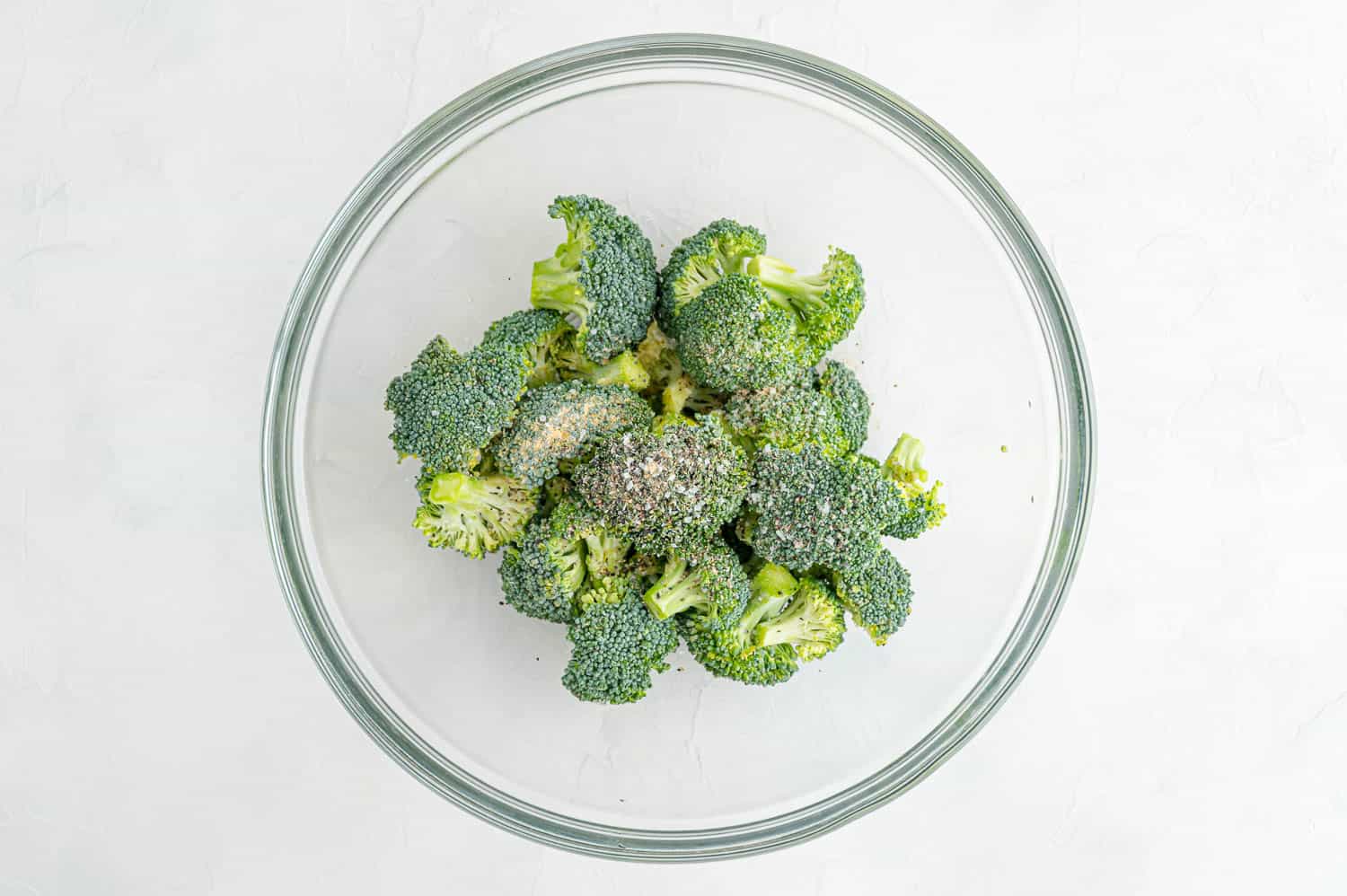 Once the broccoli has soaked, let it drain in a colander. There will be some water clinging to it and that's okay. While it drains, dry the bowl.
Add seasonings. Put the broccoli back into the bowl and add the oil and seasonings.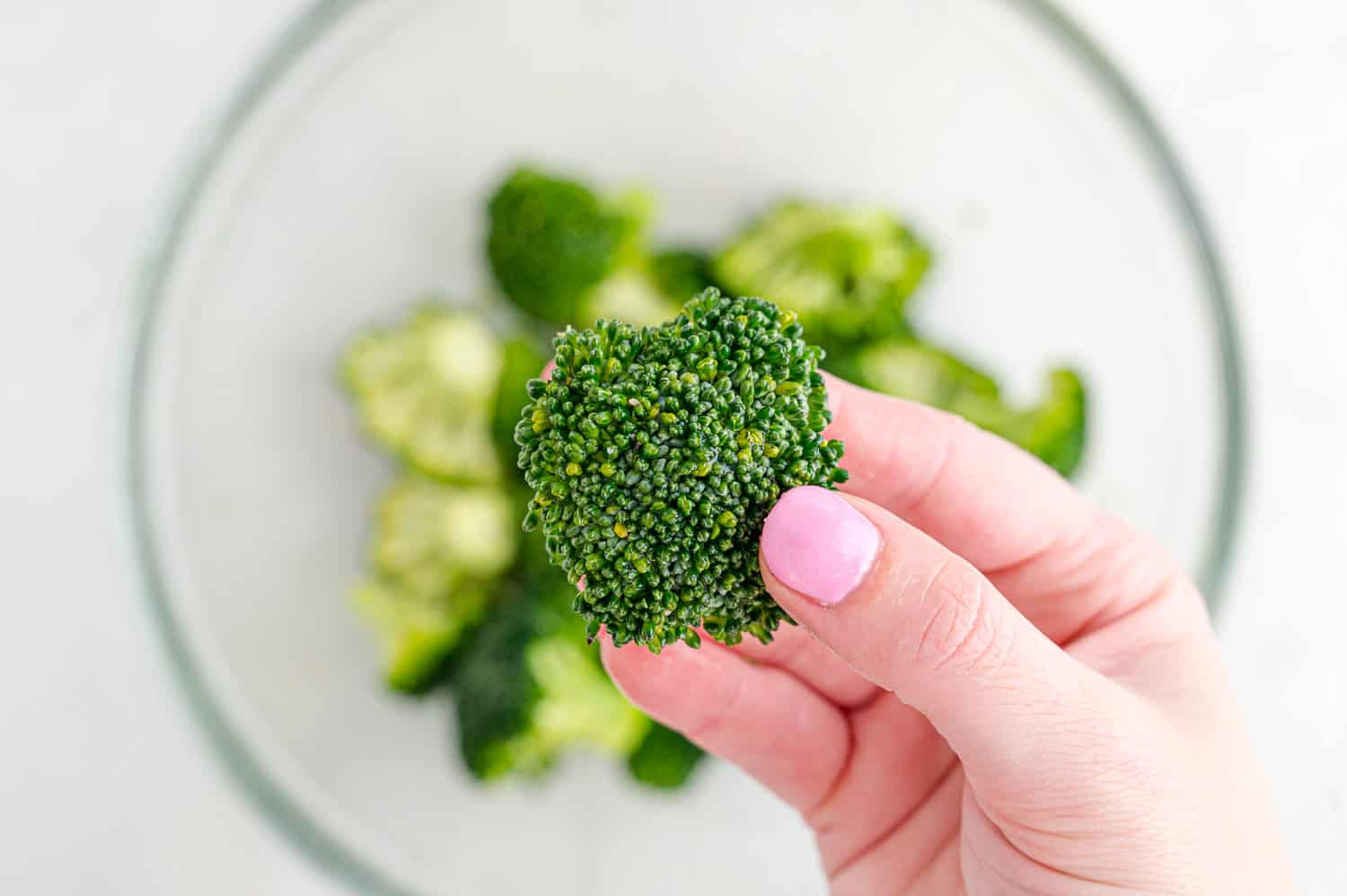 Toss the broccoli with the oil, coating it as well as you can. It really works best if you use your hands and massage the oil into the florets.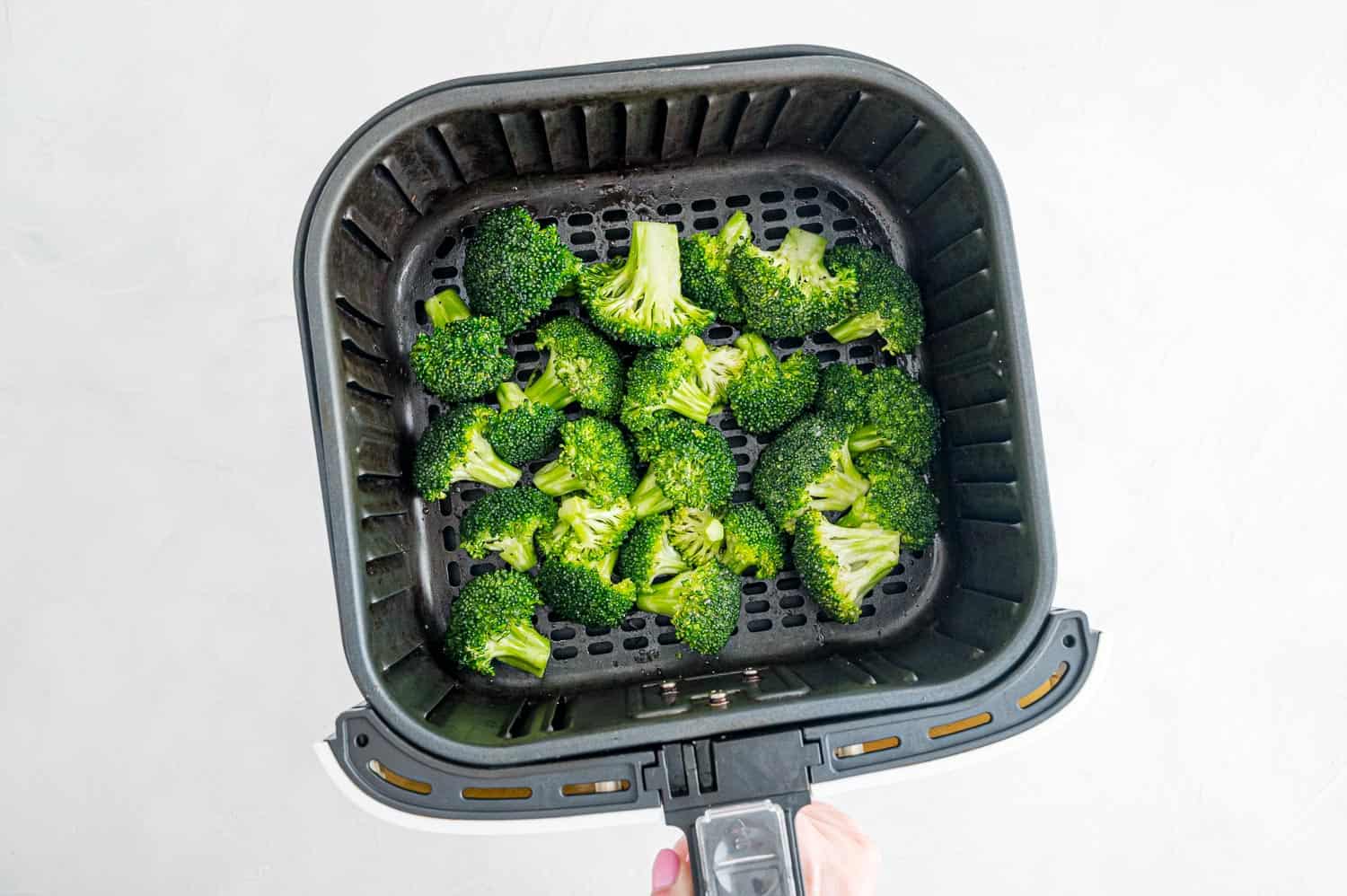 Cook the broccoli. Turn your air fryer on to 350ºF. Put the broccoli into your air fryer on the grate or rack. Air fry it for 8 minutes, shaking every couple of minutes to redistribute the broccoli so it cooks evenly.
How Long Does it Take to Air Fry Broccoli?
Cooking time may vary a bit depending on how large your florets are and how brown you like them. It also depends on your air fryer. Some models seem to run hotter than others. After a time or two, you'll know exactly how long to cook your broccoli. just the way you like it.
Like extra crispy? If you like really crispy broccoli, it's best to air fry it in a single layer.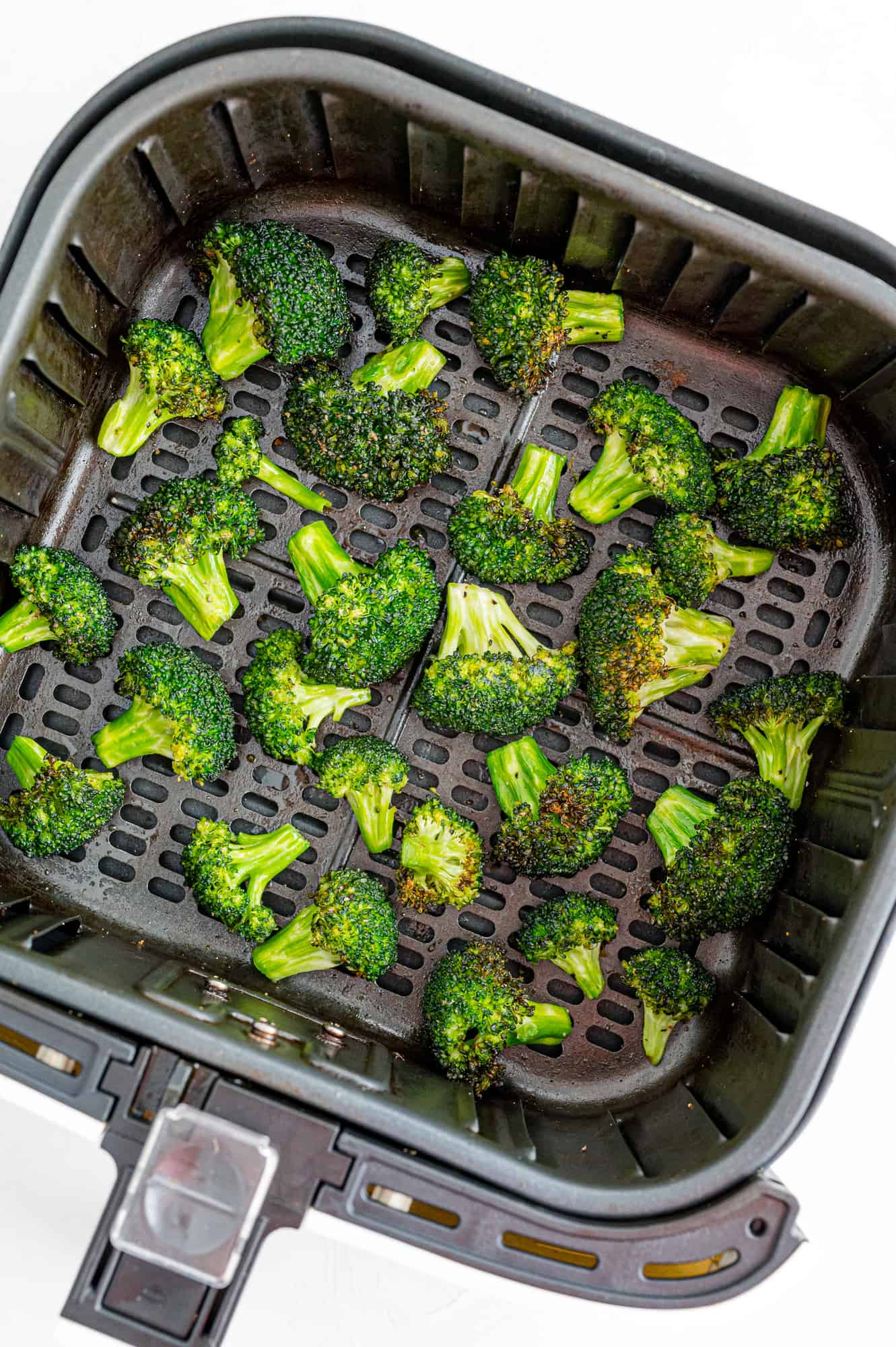 FAQs
Can I steam broccoli in an air fryer?
Nope! Air frying is pretty much the opposite of steaming. With all that hot air blowing around, steam disappears. The good news is that, much like steaming, air fried broccoli retains the nutrients that may be lost when you boil it. In addition, very little oil is needed to air fry; if fact, if you prefer, broth can be substituted for the oil.
Can you put aluminum foil in the air fryer?
According to Consumer Reports, it's best to check the user's manual that came with your air fryer. In most cases, aluminum foil can be used to line the air fryer basket or grill for easier cleanup. However, it sort of defeats the purpose of using an air fryer which requires good air circulation for ultimate crispness. In all cases, make sure the foil is properly secured so it doesn't fly around or touch the heating elements.
Variation Ideas
Add cheese: Broccoli and cheese are always a good idea. Add a couple of tablespoons of shredded or grated Parmesan during the last minute of cooking.
Looking for a nonfat option? You can make air fryer broccoli with no oil. Substitute a bit of broth, either vegetable or chicken.
Add or substitute seasonings of your choice. My all-purpose seasoning is perfect for this recipe. If you like a little spicy heat, add a pinch of red pepper flakes.
Add citrus and herbs. Toss the cooked broccoli with lemon juice and fresh herbs, such as basil, parsley, or cilantro.
Add sauce. Add a drizzle of hot honey, balsamic glaze, or chimichurri to the cooked broccoli.
Ways to use Air Fryer Broccoli
This delicious broccoli is a tasty vegetable that can be served as a side in most any meal. It is good in salads, grain bowls, or wrapped in a burrito. Add it to quiche or pasta.
Air fryer broccoli goes really well with dips, too. I remember the first time I had broccoli dipped in mayonnaise. It was a revelation. Try it with French fry sauce, homemade Green Goddess dressing, or blue cheese dressing. Of course, buttermilk ranch dressing is always a good idea.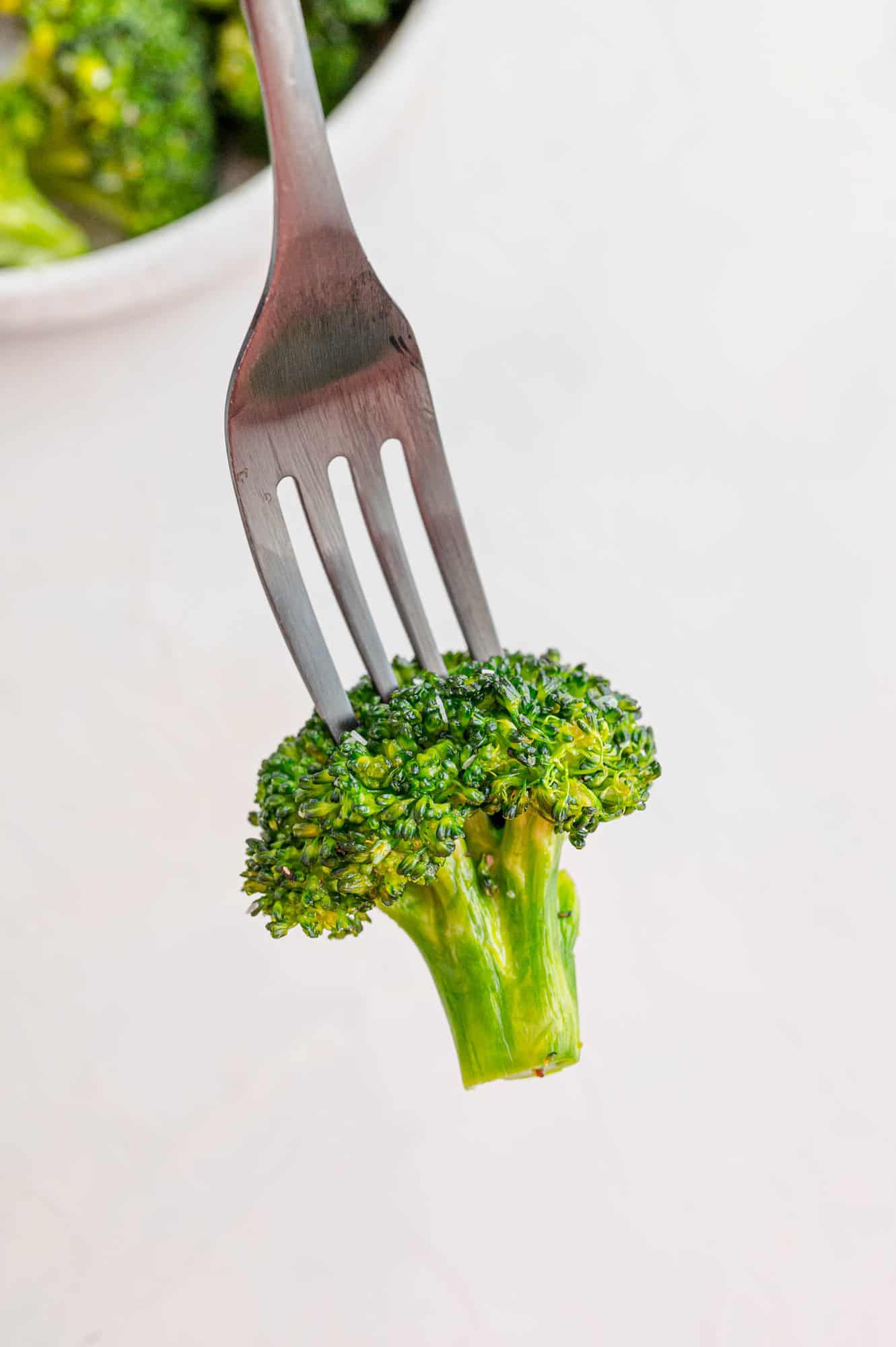 Make Ahead Ideas
Prep the broccoli up to a day ahead of time. Cut it into florets and rinse it well. Put it into a covered bowl or plastic bag and refrigerate. Proceed with the recipe when you're ready to cook the broccoli.
Storage & Reheating Suggestions
Fridge: Let your broccoli cool, then transfer it to an airtight container and store it in the fridge. Cooked broccoli will keep in the refrigerator for three to five days.
Freezer: I don't recommend freezing air fried broccoli.
To reheat: It tastes best if you put it back into the air fryer for a couple of minutes. A toaster oven does a pretty decent job, too. For individual portions, heat in the microwave.
Leftover Love
If you have air fried broccoli left over, eat it with your eggs for breakfast tomorrow. Use it to amp up a salad or grain bowl for lunch. Make a box of mac and cheese more nutritious by adding some cooked broccoli.
Did you make this? Be sure to leave a review below and tag me @rachelcooksblog on Facebook, Instagram, or Pinterest!
Air fryer broccoli is a healthy and easy side dish. Actually, it's so tasty, you may find yourself snacking it on it, too.
Instructions
Soak broccoli In a large bowl for 2-3 minutes; drain well. It's okay if some water is clinging to the florets.

In a dry bowl, combine the broccoli, olive oil, salt, pepper, and garlic powder. Toss well, until broccoli is coated in oil and seasonings. Use your hands to make sure the broccoli is evenly coated, rubbing oil into florets.

Air fry at 350ºF for 8 minutes, shaking the basket every 2-3 minutes, or until broccoli is tender and lightly browned.

Serve immediately.
Notes
The broccoli stem can be peeled, cut into coins, and air fried with the florets. If you prefer, use 2-3 broccoli crowns (no large stem), cut into florets.
If you like the broccoli super crisp, fry in batches in a single layer.
Flavor Add-Ins
Add a pinch of red pepper flakes to the oil and seasoning mix.
Add 2 tablespoons grated or shredded Parmesan cheese during the last minute of cooking.
Spritz the sprouts with a squeeze of fresh lemon juice just before serving.
Add a drizzle of hot honey or balsamic glaze before serving.
Nutrition Information
Calories:
92
kcal
,
Carbohydrates:
8
g
,
Protein:
3
g
,
Fat:
6
g
,
Saturated Fat:
1
g
,
Polyunsaturated Fat:
1
g
,
Monounsaturated Fat:
4
g
,
Sodium:
273
mg
,
Potassium:
387
mg
,
Fiber:
3
g
,
Sugar:
2
g
,
Vitamin A:
758
IU
,
Vitamin C:
108
mg
,
Calcium:
58
mg
,
Iron:
1
mg
This website provides approximate nutrition information for convenience and as a courtesy only. Nutrition data is gathered primarily from the USDA Food Composition Database, whenever available, or otherwise other online calculators.