Ready to branch out from plain ketchup with your French fries? This creamy, lightly spicy French fry sauce recipe is the best!
Recipe Overview
Why you'll love it: This tasty sauce is good on everything! It's super easy (you probably have everything you need to make it).
How long it takes: 5 minutes
Equipment you'll need: measuring cup, measuring spoons
Servings: makes 1 cup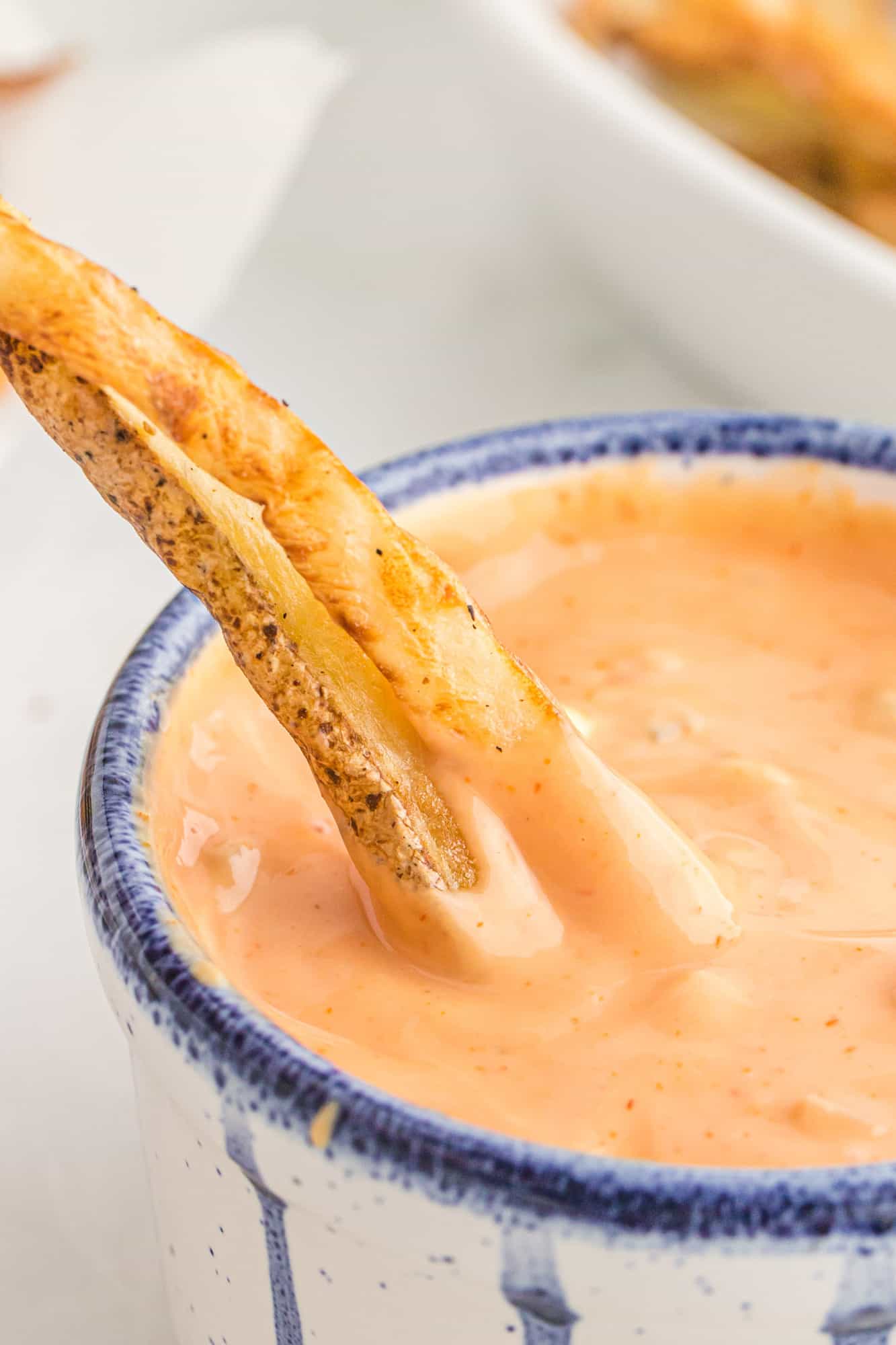 When I was a little kid, the only potatoes I would even consider putting near my lips were French fries. And they had to be the thin and crispy kind, not the thick cut potatoey kind.
Plus, I needed to have ketchup. LOTS of ketchup to dip the fries in.
I'm grown up now and I truly love potatoes, all kinds (air fryer potatoes, air fryer baked potatoes, instant pot mashed potatoes, the list goes on!). My favorite though? I'd probably still choose thin crispy fries with lots and lots of ketchup. And now that I have an air fryer, it's so easy to make those fries!
This French fry sauce recipe is winning me over too. Creamy with mayonnaise, tangy from ketchup and apple cider vinegar, and a little spice from mustard and hot sauce. Oh yes, and a bit of pickle relish stirred in too.
A super easy sauce recipe that's perfect for dipping fries into but also a winner on a hamburger (think Big Macs) or roast beef sandwich, you'll want to keep a bowl of this fry sauce in your refrigerator.
You May Know It As …
Fry sauce has different names depending on where you live. You may know it as yum yum sauce, sauce cocktail, salsa golf (golf sauce), red white, Marie Rose, pink sauce, mayochup, or burger sauce. It is popular in many cuisines (Wikipedia).
What Fry Sauce Tastes Great With
Try it on super crispy homemade air fryer French fries (pictured). It's delicious with air fryer sweet potato fries, tostones, or onion rings. Try it with breaded zucchini fries or crispy zucchini chips. It's also perfect for air fryer chicken nuggets or air fryer mozzarella sticks. Call me crazy but this sauce is great drizzled over broiled or air fried salmon or grilled chicken, too! And don't forget about burgers and grilled cheese sandwiches.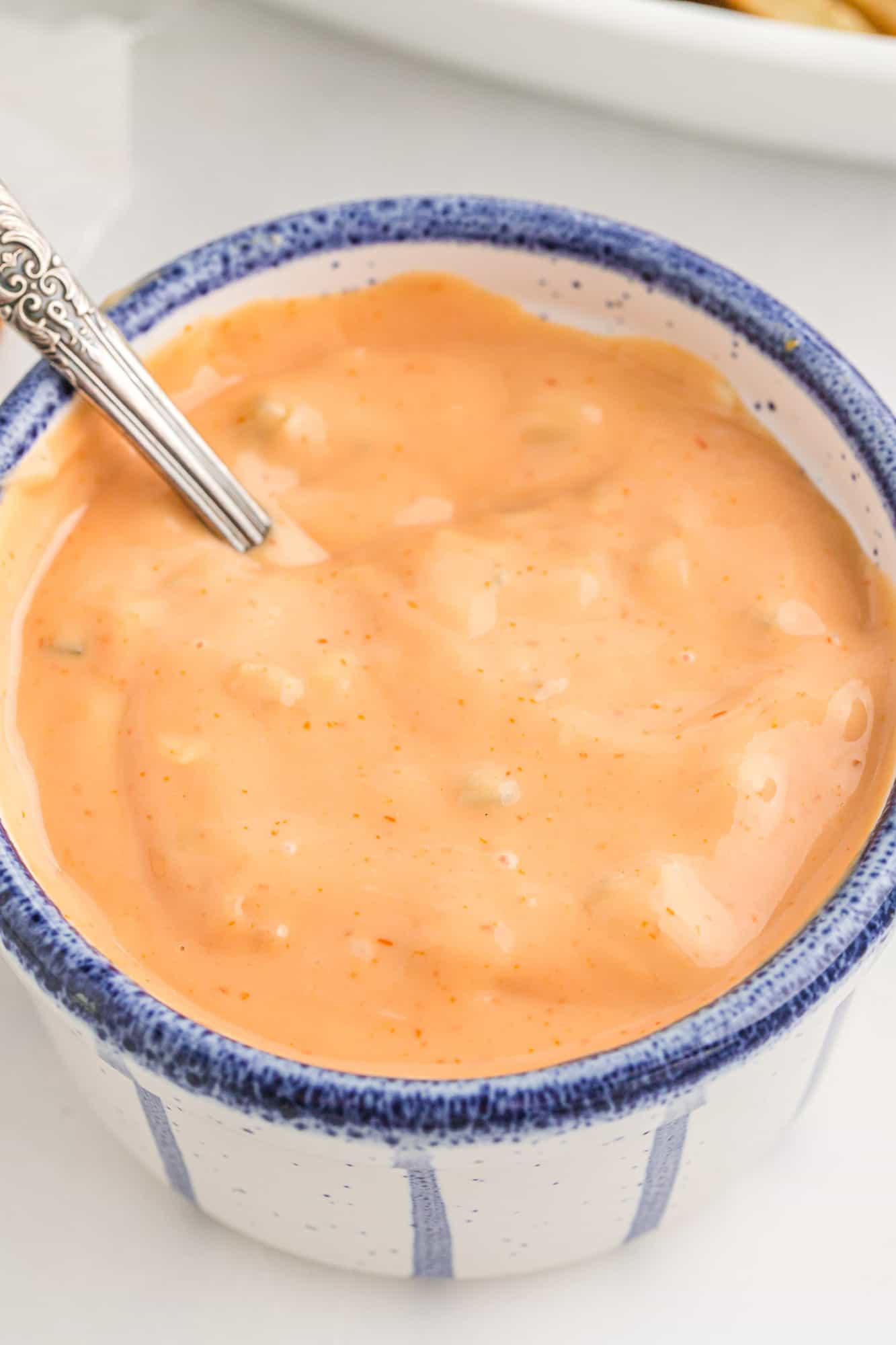 About this Recipe
This French fry sauce recipe is ridiculously easy to make. It takes less than 5 minutes to stir up. Enlist the help of your kids to initiate them into the joys of cooking. I'm serious, a kid without much experience in the kitchen would love to make this sauce, and eat it!
What You'll Need
You probably have everything you need in your pantry to make this super simple recipe:
Mayonnaise: The foundation of the sauce is half mayo, half ketchup. Choose your favorite kind of mayonnaise, whether it's low fat, Dukes, or whatever. I'd stay away from Miracle Whip which is really not mayo at all.
Ketchup: The other side of the foundation, so again, choose your favorite brand. We like to stay away from the ones that list high fructose corn syrup as a primary ingredient.
Apple Cider Vinegar: Adds a bright dash of tanginess to the sauce. Other types of vinegar work too but will change the flavor of the sauce so make sure you like the vinegar you're adding.
Dill Pickle Relish: The relish adds tiny chunks of pickle which will remind you a bit of Thousand Island dressing or Big Mac "special sauce". You can sub in sweet pickle relish if you prefer, or leave it out entirely if you want a really smooth sauce that's more like original fry sauce.
Mustard: Plain yellow mustard has such a recognizable flavor and it just really works in this fry sauce. If you don't care for it, substitute a different type of mustard or even horseradish!
Hot Sauce: Frank's Red Hot Sauce adds a bit of heat to the fry sauce. Choose your favorite kind of hot sauce.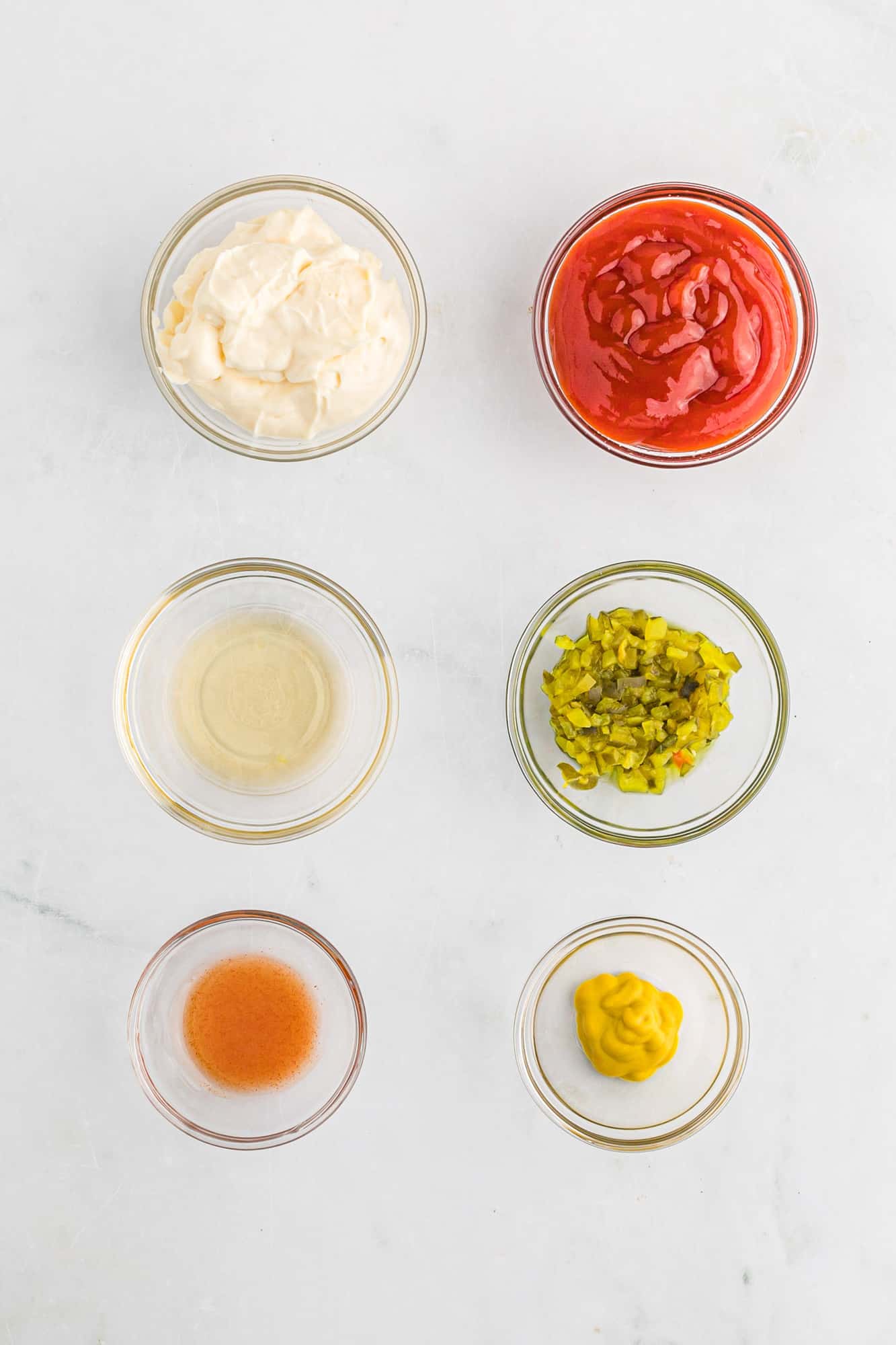 How To Make This Recipe
Just measure out the ingredients in a small bowl or measuring cup, and mix it up.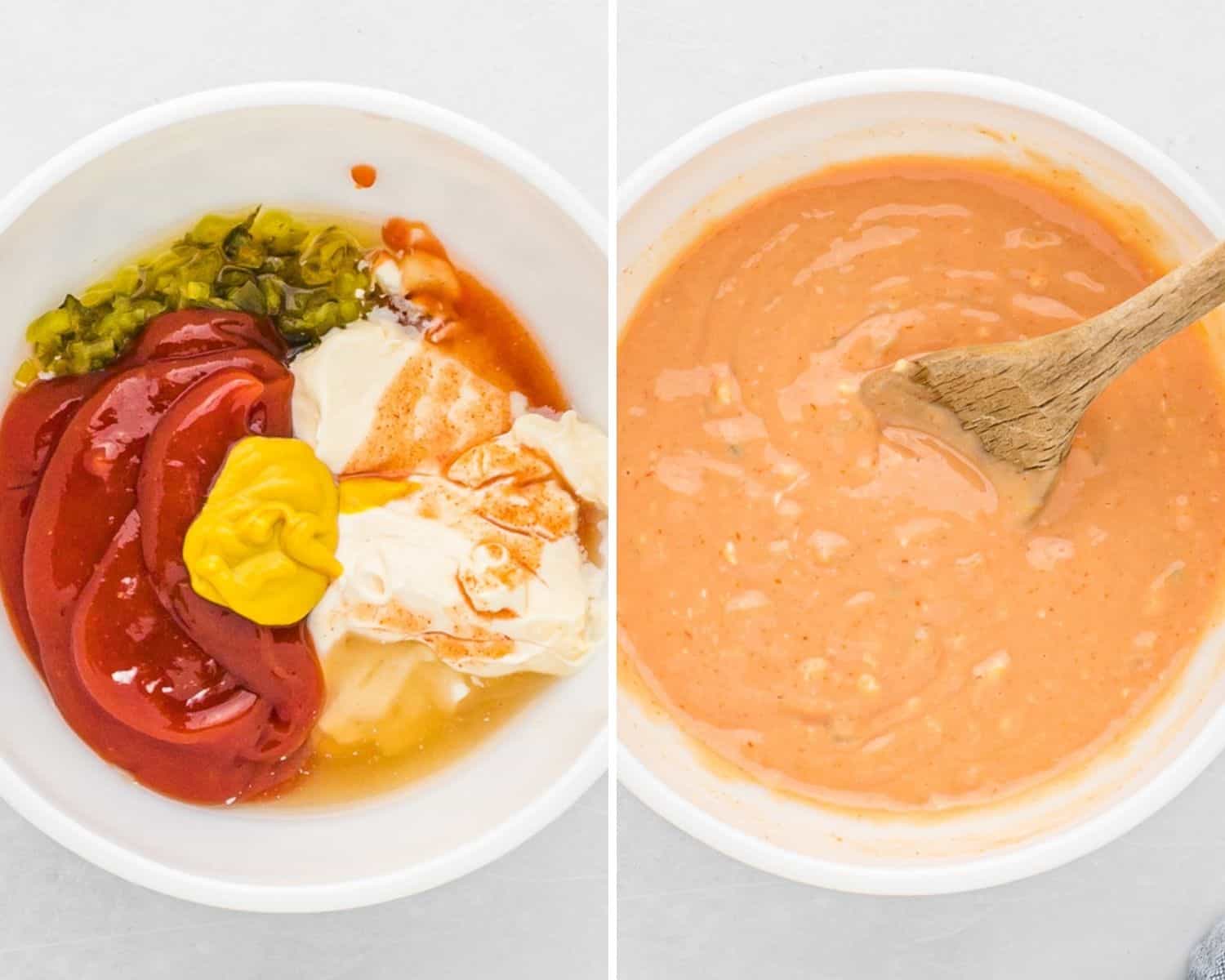 Everyone will be so impressed with your "secret" sauce and will clamor for the recipe. Just tell them it's a family secret, or better yet, tell them you found the recipe at Rachel Cooks!
Keep reading for ideas to make this sauce your very own special sauce!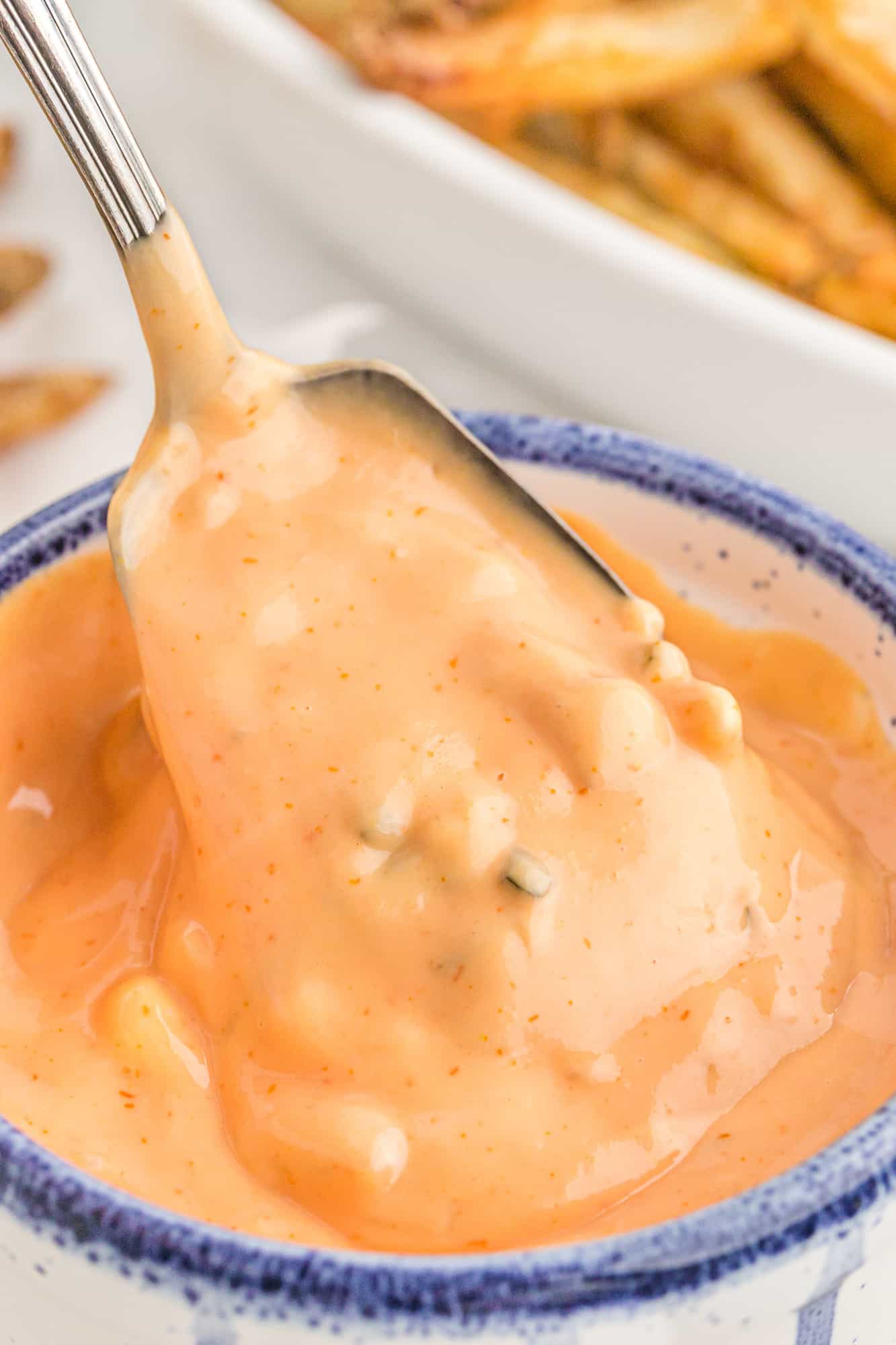 FAQs
What is French fry sauce made of?
This fry sauce is made with a 50/50 ratio of mayonnaise and ketchup with a few added ingredients for flavor: apple cider vinegar, mustard, pickle relish, hot sauce. There are other recipes for fry sauce with a different ratio of mayo and ketchup, and additional ingredients. Some popular ones are Worcestershire sauce, smoked paprika, pickle brine, and cayenne pepper.
Is fry sauce a Utah thing?
The original fry sauce became popular in the restaurant chain Arctic Circle in Salt Lake City in the 1950s. It's still very popular in Utah but variations of fry sauce are served around the world.

What's the difference between Thousand Island and fry sauce?
The ingredients are very similar. Traditionally, fry sauce is smooth whereas Thousand Island dressing is slightly chunky, with pickle relish, chopped onions, or even hard boiled eggs. It's very easy to make your own Thousand Island dressing.
Make It Your Own
Want to make your very own secret dipping sauce? Here are a few ideas that you may experiment with.
Make it spicier. I keep the heat level relatively low so my kids will eat it but you're welcome to crank up the heat in this dipping sauce by adding more hot sauce. Use your favorite kind of hot sauce: Tabasco, Frank's, Sriracha, Louisiana, chipotle, etc. There are a lot of different kinds to choose from. You can also just add a bit of cayenne pepper to make it spicy.
Change the ratio of mayonnaise and ketchup. Many recipes have more mayonnaise than ketchup.
For a smoky flavor, instead of ketchup, use barbecue sauce.
Replace the yellow mustard with Dijon or horseradish.
Use sweet pickle relish instead of dill. Or leave it out. Some recipes call for pickle juice instead so the sauce remains smooth.
This recipe is gluten-free. It's easy to make it vegan by simply using a vegan mayonnaise such as Vegenaise.
I just know that someone's going to want a fry sauce made without mayo. I haven't tested it but I'm thinking you could substitute Greek yogurt for the mayo. The final product will be a bit tangier so you may have to adjust the other seasonings a bit.
Storage Tips
You can keep a tightly covered bowl or jar of this dipping sauce in your fridge for whenever you need it (and why wouldn't you want to?). It will keep at least a week. Just give it a stir before you serve it.
Note: It won't keep as long if there are double dippers in your family or if the sauce is left sitting out on the counter for an extended period of time. Better just to take out what you need and keep the rest in the fridge.
Did you make this? Be sure to leave a review below and tag me @rachelcooksblog on Facebook, Instagram, or Pinterest!
Ready to branch out from plain ketchup with your French fries? This creamy, lightly spicy French fry sauce recipe is the best!
Ingredients
½

cup

ketchup

½

cup

mayonnaise

1

tablespoon

apple cider vinegar

1

tablespoon

dill pickle relish

1

teaspoon

yellow mustard

1

teaspoon

hot sauce

(such as Frank's)
Instructions
In a small bowl or large measuring cup, stir all ingredients together.

Serve cold with French fries, chips, or as a spread on burgers or other sandwiches. Refrigerate until needed.
Notes
Makes 1 cup, or 16 servings (1 tablespoon each).

Refrigerate fry sauce in a tightly covered bowl or jar for up to 1 week. Stir before serving.
For a completely smooth fry sauce, substitute pickle juice for the pickle relish.
For a spicier fry sauce, increase the hot sauce or add a dash of cayenne pepper.
Nutrition Information
Serving:
1
tablespoon
,
Calories:
57
kcal
,
Carbohydrates:
2
g
,
Protein:
1
g
,
Fat:
5
g
,
Saturated Fat:
1
g
,
Polyunsaturated Fat:
3
g
,
Monounsaturated Fat:
1
g
,
Trans Fat:
1
g
,
Cholesterol:
3
mg
,
Sodium:
136
mg
,
Potassium:
27
mg
,
Fiber:
1
g
,
Sugar:
2
g
,
Vitamin A:
45
IU
,
Vitamin C:
1
mg
,
Calcium:
2
mg
,
Iron:
1
mg
This website provides approximate nutrition information for convenience and as a courtesy only. Nutrition data is gathered primarily from the USDA Food Composition Database, whenever available, or otherwise other online calculators.