Instant Pot Mashed Potatoes – Perfect Every Time!
Fluffy and white, mashed potatoes are a classic favorite. Instant Pot mashed potatoes can be prepared in half the time and turn out perfectly every time. You'll be amazed!
Don't you love mashed potatoes? They're classic. Mounds of steaming fluffy white potatoes drizzled with butter or gravy, accompanying a well-prepared steak, lemon garlic pork medallions, a slice of meatloaf, soy glazed baked salmon, or beef short ribs just can't be beat.
I'll admit that when I was a little kid, my mom made me try mashed potatoes and I gagged. French fries were the only potato for me. I was not a fan of mashed potatoes for quite awhile but I've come to appreciate mashed potatoes as one of the many delicious ways to eat this unassuming underground tuber.
I don't make mashed potatoes very often though. They're kind of a special occasion dish for our family (I'm thinking of Thanksgiving!). Maybe some of you cook them for every dinner if your family members are "meat and potatoes" kind of of people.
Special occasion or every night, these Instant Pot mashed potatoes will change the way you cook potatoes. I guarantee it! No more big pots on the stove, waiting forever for the potatoes to come to a boil, having them foam and run over on your stove (the WORST), and waiting for what seems like forever for them to get soft enough to make lump free mashed potatoes.
There's no hassle with Instant Pot mashed potatoes. I am amazed at how well they turn out, every time! And guess what? After coming to pressure, five pounds of potatoes are fully cooked in only 10 minutes! TEN MINUTES! and they're perfectly done, ready to be drained and mashed.
My mom was quite skeptical about this cooking method and she was blown away by how perfect these potatoes turn out! She's a convert for sure.
And you know what? One pan! Cook, mash, and keep warm all in the Instant Pot. And that one pan is dishwasher safe. Doesn't get better than that.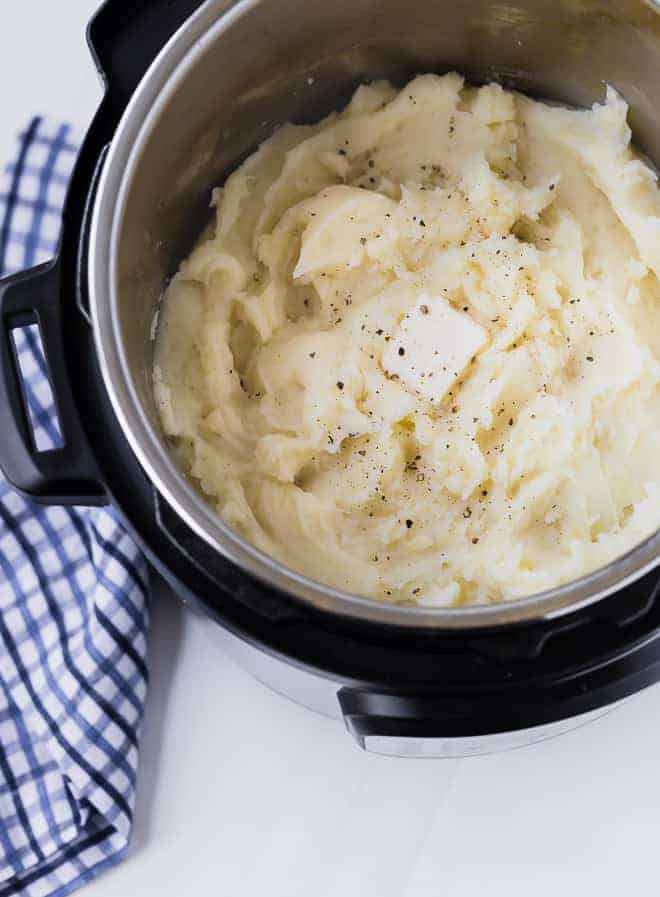 About these Instant Pot Mashed Potatoes
I use a 6 quart Instant Pot to make 5 pounds of russet potatoes. Peel the potatoes, chop them up a little, put them into the Instant Pot with a cup of water, and season with salt. Once the lid is secured, cook on manual pressure for 10 minutes. Remember it will take a bit for the cooker to come to pressure, about 20 minutes. This all hands-off time–you won't have to do a thing.
When the timer goes off, quick release the pressure. After the pressure is released, drain the potatoes well. I use a colander in the sink. Put the drained potatoes back into the Instant Pot.
At this point, personal preferences take over. I like to mash my potatoes with a potato masher, leaving them thick and slightly lumpy. I add milk and a couple of tablespoons of butter. A potato ricer makes fabulous mashed potatoes, as well.
I know some of you like to use a mixer and whip them up until they're creamy and smooth. Maybe you add sour cream, or cream cheese. I've seen some recipes that call for 2 sticks of butter! 2 sticks! I'm a butter girl but I like to let the taste of potatoes shine through, unmasked by tons of butter.
And….there's always gravy! Check out how to make perfect gravy (according to Martha Stewart).
Instant Pot mashed potatoes, simple and perfect every time!
Mashed Potato FAQs
What are the best potatoes for mashed potatoes?
I like to use Russet or Yukon gold potatoes for classic mashed potatoes. They have a buttery flavor and are higher in starch, making fluffier mashed potatoes. Waxy potatoes, like red potatoes or some white varieties, can become gluey when mashed. If you are going to mash them lightly, pretty much any variety will work. I particularly like red potatoes cooked and mashed with the skins on.
How many pounds of potatoes can fit in the Instant Pot?
If you have a 6 quart Instant Pot, 5 pounds will fit perfectly. If yours is a 3 quart, use 2 and a half pounds.
How many mashed potatoes should I make?
An average sized serving of mashed potatoes is 1 cup, approximately one half a pound of potatoes. Five pounds should serve 10 people. Of course, if you have a mashed potato monster in your family, you may want to make more. My uncle always makes a huge mound of potatoes on his plate, shaping a nice hole in the center for several ladles of gravy. For him, maybe 2 cups of potatoes….or more.
Why are my mashed potatoes gluey?
Using a waxy type of potato (see above) could make gluey potatoes. Over processing the potatoes or adding too much liquid could also give your potatoes a gluey texture.
How do I fix runny mashed potatoes?
Ooh, do be careful when you're adding the liquid (milk, sour cream, buttermilk, etc.). Add the liquid in increments, not all at once, until you reach the right consistency.
There's a few fixes for runny mashed potatoes. My personal favorite is to turn them into a potato casserole. Put those runny potatoes into a greased casserole dish, mix in some cheddar cheese and maybe even a couple of tablespoons of flour or breadcrumbs, depending on how runny they are. Top with more cheese and buttered bread crumbs and bake at 350ºF for a half hour or so. Yum!
An alternative would be to mix in dry instant potatoes until your mashed potatoes reach the desired consistency.
How to make these potatoes your own:
Add more, or less, butter! You can also enhance the butter flavor (without a lot of added calories) by adding a couple of tablespoons of nutritional yeast.
Add cheese: cream cheese, cheddar cheese, vegan cheese…
In place of milk, use heavy cream, sour cream, buttermilk, chicken broth, or even unflavored almond milk to make vegan mashed potatoes.
Personalize with garnishes. Some suggestions: cooked, crumbled bacon, chopped chives or parsley, sliced green onions, or a sprinkle of paprika.
More Potatoes!

Potatoes are the perfect side dish to so many meals. Here are some of our favorite potato recipes:
Did you make this? Be sure to leave a review below and tag me @rachelcooksblog on Facebook, Instagram, or Pinterest!
Fluffy and white, mashed potatoes are a classic favorite. Instant Pot mashed potatoes can be prepared in half the time and turn out perfectly every time. You'll be amazed!
Ingredients
5

pounds

russet potatoes, peeled, washed, and cut into 1-inch chunks

1

cup

water

1

teaspoon

kosher salt

1

cup

milk or heavy cream

(I use whole milk)

3

tablespoons

unsalted butter

(or more, if you like)

½

teaspoon

ground black pepper, more to taste

Chives, butter, or sour cream for serving
Instructions
Pour 1 cup of water into a 6-quart Instant Pot. Add potatoes and salt.

Secure lid and turn valve to seal.

Cook on "Pressure Cook" (or "Manual") high pressure for 10 minutes. It will take about 20 minutes to come to full pressure. When the timer goes off, turn valve to vent to quick release pressure. When depressurized, carefully remove cover.

Drain potatoes, using a colander in the sink. Return potatoes to Instant Pot.

Add milk, butter, and pepper to potatoes. Mash thoroughly with a potato masher. Add more milk as needed to achieve desired consistency (see note).

Keep on Warm until ready to serve. Makes 10 cups.
Notes
Add more butter, cream cheese, sour cream, or buttermilk, replacing some of the milk or heavy cream, if you prefer. This is a very forgiving recipe so make the potatoes the way your family likes them.
If you prefer creamier, whipped potatoes, use a hand mixer to mash the potatoes. You can do this right in the insert of your Instant Pot.
Refrigerate leftovers promptly. They will keep in the fridge for up to 4 days or in the freezer for 1-2 months.
Nutrition Information
Calories:
224
kcal
,
Carbohydrates:
42
g
,
Protein:
6
g
,
Fat:
4
g
,
Saturated Fat:
3
g
,
Polyunsaturated Fat:
1
g
,
Monounsaturated Fat:
1
g
,
Trans Fat:
1
g
,
Cholesterol:
11
mg
,
Sodium:
256
mg
,
Potassium:
980
mg
,
Fiber:
3
g
,
Sugar:
3
g
,
Vitamin A:
147
IU
,
Vitamin C:
13
mg
,
Calcium:
59
mg
,
Iron:
2
mg
This website provides approximate nutrition information for convenience and as a courtesy only. Nutrition data is gathered primarily from the USDA Food Composition Database, whenever available, or otherwise other online calculators.