With surprisingly sweet earthy flavors, ultra-creamy parsnip purée is sure to please. It pairs perfectly with steaks, ribs, and so much more, including turkey dinners!
Recipe Overview
Why you'll love it: Parsnips are a great alternative to mashed potatoes. They have so much flavor and are lower in carbs.
How long it takes: 30 minutes (extra time to roast garlic)
Equipment you'll need: saucepan, blender or food processor
Servings: 6 (makes about 3 cups)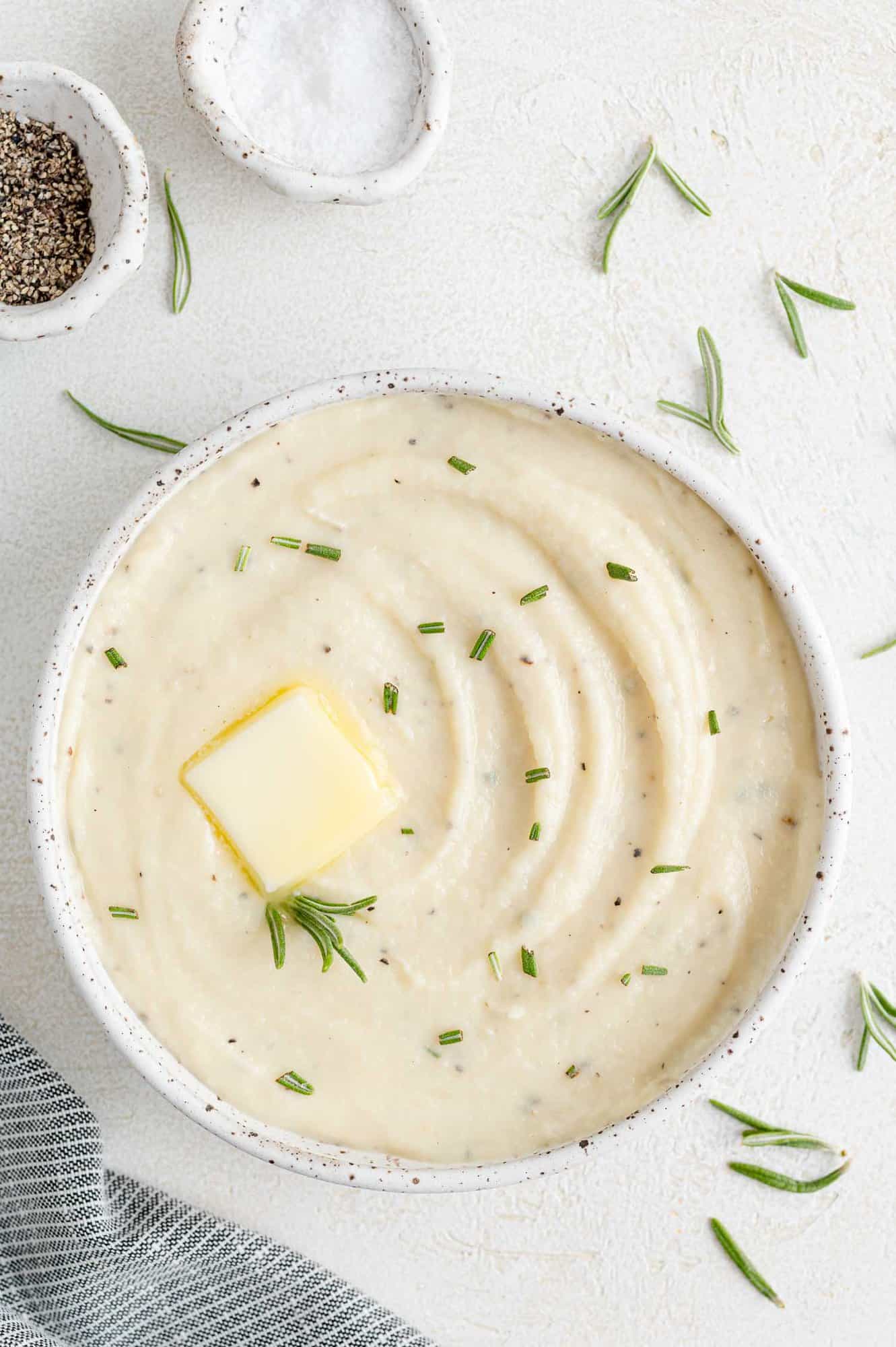 One taste of this parsnip purée was all it took to totally blow me away. Parsnip purée is here to stay at my table. I (rather reluctantly) shared a small bowl with my mom to get her reaction. Same thing! She and my dad are crazy about it, too.
Parsnips are just so flavorful. Even though they have a rather bland appearance, their flavor is anything but bland. People describe the taste of parsnips as woodsy, spicy, sweet, nutty, toasted caramel, licorice, starchy, with hints of cinnamon or nutmeg, or even slightly bitter like a turnip or rutabaga. Obviously, it's hard to pin down.
It's not that I've never eaten parsnips. One of my favorite recipes is sautéed parsnips with white wine, butter, and thyme. My grandma always grew parsnips in her backyard garden and served them with her Sunday beef roast. She usually sliced and boiled them like carrots, then added a bit of butter and brown sugar as a glaze (similar to these brown sugar glazed carrots).
But now, parsnip purée! This dish will definitely be making it to my Thanksgiving table. I can't wait to hear everyone's reaction. And the good part? You can make it ahead without any loss of quality.
What Is A Parsnip?
Parsnips are a root vegetable, similar in size and shape to a carrot but white in color. Parsnips are in the parsley and carrot family, native to Eurasia. They are harvested after a frost for the sweetest flavor. Parsnips can be roasted, boiled, fried, or steamed, and have a distinctive sweet flavor.
About This Recipe
Making parsnip purée isn't difficult but does require a food processor or blender to attain the creamy texture. An immersion blender can work but it takes longer and may not get quite as smooth.
Simply mashing the parsnips by hand won't do it unless you prefer a parsnip mash rather than parsnip purée. It will still taste great but won't have that smooth creamy aspect.
Another thing to point out is the roasted garlic. Roasted garlic has a mellow buttery flavor that subtly complements the parsnips. Don't be tempted to substitute fresh garlic. It will be way, way too strong and assertive. If you really don't care for garlic, simply omit it.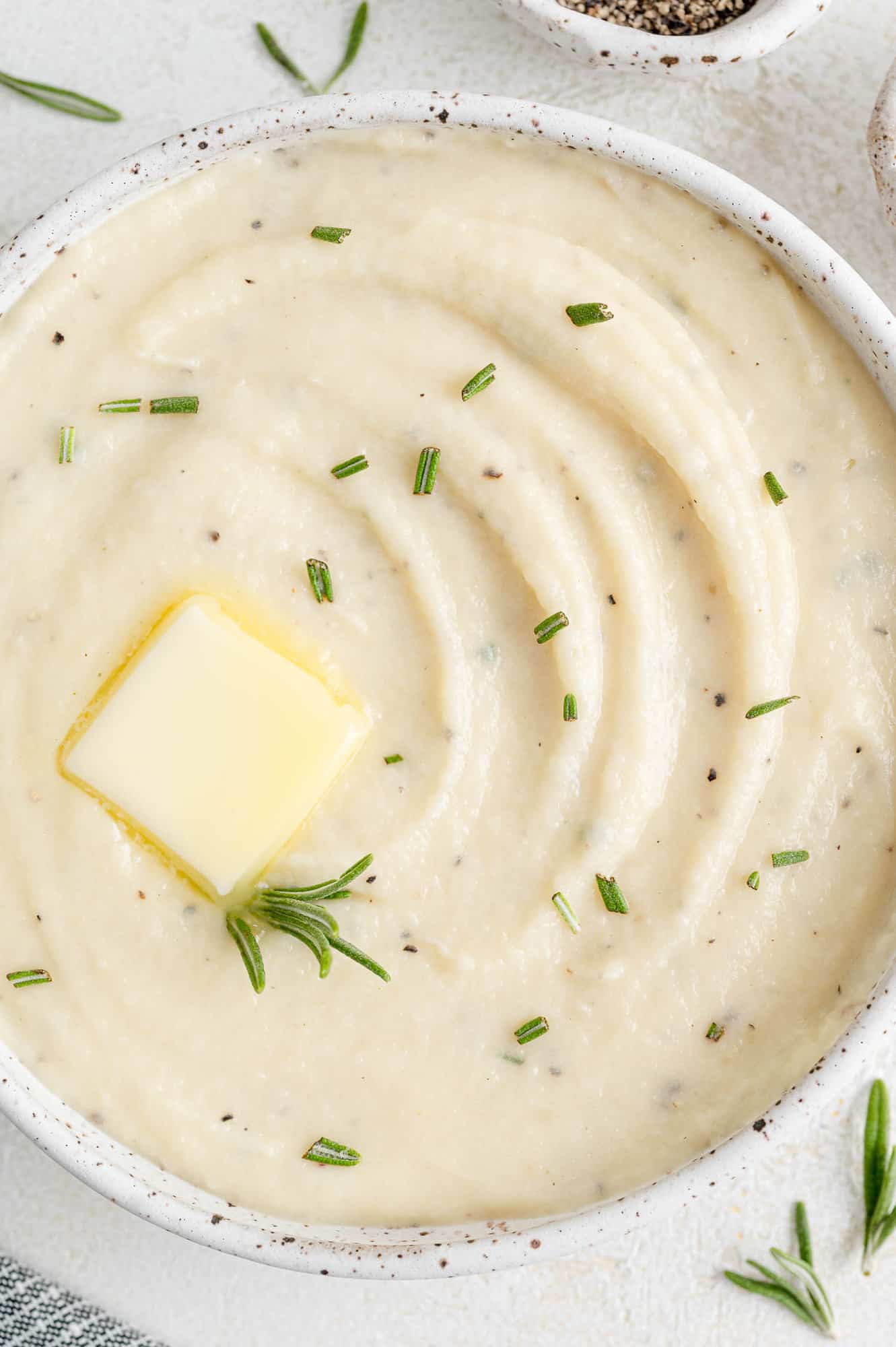 I'll get you started here but look for specific measurements, instructions, and nutrition information below on the recipe card.
What You'll Need
Parsnips: Look for fresh parsnips (they look like white carrots) in the produce section of the grocery store. You'll need one pound of parsnips, or about 3 medium to large parsnips.
Heavy Cream & Whole Milk: A mixture of one part cream to two parts milk is blended into the parsnips. The more cream you add, the creamier the purée will be. I've also made it with half & half instead of heavy cream and milk.
Butter: You don't need a lot of butter, just one tablespoon.
Bay Leaf: A dried bay leaf is added to the cooking water when you boil the parsnips. It adds a subtle woody flavor and is discarded before mashing.
Fresh Rosemary: This woody herb has a pretty assertive flavor so don't get carried away. I like to save a few sprigs for garnishing.
Roasted Garlic, optional: Roasted garlic can be prepped ahead and refrigerated or frozen. There are instructions for how to roast garlic on the recipe card below.
Salt and Pepper: Season to taste. Use kosher salt and freshly ground black pepper for the best flavor.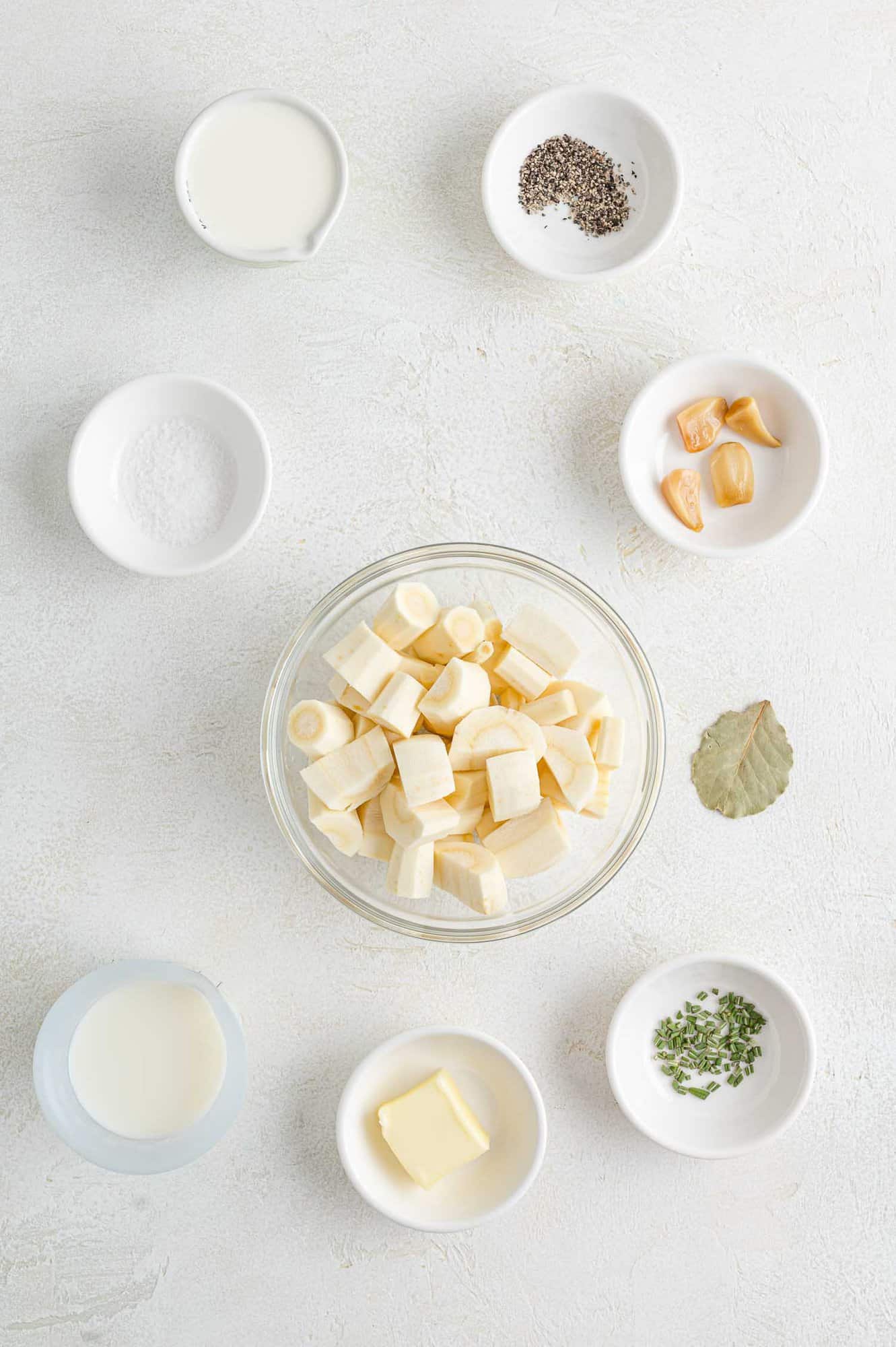 How to make This purée
If you don't have roasted garlic on hand and you want to include it in your purée, get that started first. It takes nearly an hour to roast. It's easy to do: cut a slice off the top of the head of garlic, drizzle on a bit of olive oil, wrap it in foil, and bake.
You won't use the whole head, just 4 cloves. The rest can be saved for another use.
While the garlic is roasting, prep the parsnips. Use a vegetable peeler to remove the outer layer, and trim the ends with a sharp knife. Cut the parsnips in fairly even pieces.
Bring a large pan of water to a boil. Add the parsnips, a teaspoon of salt, and the bay leaf. Cook the parsnips for fifteen to twenty minutes, or until they are fork tender.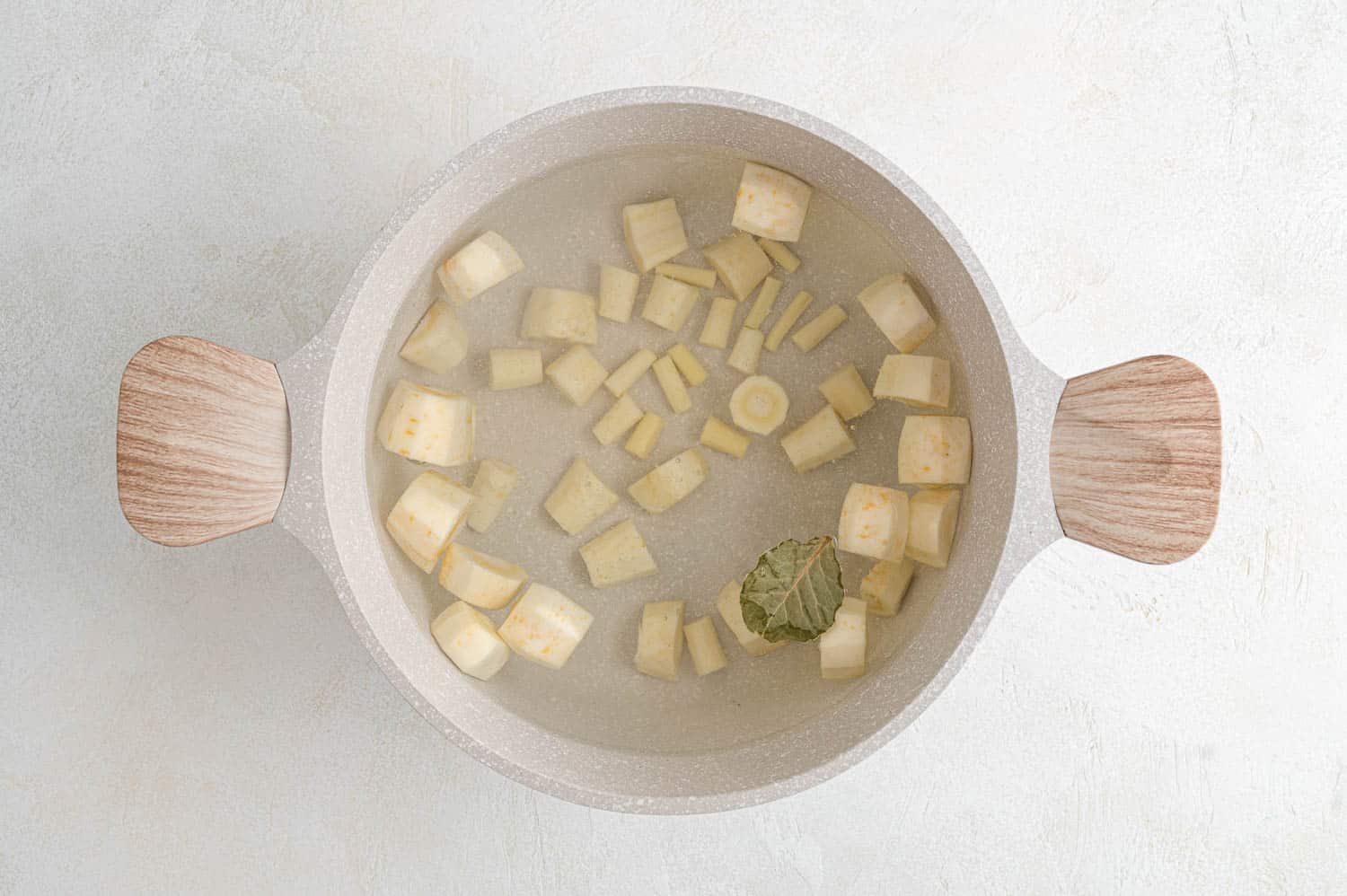 Poke one or two with a fork to test them. If the fork goes in easily, they're done.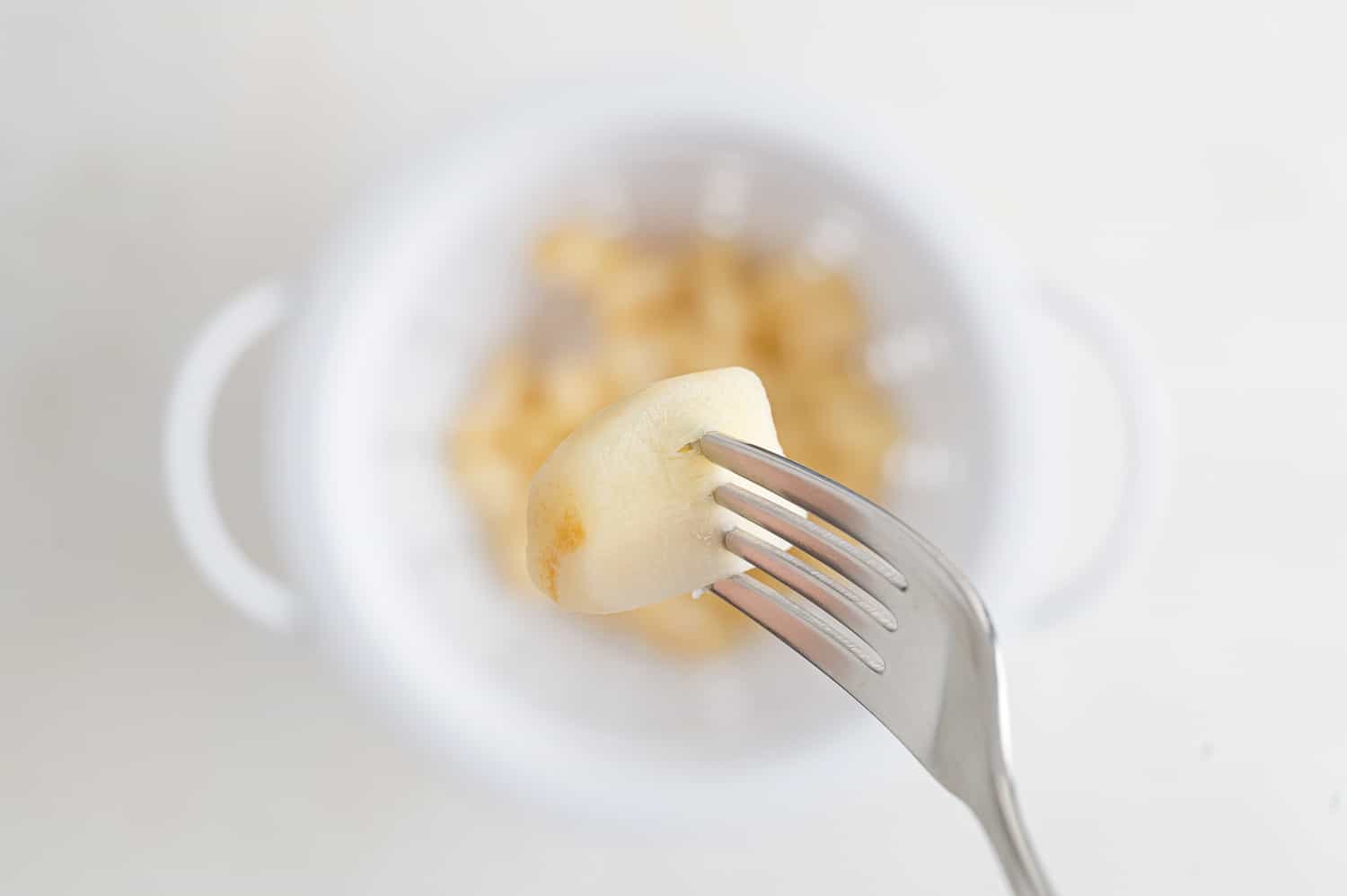 Drain well.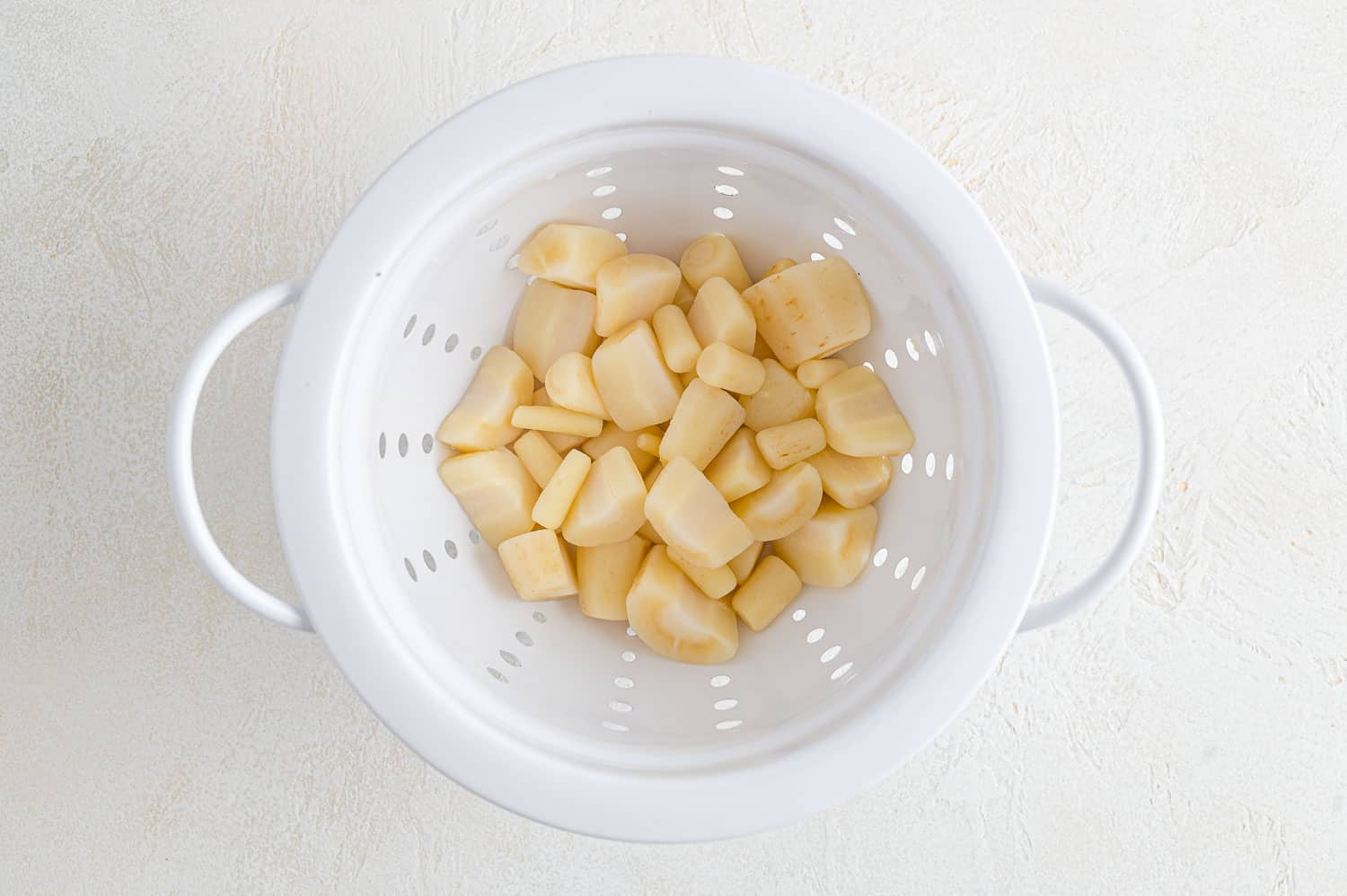 You can say bye-bye to the bay leaf; its job is done.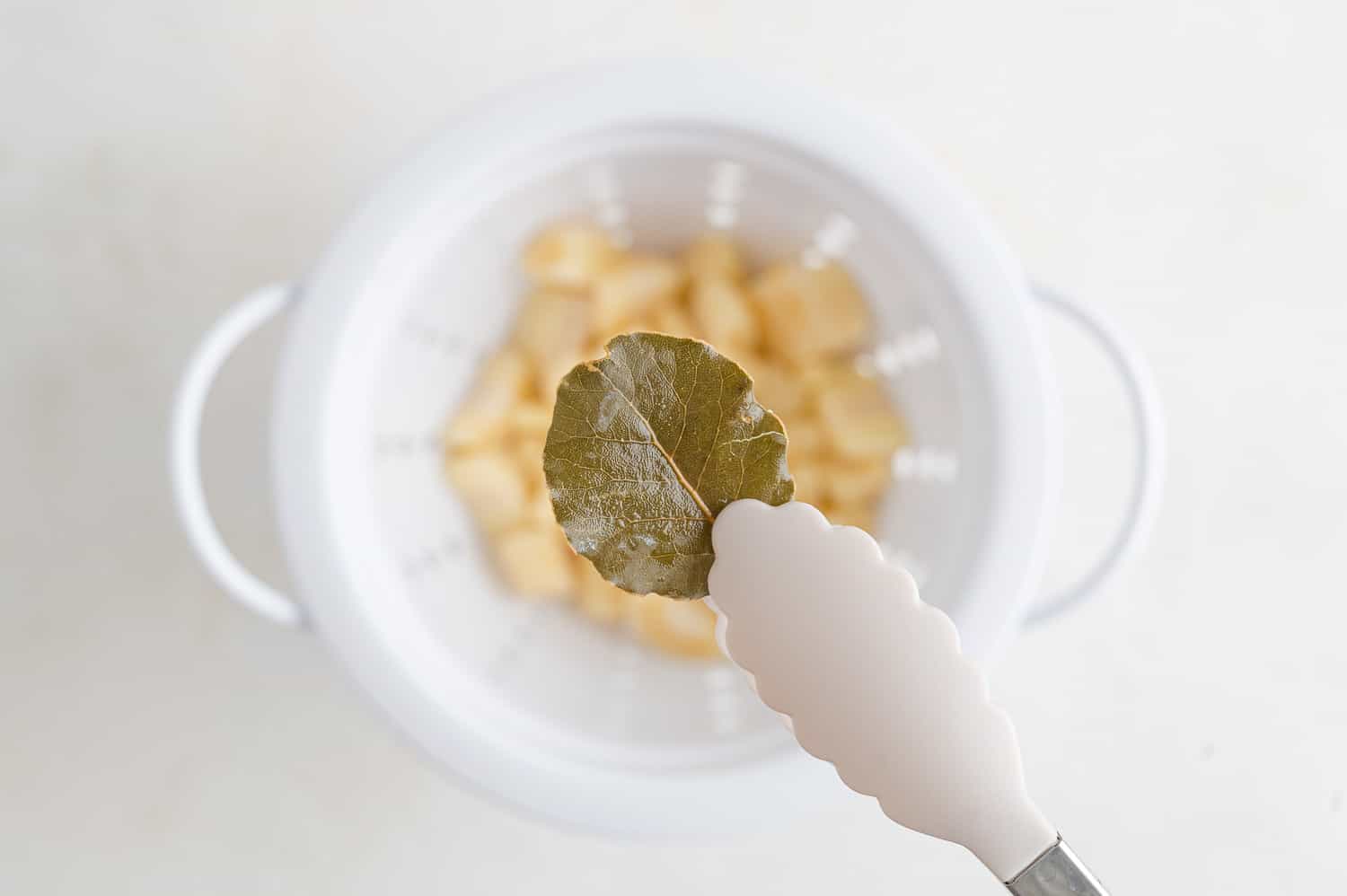 Transfer the parsnips to a blender or food processor. Add the milk, cream, butter, roasted garlic, salt, pepper, and rosemary.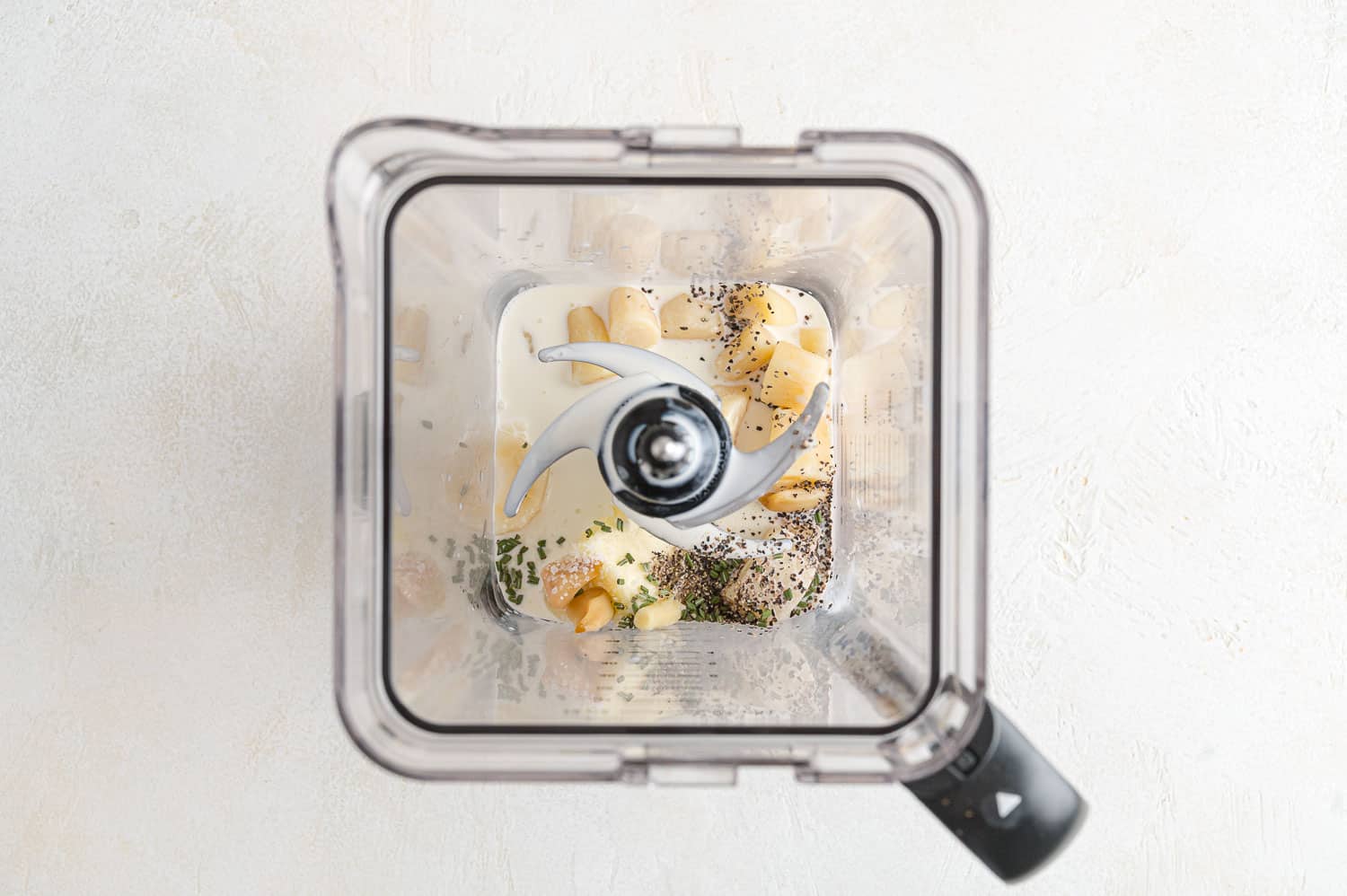 Blend until the mixture is creamy and smooth, scraping down the sides when necessary.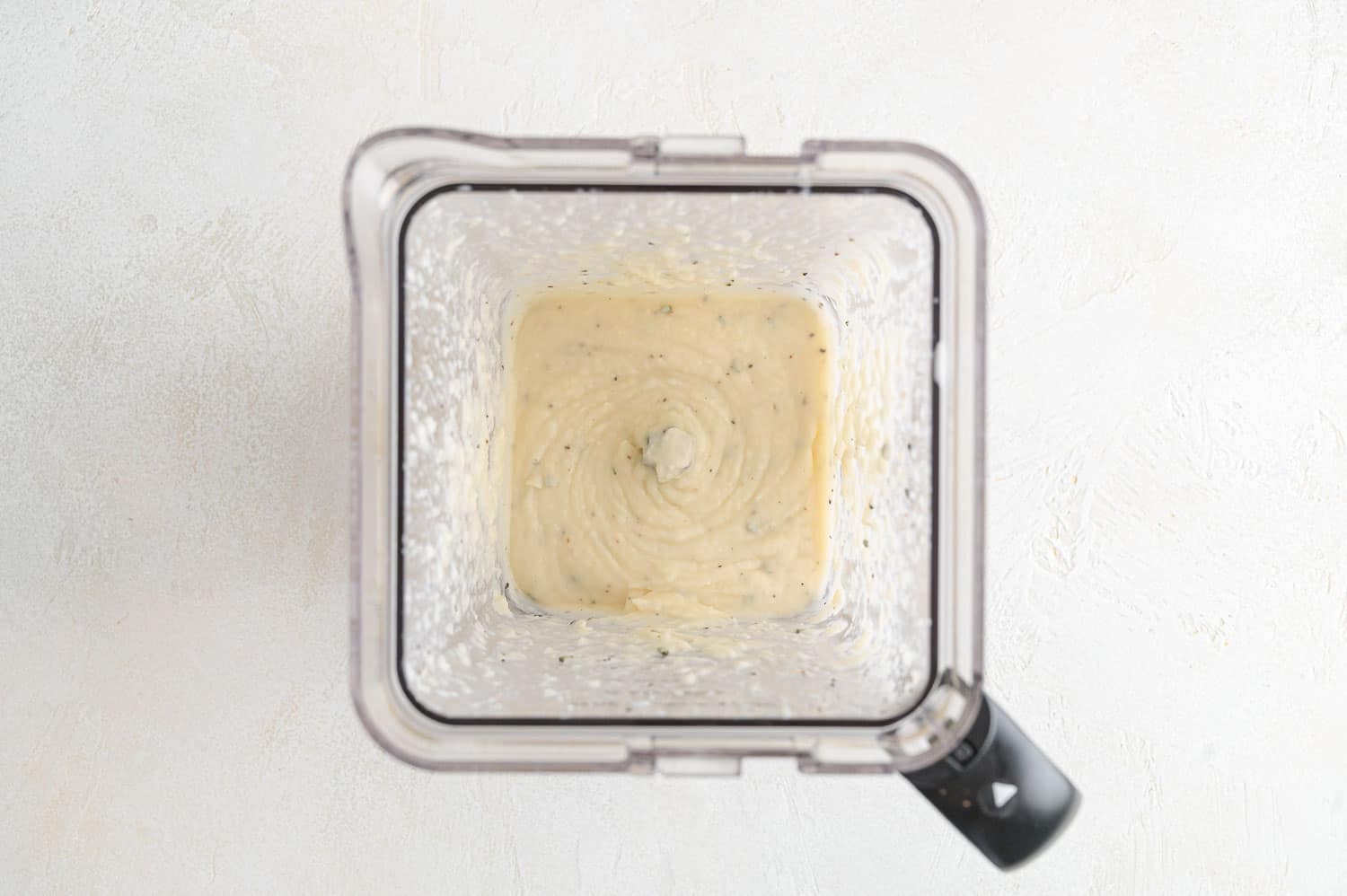 If the mixture seems too thick and your blender is working too hard, add more cream, a teaspoon at a time. Don't add too much! Your purée can easily turn into soup, which isn't necessarily a bad thing, but you may not want a puddle on your plate.
Scrap the purée into a serving bowl. Use a spoon to make a decorative swirl on top and add a sprig or two of fresh rosemary. A drizzle of melted butter or olive oil looks great too. Serve immediately.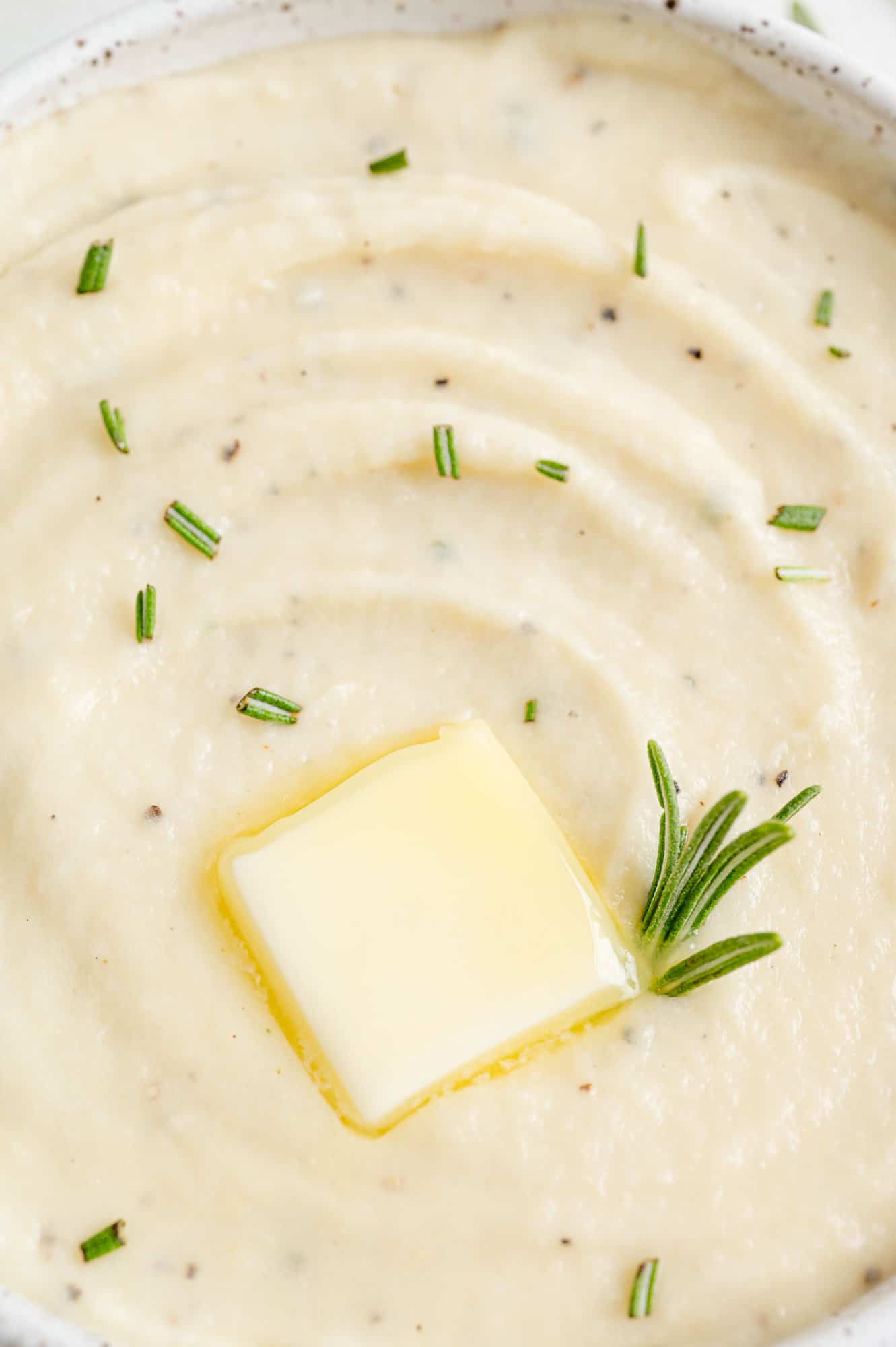 FAQs
Are mashed parsnips healthy?
According to WebMD, parsnips have numerous health benefits. They support your immune and cardiovascular systems, and improve digestion. They are low in calories and contain vitamins and minerals, especially vitamin C and potassium. Apparently, some folks call them the "November superfood!"
Make It Your Own
Roast the parsnips instead of boiling them. As you know, I'm a huge fan of roasted vegetables. Roasting caramelizes the natural sugars in vegetables and parsnips are especially sweet. Try roasting them for this purée.
Omit the roasted garlic. If you're not a fan of garlic, simply omit it. However, don't be scared off by the 4 cloves of roasted garlic. Roasted garlic is much milder in flavor than raw garlic. If you don't feel like roasting garlic, substitute a quarter teaspoon of garlic powder.
Instead of rosemary, add a pinch of freshly grated nutmeg.
To make this recipe vegan or non-dairy, make it without cream, or if you like, substitute canned coconut milk for the heavy cream/milk mixture. A tablespoon of coconut oil or olive oil can be used instead of butter.
Make-Ahead Ideas
To get a head start on this recipe, make the roasted garlic up to a week earlier and store in the refrigerator.
The parsnip purée can be completely made ahead. Cool to room temperature, and store in a covered container for up to three days.
Storage & Reheating Tips
If you have parsnip purée left over, refrigerate it for up to three days. It can also be frozen for up to six months. Thaw overnight in the refrigerator before reheating.
To reheat individual portions, microwave until warmed through. For larger amounts, warm on the stovetop over medium low heat until just heated. Try not to boil it.
Did you make this? Be sure to leave a review below and tag me @rachelcooksblog on Facebook, Instagram, or Pinterest!
With surprisingly sweet earthy flavors, ultra-creamy parsnip purée is sure to please. It pairs perfectly with steaks, ribs, and so much more, including turkey dinners!
Ingredients
4

cloves

roasted garlic, optional

(

¼

teaspoon garlic powder may be substituted)

1

pound

parsnips, peeled and cut into ½ -inch pieces

(about

3

medium-large parsnips)

1

bay leaf

½

cup

whole milk

¼

cup

heavy cream

1

tablespoon

butter

½

teaspoon

kosher salt, more for boiling parsnips

¼

teaspoon

coarse ground black pepper, more to taste

¼

teaspoon

minced fresh rosemary, more to taste
Instructions
Roast Garlic:
If using roasted garlic, preheat oven to 400ºF. Cut off the top of a whole head of garlic and drizzle with about 1 tablespoon olive oil. Wrap tightly with foil and place on a baking sheet. Roast for 50 to 60 minutes or until softened and golden brown. Let cool slightly and squeeze out 4 cloves for the puree. Refrigerate the rest for other recipes (or try it with bread!).
Make Purée:
Meanwhile, bring a large pot of water to a boil over high heat. Add

1 teaspoon

kosher salt to water along with parsnips and bay leaf. Cook for 15 to 20 minutes or until parsnips are fork tender. Drain well and discard bay leaf.

Transfer parsnips to a blender or a food processor; add milk, cream, butter, garlic, salt, pepper, and rosemary. Blend until smooth, scraping down sides as needed. Add a bit more cream, if necessary, but only enough to help out the blender, as you don't want the puree to get too thin and soupy.

Serve with a drizzle of olive oil or melted butter. Garnish with a sprig of fresh rosemary, if desired.
Notes
Makes approximately 3 cups.
This recipe can be made ahead. Cool slightly, and store in a covered container in the refrigerator for up to three days or freeze for up to six months. If frozen, thaw overnight in the refrigerator before reheating. Reheat gently on the stove until warmed through. Try not to boil the p

urée.

Roasting alternative: Instead of boiling the parsnips, roast them. Peel and cut the raw parsnips, toss with a tablespoon of olive oil, spread on a sheet pan and roast at 400°F for 25 to 35 minutes. Continue with recipe as directed.
Nutrition Information
Serving:
0.5
cup
,
Calories:
107
kcal
,
Carbohydrates:
16
g
,
Protein:
2
g
,
Fat:
5
g
,
Saturated Fat:
3
g
,
Polyunsaturated Fat:
0.2
g
,
Monounsaturated Fat:
1
g
,
Cholesterol:
14
mg
,
Sodium:
215
mg
,
Potassium:
336
mg
,
Fiber:
4
g
,
Sugar:
5
g
,
Vitamin A:
185
IU
,
Vitamin C:
14
mg
,
Calcium:
66
mg
,
Iron:
1
mg
This website provides approximate nutrition information for convenience and as a courtesy only. Nutrition data is gathered primarily from the USDA Food Composition Database, whenever available, or otherwise other online calculators.