Herb Roasted Turkey Breast
Herb roasted turkey breast is a delicious and flavorful choice for special occasions, like Thanksgiving dinner, or for food prepping.
Recipe Overview
Why you'll love it: Turkey breast can be an economical choice, especially around Thanksgiving. Stock up and fill your freezer with roasted turkey breast for easy meals in the future.
How long it takes: 15 minutes prep time, 2½ to 3½ hours to roast
Equipment you'll need: roasting pan with rack
Servings: 14 (7 lb. turkey breast)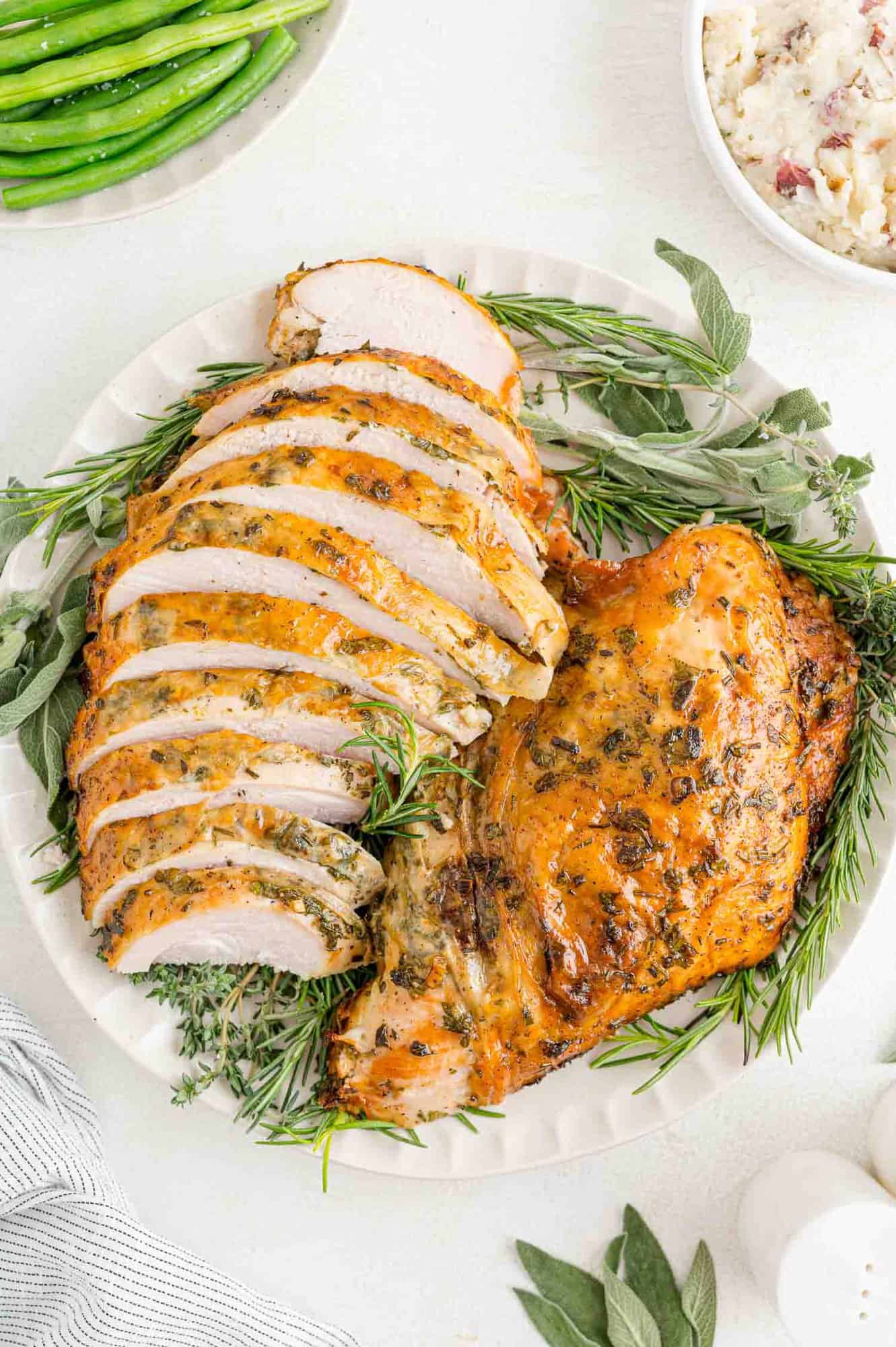 The thought of roasting a whole turkey can be intimidating. I don't know why — it's pretty much like roasting a chicken which is no big deal. But a turkey can be so BIG and it's just a little scary.
But there's good news for those of us who are a bit uncertain about roasting a whole turkey: You can roast a turkey breast. This recipe for roasted turkey breast is easy, pretty much fool-proof, and yields a juicy and flavorful turkey breast.
You won't have to get up at 6 AM to put the turkey in the oven. Because a turkey breast is a lot smaller than a whole turkey, it doesn't need nearly as much time to cook.
The smaller size also means that the meat won't get as dry. Huge turkeys have a huge problem: the outside layer (i.e. the breast meat) tends to get done long before the inside of the turkey is cooked. It's just the way it is. When you roast only the turkey breast, the meat is cooked more evenly because there's not so much bulk.
Why you'll love this herb roasted turkey breast
This is an easy recipe. The hardest part is chopping up herbs. And that's not even hard, it takes a few minutes and the herbs smell so fresh and green, you'll enjoy doing it. Once you rub that delicious herb/mustard/olive oil mixture all over this turkey breast, all that's left to do is to put it on a rack, give it a little drink, and pop it in the oven to roast.
Most of the cooking time is hands-off. Once the turkey breast is in the oven, you have a couple of hours to do other things, such as drink a glass of Chardonnay. Or you know, make side dishes. Keep reading for lots of side dish recipes.
Turkey breast is the best choice if you have a small family or if you don't care for dark meat. A turkey dinner is traditional fare for Thanksgiving Day but a whole turkey can be way too much food for smaller families. A turkey breast is a lot more doable and possibly more economical (although whole turkeys can be pretty inexpensive around the holidays!). And some of us just don't care for dark meat. Why cook a whole turkey that is half dark meat? A turkey breast is a good solution.
Roasted turkey breast is perfect for food prepping. When you buy a skin-on, bone-in turkey breast, you'll find that there's very little waste. It's mostly wonderful boneless breast meat that you can use for all sorts of recipes. Use the turkey for any recipe that calls for cooked chicken (see the list below for ideas). It also makes great sandwiches for lunchboxes or hot turkey sandwiches, too. Cooked turkey freezes well.
Ingredients You'll Need
Turkey Breast: Look for a whole turkey breast, 7 to 7 ½ pounds, skin-on and bone-in. They are usually frozen but sometimes you can buy a fresh one, particularly during the holiday season.
Garlic: A few cloves of garlic gives such a great savory flavor to the turkey meat. Feel free to adjust the amount, more if you love garlic, or less.
Dijon Mustard: I like to mix a bit of mustard with the herbs and seasonings It helps the mixture adhere to the turkey and adds a nice flavor. Don't worry, your turkey won't taste like mustard. Use Dijon, not standard yellow mustard.
Fresh Herbs: Rosemary, sage, and thyme are woody herbs that flourish in the fall and are commonly used for roasting meats. I also add a handful of fresh parsley. If you are lacking one of the herbs, just throw in a little extra of what you do have. Confession: I don't usually measure the herbs carefully; I just chop some up and throw them in.
Kosher Salt and Freshly Ground Black Pepper
Olive Oil: A bit of oil helps the skin crisp up and brown, and keeps the outer layer of the turkey moist.
White Wine or Chicken Broth: Either choice is fine. If you choose wine, make sure it's a dry variety. The sugar in sweeter wines tends to burn and don't taste as good in a savory recipe.
How To Thaw a Frozen Turkey
Turkey should always be completely thawed before cooking. There are two ways to thaw turkey:
Thaw the turkey in the refrigerator (preferred and easiest method). Place it in a large pan to contain any leakage. Plan on 4 hours per pound. Don't worry if it thaws before you're ready to cook it. It will keep up to 4 days in the fridge after it's thawed.
You can also thaw the turkey in cold water. Completely immerse the unwrapped turkey in a sink filled with cold water. Change the water frequently so it's always chilled. You'll need 30 minutes per pound to thaw it.
Source: Butterball.
How To Roast A Turkey Breast
Herb roasted turkey breast isn't complicated. You simply add seasoning and roast it. Preheat your oven and let's get started. You'll need a large roasting pan with a wire rack inside.
What To Use If You Don't have a Roasting Pan
It's not a big problem if you don't have a roasting pan with a rack. Use a sturdy 9 x 13 inch pan. You can improvise a roasting rack. Sometimes cooling racks or even the rack from your toaster oven will fit. Another alternative is to use foil. Tear off 2 to 3 feet of foil and roll/scrunch it up into a long log. Make a couple of them so the turkey breast can rest on them.
Prepare the herb seasoning. Wash and chop the fresh herbs: rosemary, sage, thyme, and parsley. Put them into a small bowl, along with the mustard, minced garlic, olive oil, salt and pepper. Stir well to combine.
Season the turkey. Half of the seasoning will go under the skin; half on the outside. Place the turkey breast on the wire rack in the pan. Gently lift the skin away from the meat. You don't have to take it all the way off. Rub about half of the oil/mustard/herb mixture between the skin and the breast meat. Replace the skin and rub the remaining herb mixture on the outside.
Add the wine or broth. Carefully pour the liquid into the roasting pan. The function of the liquid is to produce steam and moisture; none of it is actually absorbed into the meat. The juices from the turkey will drip down into the wine/broth so don't discard it when the turkey is roasted. You can use it to make a delicious pan sauce.
Roast the turkey. Place the pan with the turkey into the oven on the middle rack. Roast it uncovered for 2 ½ to 3 ¼ hours. Oven temperatures vary so the cooking time isn't exact. Check the turkey occasionally. If the skin is getting too brown, place a sheet of foil lightly over the turkey breast.
How Long To Cook Turkey
Sometimes larger cuts of meat like a whole turkey breast can be tricky. It's difficult to know when they are properly cooked.
Use an instant read thermometer to check the internal temperature of the turkey. Insert the thermometer into the thickest part. It should read 160-165°F. Safely cooked turkey should be 165°F; it will go up a few degrees as it rests after you take it out of the oven.
Serve. Allow the turkey to rest for at least 15 minutes before slicing it. The internal temperature will continue to rise a bit and the juices will settle into the meat. Slice as desired and serve. The pan juices can be served with turkey or you can use them to make a sauce or gravy.
Serve the turkey with one of the side recipes below or with mashed red potatoes and steamed green beans, as pictured. If you like stuffing with your turkey, try my apple stuffing with sourdough bread and cranberries. Mushrooms sautéed with Marsala go really well with sliced turkey, too.
FAQs
Should a turkey breast be cooked covered or uncovered?
For a perfectly golden skin, you should cook the turkey breast uncovered. If it starts to become too brown before the turkey is completely cooked, place a sheet of foil loosely over the turkey breast.
How do you keep turkey breast moist while roasting?
Coating the skin with an oil mixture helps keep the surface of the meat moist. The real trick is not to cook turkey breast too long. White meat has very little fat and can get quite dry if overcooked. Take it out of the oven when the internal temperature reaches 165°F or even a little less. Allow the turkey to rest for 15 minutes before slicing it. The internal temperature will continue to rise a few degrees and the juices will settle into the meat. If you slice it too quickly, the juices tend to run out.
Make It Your Own
Boneless Turkey Breast Roast: A boneless turkey breast roast is made from cuts of meat that are formed into a roast, held together by netting. You can use this recipe to make a boneless turkey roast. Just put the seasoning on the outside. Cooking times may vary, depending on the size of the roast.
Instant Pot Turkey Breast: Yes, you heard right, you can use your pressure cooker to cook turkey breast. In fact, you can cook it even if the turkey breast is frozen! This method works best for smaller boneless turkey breasts, about 2 pounds.
Sheet Pan Turkey Dinner: Another of my favorite ways to prepare turkey, and this one is perfect for smaller get-togethers, is a sheet pan Thanksgiving dinner. Turkey, dressing, potatoes, and veggies are roasted in one pan in the oven. Doesn't get much better than that!
Ways to Use Cooked Turkey
Cooked turkey can be substituted for chicken in the following recipes.
Food Prep and Storage Tips
Refrigerate: Slice or dice roasted turkey so it cools more rapidly. Refrigerate promptly in a covered container for up to 4 days.
Freeze: Place sliced/diced turkey in freezer containers or bags. It will keep for 4 to 6 months. Thin slices of turkey will thaw more quickly than thicker slices. Always thaw turkey in the refrigerator.
Reheat: The microwave isn't the best option for reheating roasted turkey. It tends to make it dry or tough. It's best to reheat turkey over low heat, adding a splash of broth or gravy to moisten it. For larger amounts, put the turkey in a casserole dish, pour broth over it, cover the dish and heat at 300°F until it's warmed through.
Did you make this? Be sure to leave a review below and tag me @rachelcooksblog on Facebook, Instagram, or Pinterest!
Herb roasted turkey breast is a delicious and flavorful choice for special occasions, like Thanksgiving dinner, or for food prepping.
Ingredients
1

whole

(7 to 7 ½ pounds) bone-in, skin-on turkey breast, thawed if frozen

(see note)

3

cloves

garlic, minced

2

teaspoons

Dijon mustard

1

tablespoon

chopped fresh rosemary leaves

1

tablespoon

chopped fresh sage leaves

1

tablespoon

chopped fresh thyme leaves

¼

cup

chopped fresh parsley

2

teaspoons

kosher salt

1

teaspoon

freshly ground black pepper

2

tablespoons

extra virgin olive oil

1

cup

dry white wine such as Chardonnay, or chicken broth
Instructions
Preheat the oven to 325°F. Place the turkey breast, skin side up, on a rack in a roasting pan.

In a small bowl, combine the garlic, mustard, rosemary, sage, thyme, parsley, salt, pepper, and olive oil. It will look like a paste. Gently smear half of the paste under the skin of the meat. Rub the rest on top of the skin. Add the wine into the bottom of the roasting pan.

Roast the turkey for 2 ½ to 3 ¼ hours, until the skin is golden brown and internal temperature reaches at least 160-165°F when measured with an instant-read thermometer in the thickest part of the breast. If the skin is browning too quickly, place a piece of foil loosely over the turkey breast.

When it reaches 165°F, remove from oven and cover loosely with foil and let rest for at least 15 minutes before slicing and serving with pan juices or gravy.
Notes
If the turkey breast is frozen, thaw it in the refrigerator. It takes about 4 hours per pound to thaw, so if you have a 7 pound turkey plan on 28 hours (roughly a day and a half). Thawed turkey will keep in the refrigerator for up to 4 days.
Dice or slice cooked turkey so it cools rapidly. Cooked turkey can be refrigerated for up to 4 days; it can be frozen for four to six months. Thaw in the refrigerator.
Nutrition Information
Serving:
8
oz.
,
Calories:
315
kcal
,
Carbohydrates:
3
g
,
Protein:
45
g
,
Fat:
13
g
,
Saturated Fat:
4
g
,
Polyunsaturated Fat:
0.2
g
,
Monounsaturated Fat:
1
g
,
Cholesterol:
121
mg
,
Sodium:
752
mg
,
Potassium:
30
mg
,
Fiber:
0.2
g
,
Sugar:
0.2
g
,
Vitamin A:
120
IU
,
Vitamin C:
2
mg
,
Calcium:
11
mg
,
Iron:
0.3
mg
This website provides approximate nutrition information for convenience and as a courtesy only. Nutrition data is gathered primarily from the USDA Food Composition Database, whenever available, or otherwise other online calculators.