Transform your leftover turkey into a flavorful turkey salad reminiscent of your Thanksgiving dinner but with a few fresh twists. Serve it in a wrap, in a sandwich, or on lettuce.
Recipe Overview
Why you'll love it: The yogurt-based dressing is tangy and lightly sweetened with honey, and is so refreshing after the heavier Thanksgiving fare.
How long it takes: 10 minutes
Equipment you'll need: mixing bowl
Servings: 4 generous servings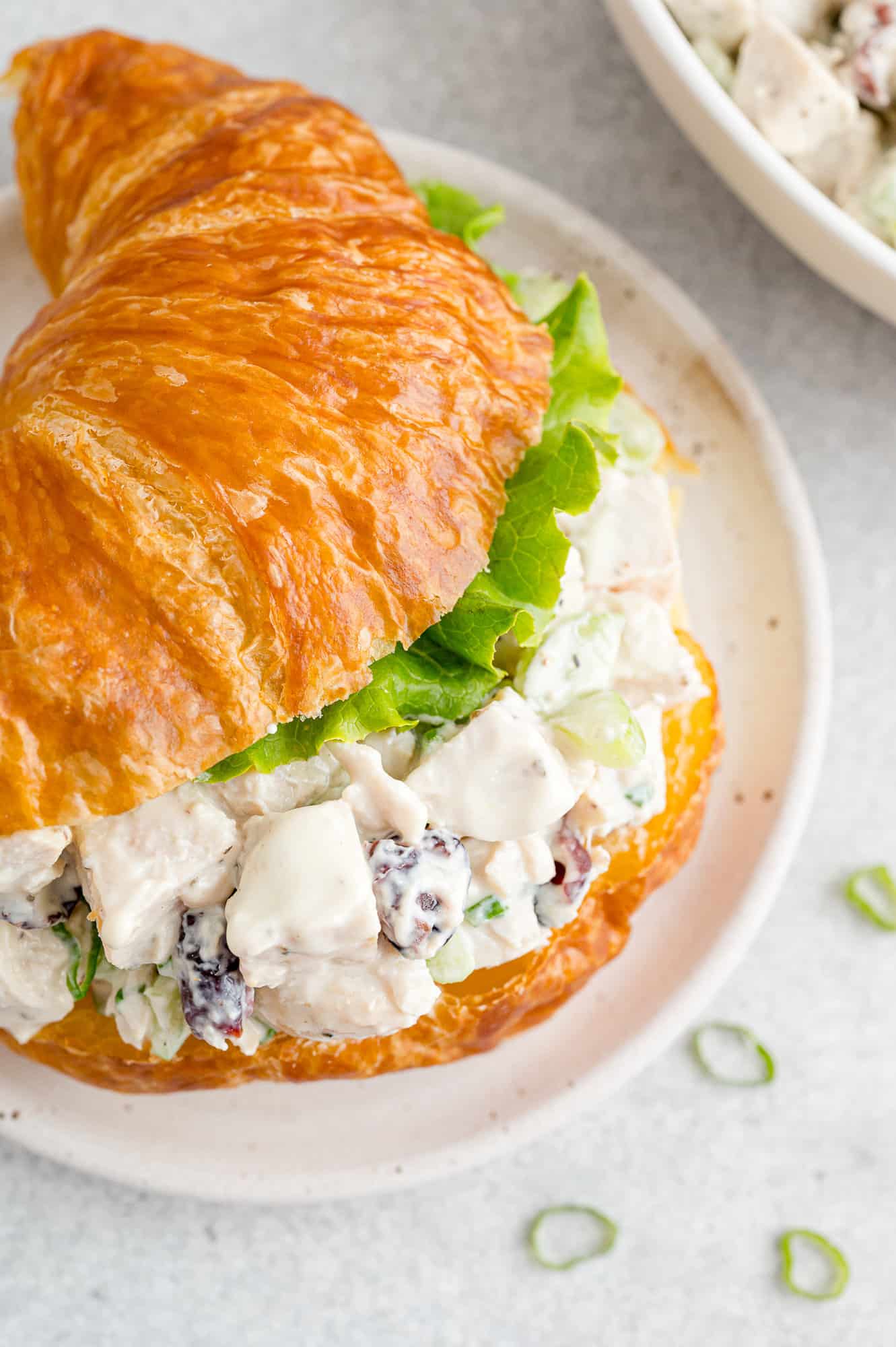 May I just say that this turkey salad doesn't taste like leftovers? In fact, you may want to set aside some turkey ahead of time just so you have enough "left over" to make this salad.
I always love leftovers the first day. I think I actually enjoy my turkey dinner more on Friday than I do on Thursday. There's no pressure. When you're the cook and hostess, it can be pretty darn busy cooking and entertaining. By the time dinner rolls around, I'm distracted and sometimes even a bit too flustered to enjoy what I'm eating.
On Friday, I can leisurely pick and choose what I liked most, and have a great "Day 2" Thanksgiving dinner with all the fixings. But then there's Day 3. Another Thanksgiving dinner of leftovers doesn't sound quite as appealing. That's when it's time to rethink that leftover turkey and turn it into this healthy salad.
I don't know about you but I'm all about the chicken salad wraps that restaurants offer. They're probably a bazillion calories: mayo, nuts, dried fruit, and chicken, plus a great big wrap. This is my healthier version and I think you'll love it.
About This Recipe
This turkey salad recipe is based on my popular chicken salad with grapes and walnuts. That one is an old-fashioned chicken salad, somewhat similar to a classic Waldorf salad, with the addition of chicken.
I changed it up just a bit. I think turkey meat is a bit more savory than chicken so I highlighted that savory aspect by adding green onions and Dijon mustard to the dressing. I took out the grapes and walnuts but left in the dried cranberries.
The good part about this salad is that you can easily change it up to "make it your own." There are plenty of ways to make substitutions and adjustments. Keep reading for inspiration. I have lots of ideas for you later on in the post.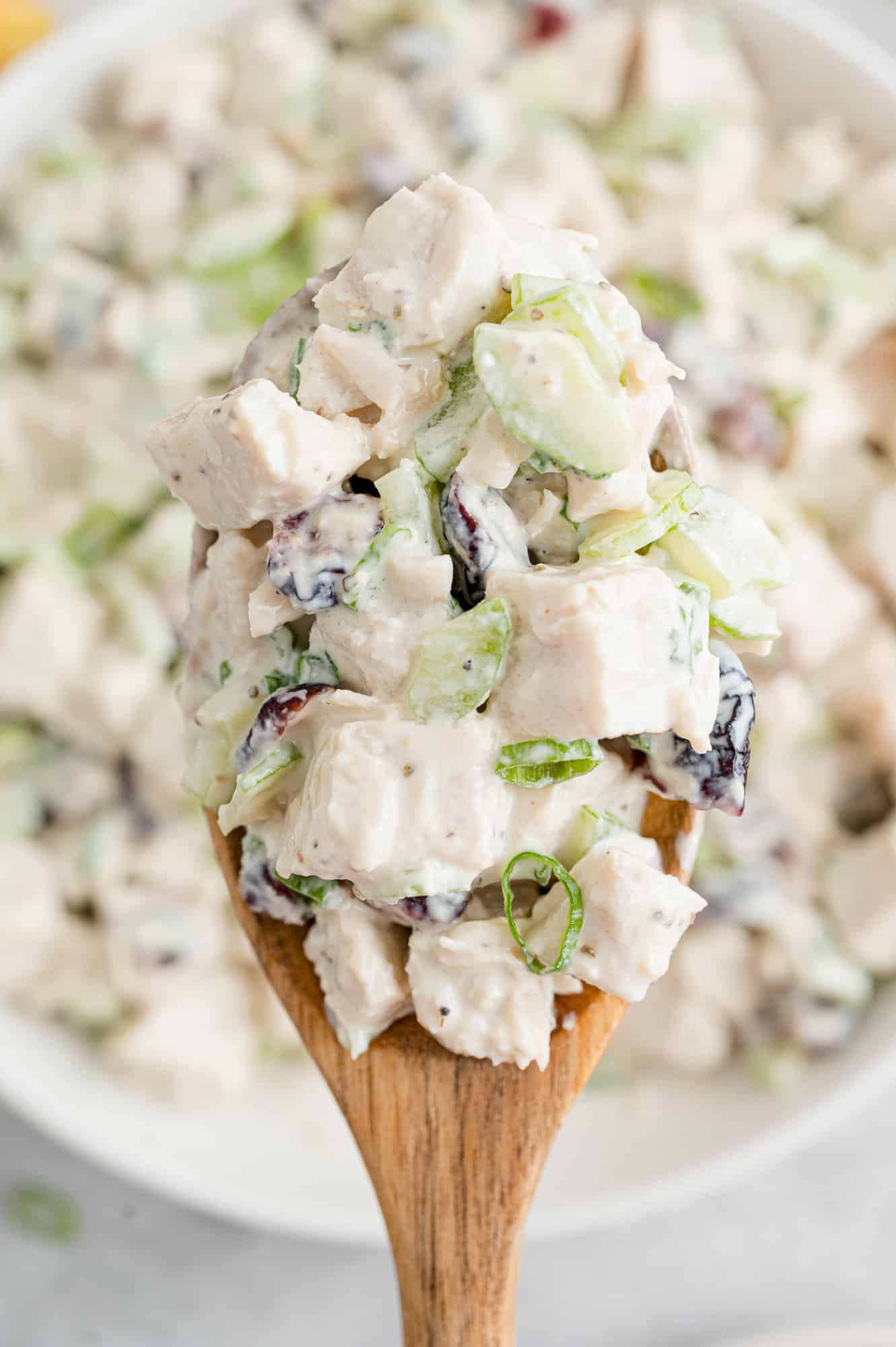 I'll get you started on this easy recipe. For exact measurements and instructions, take a look at the recipe card near the bottom of the post.
Best Way To Store Leftover Turkey
It's always best to remove the meat from the bones before storing the turkey in shallow covered containers. Bones retain a lot of heat and tend to keep the meat warm. You want to cool the leftover turkey as quickly as possible, so get it in the fridge as soon as you can. Place it near the back of the refrigerator where there is less temperature fluctuation.
Ingredients You'll Need
Leftover Turkey: The recipe calls for 3 cups of leftover turkey meat. This can include both white and dark meat, pretty much whatever you have left. Cut the meat into bite-sized pieces or lightly shred it. Cooked chicken can be substituted if this salad looks good to you and you don't happen to have leftover turkey.
Celery: You may have a few stalks of celery languishing in the fridge, left over from making stuffing. Crunchy bites of crisp green celery add great texture and flavor to the salad.
Green Onions (Scallions): A couple of green onions, both green and white parts, add a mild onion flavor without being overpowering. If you prefer, substitute sweet white onion or red onion.
Dried Cranberries: Cranberries usually make an appearance on the Thanksgiving table. You'll love the sweet but tart dried cranberries in this salad. Don't have dried cranberries? Raisins or sliced grapes are great, too.
Greek Yogurt: I often use tangy Greek yogurt for my salad dressings instead of, or in combination with, mayonnaise. It's lower in fat and high in protein, a double bonus. Make sure you choose plain Greek yogurt (unflavored).
Apple Cider Vinegar: This vinegar has a fruity component and isn't quite as sour as plain white vinegar. I use it often for salad dressings.
Honey: A sweetener balances out the tangy yogurt and vinegar.
Dijon Mustard: Try a whole grain or coarse ground Dijon mustard for an earthier mustard flavor. Regular Dijon is fine, too, but don't be tempted to use plain yellow mustard. Save that for your hotdogs or hamburgers.
Celery Seed: These tiny brown seeds pack a bunch of celery flavor. They give the salad the Wow! factor.
Salt & Pepper: Add as much or as little as you like. In other words, season to taste.
How To Make This Recipe
Cut or shred the leftover turkey into bite-sized pieces. The recipe calls for 3 cups but don't worry if you have a bit more.
Be meticulous about removing any skin or bones. Tiny bones can easily lurk amongst the meat and it's not very fun to bite down on one, or worse, swallow one.
Put the turkey in a large mixing bowl and add the chopped onions, celery, and dried cranberries.
Give everything a light stir.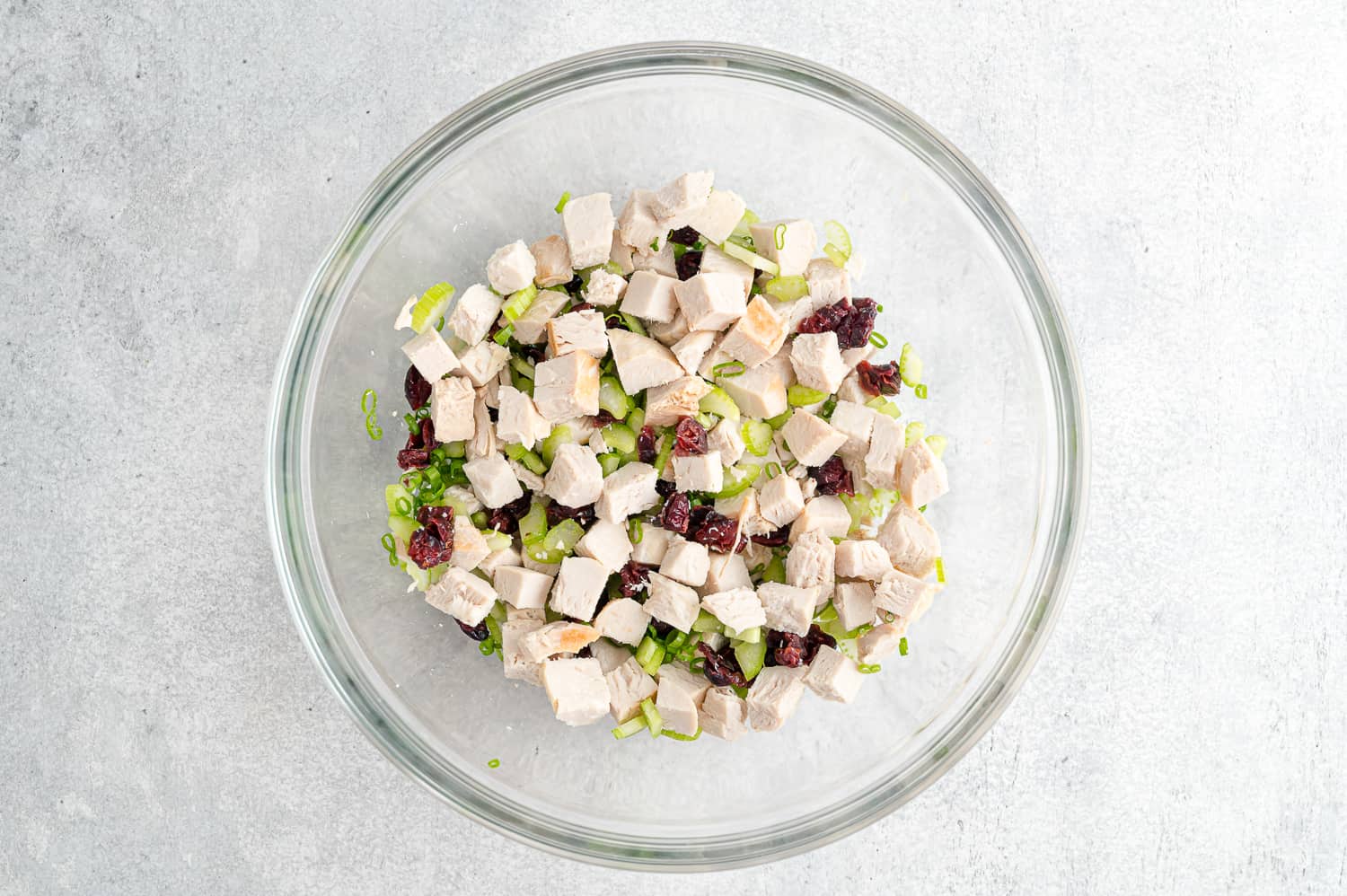 Next, measure out the Greek yogurt in a large measuring cup. Add the vinegar, honey, mustard, celery seed, salt and pepper.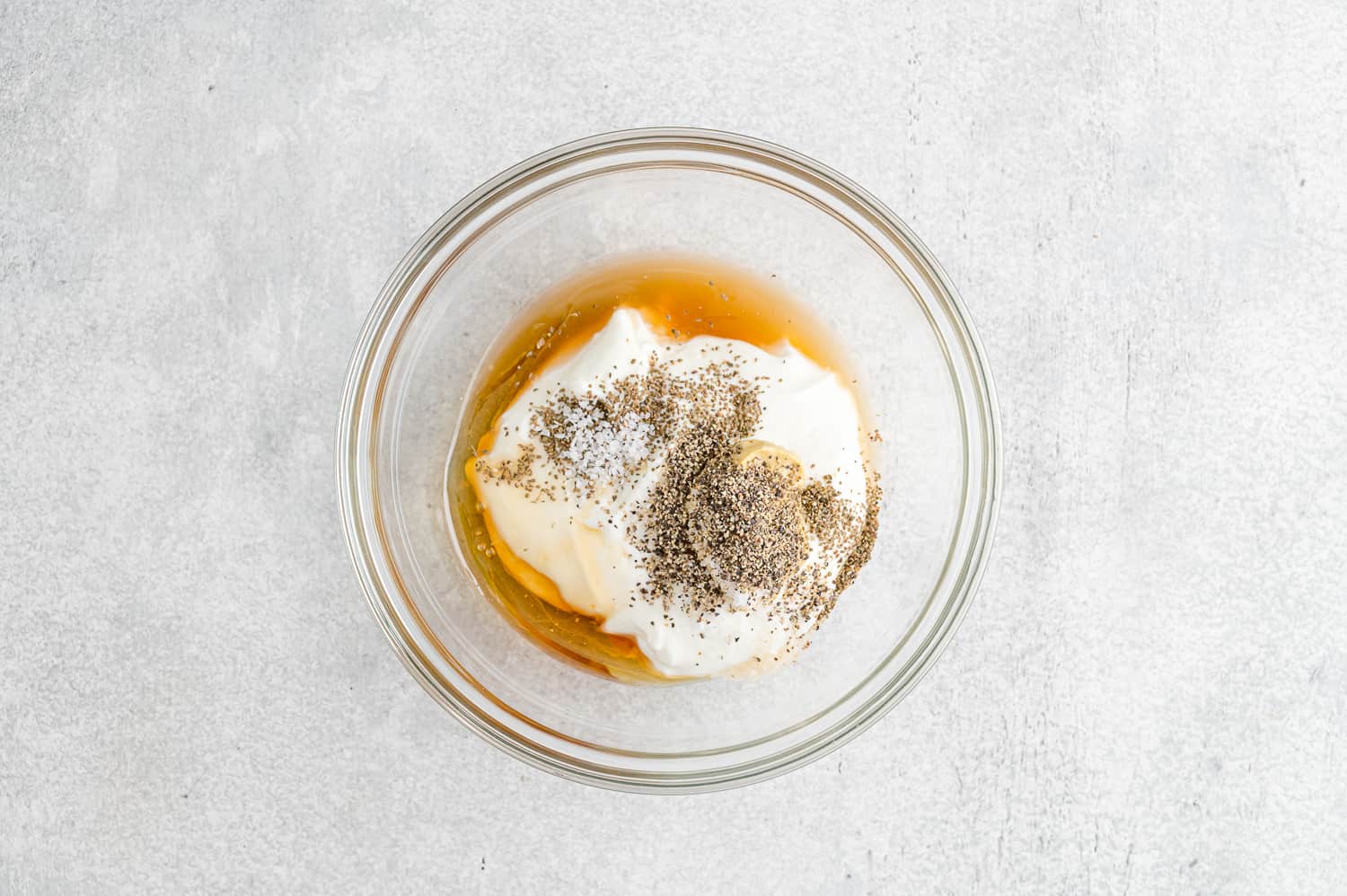 Whisk it all together until the dressing is smooth.
Pour the dressing into the mixing bowl.
Stir well until everything is coated with dressing. Check the seasoning and add more salt and pepper, if desired.
The salad can be served immediately or you can cover the bowl and refrigerate it to serve later.
Serve your turkey salad on a wrap, if you like. Put a big scoop of the salad on the wrap and add some baby spinach leaves or lettuce. Roll it all up tightly and stick a fancy toothpick in it to hold it together.
The salad can be served on a croissant, bun, or sandwich bread (with tender leaf lettuce (pictured). If you have leftover rolls from your Thanksgiving dinner, they would be perfect with the turkey salad.
If you're feeling bloated from a carb overload (all that stuffing, rolls, casseroles, and pie!), feel free to serve the turkey salad on a bed of crisp lettuce.
Wondering what to serve with your turkey salad? It can be a light meal all by itself, you can check the refrigerator for any more leftovers, or simply serve the salad with chips.
FAQs
Can you eat cooked turkey after 5 days?
The USDA recommends eating all leftovers, including cooked turkey, within 3 to 4 days, assuming it was refrigerated promptly at 40°F or lower. Refrigeration slows the growth of bacteria but doesn't stop it.
If you open the container and the contents smell off or look slimy, throw them out. Please don't take a chance with food poisoning; it isn't worth the risk.
If you want to keep cooked turkey for a longer period of time, freeze it until you're ready to use it. It can be frozen for up to 4 months.
How long does turkey salad last in the fridge?
If you are using freshly cooked turkey that you made that day, turkey salad will last for 3 to 4 days in the fridge. However, if you are using leftover cooked turkey, you have to include the time it spent in the fridge before you made the salad.
In other words, if you make the turkey on Thursday and use the leftover meat to make a salad on Saturday, you should probably use it that day.
Make It Your Own
Not a fan of turkey? Or maybe there isn't enough turkey left over. In either case, cooked chicken is a fine substitute.
Use regular yogurt instead of Greek yogurt. The dressing will have a thinner consistency. I've found that when I sub in regular yogurt, I can use a little less.
Add-Ins: Feel free to substitute or add any of the following: sliced red or green grapes, toasted nuts of any kind (or sunflower seeds), chopped apples, raisins, chopped green bell pepper, fresh parsley, etc.
Looking for something different? Try curried chicken salad or avocado chicken salad. You can substitute cooked turkey in either of the recipes.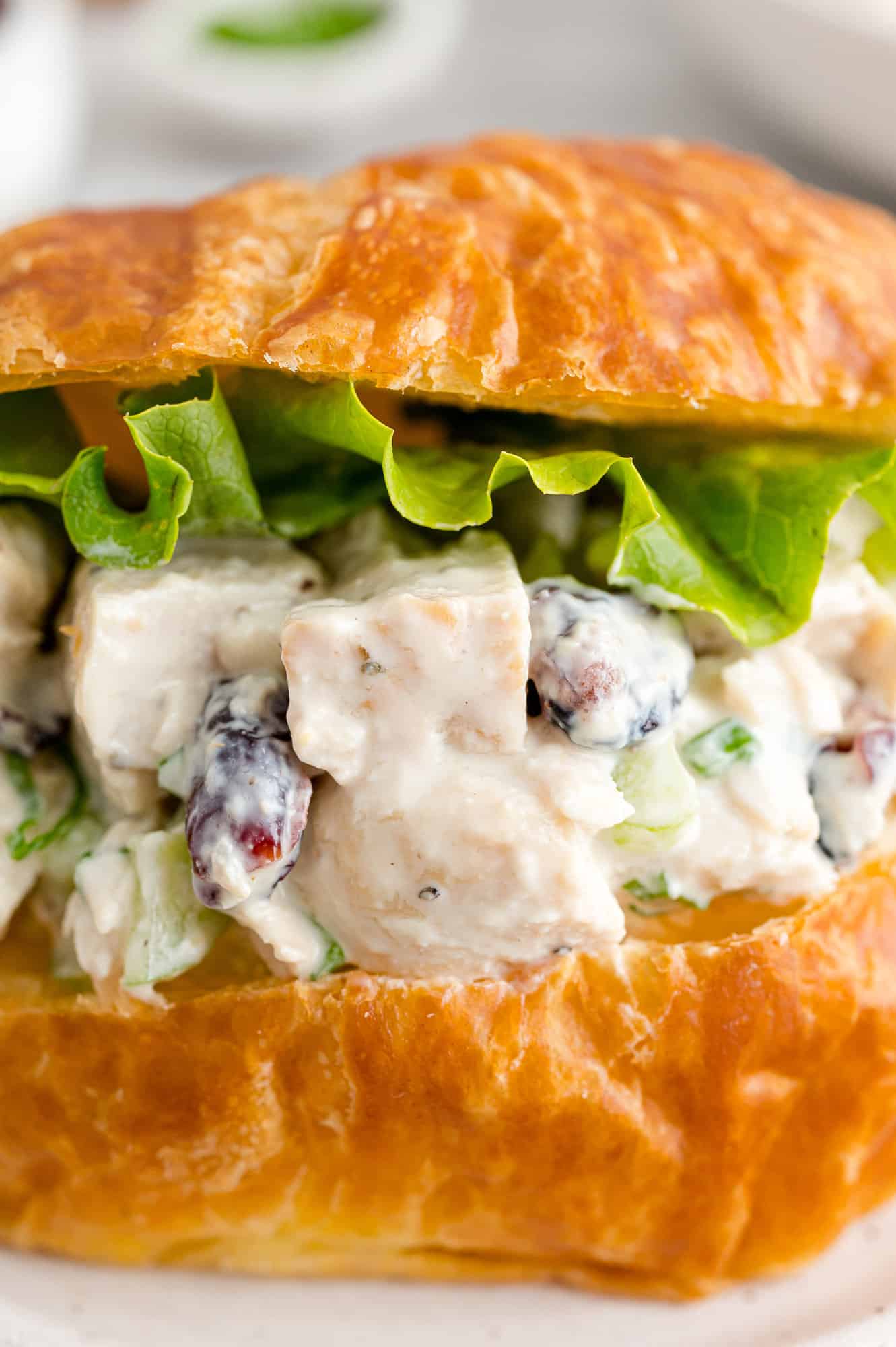 Interested in a weekly meal plan (it's free!) that includes this turkey salad recipe? Take a look at my Meal Plan #30. You'll find a wholesome recipe for each weekday plus a categorized grocery list. Let me do the planning for you this week!
We'll be adding a new meal plan weekly. If you're interested, browse all of our meal plans.
Storage Tips
Refrigerate the salad promptly in a tightly covered container. It doesn't freeze well. See the FAQ above for more about storage.
Did you make this? Be sure to leave a review below and tag me @rachelcooksblog on Facebook, Instagram, or Pinterest!
Transform leftover turkey into a flavorful turkey salad. Serve it in a wrap, in a sandwich, or on lettuce.
Ingredients
3

cups

diced cooked turkey, chilled

(see note)

1

cup

diced celery

(about

3

stalks)

¼

cup

chopped green onions

(about

2

green onions)

½

cup

dried cranberries
Dressing:
1

cup

plain Greek yogurt

1

tablespoon

apple cider vinegar

1

tablespoon

honey

1

tablespoon

Dijon mustard

½

teaspoon

celery seed

(not celery salt)

½

teaspoon

kosher salt

½

teaspoon

coarsely ground black pepper
Instructions
In a large mixing bowl, combine turkey, celery, chopped green onions, and cranberries..

In a small bowl or 2 cup measuring cup, whisk together yogurt, vinegar, honey, mustard, celery seed, salt and pepper. Pour over turkey mixture and stir until all ingredients are combined. Taste to check seasoning; add more salt and pepper if needed.

Serve on a wrap, sandwich, or on top of lettuce.
Notes
Store covered in refrigerator for 2 to 3 days, stirring to recombine before serving (see note).

If you're using leftover turkey, consider the time it's been in the refrigerator before you make the salad. Leftovers will keep for three to four days if refrigerated promptly. If the turkey has been in the refrigerator for a couple of days before you make the salad, the salad should probably be eaten the same day as it's made.
Cooked chicken can be substituted for turkey, if preferred.
Possible add-ins or substitutions: chopped green pepper, chopped sweet onion, sliced grapes (red or green), chopped toasted nuts, chopped apple, etc.
Nutrition Information
Serving:
1
cup
,
Calories:
221
kcal
,
Carbohydrates:
20
g
,
Protein:
29
g
,
Fat:
3
g
,
Saturated Fat:
1
g
,
Polyunsaturated Fat:
1
g
,
Monounsaturated Fat:
1
g
,
Trans Fat:
0.01
g
,
Cholesterol:
73
mg
,
Sodium:
497
mg
,
Potassium:
426
mg
,
Fiber:
2
g
,
Sugar:
18
g
,
Vitamin A:
213
IU
,
Vitamin C:
2
mg
,
Calcium:
92
mg
,
Iron:
1
mg
This website provides approximate nutrition information for convenience and as a courtesy only. Nutrition data is gathered primarily from the USDA Food Composition Database, whenever available, or otherwise other online calculators.