Avocado Chicken Salad – creamy and healthy!
Healthy avocado chicken salad makes a great lunch or light dinner entrée. The creamy dressing is made with Greek yogurt, avocado, and lemon juice.
Recipe Overview
Why you'll love it: There's no mayonnaise in this healthy chicken salad but it's super creamy.
How long it takes: 20 minutes
Equipment you'll need: small food processor or immersion blender, mixing bowl
Servings: 4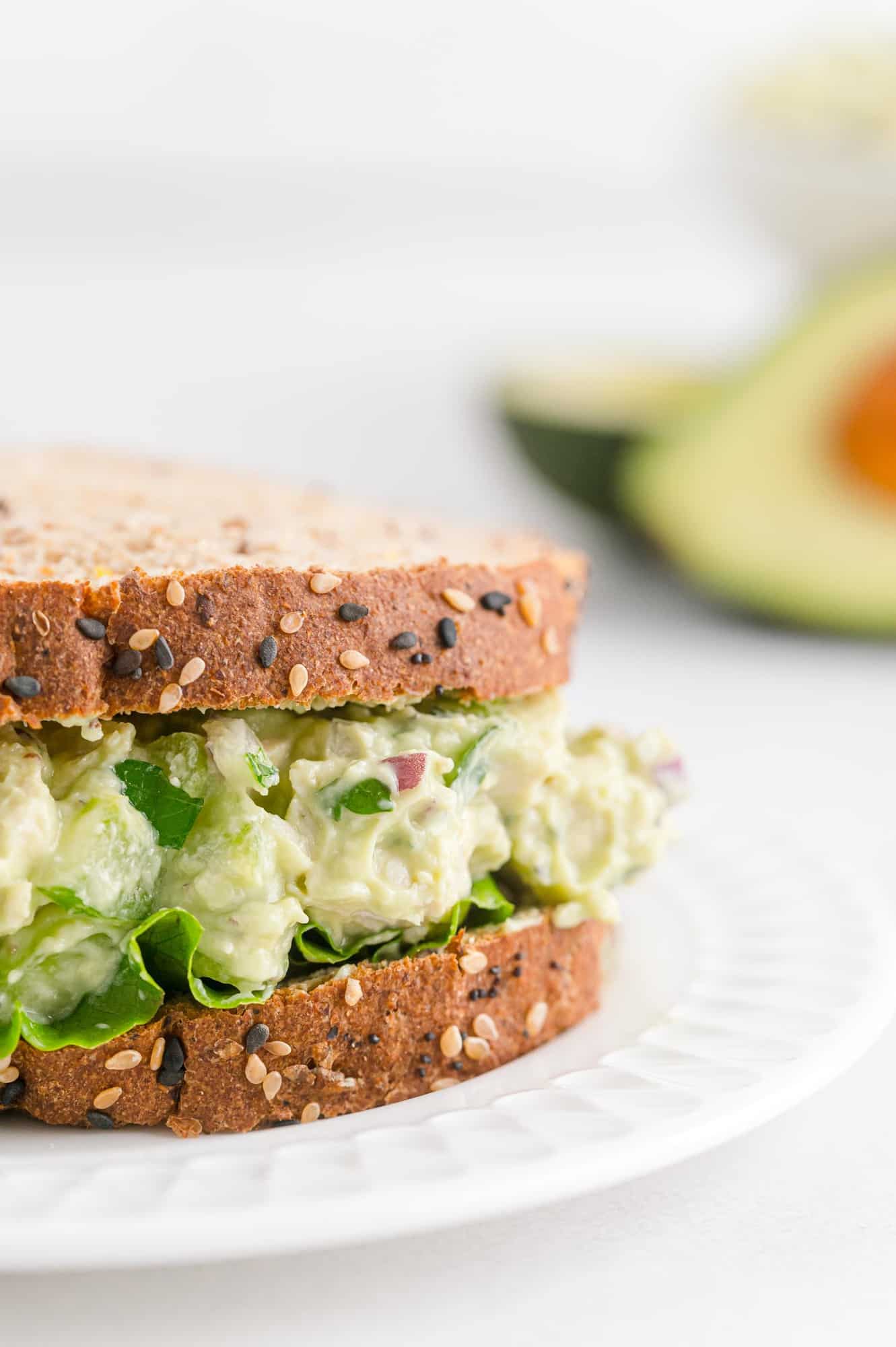 This avocado chicken salad is healthy, easy to make, and most importantly, delicious. The easy dressing is made from a heart-healthy avocado, Greek yogurt, and lemon juice. Don't you just love the color of that dressing?
There's no mayo in this dressing and yet it's amazingly creamy. You'll be blown away by it! And you can feel good eating it, too. One generous serving of this salad (about one cup) provides 27 grams of protein but only has 304 calories. A typical chicken salad made with mayonnaise has about twice the calories!
Serve it on hearty whole grain bread or in a wrap, with leaf lettuce and pickled red onions. A bowl of creamy tomato soup or a side of crispy air fryer French fries goes great with a chicken salad sandwich. We like it on a bed of crisp salad greens, or just on its own, too, with a side of crisp crackers and fresh fruit.
For some reason, I keep thinking of the familiar Dr. Seuss story, What Was I Scared Of? about the pale green pants (with no one inside them!). This salad is the exact same color. My grandpa used to love reading that story to us – it totally cracked him up every time. Check it out sometime!
About This Chicken Salad
Avocado chicken salad isn't more difficult to make than a salad made with a mayonnaise-based dressing but it does require a small food processor or immersion blender to get the avocado dressing really smooth and creamy.
I'll run through the recipe here and give you lots of extra tips. As always, look for the printable recipe card near the end of the post with full instructions and nutrition information.
Ingredients You'll Need
Boneless Skinless Chicken Breasts, Cooked: Looking for an easy way to cook chicken? Try Instant Pot chicken breasts, poached chicken, or roasted bone-in chicken breasts. Rotisserie chicken is good, too. Make sure the chicken is cold before adding it to the salad.
Avocados: Check out the FAQ section for how to determine if an avocado is ripe.
Plain Greek Yogurt: I like to use full-fat Greek yogurt which, by the way, makes this recipe keto-friendly. Full-fat yogurt has a creamier mouth-feel and tastes better. However, if you prefer, 2% or nonfat Greek yogurt works well too.
Freshly Squeezed Lemon Juice: Lemon juice adds a bright note to the dressing and also helps keep the avocado from browning. Freshly squeezed is a must! If you don't have a lemon, no worries! A splash of vinegar does a great job adding the same brightness that lemon brings.
Celery: Finely diced celery is crunchy and flavorful.
Red Onion: If you want to tone down the strong flavor of onion, soak the diced onion in ice water while you prep the rest of the salad. Drain it really well and pat dry before adding it.
Fresh Parsley: Chopped parsley is colorful and adds a nice herby flavor.
Kosher Salt and Coarsely Ground Black Pepper: Season your salad to taste. Don't skimp on the salt or your salad will taste bland.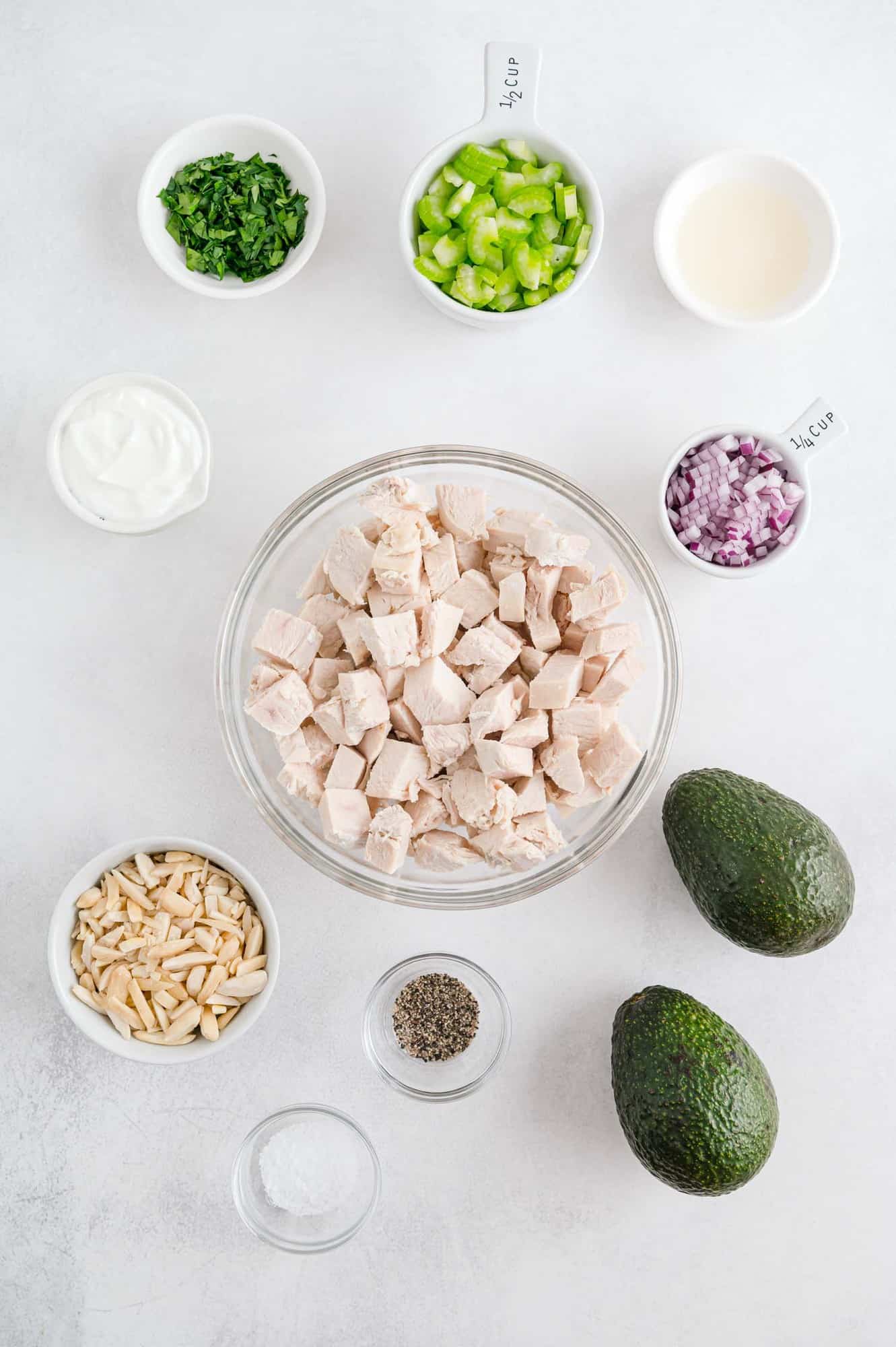 How To Make This Recipe
It's really very easy. Begin by dicing the avocados right into the bowl of the food processor or a small bowl if you're using an immersion blender.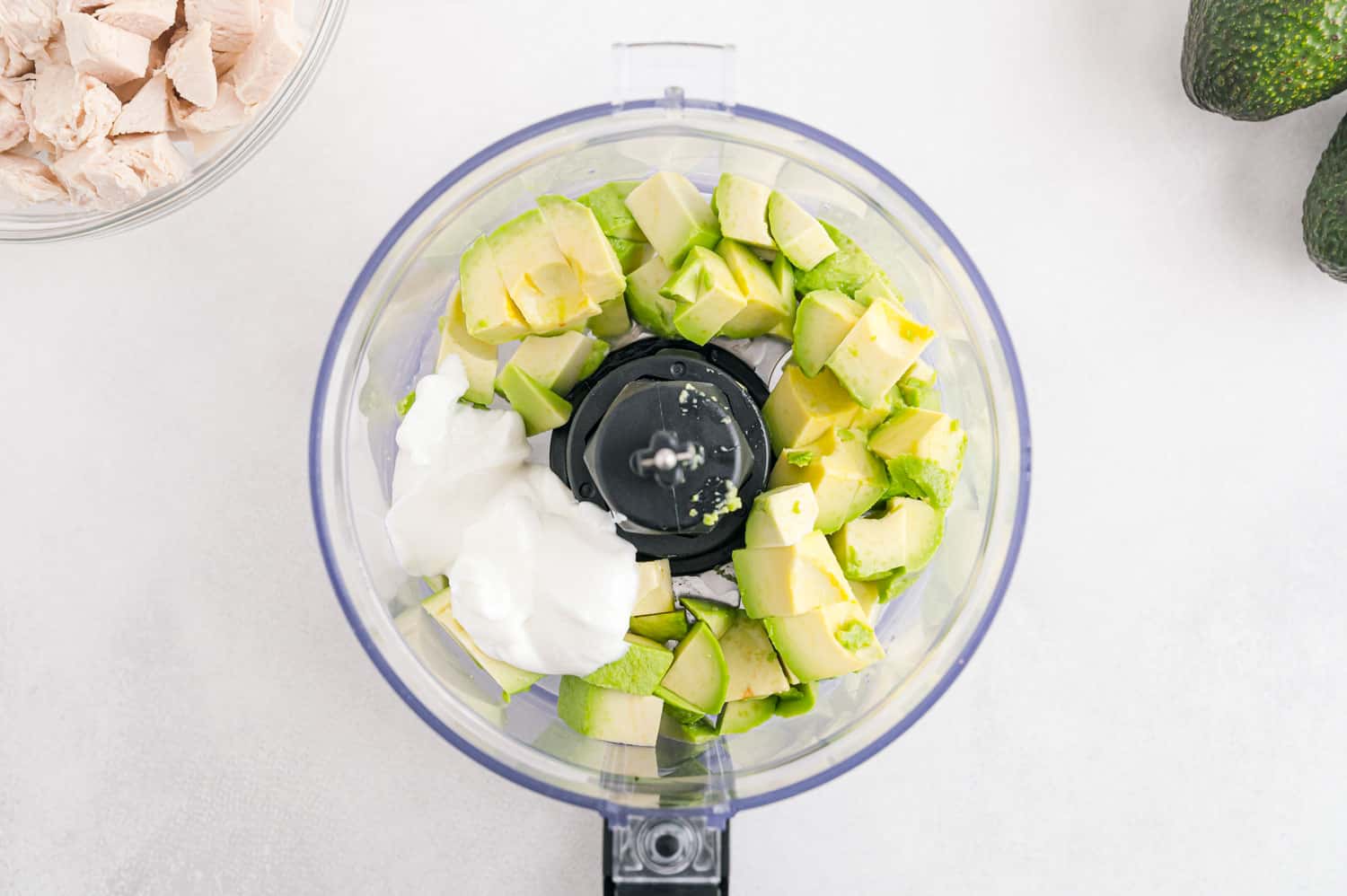 Add the Greek yogurt and lemon juice and process until the mixture is smooth and creamy.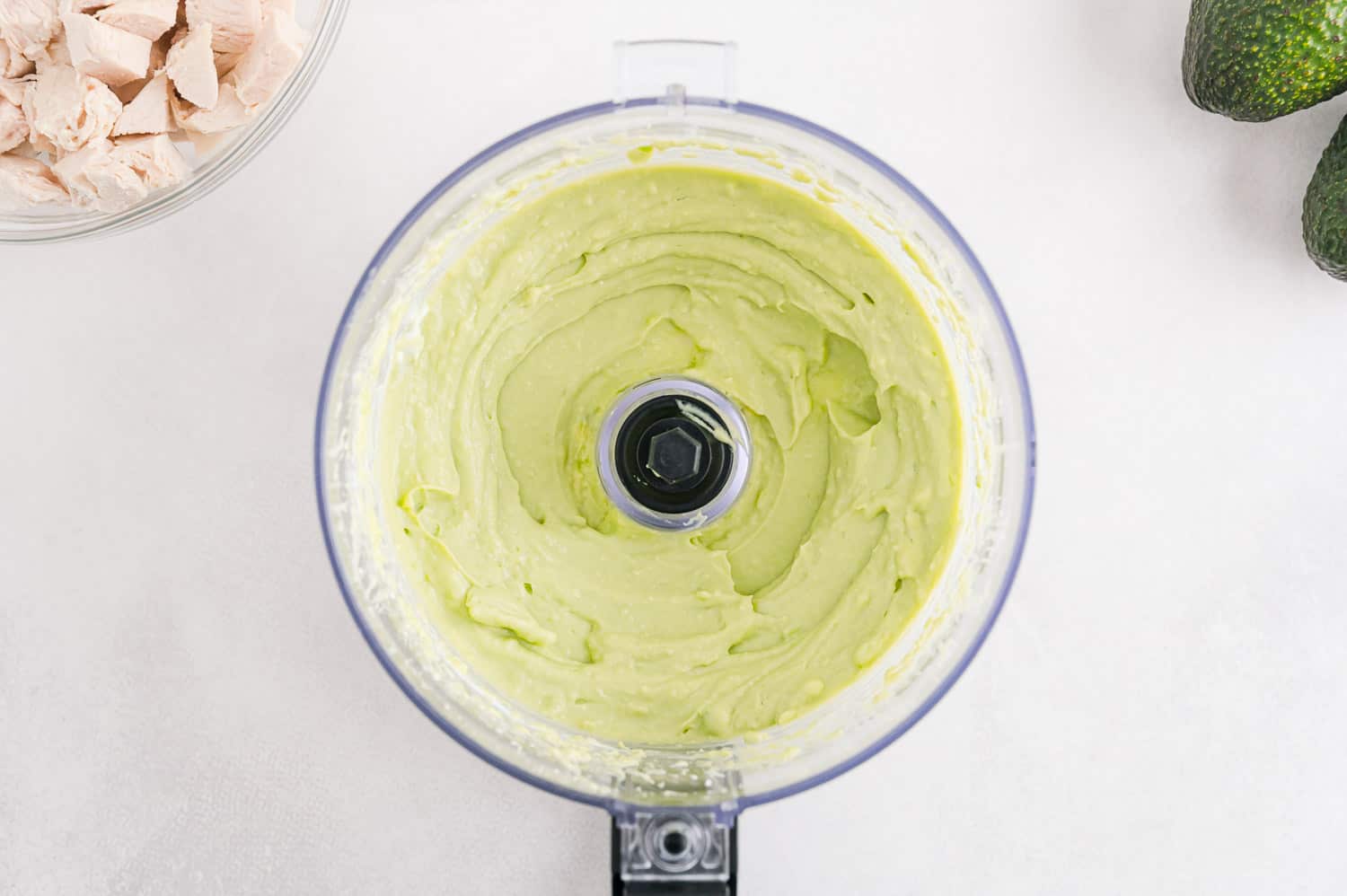 Decide whether you prefer the chicken diced or shredded. Either way is just fine.
In a medium sized bowl, combine the chilled chicken, celery, onions, parsley, salt, pepper, and the dressing.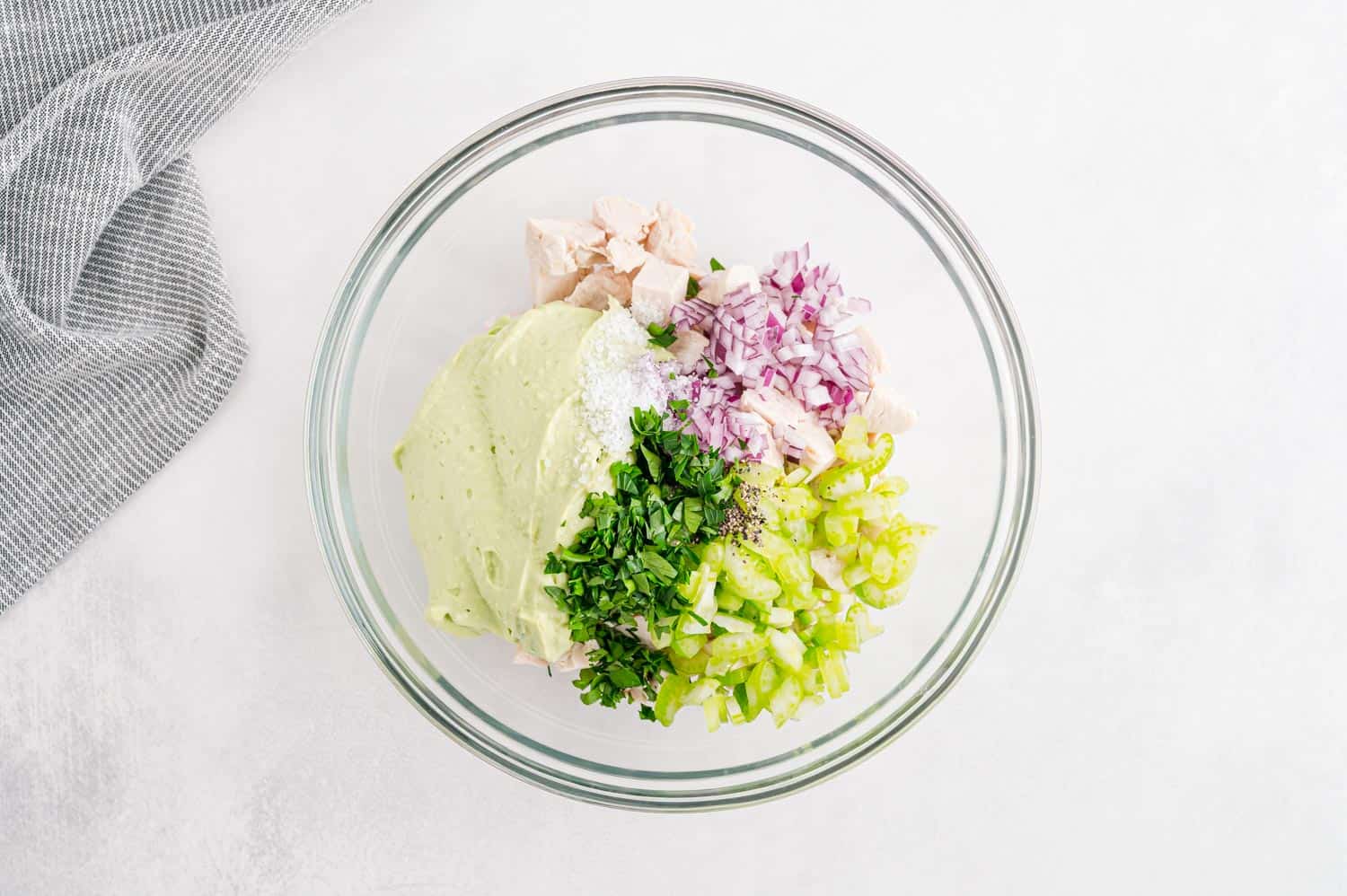 Mix until all the ingredients are covered with the lovely green dressing. Check the seasoning and add more salt and pepper if needed.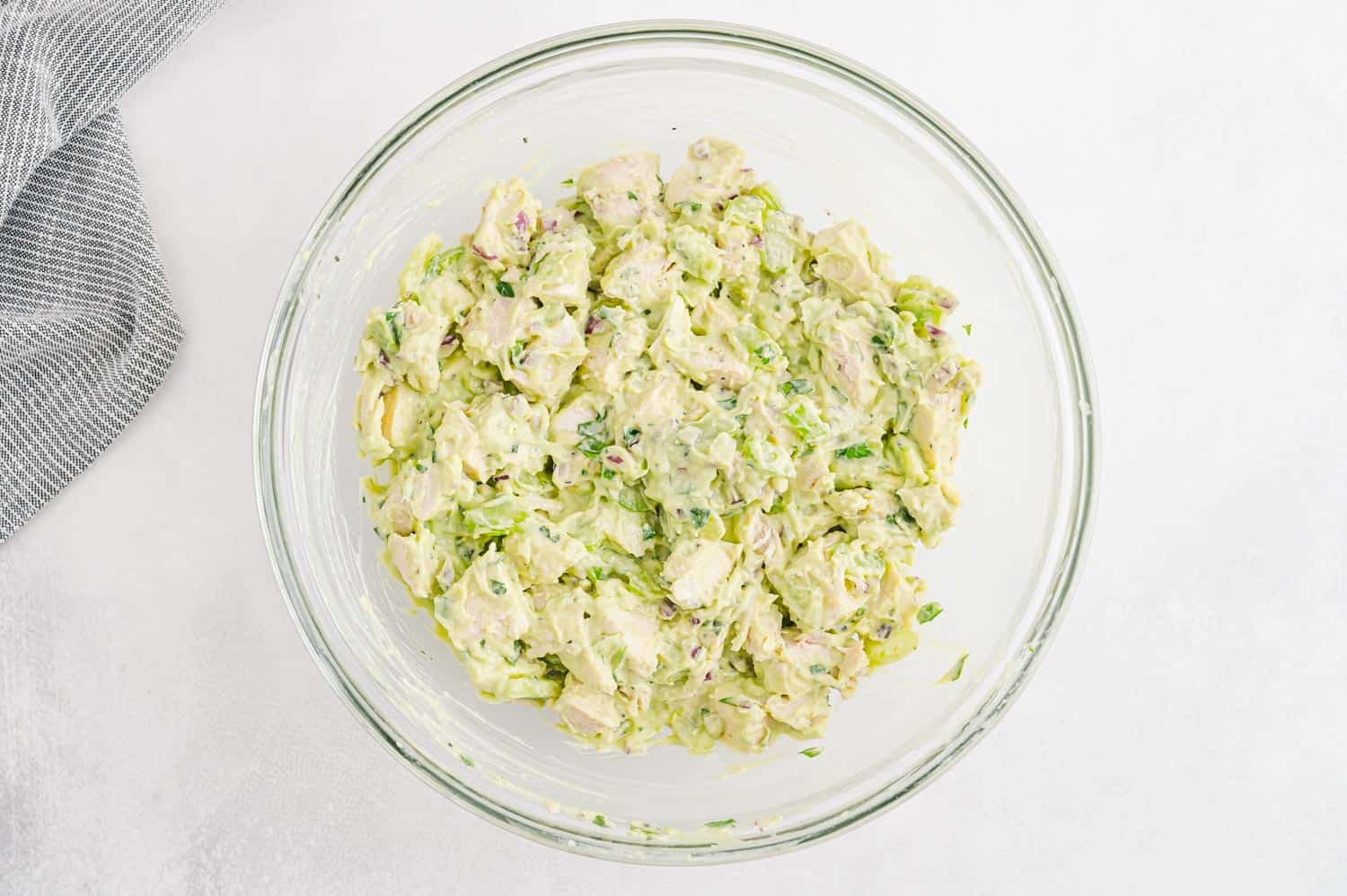 At this point, you may either cover the salad and put it in the refrigerator or eat it right away.
How To Cut An Avocado
If you're a little uncertain about how to cut these green gems, check out this short video. It's only 46 seconds long and will show you how to remove the pit, peel, and slice an avocado.
Did you know an avocado is actually a fruit and is sometimes called an "alligator pear"?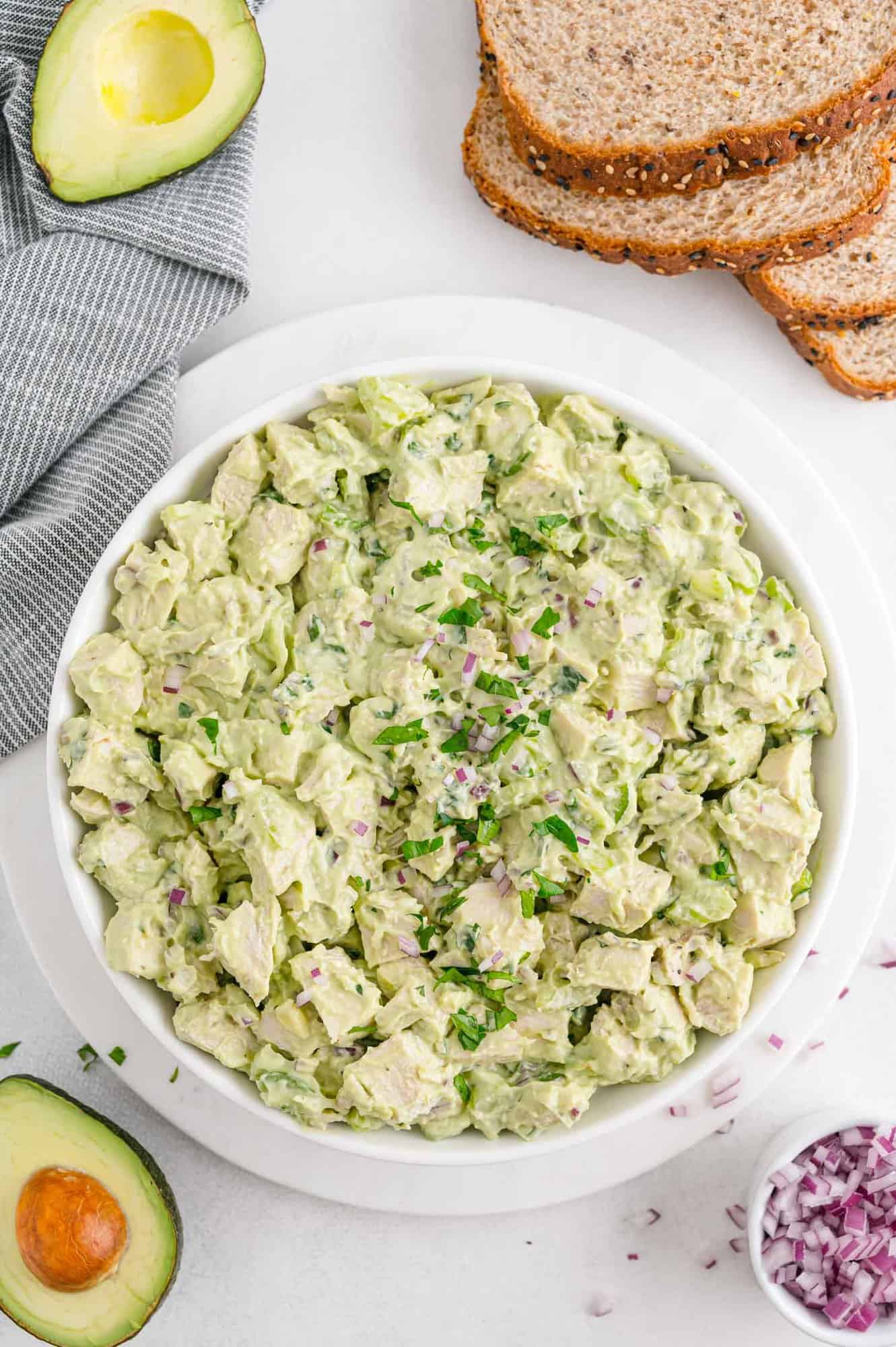 FAQs
How do you know when an avocado is ripe?
Check the color: A ripe avocado is dark green or nearly black. The outer skin should feel bumpy.
Press it lightly with your fingertip. The avocado should be slightly softened but not mushy feeling.
Look at the stem end. There's usually a nub that can easily be removed with your fingernail. If the flesh underneath it appears bright green, the avocado is perfectly ripened. If it appears brown, the avocado is probably overripe.
Is avocado healthy?
According to Healthline, an avocado has several health benefits. It has 20 different vitamins and minerals, healthy fats, and lots of fiber. They are heart-healthy and weight-loss friendly.
Change It Up
You'll love this recipe because there are so many ways to make it your own, depending on what you like and/or what you have in your fridge. Try one of these variations (see recipe card for suggested measurements!) or create a brand new one.
Guacamole chicken salad with lime juice, cumin, chopped cilantro and jalapeño pepper.
Chicken salad with fruit with fresh tarragon, apple, sliced grapes, and golden raisins or dried cranberries.
Garden chicken salad with dill, cucumbers, green peppers, and cherry tomatoes.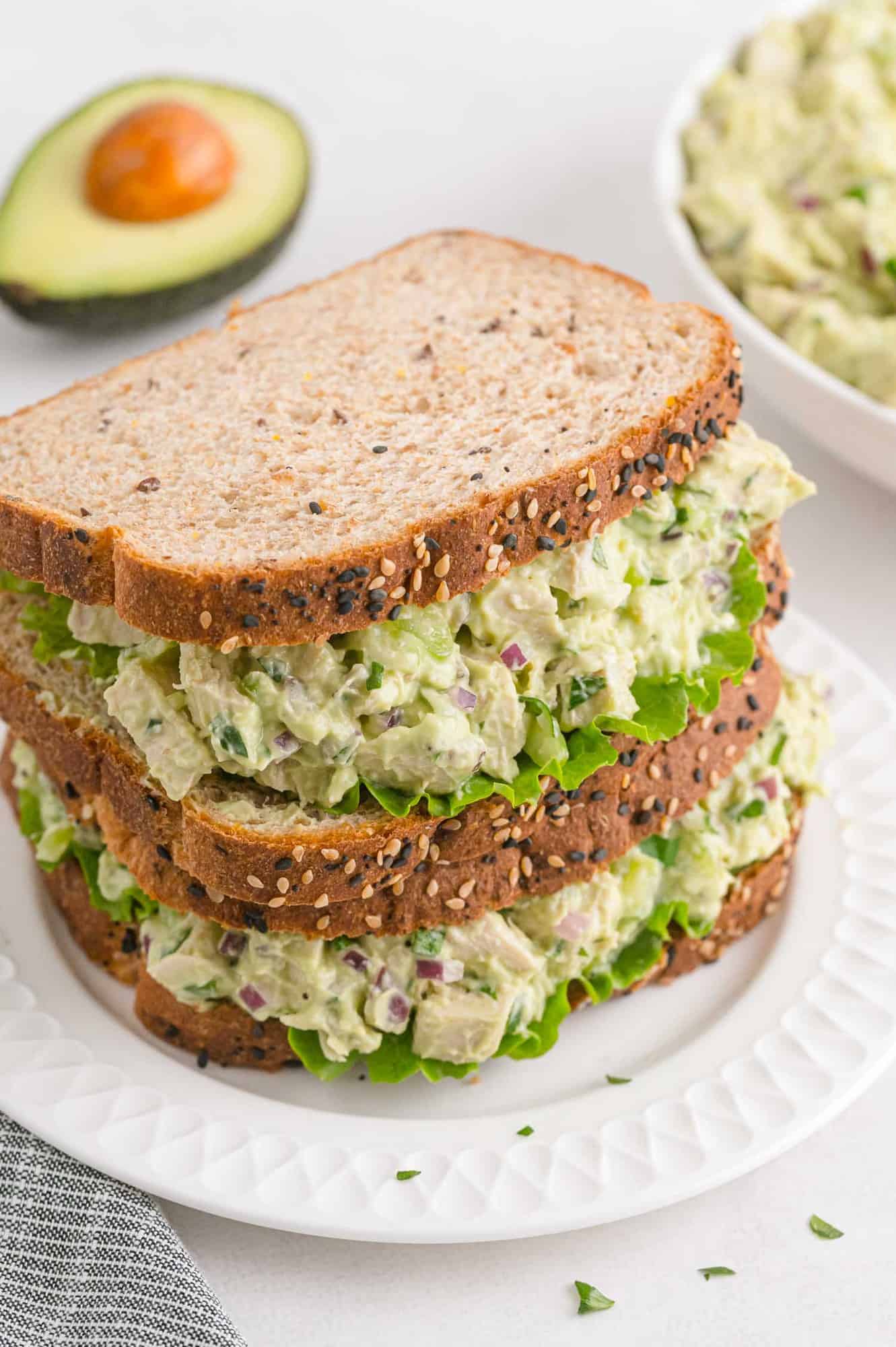 Make-Ahead Ideas
It's a really good idea to cook the chicken ahead of time. It needs to be chilled before adding it to the salad. Cooked chicken will keep in the refrigerator for up to four days or in the freezer for up to a month. Thaw it overnight in the fridge before using.
Storage Tips
Refrigerate: This chicken salad keeps well for at least two days in the refrigerator. Cover it with plastic wrap or put it in an airtight container. Stir well before serving.
Pack and Go Lunch: Chicken salad makes a great lunch! Store it in serving sized containers in the refrigerator. Grab one on your way out the door.
Does the avocado dressing turn brown? You may wonder if the dressing will discolor since avocados tend to brown once they are cut. We found that the salad retained its lovely green color with no discoloration at all. The lemon juice and Greek yogurt are acidic which prevents the browning that usually occurs.
More chicken salad Recipes
These main dish salads all include chicken but are very different from each other. There's something for everybody here!
Interested in a weekly meal plan (it's free!) that includes this chicken salad recipe? Take a look at my Meal Plan #7 or Meal Plan #23. You'll find a wholesome recipe for each weekday plus a categorized grocery list. Let me do the planning for you this week!
We'll be adding a new meal plan weekly. If you're interested, browse all of our meal plans.
Did you make this? Be sure to leave a review below and tag me @rachelcooksblog on Facebook, Instagram, or Pinterest!
Healthy avocado chicken salad makes a great lunch or light dinner entrée. The creamy dressing is made with Greek yogurt, avocado, and lemon juice.
Ingredients
3

cups

shredded or cubed cooked boneless skinless chicken breasts, chilled

(2 medium sized breasts)

2

ripe avocados (medium sized), peeled and cubed

¼

cup

plain Greek yogurt

(use full-fat, 2% or nonfat)

1

tablespoon

freshly squeezed lemon juice

½

cup

finely diced celery

¼

cup

finely diced red onion

2

tablespoons

chopped fresh parsley

¾

teaspoon

kosher salt, more to taste

¼

teaspoon

coarsely ground black pepper

(more to taste)

½

cup

slivered almonds, toasted

(optional)
Instructions
Combine avocado, Greek yogurt, and lemon juice in bowl of small food processor (or in a small bowl if you want to use a handheld/immersion blender). Blend until smooth.

In a large bowl, mix dressing with chicken, onions, celery, parsley, salt and pepper. Top with toasted almonds, if using.

Enjoy on bread, on a wrap, or on greens for a salad.
Notes
Nutrition information is for chicken salad only and does not include almonds or serving suggestions. It is calculated using full-fat Greek yogurt in the dressing.
Avocado chicken salad keeps well in the fridge for up to two days. Stir before eating.
Variations
Guacamole chicken salad: Omit lemon juice, parsley, and celery. Add 1 tablespoon lime juice, ½ teaspoon ground cumin, chopped cilantro and ¼ cup finely chopped jalapeño pepper. Omit almonds.
Chicken salad with fruit: Omit parsley; substitute chopped fresh tarragon. Add 1 chopped apple, ½ cup sliced grapes, and ¼ cup golden raisins or dried cranberries. Omit onion if desired.
Garden chicken salad: Add 1 teaspoon dried dill (or 1 tablespoon fresh dill) to recipe, along with chopped cucumbers, green peppers, and cherry tomatoes. Omit almonds.
Nutrition Information
Calories:
304
kcal
,
Carbohydrates:
11
g
,
Protein:
27
g
,
Fat:
18
g
,
Saturated Fat:
3
g
,
Polyunsaturated Fat:
2
g
,
Monounsaturated Fat:
11
g
,
Trans Fat:
1
g
,
Cholesterol:
73
mg
,
Sodium:
590
mg
,
Potassium:
985
mg
,
Fiber:
7
g
,
Sugar:
2
g
,
Vitamin A:
407
IU
,
Vitamin C:
17
mg
,
Calcium:
43
mg
,
Iron:
1
mg
This website provides approximate nutrition information for convenience and as a courtesy only. Nutrition data is gathered primarily from the USDA Food Composition Database, whenever available, or otherwise other online calculators.