Homemade Cheez-Its (Cheddar Cheese Crackers)
Try making homemade Cheez-Its, the popular cheddar cheese crackers. They're so delicious, and easier to make than you might think.
Recipe Overview
Why you'll love it: Homemade is always better: healthier, more economical, and made with wholesome ingredients.
How long it takes: about an hour (that includes chilling time)
Equipment you'll need: food processor, baking sheet, parchment paper
Servings: Makes 15 dozen small crackers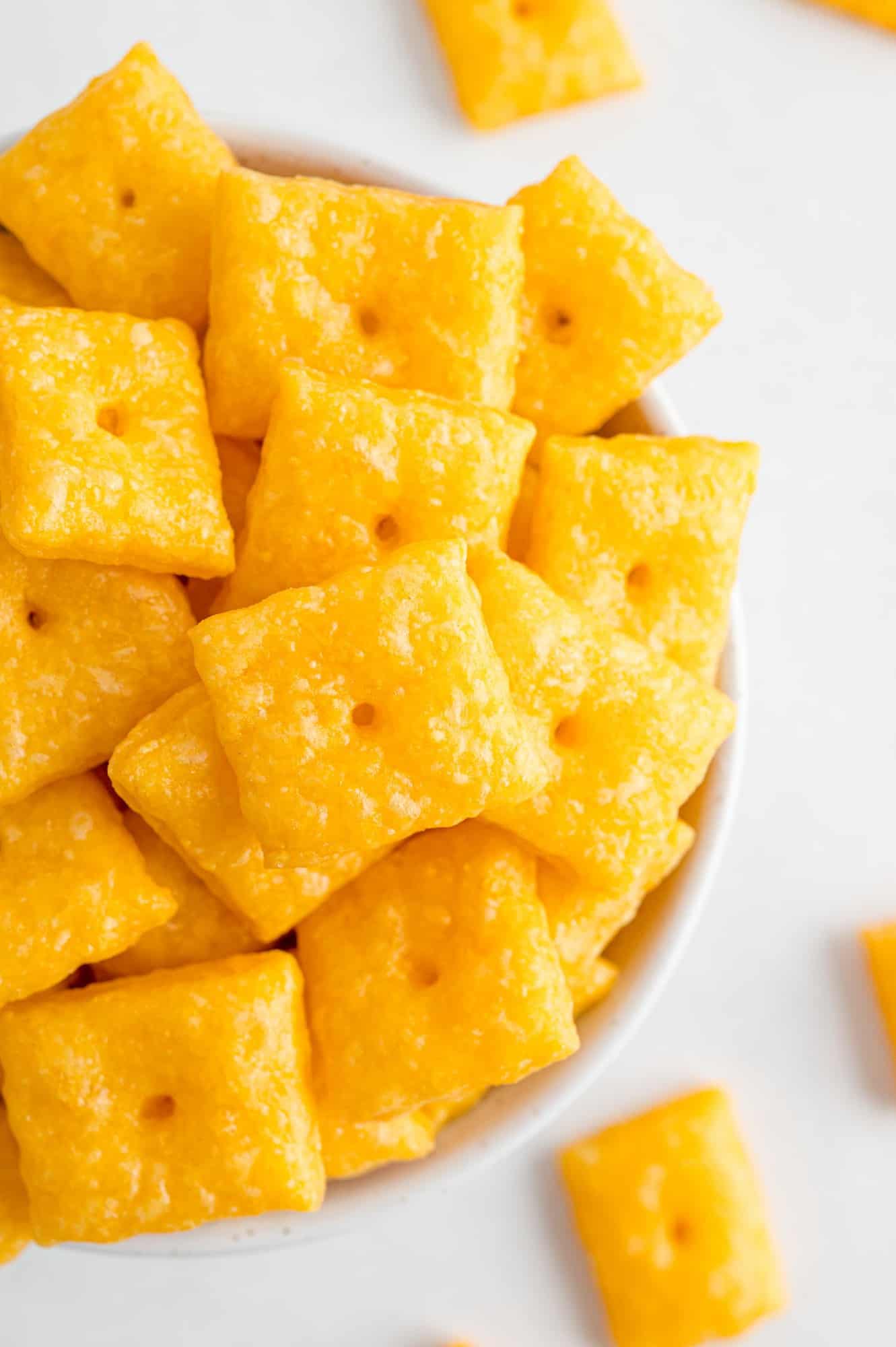 Crisp golden cheddar cheese crackers are wholesomely addictively delicious. They are surprisingly easy to make (it's actually kind of fun!). You probably have everything you need in your pantry and refrigerator: sharp Cheddar cheese, butter, flour, ground mustard, salt, and water.
Did you know that the best combination in the world (okay, maybe "the world" is a bit of an exaggeration) is Cheez-Its and Diet Coke?
The Cheez-Its are best if they are on the extra brown side, and the Diet Coke is best out of a can. Trust me on this one.
So why not make homemade Cheez-Its? Or Cheese-Its, if you will. Sorry! I can't stand it, I'm giving in to my inner editor. Does it bug anyone else that Cheez-Its is spelled with a Z?
About homemade Cheez-Its
These crackers are really easy (easier than you would guess!) and I bet you have everything you need in your pantry. Why not try them today?
If you're wondering how the homemade version compares to the store-bought crackers, be assured that homemade wins hands-down!
A food processor makes it easy to shred the cheese and to mix everything together. If you don't have one, the dough can be stirred up by hand but it will take a little arm power.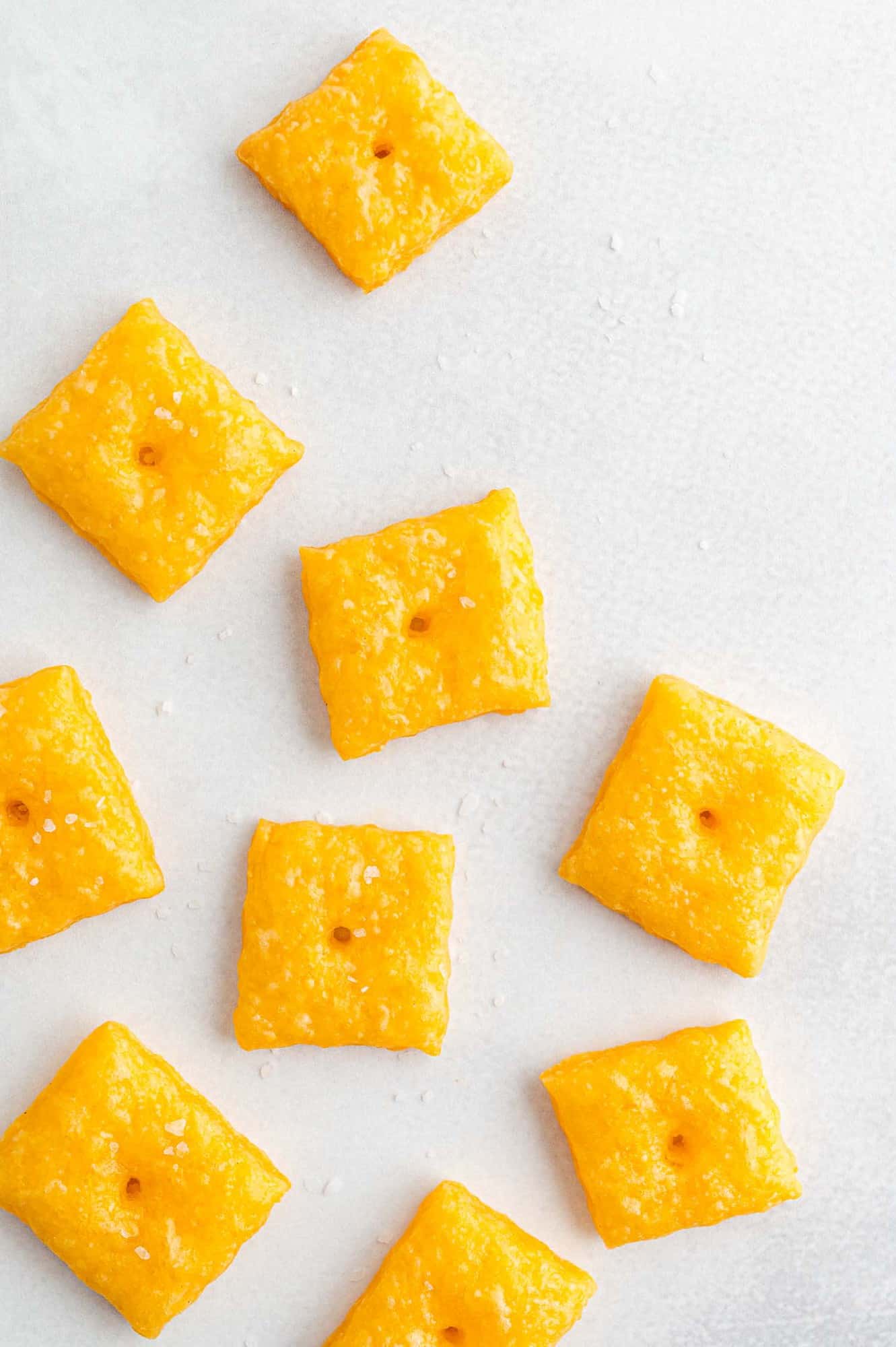 We'll run through the recipe here to get you started and give you helpful tips. You'll find the printable recipe card near the bottom of the post with complete instructions and nutrition information.
What You'll Need
Sharp Cheddar Cheese: You'll need 8 ounces of sharp cheese. Avoid using pre-shredded cheese. It just doesn't work as well in this recipe. The sharper the cheese, the tastier your crackers will be. Look for extra sharp cheddar cheese.
Butter: Use cold unsalted butter, no substitutes. This is not the place for butter spreads. If you need to use salted butter, that will work. Decrease the amount of salt you add slightly to balance it.
Flour: Plain all-purpose flour is all you need.
Ground Mustard: Dry ground mustard is found in the spice aisle of the grocery store. It looks like a pale yellow powder. The crackers don't taste like mustard, I promise you, but the spice adds depth to the flavor of the crackers. If you don't have it, don't worry, they can be made without it.
Salt: Crackers just need a bit of salt or they won't taste like crackers. If you're really concerned about sodium, cut back on it a bit but not too much.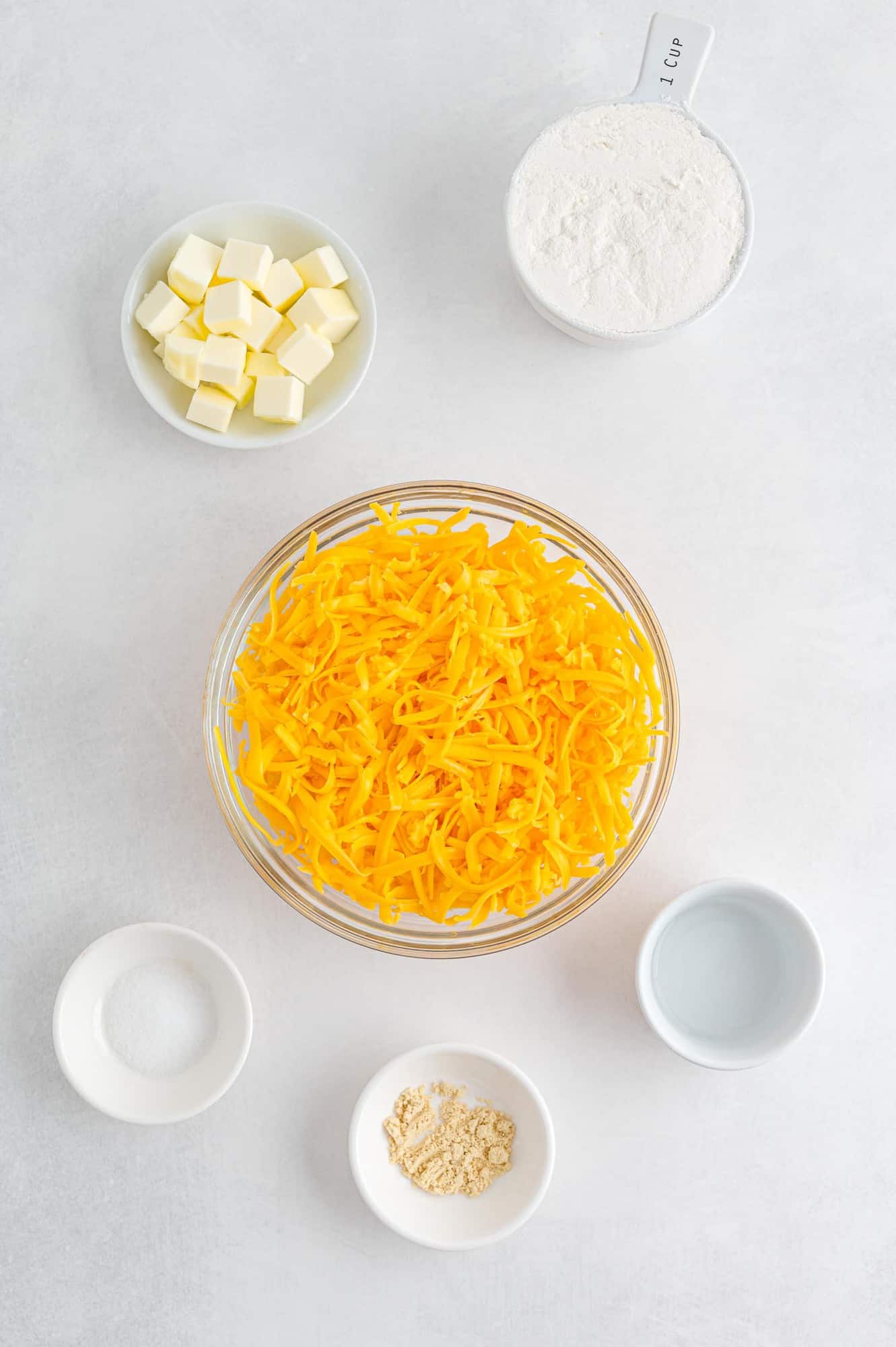 How To Make Homemade Crackers
Begin by shredding the cheese in your food processor. Use the shredding disk. Did you know that well-chilled cheese shreds more easily than warm cheese?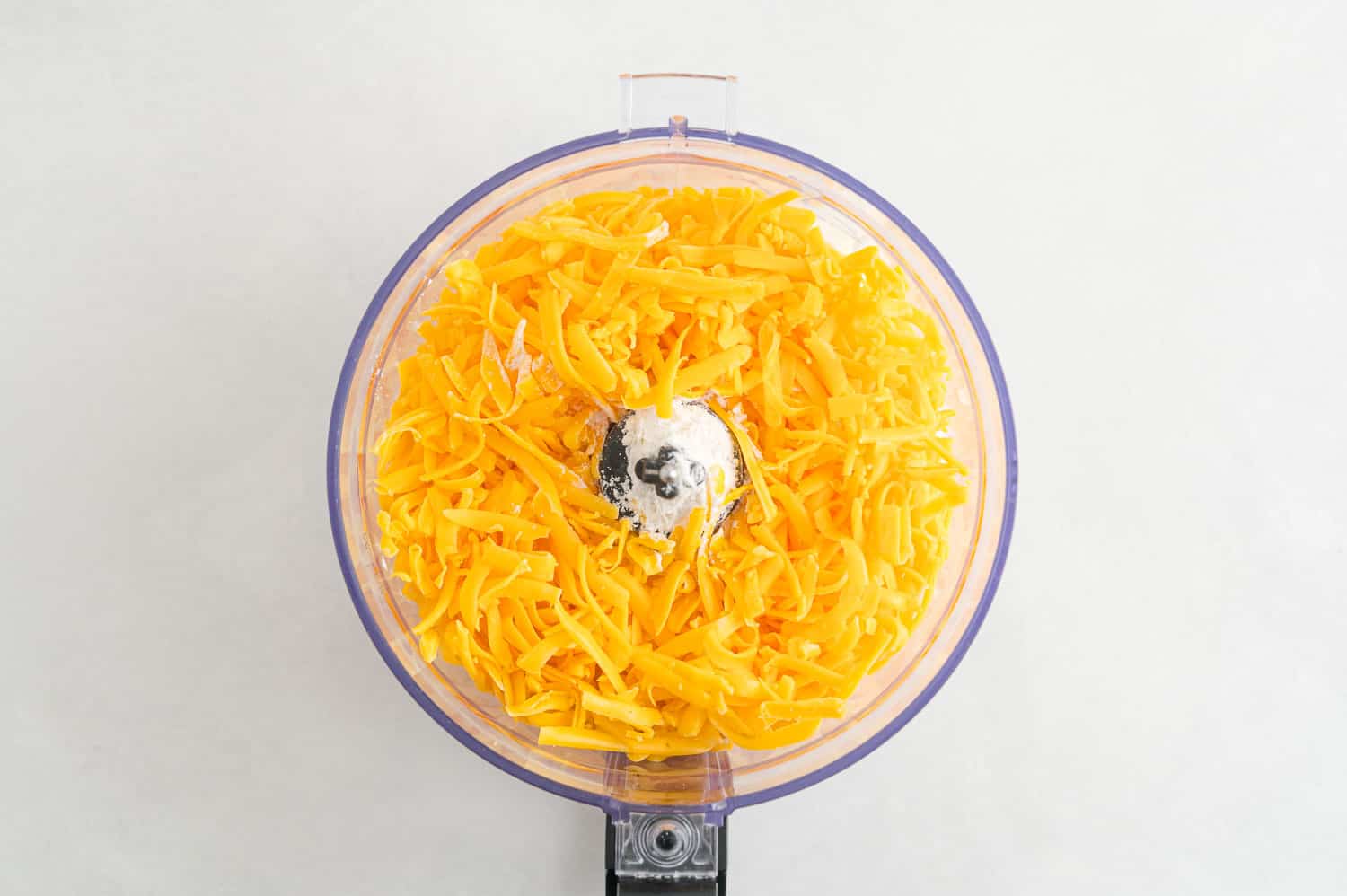 Remove the shredding disk and the shredded cheese. Insert the normal, S-shaped blade. Add the flour, butter (cut into little pieces), dry mustard, salt, and cheese.
Pulse the mixture several times. Stop when it looks like coarse crumbs.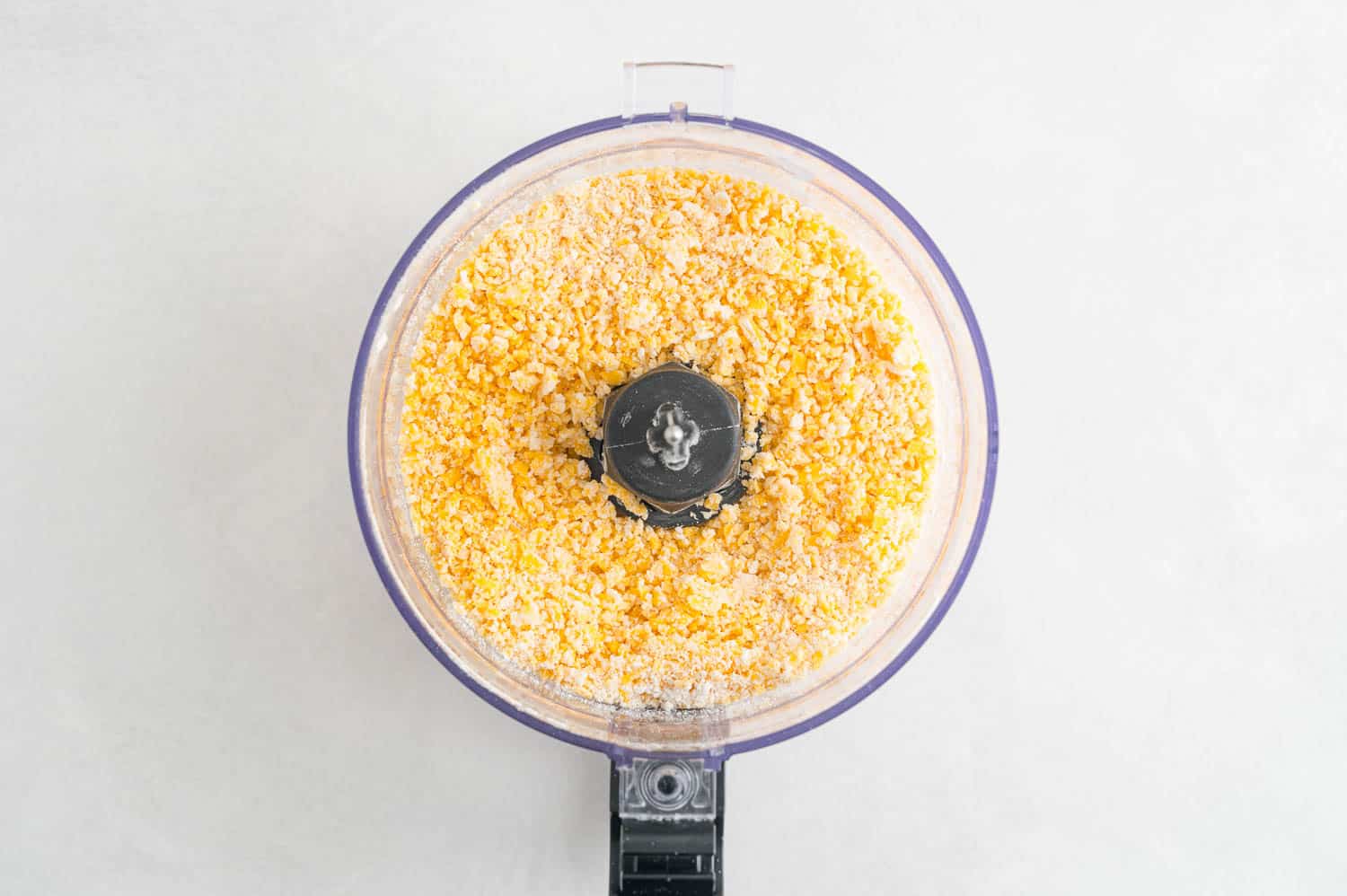 Add the water, a tablespoon at a time, and pulse briefly each time. The dough should come together. Don't overprocess it.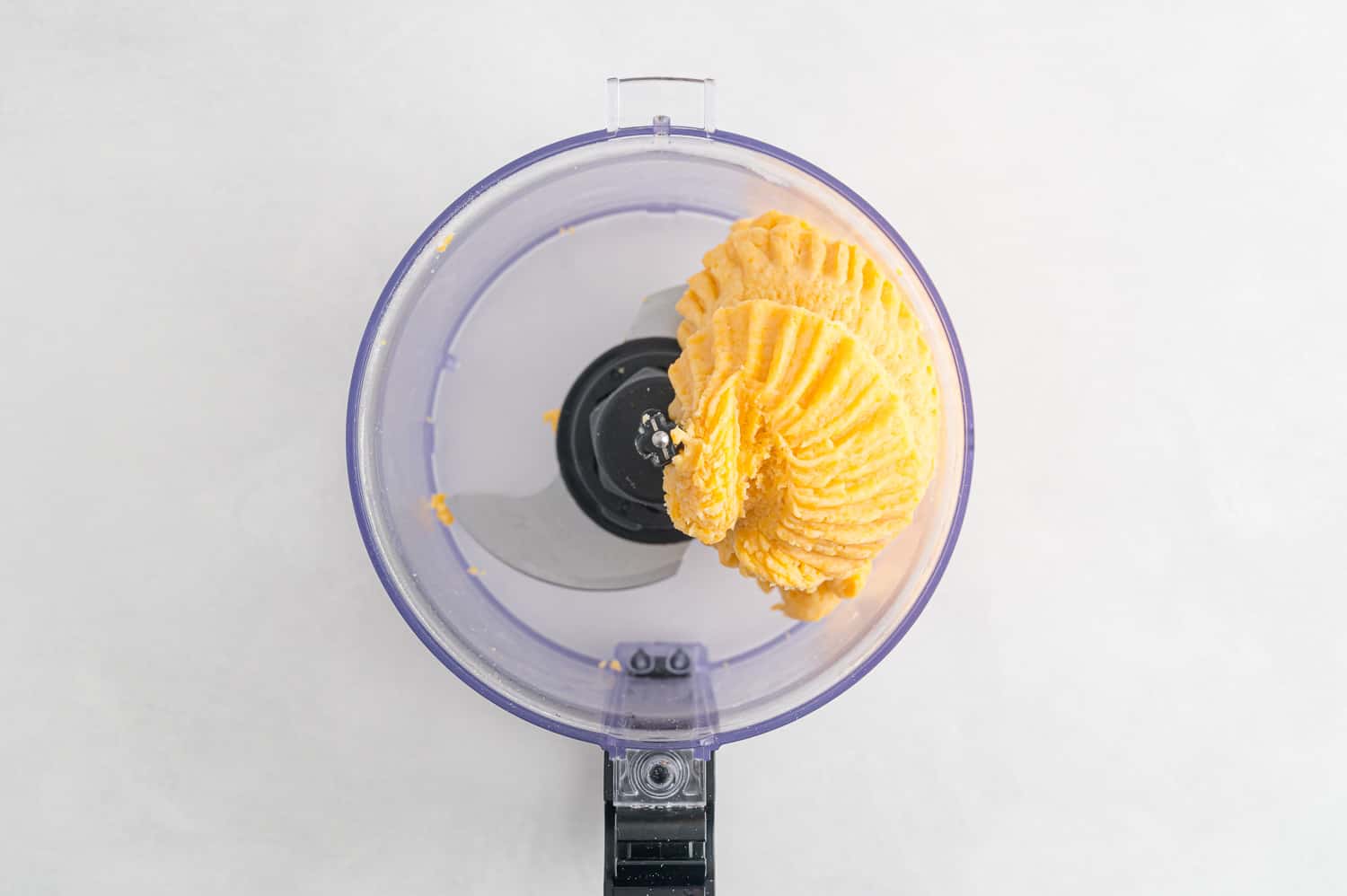 Remove the dough from the food processor, wrap it in plastic wrap, and chill it in the refrigerator for at least 20 minutes so it will roll out easily.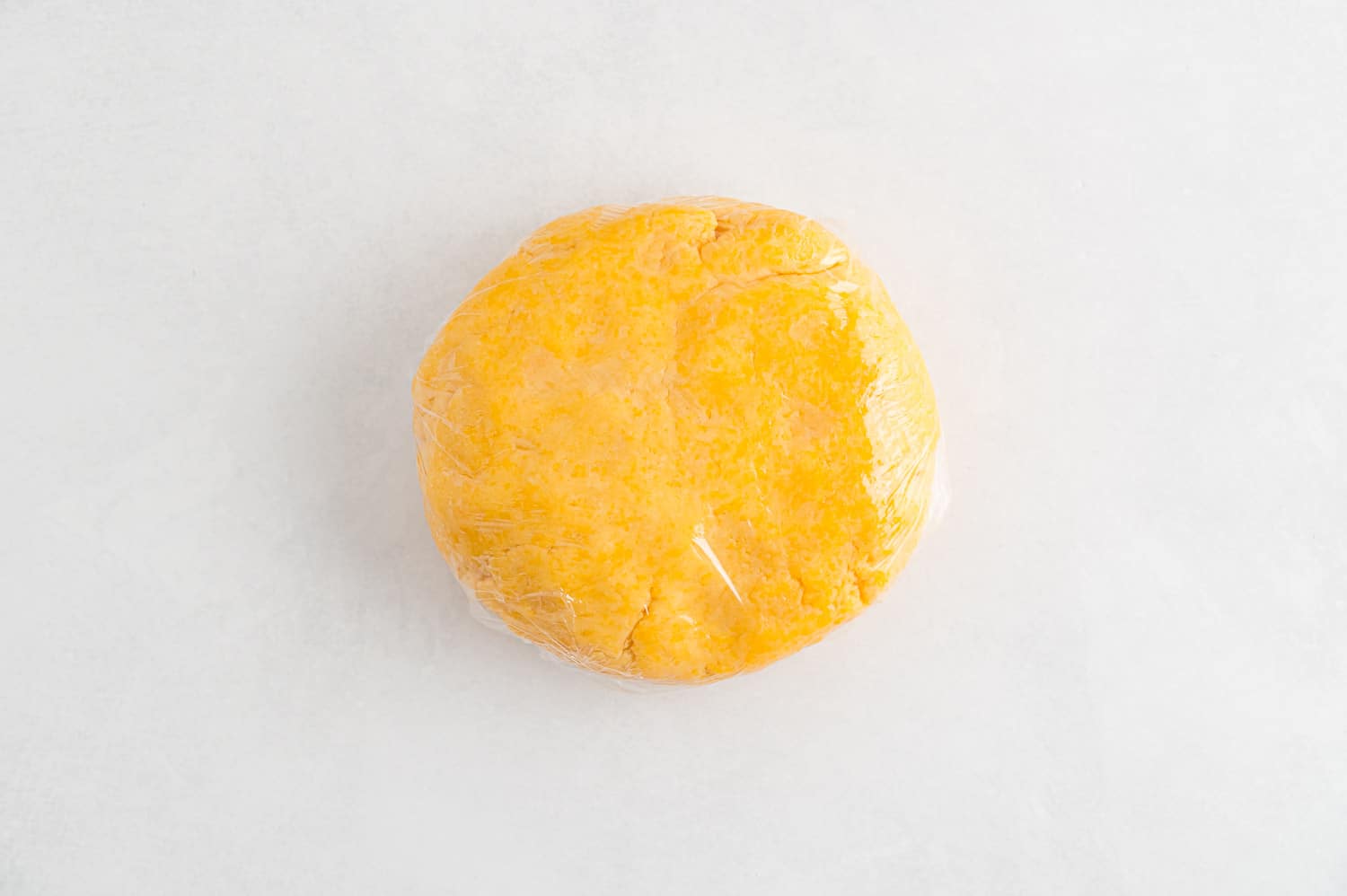 On a floured surface, roll the dough out nice and thin. If you want to divide the dough into two portions first to make it easier to roll it, that's up to you. The thinner it is, the crispier your crackers will turn out. Shoot for ⅛-inch or even less.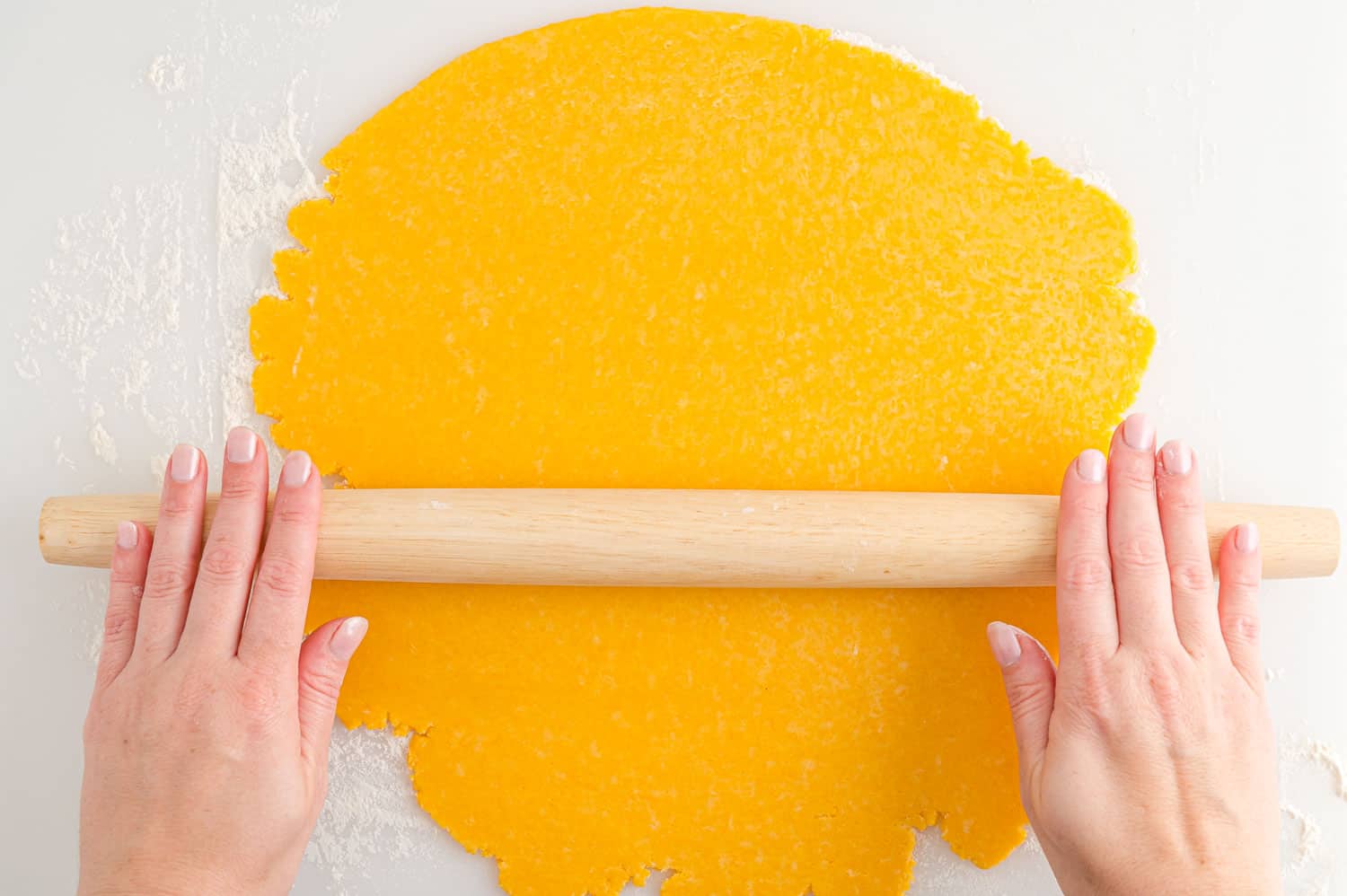 Cut the squares with a pastry cutter to give them that trademark crinkle edge. If you don't happen to have one, a pizza cutter or sharp knife works fine. Cheez-Its are about one inch square. You'll get a lot of crackers, about 15 dozen, but that depends on the size and thickness. Re-roll the scraps to use up every bit of dough.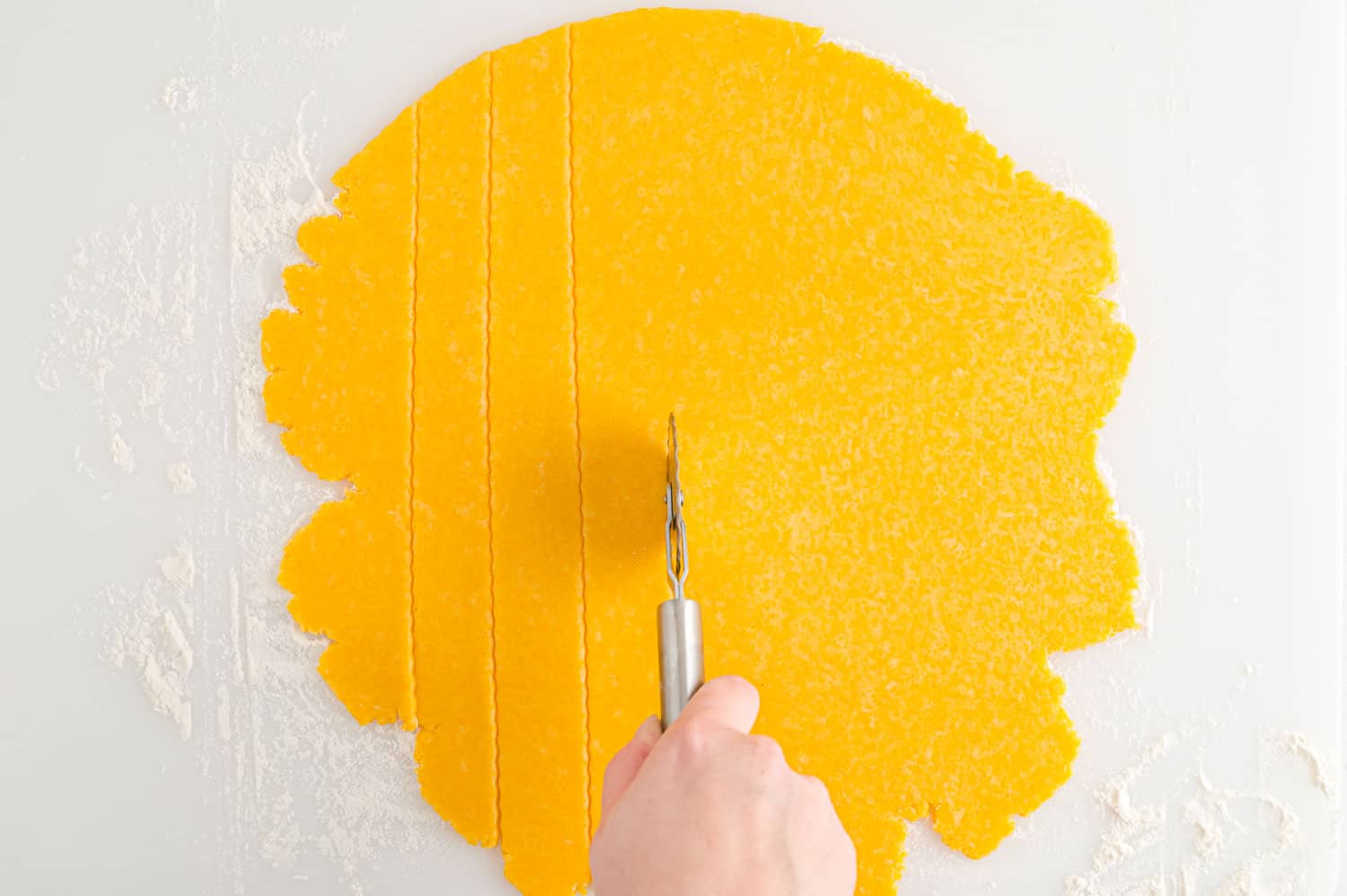 As for that little hole in the center, use a chopstick, skewer, knitting needle or whatever you can find. A toothpick is too small. If you want them to look like the store-bought crackers, go ahead and put a hole in them. If you don't care, leave it out. It does help them crisp up a bit, too.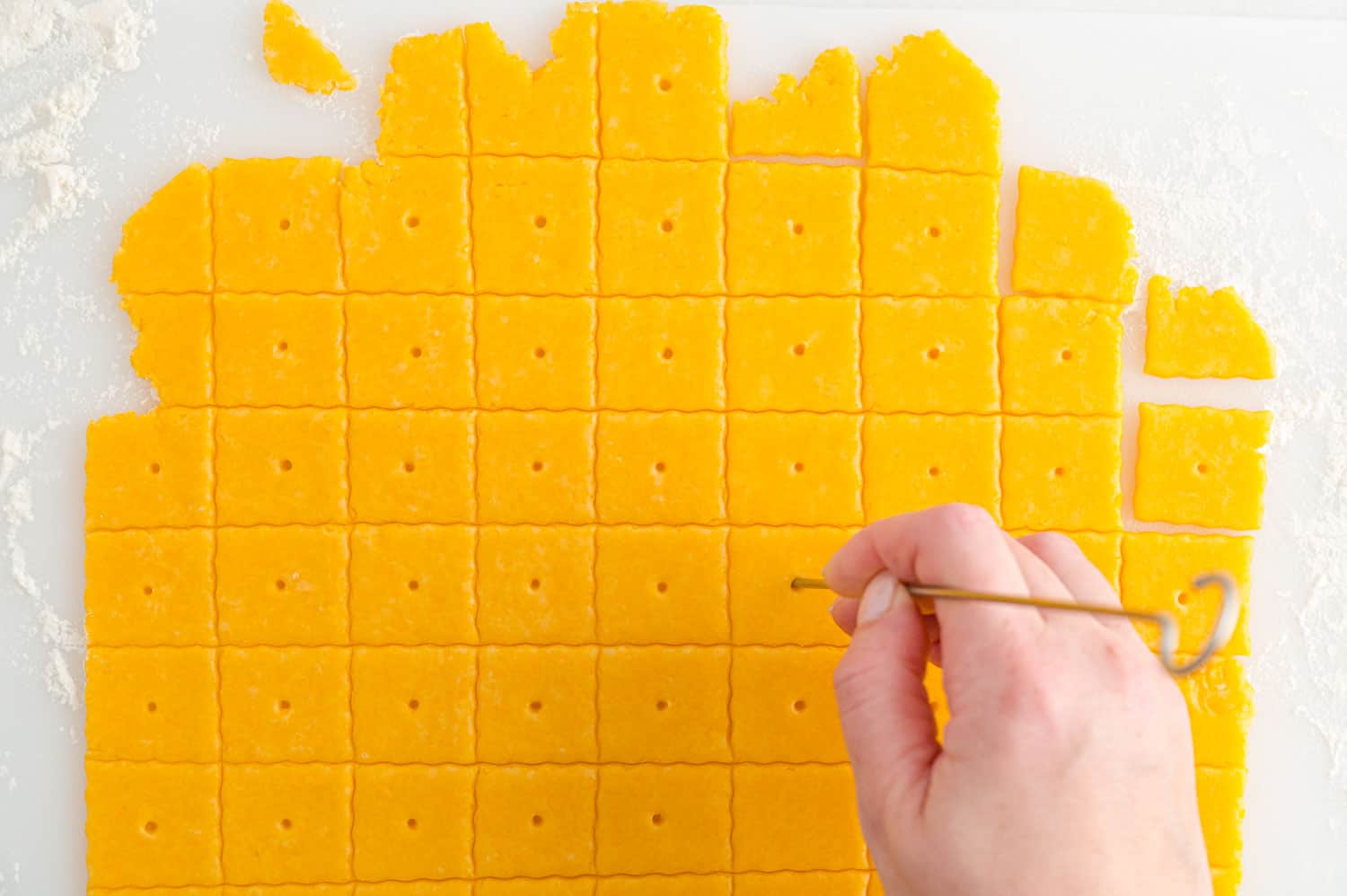 Arrange the crackers close together on a parchment-lined baking sheet. They won't spread, so put them as close as you can so you can fit a lot of them on.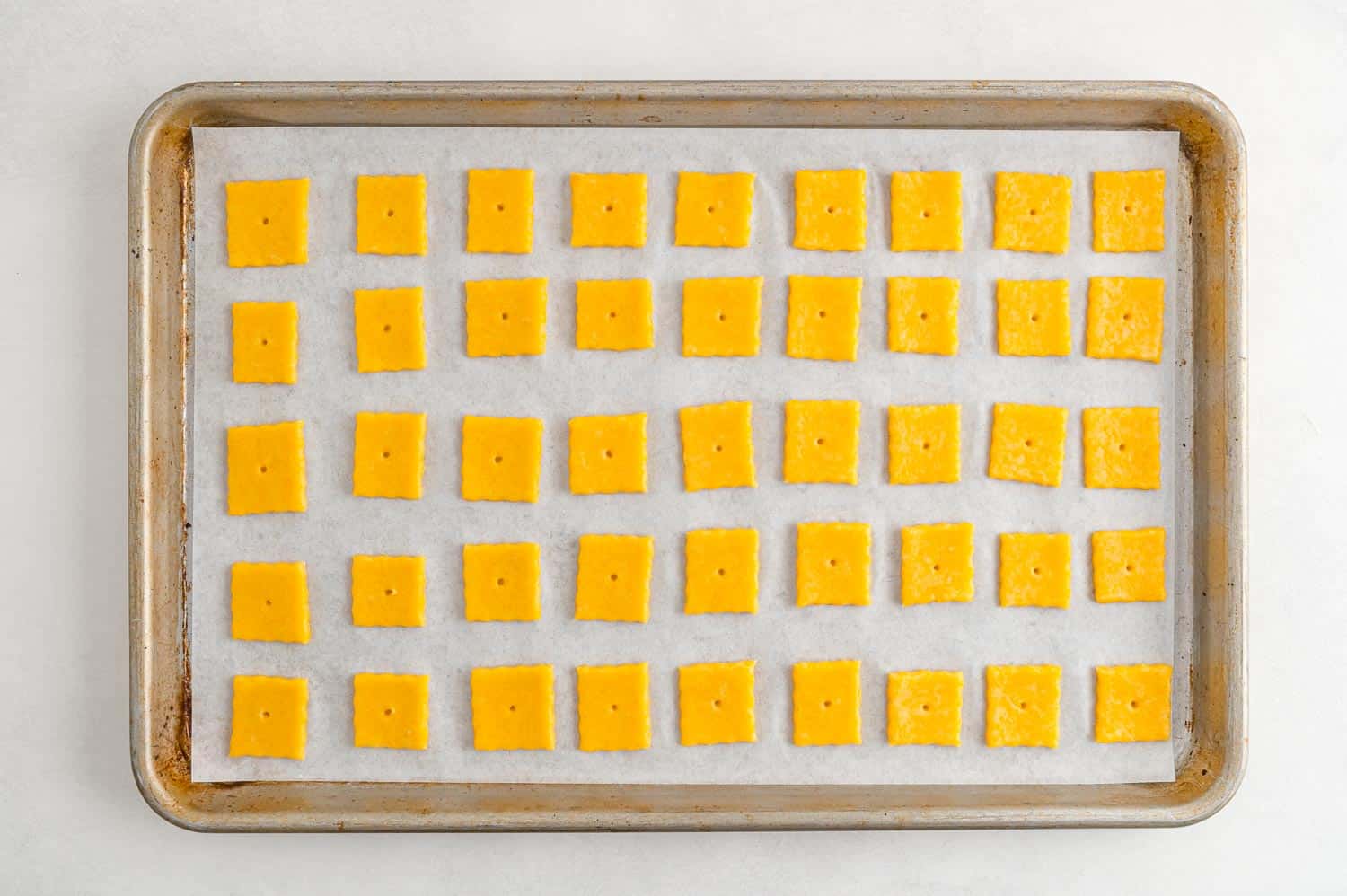 Bake for 17 to 20 minutes or until they are as crispy as you like them. The browner they are, the crisper they are. Pop the tab off a can of Diet Coke and snack away!
If you want, you can share them with the kids.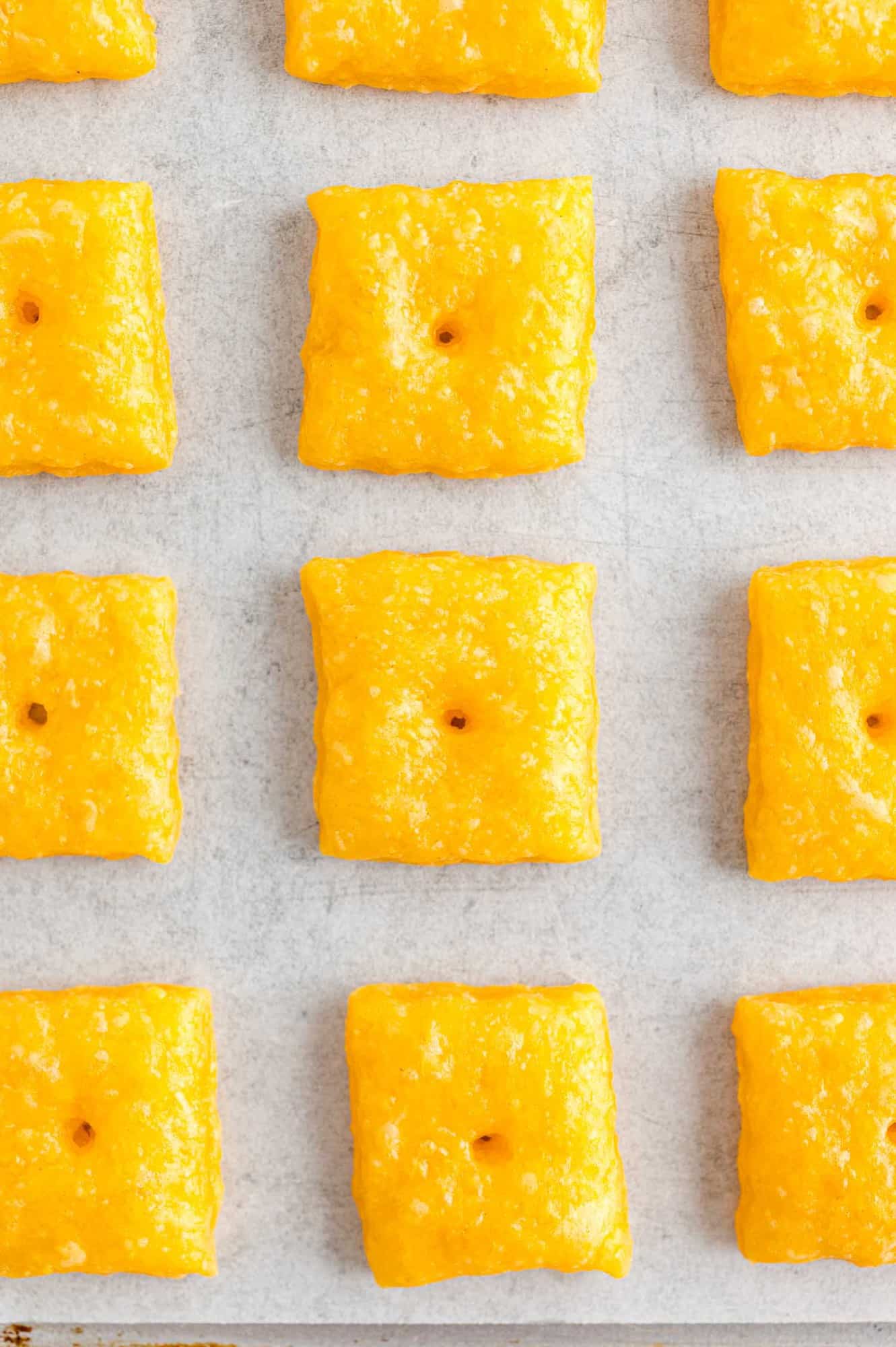 By the way, these homemade crackers are perfect for a cheese board or charcuterie board. Your friends will be really impressed when they try your homemade crackers.
FAQS
Are Cheez-Its really made with real cheese?
According to the Cheez-It website, Cheez-Its are made with real cheese. If you take a close look at the list of ingredients, cheese made with skim milk is listed.
What kind of cheese is in Cheez-Its?
They are not specific about the kind of cheese other than that it's made with skim milk. These cheez-its are made with sharp cheddar. If you prefer a more mild cracker, try mild cheddar.
Why is there a hole in Cheez-Its?
From what I can tell, the hole is there to make them crisp. It's part of a process called "docking". It allows the steam to escape while they are baking and keeps them from looking like little pillows. If you think about it, most crisp
crackers are punctured with holes.
Make It Your Own
Try different kinds of cheese. One note about the cheese: I find that pre-shredded cheese doesn't work as well as block cheese. You have your food processor out anyways, why not quickly shred the cheese with it before you make the crackers? So easy and fast!
Try different spices. You could really go crazy experimenting with spices. I'd love to hear some of your combinations. Try adding taco seasoning, all-purpose seasoning, or curry powder!
Cut the homemade cheez-it crackers in different shapes. Have fun with this! Maybe the kids would like to help. Add homemade crackers to an after school snack board.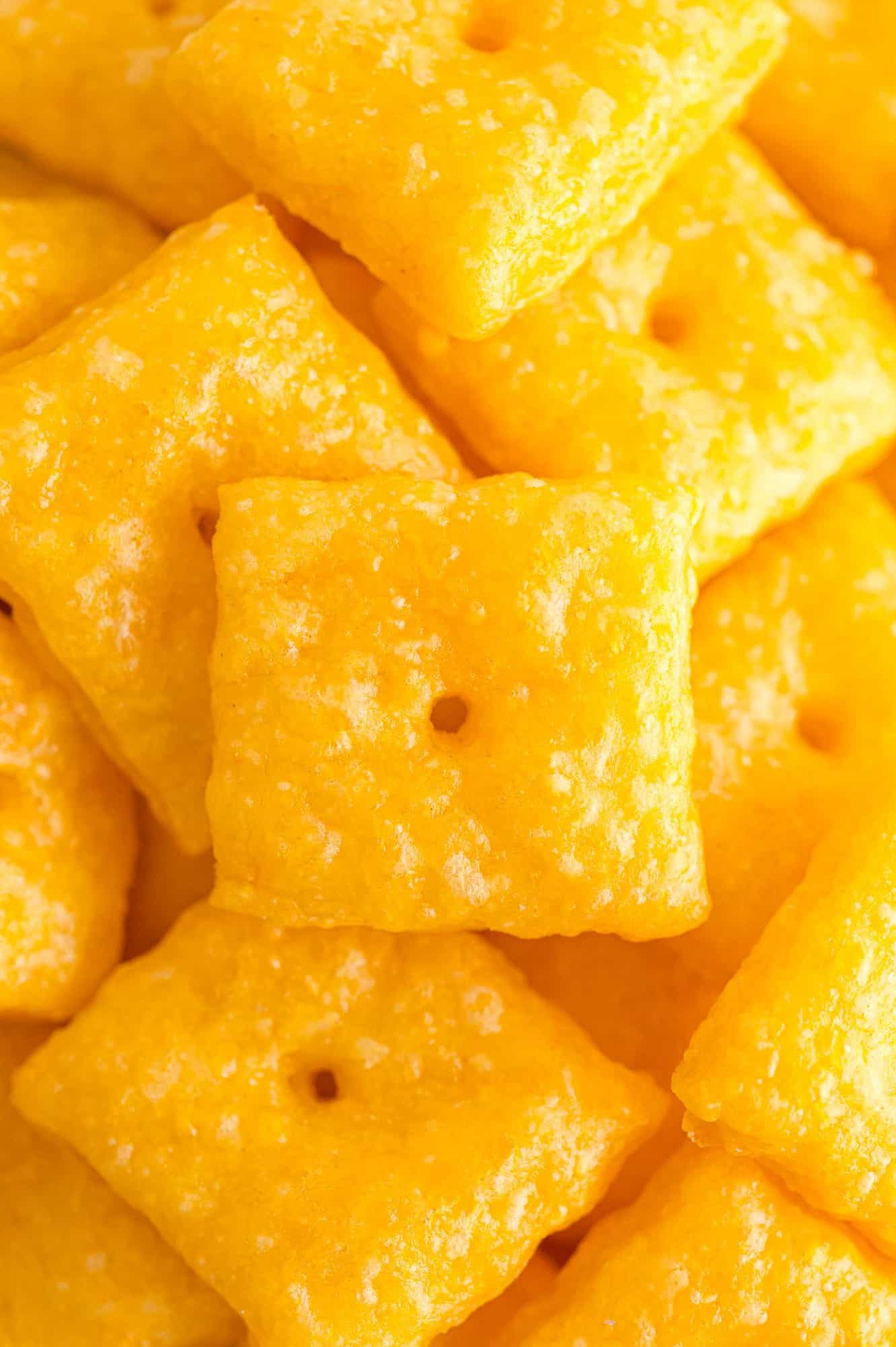 Storage Tips
Let crackers cool completely before storing in an airtight container. They'll keep for at least a week at room temperature. For longer storage, put them in a freezer-safe container and freeze for a month or even longer.
More Easy Snacks
I have a few more ideas that I'm sure you'll love! Try:
Did you make this? Be sure to leave a review below and tag me @rachelcooksblog on Facebook, Instagram, or Pinterest!
Try baking Cheez-Its, the popular cheddar cheese crackers. They're so delicious and fun to make!
Ingredients
8

ounces

sharp cheddar cheese

(see note)

1

cup

all-purpose flour

4

tablespoons

unsalted butter, cut into small pieces

¾

teaspoon

salt

½

teaspoon

dry ground mustard

(optional)

2

tablespoons

cold water
Instructions
In a food processor, shred cheese using shredding blade. Remove shredding blade and cheese from food processor and replace the blade with the normal blade (s-shaped).

Add flour, butter, salt, mustard, and shredded cheese to the food processor and pulse until mixture looks like coarse crumbs.

While pulsing, add water 1 tablespoon at a time, until dough comes together.

Remove from food processor, wrap in plastic wrap and put in refrigerator for at least 20 minutes.

Meanwhile, preheat oven to 350°F. Prepare baking sheet by lining with Silpat or parchment paper.

On lightly floured counter, roll out dough quite thin (1/8 inch or less). The thinner they are, the crisper they get. Cut into one inch squares. A pastry wheel or pizza cutter works well. Use the tip of a chopstick or skewer to poke a hole in the middle of each cracker (see note).

Place crackers on a baking sheet lined with parchment paper. You can place them close together, not touching, as they do not really expand.

Bake for 17 minutes or until crispy, up to 20 minutes. They should be lightly browned on the bottom and firm to the touch. The browner they are, the crisper the crackers will be. Cool in the pan for 5 minutes, then remove to wire rack to cool completely before storing in an airtight container.
Notes
It's important to grate your own cheese for this recipe for best texture. Don't use pre-shredded.
Yield depends on the size and thickness of crackers.
A one inch square with a hole in the middle mimics the Cheez-It crackers. Be creative and cut them into any shape you like!
Adapted from Dinners, Dishes, & Desserts.
Nutrition Information
Calories:
118
kcal
,
Carbohydrates:
7
g
,
Protein:
5
g
,
Fat:
8
g
,
Saturated Fat:
5
g
,
Polyunsaturated Fat:
1
g
,
Monounsaturated Fat:
2
g
,
Trans Fat:
1
g
,
Cholesterol:
24
mg
,
Sodium:
211
mg
,
Potassium:
25
mg
,
Fiber:
1
g
,
Sugar:
1
g
,
Vitamin A:
245
IU
,
Vitamin C:
1
mg
,
Calcium:
111
mg
,
Iron:
1
mg
This website provides approximate nutrition information for convenience and as a courtesy only. Nutrition data is gathered primarily from the USDA Food Composition Database, whenever available, or otherwise other online calculators.