Cinnamon Roasted Almonds – Sugar Free!
These sugar free cinnamon roasted almonds are a guilt-free, protein packed snack. You'll love them!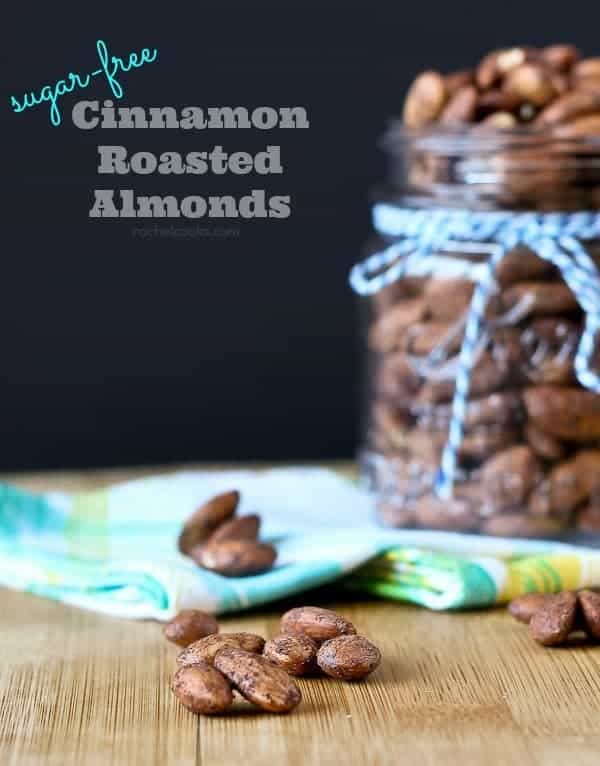 Cinnamon roasted almonds. You all know them by the intoxicating smell that completely overtakes you at fairs, craft shows, football games, malls….wherever the dang things are sold. All you need is 7 bucks for a tiny little cone. I could argue that it's worth every penny, especially when they are still hot and fresh.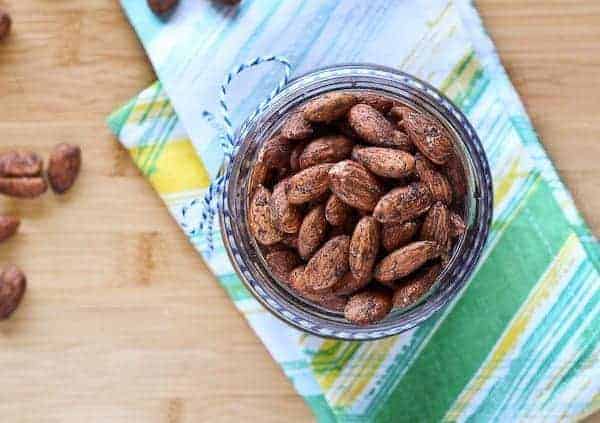 That's all well and good but they are definitely a special treat. Encrusted in sugar, they are a caloric splurge — a splurge well worth it, but a splurge nonetheless.
With this sugar free recipe, I take that same great cinnamon flavor but show the sugar to the door.
These almonds have that same phenomenal warm cinnamon scent and they'll make your house smell just amazing. But hey, let's keep almonds as they naturally are–a healthy and filling snack that you can feel great about.
Perfect for that 3:00 lull in the afternoon when you want to crawl back into bed for a little nap.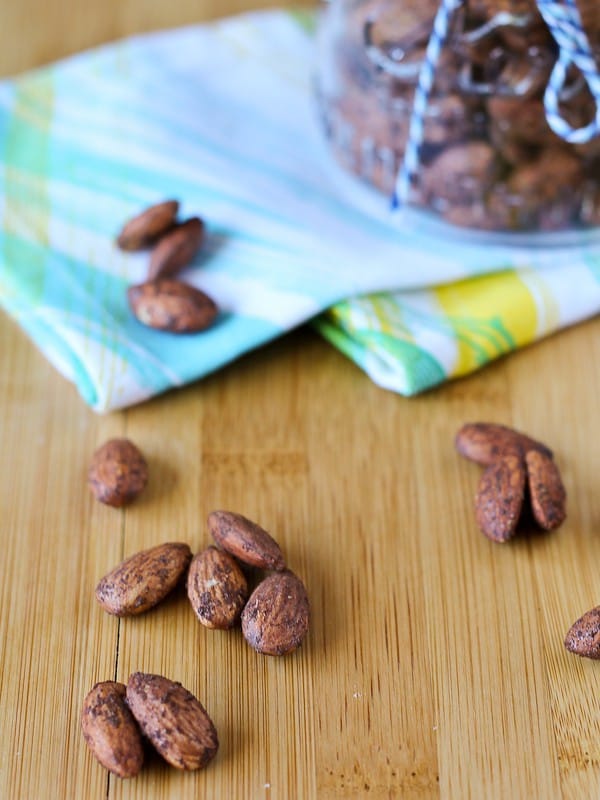 The best part of these Cinnamon Roasted Almonds:
They're super easy to make!! Toss the raw almonds with an egg white whisked until frothy, then sprinkle on salt, cinnamon, and a touch of nutmeg to make things interesting (and because I love nutmeg). Give them a nice long toasty time in a slow oven and enjoy the fabulous smell. A perfect snack!
Roasted nuts are the perfect snack!

Try these delicious recipes: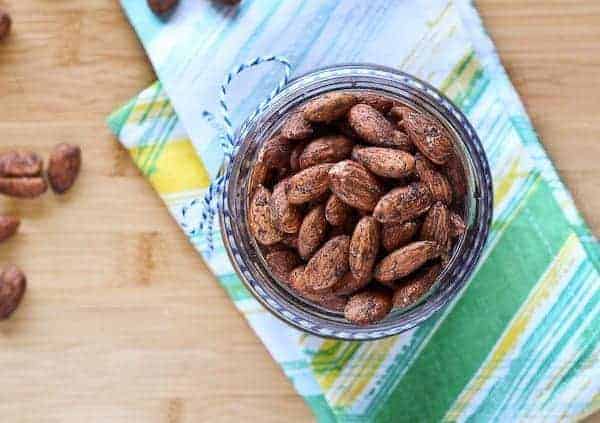 Sugar Free Cinnamon Roasted Almonds
Yield: 3 cups
Prep Time: 5 minutes
Cook Time: 1 hour
Total Time: 1 hour 5 minutes
These sugar free cinnamon roasted almonds are a guilt-free, protein packed snack. You'll love them!
Ingredients
1 egg white
1 teaspoon cold water
3 cups whole raw almonds (16 ounces)
1 tablespoon ground cinnamon
1/4 teaspoon grated nutmeg
pinch of salt
Instructions
Preheat oven to 250°F.
In a large mixing bowl, whisk egg white and water until frothy. Add almonds and stir to coat all almonds. Sprinkle on cinnamon, nutmeg and salt and stir again until almonds are well coated.
Spread on a baking sheet lined with parchment paper or a Silpat baking mat. Bake for 1 hour, stirring 3-4 times during cooking.
Let cool completely before storing in an airtight container.
Nutrition Information:
Yield: 12
Serving Size: 1/4 cup
Amount Per Serving:
Calories: 162
Total Fat: 14g
Saturated Fat: 1g
Trans Fat: 0g
Unsaturated Fat: 12g
Cholesterol: 0mg
Sodium: 16mg
Carbohydrates: 6g
Fiber: 4g
Sugar: 1g
Protein: 6g
RachelCooks.com sometimes provides nutritional information, but these figures should be considered estimates, as they are not calculated by a registered dietitian. Please consult a medical professional for any specific nutrition, diet, or allergy advice.
Verdict:
Love these for healthy snacking.
Husband's take:
He's completely on board as well.
Changes I would make:
None are necessary. Add sugar? Juuuust kidding.
Difficulty:
Very easy.