Vanilla Bean Candied Walnuts
These vanilla bean candied walnuts are completely and totally irresistible. They're perfect on salads!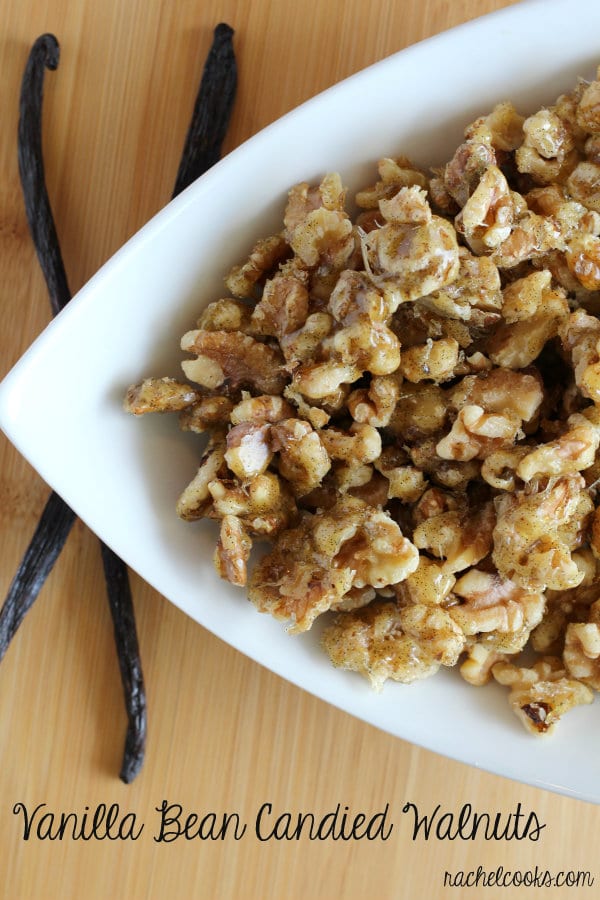 These walnuts need to come with a huge warning label:
ADDICTING.
SEVERELY ADDICTING.
DON'T LEAVE OUT IN PLAIN SIGHT.
WARNING: IMPOSSIBLE TO EAT JUST ONE.
Seriously. Vanilla and walnuts are made for each other. Match made in food heaven.
These are amazing on salads, would be great on ice cream or frozen yogurt (duh) and obviously are perfect on their own. By the handful. These are hide-in-the-back-of-the-cupboard addicting.
Long story short, you need these in your life. I guess the story wasn't really that long. I'm running on about 3 hours of sleep as I write this, people. Don't expect genius. I'll be happy if there are no typos. Actually, I'll be happy if the two-year-old stays asleep and I stay awake long enough to finish typing this.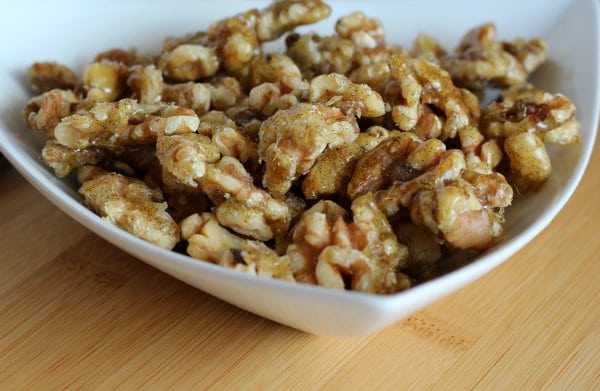 With only 3 ingredients, these delectable walnuts are simple to make. Plus, walnuts are good for you because they are a good source of healthy fats, protein, and fiber.
These vanilla bean candied walnuts are perfect on salads like this winter salad with clementine dressing. You know, if you have any left after eating them by the handful! And if you throw them on a salad, maybe you'll feel better about the massive quantities you are consuming. Right? Right? Okay maybe. Maybe not.
They'd also make a great appetizer. I'm envisioning a group of friends playing cards, with a few bowls of candied walnuts on the table. Or put some on your charcuterie board for a special treat with cheeses and fruits.
Or….if you're willing to share, these vanilla bean candied walnuts would make a great gift (and so would the other nut recipes listed below). Just put them in a jar and tie a pretty ribbon around the top! A great hostess or teacher gift.
More great nut recipes:

If you're looking for more recipes like these vanilla bean candied walnuts, be sure to try: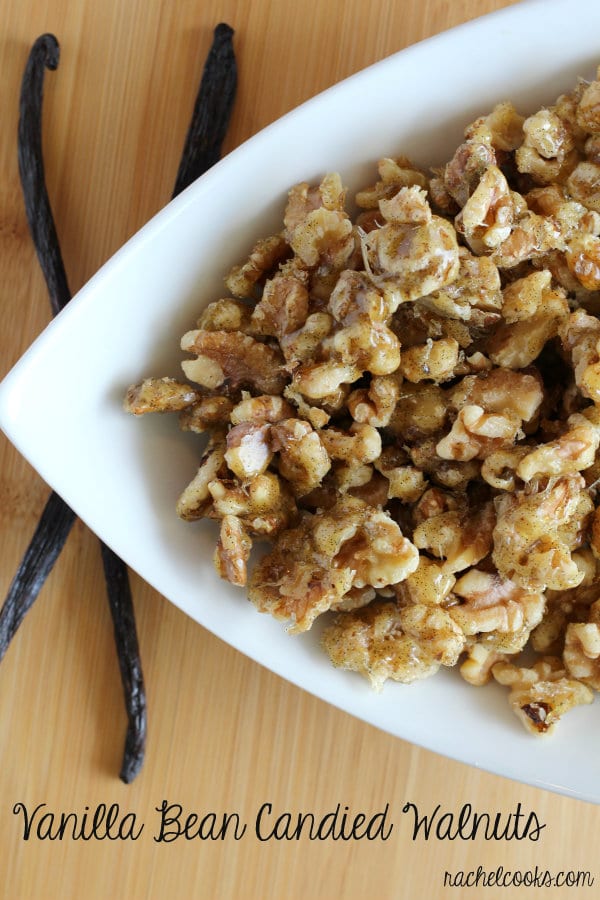 Vanilla Bean Candied Walnuts
Yield: 1 1/2 cups walnuts
Prep Time: 5 minutes
Cook Time: 10 minutes
Total Time: 15 minutes
These vanilla bean candied walnuts are so delicious it is hard to stop eating them!
Ingredients
½ cup sugar
1 ½ cups raw walnut halves and/or pieces
the seeds scraped from one whole vanilla bean
Instructions
Toast walnuts in a dry frying pan over medium heat stirring frequently, about 3-5 minutes or until fragrant. Pour onto plate to cool. Also prepare a large rimmed baking sheet with a Silpat mat or parchment paper.
In a medium saucepan, combine sugar and vanilla bean seeds. Cook on medium until sugar melts and starts to turn the color of amber. Remove from heat, add walnuts and stir to coat. Work quickly.
Pour walnuts out onto prepared lined baking sheet and separate walnuts with two forks, working quickly. If you don't get them all separated, it's no biggie, you can cut or crack them apart once they cool.
Cool completely before storing in an airtight container. If you don't eat them all first.
Nutrition Information:
Yield: 6
Serving Size: 1/4 cup
Amount Per Serving:
Calories: 235
Total Fat: 17g
Saturated Fat: 2g
Trans Fat: 0g
Unsaturated Fat: 15g
Cholesterol: 0mg
Sodium: 1mg
Carbohydrates: 20g
Fiber: 2g
Sugar: 17g
Protein: 4g
RachelCooks.com sometimes provides nutritional information, but these figures should be considered estimates, as they are not calculated by a registered dietitian. Please consult a medical professional for any specific nutrition, diet, or allergy advice.
Verdict:
Pretty sure I made it clear how much I adore these vanilla bean candied walnuts.
Husband's take:
He calls 'em crack.
Changes I would make:
Make more next time.
Difficulty:
Moderate if you're not comfortable with melting sugar. Plus you have to work kinda quickly. But you can do it, I swear!