Cinnamon Roasted Chickpeas
Cinnamon roasted chickpeas are a healthy and flavorful snack — you'll find these are the perfect snack to crush cravings and keep you full!
Recipe Overview
Why you'll love it: They're very easy to make and are a nutritious snack.
How long it takes: 35 minutes, mostly hands off
Equipment you'll need: small sheet pan, mixing bowl
Servings: 4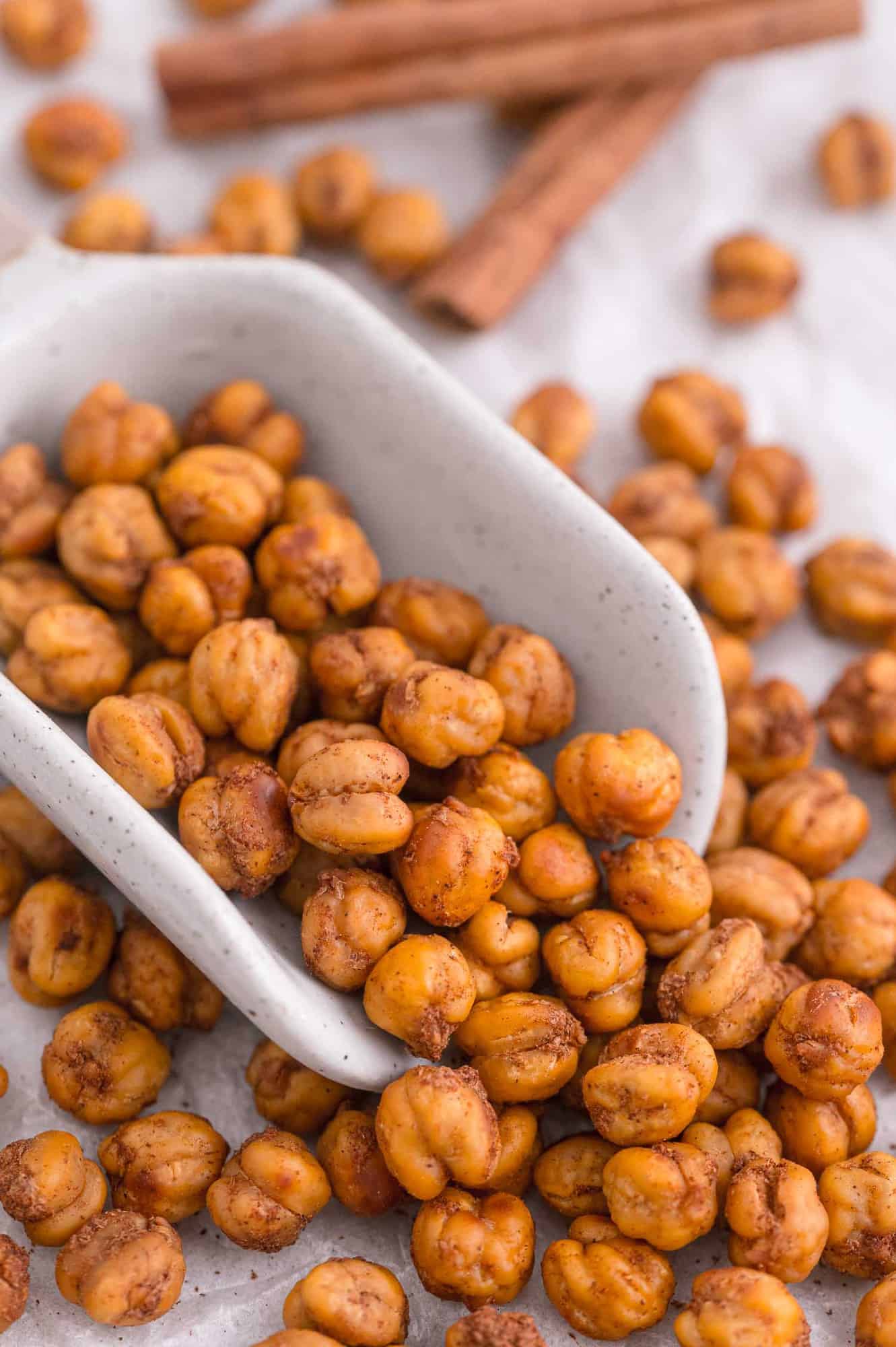 With a hint of cinnamon and honey, these coconut oil roasted chickpeas seem like a sweet treat but really aren't. Add just a bit of sea salt and you have that perfect sweet/salty combo that hits all the buttons.
I'm always on the search for quick, easy, and healthy snacks. Of course they have to be delicious, too. You'd think in this endless quest for great snacks, I'd be better about having them with me at all times.
I was in Napa Valley this past weekend which for us Michiganders involves pretty much two full days of travel. So, of course, I had my carry-on full of great snacks to keep me from hitting the wall.
Oh wait, no, I didn't. Dream on, girl. On the way out of my house, I managed to get my act together enough to grab one of the blender banana oatmeal muffins I had made for my family and a couple of clementines but that was the extent of it.
These cinnamon roasted chickpeas would have been perfect for putting in my carry-on. Filling, lightweight, durable and oh, so tasty! I wish I would have thought of that before I left.
About Roasted Chickpeas
Roasted chickpeas aren't only perfect for travel, they're also perfect for families with nut allergies (like ours!). They offer the protein and crunch that's reminiscent of a nut and they have the same ease – you can throw them in a bag, in your purse, the car, diaper bag, whatever. They are totally mess-free.
Roasted chickpeas are also super simple to make and it's easy to make a double batch. The flavor combinations are endless; I want to try some of the seasonings I use with these pumpkin seeds like maple chili powder, curry lime, ginger soy, or pumpkin pie spice.
Maybe some of you are familiar with my crispy chickpeas recipe. Same sort of deal, except that this recipe leans just a tiny bit more to the sweet tooth instead of savory.
For those of you with air fryers, try air fryer chickpeas for even more crispness.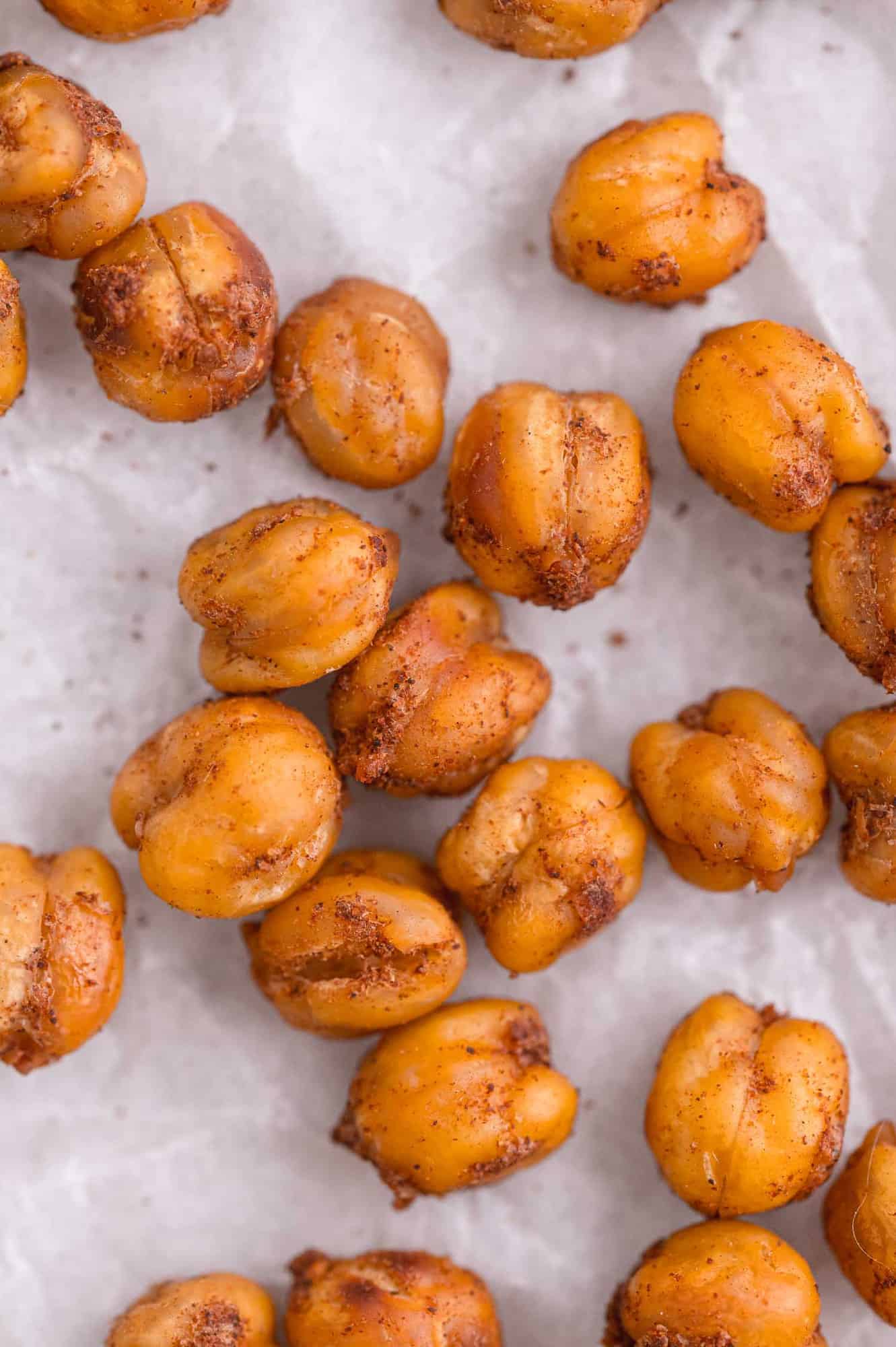 What You'll Need
Canned Chickpeas: You may know them as garbanzo beans. Same thing, different name. For more about that, take a look at the FAQ section.
Coconut Oil: Look for virgin (unrefined) coconut oil to add a bit more flavor to the chickpeas. Refined coconut oil has a neutral scent and flavor. For more about the differences between the two oils, check out this article by Healthline. Since coconut oil solidifies at room temperature, melt it before adding it to the chickpeas.
Honey: Just one teaspoon of honey adds a hint of sweetness. Think honey-roasted peanuts!
Cinnamon: This warm spice imparts a sweet sensation but with no added sugar. Curry powder could be substituted for the cinnamon for a different taste sensation.
Salt: Optional, but everyone loves the sweet/salty combo. Use a coarse salt for the best results.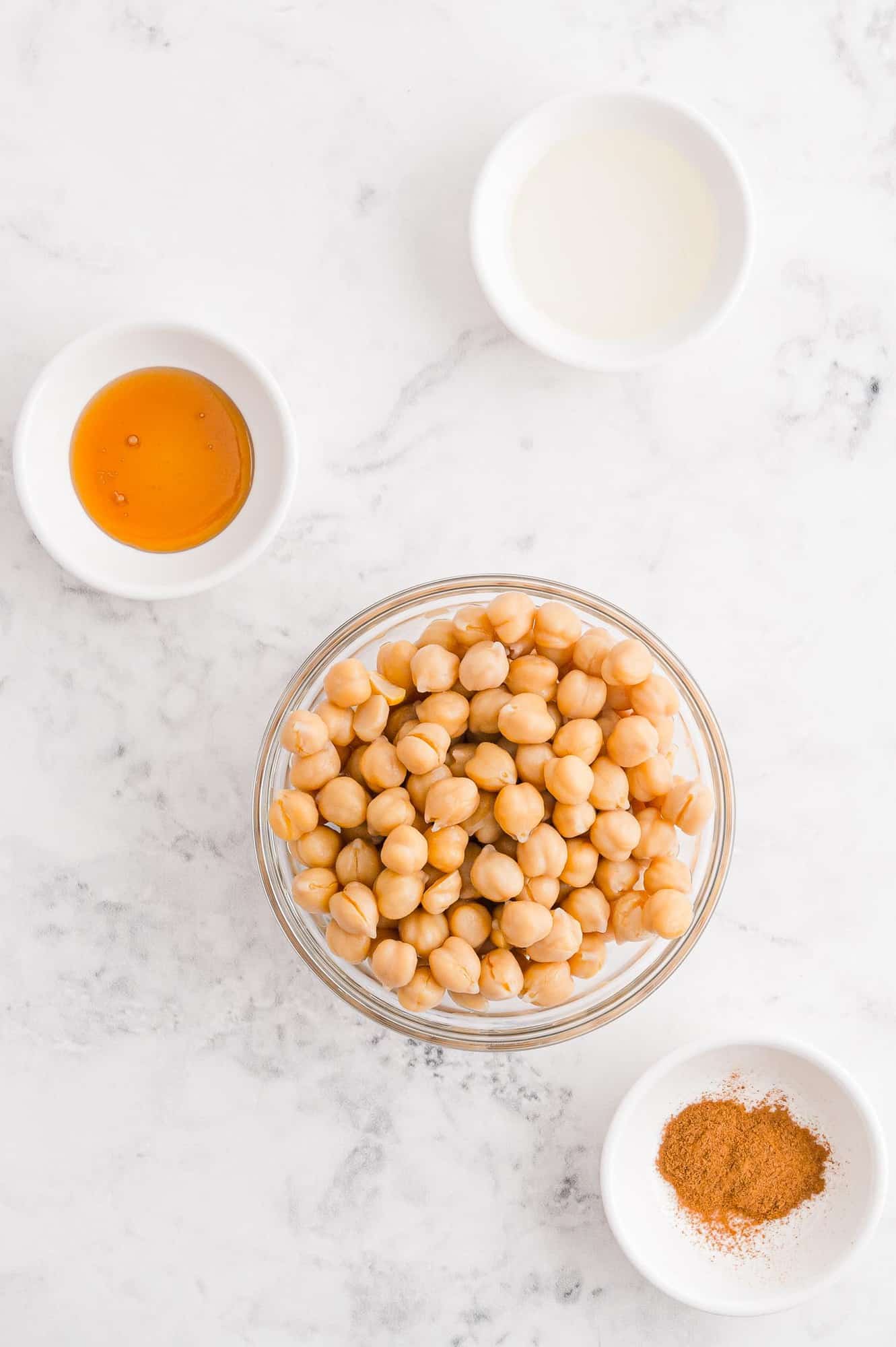 How To Make This Recipe
Open a can of chickpeas, drain them, rinse with cool water, and drain again.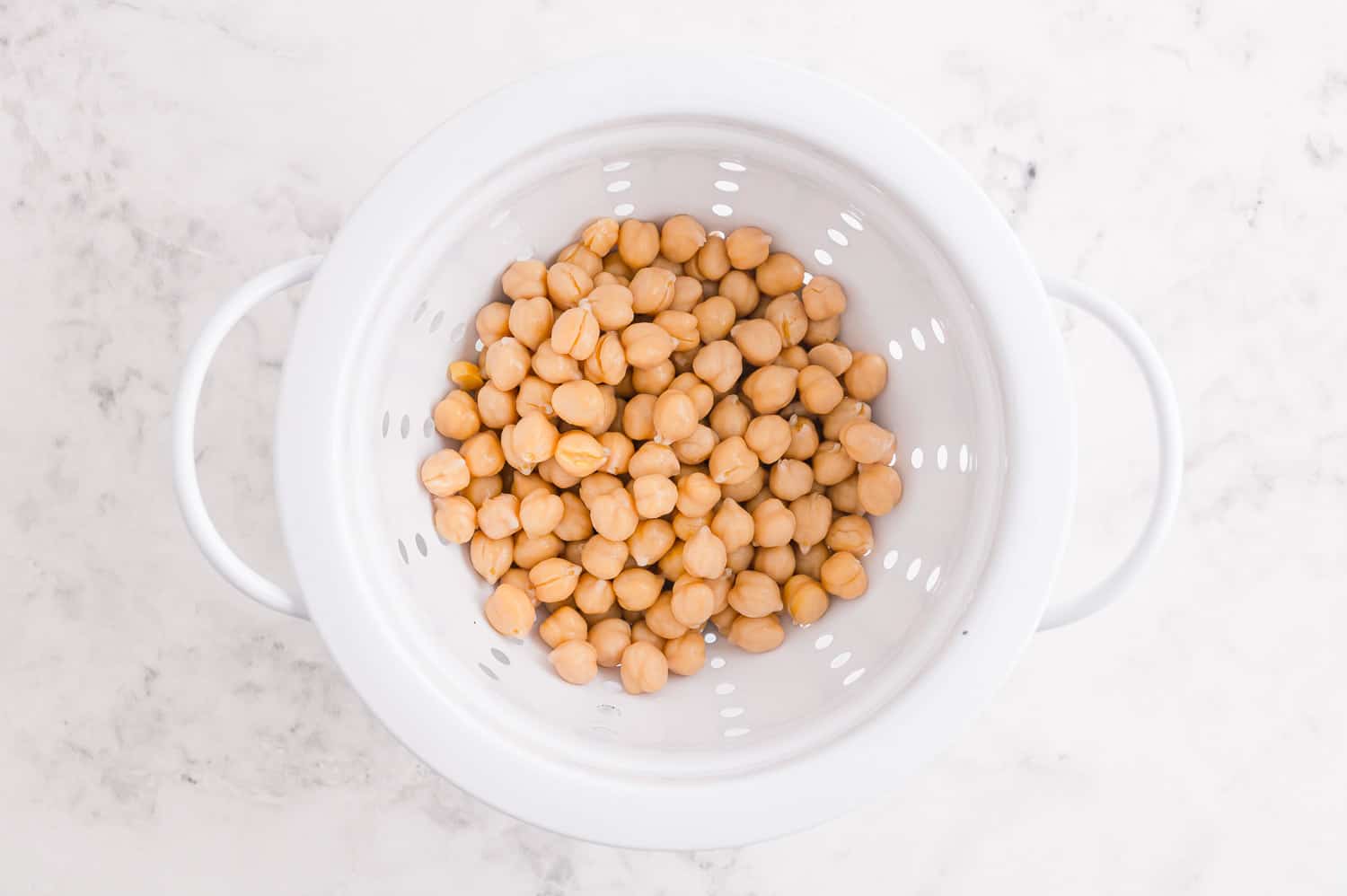 Spread the chickpeas out on paper towels or a clean, lint-free cotton dish towel.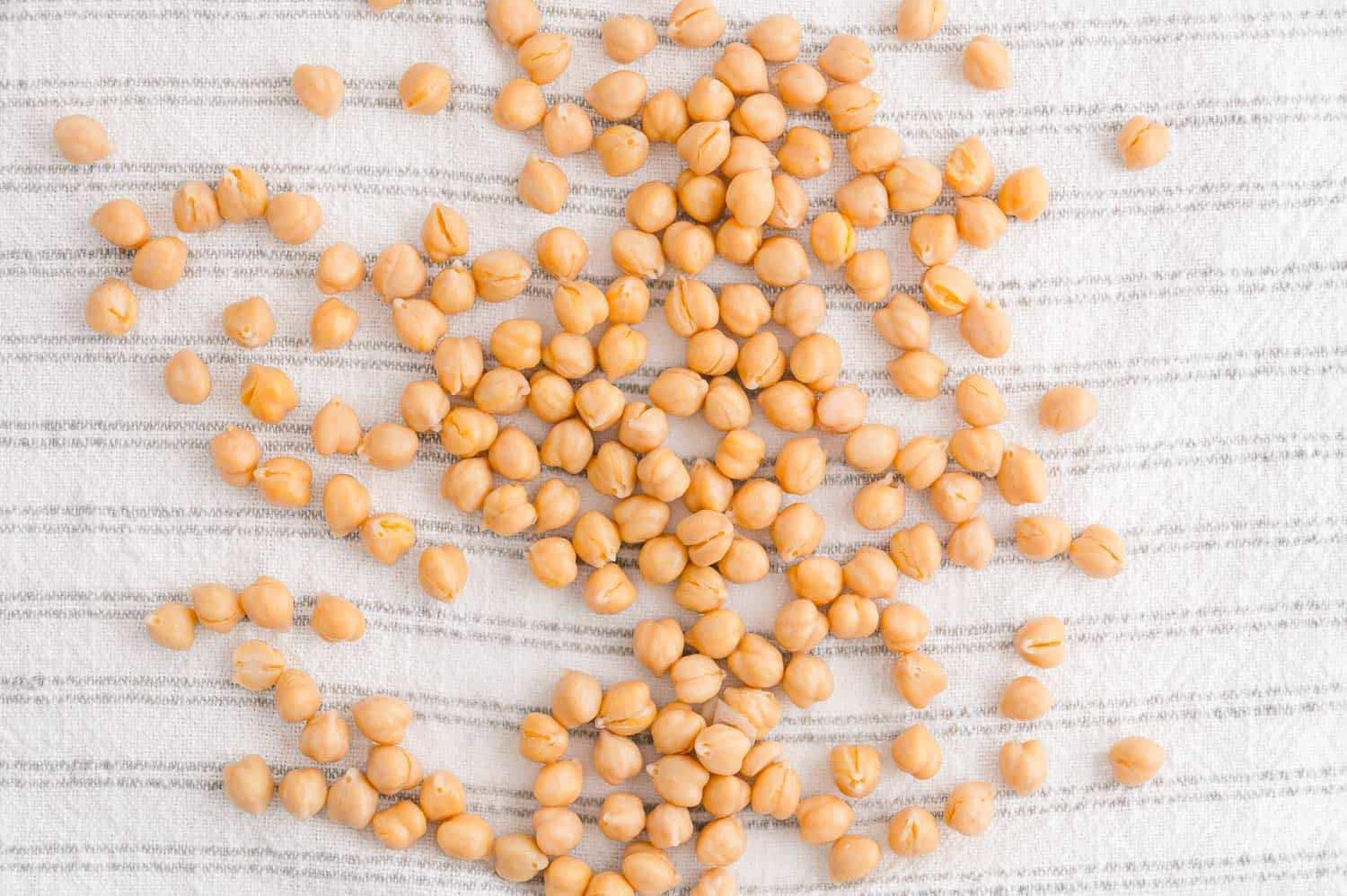 Roll them around to dry them and loosen the skins. Look for a transparent skin that is easily rubbed off.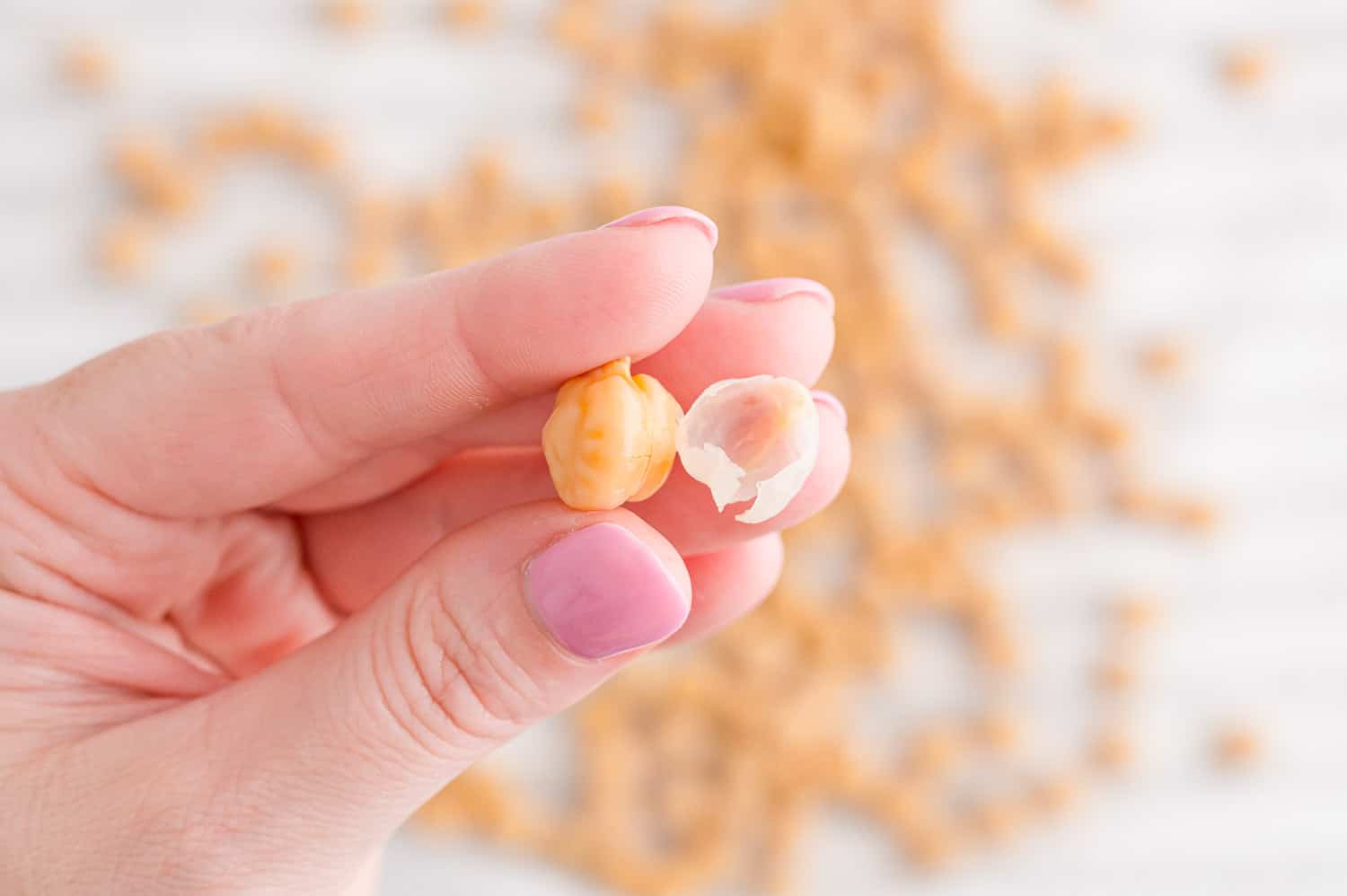 Make sure the chickpeas are good and dry. The drier they are, the crunchier they'll get. If you have extra time, let them dry on the countertop for a half hour or more.
Add them to a mixing bowl with the melted coconut oil, honey, cinnamon, and salt (if using). Stir them around until the chickpeas are coated.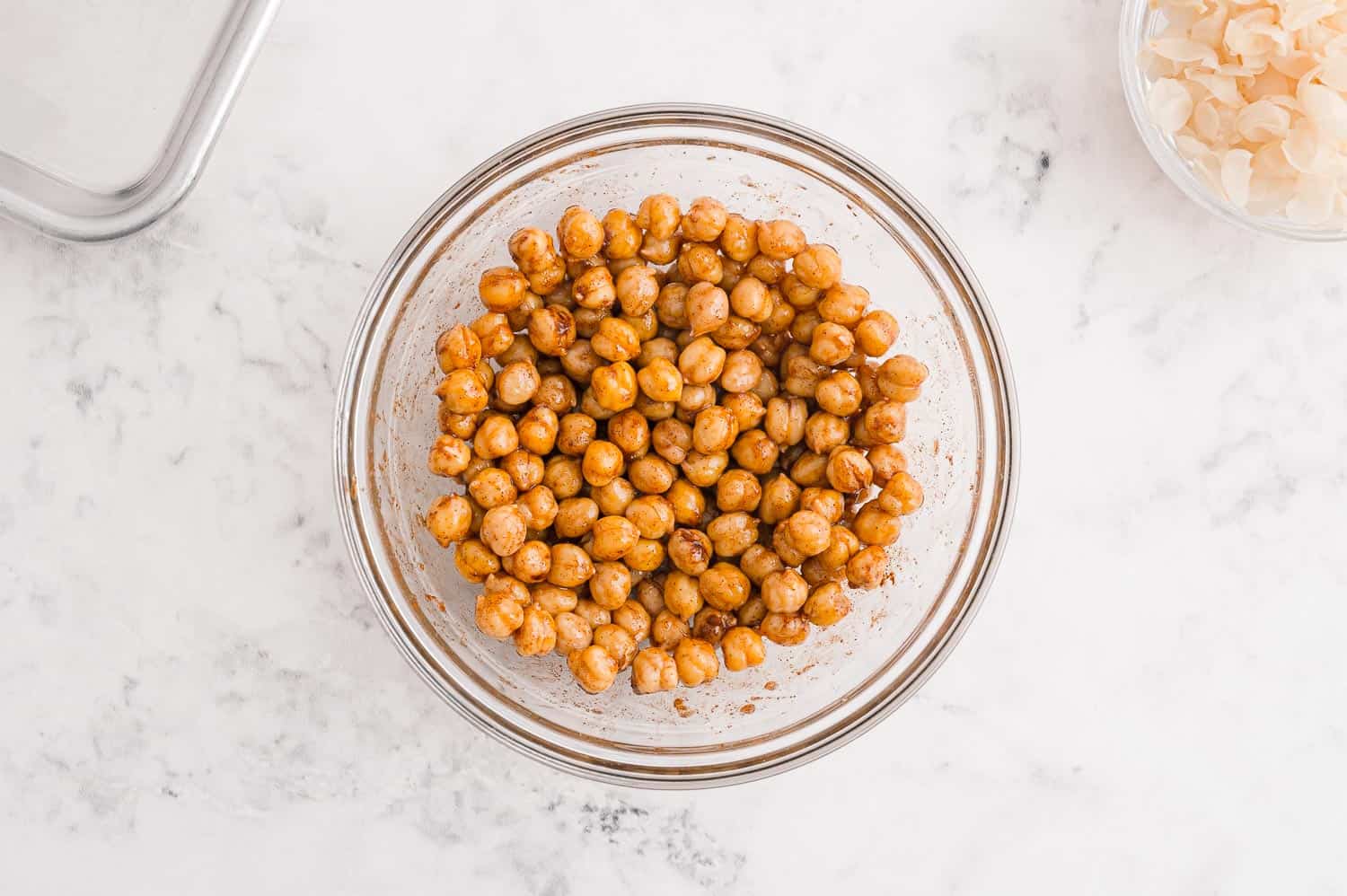 Spread them out in a shallow baking pan or small sheet pan.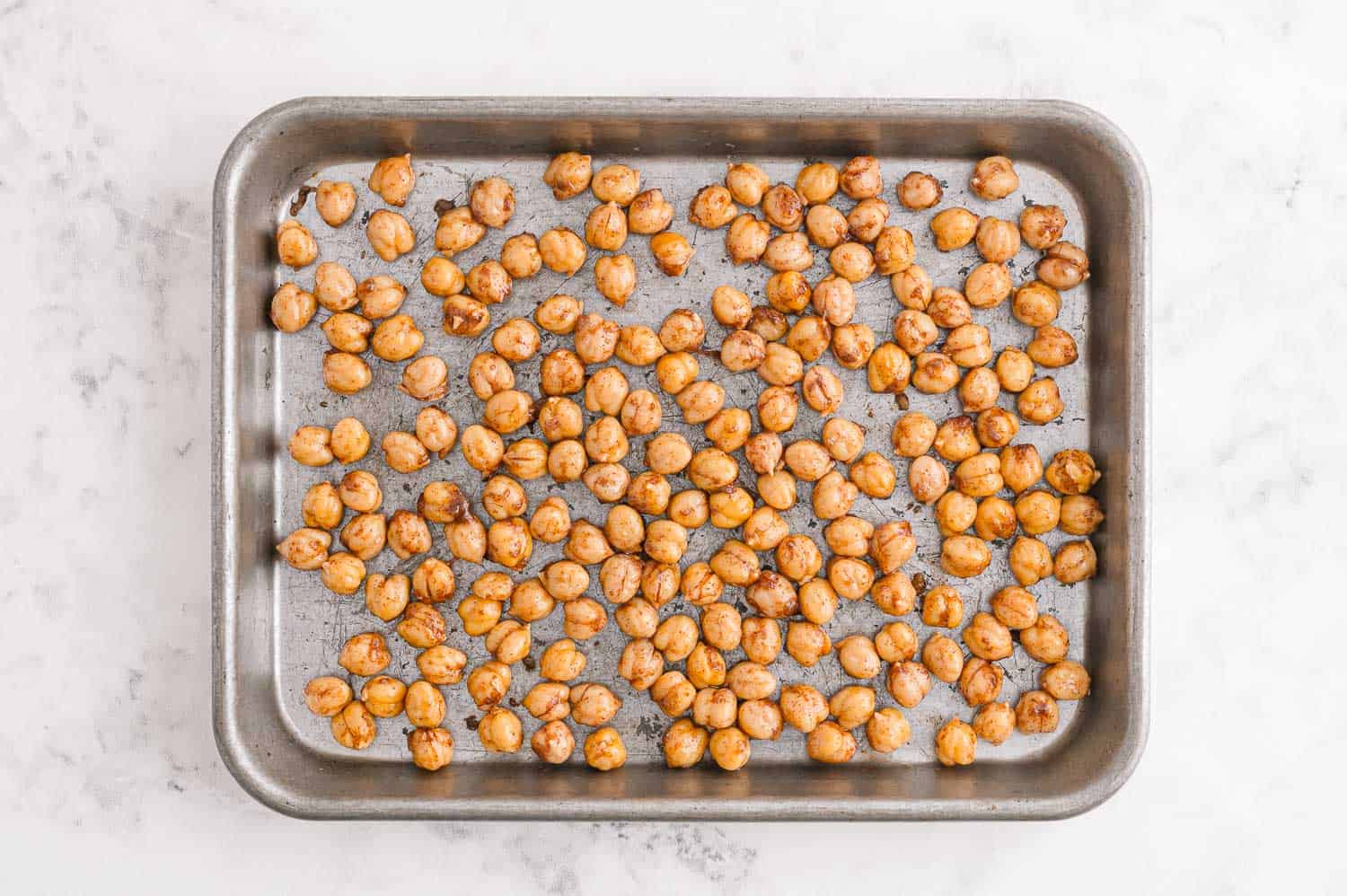 Bake them at 400°F for about a half hour, giving the pan a careful shake every ten minutes or so. The round little chickpeas roll around pretty easily so don't get too vigorous with the shaking. I've ended up with chickpeas all over my oven that way!
When the chickpeas are golden brown and crispy, remove them from the oven and allow to cool before enjoying them.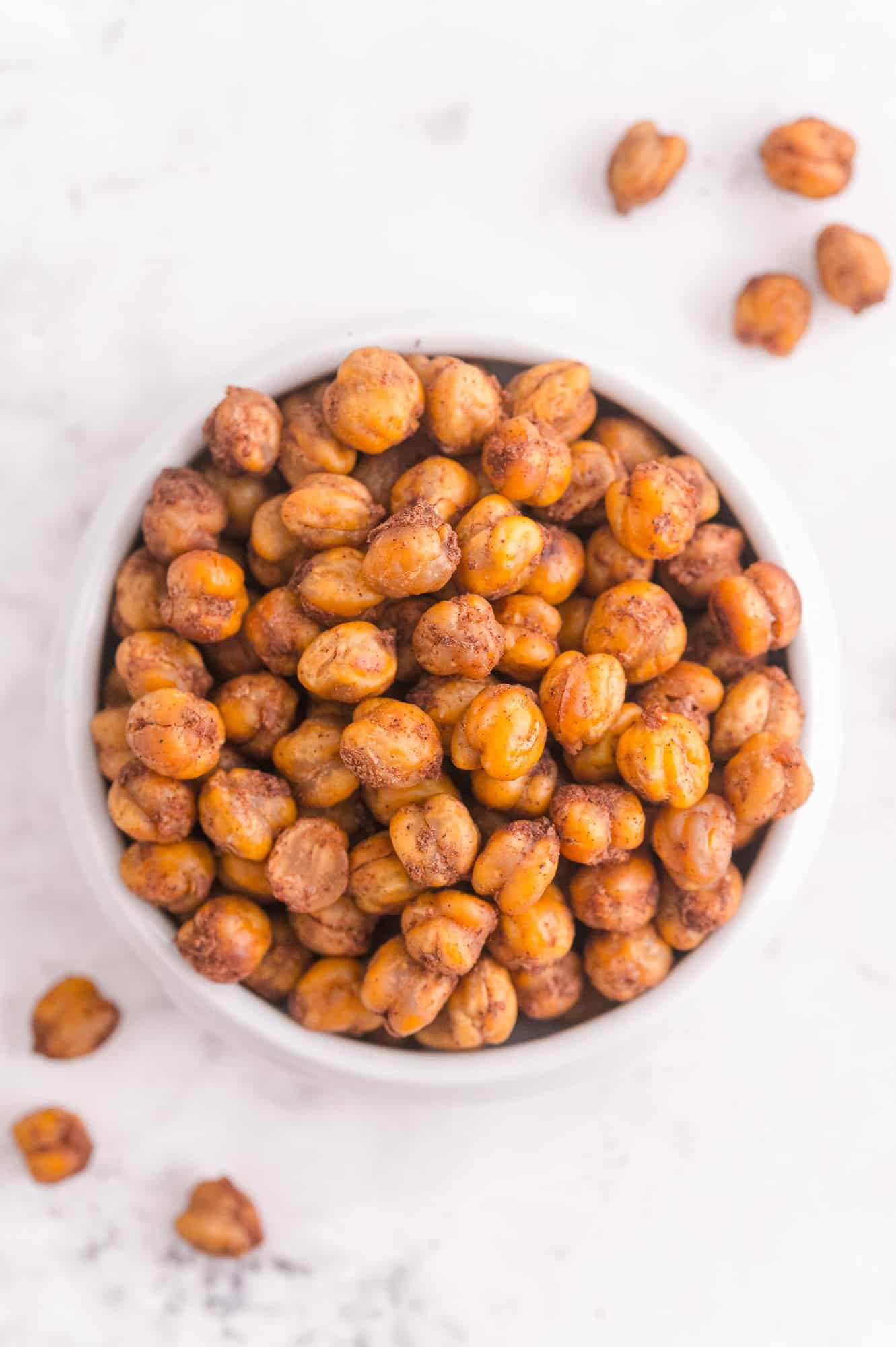 FAQs
Why are my roasted chickpeas not crunchy?
When you bite down on a roasted chickpea, expect a crunch similar to a peanut. They shouldn't be super hard or airy. Roasted chickpeas should be crisp on the outside with a meaty tender inside.
So how do you achieve that? Removing the skins is essential. It's kind of a pain but totally worth it. If you have little helpers in the kitchen, they'd probably enjoy that job.
Make sure the chickpeas are as dry as you can get them. Use a clean dry dish towel to rub them dry and remove the outer layer at the same time.
What is the difference between chickpeas and garbanzo beans?
The only difference is the name. They are the same thing called by two different names. You'll hear them called chickpeas more frequently in the U.S. and garbanzo beans in Spanish-speaking countries. This legume has been around for thousands of years and is popular in many cultures.
Do chickpeas need to be soaked before roasting?
If you are beginning with dried chickpeas instead of canned chickpeas, they will have to be soaked and then cooked. You can soak them in water overnight or do a quick soak, boiling the beans for 5 minutes and letting them soak for one hour. Use plenty of water because the beans absorb the water and triple in size.
After soaking, choose your favorite method for cooking them: stove, slow cooker, or pressure cooker. Once they have been cooked, they can be roasted.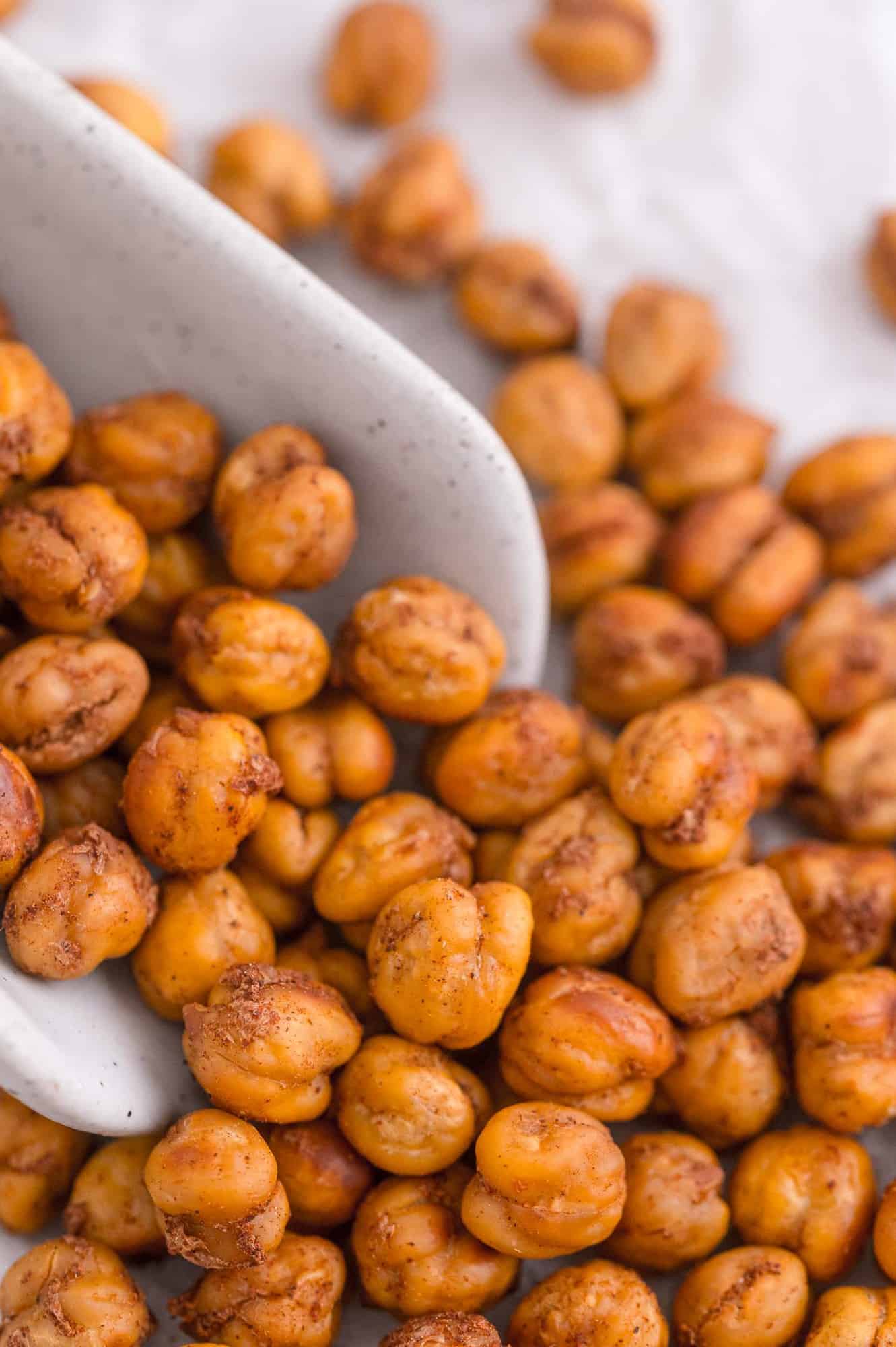 Make It Your Own
Make your roasted chickpeas vegan by replacing the honey with a different sweetener such as maple syrup or agave.
Substitute a teaspoon of vanilla paste for the cinnamon for vanilla roasted chickpeas.
Make cinnamon sugar chickpeas: Mix 1 teaspoon cinnamon with 2 tablespoons brown sugar. Coat the chickpeas with melted coconut oil, then add the cinnamon sugar mixture and stir to coat. Spread on baking pan which has been lightly sprayed with non-stick spray. Bake as directed.
Storage Tips
Roasted chickpeas are crunchiest the same day you make them. To keep them as crunchy as possible, store them at room temperature in a loosely covered container, like a bowl covered lightly with a paper towel.
On-the-go healthy snacks
Looking for more snacks that you can munch on while you're out and about? Try:
Did you make this? Be sure to leave a review below and tag me @rachelcooksblog on Facebook, Instagram, or Pinterest!
Cinnamon roasted chickpeas are a healthy and flavorful snack — you'll find these are the perfect munchie to crush cravings and keep you full!
Ingredients
1

can

(16 oz.) chickpeas, low sodium if possible

(garbanzo beans)

1

tablespoon

melted coconut oil

(see note)

1

teaspoon

honey

¾

teaspoon

ground cinnamon

1

pinch of salt, optional
Instructions
Preheat oven to 400°F. Rinse and drain chickpeas. Spread out on a lint-free towel and dry well, rubbing to remove skins.

In a medium bowl, toss chickpeas with melted coconut oil, honey, cinnamon, and salt until well-coated.

Spread on small rimmed baking sheet in single layer. Bake for 25-30 minutes, shaking pan every 10 minutes to stir chickpeas. Bake until crispy and golden brown.

Let cool completely before enjoying.
Notes
Either refined or virgin (unrefined) coconut oil may be used. Refined coconut oil has a neutral taste and odor, while virgin coconut oil will taste somewhat tropical.
Roasted chickpeas are crunchiest the same day you make them. To keep them as crunchy as possible, store them at room temperature in a loosely covered container, like a bowl covered lightly with a paper towel.
Replace the honey with maple syrup or agave to make this recipe vegan.
Nutrition Information
Calories:
136
kcal
,
Carbohydrates:
17
g
,
Protein:
6
g
,
Fat:
6
g
,
Saturated Fat:
3
g
,
Polyunsaturated Fat:
1
g
,
Monounsaturated Fat:
1
g
,
Sodium:
315
mg
,
Potassium:
166
mg
,
Fiber:
5
g
,
Sugar:
1
g
,
Vitamin A:
18
IU
,
Vitamin C:
1
mg
,
Calcium:
44
mg
,
Iron:
1
mg
This website provides approximate nutrition information for convenience and as a courtesy only. Nutrition data is gathered primarily from the USDA Food Composition Database, whenever available, or otherwise other online calculators.