Easy Homemade Hummus Recipe
Try this easy homemade hummus recipe to make your own creamy hummus! It's much more economical and can be made in just five minutes!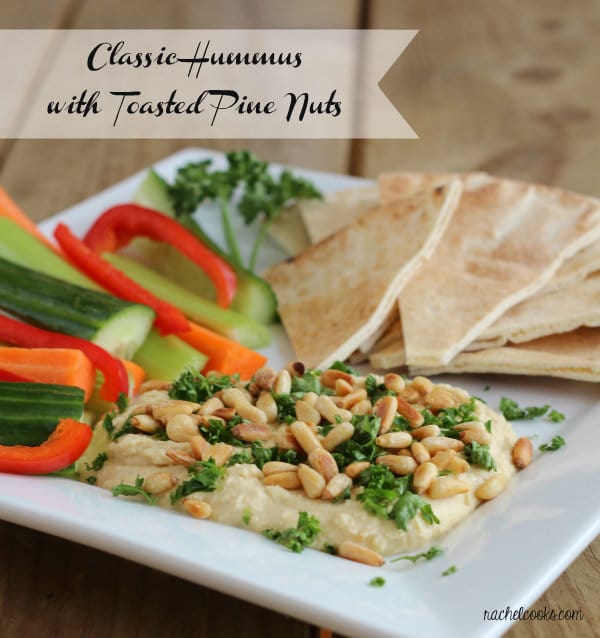 Creamy and rich, homemade hummus is satisfying and healthy. Enjoy it as a guilt-free dip for vegetables or pita wedges, or spread it on sandwiches as a tasty alternative to mayonnaise. Hummus is surprisingly easy to make, with only five ingredients (not counting water, salt, and pepper).
This is a staple in our house. Because of my family's severe sesame allergies, I love that I can make my own tahini-free hummus. Many people don't realize that tahini is sesame seed paste which is deadly for my children. I would never consider buying pre-made hummus because it isn't worth the risk. When you make homemade hummus, there are no worries.
And why eat hummus? Besides the fact that it's so delicious, it's super good for you. Hummus is packed with vitamins and minerals. Healthline informs us that eating hummus has impressive health benefits, including fighting inflammation, controlling blood sugar, aiding digestion and weight loss, and reducing heart disease.
Isn't it great that you can eat a healthy snack full of protein without feeling guilty about it? That's especially true if you choose veggies over pita triangles for dipping.
And hummus is really just so delicious! You'll for sure want to try my beautiful sesame-free parsley hummus, it's the most beautiful shade of green. Ooh, and green reminds me of my edamame dip, sort of a hummus but made with frozen, shelled edamame instead of chickpeas.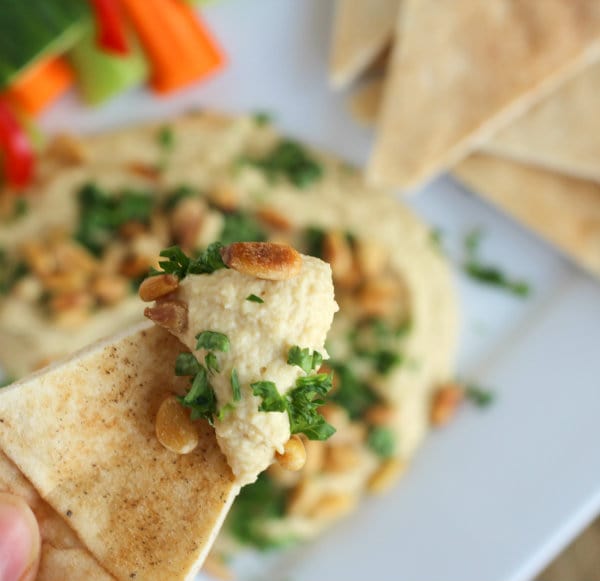 About this hummus
For really smooth hummus, you'll need a food processor. You can whip this hummus up in just five minutes. Five minutes! Isn't that kind of crazy? You're just a few minutes away from all that deliciousness and healthy eating.
What you'll need
Canned chickpeas: aka, garbanzo beans. Full of plant protein and fiber, chickpeas are economical and flavorful. Some recipes call for removing the skins but I've found that the food processor pretty much takes care of any coarseness. If you feel strongly about it, check out this method by Cooks Illustrated.
Tahini: This smooth sesame seed paste adds creaminess and flavor. Like I mention above, hummus can be made without tahini but if allergies aren't an issue in your household, I would definitely add it.
Lemon Juice: Use freshly squeezed lemon juice for a nice tart flavor.
Olive Oil: Extra virgin olive oil lends its fruity pungent flavor to the hummus, along with velvety smoothness. Try drizzling a bit more on the hummus before serving, particularly if you're serving it as a dip.
Fresh Garlic: Add a clove of garlic to the hummus for classic flavor. If you don't care for garlic, go ahead and leave it out. It's your hummus! I often omit the garlic because my husband isn't a huge fan.
Salt and Pepper: All the seasoning you need for classic hummus.
Water: Use plain tap water or reserve some of the liquid from the canned chickpeas (called aquafaba) and use that instead of water.
How to make this hummus recipe
Keep reading for the complete printable recipe but I just want to show you how easy it is.
Add tahini, lemon juice, and water to the bowl of your food processor. Pulse for about thirty seconds until the mixture is light and whipped. If you're making a tahini-free version, just skip this step and add the lemon juice and water to the chickpeas.
Next, add the drained chickpeas and garlic to the bowl and pulse a few more times. The chickpeas will be coarsely ground.
Okay, final step! With the food processor running, slowly add the olive oil, processing until your hummus is smooth and creamy. If it seems too thick, add a bit more water or olive oil. Season with salt and pepper, and your hummus is ready to enjoy.
Now, if you want, you can fancy it up. Don't you love how store bought hummus always has a nice little garnish on top? Toasted pine nuts are my favorite garnish. I could eat those by the handful! Roasted red pepper strips, a sprinkle of chopped parsley, olives, or pickled sweet peppadew peppers make nice toppers, too.
FAQ
Why is my hummus not creamy?
Perhaps you're not processing it long enough. Try adding a minute or two to the processing time. Adding a bit more tahini, or substituting the liquid from the canned chickpeas for water, will increase the creaminess as well.
What can I substitute for tahini in hummus?
You can simply omit the tahini if you like. Good substitutes are sunflower seed butter or a nut butter, such as cashew or almond butter. Another alternative is Greek yogurt. The flavor of your hummus will be affected, but not in a bad way.
How long does homemade hummus last?
Hummus will keep well in the refrigerator for five days or in the freezer for up to six months.
Make it your own
One of the best aspects of homemade hummus is that you can make it exactly how you like. There's no need to add garlic if you don't want garlic breath the rest of the day. Or maybe you love garlic so much that you want to add two or three cloves, instead of one. Totally fine! Try roasting the garlic before adding it to the hummus.
Like I mentioned before, hummus can be made without tahini. All out of olive oil? Replace it with grapeseed oil. No lemons? Use lime juice instead.
Ground cumin is commonly added to hummus. Start with a half teaspoon, unless you really love cumin. Experiment with other spices, if you like. Add a dash of cayenne to give it a little heat. Add a teaspoon of chopped fresh rosemary.
Add roasted red peppers (about 3/4 cup chopped peppers) to the food processor for roasted red pepper hummus.
Have you heard of chocolate hummus? It's really good with pretzels, graham crackers, or fruit dippers.
Storage
Hummus is a great make-ahead dip. It keeps well in the fridge for up to five days. You can even freeze hummus! It makes a healthy lunchbox treat. Simply put hummus into individual size storage containers and freeze. It will keep for six months in the freezer. It may separate slightly when thawed but just give it a little stir and it will be fine. If you freeze a larger sized container, for best results, thaw it overnight in your fridge.
More healthy dips
Dips don't have to be a splurge or guilty pleasure. I already mentioned my edamame dip and parsley hummus but here's a few more better-for-you dips:
Easy Homemade Hummus Recipe
Yield: 2 cups
Prep Time: 5 minutes
Total Time: 5 minutes
Try this easy homemade hummus recipe to make your own creamy hummus! It's much more economical and can be made in just five minutes!
Ingredients
1 (15 ounce) can chickpeas, rinsed and drained
¼ cup tahini (sesame paste)
2 tablespoons water
2 tablespoons freshly squeezed lemon juice
1 clove garlic, minced
¼ teaspoon kosher salt
¼ cup olive oil
ground black pepper, to taste
Instructions
In a food processor, combine the chickpeas, tahini, water, lemon juice, garlic, and salt and pulse until combined -- about 1 minute.
With the food processor on, slowly drizzle in the olive oil and continue processing until the hummus is smooth and creamy. The longer you process, the smoother it will be.
Taste and season with salt and pepper.
Enjoy immediately or store in an airtight container in the fridge for up to 5 days.
Notes
If you prefer, omit the tahini. Just skip step 1, directly adding the water and lemon juice to the chickpeas and garlic, and processing. Consistency of hummus won't be quite as smooth and rich without tahini. Or substitute cashew, almond or sunflower butter, or Greek yogurt.
Hummus can be frozen for up to 6 months.
For extra creamy hummus, remove the peels from the chickpeas prior to adding to food processor.
Nutrition Information:
Yield: 16
Serving Size: 2 tablespoons
Amount Per Serving:
Calories: 70
Total Fat: 6g
Saturated Fat: 1g
Trans Fat: 0g
Unsaturated Fat: 5g
Cholesterol: 0mg
Sodium: 21mg
Carbohydrates: 4g
Fiber: 1g
Sugar: 1g
Protein: 2g
RachelCooks.com sometimes provides nutritional information, but these figures should be considered estimates, as they are not calculated by a registered dietitian. Please consult a medical professional for any specific nutrition, diet, or allergy advice.