Dill Vegetable Dip Recipe – Healthy Version!
This skinny dill vegetable dip is a staple in our fridge — we're hardly ever without it! You won't want to stop snacking on vegetables when you're dipping them in this healthy and low-cal dip.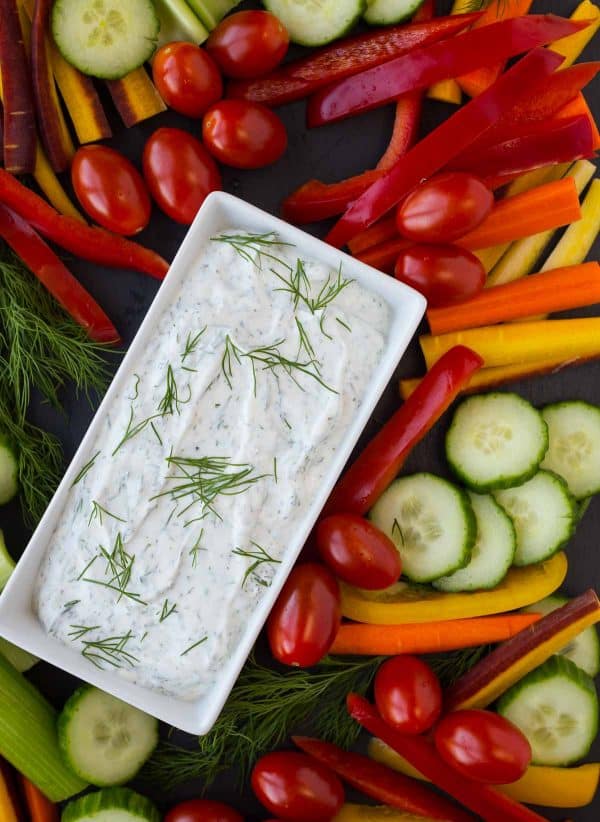 I developed and photographed this recipe in October and I have been so eager to share it with you all. I was going to share it on Wednesday, but my little man has been in and out of the ER so things have been a little nutso. PS: He's 4 years old now! That means it's been four years since I wrote this tongue-in-cheek post and got a wave of hate-mail and people telling me I was a terrible person, ha.
He started limping on Saturday (NYE) but had no injury and didn't seem to be a large amount of pain. When he woke up still limping on New Year's Day (Sunday, also my husband's birthday), we took him in to the emergency room — super fun way to spend Ben's birthday! They checked him over really well (not doing any blood work at this point) and decided that he probably had something called Toxic Synovitis which sounds way scarier than it actually is. We were instructed to come back in two days if the limping hadn't gone away with the administration of ibuprofen.
So…back to the ER on Tuesday! This time, in went the IV for blood work, and we also had an x-ray and an ultrasound done. Thankfully, all tests came back negative. Unfortunately, it meant we had no real answer, but we had ruled out all the big bad things so I am extremely grateful for that.
As I type this on Thursday, he still has a slight limp, especially as his ibuprofen wears off. I'm hopeful that he's improving and that we won't have to head back in again this weekend. The kid hasn't stopped being his cheerful, smiling self once though, even while he got his IV.
It's funny (not really) because on Friday, I had been filling out a form for his allergist and one of the questions was, "How many ER visits in the past 5 years?" Answer: 4. Next question, "How many ER visits in the last 1 year." I took a deep breath and carefully wrote a zero, thinking to myself, "I should find some wood to knock on because I'm sure we'll be in the ER soon since I'm writing zero."
The next day he started limping.
REALLY?!?
So now our count is up to 6. SIX. And he's four. Too many, if you ask me. Then there's my 6-year-old who has never been to the ER.
Don't worry, I'm sitting at a wood table and you better believe I knocked on it.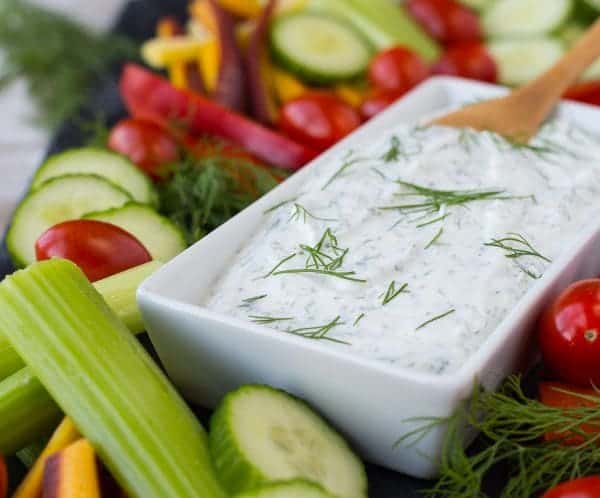 I'm beyond thankful that there isn't anything serious wrong with him (that we're aware of) and that we have an amazing children's hospital at our disposal. I can't say enough good things about Helen Devos Children's hospital — they took such great care of my little guy. His lion even got a gown and a wrist band, and Nathan got to practice with the IV on his lion before he got his own.
About This Dill Vegetable Dip
Back to the dill vegetable dip, since the first time I made it, I've made it no less than 10 times. Ben and I cannot get enough of this dip, and I've made it for almost every holiday celebration we've been to as well. It tastes like the dill dip you buy at the store, but it's made healthier using Greek yogurt. This dip gets me to eat way more vegetables than I normally would.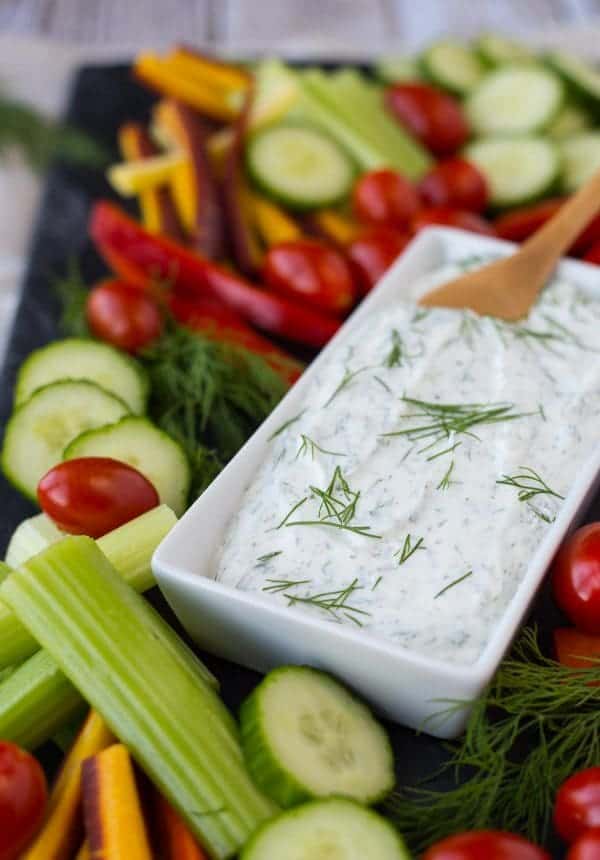 You can make it with fresh dill if you have it, but I've also made it many times with dried dill and it tastes great that way too. It comes together in 5 minutes and you probably already have all the ingredients you need!
Used in this dill vegetable dip recipe:
Looking for more healthy snack ideas? Try:
Did you make this? Be sure to leave a review below and tag me @rachelcooksblog on Facebook, Instagram, or Pinterest!
This skinny dill vegetable dip is a staple in our fridge — we're hardly ever without it! You won't want to stop snacking on vegetables when you're dipping them in this healthy and low-cal dip.
Ingredients
1

cup

plain, nonfat Greek yogurt

1/4

cup

mayonnaise made with olive oil

1/4

teaspoon

salt

1/4

teaspoon

ground black pepper

1/8

teaspoon

garlic powder

1/8

teaspoon

onion powder

1

teaspoon

dried parsley flakes

1/4

cup

minced fresh dill (see notes)

fresh vegetables for dipping
Instructions
Mix all ingredients together in a large bowl.

Transfer to a serving bowl and store covered in refrigerator.

Serve cold with fresh vegetables.
Notes
I've made this many times with dried dill (dill weed) instead of fresh. I'd recommend 1 tablespoon of dried dill; increase to taste as desired.
Check your "Use by" date on your yogurt container as a guide for how long to store this in the fridge if you use dried dill. As long as you don't double dip! If you use fresh dill, I'd recommend using within 5 days.
Dip may separate slightly in the fridge with a watery layer forming on top. Simply stir to combine before enjoying.
Serving size: 2 tablespoons.
Nutrition Information
Serving:
2
tablespoons
,
Calories:
69
kcal
,
Carbohydrates:
2
g
,
Protein:
3
g
,
Fat:
6
g
,
Saturated Fat:
1
g
,
Polyunsaturated Fat:
5
g
,
Cholesterol:
3
mg
,
Sodium:
100
mg
,
Sugar:
1
g
This website provides approximate nutrition information for convenience and as a courtesy only. Nutrition data is gathered primarily from the USDA Food Composition Database, whenever available, or otherwise other online calculators.
Verdict:
I'm obsessed with this dill vegetable dip. Our fridge will never be without it.
Husband's take:
Ben is not a fan of ranch or creamy dips UNLESS they are made with Greek yogurt (I love that he likes to make healthy choices!), but he adores this dip. He'd probably be annoyed that I used the word adores (he'd say it's not "manly"), but he doesn't read this.
Changes I would make:
Nada.
Difficulty:
SO easy!
PS: 69 calories per serving!!!! WOOHOO.