Spinach Dip (from scratch or with seasoning mix)
Creamy spinach dip is always a hit, whether it's served in a bread bowl, or with crisp crackers, or celery sticks. It's easy to make your own!
Recipe Overview
Why you'll love it: This recipe is healthier because yogurt replaces much of the mayonnaise and sour cream.
How long it takes: 15 minutes (or a little less if you take the shortcut)
Equipment you'll need: mixing bowl, measuring utensils
Servings: makes 4 cups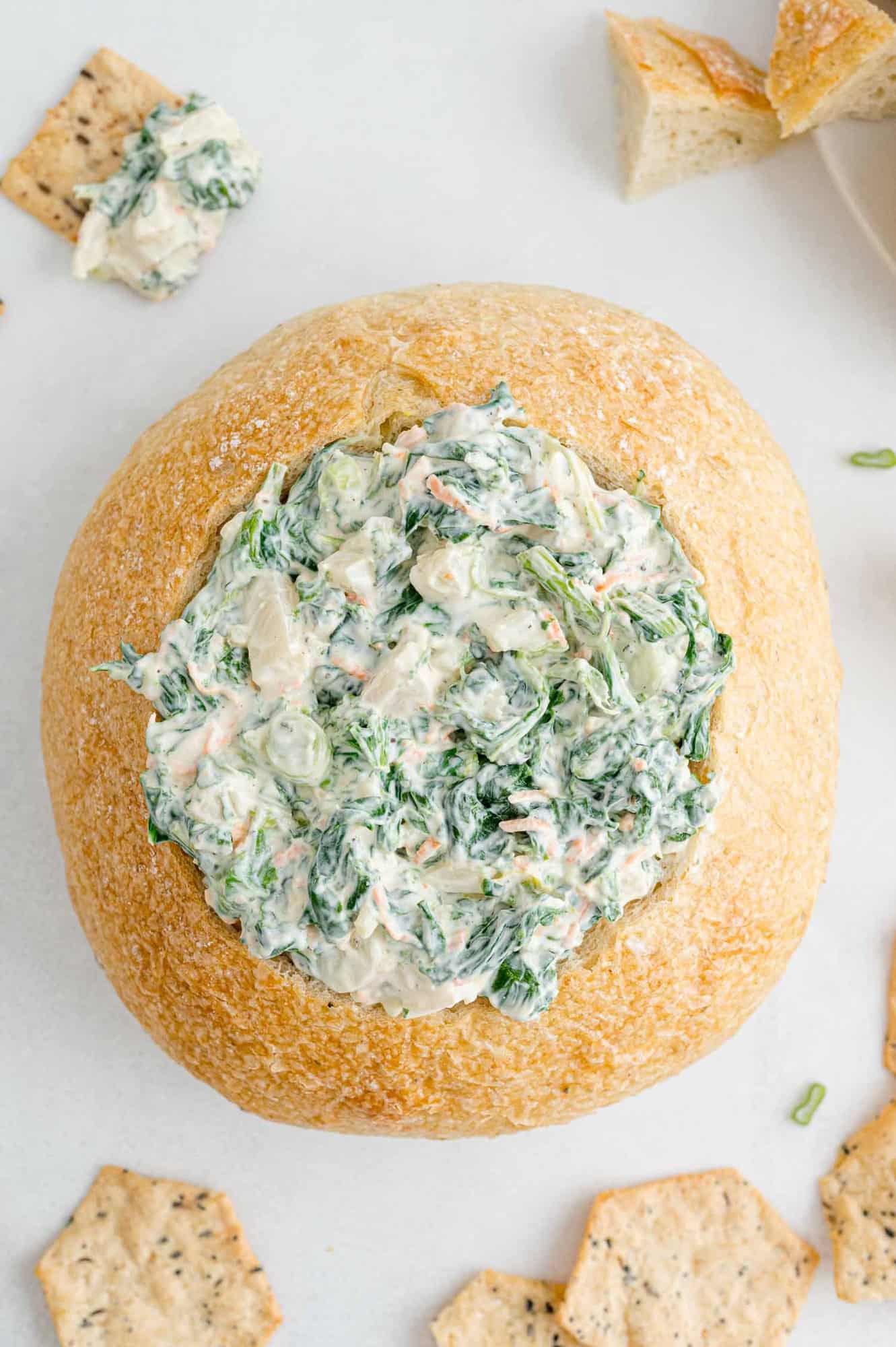 I'm a sucker for creamy spinach dip served in a big bread bowl. That is usually the first appetizer I go to at parties (and sometimes the last, you'll find me just hanging out there). It's so so good.
While it's easy to buy pre-made spinach dip, or deli-made dip, why not make your own healthy spinach dip? I bet you knew I would say that. It's really very easy to make and my recipe is "skinnied" down a bit, making it a healthier choice.
This is a cold spinach dip, not to be confused with the warm cheesy spinach dip with artichoke hearts that is a popular appetizer choice. Try my slow cooker spinach artichoke dip the next time you host a get-together. It's always a hit.
By the way, if you're a fan of spinach, be sure to try my spinach balls recipe. I like to make a batch ahead, freeze them, and then either bake or air fry them when needed.
About This Dip Recipe
I'll show you how to make spinach dip two ways: from scratch or with Knorr's Vegetable Recipe Mix seasoning packet. We tested both ways side by side and it was impossible to tell the difference.
So, why make your own then? Take a quick look at the list of ingredients found in the seasoning mix (hint: there are 29 ingredients on the list).
I won't beat you up if you use the seasoning packet but if your spice cabinet is pretty well-stocked, it's easy to make your own mix. Go down the list, line up all the jars you need, and measure away. It's kind of fun, you'll feel like a scientist in a lab (or the Muppets' Swedish Chef!).
Another advantage to making your own seasoning mix is you can customize it as much as you want. Go heavy on what you like or skip what you don't like.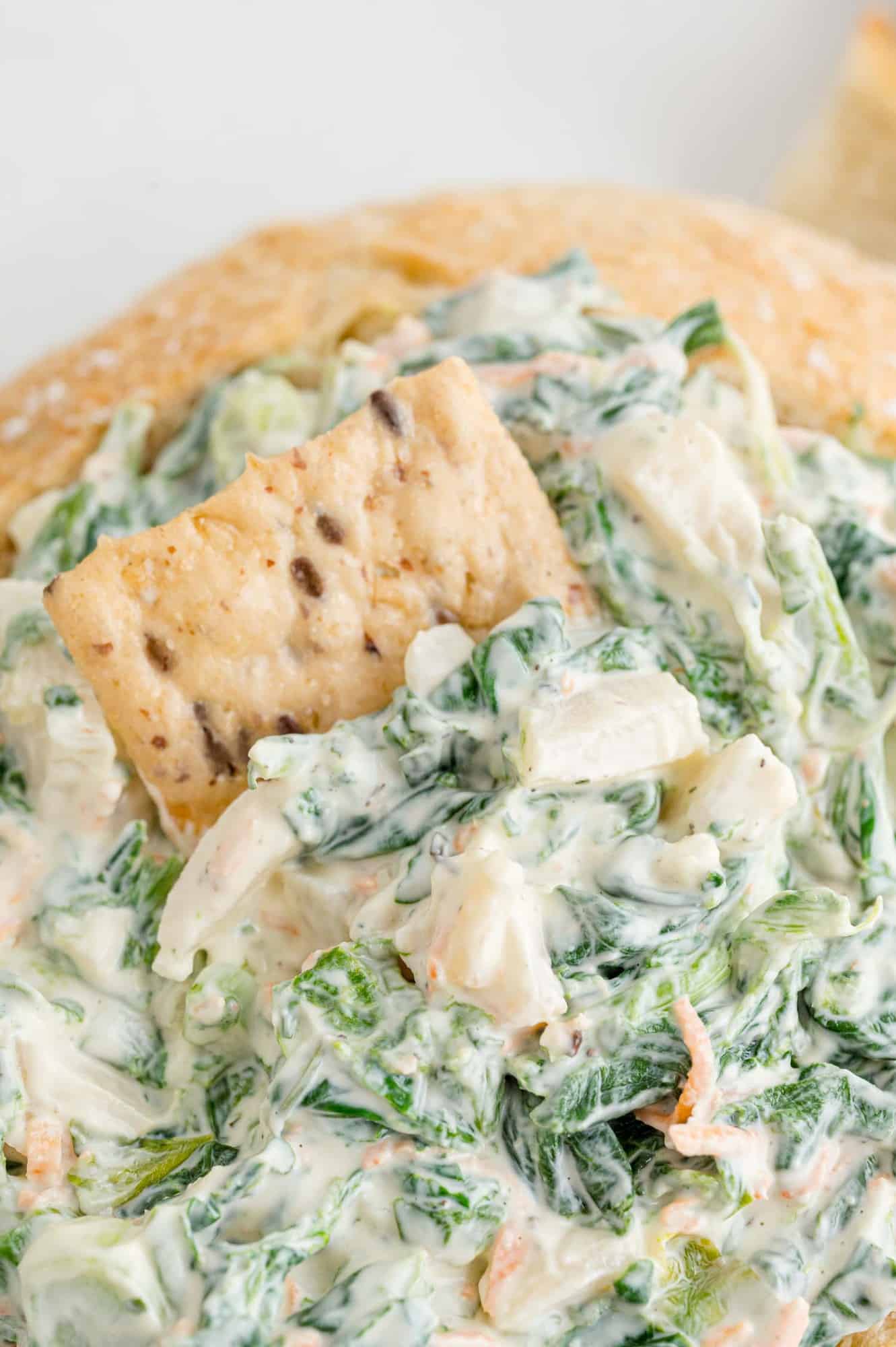 I'll get you started on the recipe here with lots of extra helpful tips. You'll find the printable recipe card near the end of the post with complete instructions and nutrition information.
What You'll Need
Spinach: A ten ounce box of frozen chopped spinach, or the equivalent. Sometimes it can be a little tricky to find boxes of frozen spinach. Frozen spinach in a bag is fine or use fresh spinach, chopped and sautéed lightly until wilted.
Carrots: For best results, shred your own carrots. They'll taste better and have a finer texture, making it easier to scoop the dip.
Water Chestnuts: While water chestnuts don't really have a lot of flavor, they provide a nice little crunch in the dip.
Green Onions (Scallions): For taste, texture, and appearance. Use both the green and white parts.
Greek Yogurt: Here's how we keep this dip a healthy choice. Use 2% plain Greek yogurt. Nonfat just doesn't have the same feel and whole milk yogurt has more fat and calories (but if you don't care, neither do I!). Substitute sour cream if you like.
Mayonnaise: We tested this recipe without mayonnaise and decided that mayo is pretty indispensable. If you want your dip to taste like real spinach dip, you just have to have a little mayo.
Knorr Vegetable Recipe Mix (one packet): This is the shortcut method. Don't feel bad about taking a shortcut; trust me, no one is going to judge you. However, if you have a well-stocked spice cabinet, why not make your own seasoning mix?
If you don't use the packet, you'll need Dry Onion Flakes, Salt and Pepper, Parsley, Dried Thyme, Celery Seed, and Garlic Powder
How To Make This Recipe
It's really quite easy to make homemade spinach dip whether you use the shortcut (the packet) or make it from scratch.
Thaw your spinach overnight if you think of it, or leave the frozen block out on the counter for an hour or two. Make sure you set it on a plate or dish because sometimes the liquid seeps out of the package and you don't want that all over your refrigerator.
Once it's soft, put it into a strainer and press as much liquid out as possible. Squeeze it pretty hard. There's no need to be gentle. You don't want watery spinach dip. Put the spinach in a mixing bowl.
Next, prep the carrots. They need to be washed, peeled, and finely grated. Slice the green onions. You can use both the white and green parts. Open the water chestnut and drain them (use the same strainer you used for the spinach). Chop them up a little too. Add it all to the mixing bowl with the spinach.
Measure out the yogurt and mayonnaise and add it to the bowl. Measure out the dried herbs and spices and throw them in the bowl. If you're taking the shortcut, just open the packet and dump the contents into the bowl.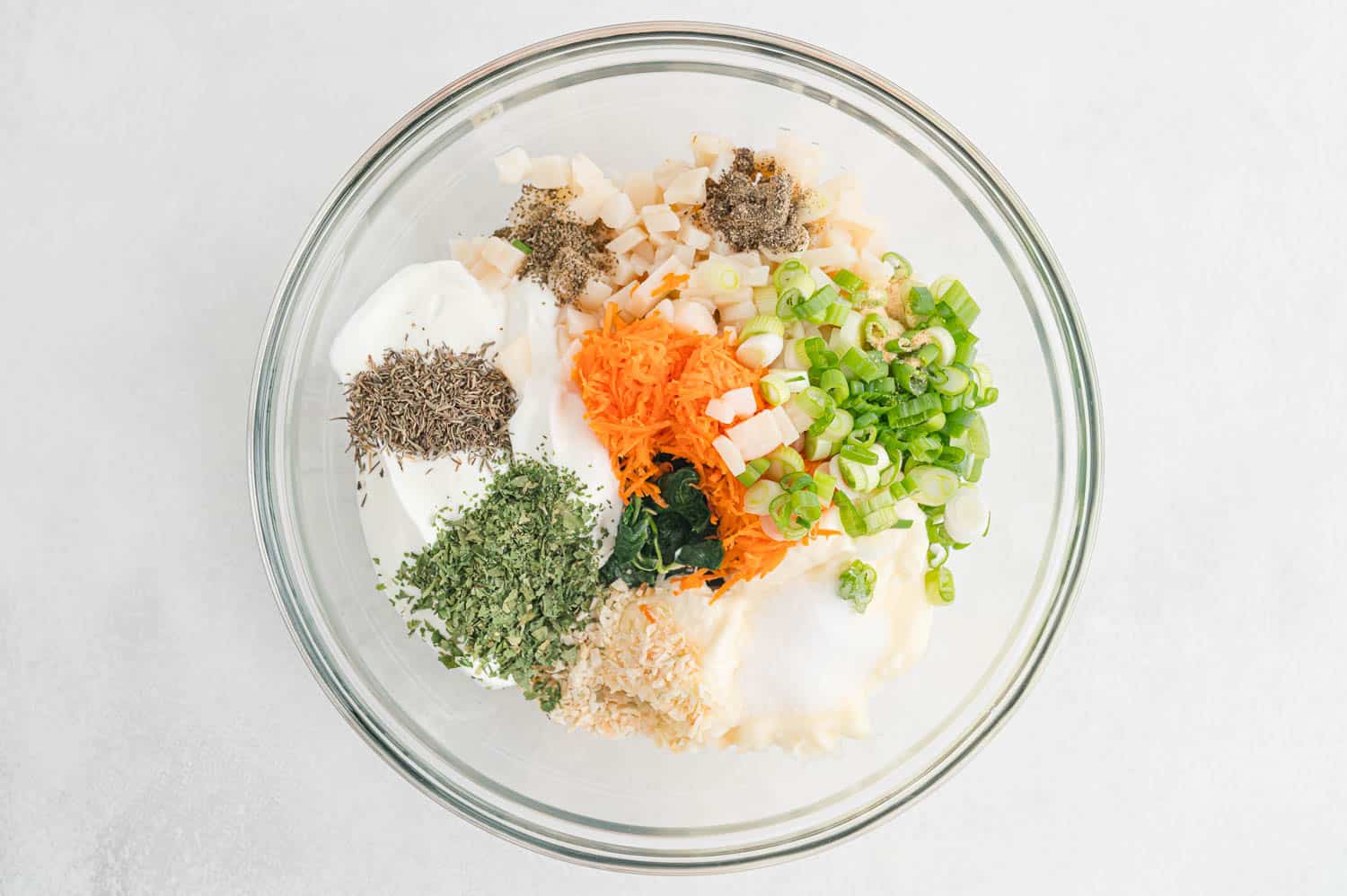 Give everything in the bowl a good stir. Make sure all the spices get distributed evenly and the dip is well-mixed.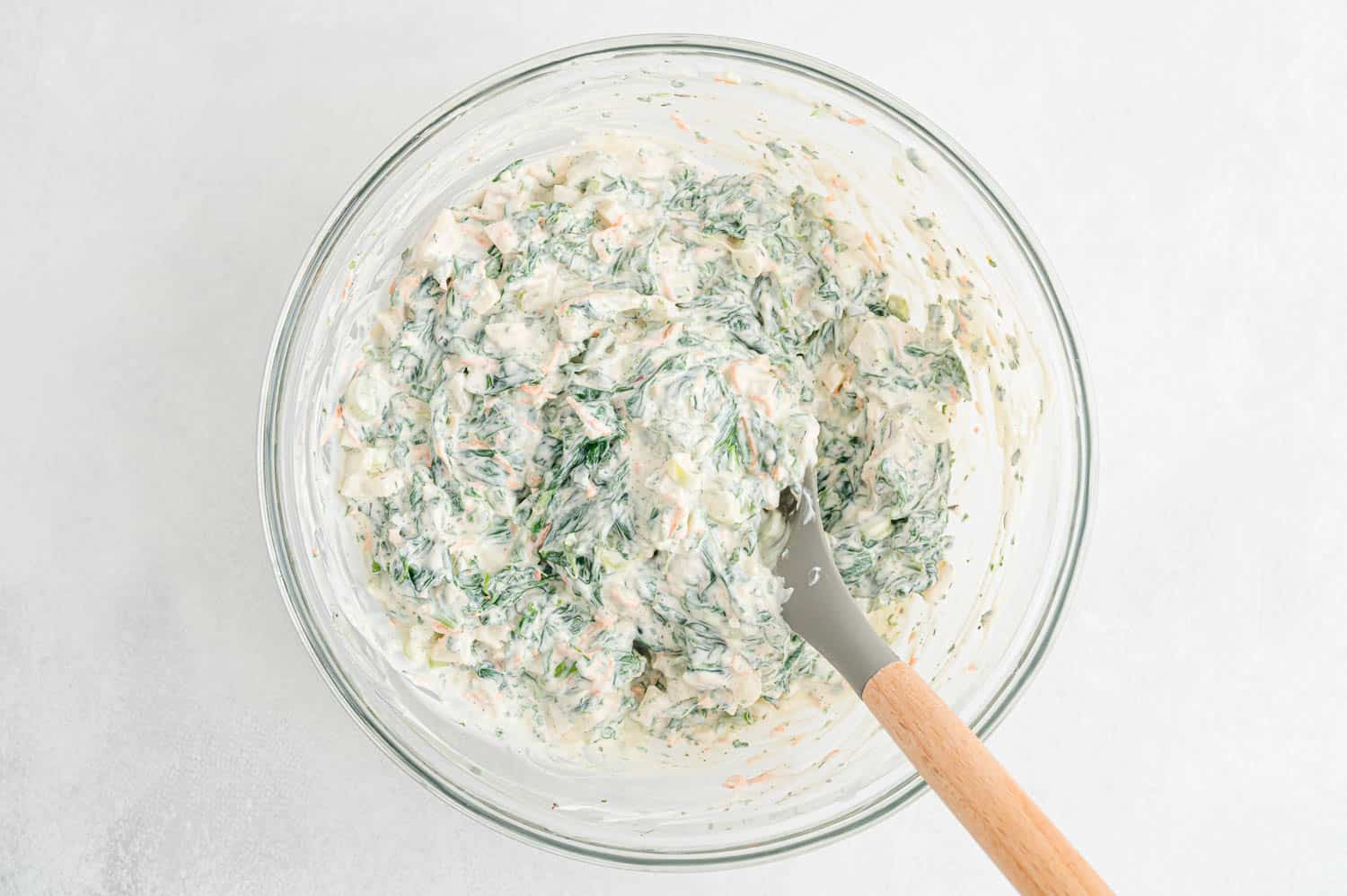 You can serve the spinach dip immediately, or cover the bowl and refrigerate to serve later. I actually think it's a bit better if you let the flavors meld a couple of hours in the refrigerator.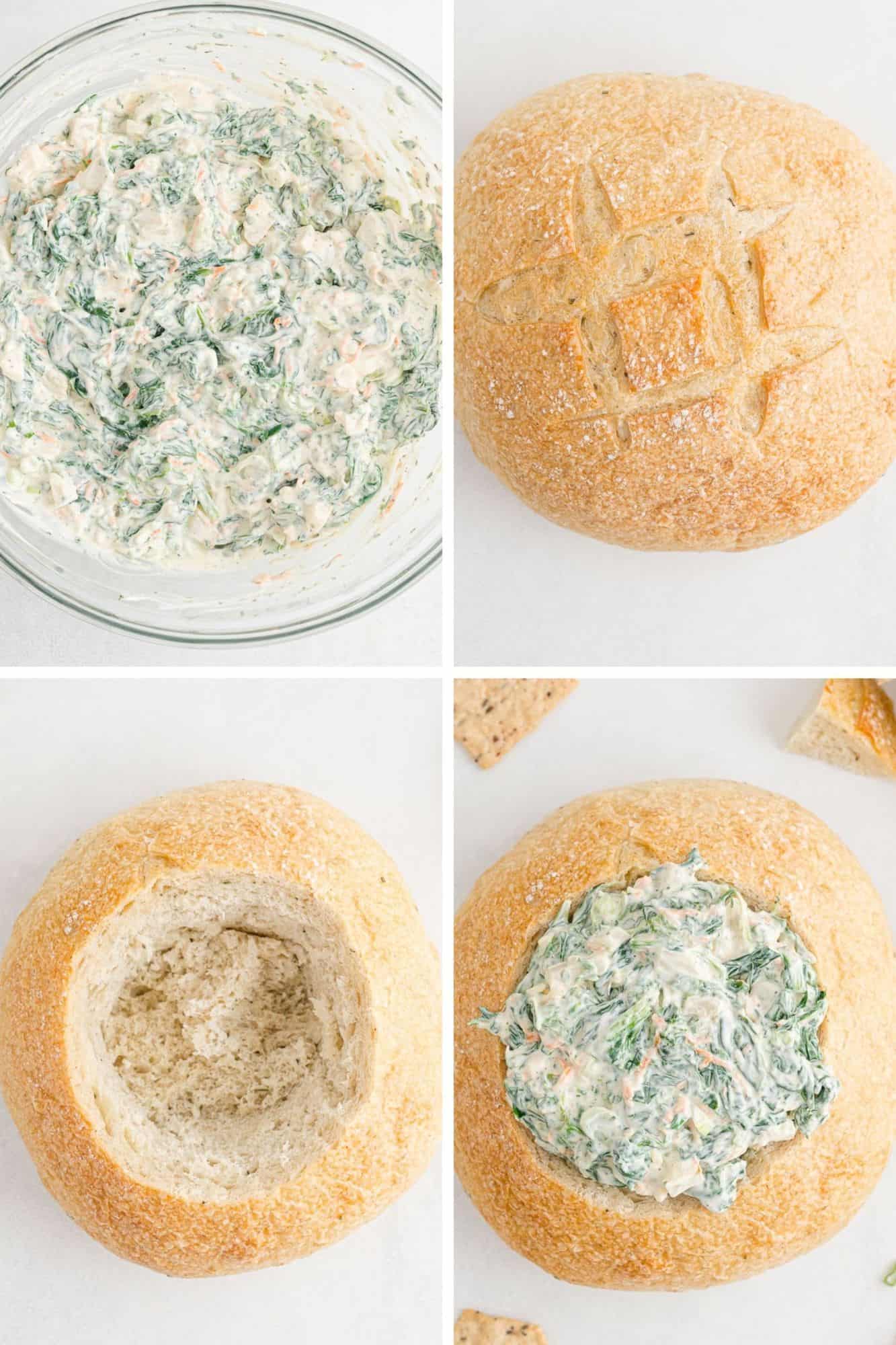 FAQs
What is best to eat with spinach dip?
Traditionally, spinach dip is served in a bread bowl. Use a round loaf of pumpernickel, rye, whole grain, or pretty much whatever bread you like. Cut out the center of the loaf and put the dip inside the bread bowl you've made. The bread you cut out can be used as dippers.
Other great choices are pita triangles, crisp crackers, or crudités (veggies).
P.S. The correct pronunciation of crudités is kroo·dee·tay.
Is spinach dip unhealthy?
Not all spinach dips are created equal. Warm dips with artichokes and cheese are usually cream-based and are laden with unhealthy fats and calories. Cold dips can be a bit more healthy depending on the recipe. This spinach dip recipe, when made with yogurt instead of sour cream, is actually low in calories, just 95 calories per quarter cup and only 1 gram of saturated fat. I'd say that's a healthy choice!
How long can you leave out spinach dip?
You can safely leave spinach dip at room temperature for a couple of hours. To keep the dip safely fresh, set the bowl on ice.
Since this recipe makes a big batch of dip, I don't put it all out at once. Keep a second bowl of dip in the refrigerator and switch it out after a couple of hours, discarding the warm dip.
Make It Your Own
Add very finely diced red bell pepper. This is especially nice around Christmas with the festive colors of red pepper and green spinach decking the halls.
Like cheese? Stir in 1/3 cup grated Parmesan cheese. You may want to omit the added salt since Parmesan cheese can be a little salty.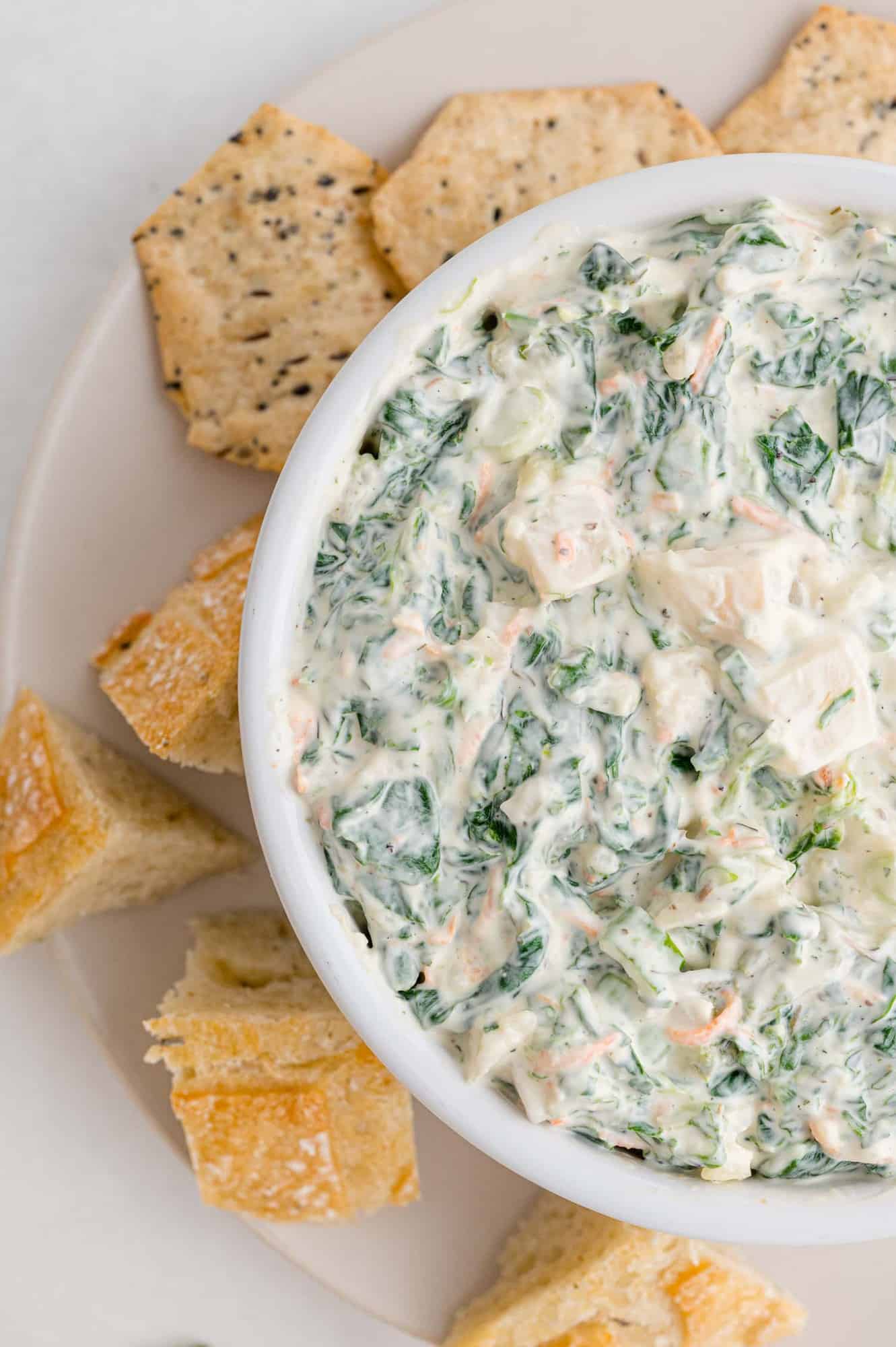 Make-Ahead Ideas
Spinach dip actually tastes a bit better if it has a chance to sit. Make it a few hours ahead (or even the day before!), cover and refrigerate it. To serve, give it a good stir and spoon it into a serving dish or bread bowl.
Storage Tips
Spinach dip should be refrigerated. Leftover dip will keep up to four days IF it hasn't sat out for a couple of hours. If the dip separates a bit, don't worry. Yogurt has a tendency to separate. Just give it a good stir and it will be fine.
Leftover Love
Leftover spinach dip makes a great sandwich spread, much more exciting than plain mayonnaise. Try it in this Roasted Vegetable Wrap with Feta (substitute the dip for the mayo and pesto).
Or make an egg Florentine toast. Spread the dip generously on a slice of grainy toast and top it with a runny fried egg. Ah, now that's my kind of breakfast.
Did you make this? Be sure to leave a review below and tag me @rachelcooksblog on Facebook, Instagram, or Pinterest!
Creamy spinach dip is always a hit, whether it's served in a bread bowl, or with crisp crackers, or celery sticks. It's easy to make your own!
Ingredients
1

pkg.

(12 oz.) frozen spinach, thawed and liquid squeezed out

¼

cup

finely shredded carrots

1 ¼

cups

2% plain Greek yogurt or sour cream

¾

cup

mayonnaise

1

can

(8 oz.) sliced water chestnuts, drained and chopped

2

green onions, finely chopped

(both green and white parts)

1

tablespoon

dry onion flakes

(see notes)

1

teaspoon

salt

1

teaspoon

dried parsley

½

teaspoon

dried thyme

¼

teaspoon

celery seed

¼

teaspoon

ground black pepper

¼

teaspoon

garlic powder
Instructions
Add all ingredients to a medium sized mixing bowl. Mix well. For best flavor, cover the bowl and refrigerate for at least an hour.

Transfer to a serving bowl and serve with crackers, rye, pumpernickel, or pita bread.
Notes
Makes about 4 cups. Nutrition information is based on 1/4 cup serving.

If desired, use 1 packet (1.4 oz) Knorr Vegetable Recipe Mix instead of the spices listed in recipe (onion flakes, salt, parsley, thyme, celery seed, black pepper, garlic powder).
Add color with bright red bell pepper, finely chopped.
For a creamy Parmesan spinach dip, stir in 1/3 cup grated Parmesan cheese. Omit salt.
Dip will keep in the refrigerator up to 4 days. Stir well before serving.
Nutrition Information
Serving:
0.25
cup
,
Calories:
95
kcal
,
Carbohydrates:
3
g
,
Protein:
2
g
,
Fat:
8
g
,
Saturated Fat:
1
g
,
Polyunsaturated Fat:
5
g
,
Monounsaturated Fat:
2
g
,
Trans Fat:
1
g
,
Cholesterol:
5
mg
,
Sodium:
222
mg
,
Potassium:
36
mg
,
Fiber:
1
g
,
Sugar:
1
g
,
Vitamin A:
375
IU
,
Vitamin C:
1
mg
,
Calcium:
26
mg
,
Iron:
1
mg
This website provides approximate nutrition information for convenience and as a courtesy only. Nutrition data is gathered primarily from the USDA Food Composition Database, whenever available, or otherwise other online calculators.