Spinach Balls Appetizer Recipe – WHOLE WHEAT!
Spinach Balls are great hot and fresh out of the oven but are also great as they cool to room temperature, making them a perfect appetizer! These are always a huge hit!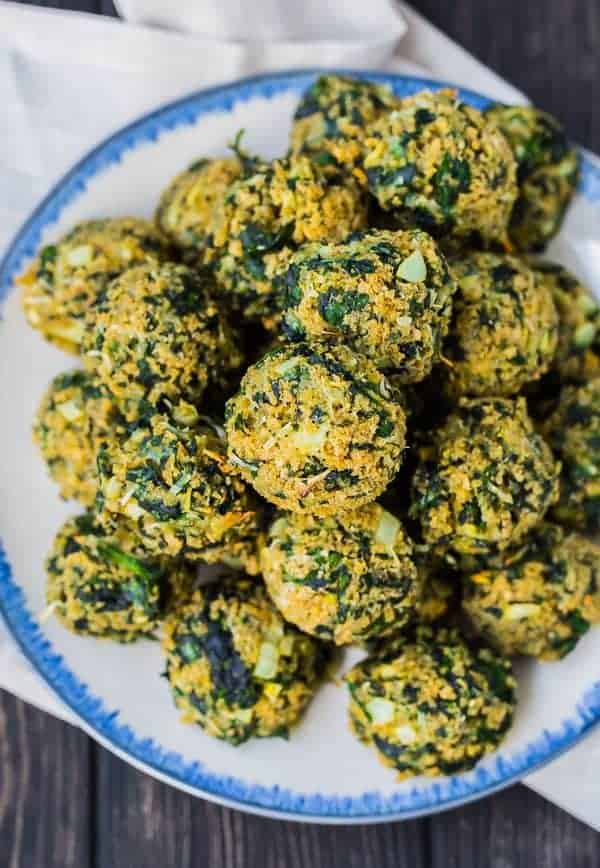 Holy cow, you guys. I don't remember summer being SO HARD in the past years. I mean, it's SO HARD to get any work done. I don't know if it's the kids or just a general lack of motivation, but I'm struggling.
BUT I'm going to make the most it and do a ton of fun things with my kids this summer. I might even try to sleep for more than 5 hours a night, too.
I think I can, I think I can.
Right now I have two or three hours of kid free time for the first time this summer. I have a list approximately 2389124891428912489 items long and 3 hours to accomplish everything. There are baby ducks and baby swans (SWANS!) swimming in the river outside the window of the library where I'm working. And darling little kids feeding the ducks and swans. It's not helping my productivity.
Also, I realize at first glance, this recipe for spinach balls may appear more suited for Christmas parties or New Years Eve parties (they would be perfect for NYE), but let me assure you, they're perfect for summer parties too.
About these spinach balls:
The first great thing about these spinach balls, especially in summer time, is that they are terrific fresh out of the oven, but also absolutely fantastic as they cool to room temperature. Meaning the last one is going to taste just as fabulous as the first one.
The next great thing about these spinach balls is that you can roll them a couple hours in advance and bake them right before your guests arrive.
Another absolutely fantastic thing is that these spinach balls have some nutritional benefits, unlike some appetizers you might find at parties. I would eat these with a salad for lunch. They're packed with spinach, whole wheat bread crumbs, and eggs. I brought them to a Memorial Day BBQ with my whipped feta dip and they were both a huge hit. My mother-in-law just raved about these (and kept the leftovers!).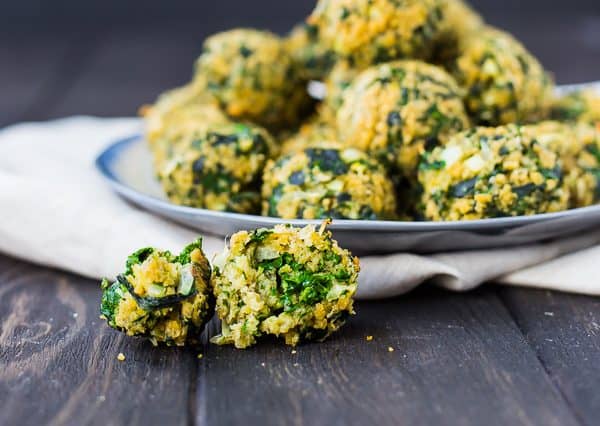 They're really quite easy to make. I used fresh spinach but you could use thawed frozen spinach to take a step out of the equation. In order to perfectly portion them and speed up the ball rolling process, I used one of my favorite kitchen tools, a cookie scoop. It's great for cookies, of course, but it's also perfectly suited for meatballs, spinach balls, and energy bites. For these spinach balls, I use a 1.5 tablespoon scoop, or a #40.
Also, do yourself a favor and bake these on parchment paper (this is the kind I currently buy). Quick and easy cleanup!
More Spinach Appetizer Ideas You'll Love:
Spinach Balls Appetizer
Yield: 30-35 balls
Prep Time: 20 minutes
Cook Time: 25 minutes
Total Time: 45 minutes
Spinach Balls are great hot out of the oven but are also great as they cool to room temperature, making them a perfect appetizer! Always a huge hit!
Ingredients
16 ounces fresh spinach
2 cups whole wheat Panko bread crumbs
1 cup grated Parmesan cheese
1/2 cup finely minced onion
4 large eggs, beaten
4 tablespoons (1/2 stick) butter, melted
1 teaspoon garlic powder
1 teaspoon Italian seasoning
1/2 teaspoon black pepper
1/8 teaspoon freshly ground nutmeg
Instructions
Preheat oven to 350°F.
In a large pan with cover, heat 1 tablespoon of water and spinach over medium heat, covered, until wilted. Stir occasionally as needed to wilt all the leaves. Put spinach in a fine mesh strainer and push out all the liquid using the back of a spoon. Place on a cutting board and chop finely.
In a large bowl, add spinach, Panko bread crumbs, Parmesan cheese, onion, eggs, butter, garlic powder, Italian seasoning, black pepper, and nutmeg. Stir until well combined.
Roll into small, even balls (I use a 1 1/2 tablespoon scoop).
Place on a parchment paper lined baking sheet.
Bake for 20-25 minutes or until golden brown.
Serve immediately or cool completely before storing in an airtight container in fridge.
Notes
Serving size: 2 spinach balls
Nutrition Information:
Yield: 15
Serving Size: 2 spinach balls
Amount Per Serving:
Calories: 150
Total Fat: 4g
Saturated Fat: 2g
Trans Fat: 0g
Unsaturated Fat: 2g
Cholesterol: 55mg
Sodium: 177mg
Carbohydrates: 22g
Fiber: 4g
Sugar: 1g
Protein: 9g
RachelCooks.com sometimes provides nutritional information, but these figures should be considered estimates, as they are not calculated by a registered dietician. Please consult a medical professional for any specific nutrition, diet, or allergy advice.
Verdict:
I love these — if you come to a party at my house, you might be seeing them! Or you might be seeing a store-bought veggie tray because it's summer and I don't have my you-know-what together.
Husband's take:
Ben loves these spinach balls!
Changes I would make:
None are necessary, but you could try them with a mix of kale and spinach. You could also try them with a pinch of red pepper flakes for a little spice.
Difficulty:
Easy!