Crisp vegetable fritters are packed full of colorful vegetables and flavorful cheese. They can be served as an entrée, side dish, or appetizer.
Recipe Overview
Why you'll love it: Fritters are a fun way to eat your veggies, not quite a pancake but close enough that everyone, including kids, scarf them down.
How long it takes: just under a half hour
Equipment you'll need: box grater or food processor, mixing bowl, skillet
Servings: 4 (makes about 12 small fritters, depending on size)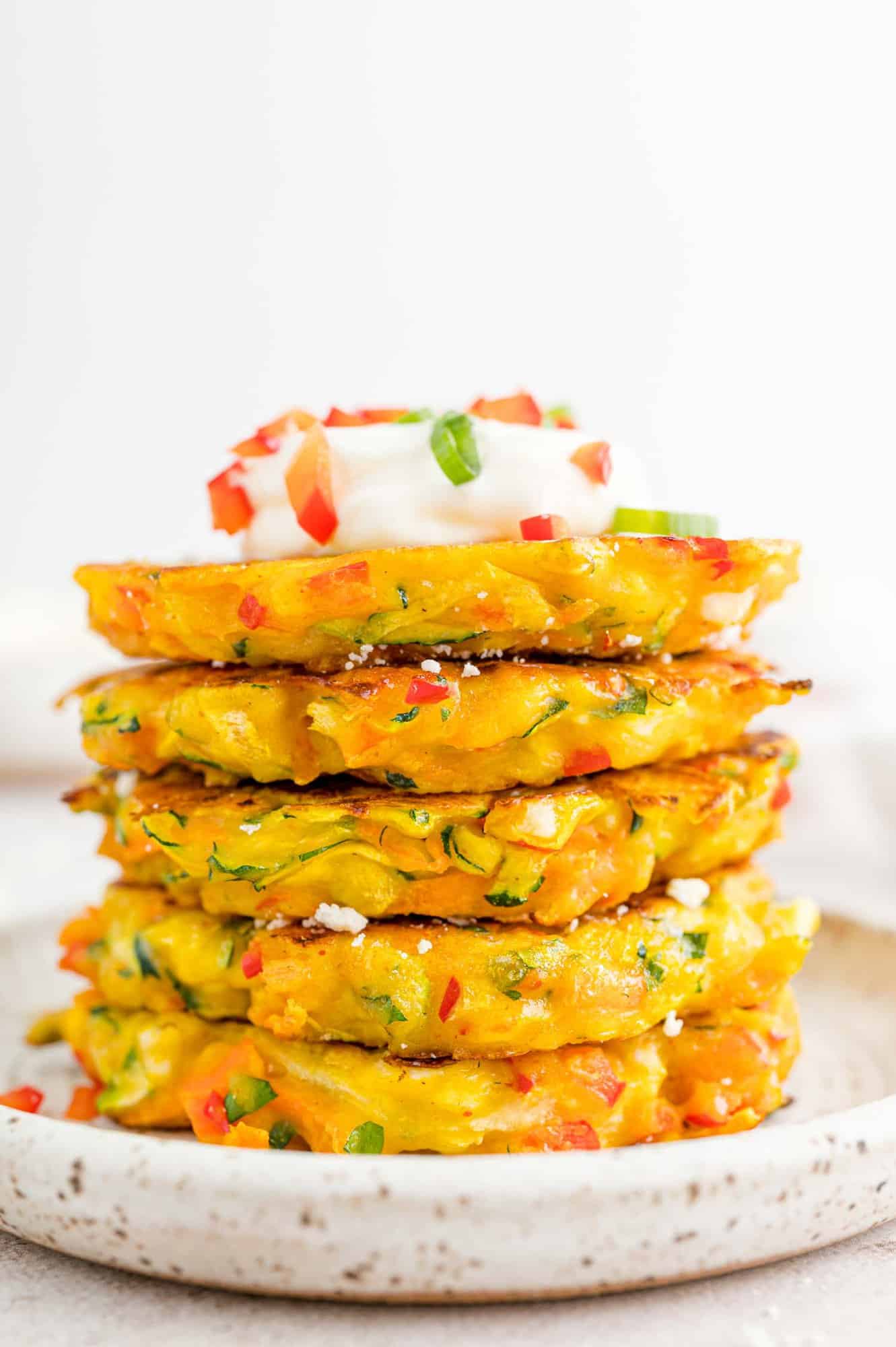 Summer months are the best for vegetables, aren't they? However, if you grow zucchini, you may be "zucchini-ed out" by the end of the season. At the very least, you're looking for new ways to incorporate zucchini squash into your menu.
I'm not knocking zucchini. We love it! We make grilled zucchini, or thinly slice it into ribbons for a zucchini ribbon sauté, or combine it with summer squash and mushrooms (and goat cheese!) for an amazing grilled vegetable salad. My kids love zucchini pizza bites or lasagna zucchini boats (and so do I!).
Present these vegetable fritters as "pancakes" and your kids may be more tempted to try them (maybe other members of your household, too!). We're a pancake family (be sure to check out my other site, Pancake Recipes) so I hoped that these zucchini fritters would be an instant hit. And I was right!
Be sure to try some of the variations and toppings suggested below. The fritters can be served as a lunch, a side dish with dinner, or as appetizers. Enjoy!
About These Fritters
Nutritious: We all enjoy these vegetable pancakes made with zucchini, carrots, and red peppers. The bonus is that they are full of great nutrients, fiber, and antioxidants.
Flavorful: They don't lack in flavor, either. Turmeric, fresh parsley, and a touch of cayenne make these a party in your mouth. Feta cheese adds a tangy, salty note. Top them with a drizzle of hot honey, maple syrup, sour cream, or guacamole.
Easy to Make: It's not that much more difficult to make vegetable fritters than it is to make pancakes or waffles. The veggies can even be shredded ahead of time and refrigerated until you're ready to make the fritters.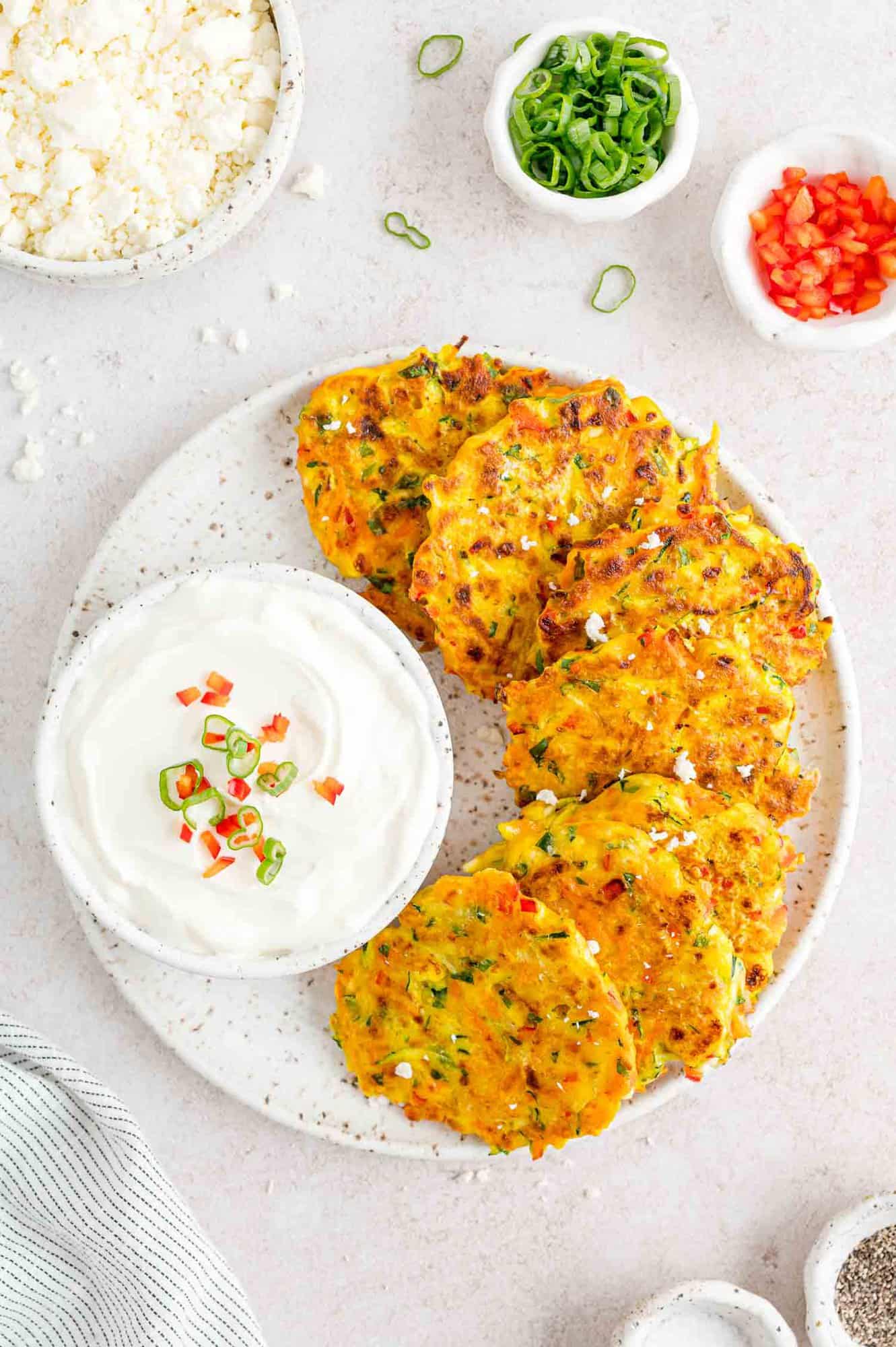 Ingredients You'll Need
We'll run through the recipe here and give you some pointers. As always, look for the recipe card near the end of the post for measurements, instructions, and nutrition information.
Zucchini: One small sized zucchini will do the trick. Sorry, you' ll have to save that torpedo-sized zucchini for another recipe (check out the recipes below). There's no need to peel zucchini. Much of the nutritional value is found in the dark green skin.
Carrot: You'll need one small carrot, either peeled or scrubbed well.
Red Bell Pepper: Any color is fine but I like the fiesta combination of red pepper, orange carrot, and green zucchini.
Fresh Parsley: Did you know that parsley is flavorful and nutritious? It's not just a decorative garnish for your plate. I usually use Italian flat leaf parsley. Fresh chives are a good alternative.
Feta Cheese: Feta crumbles are fine for these fritters. If you prefer, substitute cheddar or Parmesan cheese.
All Purpose Flour: A half cup of flour gives the fritters substance so you can form patties.
Egg: One large egg adds a bit of protein and is the glue that holds the fritters together.
Milk: Just a couple of tablespoons are needed.
Ground Turmeric: This bright yellow spice adds flavor, nutrition, and a golden tint.
Cayenne Pepper: Just a pinch for a little tingle of heat.
Oil for Frying: Avocado oil is a good choice but any light tasting oil with a high smoke point will work.
How To Make Vegetable Fritters
The first thing you'll want to do is grate the zucchini and carrot. A box grater works well or a small food processor with the grating blade. You should end up with ¾ cup grated zucchini and ½ cup grated carrot.
Finely dice the red bell pepper and chop a couple tablespoons of fresh parsley. Line up the rest of the ingredients so you're ready to go.
In a large mixing bowl, lightly beat the egg with a fork until it's blended. Add the remaining ingredients (flour, seasoning, milk, crumbled feta, and veggies).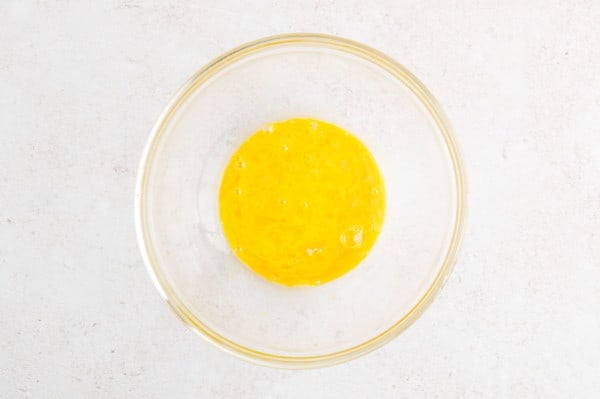 Stir until they are completely mixed.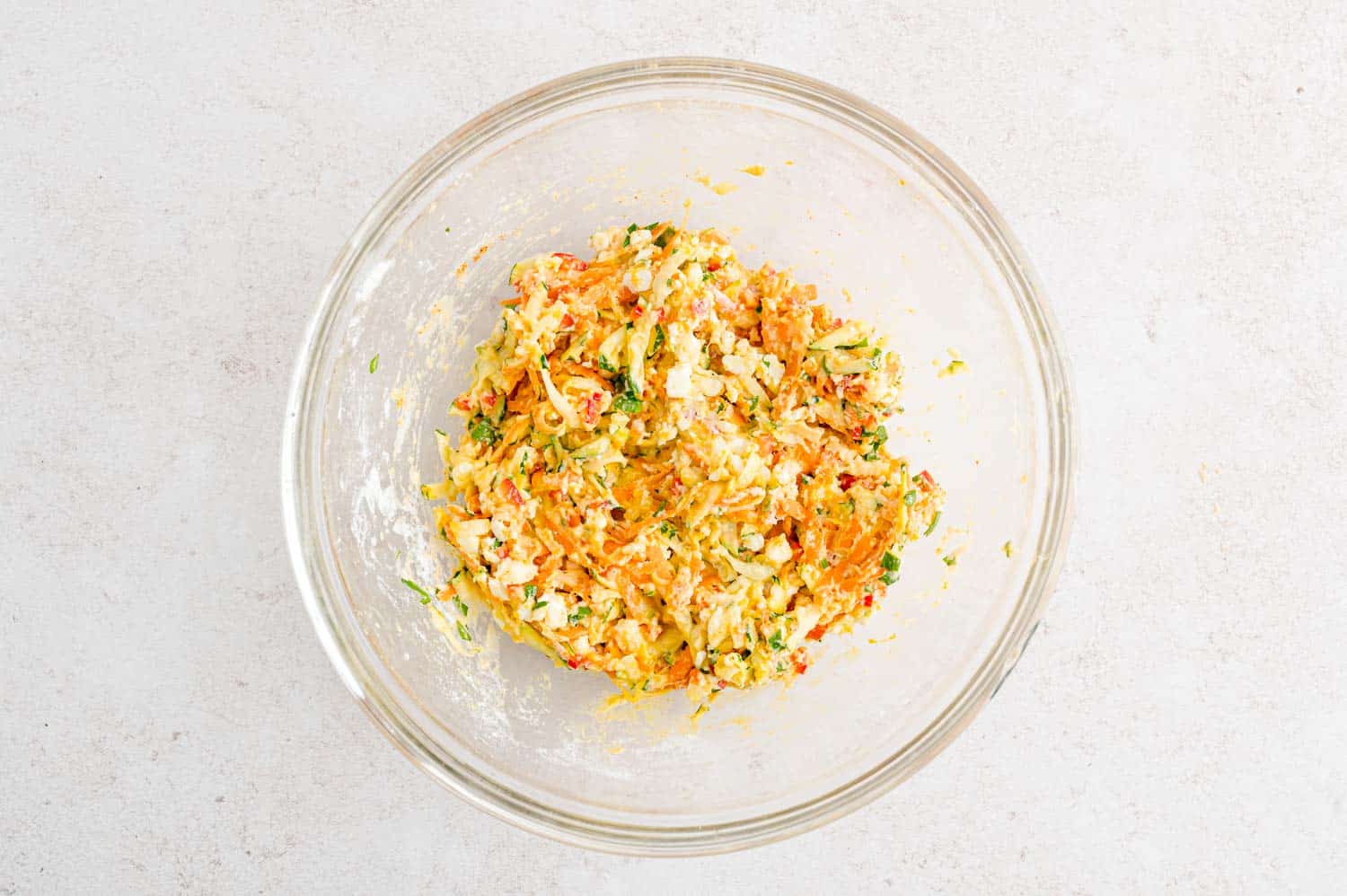 Heat a skillet or griddle. If you have a griddle that you usually use to make pancakes, that will work perfectly. I prefer nonstick. A cast iron pan is fine but you may have to use a little more oil.
When the pan is hot, add a splash of oil and swirl to coat the pan. Use an oil with a high smoke point; I like avocado oil for these fritters but canola or vegetable oil is fine, too.
Drop the fritter batter into the hot skillet and flatten it slightly. Fry until golden, about 4 minutes, then use a spatula to flip the fritters over, cooking them an additional 4 minutes or until golden on both sides.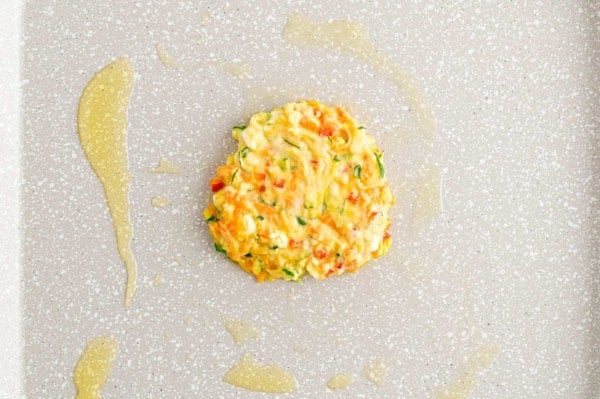 Serve the fritters immediately or keep in a warm oven until ready to serve. Add toppings of your choice and enjoy!
Helpful Hints for Making Fritters
Making Crispy (not soggy) Fritters
Vegetable fritters should be crisp on the outside and moist on the inside. Here's how to achieve this:
Hot pan: Be sure your pan is hot before adding the batter. You should hear a little sizzle when the fritter batter hits the hot pan.
Keep warm: When you remove the fritters from the pan, if you're not serving them immediately, put them on a wire rack placed on a baking sheet and keep the fritters warm in the oven until you're ready to serve them.
Avoid condensation: Don't stack the hot fritters or cover them because condensation will form and the fritters may get soggy. This tactic works well for pancakes and French toast, too.
How do you keep fritters from falling apart?
Correct ratio: You need flour and egg to bind the mixture together. If the ratio of veggies to flour/egg is off balance, the fritter batter won't hold together. If you get a little carried away with grating vegetables, compensate by adding more flour and perhaps another egg so your fritters don't fall apart.
Don't rush: When you're frying the fritters, allow enough time before trying to flip them. They should be golden brown and hold their shape when you lift them with a spatula. If you try to turn them too soon, they may fall apart.
Large flipping surface: Use a spatula that is large enough to hold the entire fritter. If it's too small, the fritter may crumble off the edges.
What To Serve With Vegetable Fritters
Make It Your Own
Switch up the veggies and herbs. As long as you end up with the same amount of shredded/diced vegetables, feel free to play around. Summer squash can be subbed in for zucchini, onion can be added instead of carrots or peppers, a poblano pepper or green pepper for the red pepper, chives instead of parsley, etc.
Use a different kind of cheese. If you're not a fan of feta, try shredded cheddar or Parmesan. Mozzarella is good, too.
Play around with toppings. There's no limit to what you can top these zucchini fritters with. Be creative. Here's some suggestions: a drizzle of hot honey, maple syrup, sour cream, or guacamole. I'm thinking salsa verde or pico de gallo would be really good.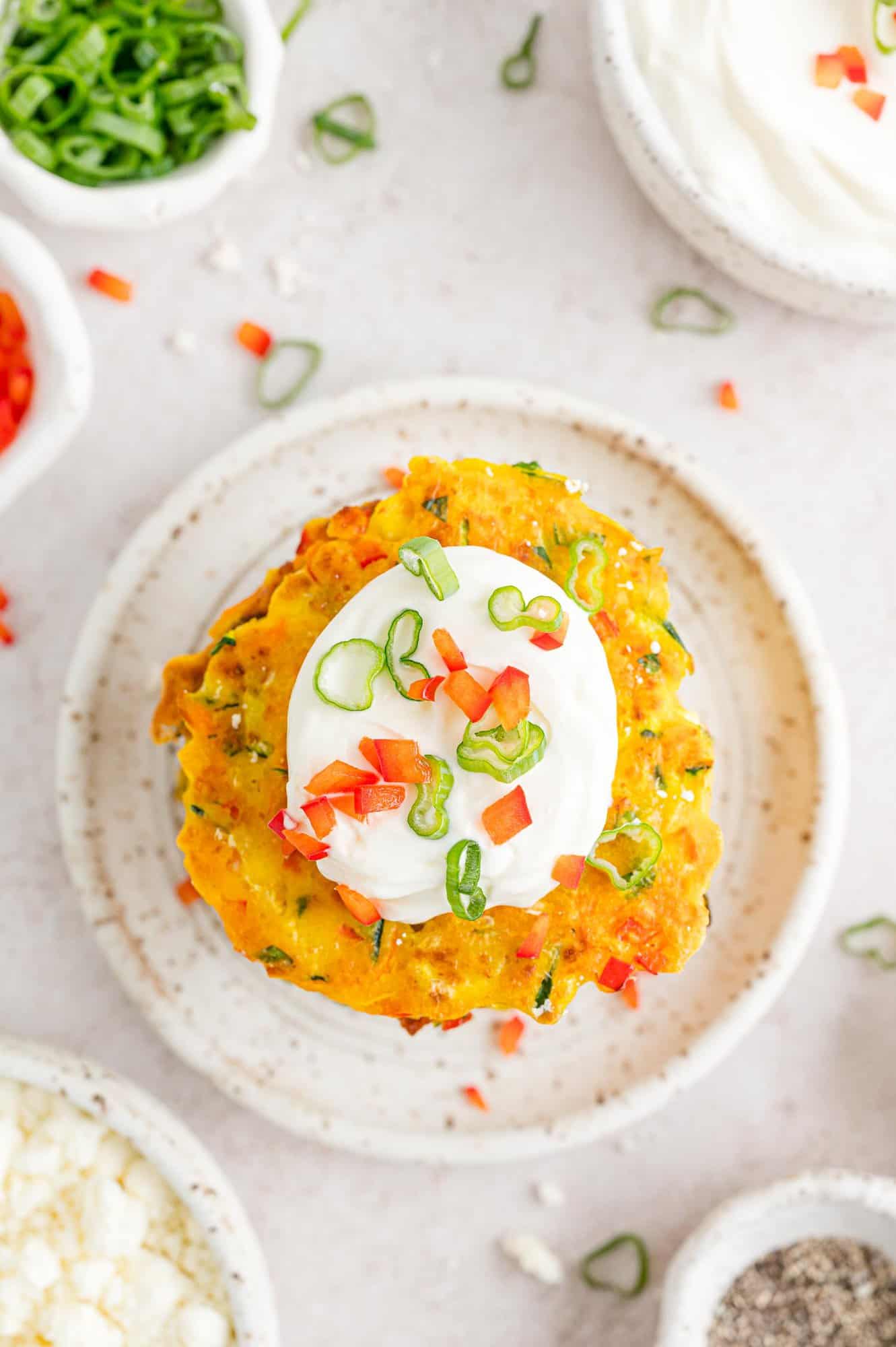 Make Ahead Ideas
Get a head start: The zucchini and carrot can be shredded ahead of time; finely dice the red pepper and chop the parsley. Store the mixture in the fridge until you're ready to use it. It will keep overnight. If the zucchini releases moisture, simply drain the excess moisture before adding the remaining ingredients.
Make a double batch: While you're shredding, you may as well make a double batch and freeze the extra to enjoy in the future.
Storage & Reheating Tips
Refrigerate: Cool the fried vegetable fritters completely on a wire rack before refrigerating. Put them into an airtight container or cover. They'll keep for up to 3 days.
Freeze: The cooled fritters can be frozen in a freezer-safe container for up to 3 months. There's no need to thaw them before reheating.
Reheat: Reheat the fritters in a skillet over medium heat. They can also be reheated in a toaster oven or air fryer until warm and crisp. If the fritters are frozen, they'll take a bit longer to reheat.
Interested in a weekly meal plan (it's free!) that includes this vegetable fritter recipe? Take a look at my Meal Plan #29. You'll find a wholesome recipe for each weekday plus a categorized grocery list. Let me do the planning for you this week!
We'll be adding a new meal plan weekly. If you're interested, browse all of our meal plans.
Did you make this? Be sure to leave a review below and tag me @rachelcooksblog on Facebook, Instagram, or Pinterest!
Crisp vegetable fritters are packed full of colorful vegetables and flavorful cheese. They can be served as an entree, side dish, or appetizer.
Ingredients
¾

cup

grated zucchini

(

1

small zucchini)

½

cup

grated carrot

(

1

small carrot)

¼

cup

finely diced red bell pepper

(

¼

red bell pepper)

2

tablespoons

chopped fresh parsley

½

cup

finely crumbled feta cheese

(see note)

½

cup

all-purpose flour

¼

teaspoon

kosher salt

¼

teaspoon

ground turmeric

⅛

teaspoon

cayenne pepper, more or less to taste

1

large egg

2

tablespoons

milk

1

tablespoon

avocado oil, for frying

(any light-tasting oil with a high smoke point)
Instructions
In a large bowl, lightly beat egg. Add remaining ingredients until well mixed.

Heat a large skillet over medium heat. Add oil, swirl to coat.

Scoop batter, about 1 ½ tablespoons rounded, into hot skillet; flatten slightly. Cook for approximately four minutes on each side, or until golden brown and cooked completely. If they aren't releasing easily from the pan, you may be flipping them too quickly. Wait until they are firm and golden on the bottom before flipping.

Serve and enjoy!
Notes
If you prefer, substitute cheddar or Parmesan cheese for the feta cheese.
Fritters are quite small, about 2 ½ inches diameter. The yield is 11 to 12 fritters. Feel free to make them any size you like. The yield will depend on how large you make them.
Suggested toppings (optional): sour cream, hot honey, guacamole, maple syrup.
Nutrition Information
Serving:
3
small pancakes
,
Calories:
173
kcal
,
Carbohydrates:
16
g
,
Protein:
7
g
,
Fat:
9
g
,
Saturated Fat:
3
g
,
Polyunsaturated Fat:
1
g
,
Monounsaturated Fat:
4
g
,
Trans Fat:
0.01
g
,
Cholesterol:
64
mg
,
Sodium:
395
mg
,
Potassium:
203
mg
,
Fiber:
1
g
,
Sugar:
2
g
,
Vitamin A:
3360
IU
,
Vitamin C:
20
mg
,
Calcium:
124
mg
,
Iron:
1
mg
This website provides approximate nutrition information for convenience and as a courtesy only. Nutrition data is gathered primarily from the USDA Food Composition Database, whenever available, or otherwise other online calculators.