Tender and juicy, perfectly seasoned air fryer pork chops are easy and fast, making them a convenient weeknight dinner.
Recipe Overview
Why you'll love it: You can have pork chops on the table in less than 20 minutes for a delicious and no fuss dinner!
How long it takes: 20 minutes
Equipment you'll need: air fryer
Servings: 4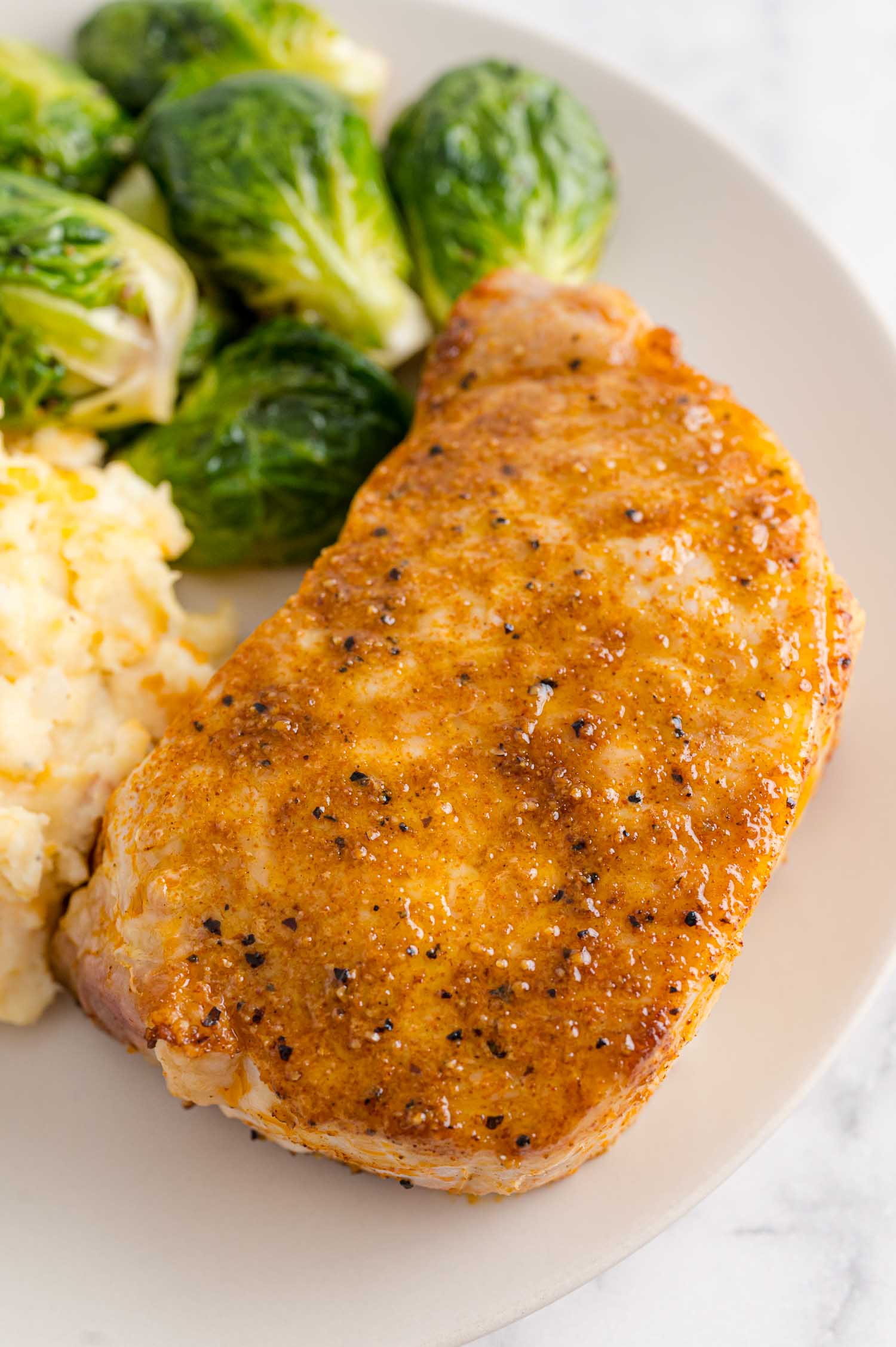 Are you looking for an easy dinner recipe that you can have on the table in less than a half hour? Aren't we all? Sometimes the days go by in a whirlwind and you wonder what happened to the week. Dinner sometimes gets lost in the shuffle, doesn't it? You simply don't have time to think about it.
That's why I love easy recipes like these air fryer pork chops. They cook up so quickly with very little prep yet they taste great. The meat is tender and delicious, perfectly seasoned. If you add a couple of easy sides like frozen vegetables and a bag of salad, dinner can be on the table in less than a half hour.
Air fryers are just the greatest thing for busy cooks. They heat up very quickly so you don't have to wait around for the oven to preheat. Cleanup is minimal because the cooking surfaces of an air fryer are nonstick and contained so you don't have deal with spatters of grease all over your stove.
And most importantly, the food tastes great. Because of the high temperature and the circulating air, most foods get a nice sear on the outside but remain juicy and tender on the inside. It's similar to a broiler or grill but better!
Be sure to try air fryer burgers, too. They are really good. Put them on a bun with toppings and add a veggie or chips to the plate. Easy! Do you have a package of chicken in the fridge? Try air fryer chicken drumsticks or air fryer chicken thighs; they turn out juicy and delicious. Try air fryer meatballs; my kids love them. You'll find lots more air fryer recipes near the end of the post.
About this Pork Chop Recipe
I wanted to give you an easy recipe for pork chops with no breading. (If you want breading, check out my air fryer breaded pork chops or baked pork chops!) The pork chops are seasoned well with a brown sugar based rub that give the chops a nice golden "crust" due to caramelization.
This is a fork and knife meal, similar to a steak. The pork isn't going to be fall-apart tender, like slow cooker pork chops, slow cooker pulled pork or Instant Pot pulled pork. The pork chops are cooked fast and hot just until they are done. Because they are lean, if you overcook them, they will be tough and dry, so be careful with cooking time.
Quick Primer on Pork Chops
There are several different kinds of pork chops and each one may called by a few different names. According to Pork.org, there are five kinds of pork chops: porterhouse, ribeye, sirloin, New York, and blade. Some are boneless and some are bone-in. For more information, check out their short video.
Are pork chops good for you? Wondering if pork fits into a healthy diet? Leaner cuts like sirloin and tenderloin have less fat than New York or ribeye cuts. All pork is high in good quality protein and contains important nutrients, especially selenium (Healthline). Air frying is a healthy way to prepare pork because there's very little added fat and excess fat drains off while the meat cooks.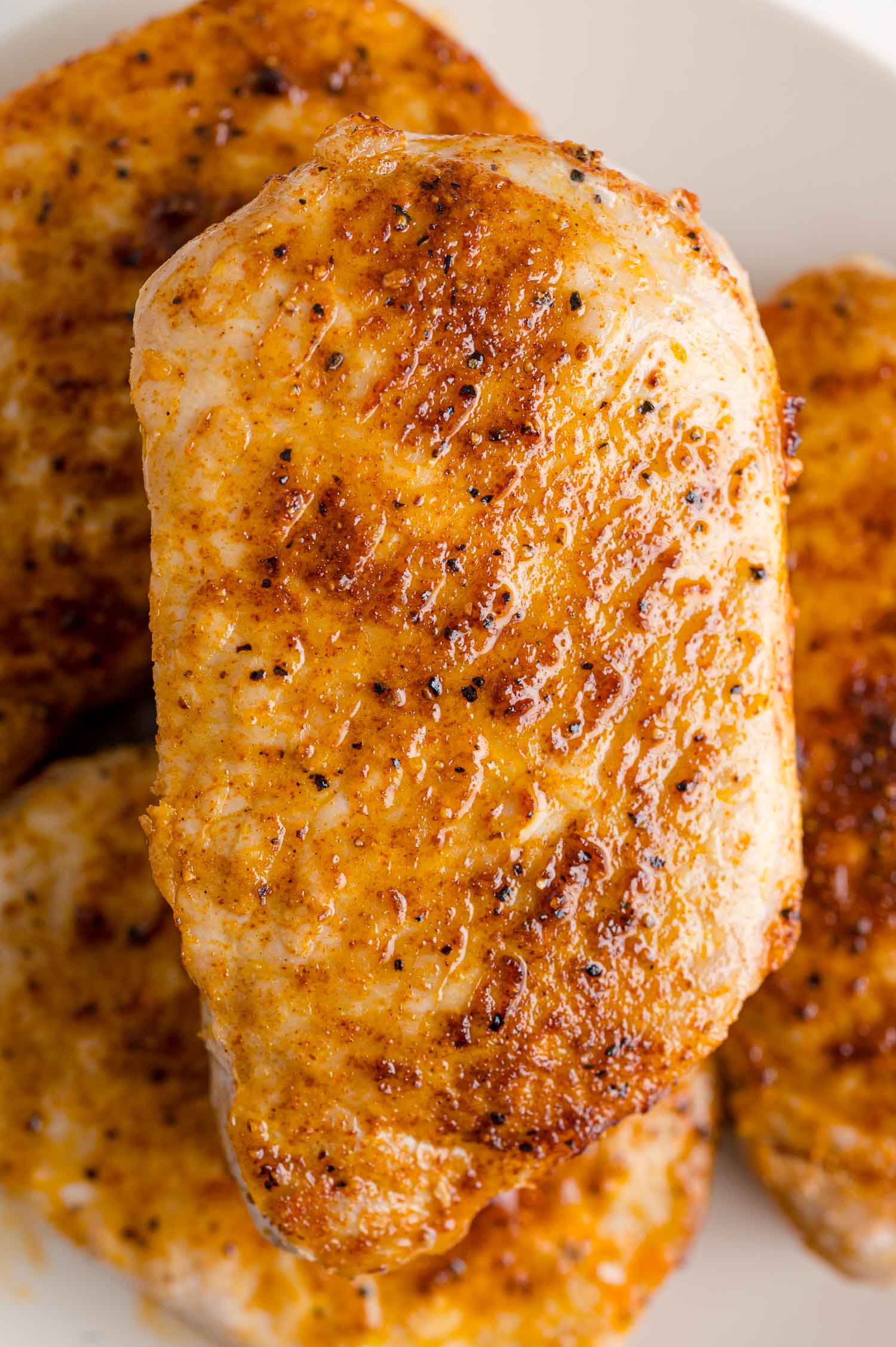 I'll get you started on this easy recipe and give you lots of helpful tips. As always, look for the printable recipe card near the end of the post. You'll find complete instructions, measurements, and nutrition information.
Ingredients you'll need
Pork Chops: This recipe is written for four boneless pork chops, about one and half pounds total. If you prefer bone-in chops or thick cut chops, we have directions for those as well. If you only want to cook 2 chops, that's perfectly fine too. Just halve the seasonings.
Brown Sugar: The porks are seasoned with a rub. The chops brown nicely because the heat caramelizes the sugar in the rub. Dark or light brown sugar are both fine.
Paprika: While paprika doesn't have a lot of flavor, it adds a nice color to the outside of the pork chops.
Garlic Powder: Garlic powder is simply dehydrated garlic that is finely ground. It has a milder garlic flavor than fresh garlic.
Onion Powder: Onion powder is a good way to add flavor. Don't confuse onion powder with onion salt. They are not the same thing.
Salt & Pepper: What would we do without salt and pepper?
Olive Oil: A bit of oil helps the rub adhere and gives the chops a crisp exterior.
How to make Air Fryer Pork Chops
Take the pork chops out of the fridge. In a small bowl, combine the seasoning rub: brown sugar, paprika, garlic powder, onion powder, salt and pepper.
Pat the pork chops dry with a paper towel and gently rub the olive oil on both sides. Evenly sprinkle on the seasoning and rub it into the chops.
Arrange the chops in a single layer on the rack of your air fryer.
Set the temperature for 380ºF and air fry the chops for 10 to 12 minutes, flipping them about halfway through the cooking time. Check the internal temperature of the meat with an instant read thermometer. It should be 145ºF.
Remember: Don't overcook the pork chops! They'll become tough and dry.
Remove the pork chops from the air fryer and put them on a serving plate. Let them rest for four or five minutes. The internal temperature will continue to rise just a bit.
What to serve with pork chops
Serve air fryer pork chops with stovetop scalloped potatoes and sugar snap peas. Roasted green beans with parmesan and basil go nicely with pork chops; a panzanella salad is perfect, too. Try a classic combination of pork chops with sweet and sour German red cabbage.
Dress the pork chops up with sautéed mushrooms, caramelized onions, or homemade BBQ sauce.
FAQs
Why are my air fryer pork chops tough?
My best guess is that you are overcooking your pork chops. It's a fine line between perfectly done (tender and juicy) and overdone (tough and dry). Guidelines have changed over the years; pork no longer needs to be cooked to "well done".
Helpful Hint: Pork chops that have a sauce are a little less tricky. Try my pork chops with caramelized onions or smothered pork chops.
How do you know when pork chops are done?
Pork should have an internal temperature of 145ºF. Use an instant read thermometer to check the internal temperature. Remember that the pork will continue cooking a little bit after you remove it from the heat. Let it rest a few minutes before serving.
If you don't have a thermometer, cut into the center of the chop with a sharp knife. The inside should be slightly pink but not red, with clear juices, and the chop should feel firm but not hard.
Make It Your Own
Change up the seasoning. Pork will adapt well to many different seasonings. Use your favorite rub, whether it's homemade or commercial. For a shortcut, substitute my all purpose seasoning for the paprika, garlic powder, onion powder, salt and pepper. It contains all of those plus a few extra flavor enhancers. Another great choice is homemade bbq rub.
Make it keto/Whole 30 compliant by eliminating the brown sugar.
Try different cuts of pork. Remember that thicker cuts and bone in cuts will take slightly longer to cook; thin chops will cook more quickly.
Breaded pork chops: Try my breaded air fryer pork chops or oven breaded pork chops.
Don't care for pork? Try air fryer chicken breasts or air fryer salmon. The seasoning rub in this recipe can be applied to either chicken or salmon.
Make-Ahead Ideas
To get a little head start on this recipe, the seasoning rub can be made ahead and stored in a small container or bag. It will keep indefinitely.
Storage & Reheating Tips
Refrigerate: Leftover pork chops should be be stored in the refrigerator. They will keep for three to four days.
Reheat: Pork can become a little dry when reheated. It's best to heat the pork chops low and slow with a bit of added water or broth. Simmer them a few minutes in a covered skillet or dish covered with foil in the oven (350ºF). Don't forget to add a few tablespoons of water, broth, or some type of sauce.
Interested in a weekly meal plan (it's free!) that includes this pork chop recipe? Take a look at my Meal Plan #23. You'll find a wholesome recipe for each weekday plus a categorized grocery list. Let me do the planning for you this week!
We'll be adding a new meal plan weekly. If you're interested, browse all of our meal plans.
Leftover Love
Slice the cold pork thinly and add it to your favorite salad for a main course.
Chop the pork in small pieces and stir it into mac and cheese.
Make a veggie hash and stir in chopped pork chops.
Did you make this? Be sure to leave a review below and tag me @rachelcooksblog on Facebook, Instagram, or Pinterest!
Tender and juicy, perfectly seasoned air fryer pork chops are easy and fast, making them a convenient weeknight dinner.
Instructions
In a small bowl, combine brown sugar, paprika, salt, garlic powder, onion powder, black pepper.

Dry pork chops with a paper towel and then rub with olive oil on both sides.

Rub with spice mixture on both sides.

Arrange pork chops in air fryer in a single layer. Air fry at 380ºF and cook for 10 to 12 minutes, flipping halfway through cooking time. Cook until internal temperature reaches 145ºF when checked with an instant read thermometer.

Remove pork chops from air fryer and let rest 4 to 5 minutes before slicing or serving.
Notes
Boneless pork chops may be labeled pork cutlets, pork top loin chop, pork loin blade chop (with some dark meat), or New York chops (may be thicker).
Bone in pork chops will take slightly longer to cook.
Thicker pork chops will take slightly longer to cook. Pork chops that are 1

½

inches thick take approximately 16 minutes.
Nutrition Information
Serving:
1
pork chop
,
Calories:
253
kcal
,
Carbohydrates:
2
g
,
Protein:
38
g
,
Fat:
9
g
,
Saturated Fat:
3
g
,
Polyunsaturated Fat:
1
g
,
Monounsaturated Fat:
5
g
,
Trans Fat:
1
g
,
Cholesterol:
112
mg
,
Sodium:
375
mg
,
Potassium:
671
mg
,
Fiber:
1
g
,
Sugar:
1
g
,
Vitamin A:
40
IU
,
Vitamin C:
2
mg
,
Calcium:
12
mg
,
Iron:
1
mg
This website provides approximate nutrition information for convenience and as a courtesy only. Nutrition data is gathered primarily from the USDA Food Composition Database, whenever available, or otherwise other online calculators.