Add a mildly spicy kick to your favorite dish with homemade Cajun seasoning, a savory blend of cayenne pepper, spices, herbs, and garlic. You'll find yourself reaching for it often.
Recipe Overview
Why you'll love it: Take ordinary foods up a notch with this easy-to-make seasoning. Add it to pasta, meats, vegetables, and more.
How long it takes: 5 minutes
Equipment you'll need: small container with tight fitting lid, measuring spoons
Servings: makes about ¾ cup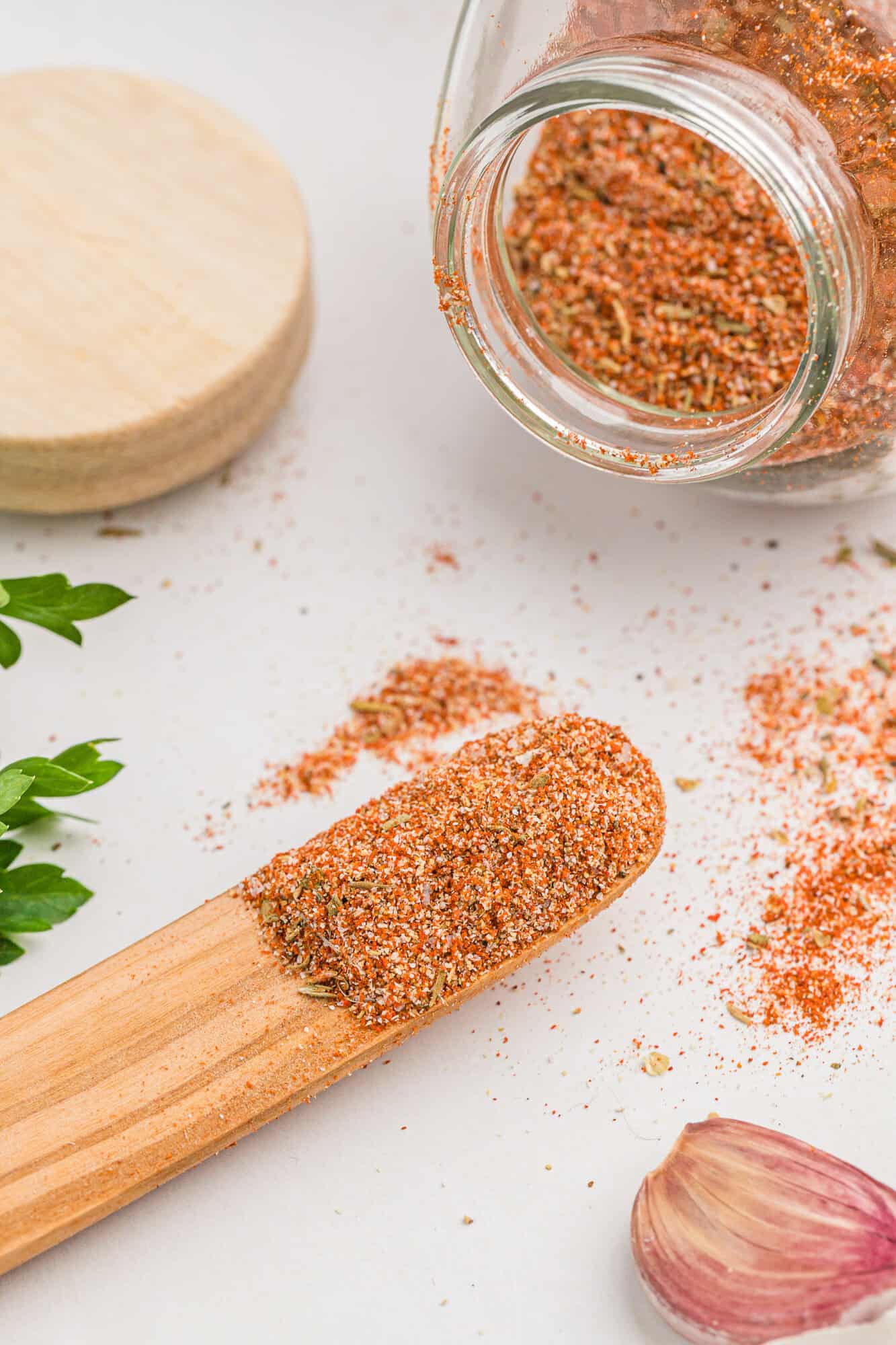 Cajun cooking hails from the southern states of the United States, particularly Louisiana. Cajun is influenced by French, Spanish, and West African cultures. You'll see a lot of smoked meats, rice, and the "holy trinity" of green peppers, onions, and celery. For a brief look into Cajun history and cuisine, check out this article in Wikipedia.
Perhaps you're acquainted with jambalaya, a rich spicy mixture of smoked meats, vegetables, and often fresh seafood such as shrimp or crawfish. Cayenne pepper, along with lots of other spices and herbs, seasons this regional dish.
The Cajun seasoning blend can be used for so much more. It's a wonderfully warm combination of ground peppers, including paprika, peppercorns, and cayenne peppers. My blend also includes garlic and onion, along with salt, thyme, and oregano.
Use this blend to season creamy Cajun chicken pasta which is an easy one pot pasta recipe. Jambalaya and Hoppin' John are traditional Southern dishes that are seasoned with Cajun spices. Keep reading for lots more ways to enjoy Cajun seasoning.
About This Seasoning Mix
There are probably about as many Cajun seasoning blends as there are cooks. Everyone has their own special recipe that they swear is the best. The great part about mine is that you can customize it and make it your own. It won't hurt my feelings (not too much, anyways!). However, you just may try my Cajun seasoning and decide it's exactly right. I hope so!
If you've purchased Cajun seasoning in the past, it's all about peppers. Some blends even contain dehydrated red and green bell peppers. My blend has paprika (which is made from sweet peppers), black pepper, white pepper, and cayenne pepper, each of which has unique flavor characteristics.
My Cajun seasoning has a little kick but it isn't going to fry your mouth. (You'll love my popular taco seasoning and fajita seasoning, too!) If you like the heat (and I know some of you do), go ahead and increase the cayenne pepper until it's hot enough for you.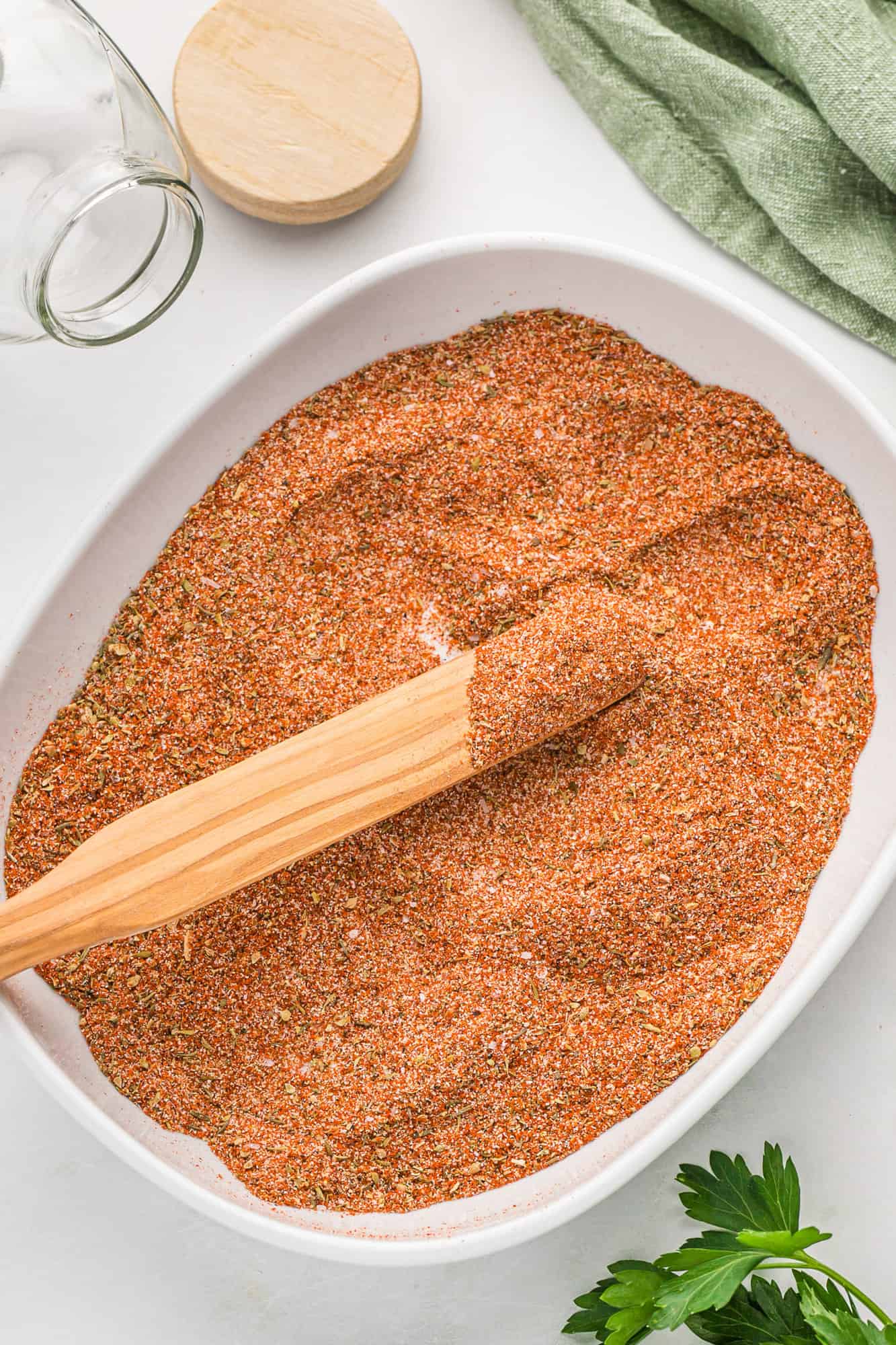 Cooking Tip
Although you may have many of the spices or herbs you need for this seasoning mix already in your pantry, be sure to check expiration dates. Expired herbs and spices don't actually become unsafe to eat, but they lose much of their flavor, color, and potency.
What You'll Need
Paprika: A spice made from sweet red peppers, paprika is known for its brilliant red hue and mild flavor. It's the base of this seasoning blend. For this recipe, look for sweet paprika, not smoked.
Onion Powder: Made from dehydrated onions that are ground into a fine powder, onion powder is often used in seasoning blends.
Garlic Powder: Like onion powder, garlic powder is simply dehydrated garlic that's ground into a fine powder. It does not have added salt.
Dried Oregano: Either regular or Mexican oregano can be used. Dried aromatics such as oregano and thyme add an herbal balance to the blend.
Dried Thyme: Please take note of the measurements. You'll use much less thyme than oregano. Thyme has very fine leaves and a stronger flavor.
Kosher Salt: Kosher salt has larger granules than table salt and no additives such as iodine, or non-clumping agents. If you prefer a salt-free seasoning, omit the salt.
White Pepper: You'll notice that there are 3 types of pepper in this blend. White pepper is milder than black pepper. Although both white and black pepper are made from the berries of the pepper plant, they are harvested and processed differently, producing unique flavor notes.
Black Pepper: I prefer coarse ground black pepper to finely ground pepper which has a tendency to float in the air and cause sneezing attacks.
Cayenne Pepper: Made from finely ground dried red cayenne peppers, cayenne pepper can be quite spicy. Most of the heat in this seasoning comes from the cayenne pepper. If you are sensitive to spicy foods, use less.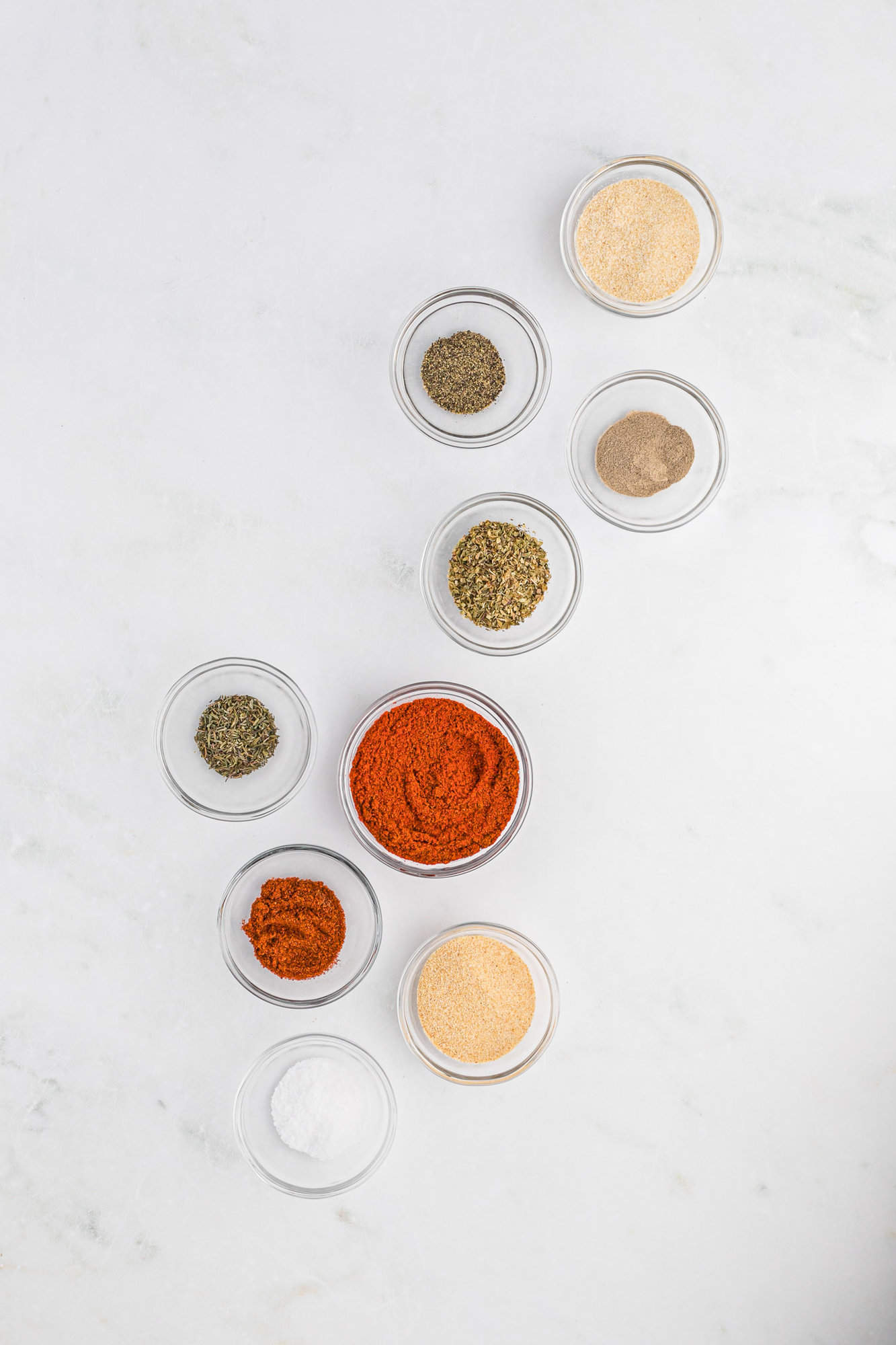 How To Make It
You'll need a small jar or container with a tight-fitting lid. Recycled jars are fine as long as they are spotlessly clean and totally dry. It's helpful if the jar opening is large enough to accommodate a measuring spoon.
While it's very easy to make homemade seasoning, if you have a distraction or two, you may lose your place on the recipe and either forget an ingredient or add it twice.
It happens. You get a text, your 2 year old suddenly falls over your feet, the dog starts wildly barking, or someone has a pressing homework question. Suddenly, you lose your concentration. Where was I?
To avoid this, I arrange all the spices and herbs that I'll need in a group on the counter, usually to the left since I'm right-handed. As I use each one, I move it to the right, forming a group of "Hey, I already added you" spices. It's easier to keep track.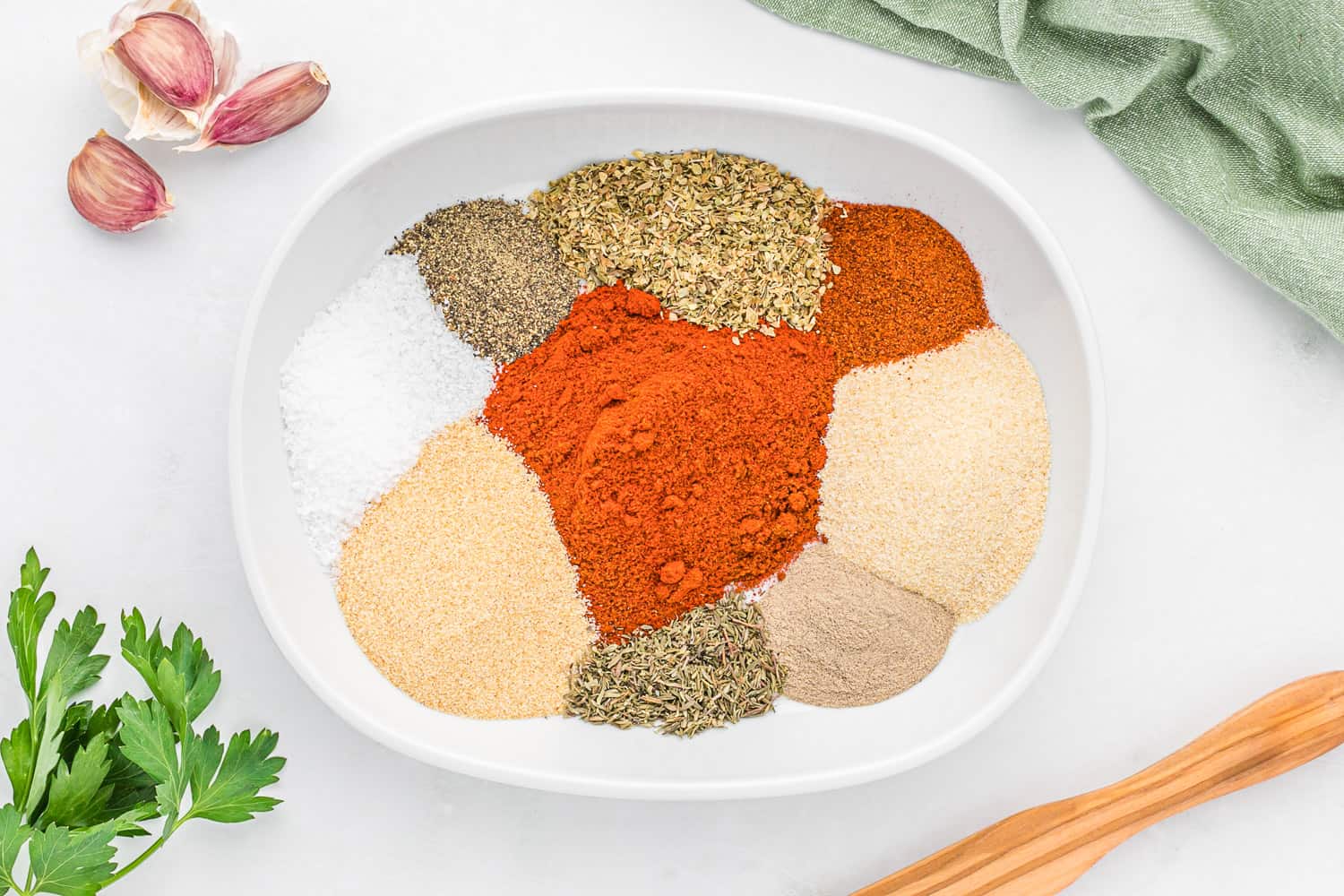 Carefully measure out the ingredients into the jar. Cover it and give it a good shake.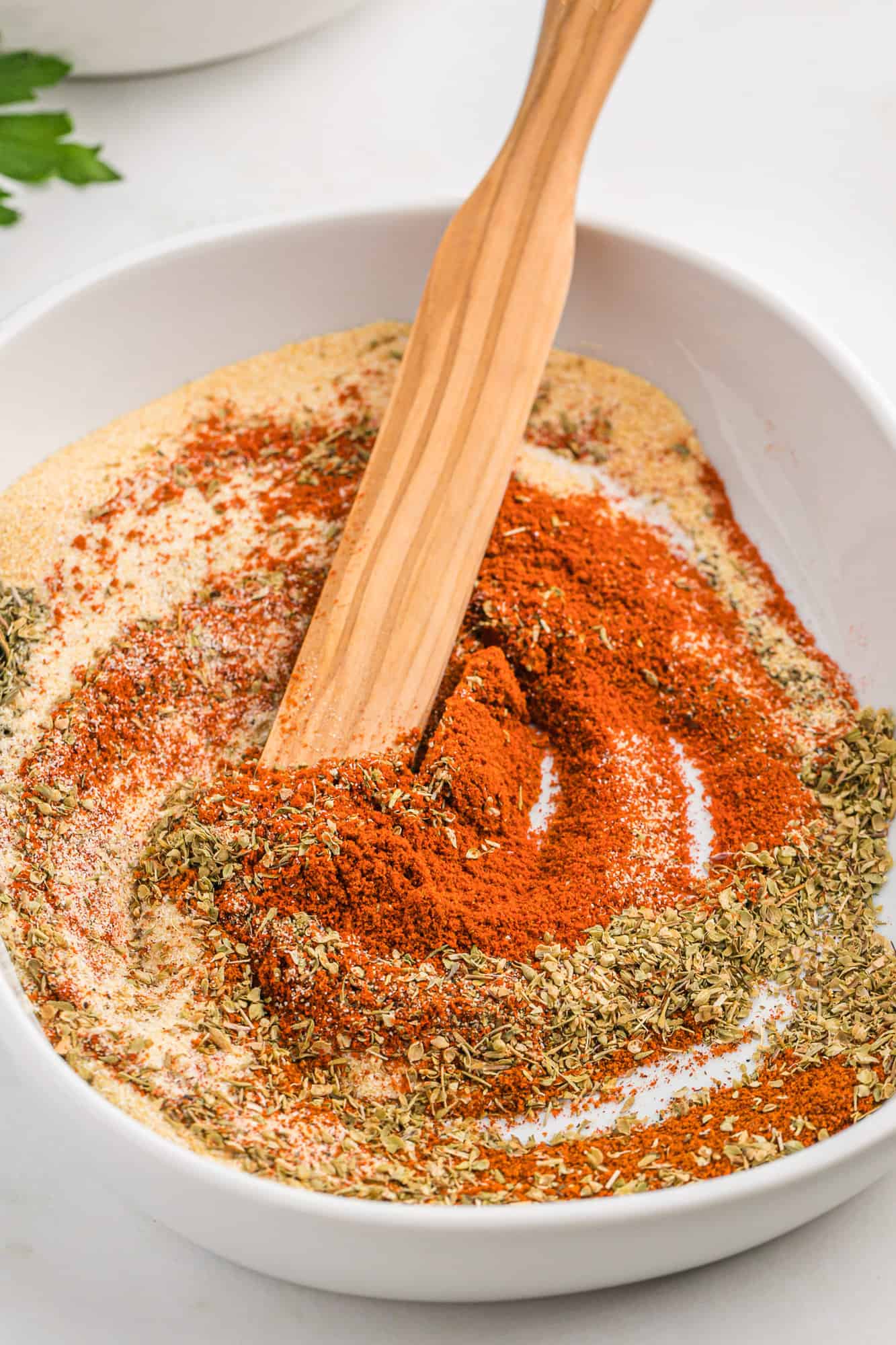 That's it! It's ready to use. You can also do this in a bowl and transfer to a jar if you prefer.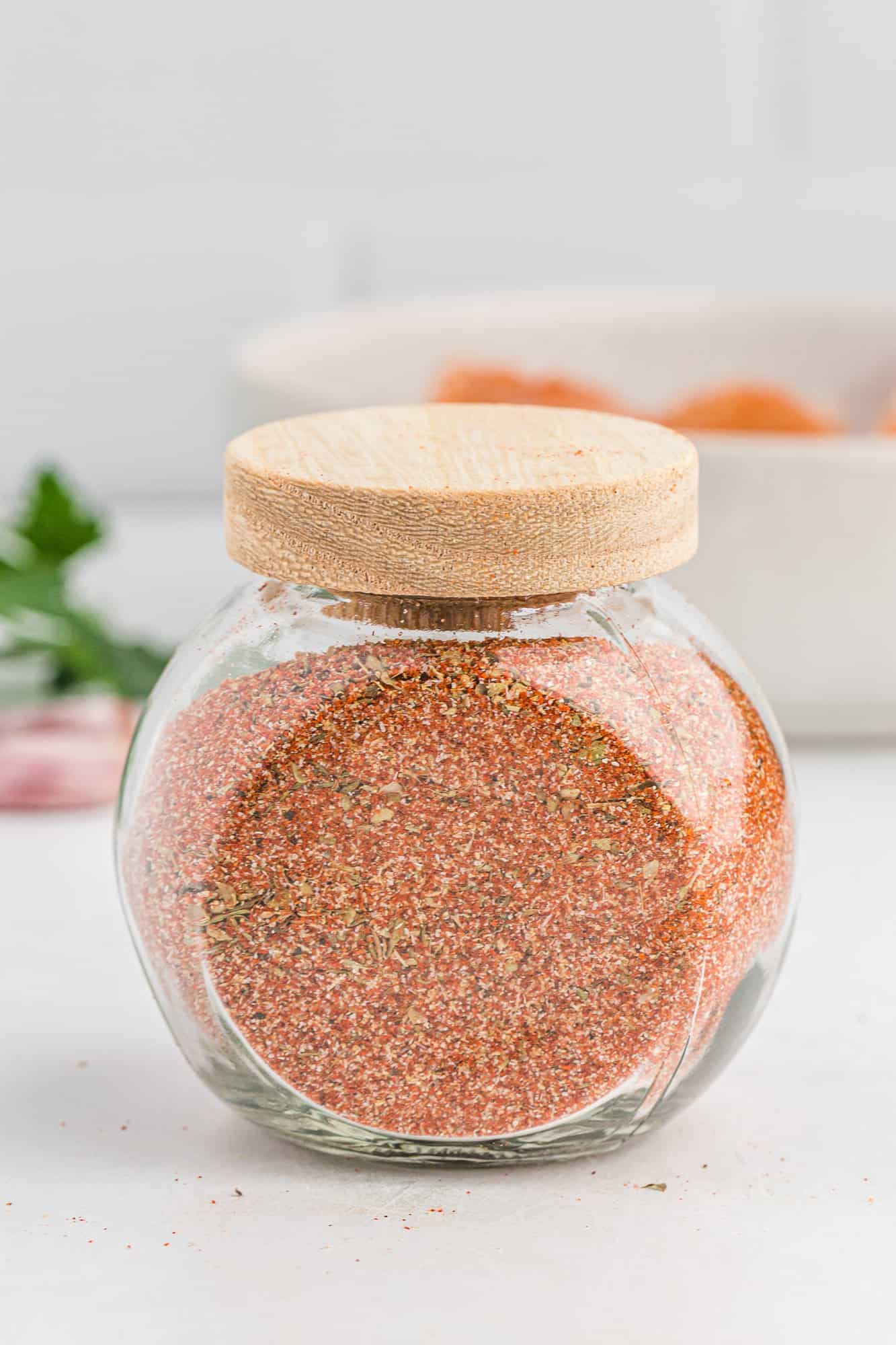 How To Use Cajun Seasoning
Cajun seasoning can be used wherever you want to jazz up the flavor profile of what you're cooking. Here are a few suggestions:
Stir it into plain mayonnaise to make a spicy Cajun mayo that's perfect on burgers, sandwiches, or as a dipping sauce for French fries or chicken tenders.
Jazz up scrambled eggs or deviled eggs.
Sprinkle it on pasta or mac and cheese. Try my one pot Cajun chicken pasta.
Make jambalaya or simply stir fry shrimp with Cajun seasoning and a bit of oil.
Make a Cajun marinade. Use the 3 to 1 formula, with 3 parts oil, 1 part acid (vinegar, citrus juice, etc.) and add the seasoning to taste.
Add it to homemade bean soup, like this bean and bacon soup or hoppin' John (black-eyed peas and rice).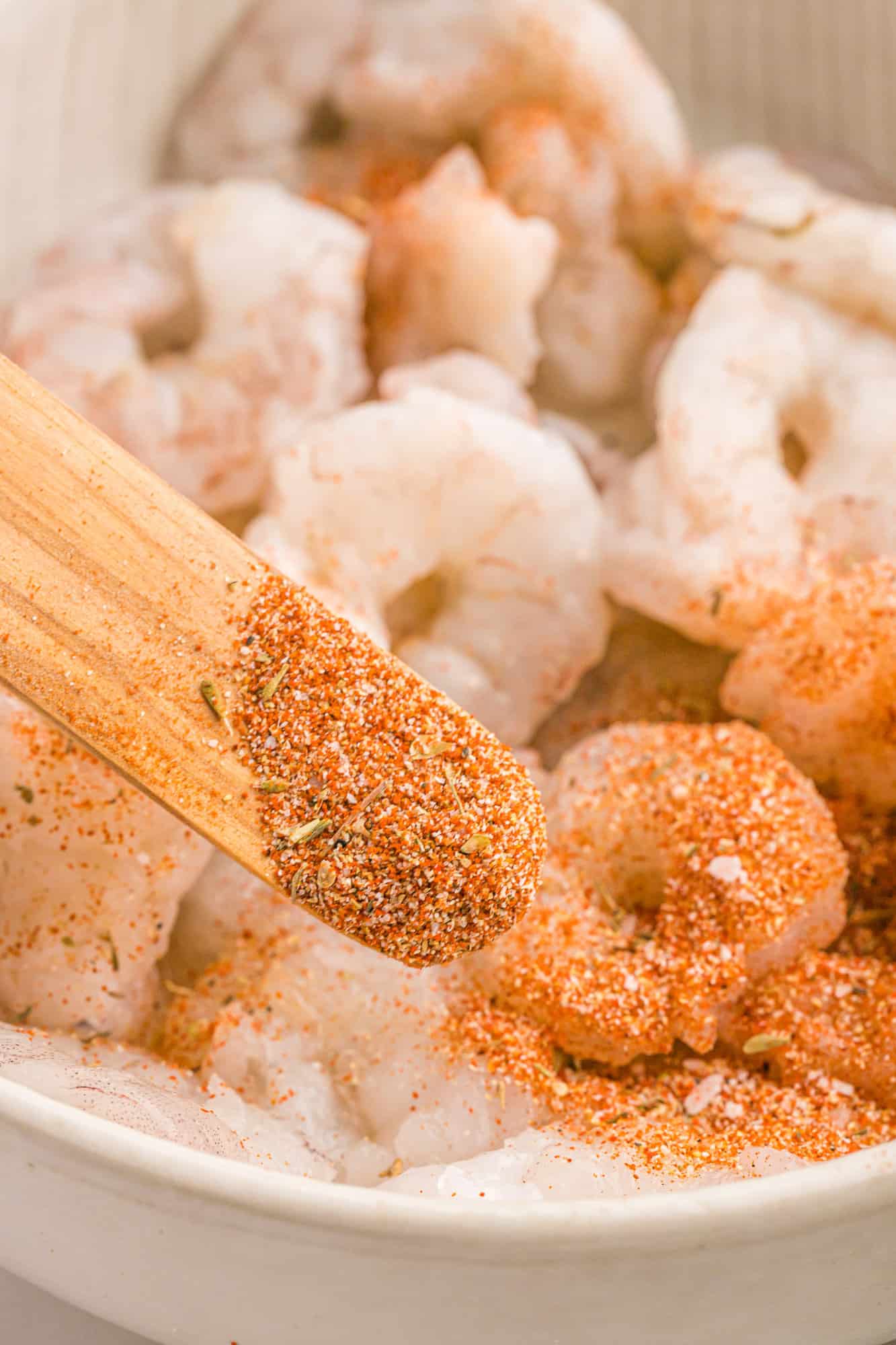 FAQs
Is Cajun seasoning the same as Creole seasoning?
While both originate in the southern state of Louisiana, there are subtle differences. Cajun seasoning tends to be a little spicier, with lots of red paprika and peppers, while Creole seasoning is milder with added aromatics such as thyme, basil, or oregano. There seems to be a lot of overlap between the two and may be used somewhat interchangeably.
Is Cajun seasoning the same as Old Bay?
Old Bay is a brand name of seasoning most commonly used for seafood. One of the main ingredients is bay leaves, along with many other spices and herbs. It is not the same as Cajun seasoning which has a spicier, peppery profile.
Make It Your Own
If you enjoy a smokier flavor, substitute smoked paprika for some or all of the regular paprika.
Like I mentioned before, it's easy to adjust the heat level of this blend by increasing or decreasing the amount of cayenne pepper.
Make your blend salt-free. Simply omit the salt from the blend.
Storage Tips
Store Cajun seasoning in a small jar with a tight lid or something similar. Like all spices and dried herbs, it should be stored in a cupboard away from direct light or heat. If it's stored properly, it will stay fresh for up to 2 years or more.
Be sure to use a dry measuring spoon when you use it so that moisture isn't introduced into the jar which will cause it to clump or spoil.
Did you make this? Be sure to leave a review below and tag me @rachelcooksblog on Facebook, Instagram, or Pinterest!
Add a mildly spicy kick to your favorite dish with homemade Cajun seasoning, a savory blend of cayenne pepper, spices, herbs, and garlic.
Instructions
In a small bowl or jar with tight fitting lid, combine all ingredients. Makes just under ¾ cup.

Store at room temperature in a tightly sealed container for up to 2 years.
Notes
Smoked paprika can be substituted for some or all of the paprika if you prefer a smoky flavor.
If you're sensitive to spicy food, consider decreasing the amount of cayenne pepper added.
If you prefer, make your seasoning salt-free. Simply omit the salt in the recipe.
Nutrition Information
Serving:
1
teaspoon
,
Calories:
6
kcal
,
Carbohydrates:
1
g
,
Protein:
0.3
g
,
Fat:
0.1
g
,
Saturated Fat:
0.02
g
,
Polyunsaturated Fat:
0.1
g
,
Monounsaturated Fat:
0.02
g
,
Sodium:
130
mg
,
Potassium:
30
mg
,
Fiber:
0.5
g
,
Sugar:
0.1
g
,
Vitamin A:
396
IU
,
Vitamin C:
0.2
mg
,
Calcium:
7
mg
,
Iron:
0.3
mg
This website provides approximate nutrition information for convenience and as a courtesy only. Nutrition data is gathered primarily from the USDA Food Composition Database, whenever available, or otherwise other online calculators.