Jambalaya Recipe (one pan)
Robust and spicy, this Cajun jambalaya recipe will satisfy the meat lovers in your family with andouille sausage, tender chicken, and briny shrimp.
Recipe Overview
Why you'll love it: Hurray! It's a one pan dinner so cleanup is easy.
How long it takes: about an hour
Equipment you'll need: large heavy pot with lid
Servings: 6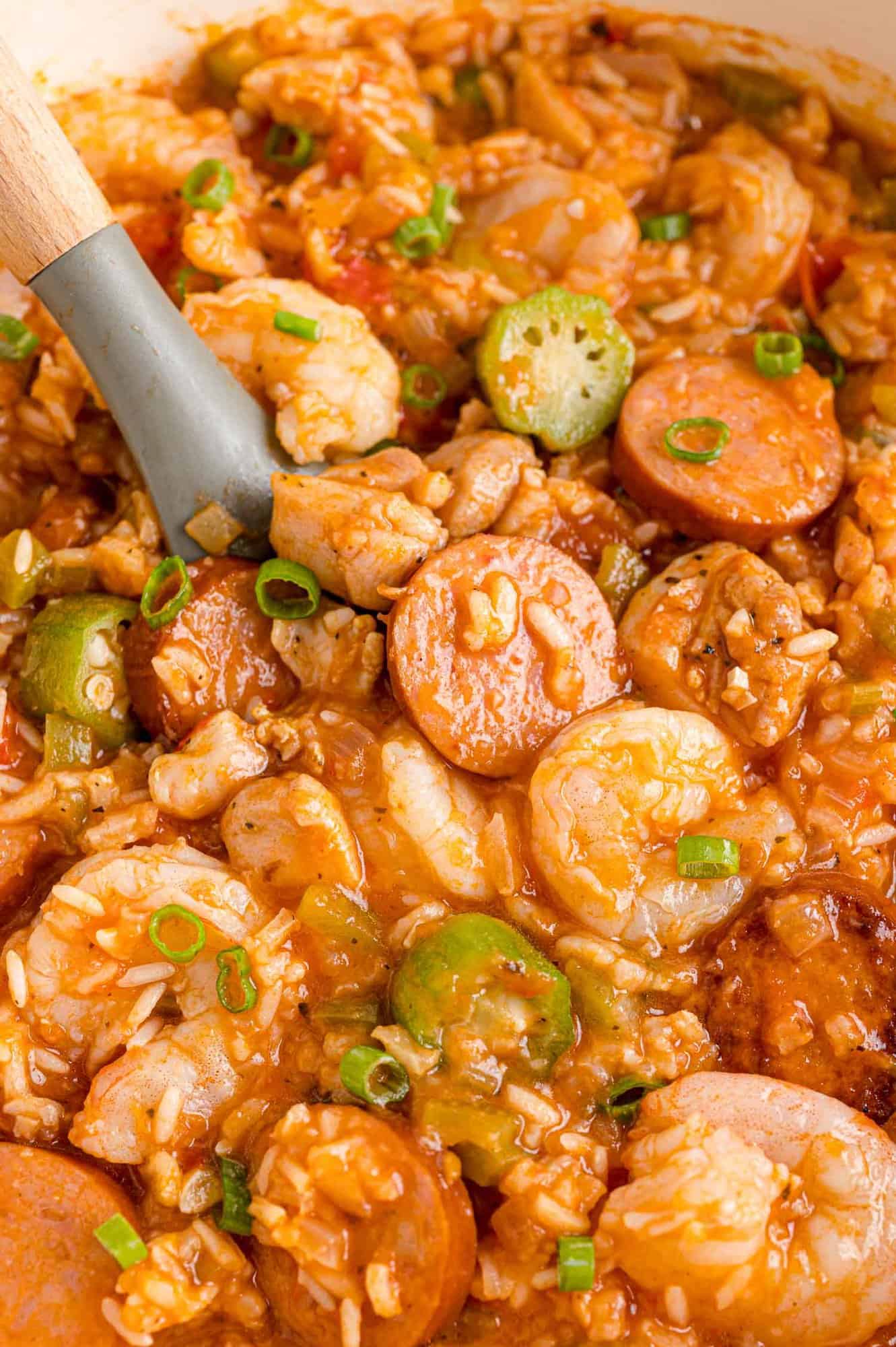 Jambalaya is perfect for cold winter nights. It's warmly spicy, hearty, and satisfying, just the ticket when you've been skiing, snowshoeing, or hiking in the snappy cold winter air, or even just shoveling snow.
Ever since my husband and I visited New Orleans for a quick anniversary trip, I've been anxious to try my hand at jambalaya. We tested and tweaked and came up with a pretty darn good recipe.
Jambalaya reminds me of a couple of recipes already on my site and I drew from my experience with those: sausage and rice with sweet peppers and Cuban chicken and rice. Be sure to try those recipes too because they are winners (and both are one pan meals!).
About This Recipe
This recipe is somewhat meat-heavy with sausage, chicken, and shrimp; each serving has a whopping 27 grams of protein. You would think it's really rich but a generous two cup serving is just over 600 calories. As a point of reference, compare that to a Big Mac with 563 calories, just for a simple burger.
Is this recipe authentic? I always hesitate to call a recipe authentic. There are many recipes for jambalaya and it seems like every cook likes to put their own spin on it. That's okay and you are welcome to do the same. This recipe includes the ingredients that are typically found in jambalaya. We've tested it several times and really like the final result. We're sure that you will too!
It's a one pan recipe which means you won't spend hours cleaning up. You'll need a good sized heavy pan with a lid. A Dutch oven is perfect.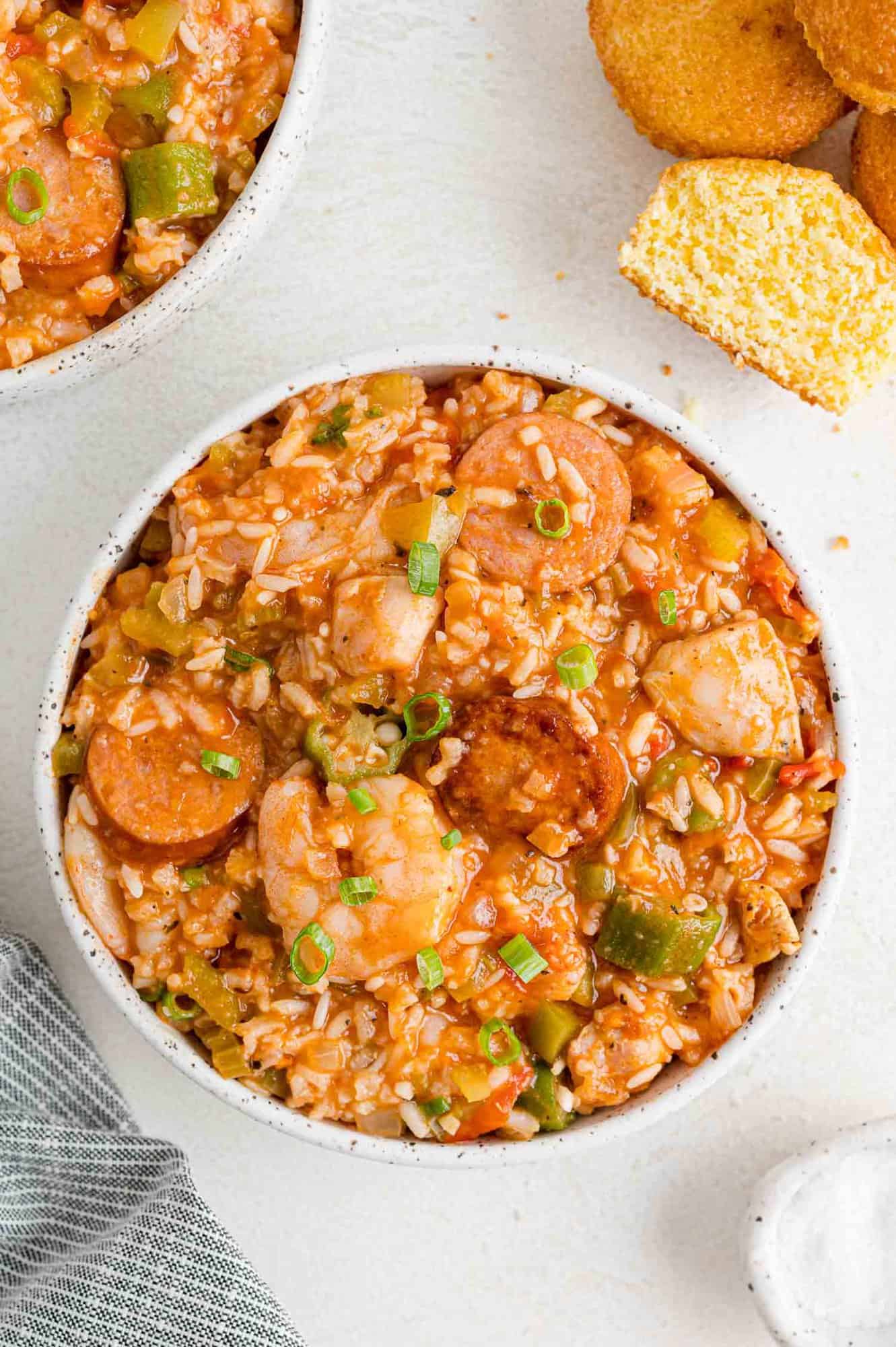 I'll give you an overview of the recipe right here. As always, look for the recipe card near the end of the post for complete instructions, measurements, and nutrition information.
What you'll need
Andouille Sausage: Look for smoked cured sausage that is fully cooked. Andouille sausage is a Cajun style sausage made with pork, garlic, and seasonings. See the FAQ below for substitutes.
Boneless Skinless Chicken Thighs: Chicken thighs hold up a little better than chicken breasts for the longer cooking time of this recipe. Chicken breasts may be substituted but they tend to become a bit dry.
Shrimp: Frozen shrimp (thawed) are fine if fresh isn't available. I prefer smaller shrimp for jambalaya because they cook quickly and are bite-sized.
Cajun Seasoning: A mixture of spices and seasonings, Cajun seasoning can be mild or quite spicy, depending on how much cayenne is added. The base of this blend is paprika. You'll be adding a Bay Leaf, too.
Onion, Bell Pepper, Celery: Otherwise known as the "holy trinity", these three veggies are sautéed together and added to many dishes.
Garlic: The recipe calls for 4 cloves but the amount can be adjusted according to your palate.
Long Grain White Rice: Long grain rice works best for this recipe; short grain rice becomes too mushy and soft.
Canned Tomatoes: Crushed tomatoes have the best texture for this dish. You don't really want to see big chunks of tomato in your jambalaya.
Okra: Although okra is more commonly used in gumbo, many cooks also add it to jambalaya. You know me, I add veggies whenever I can so it was a no-brainer for my recipe. If you prefer a more authentic experience, you may leave okra out.
Sliced Green Onions and Hot Sauce, optional garnishes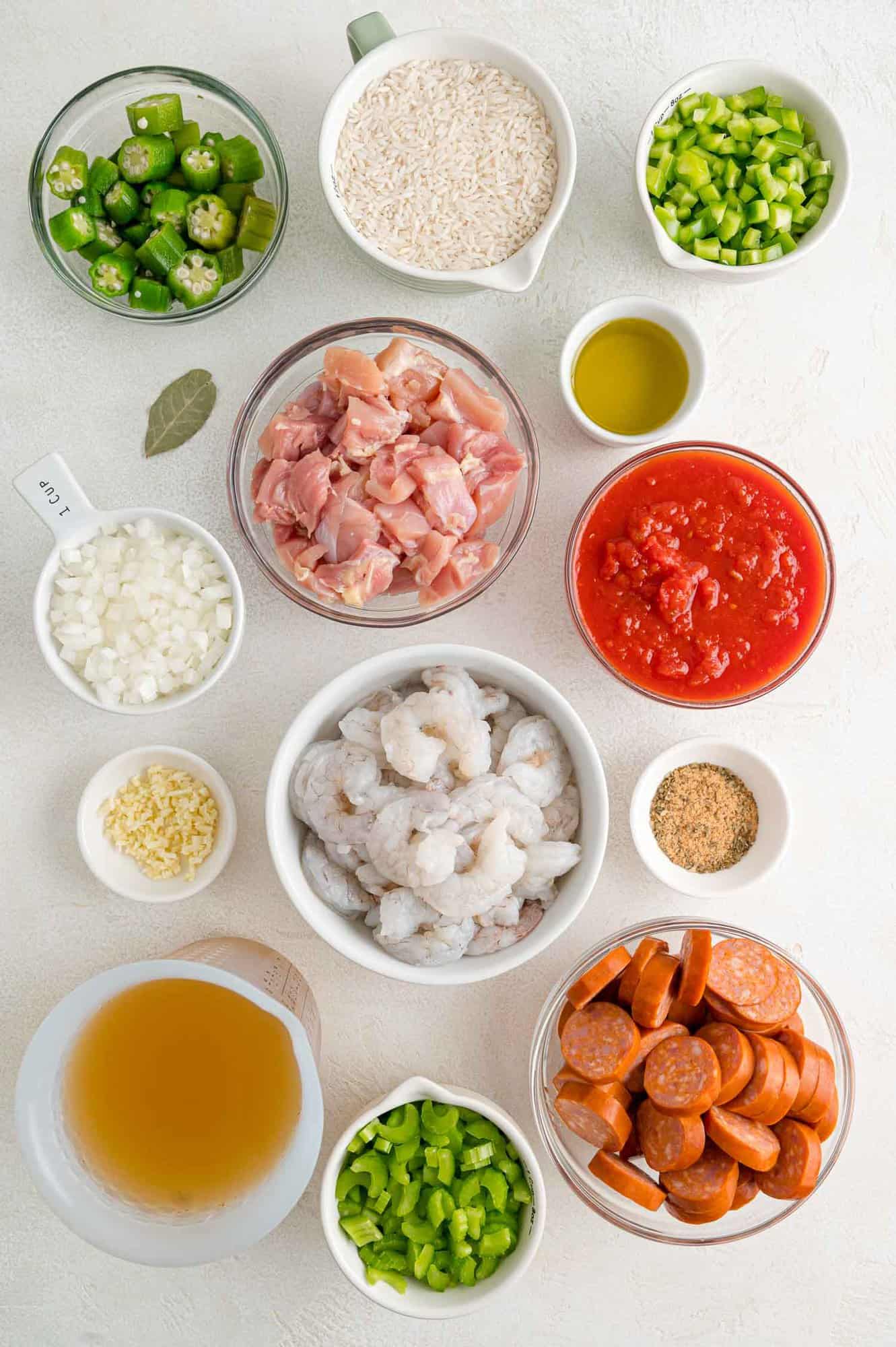 How to make it
Okay, ready to jam? Or should I say JAMbalaya? Ha, ha.
I like to get all my ingredients lined up, the veggies and meat prepped, the cans open and so on, before I begin cooking. It can be a little stressful when you're chopping, measuring, and sautéing all at the same time. Cooking should be fun, not stressful.
Slice the sausage and cut the chicken into 1 inch pieces. First, brown the sausage in a little oil for a few minutes and remove it from the pan.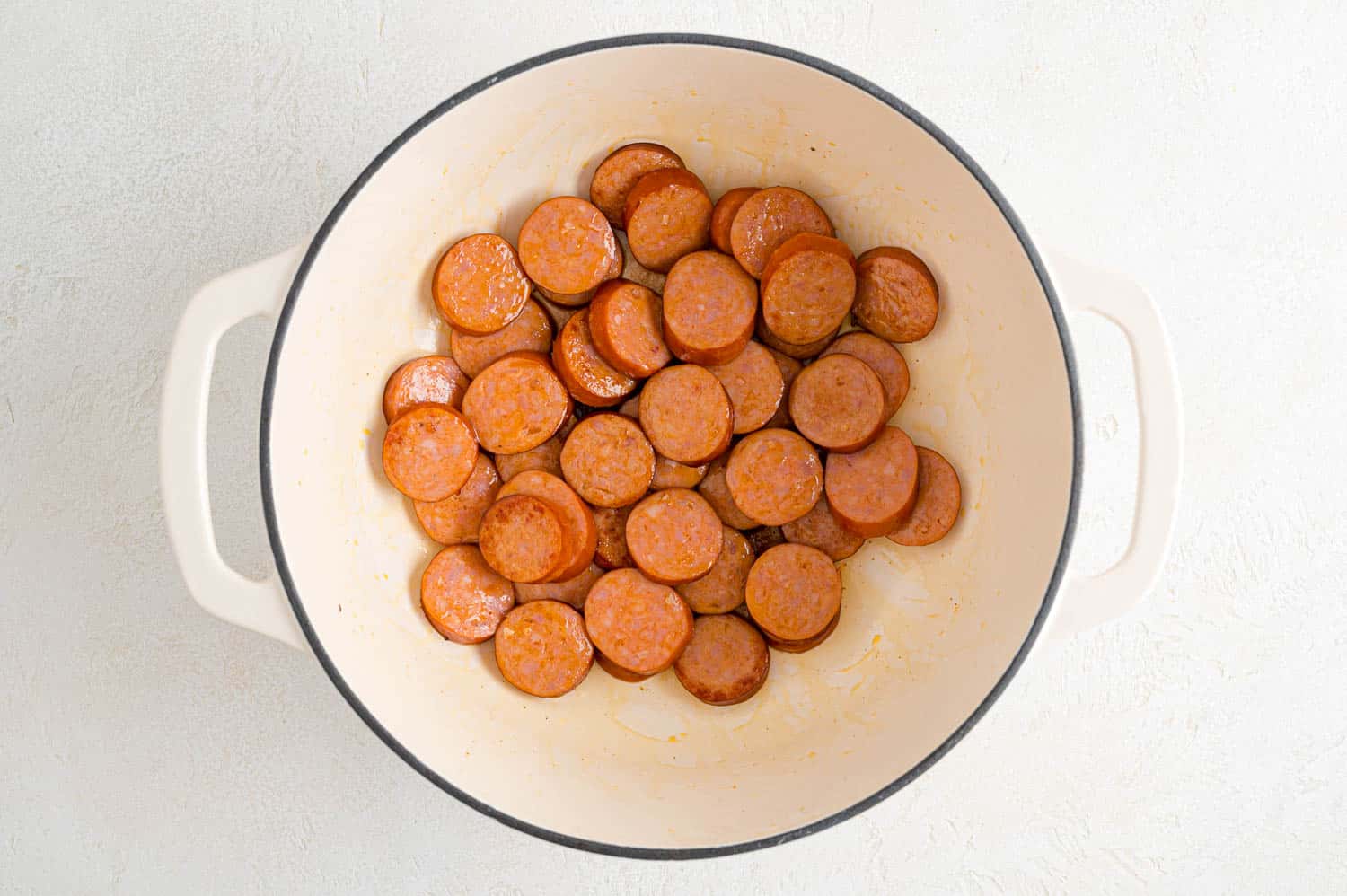 Season your chicken with a bit of the cajun seasoning and then brown the chicken in the same pan. It won't be completely cooked; you just want to get some nice color on it.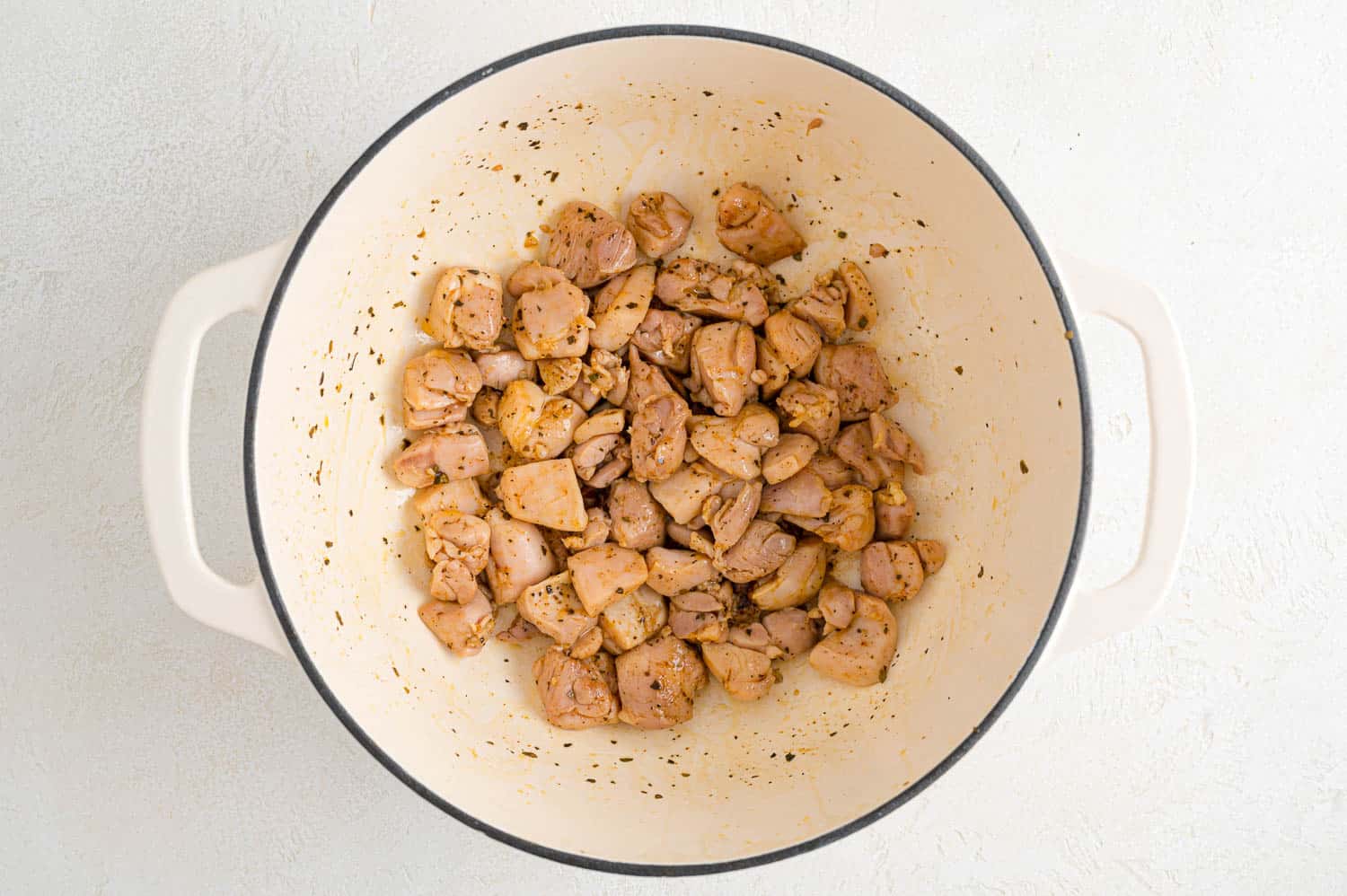 Now for the holy trinity: onions, peppers, and celery. Give them a nice sauté in the pan.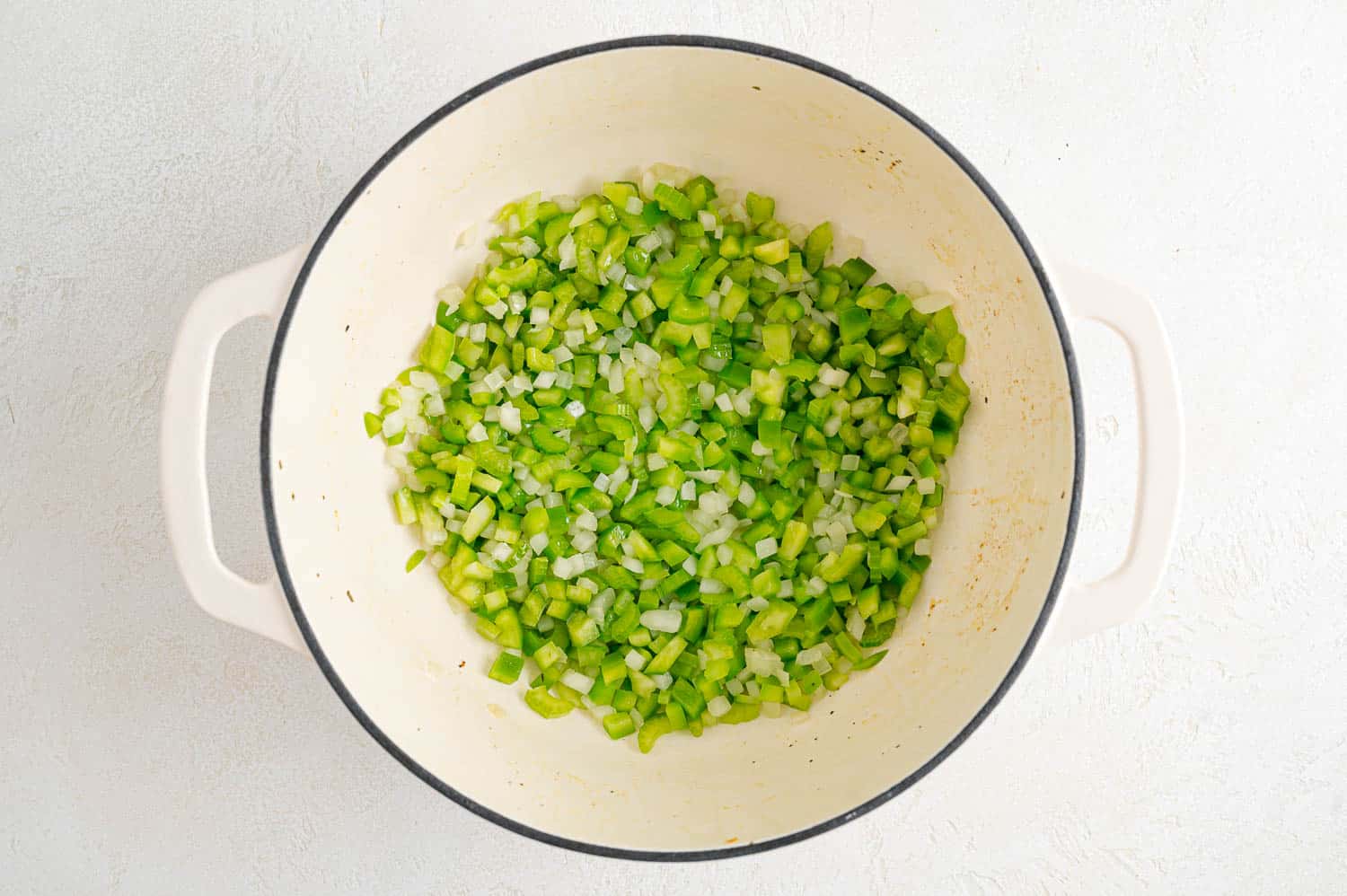 When the onions turn translucent (clearish), add the minced garlic and stir that for a minute.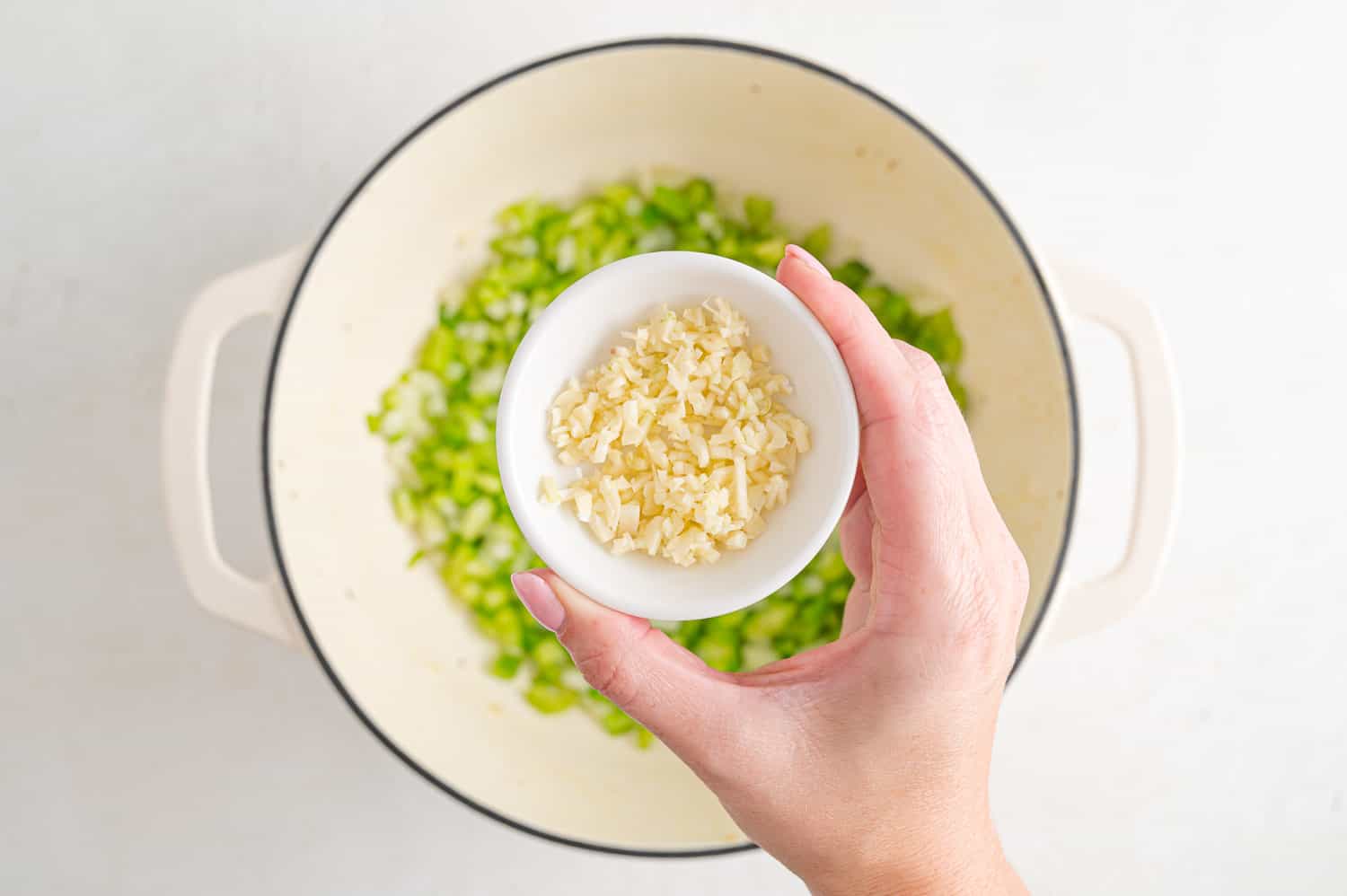 When garlic starts to smell super good, throw in the uncooked rice and some Cajun seasoning.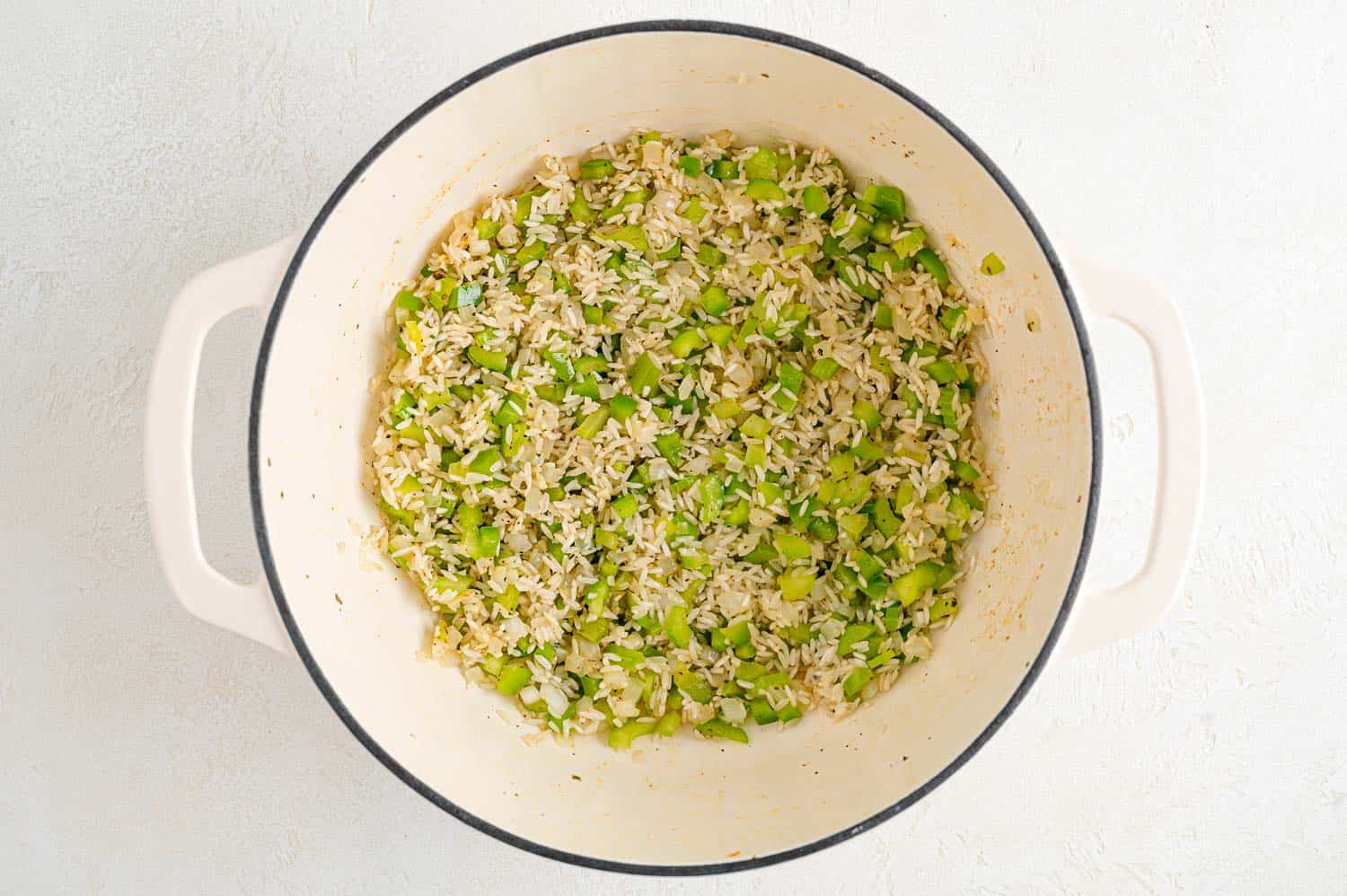 Cook and stir the veggie/rice/seasoning mixture until the rice and spices smell toasty, just a few minutes. Your kitchen should be smelling really fine by now.
Return the chicken and sausage to the pan. Add the broth, crushed tomatoes, and bay leaf.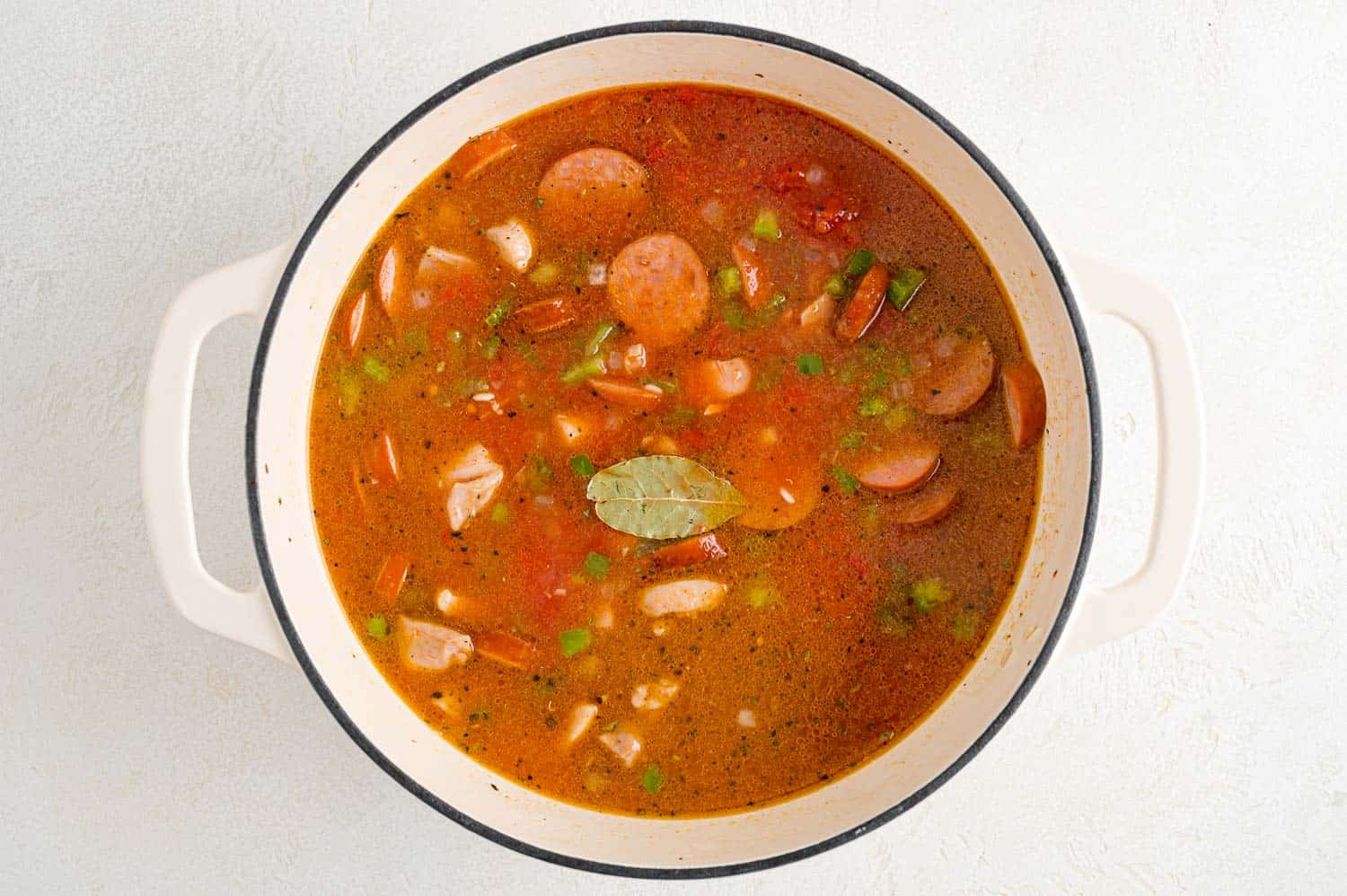 Give everything a good stir and bring it to a boil. Turn the heat to low, cover the pan, and let it simmer.
Chill out for awhile while the rice cooks. This is a good opportunity to thaw out the shrimp if you haven't done that already. Set the table, check your emails, clean up the kitchen, whatever.
Don't be tempted to take the cover off and stir. You want to keep all that hot steam inside because that helps cook the rice. If you can't stand it, or if it smells like it's burning or something, take the cover off once, give it a peek to reassure yourself, and then quick cover it back up.
Okay, time's up. Now you can check the rice. It should have absorbed most of the liquid. Fluff it up and check to see if it's tender. If it's not, cover the pan and cook it a few more minutes.
When the rice is ready, add the shrimp and okra. They don't take long at all to cook, maybe five minutes, depending on the size of your shrimp.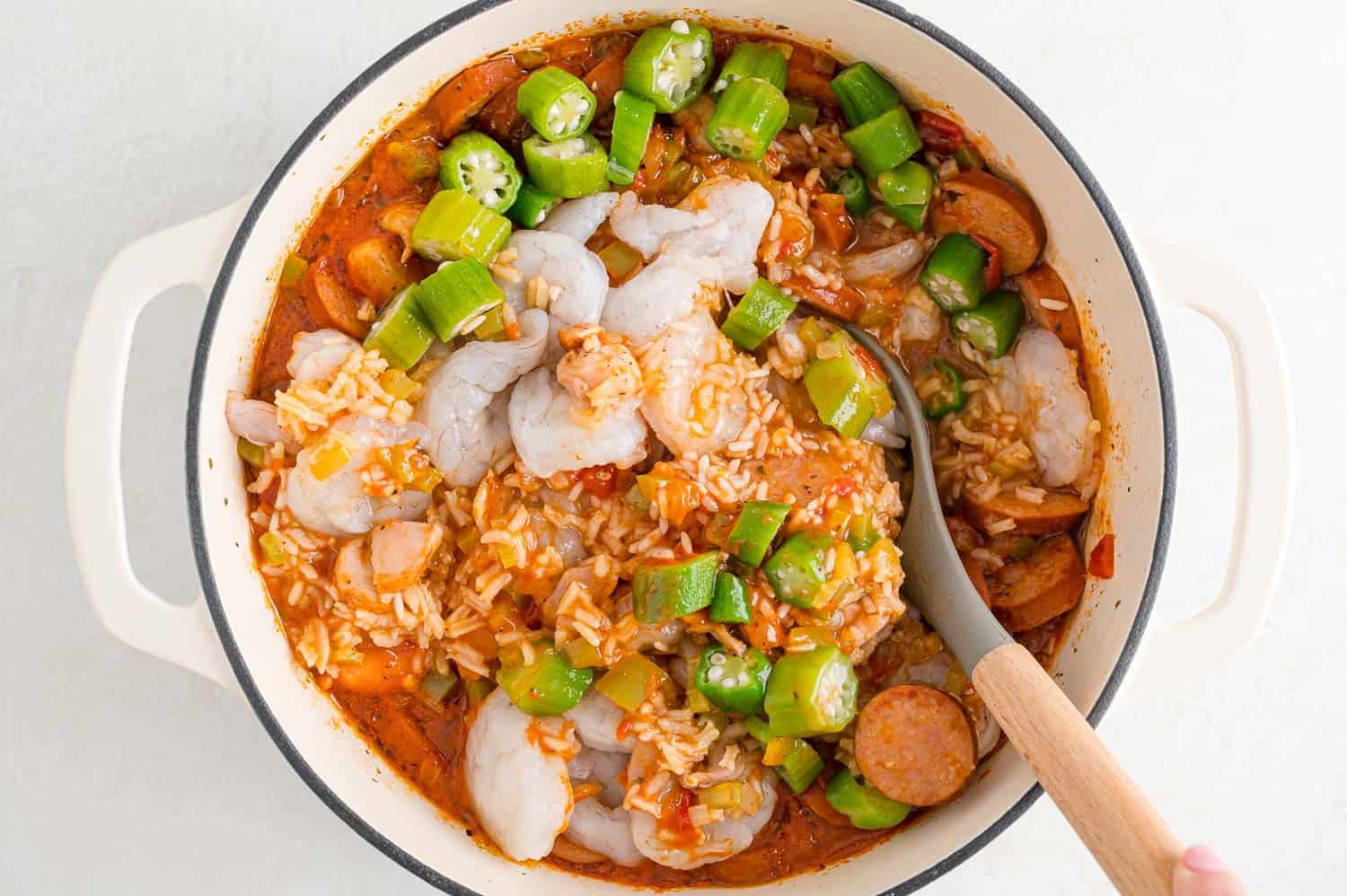 When the shrimp is pink and curled, your jambalaya is ready to eat. Try a spoonful and check the seasonings. You may want to add more salt, pepper, or even more Cajun seasoning. It's up to you.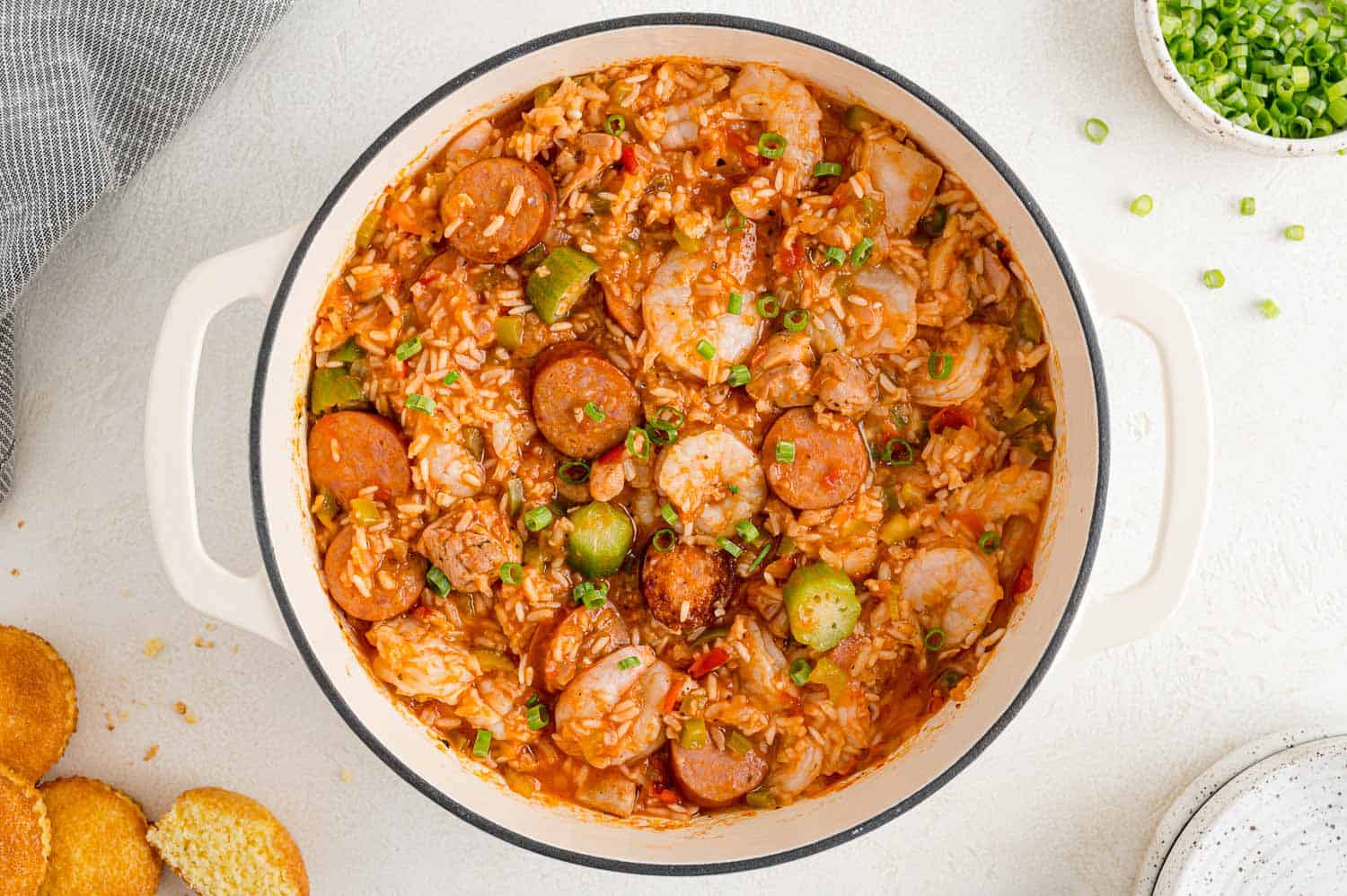 Serve the jambalaya with sliced green onions and pass the hot sauce. Steaming wedges of buttery cornbread, corn muffins, or homemade biscuits go really well with jambalaya. I like to serve a vinegary cucumber salad to balance the richness of the meat.
Enjoy!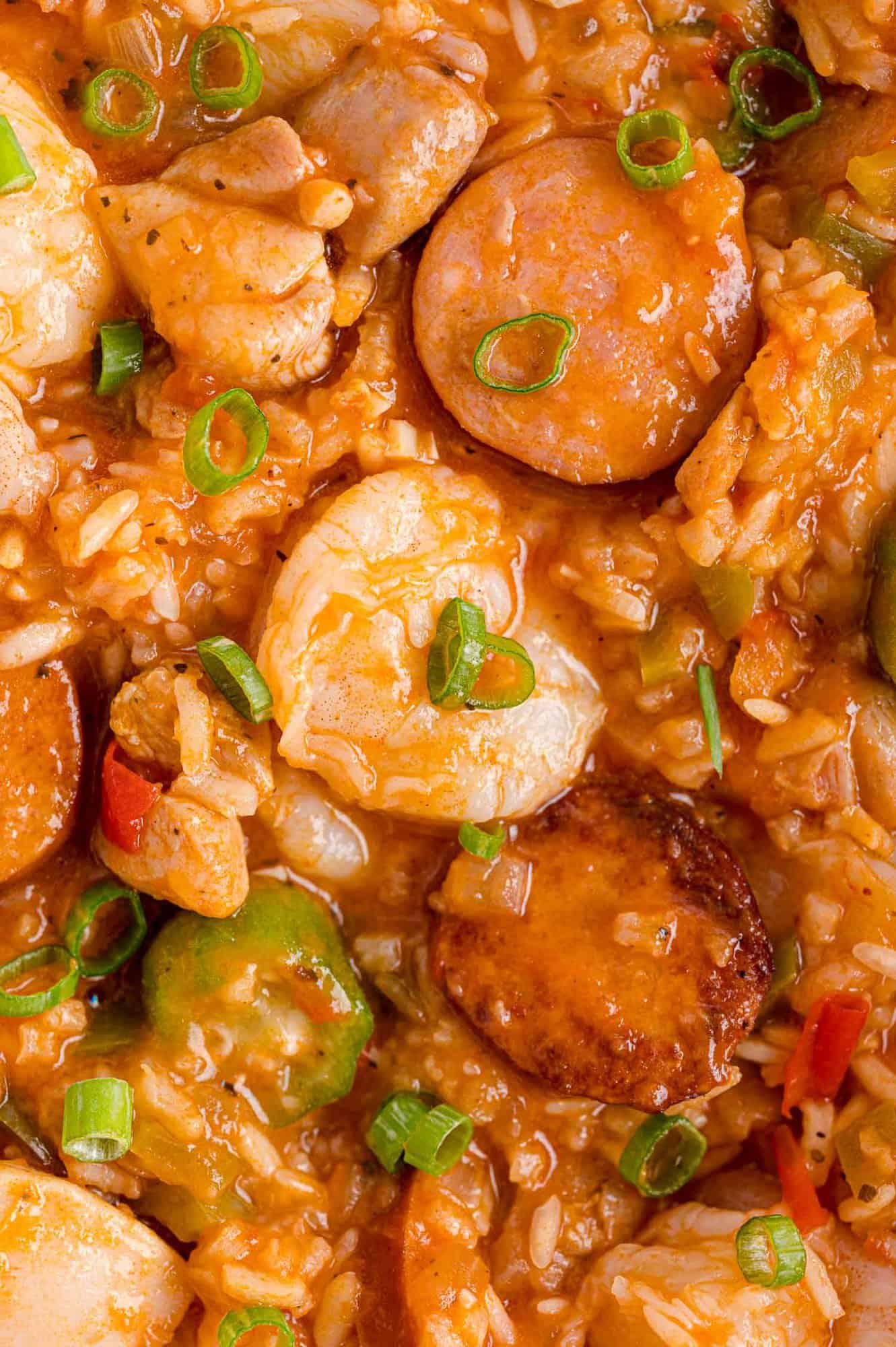 FAQs
What is the difference between jambalaya and gumbo?
Both dishes originated in Louisiana (southern United States) and are part of Creole cuisine which has French, Spanish, African, and Native American influences.
Both jambalaya and gumbo usually contain meat, shellfish, and okra, along with celery, bell peppers, and onions. Gumbo has more of a soup or stew-like consistency, thickened with filé powder and okra, and is served with rice alongside. In comparison, rice is cooked in the same pan as the other ingredients of jambalaya.
What is the difference between jambalaya and paella?
The main difference is the country of origin. Paella is a Spanish dish; jambalaya is a part of the Creole cuisine of Louisiana. Paella is cooked in a special flat pan and uses a short grain rice called bomba; jambalaya traditionally is made with long grain white rice.
What is a good substitute for andouille sausage?
Look for a cured smoked sausage, not uncooked raw sausage. Good substitutes are Mexican chorizo (which may be a bit spicier than andouille), kielbasa (Polish sausage) or plain smoked sausage.
A Pronunciation Guide
I don't want anyone to feel the least bit uncomfortable with unfamiliar words.
Say jambalaya like this: juhm·buh·LAI·uh.
The correct pronunciation of andouille is: aan·DOO·ee.
While we're at it, chorizo is one my mom always stumbles over: chr·EE·zow.
Make It Your Own
Because there are many components to this recipe, it's easy to make variations. However, the more changes you make, the less authentic your jambalaya will become. That being said, you're the cook which gives you every right to do what you like. Some ideas:
Eliminate one or even two of the meats. Or, if you want a vegetarian/vegan version, substitute crispy tofu, black beans, kidney beans, or vegan sausage.
Add even more veggies. Bulk up on the onion, peppers, and celery, or add finely diced carrots or shredded cabbage. I can see myself substituting baby spinach for the okra some day.
Spice it up or spice it down. It's up to you. If you want to add more spice, throw in a pinch or two of red pepper flakes or a couple of jalapeños.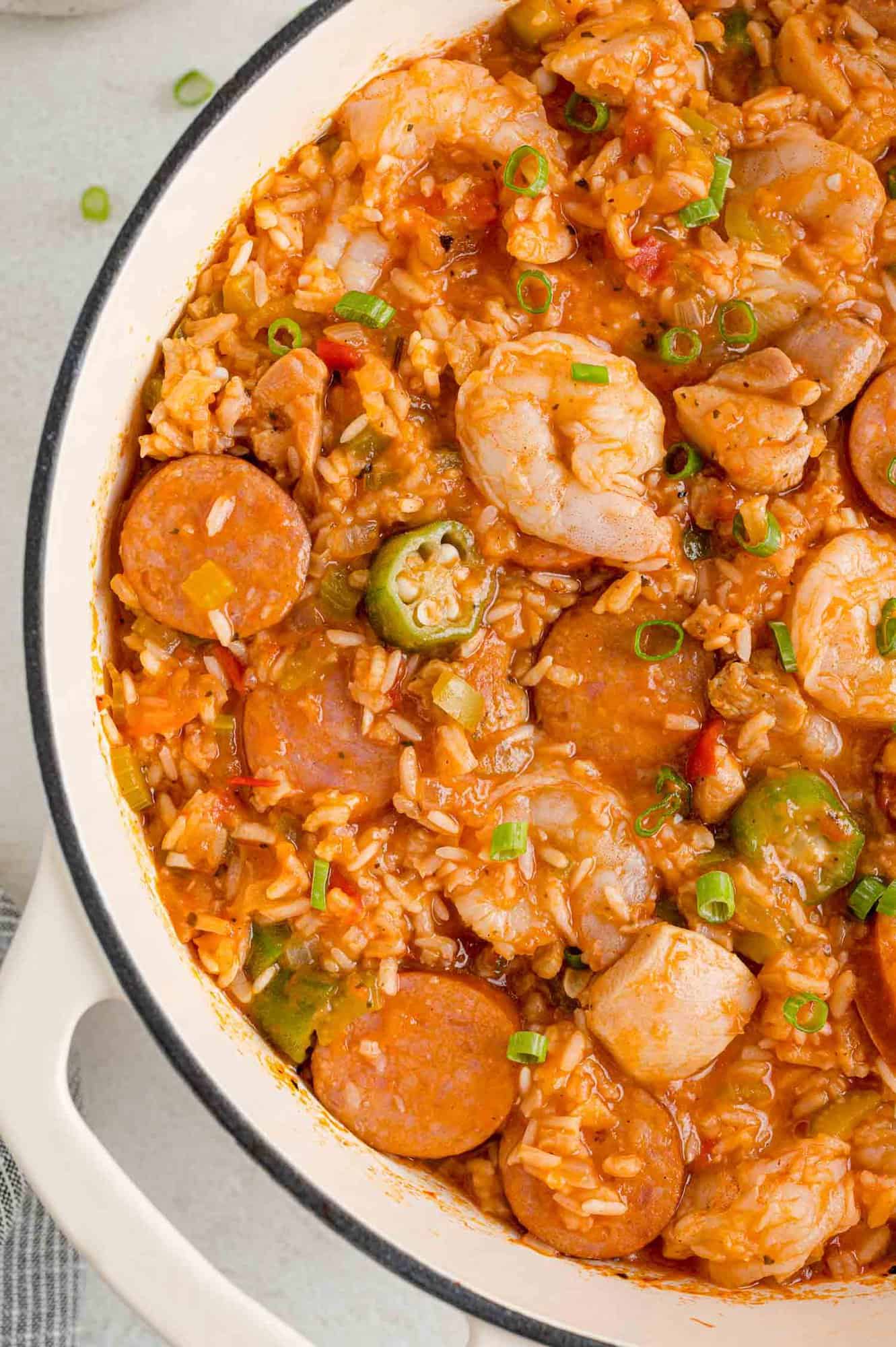 Make-Ahead Ideas
This recipe makes a pretty big batch. The good news is that jambalaya can be frozen for up to three months. Here are a few tips:
If you are planning on freezing the jambalaya, omit the shrimp and add it when you reheat the jambalaya.
Spread the cooked jambalaya out so it cools quickly.
Store it in freezer-safe containers, preferably individually sized ones (more convenient). It's best to thaw it overnight in the refrigerator.
Reheat the jambalaya in a skillet on the stove. Add the raw shrimp; it will cook very quickly.
Storage & Reheating Tips
Leftover jambalaya can be covered and refrigerated for up to 3 days. For best results, reheat in a skillet over medium high heat, stirring very frequently.
Did you make this? Be sure to leave a review below and tag me @rachelcooksblog on Facebook, Instagram, or Pinterest!
Robust and spicy, this Cajun jambalaya recipe will satisfy the meat lovers in your family with andouille sausage, tender chicken, and briny shrimp.
Ingredients
3

tablespoons

olive oil, divided

2

tablespoons

Cajun seasoning, divided

12

ounces

andouille sausage, cut into ¼-inch thick rounds

(package sizes vary,

12

to

14

oz. is fine)

1

pound

boneless skinless chicken thighs, cut into 1-inch pieces

1

cup

diced onion

(about

1

medium onion)

1

cup

diced green bell pepper

(about

1

pepper)

1

cup

finely diced celery

(about

3

stalks)

4

cloves

garlic, minced

1 ½

cups

uncooked long grain white rice

2 ½

cups

chicken broth

1

can

(15 ounce) crushed tomatoes

1

bay leaf

16

ounces

raw shrimp (50-60 size), peeled and deveined, tails off

(thawed if frozen)

1

cup

thinly sliced okra

(thawed if frozen)

Sliced green onions and hot sauce for serving, optional
Instructions
In a large, heavy bottomed pot (a Dutch oven works great!), heat

1 tablespoon

oil over medium high heat. Once hot, add the sausage and cook until browned on both sides, about 3 minutes per side. Remove sausage from pan and place on a plate.

Add another

1 tablespoon

oil to the pot. Season the chicken with

1 tablespoon

of the Cajun seasoning. Add the chicken to the pot and cook until browned, 4 to 5 minutes total, stirring occasionally. It doesn't have to be cooked all the way through at this point. Remove chicken from pot and place on the plate with the sausage.

Add another

1 tablespoon

oil to the pot and add the onion, bell pepper, and celery. Cook for 3 to 4 minutes, stirring, or until onions are translucent. Add garlic and cook for 1 more minute or until fragrant.

Add rice and remaining

1 tablespoon

Cajun seasoning and cook, stirring constantly, until it smells toasted, 3 to 4 minutes.

Return chicken and sausage to pan and add broth, crushed tomatoes, and bay leaf. Bring to a boil. Stir once more and reduce heat to low, cover, and simmer for 30 to 35 minutes or until rice is cooked through, keeping covered the entire time (this is important!).

Add shrimp and okra; stir to combine. Cover and cook for 5 to 6 minutes or until shrimp is cooked through (cook time will depend on size of shrimp). Discard bay leaf, taste, and season with more salt, pepper, and Cajun seasoning as desired.

Serve immediately with desired toppings.
Notes
Serving suggestions: Cornbread or muffins, biscuits, cucumber salad, sautéed corn.
Leftover jambalaya should be refrigerated promptly. It will keep for 3 to 4 days. Refer to the post for freezing instructions.
Reheat jambalaya in a skillet over medium high heat, stirring frequently.
Nutrition Information
Serving:
2
cups
,
Calories:
619
kcal
,
Carbohydrates:
51
g
,
Protein:
42
g
,
Fat:
27
g
,
Saturated Fat:
7
g
,
Polyunsaturated Fat:
5
g
,
Monounsaturated Fat:
13
g
,
Trans Fat:
0.2
g
,
Cholesterol:
218
mg
,
Sodium:
1431
mg
,
Potassium:
973
mg
,
Fiber:
4
g
,
Sugar:
7
g
,
Vitamin A:
1765
IU
,
Vitamin C:
33
mg
,
Calcium:
131
mg
,
Iron:
4
mg
This website provides approximate nutrition information for convenience and as a courtesy only. Nutrition data is gathered primarily from the USDA Food Composition Database, whenever available, or otherwise other online calculators.