Classic deviled eggs are easy to make and always the first appetizer to disappear. Learn how to make the best deviled eggs.
Recipe Overview
Why you'll love it: Deviled eggs are the answer when you need a quick appetizer and you don't have time to grocery shop. They only have a few ingredients that you probably already have.
How long it takes: 30 minutes
Equipment you'll need: saucepan (or Instant Pot), mixing bowl, serving platter
Servings: makes 12 halves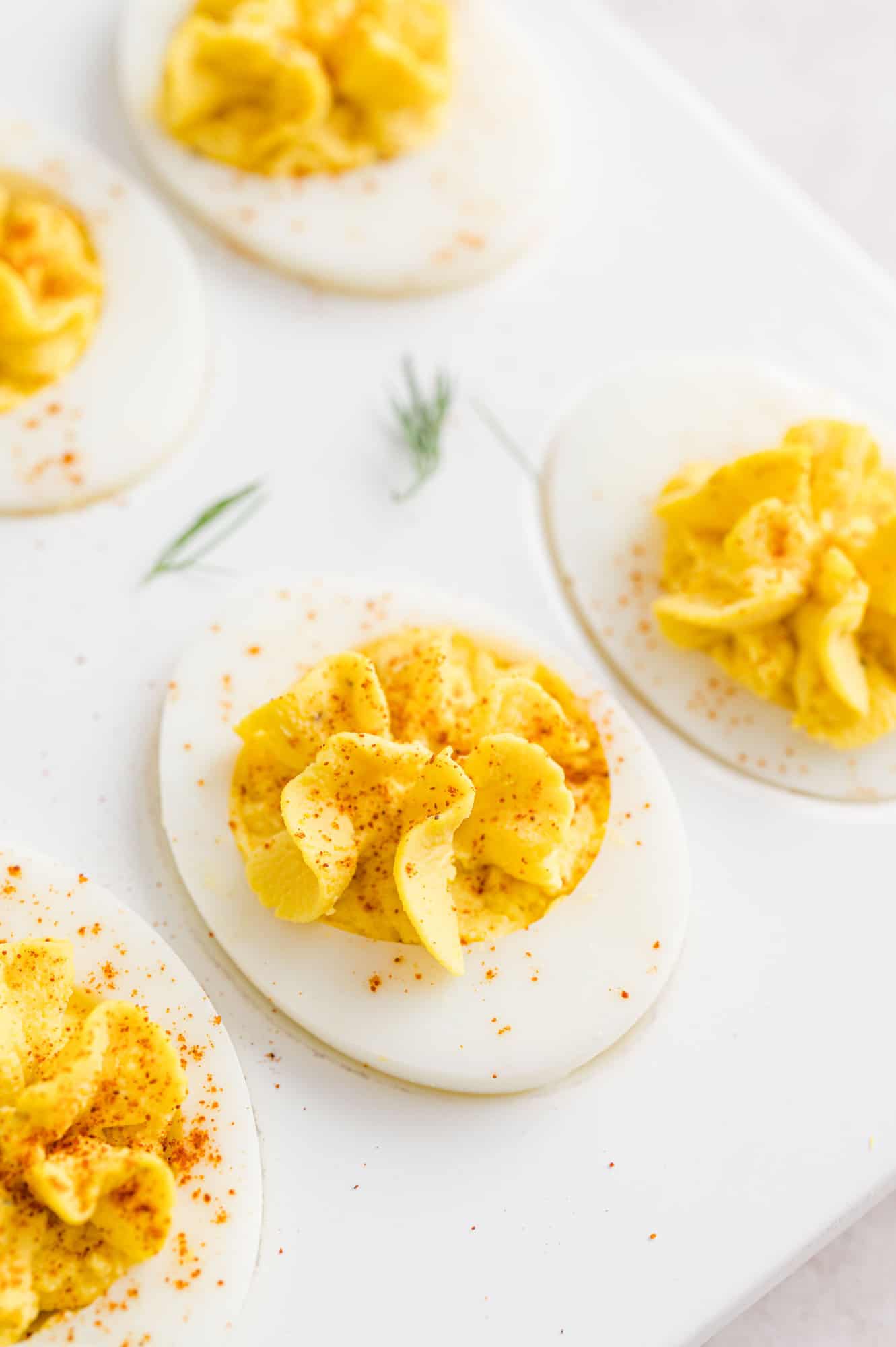 Don't you just love deviled eggs? A neat little two-bite appetizer, deviled eggs are merely fancied up hard boiled eggs. The egg white makes a neat little dish for the creamy egg filling which is oh, so tasty.
I love how easy it is to get creative with deviled eggs. I've had a recipe on my site for some time now for southwestern deviled eggs which are seasoned with taco seasoning and include cheddar cheese, cilantro, and green onions. They're really good but I thought a recipe for classic deviled eggs was long overdue.
By the way, have you discovered how perfectly Instant Pot hard boiled eggs turn out every time? They peel easily every time. You'll find instructions for the Instant Pot and the stovetop in the recipe card below.
Recently I've discovered that you can "boil" eggs in an air fryer and they turn out really well, perfect for making egg salad. It takes just over 15 minutes. Try air fryer boiled eggs.
Deviled eggs are keto friendly, gluten-free, dairy-free, vegetarian, and Whole30 (if you use a Whole30 mayo).
About this recipe
I wanted to give you the best deviled eggs recipe so we tinkered in the kitchen, experimenting with different ways to make the filling until we found just the right balance.
We compared yellow mustard to Dijon mustard (too salty). We even made a batch with no mustard. We tried adding pickle relish (too juicy!) to one batch, finely chopped red onion (too onion-y!) to another batch. Chives were added (we liked that addition!) but they didn't make the final cut.
The recipe we ended up with is a Southern classic deviled eggs recipe with mayonnaise, yellow mustard, a splash of white vinegar, salt and pepper, and just a hint of Tabasco. It's easy to make and you probably have all the ingredients you need in your fridge and pantry.
BUT, if you are hankering after chives, or if your mom always added pickle relish to her deviled eggs, or you just want something a little unique, go for it. You're the cook in your kitchen! I've even given you a few ideas in the Make It Your Own section below.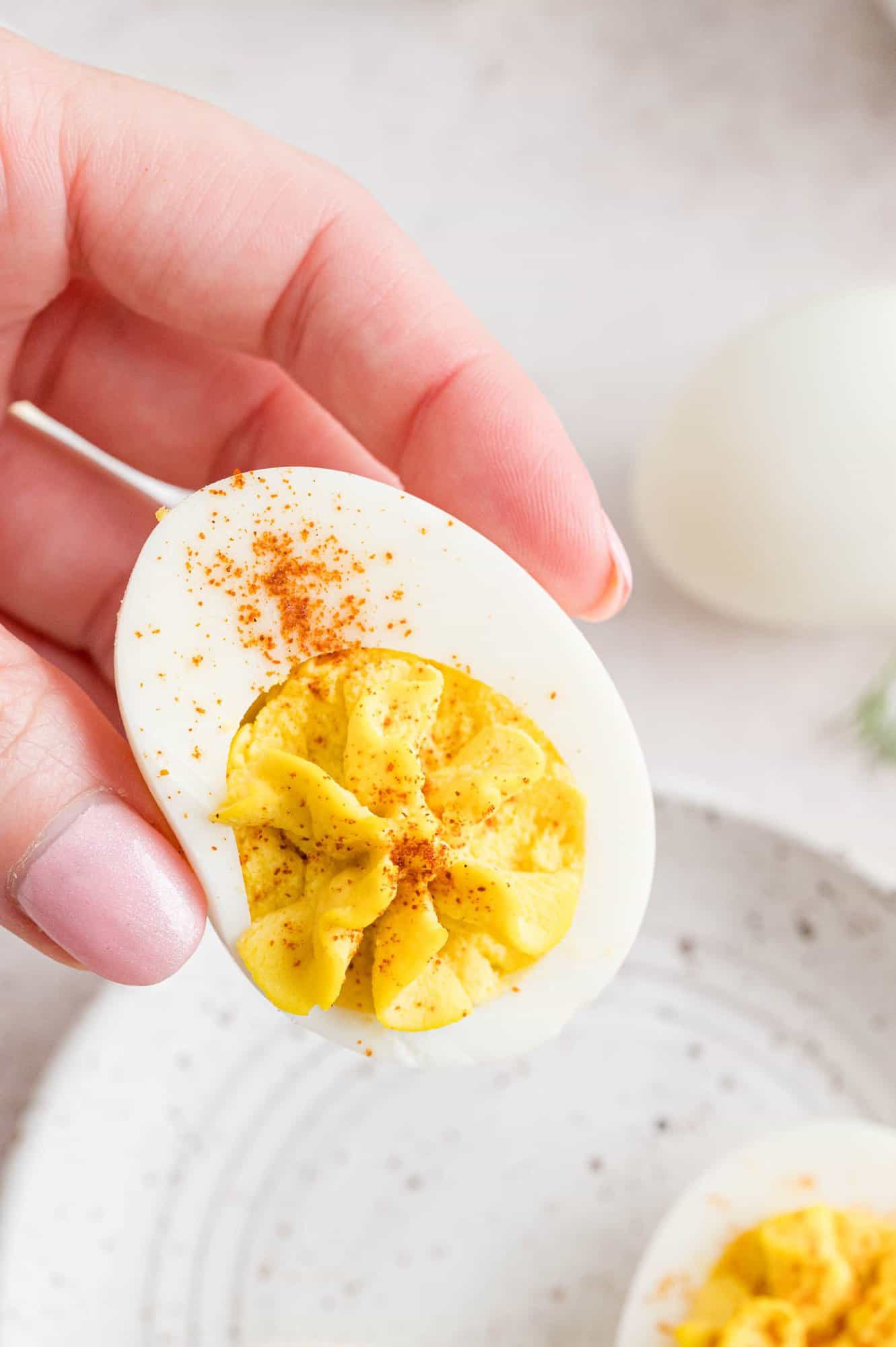 I'll get you started on making your own deviled eggs here and give you some helpful tips. Look for the recipe card near the end of the post for complete instructions, measurements and nutrition information.
How To Easily Peel Hard Boiled Eggs
I'm probably opening a can of worms here. Everyone seems to have their favorite technique but we all agree, an egg that doesn't release the shell is a pain in the you know what.
I like to crack the shell all over, rolling it on a hard surface until it's nearly falling off. Finish peeling the egg under running water. The shell will easily loosen and fall right off. And yes, pressure cooked eggs are way easier to peel.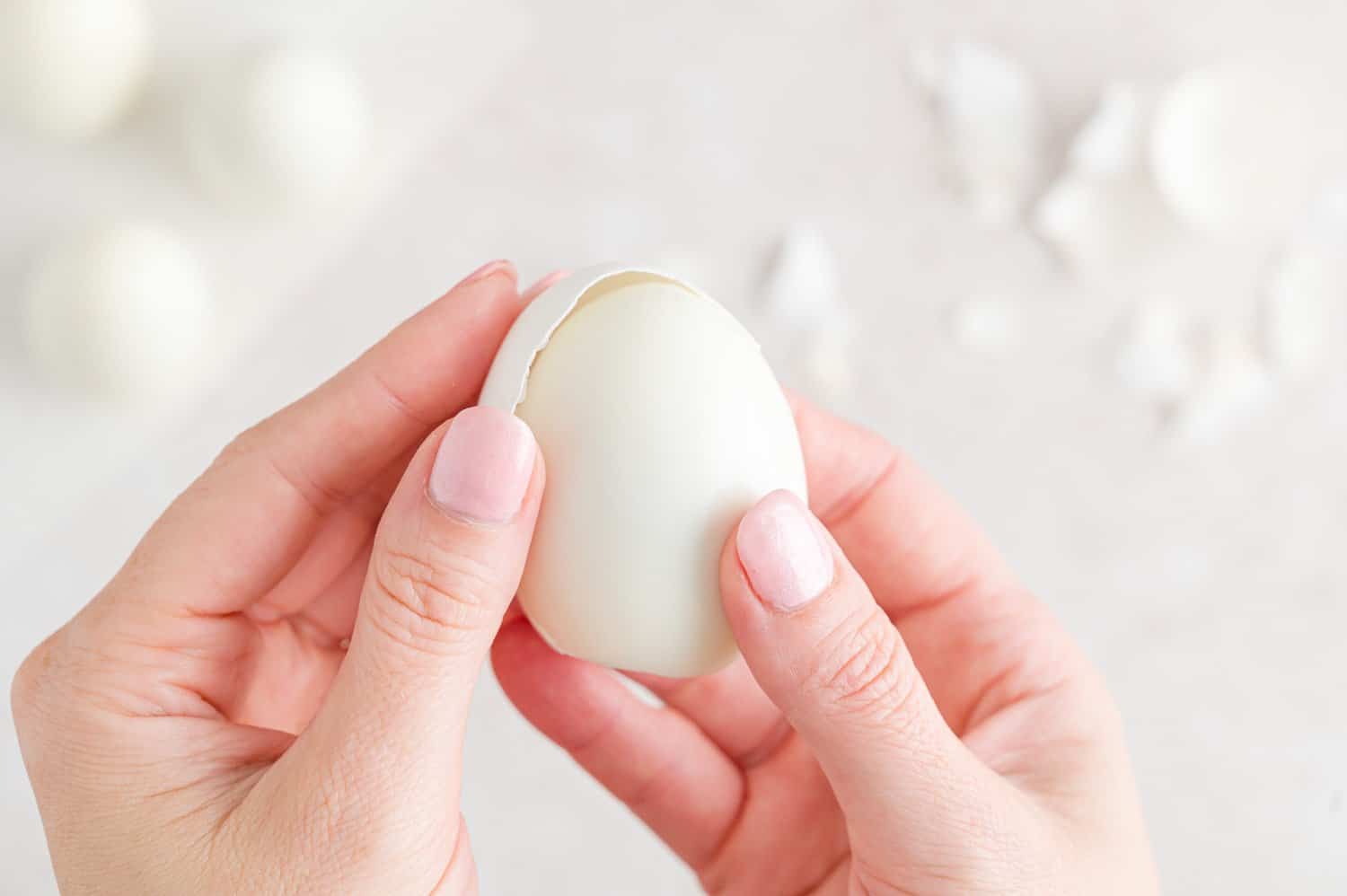 Ingredients you'll need
Hard Boiled Eggs: The recipe is for six eggs but you can easily double or triple the ingredients. Use large eggs that are not super fresh, that is, one or two weeks old, because they'll peel more easily. If you buy your eggs at the supermarket, they are probably at least one week old when you purchase them.
Mayonnaise: The creamy filling in deviled eggs is usually made with mayonnaise. Choose your favorite brand. Lower fat or olive oil mayonnaise is fine.
Yellow Mustard: There are lots of different types of mustard and you may choose what you like, but classic deviled eggs are usually made with plain yellow mustard, like the kind you use for hot dogs or hamburgers.
White Vinegar: Just a hint of vinegar enhances the flavor of the filling and keeps it from being cloying or heavy.
Salt & Pepper: Simple seasonings that you can add to taste.
Tabasco: A dash of this hot pepper sauce brings a little "devilish" zing to your tastebuds. If you don't care for it, just leave it out or try one of the flavor variations listed on the recipe card.
Paprika or Fresh Dill, for garnish: A classic deviled eggs is usually garnished with a sprinkle of sweet red paprika. It doesn't add much flavor but it's decorative.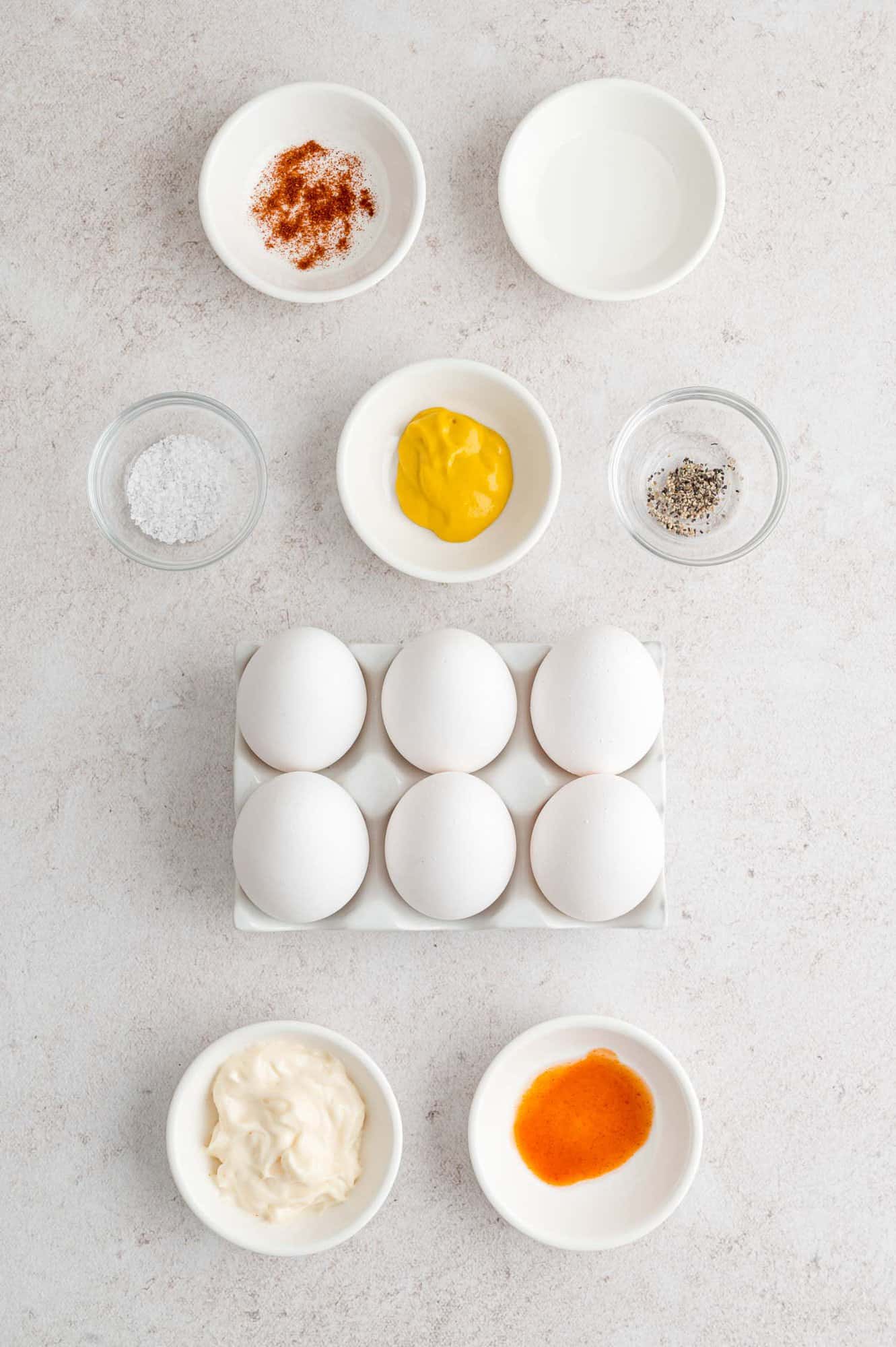 How to make Deviled Eggs
Begin by hard boiling your eggs on the stove top in a saucepan, or make them in your Instant Pot or air fryer.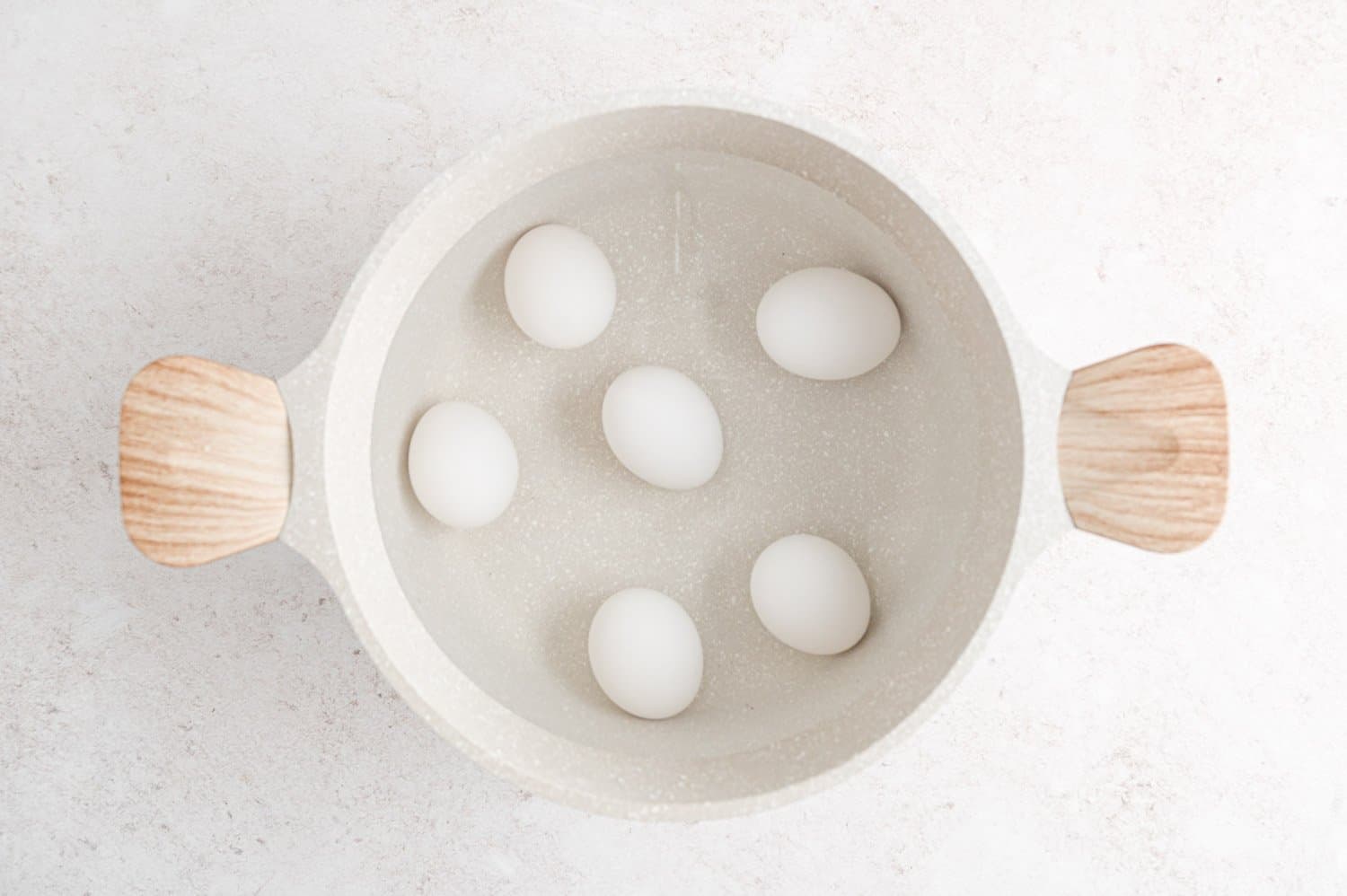 While the eggs are cooking, prepare an ice water bath. Fill a large bowl with ice and add cold water. When the eggs are cooked, immediately place them in the ice water. This will stop the cooking process so the eggs stay perfectly well done. The yolks of overcooked hard boiled eggs turn an unappetizing grayish green color. It doesn't affect the taste but they aren't as attractive.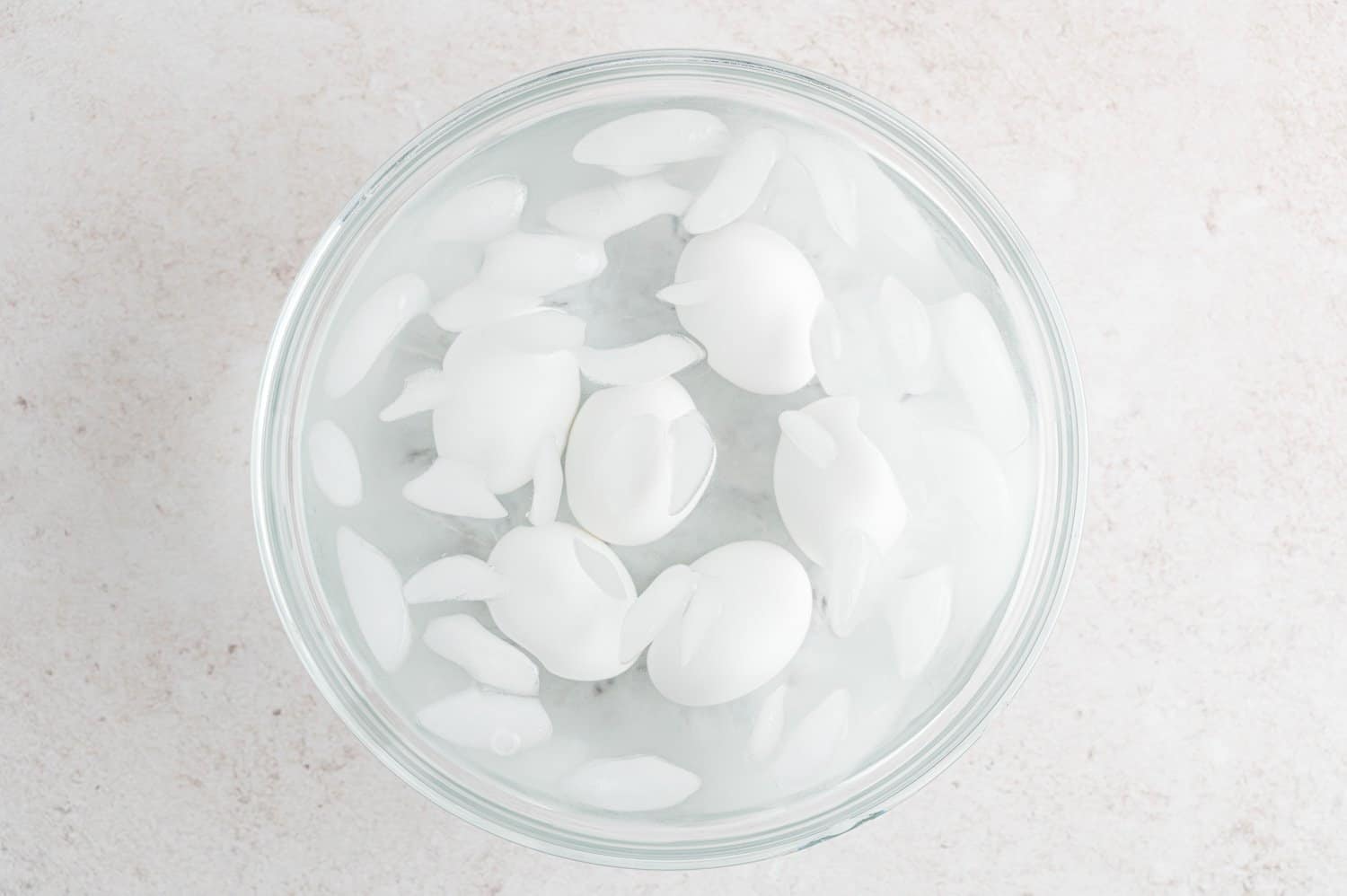 Take the eggs out of the ice water, peel them, and dry them with paper towels or a clean lint-free dish towel.
With a sharp knife, carefully cut the eggs in half lengthwise. Remove the yolks and arrange the egg white halves on a serving plate.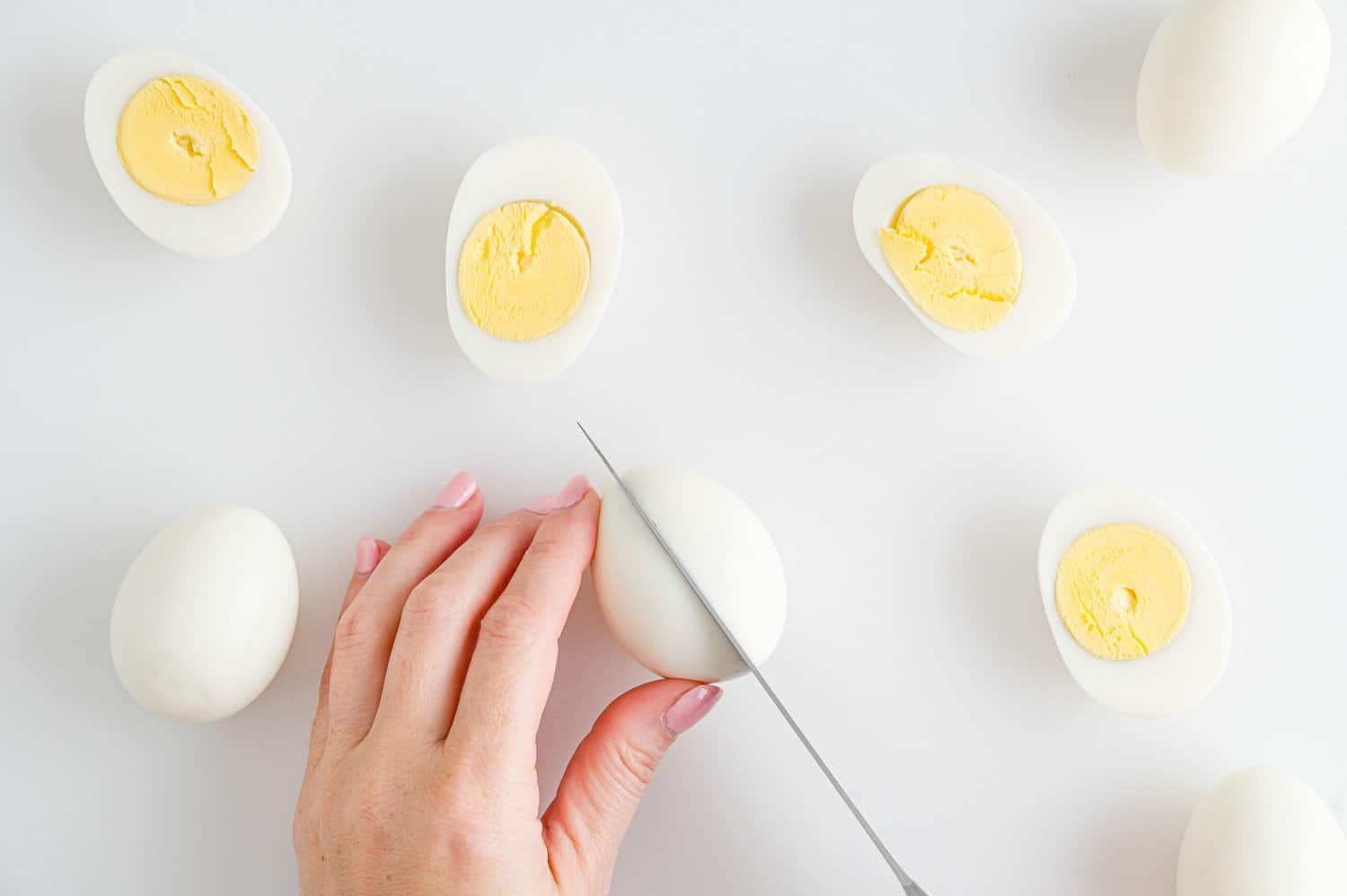 Place the yolks in a medium sized bowl and mash them lightly with a fork.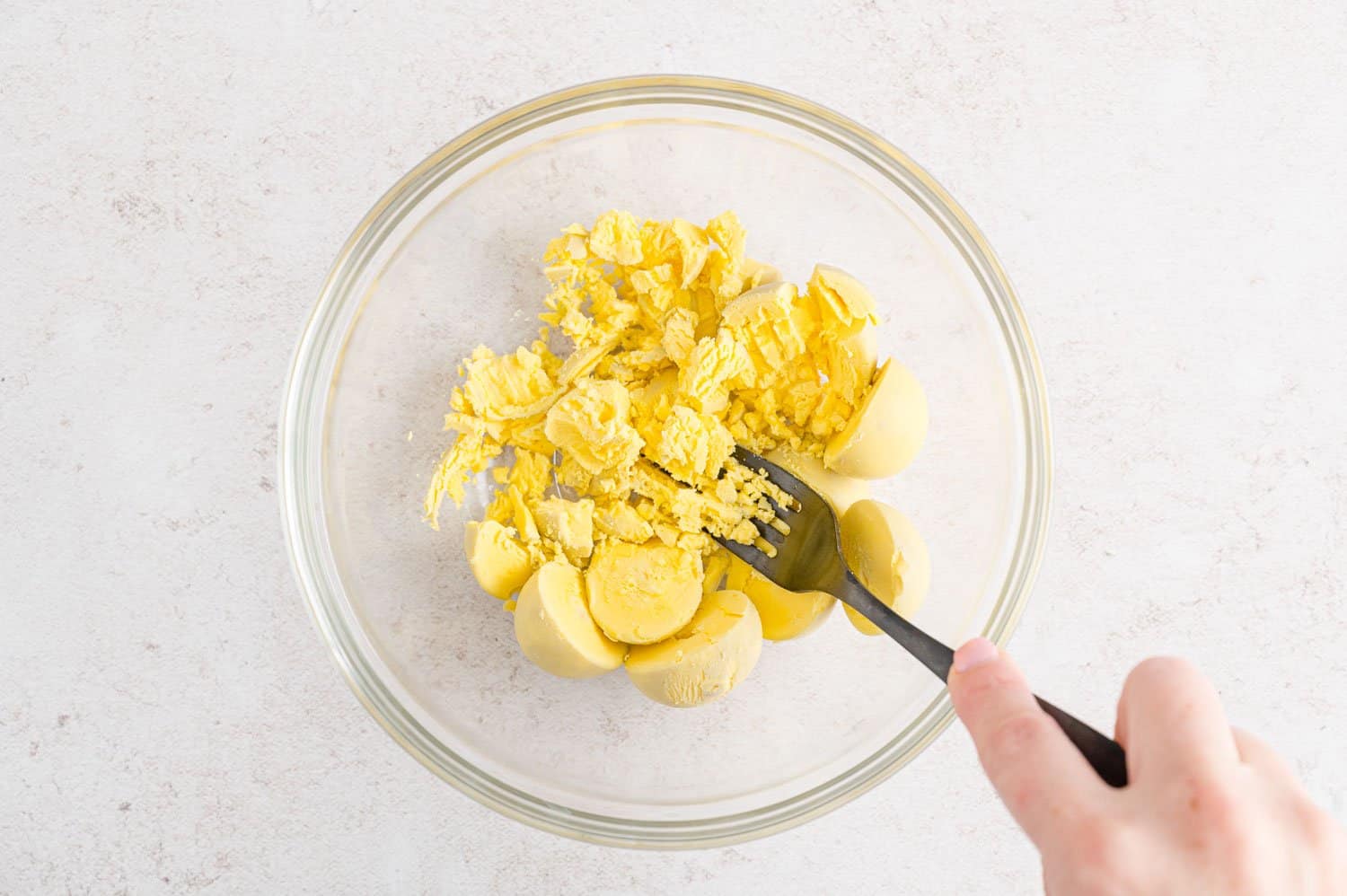 Add the mayonnaise, mustard, vinegar, salt and pepper, and Tabasco.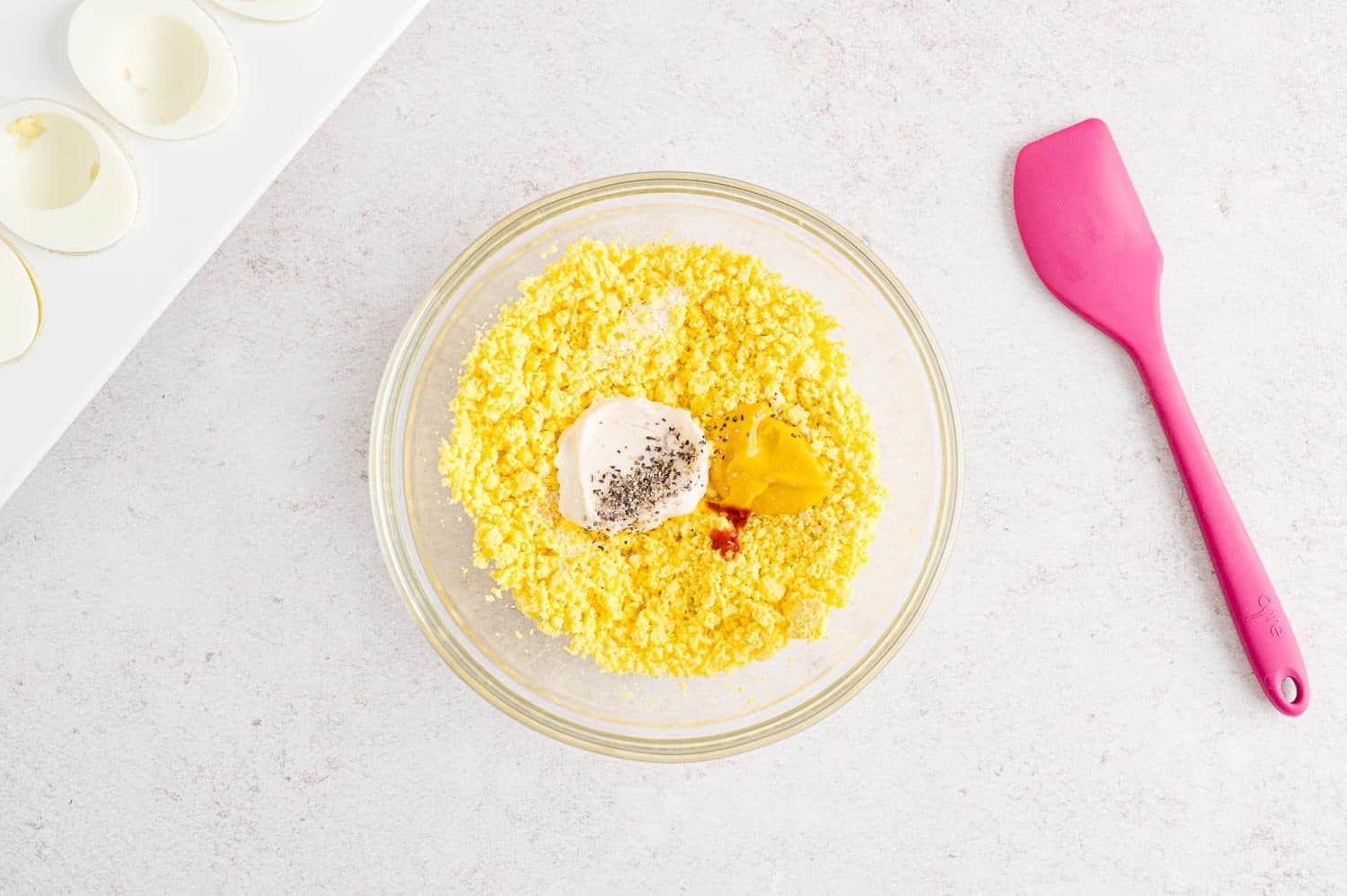 Blend the mixture until it's smooth and well-mixed. Taste a bit to see if the seasonings are just the way you like.
Okay, now we're ready for the last step: filling the eggs. There are a couple of ways to do it. You can take a teaspoon of the yolk mixture and plop it into the hollow part of the egg white. That method is easy and is perfectly acceptable.
If you want "fancier" deviled eggs, put the filling in a pastry bag fitted with a large size tip (one with a pretty large hole). Squeeze the filling into the egg white using a decorative touch.
If you don't have a pastry bag, put the filling in a resealable bag and cut off one of the bottom corners, just a tiny bit, forming a hole to squeeze the filling through. The advantage of this method is that you don't have to wash anything. Just dispose of the bag when you're finished!
Garnish the deviled eggs with a sprinkle of paprika or a sprig of dill. There are lots of ways to garnish those eggs, really, so be as creative as you want.
Cover the eggs and refrigerate them until you're ready to serve them.
FAQs
Why do you put vinegar in deviled eggs?
A small amount of vinegar is added to enhance the flavor of the filling, giving it a slightly tangy aspect. Some cooks prefer using pickle relish, yogurt, or other tangy flavors to accomplish the same goal.
What makes a deviled egg a deviled egg?
"Deviled" foods have spicy heat or are reddish in color. You may also be familiar with deviled ham or devil's food cake (dark and "sinfully" rich). Heat and the color red are often associated with the devil; therefore, the adjective "deviled" is applied to these foods.
Classic deviled eggs are made with black pepper, mustard, cayenne pepper, or hot sauce which give the eggs a little spicy heat, and are traditionally garnished with a sprinkle of red paprika.
You'll find that there are many ways to make deviled eggs beyond the classic recipe. They may be stuffed with avocado, hummus, or yogurt, and topped with bacon, chorizo, herbs, capers, olives, etc.
What is the difference between stuffed eggs and deviled eggs?
Because some folks don't appreciate naming their food after the devil, they prefer to call deviled eggs by another name, such as stuffed eggs. I've heard that some people even call them "angel-ed" eggs instead.
The eggs are the same; they simply have a different name.
Make It Your Own
Add pickle relish. Substitute a generous teaspoon of pickle relish (either dill or sweet) for the white vinegar.
Substitute Dijon mustard. It can be substituted for the yellow mustard; omit salt. Other types of mustard such as coarse ground or horseradish can be used too. Taste seasonings and adjust as needed.
Sub in cayenne pepper for the Tabasco. Don't have any Tabasco in the house? Substitute ⅛ teaspoon cayenne pepper, or to taste. If you aren't fond of spicy heat, just omit it.
Garnish suggestions: Have fun with garnishes! Add a small piece of cooked bacon (I love baked bacon!) or chorizo. Parsley, chives, or green onions are good garnishes. Add a veggie garnish: a radish slice, finely grated carrots, or sliced jalapeño peppers. Pickled onions or pickled radishes are also delicious on deviled eggs. A pinch of everything bagel seasoning adds a bit of texture and tastes wonderful.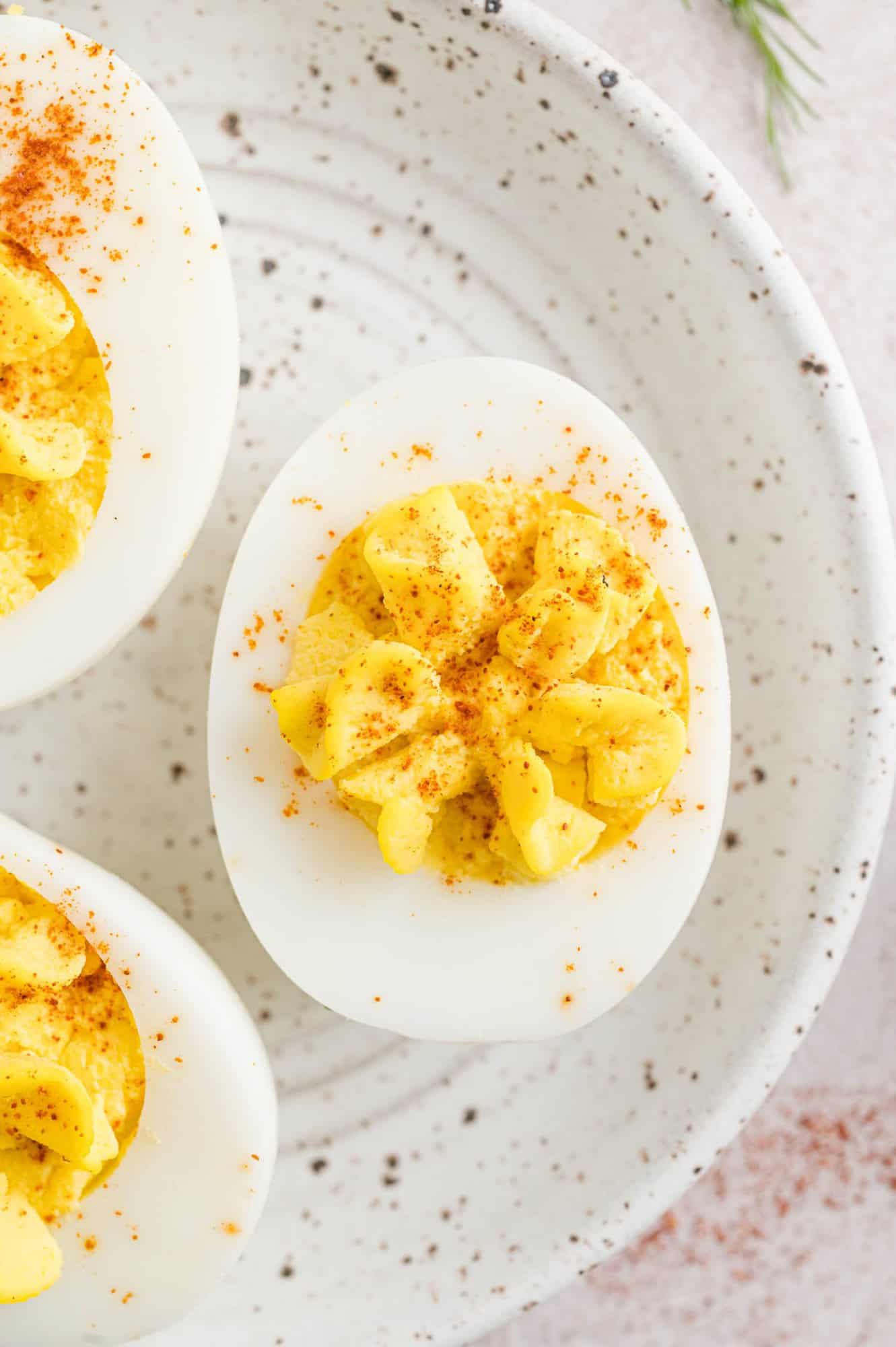 Make-Ahead Ideas
Prep the hard boiled eggs ahead of time. Peel them, cut them in half, and prepare the filling. For best results, store the whites and prepared filling separately in covered containers. They'll will keep in the fridge up to two days. Fill the eggs before serving.
Storage Tips
Leftover deviled eggs will keep for a couple of days in the fridge, assuming they were covered and refrigerated promptly. If they've sat out at room temperature more than 2 hours, they should be discarded.
Leftover Love
Have extra deviled eggs? Mash the filled eggs to make a delicious egg salad sandwich. Spread your egg salad on a slice of your favorite bread, top with leaf lettuce and another slice of bread, and enjoy!
Did you make this? Be sure to leave a review below and tag me @rachelcooksblog on Facebook, Instagram, or Pinterest!
Classic deviled eggs are easy to make and always the first appetizer to disappear. Learn how to make the best deviled eggs.
Ingredients
6

large eggs

2

tablespoons

mayonnaise

2

teaspoons

yellow mustard

1

teaspoon

white vinegar

¼

teaspoon

kosher salt

⅛

teaspoon

coarse ground black pepper

1

dash tabasco sauce, more to taste

Paprika or fresh dill for garnish, optional
Instructions
To hard boil eggs (stovetop method): Place eggs in a single layer in the bottom of a saucepan. Cover with cold water, at least one inch over the top of the eggs. To prevent cracking and to help the eggs peel more easily, add ½ teaspoon salt or baking soda when the water starts to boil.

Over high heat, uncovered, bring water and eggs to a full boil. Turn the heat off, cover the pan, and let the eggs sit for 10-12 minutes.

Drain water from eggs, and immediately place them in a bowl of ice water for 4 to 5 minutes or until completely cooled.

Peel the eggs carefully (we like to do it under running water); pat the eggs dry with paper towels. With a sharp knife, cut each egg in half lengthwise.

Scoop out the yolks and place in a small mixing bowl. Arrange egg white halves on a serving plate (make sure the eggs are completely dry).

Mash the egg yolks and mix with mayonnaise, mustard, vinegar, salt, pepper, and tabasco.

Fill the egg white halves with yolk mixture using a teaspoon or pastry bag fitted with large tip. Sprinkle lightly with paprika or garnish with fresh dill, if desired. Cover and refrigerate until ready to serve.
Notes
Instant Pot Method: Place 1 cup of cold water in the bottom of a 6-quart Instant Pot or other pressure cooker. Place eggs on/in steamer basket or wire rack. Close lid, make sure valve is set to seal. Set on Manual, High Pressure (or Pressure Cook, depending on your model). Cook for 5 minutes, natural release for 5 minutes, release remaining pressure, remove eggs and put into ice bath for 5 minutes (5-5-5 method).
Air Fryer Method: Preheat a 3.5-quart air fryer to 270ºF for five minutes.Add eggs to the basket and cook 15 minutes for hard-boiled eggs. Remove immediately and place in ice bath until cool.
Make Ahead: Prep the hard boiled eggs ahead of time. Peel them, cut them in half, and prepare the filling. For best results, store the whites and prepared filling separately in covered containers. They'll will keep in the fridge up to two days. Fill the eggs before serving.
Nutrition Information
Serving:
2
halves
,
Calories:
96
kcal
,
Carbohydrates:
1
g
,
Protein:
6
g
,
Fat:
8
g
,
Saturated Fat:
2
g
,
Polyunsaturated Fat:
3
g
,
Monounsaturated Fat:
2
g
,
Trans Fat:
1
g
,
Cholesterol:
166
mg
,
Sodium:
212
mg
,
Potassium:
65
mg
,
Fiber:
1
g
,
Sugar:
1
g
,
Vitamin A:
242
IU
,
Vitamin C:
1
mg
,
Calcium:
26
mg
,
Iron:
1
mg
This website provides approximate nutrition information for convenience and as a courtesy only. Nutrition data is gathered primarily from the USDA Food Composition Database, whenever available, or otherwise other online calculators.