Air fryer eggs are the best way to "boil" eggs that come out exactly to your liking every time! Make perfect hard-boiled, soft-boiled, or jammy eggs in the air fryer to use in healthy meals all week long.
Recipe Overview
Why you'll love it: The air fryer is a quick and easy method for perfect hard- or soft-boiled eggs.
How long it takes: 10 to 15 minutes depending on how you like your eggs.
Equipment you'll need: air fryer, plus a bowl for an ice bath.
Servings: cook up to 12 eggs, depending on the size of your air fryer.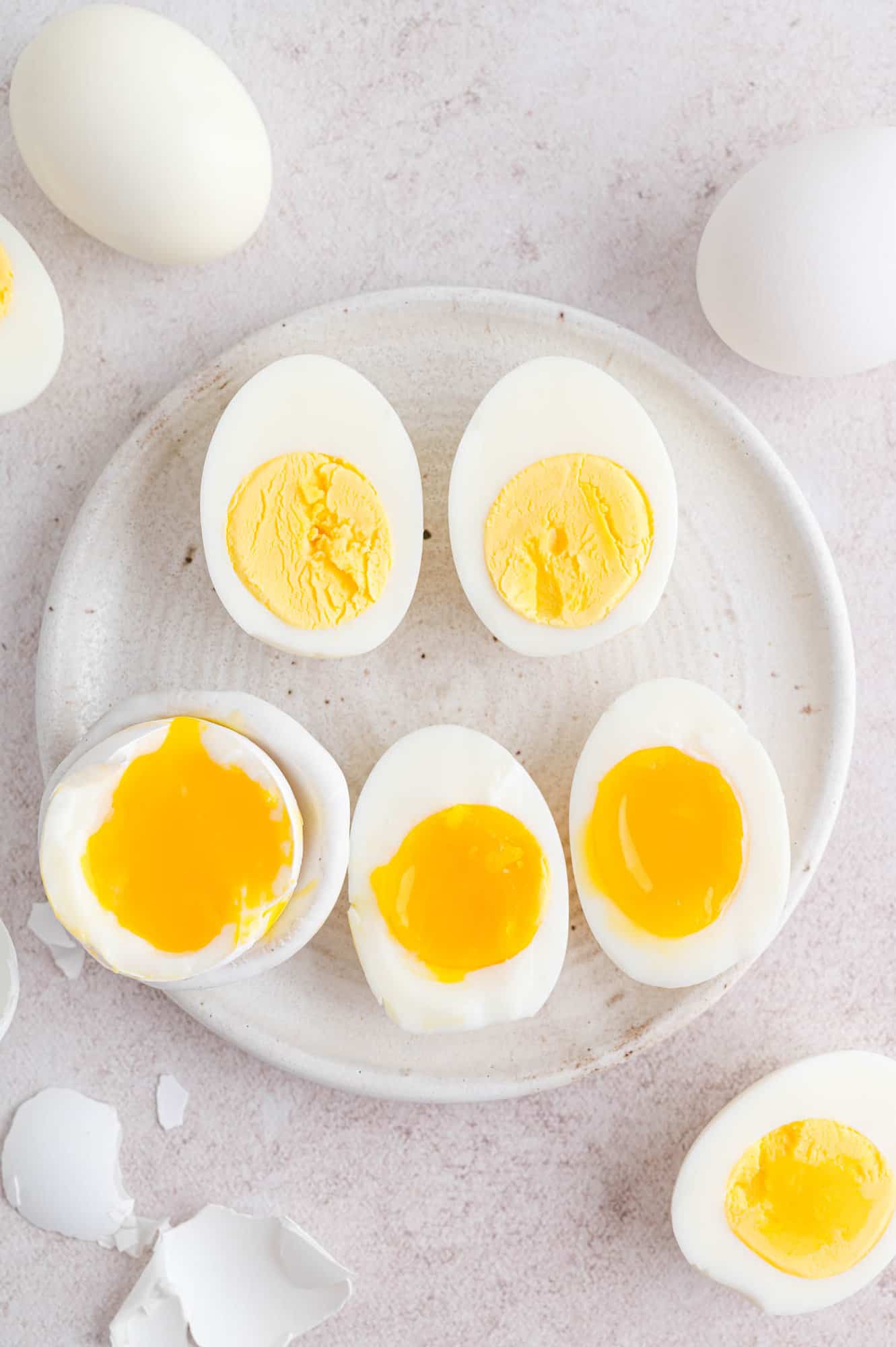 Perfect Air Fryer Boiled Eggs
As you might know by now, we're egg lovers in this family. It's one of our favorite proteins. I always have a bevy of boiled eggs waiting in the fridge, ready to use in everything from breakfasts to salads to snacks.
Between my Instant Pot hard boiled eggs and now these air fryer boiled eggs, I'm never touching the stove again when it comes to cooking eggs. Both methods are faster and practically fool-proof. Plus, air fryer eggs are a breeze to peel.
This easy air fryer recipe turns out perfectly cooked eggs whether you want them soft-boiled, hard-boiled, or jammy in the middle. Cook your eggs ahead to use in loads of healthy meals!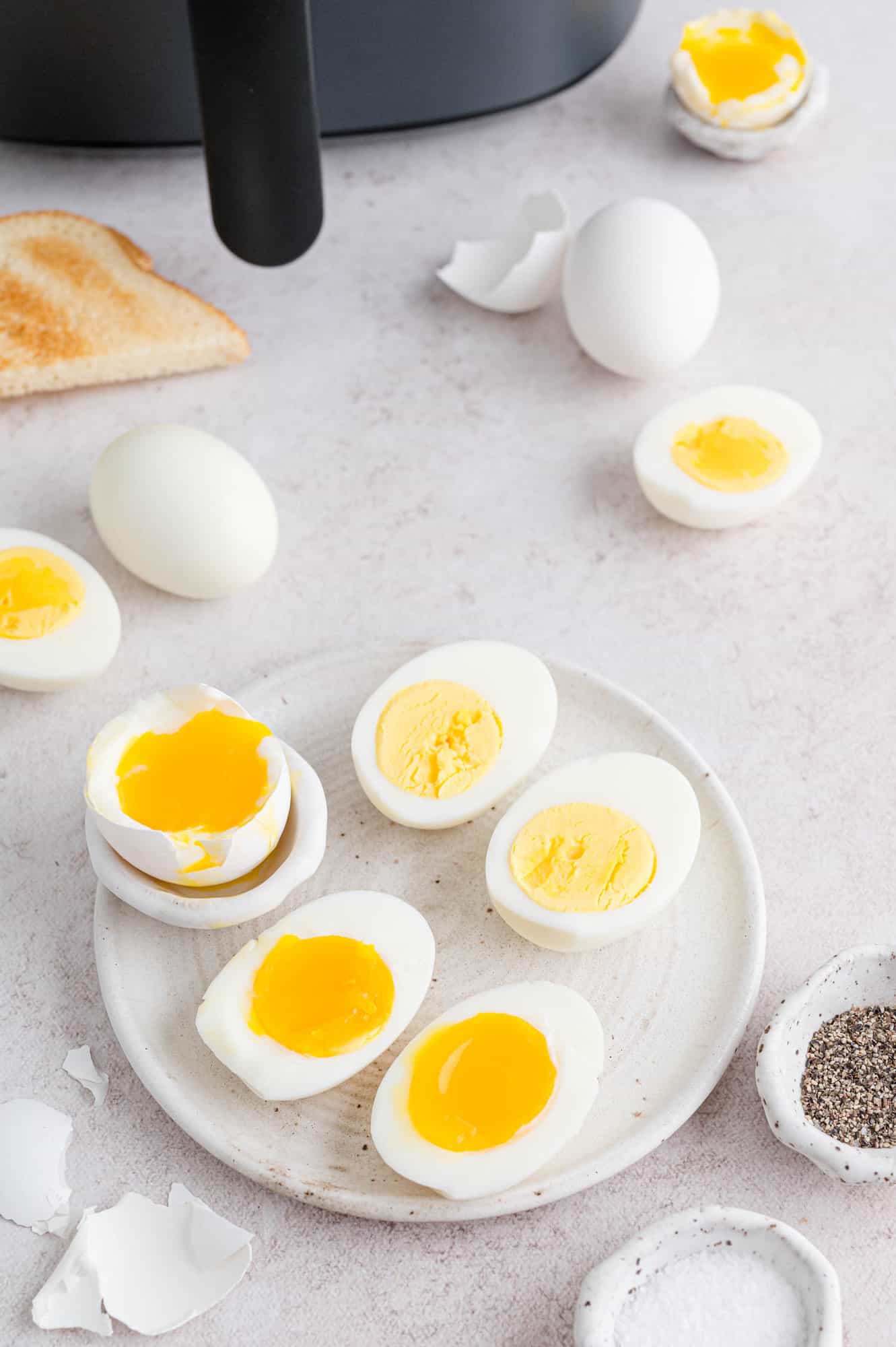 Why You'll Love This Air Fryer Recipe
After you've tried this method for boiled eggs, you won't want to cook them any other way. Here's why you'll love cooking eggs in your air fryer:
Quick and easy. There's no need to sit around waiting for water to boil with this method. Simply place the eggs into your air fryer basket and hit start. Air fryer boiled eggs cook up quickly and peel more easily than traditionally boiled eggs.
Great for meal prep. The air fryer is my new favorite way to cook eggs for meal prep. You can cook as many eggs as your heart desires and enjoy healthy meals throughout the week.
Versatile. Hard-boiled eggs are perfect as a healthy breakfast, in salads, sandwiches, and more. See more suggestions and recipe ideas later on in the post.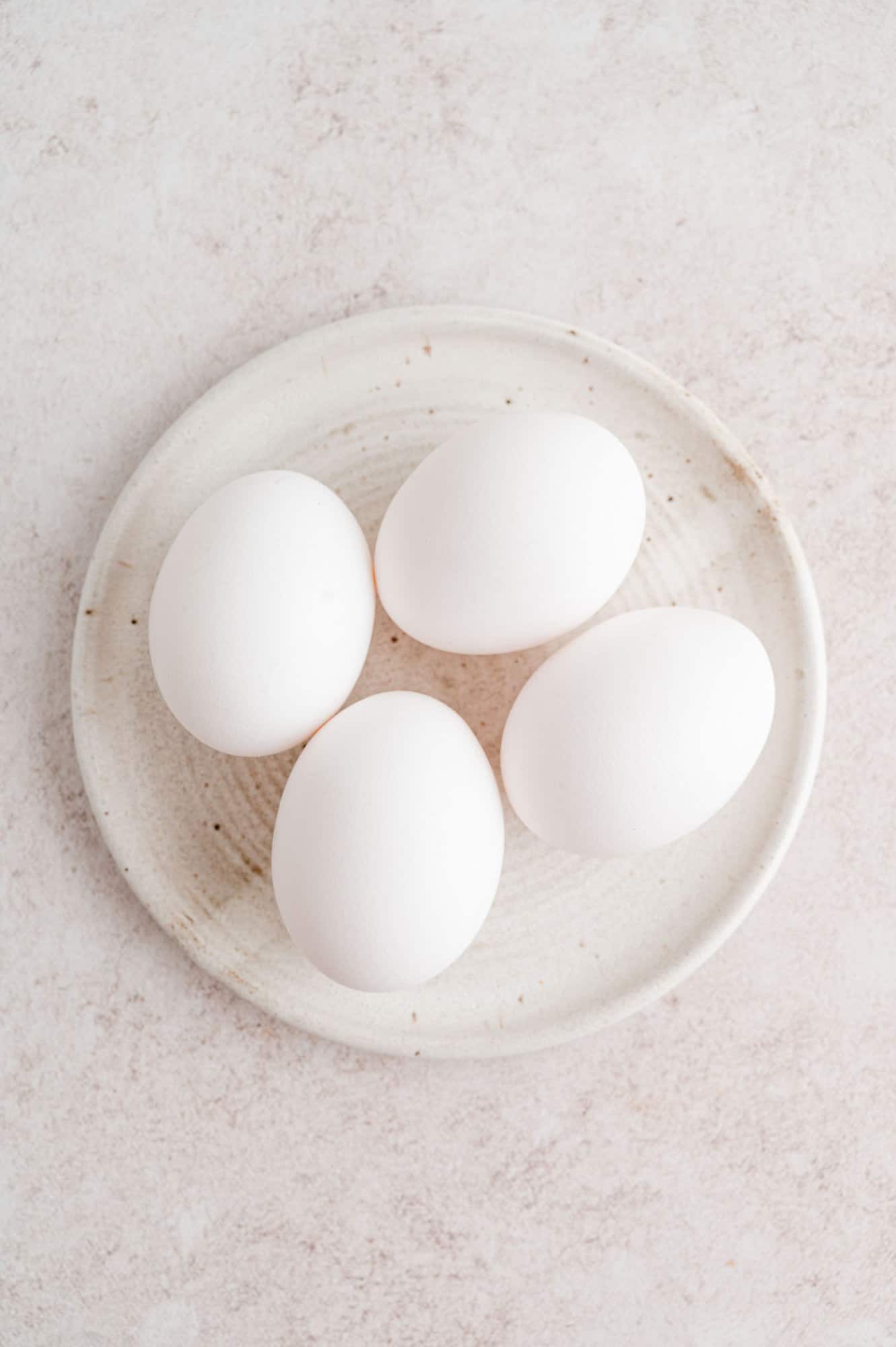 What You'll Need
All you need to make perfect air fryer boiled eggs is, well, eggs! The fresher, the better. Depending on the size of your air fryer and how many servings, you can cook between 2 to 12 eggs without having to change the cooking time. Remember to scroll to the recipe card for the full recipe details.
How to Make Boiled Eggs in the Air Fryer
Preheat the air fryer. Begin by preheating your air fryer to 270ºF. For the same reason you'd bring water to a simmer in order to boil eggs on the stove, you want the air inside your air fryer nice and hot before you add your eggs in.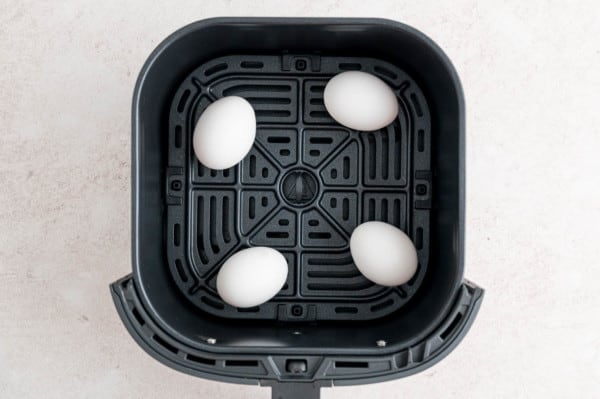 Add the eggs to the basket. Once your air fryer is preheated, gently place the eggs into the air fryer basket. Try not to overcrowd the basket or rack, leaving enough space between the eggs so that they don't touch. This helps the hot air circulate.
Cook. Next, return the basket to the fryer and cook the eggs to your desired doneness (see below for suggested cooking times). While the eggs are cooking, fill a large bowl with ice cubes and water.
Cool and peel. When your eggs are ready, transfer them immediately to the bowl of ice water to cool them down so they don't continue to cook. Use tongs, as the egg shells will be hot from the fryer. Allow the boiled eggs to cool in the ice bath. Afterward, get peeling and enjoy!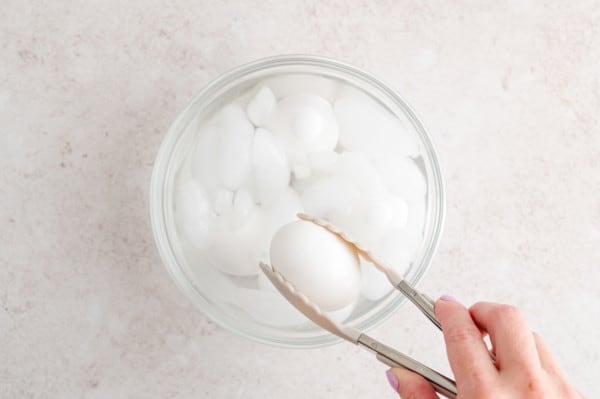 Cooking Times for Air Fryer Eggs
How long does it take to "boil" an egg in the air fryer? This depends on how you prefer your egg yolks. Here are some general cooking times for soft, medium, and hard-boiled eggs:
Soft Boiled Eggs – 10 minutes
Jammy Eggs – 12 minutes
Hard Boiled Eggs – 15 minutes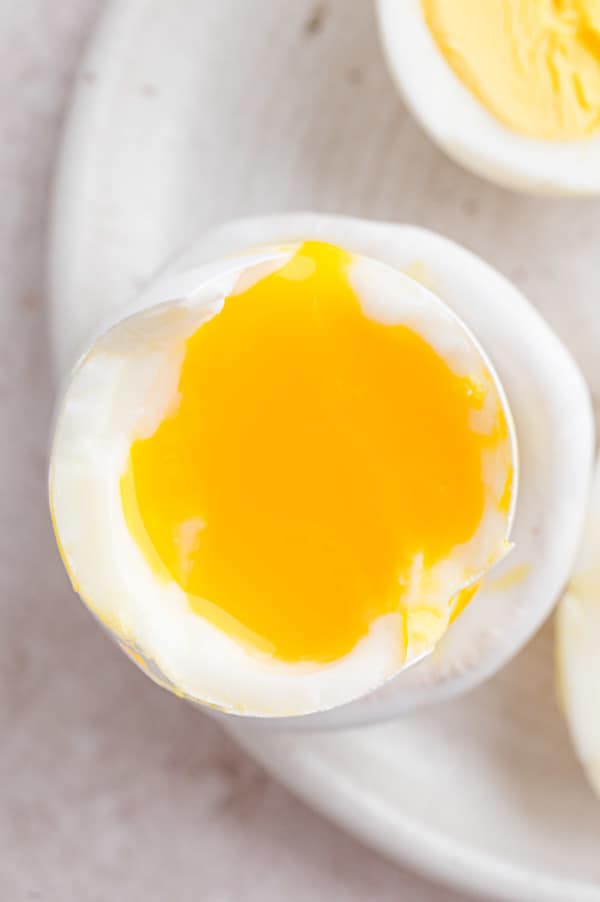 Tips for the Best Air Fryer Boiled Eggs
"Boiling" eggs in the air fryer is a little different from cooking them in a pot on the stove! Keep these tips in mind for perfect boiled eggs, every time:
Use fresh eggs. Although they may be slightly harder to peel, fresher eggs taste better.
Leave room for the air to circulate. Air fryers are essentially countertop convection ovens. This means that the hot air needs to circulate in order to cook the contents evenly. Make sure to leave enough space between your eggs, and don't overcrowd the basket.
Not all air fryers are the same. Some models may run hotter than others, and exact cooking times can vary depending on the size of your air fryer. You can always do a test run with 1 or 2 eggs to get an idea of what works for you.
If your hard-boiled eggs have a green ring around the yolks, this is because the eggs were overcooked. Perhaps the air fryer temperature was too high or the eggs were cooked too long. It's totally fine to eat them, though.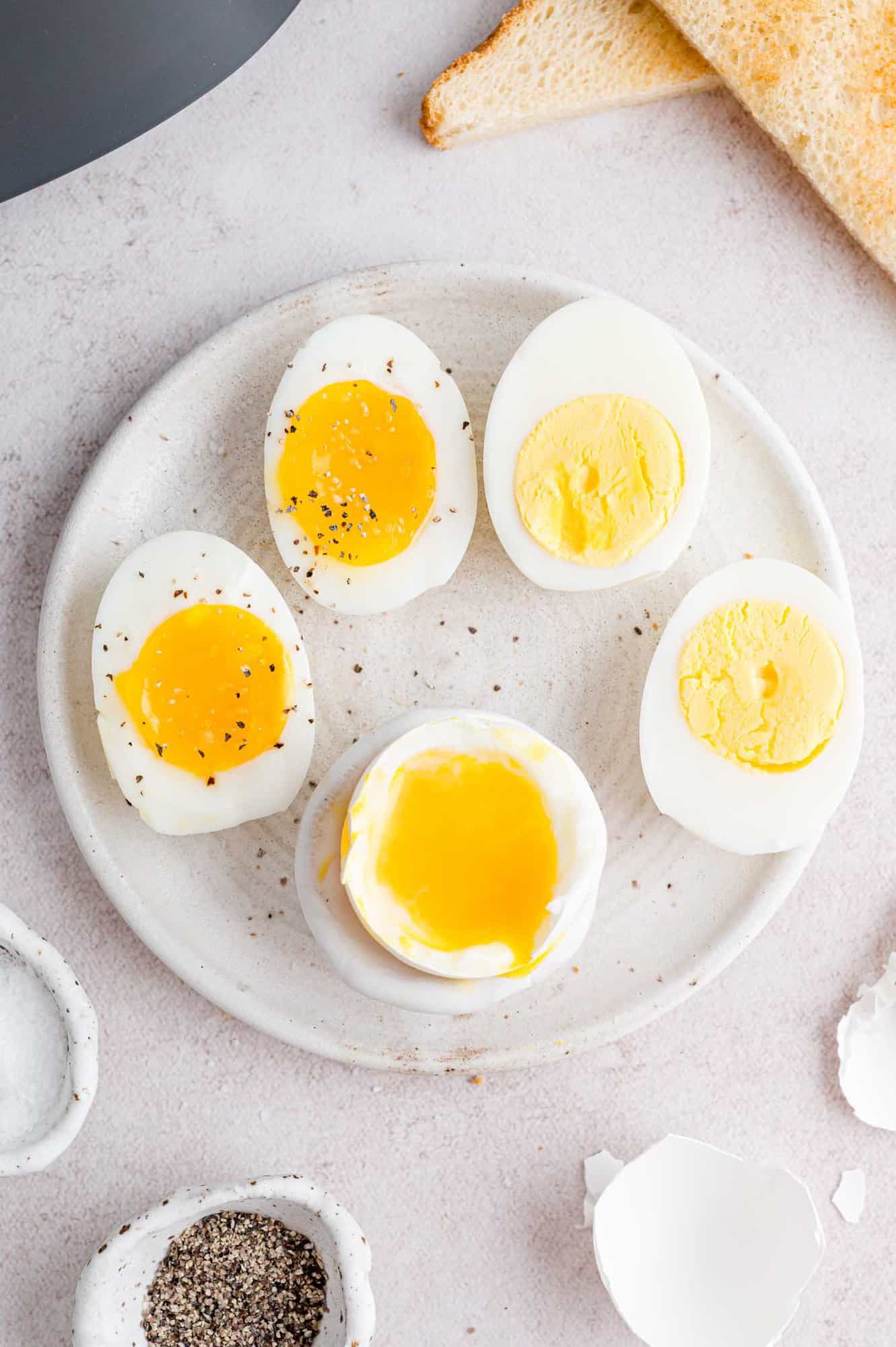 Air Fryer Eggs FAQ
Do eggs explode in the air fryer?
No, eggs shouldn't explode in the air fryer. Be sure that you don't set the air fryer temperature too high.
How many eggs can I cook in the air fryer?
This depends on the size of your basket. As a rule of thumb, don't overfill your air fryer, and make sure that the eggs are well-spaced.
Why are my air fryer hard-boiled eggs so hard to peel?
For easy peeling hard-boiled eggs, make sure that you use fresh eggs and do the ice water plunge right after cooking.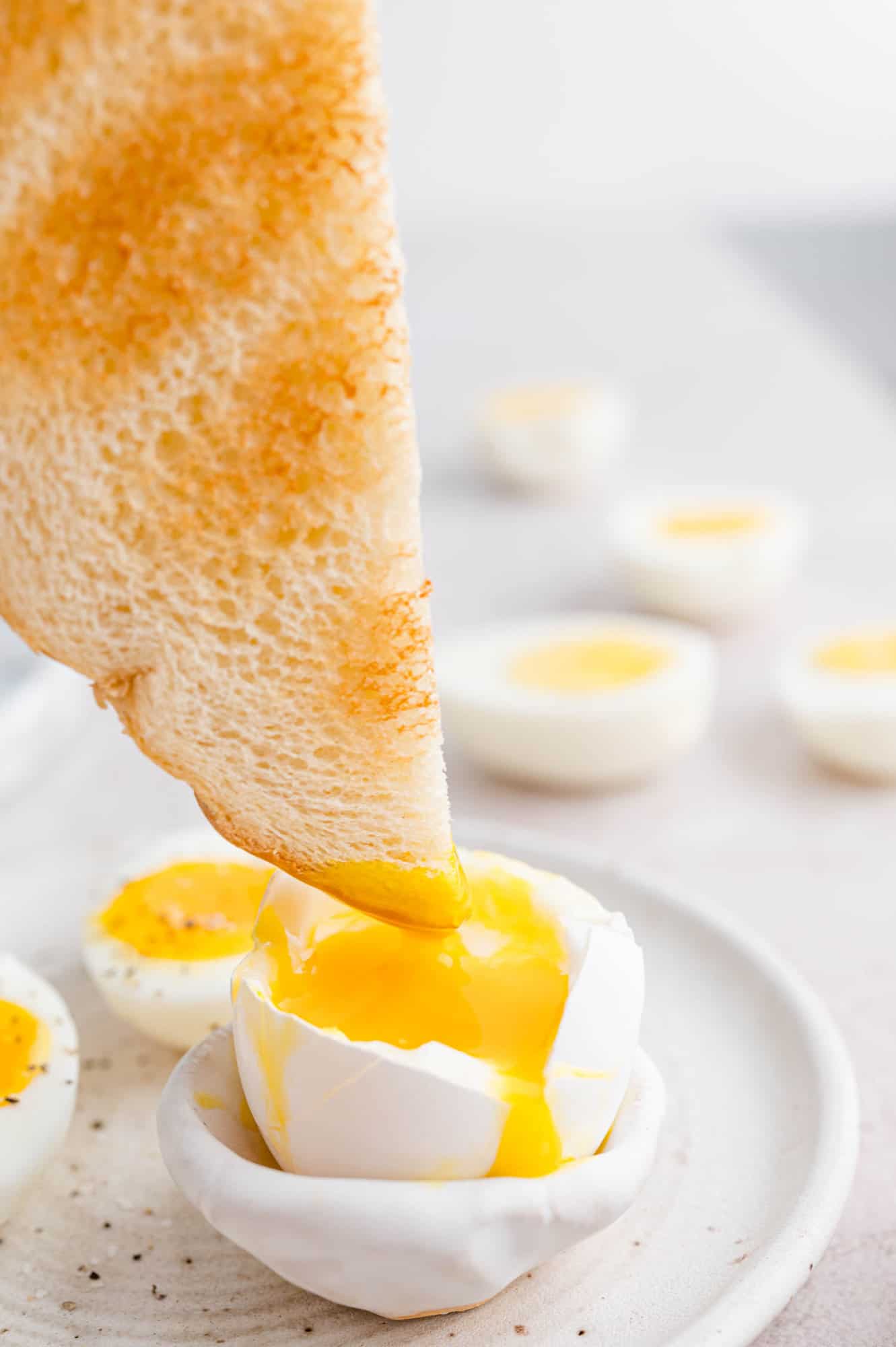 Serving Suggestions
Boiled eggs are a light, protein-packed breakfast (be sure to check out my complete list of 23+ easy breakfast recipes!) or an easy on-the-go lunch when served as-is. We love soft-boiled eggs with toast for dipping into the runny yolk, served with a side of baked bacon.
Hard-boiled eggs are simple and delicious seasoned with salt, pepper, and fresh herbs (our favorites are chopped chives, dill, parsley, and thyme). Try these other ways to use boiled eggs:
Salads: Eggs are a classic ingredient in Cobb salads, and I love them in my favorite potato salad recipe. You can also make your own Caesar salad topped with a hard-boiled egg, homemade Caesar dressing, and croutons.
Sandwiches: Slice up hard-boiled eggs or serve a soft-boiled egg on top of avocado toast, or make an easy egg salad sandwich.
Deviled Eggs: Air fryer boiled eggs are an easy shortcut to perfect deviled eggs that you can customize to your heart's content (like these Southwestern deviled eggs).
Meal Prep: Leave these eggs in their shells to take on the go for easy snacks and lunches. Or, include them in easy meal prep ideas, like a healthy breakfast bowl.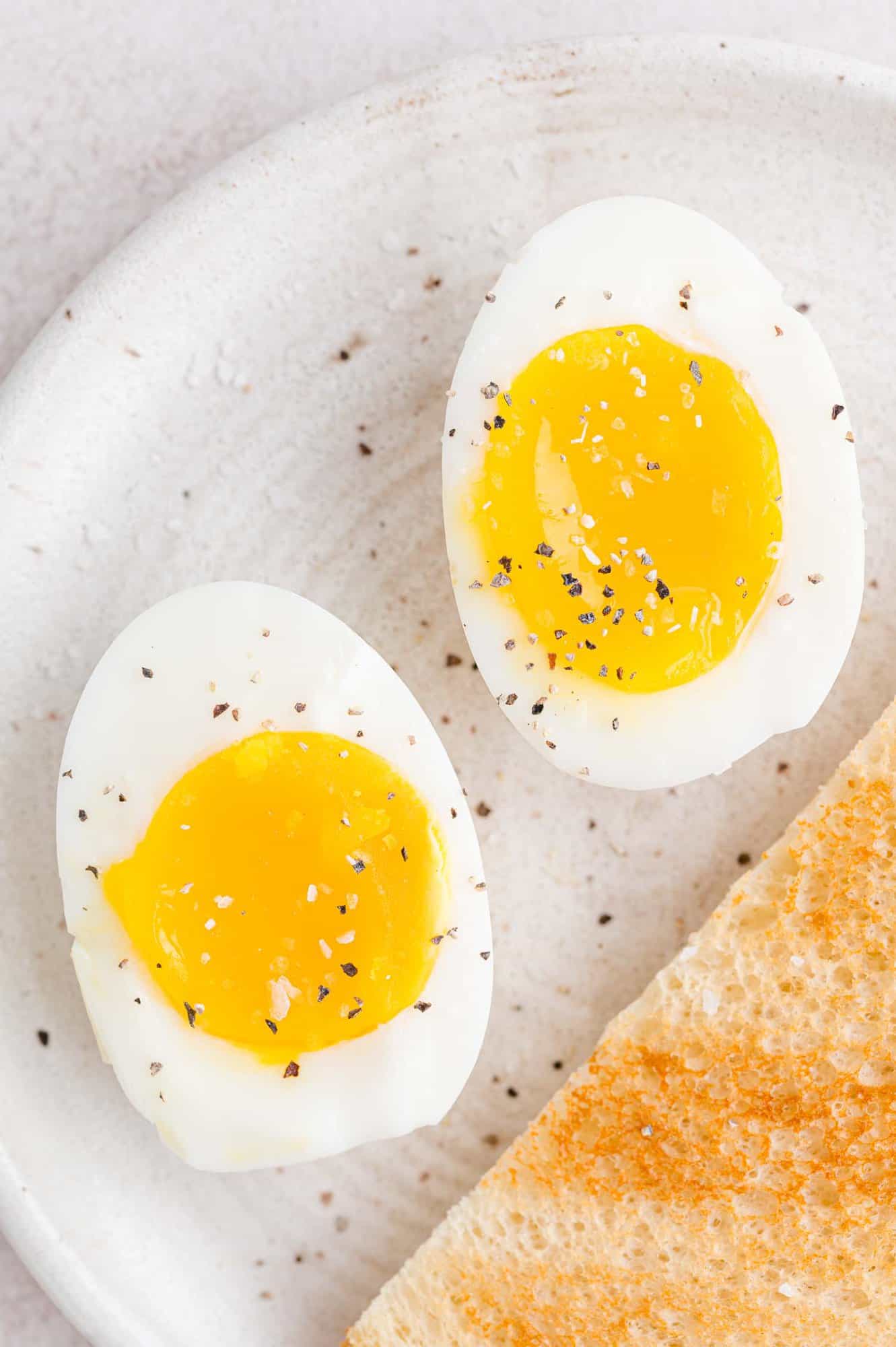 How to Store Hard Boiled Eggs
I love making air fryer boiled eggs in batches to stash in my fridge and enjoy throughout the week. Here's how to properly store them:
Fridge. According to the USDA, hard-cooked eggs are fine to keep in the fridge for up to 1 week. If your eggs are still in their shells, you can simply place them into a container and refrigerate them. If they're already peeled, leave the eggs whole and store them airtight.
Freezer. While I've heard of people freezing their hard-boiled eggs, I don't recommend it. The texture just isn't the same once the eggs are thawed! Luckily, with this air frying method, it's super easy to cook up a fresh batch every week.
Did you make this? Be sure to leave a review below and tag me @rachelcooksblog on Facebook, Instagram, or Pinterest!
Air fryer boiled eggs are a quick and easy way to "boil" eggs to your liking! Use this easy method for jammy, soft, or hard-boiled eggs that you can use in healthy meals all week long.
Ingredients
4

eggs

(you can cook 2 to 12 eggs, depending on the size of your air fryer)
Instructions
Preheat a 3.5-quart air fryer to 270ºF for five minutes.

Add eggs to the basket and cook 15 minutes for hard-boiled eggs, 12 minutes for jammy eggs, or 10 minutes for soft-boiled eggs.

While they cook, prepare an ice bath for the eggs by adding ice and water to a bowl large enough to hold the eggs.

When the eggs have finished cooking, place them into the ice bath.

When cool, peel and enjoy!
Notes
The egg shells may have small brown spots on them when you remove them from the air fryer. Don't be alarmed! This is normal and it doesn't affect the taste or texture of the eggs. In fact, it will come right off when you place them in the ice bath.
Nutrition Information
Serving:
2
eggs
,
Calories:
126
kcal
,
Carbohydrates:
1
g
,
Protein:
11
g
,
Fat:
8
g
,
Saturated Fat:
3
g
,
Polyunsaturated Fat:
2
g
,
Monounsaturated Fat:
3
g
,
Trans Fat:
0.04
g
,
Cholesterol:
327
mg
,
Sodium:
125
mg
,
Potassium:
121
mg
,
Sugar:
0.3
g
,
Vitamin A:
475
IU
,
Calcium:
49
mg
,
Iron:
2
mg
This website provides approximate nutrition information for convenience and as a courtesy only. Nutrition data is gathered primarily from the USDA Food Composition Database, whenever available, or otherwise other online calculators.