Does perfectly crisp bacon with very little cleanup sound like something you'd love? Try air fryer bacon! It's fast, easy, and delicious!
Recipe Overview
Why you'll love it: Your stove will stay clean and so will you! Air fryer bacon is much less messy to make.
How long it takes: 14 minutes
Equipment you'll need: air fryer, tongs
Servings: depends on the size of your air fryer and how much bacon you want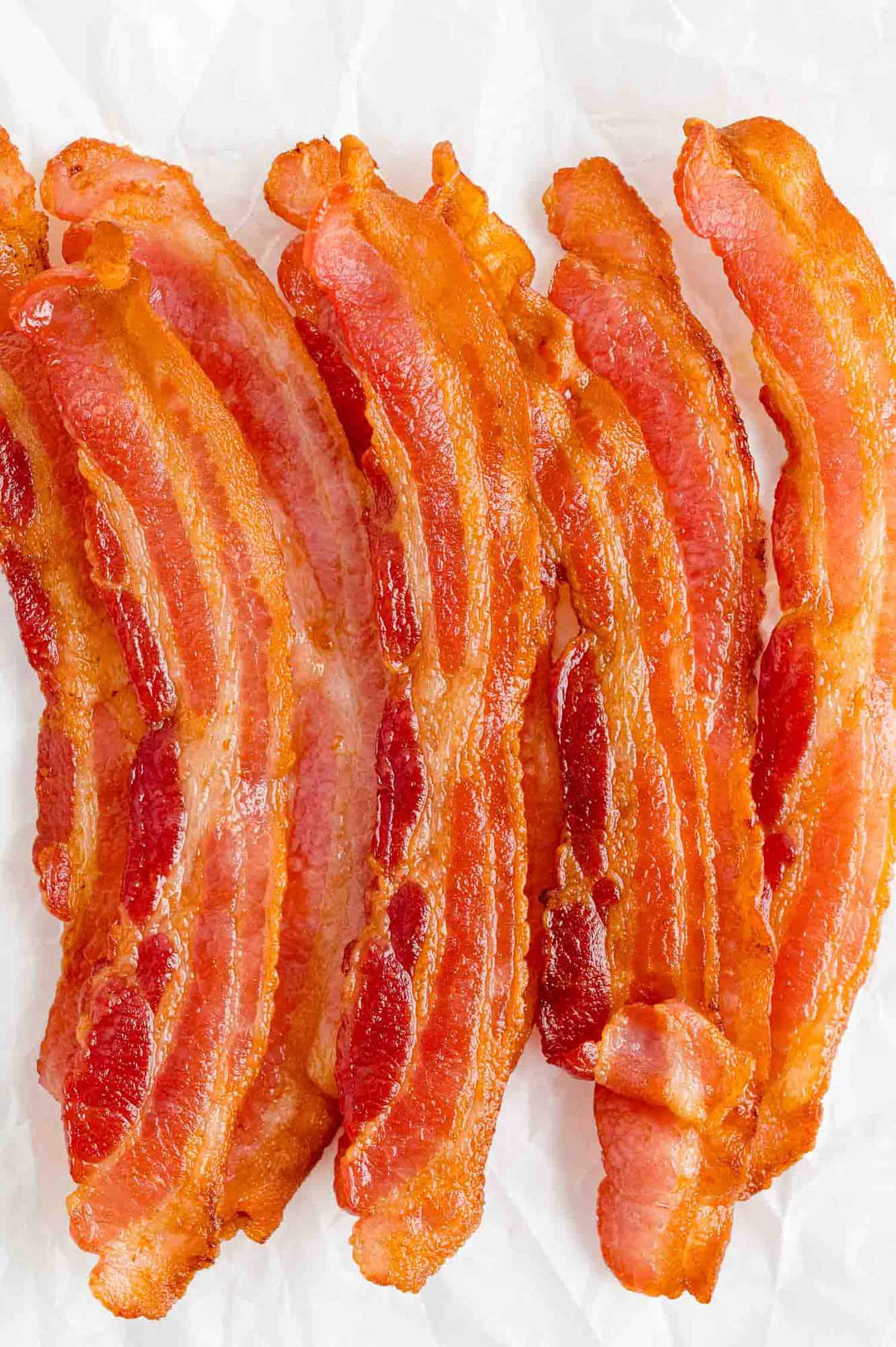 I have to admit that I was a bit skeptical about making bacon in my air fryer. I love my air fryer for so many reasons but I just wasn't super enthused about using it for bacon. Maybe it's because I always bake bacon and that's so easy.
But I'm willing to try anything for my readers, so yes, we air fried bacon. We air fried regular bacon, center cut bacon, thick cut bacon, and even turkey bacon. We had a bacon extravaganza! I have to say my house smelled like everyone's favorite breakfast joint.
And guess what? Air frying bacon works great! It turns out perfectly crisp, it's easy, and quick, too. Clean up is a breeze because the grease splatter is minimized. No messy stove, no messy you!
So it turns out that air frying bacon is a win. I don't know why I ever doubted it. My air fryer hasn't let me down once!
About This Recipe
There is one thing we need to talk about before we go any further. When you air fry bacon, you're limited by how much space you have in your air fryer. If you have a smaller sized air fryer, you'll have to do small batches of bacon. My air fryer accommodates 4 slices of bacon.
That's perfect if you are cooking for one or two. You'll love how fast it is! You don't have to preheat the air fryer; the bacon starts cooking immediately and is ready to eat in just minutes. It just makes bacon more available, if you know what I mean. Just the thought of getting out a skillet or sheet pan can deter me from even thinking about bacon.
With an air fryer, you can make a few strips of crispy bacon to go with your breakfast eggs or make a quick BLT for lunch. It's a snap to make a quick bacon garnish for soup (like Zuppa Toscana soup) or salads (try it crumbled on this grilled vegetable salad) or to add to recipes (such as stuffed butternut squash). Crispy bacon makes a tasty little snack too. Have you ever tried it on vanilla ice cream? Yum, that sweet and salty combination!
We've been seeing lots of larger sized air fryers and some of the new ranges and toaster ovens are equipped with air fryers now. You would be able to do larger batches in that case.
There's one more thing I'd like to point out. Air frying bacon is the most healthy way to cook bacon. Because it's on a grate, the fat that is rendered from the bacon drips down away from the bacon, leaving the leaner yummy parts for your consumption. You'll notice that there's very little grease left on the bacon compared to frying it in a skillet. Bacon will never be a healthy food, but still, why not make it the most healthy way you can?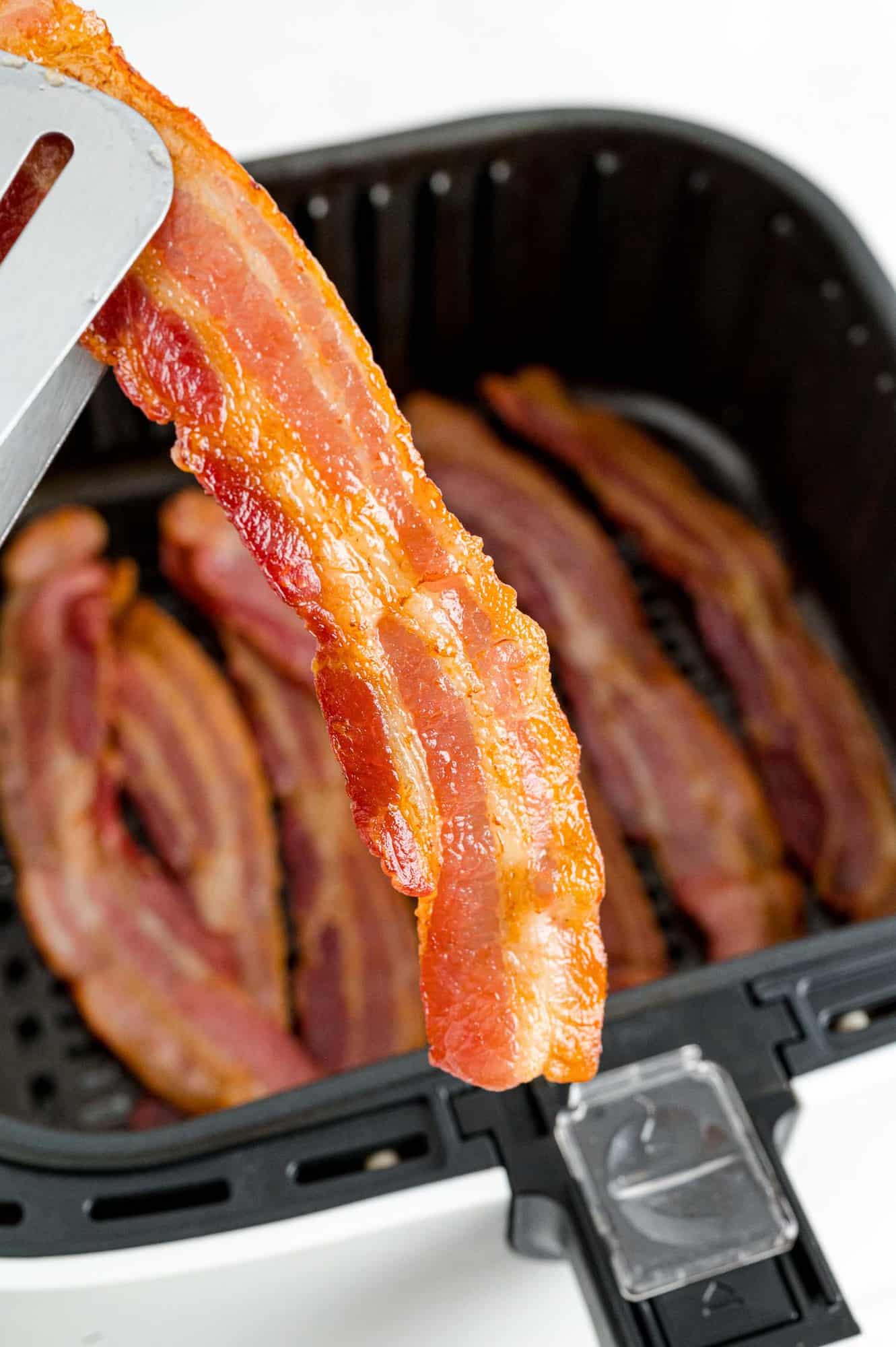 Turkey Bacon vs. Pork Bacon
Many people choose turkey over pork because it usually is a healthier option. However, we took a close look at the nutrition information on the packages of both kinds. At first, turkey bacon appeared to have much less fat and calories, until we realized that a serving of turkey bacon is 1 slice and a serving of pork bacon is 2 slices! Keeping that in mind, the turkey bacon was the same, if not a little higher. So our advice to you: CAREFULLY read the labels! It may surprise you.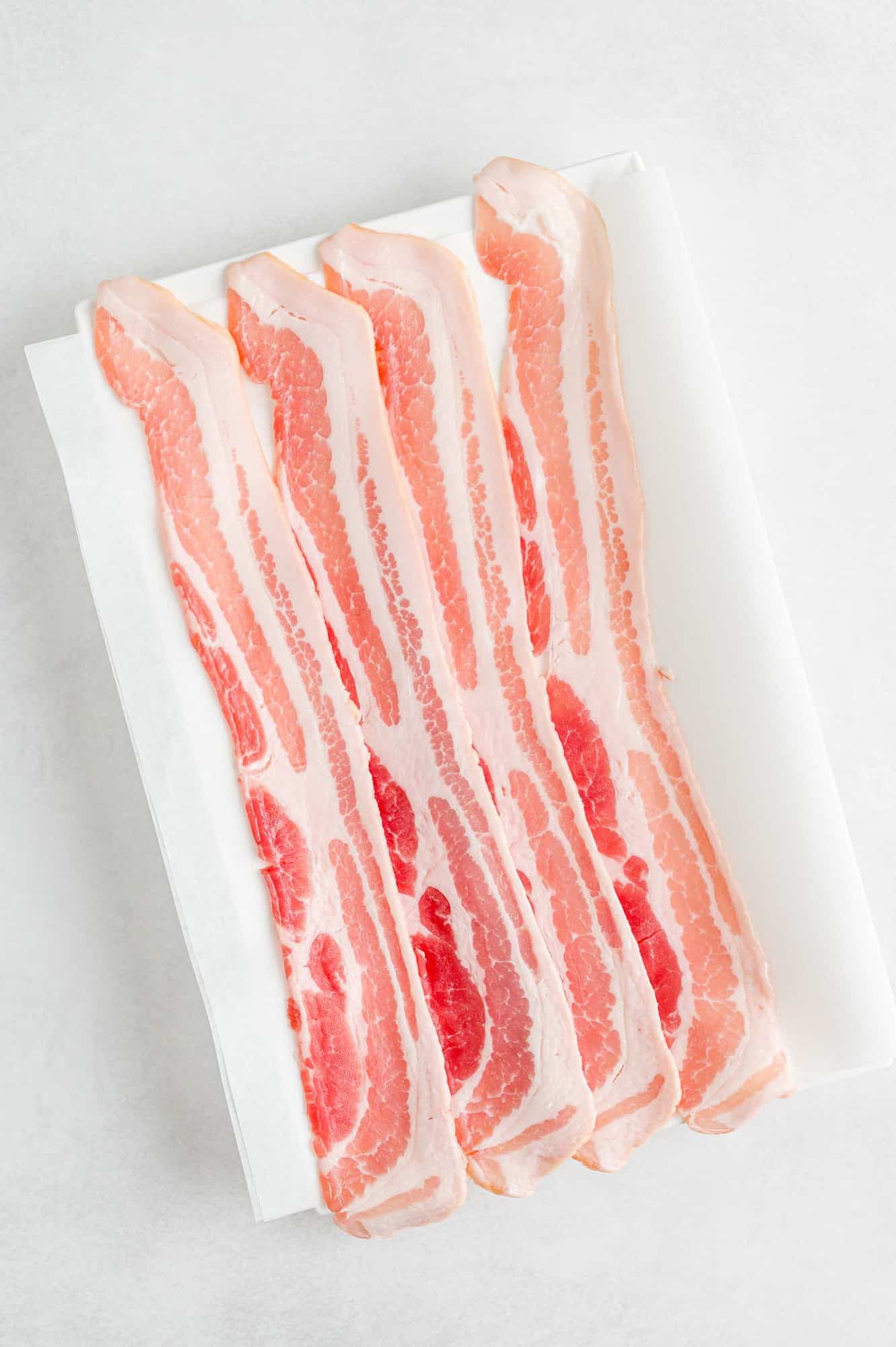 As always, you'll find complete instructions, measurements, and nutrition information on the printable recipe card located near the end of the post.
How to make Air Fryer Bacon
It's very easy. Simply arrange the bacon strips in a single layer on the grate or rack of your air fryer. They shouldn't overlap much. If they overlap a little bit, it's okay because the strips shrink pretty drastically as they cook. You can rearrange them if necessary after they cook and start shrinking.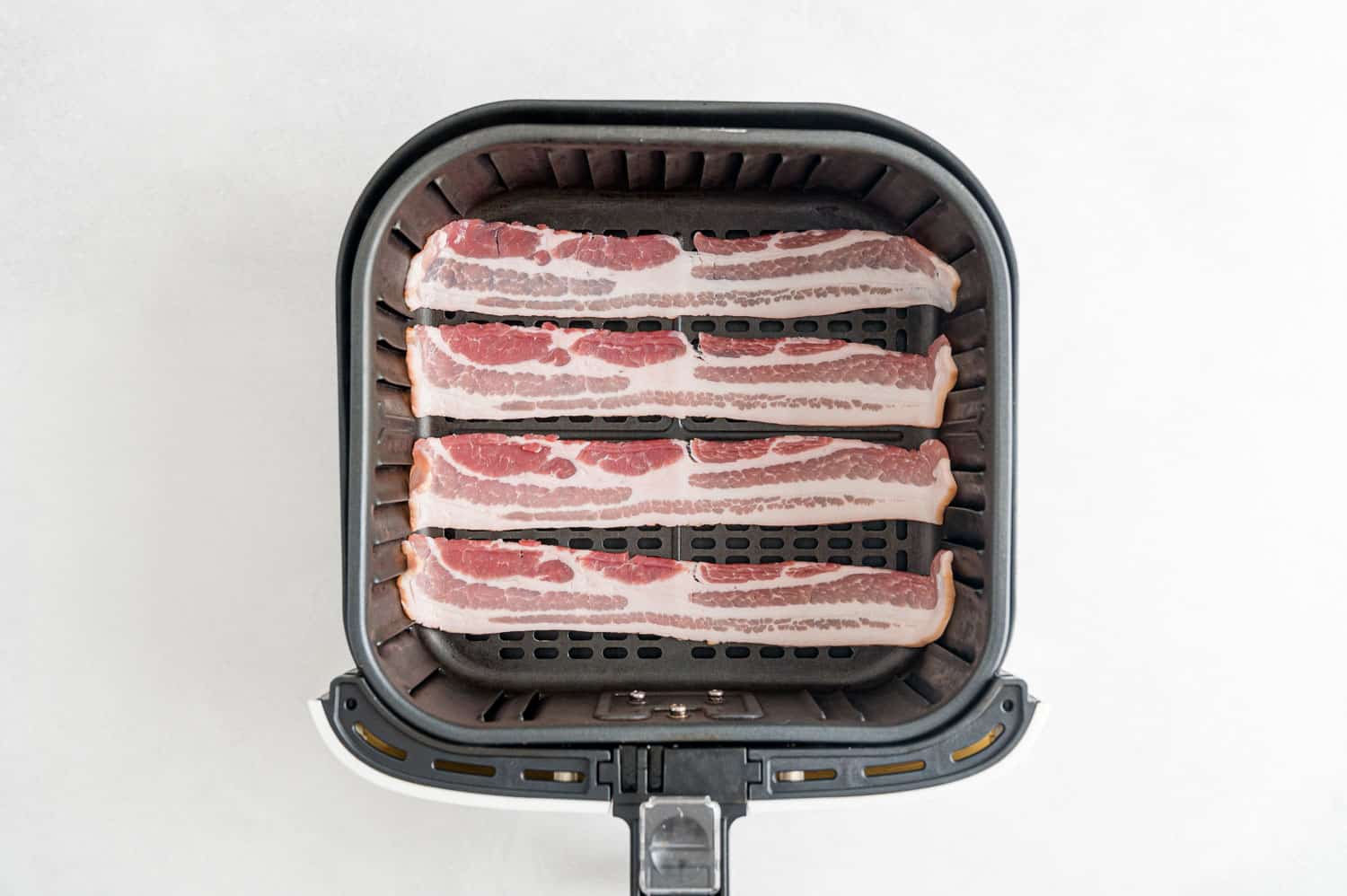 Put the basket in the air fryer and set it to air fry at 350ºF.
After five minutes have elapsed, take the basket out and flip the strips over with tongs. This step is optional but the bacon does get more evenly crisp.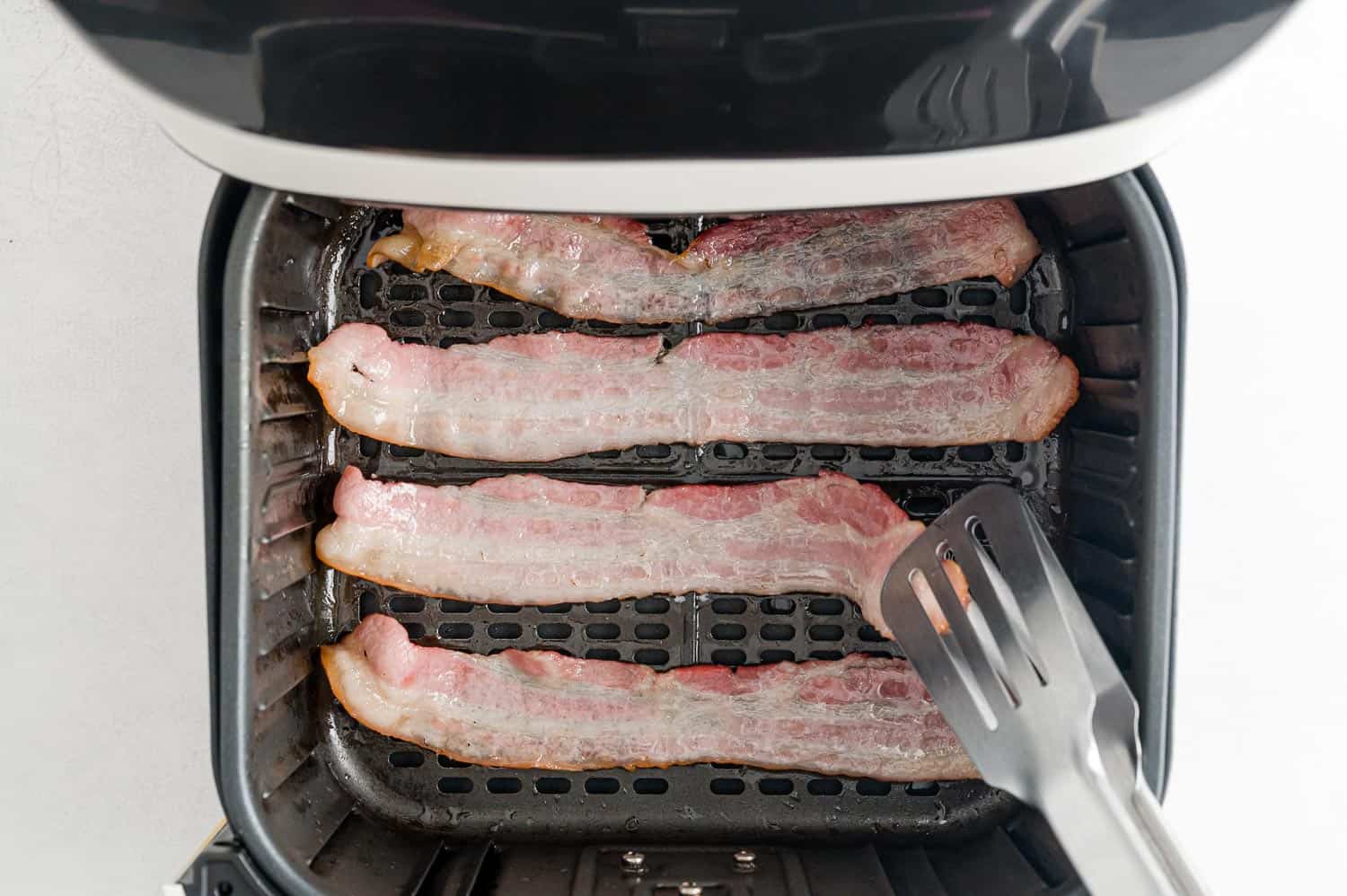 It's also a good chance to check the bacon strips to make sure they haven't moved or gotten twisted. Remember, there's a lot of air flow in the air fryer and sometimes that strong current of air can fold or twist the bacon strips.
Continue air frying for another five to six minutes, or until the bacon is just the way you like it. It's important to keep an eye on it for those last couple minutes. Some folks like super crispy bacon and others like it softer so cooking time can really vary. It depends a bit on individual air fryers, too, and the type of bacon you're frying. Ultimately, it will be you who decides how long to cook it.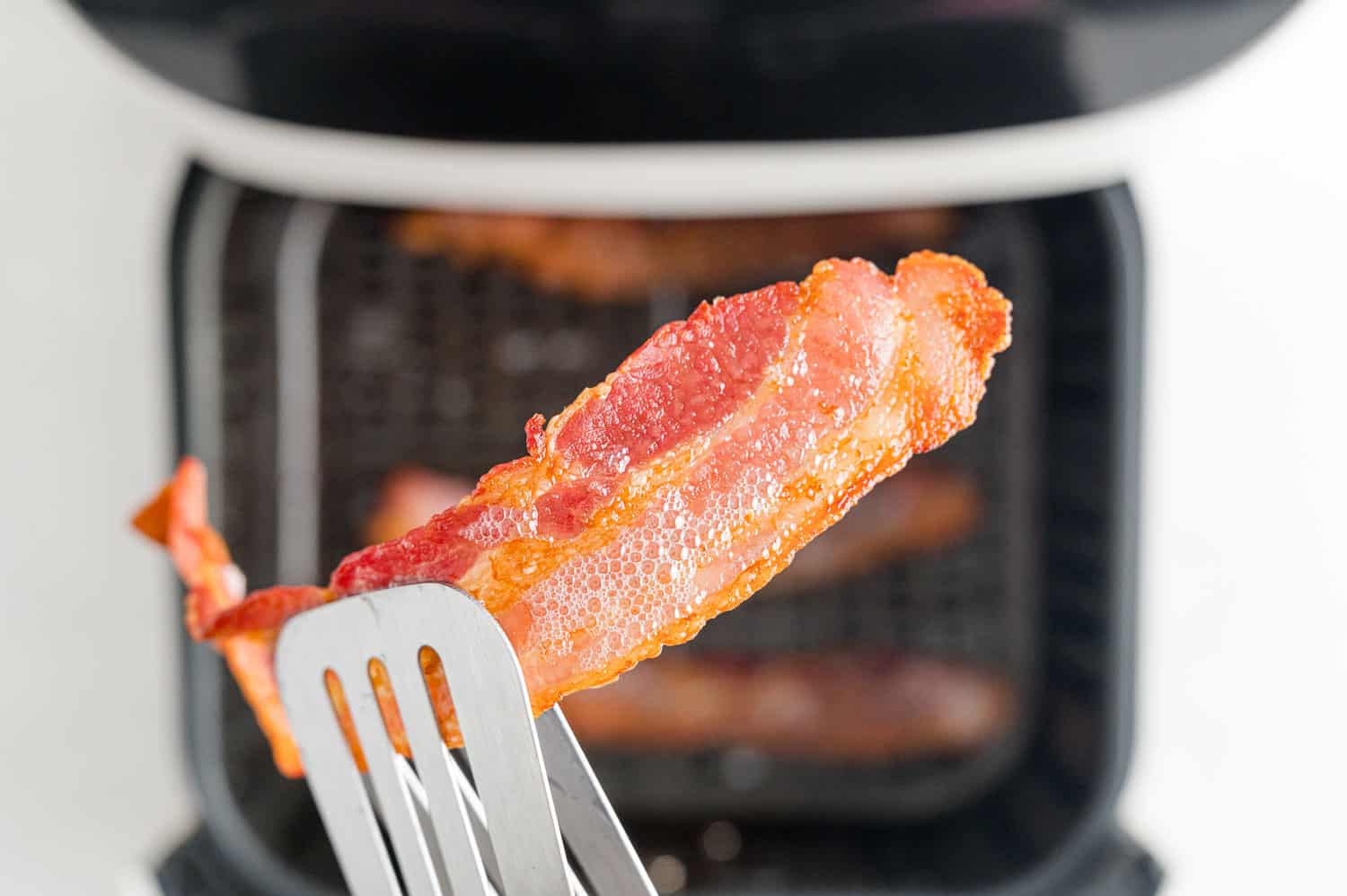 Remove the bacon from the air fryer and drain on paper towels, if you wish. There won't be a lot of surface grease remaining on the bacon. If you're doing multiple batches of bacon, pour or wipe out the excess grease between batches to prevent smoke.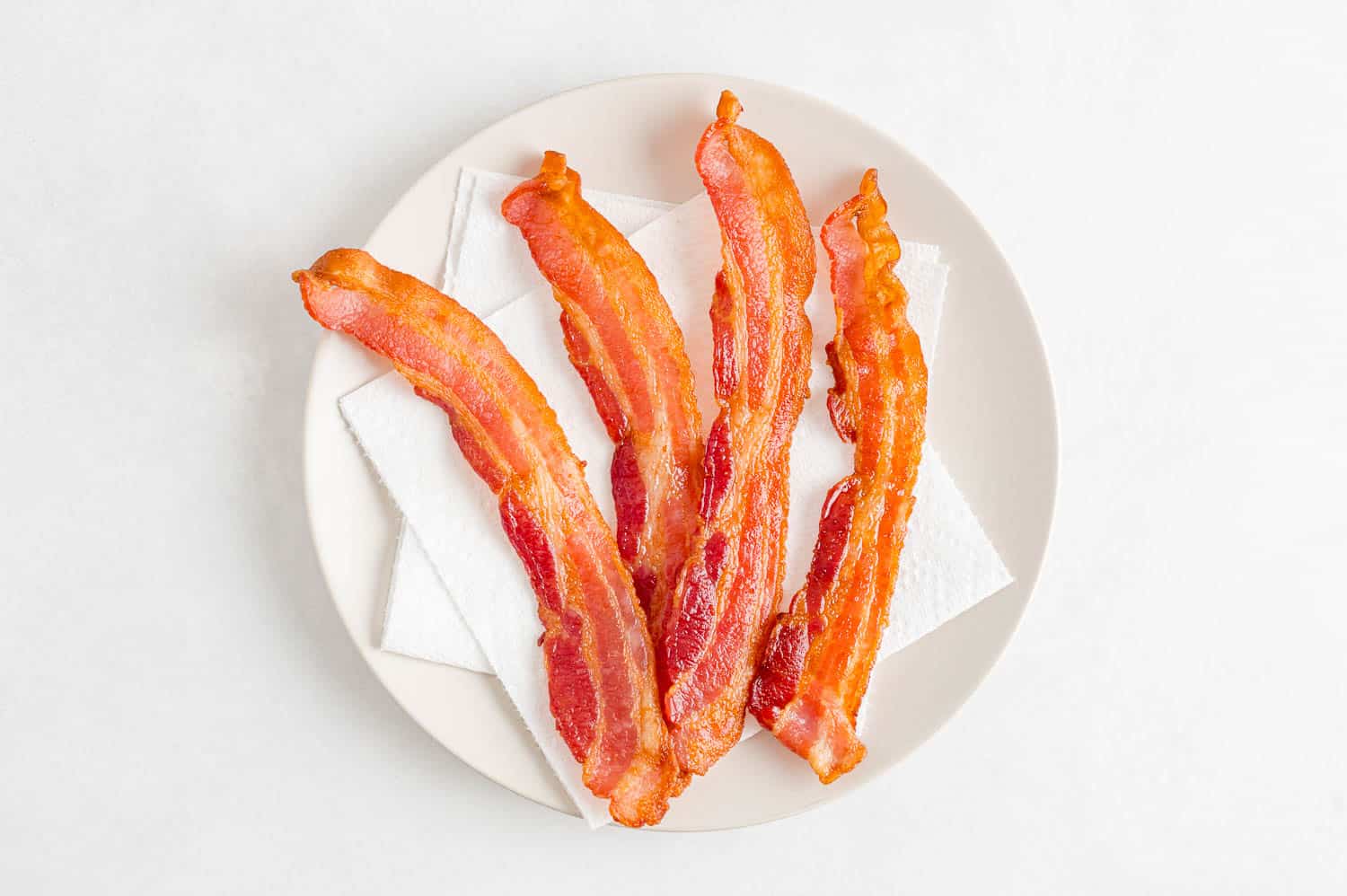 FAQs
Is bacon messy in the air fryer?
Bacon does produce a lot of grease but the advantage of making it in an air fryer is that the grease spatters are contained. Don't you just hate cleaning your stovetop after making a skillet of bacon? I know I do!
To clean your air fryer after making bacon, use a few paper towels to wipe out the excess grease before you wash it. If you're planning on using the bacon grease, you can pour it out into a container or, if it's cold and congealed, scrape it out. Once that excess grease has been removed, it will only take some hot soapy water to clean up your air fryer (unless you put it in your dishwasher!).
Make It Your Own
Don't have an air fryer? Try baked bacon. It's easy and turns out great.
Like candied bacon? If you haven't tried pig candy yet, don't delay!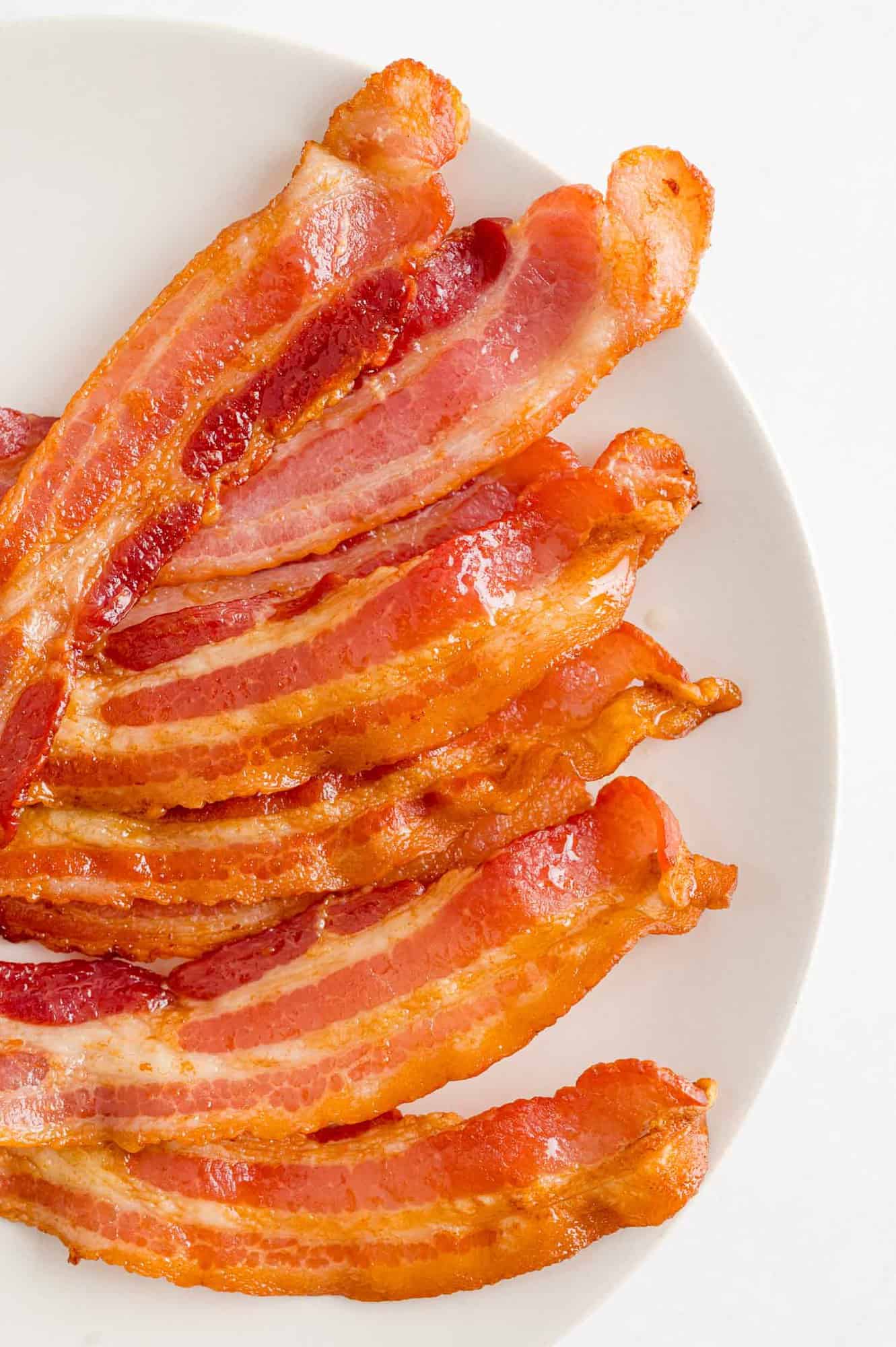 Make-Ahead Ideas
Cooked bacon is nice to have on hand to add to salads or to garnish soups (we love it on butternut squash soup – try our Panera copycat squash soup!). Bacon is great on sandwiches, too. Add a couple strips to your burgers or chicken sandwich.
Storage & Reheating Tips
Leftover bacon can be stored in the refrigerator for four to five days. It can be frozen for up to a month in a freezer safe container.
Did you make this? Be sure to leave a review below and tag me @rachelcooksblog on Facebook, Instagram, or Pinterest!
Does perfectly crisp bacon with very little cleanup sound like something you'd love? Try air fryer bacon! It's fast, easy, and delicious!
Ingredients
4

slices

bacon

(see notes)
Instructions
Arrange bacon in a single layer in air fryer basket.

For regular or center cut bacon, air fry at 350ºF for 10-12 minutes, flipping once halfway through cooking time (see note). Towards the end of cooking time, check frequently and stop cooking when desired crispiness is achieved.

If desired, place on a paper towel lined plate to absorb some of the grease.
Notes
If cooking multiple batches of bacon, pour out grease between each batch to prevent smoking.
You can get by without flipping the bacon halfway through cooking time, but we find it crisps more evenly when you flip it. Sometimes the air flow can make the bacon strips fold over (especially thinner bacon), so checking it halfway through is helpful in that regard, too.
Turkey Bacon: cooking time is the same, 10-12 minutes.
Thick Cut Bacon: cook for 11-13 minutes.
Nutrition Information
Serving:
2
slices
,
Calories:
183
kcal
,
Carbohydrates:
1
g
,
Protein:
6
g
,
Fat:
17
g
,
Saturated Fat:
6
g
,
Polyunsaturated Fat:
3
g
,
Monounsaturated Fat:
8
g
,
Trans Fat:
1
g
,
Cholesterol:
29
mg
,
Sodium:
291
mg
,
Potassium:
87
mg
,
Vitamin A:
16
IU
,
Calcium:
2
mg
,
Iron:
1
mg
This website provides approximate nutrition information for convenience and as a courtesy only. Nutrition data is gathered primarily from the USDA Food Composition Database, whenever available, or otherwise other online calculators.