Egg Salad Recipe – with Healthy Option
Enjoy this classic egg salad recipe as a quick and satisfying lunch or dinner. Includes a couple of no-mayo options!
Recipe Overview
Why you'll love it: Egg salad sandwiches are nutritious, economical, and so delicious!
How long it takes: 5 minutes (plus more time to boil the eggs)
Equipment you'll need: mixing bowl
Servings: 4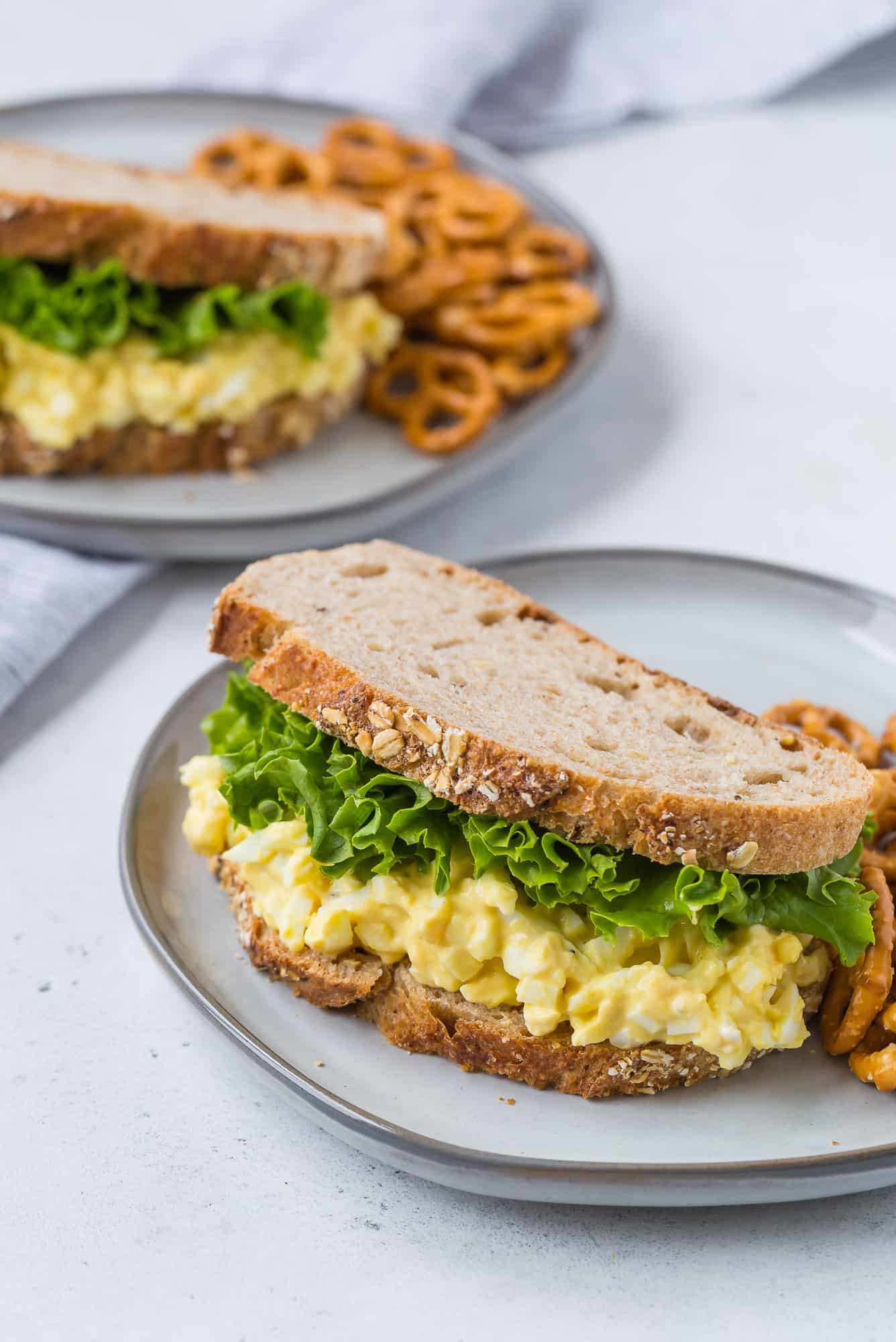 I think there's something just so comforting about an egg salad sandwich. Eggs are my "bestie" anyways. I don't think I could live without eggs.
Eggs are easy and versatile. I eat them pretty much every day: fried, scrambled, hard boiled, or in an omelet, frittata, or quiche. I love fried eggs in a grain (Buddha) bowl. Eggs are definitely my go-to for breakfast, lunch, or dinner.
Eggs keep well. They can hang out at least 3 to 5 weeks in the refrigerator. So there's no excuses for running out of eggs; keep a carton or two at all times and you'll be prepared to make all kinds of yummy meals. No last minute thawing necessary either, right?
Eggs are good for you. According to WebMD, an egg has only 75 calories with 7 grams of protein and 5 grams of fat, along with iron, vitamins, minerals, and carotenoids. An egg contains a "powerhouse" of disease-fighting nutrients like lutein and zeaxanthin, both of which are really good for your eyes and skin.
Make eggs your "bestie" too (I promise I won't get jealous)! You'll love eating them in this egg salad recipe. This classic recipe is so simple: hard boiled eggs, chopped up, and mixed with mayo and Dijon. Eat egg salad on a sandwich or croissant, wrapped in a lettuce leaf, with crackers, or in a soft warm tortilla.
There are tons of ways you can personalize this egg salad recipe to make it uniquely your own. Best friends forever!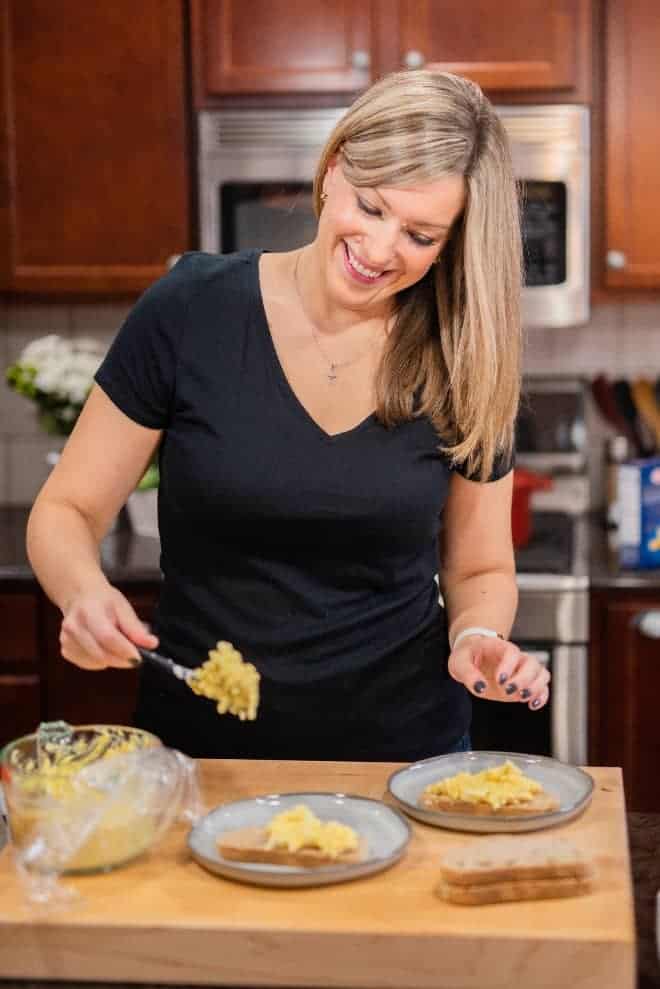 How to make perfect hard boiled eggs
To make egg salad, you need hard boiled eggs. They can be made ahead and refrigerated until you're ready to make your egg salad.
I love to use my Instant Pot for this. Follow this link to learn how to make pressure cooker hard boiled eggs. They turn out perfectly and best of all, are easy to peel.
Recently I've discovered that you can "boil" eggs in an air fryer and they turn out really well, perfect for making egg salad. It takes just over 15 minutes. Try air fryer boiled eggs.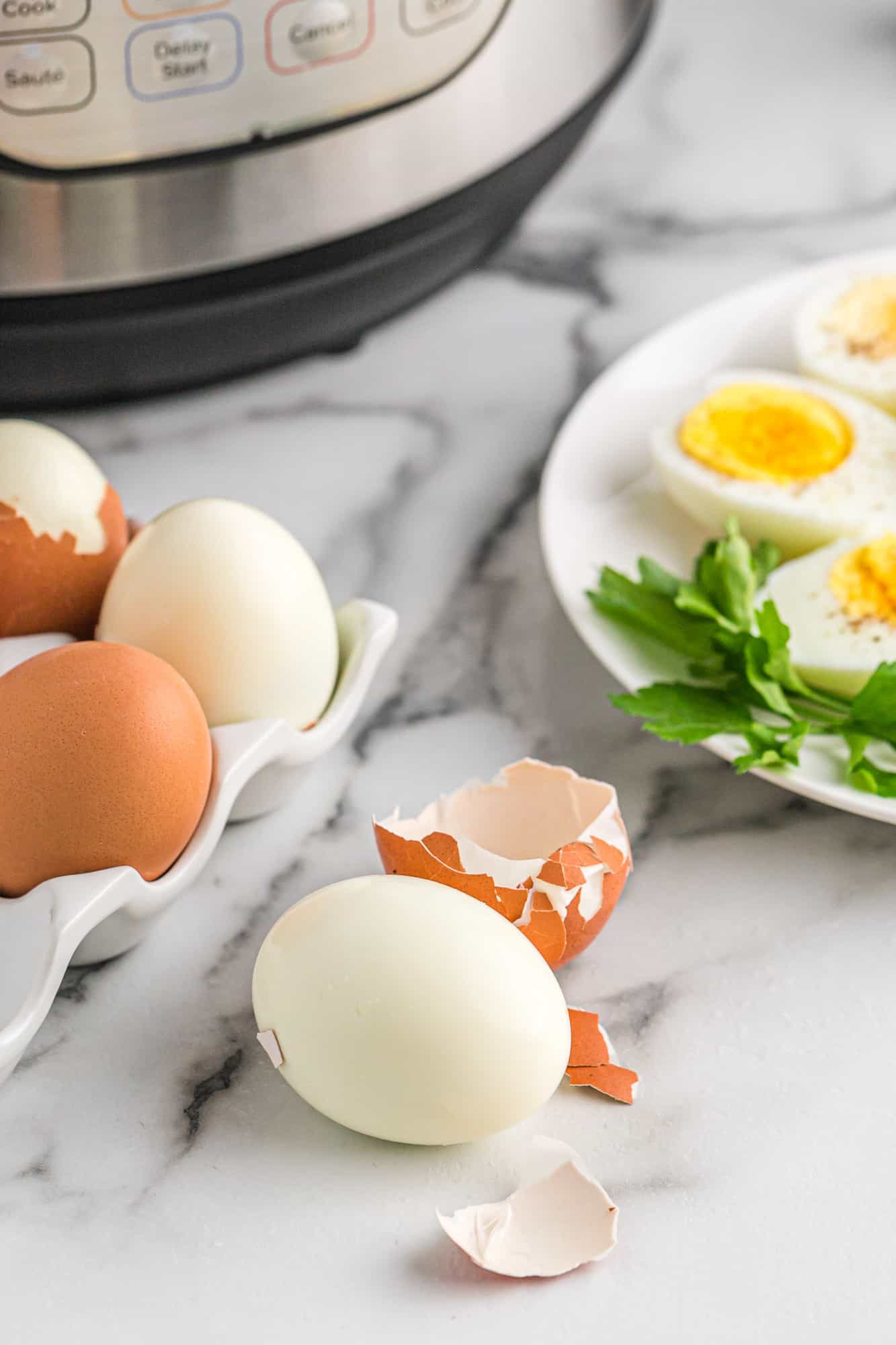 Stovetop Method: Add the desired amount of eggs to a saucepan. Cover with water, at least 1 to 2 inches over the top of the eggs. Bring the water to a full rolling boil over high heat.
Turn the burner off, leaving the pan right on the burner, and set the timer for 10 to 12 minutes.
When the timer goes off, drain the hot water out of the pan and run cold water over the eggs to cool them down. Fill the pan with cold water and just let the eggs set in the cold water for a few minutes. Another method is to place them into a bowl of ice water. The cold water stops the eggs from cooking further and becoming overdone.
Peel them under running water for best results. I like to crack them lightly all over so that the shell is almost falling off and then peel them under running water. Dry the eggs with paper towel or a clean dish towel so you don't get water in the salad.
How to make perfect egg salad
Whether you are serving one (yourself!) or a crowd, keep this ratio in mind:
2 hard cooked eggs
1 tablespoon mayonnaise
1 teaspoon Dijon
For one serving, it's the measurements above. For two servings, multiply all measurements by two. For three servings, multiply by three. I'm sure you're getting it. So, for four servings, you'll need 8 eggs, 4 tablespoons (¼ cup) mayo, and 4 teaspoons Dijon mustard.
Taste the egg salad and adjust the seasonings, if necessary, by adding more salt or pepper.
Serve the egg salad on homemade no knead whole wheat bread or another bread of your choice. Egg salad can be served on lettuce leaves, too, for a no-carb alternative.
Make It Your Own
Oh wow, I love this part. Egg salad can be made just the way you like it. It's such a basic recipe, and it's just crying out for your unique touch. Here are some ideas:
Make it healthier by substituting Greek yogurt. I make egg salad the "no mayo" way all the time. There is very little difference in taste or texture. If you're not sure, try making it half mayonnaise, half yogurt.
Replace the mayo with avocado. Another healthier option: simply mash an avocado and use it in place of all or part of the mayo. So yummy!
Add lemon or more Dijon. Add a dash of fresh lemon juice to brighten the flavors. Or use more Dijon to enhance the mustard flavor. Regular yellow mustard is good, too.
Flavor enhancers: Try adding finely chopped celery, onion, green onions, olives, or pimento to your egg salad. Chopped fresh herbs are delicious, too. Try fresh dill, parsley, cilantro, or chives.
Tex-Mex: Add smoked or sweet paprika to the egg salad. Or add a southwestern flair with chili powder, cumin, or taco seasoning.
Make deviled eggs. Take it to the next step and learn how to make deviled eggs. It's such an easy and popular appetizer or snack.
I'm sure you're getting the idea. I bet your brain is thinking of all kinds of ways to make this classic egg salad recipe. I'd love to hear what some of your favorites are.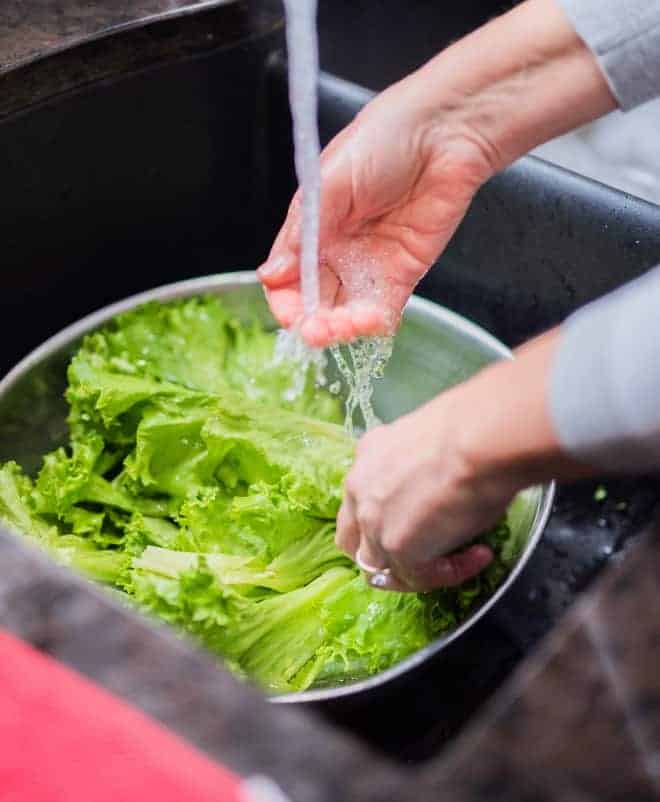 Make-Ahead Ideas
Prepare hard boiled eggs, peel, and store them in an airtight container or zip top bag for up to 5 days in the refrigerator.
Can you freeze hard-boiled eggs? According to The Incredible Egg website, hard-boiled eggs do not freeze well. The whites become watery and rubbery. If you're looking for eggs that can be frozen, try sheet pan eggs. They are easy to make and are perfect for breakfast sandwiches.
Storage Tips
Prepared egg salad can be stored in an airtight container in the refrigerator for 3 to 5 days. It does not freeze well.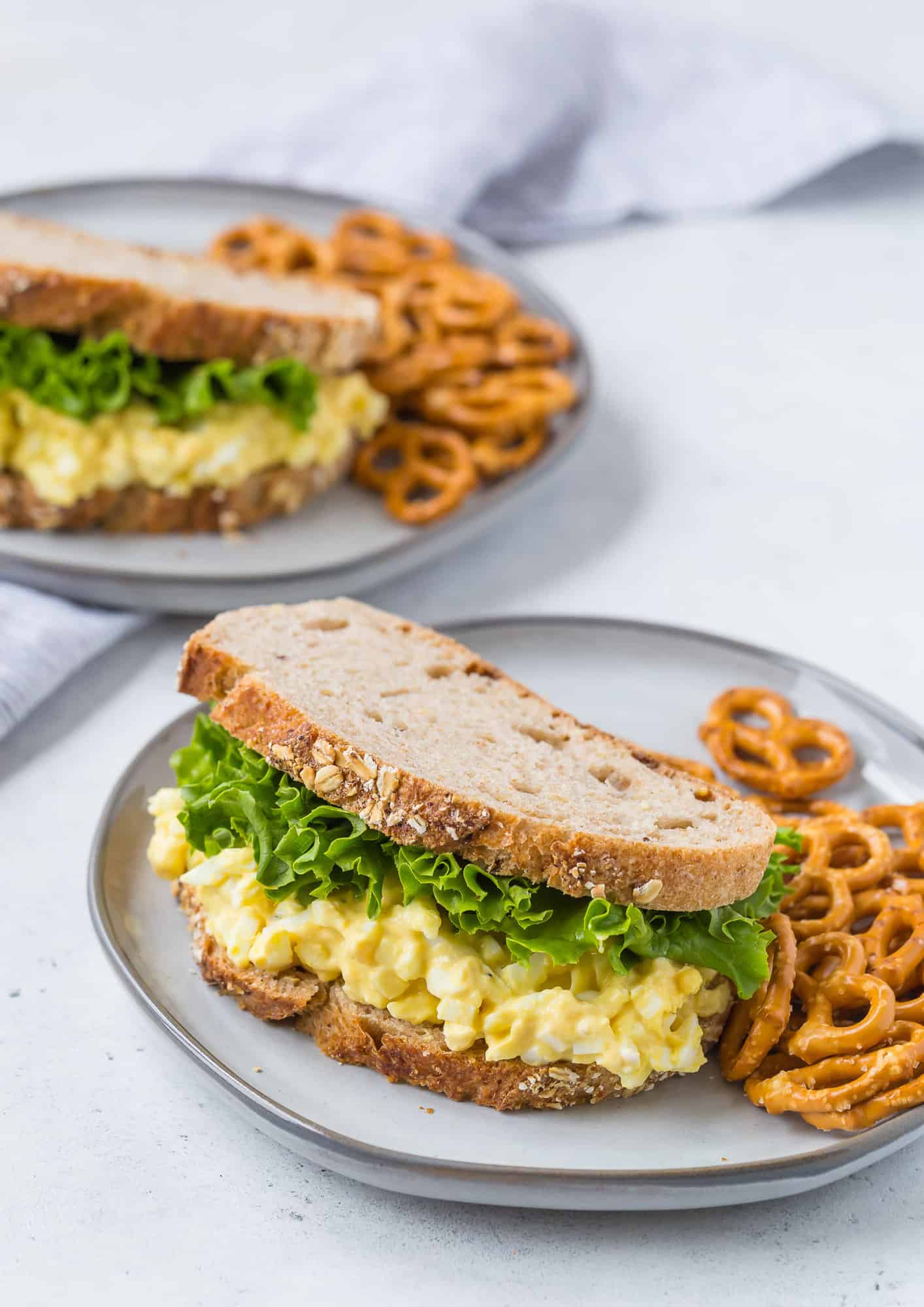 Interested in a weekly meal plan (it's free!) that includes this egg salad recipe? Take a look at my Meal Plan #27. You'll find a wholesome recipe for each weekday plus a categorized grocery list. Let me do the planning for you this week!
We'll be adding a new meal plan weekly. If you're interested, browse all of our meal plans.
More Egg Recipes
Are eggs your BFF? Try some of these healthy ways to include eggs in your meals:
Did you make this? Be sure to leave a review below and tag me @rachelcooksblog on Facebook, Instagram, or Pinterest!
Enjoy this classic egg salad recipe as a quick and satisfying lunch or dinner. Includes a couple of no-mayo options!
Ingredients
8

hard boiled eggs, chopped

¼

cup

mayonnaise

(see note for options)

1

tablespoon

Dijon mustard, or more to taste

(see note)

½

teaspoon

kosher salt

¼

teaspoon

ground black pepper

Bread, croissants, lettuce, or crackers for serving
Instructions
Mix all ingredients. Add more yogurt or mayonnaise to achieve desired consistency. Serve immediately or refrigerate until needed.

Serve on bread or croissants for sandwiches, make into lettuce wraps, or spread on crackers.
Notes
Make it healthier. Greek yogurt can be substituted for the mayonnaise, or half of the mayonnaise, if desired. Mashed avocado can be substituted for part of the mayonnaise, too, for a healthier option.
Nutrition information is for egg salad only, made with mayonnaise, and does not include bread.
To decrease sodium content, use regular yellow mustard instead of Dijon mustard, and decrease the amount of salt.
To increase or decrease servings, keep this ratio in mind: 2 eggs, 1 tablespoon mayo or yogurt, 1 teaspoon Dijon.
Refrigerate egg salad in a tightly covered container for up to 5 days. It does not freeze well.
Nutrition Information
Calories:
253
kcal
,
Carbohydrates:
1
g
,
Protein:
13
g
,
Fat:
21
g
,
Saturated Fat:
5
g
,
Polyunsaturated Fat:
8
g
,
Monounsaturated Fat:
7
g
,
Trans Fat:
0.03
g
,
Cholesterol:
379
mg
,
Sodium:
545
mg
,
Potassium:
136
mg
,
Fiber:
0.2
g
,
Sugar:
1
g
,
Vitamin A:
532
IU
,
Vitamin C:
0.01
mg
,
Calcium:
54
mg
,
Iron:
1
mg
This website provides approximate nutrition information for convenience and as a courtesy only. Nutrition data is gathered primarily from the USDA Food Composition Database, whenever available, or otherwise other online calculators.