No Knead Whole Wheat Bread
You can bake your own bread! It's easy with this no knead whole wheat bread recipe. Perfect for both beginners and experts.
Recipe Overview
Why you'll love it: Even if you've never baked yeast breads before, you can do this! No kneading makes it super easy.
How long it takes: about 2 hours
Equipment you'll need: large bowl, 2 loaf tins, mixer, oven
Servings: makes 2 loaves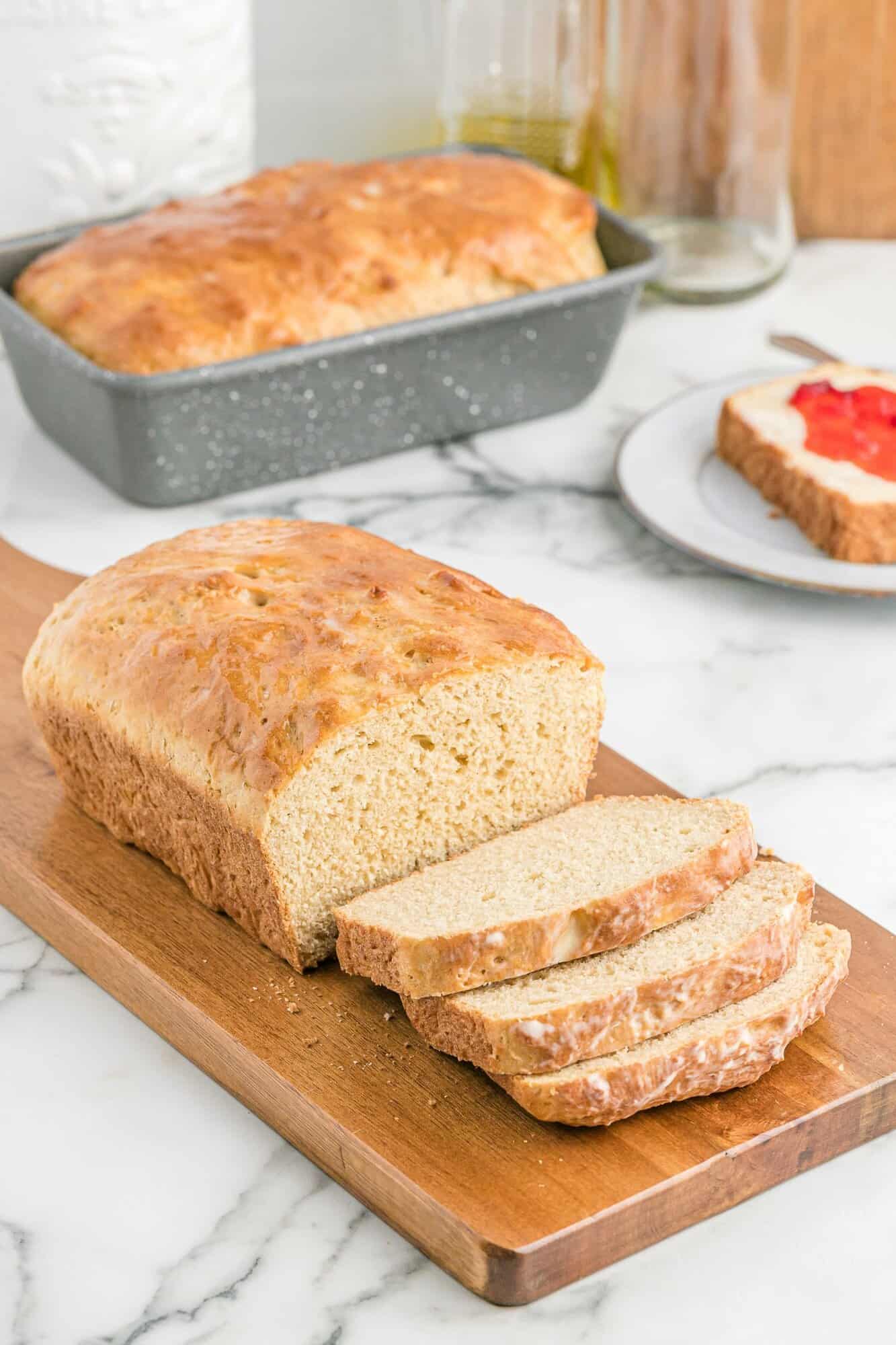 Baking with yeast. Does it make you nervous? Are you worried that it won't rise properly? Are you scared off by the kneading process?
Many confident cooks are a little uncertain when it comes to baking with yeast. But have no fear! You won't be "kneading" any help with this simple bread recipe. (Sorry, couldn't resist that little pun!)
This wholesome bread is made with a mixture of bread flour and 100% whole wheat flour, and subtly sweetened with honey. The result is a light and fluffy bread with incredible flavor and texture.
It has a tender crust and is sturdy enough for a sandwich. Try it with egg salad, dill chicken salad, or make a pepperoni pizza grilled cheese.
This bread is so good toasted too! Next to eating it warm right out of the oven, toasting is my favorite thing to do with homemade bread. Butter, cream cheese, jam, avocados, fried eggs, whatever you like to top a slice of bread with, this bread is ready for it. Try strawberry basil freezer jam, gingerbread butter, or orange honey butter. So good!
I hadn't made this recipe in a while and thought it was time to revisit it. With my kids' allergies, it's nearly impossible to find bakery bread that's safe for them to eat. They could not get enough of this bread! I've made it again and again since then.
About this bread recipe
No-knead breads are sometimes called "batterway bread" or "batter bread". The dough is sticky and soft, somewhat like a thick batter. Like most bread recipes, the dough requires two rising times, 30 minutes each. Unlike most bread recipes, the dough does not need to kneaded.
You'll only need seven ingredients, and one ingredient is water! If you look at a package of bread on the grocery store shelves, you'd be shocked by the long list of ingredients. This is pure and simple food.
I admit, I really love no-knead Dutch oven bread, another batter bread which makes one round loaf. It has more of a rustic or artisan feel to it and bakes in a super hot oven for a wonderful crusty top.
In contrast, this bread recipe is made without a Dutch oven. This whole wheat bread is more of an every day bread. It makes a more conventional loaf; in fact, it makes two nice sized loaves which is plenty for a hungry family, or to give one loaf away. You can always stick one loaf in the freezer to use later on, too.
You guys, I really believe this is a no-fail recipe. You can mix it by hand, or with a stand mixer. A stand mixer makes it super easy and is the preferred method.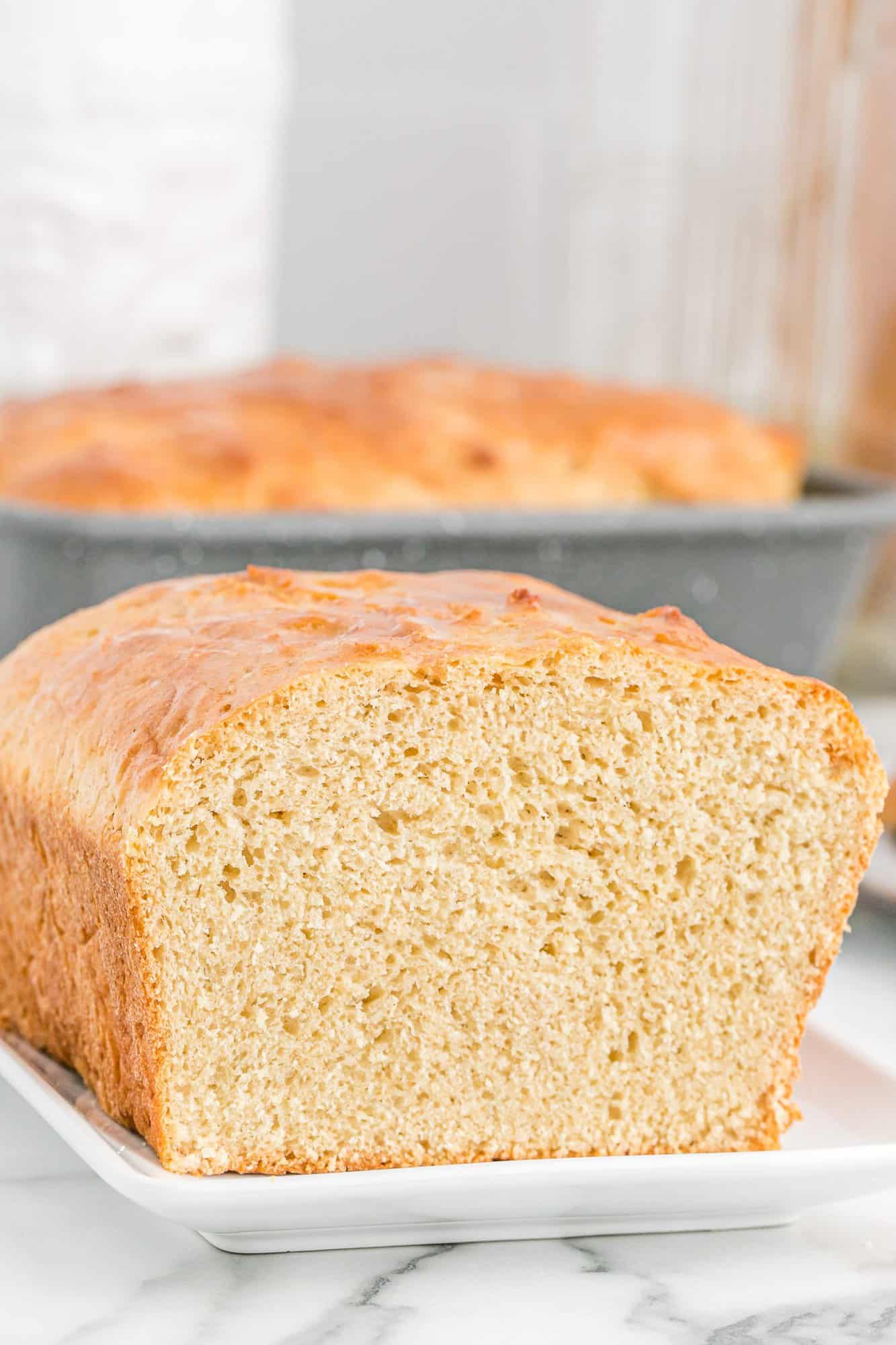 I'll get you started on making your own homemade bread and give you some helpful tips. As always, look for the printable recipe card near the bottom of the post. It has complete instructions, measurements, and nutrition information.
What you'll need
Whole Wheat Flour: Whole wheat flour is more nutritious than all-purpose flour and adds a nutty grain flavor. Using a mixture of whole wheat and all-purpose flours keeps the bread from being too heavy.
Bread Flour: Bread flour is ground from a different type of wheat than all-purpose flour. It has more protein which adds strength to the dough. For more about bread flour and how it differs from all-purpose flour, check out King Arthur's website. They do a great side by side comparison.
Salt: Needed for flavor, of course, but also as a yeast inhibitor. You'll need three level teaspoons which may sound like a lot but remember it's for two loaves, 10 servings each.
Water: The water needs to be warm, between 110-115°F. I use my instant read thermometer to check. If you don't have one, the water should feel hot but not so hot that you can't put your hand in it. Water that's too hot will kill the yeast; water that's too cold won't activate the yeast.
Yeast: You'll need two packets of regular active dry yeast, or 4 ½ teaspoons. Don't buy instant or quick-rise yeast for this recipe.
Honey: Adds flavor, moisture and sweetness. It also helps the yeast grow.
Butter: Choose unsalted butter and soften it to room temperature before using it. If desired, additional butter can be melted to brush on the crust after baking.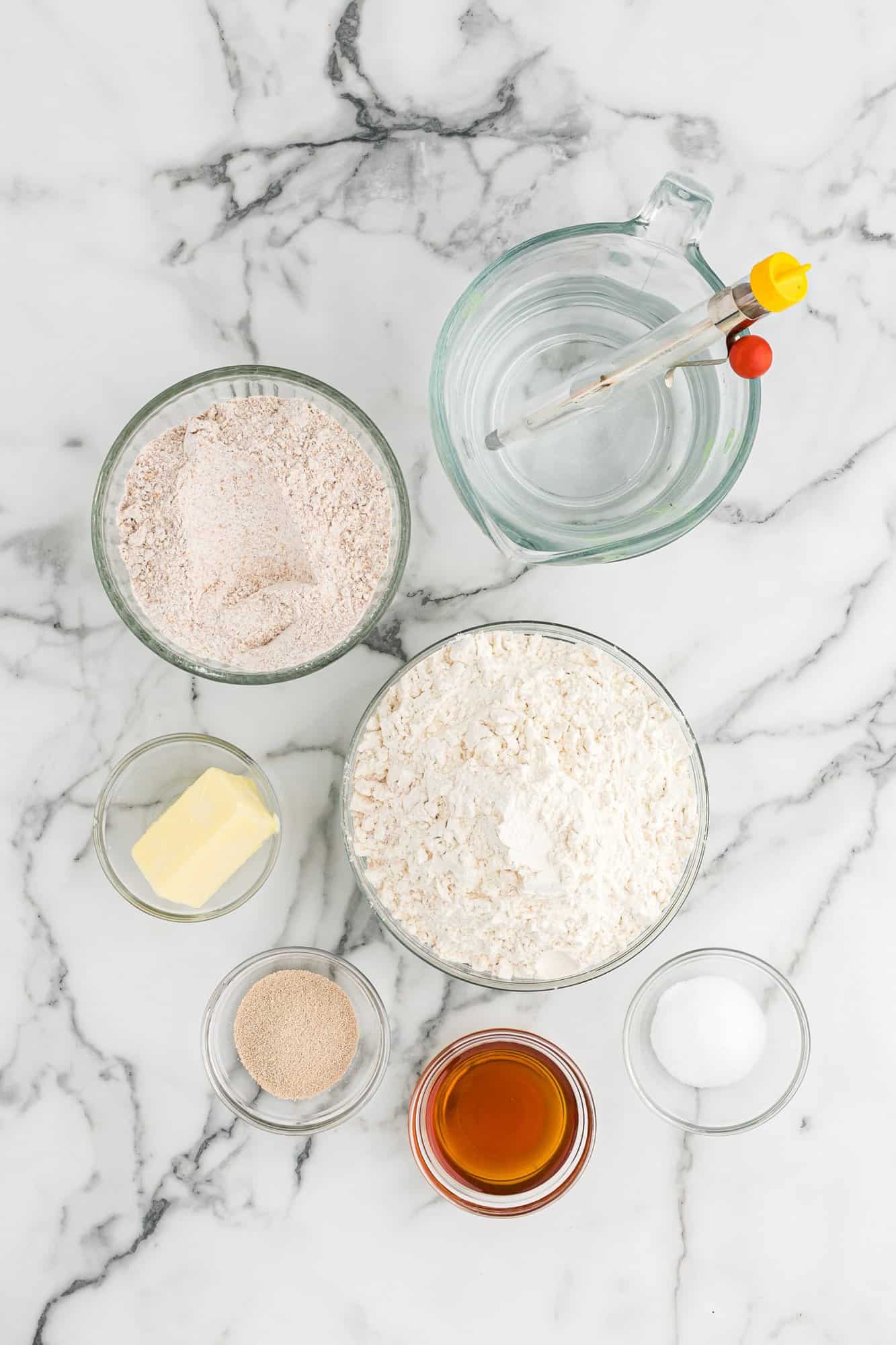 How To Make Your Bread
Are you ready to get baking? One of the best benefits of baking your own bread is the wonderful aroma that will fill your home. There's nothing quite like it! If your family isn't hanging around in your kitchen already, they'll be there soon.
For best results, all the ingredients you're using for the bread should be at room temperature, except for the water which needs to be warmer. If you store your whole wheat flour in the freezer, take it out an hour or so ahead to warm up. The butter should be softened, too.
In a large bowl, whisk together the bread flour, whole wheat flour, and salt. Set it aside. There are six cups of flour in this recipe so don't lose count while you're measuring.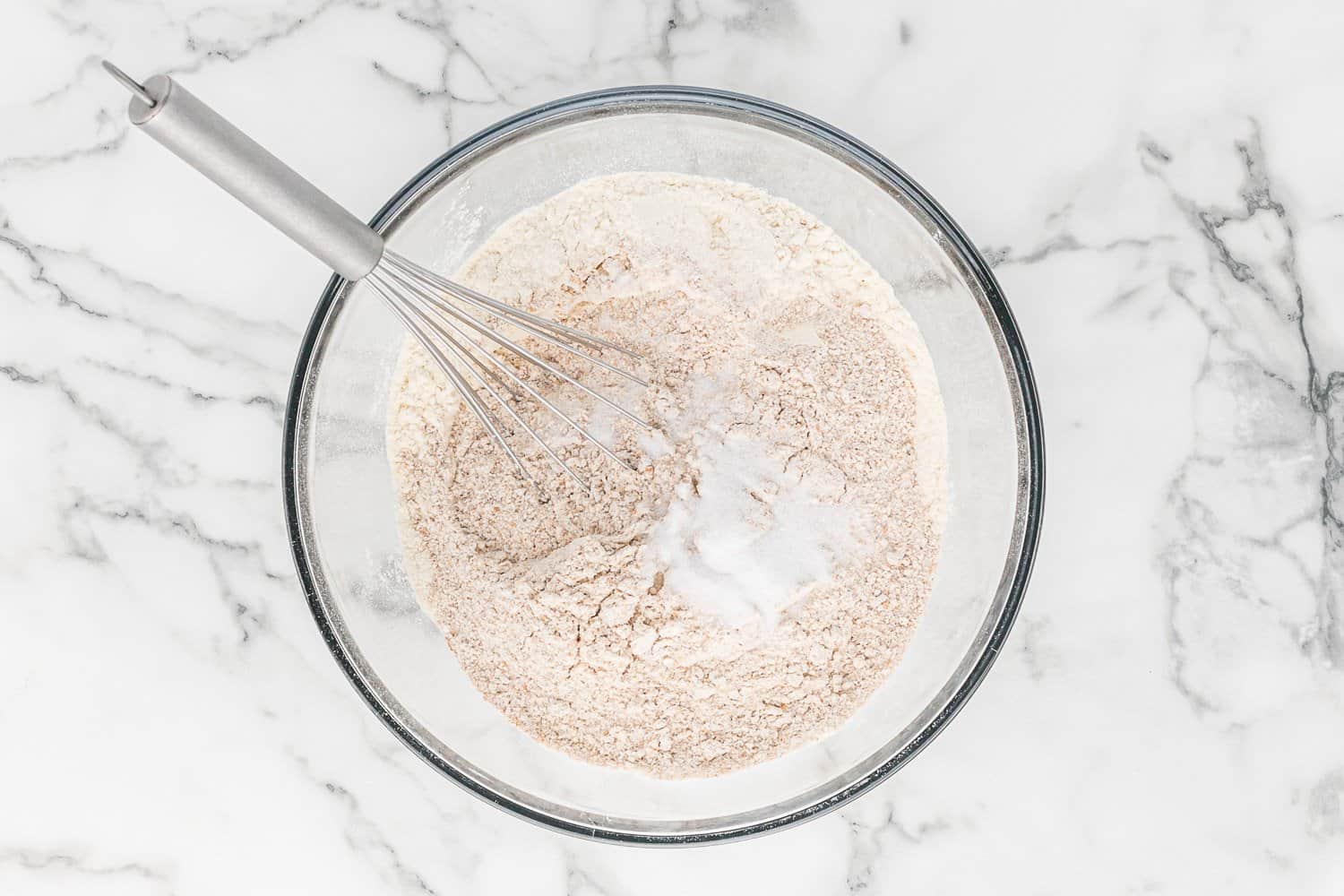 Pour the warm water into another large bowl, or the mixing bowl that comes with your stand mixer. Add the yeast, without stirring it in, and let it proof in the warm water for three to five minutes. If it's active, it will be a bit foamy or frothy, and will smell yeasty.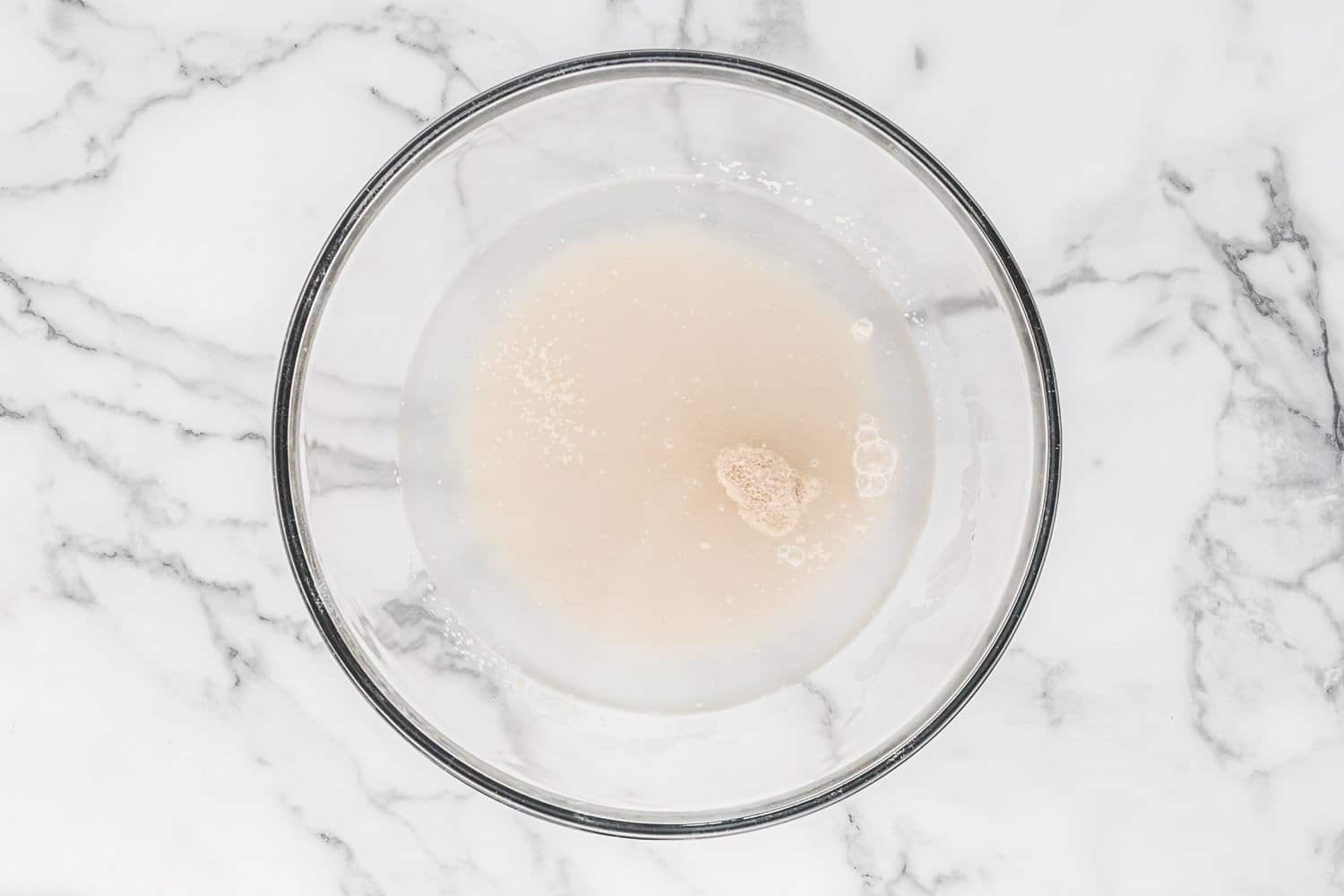 Stir the yeast into the water and add the honey, butter, and half of the flour mixture (no need to measure it, just guess).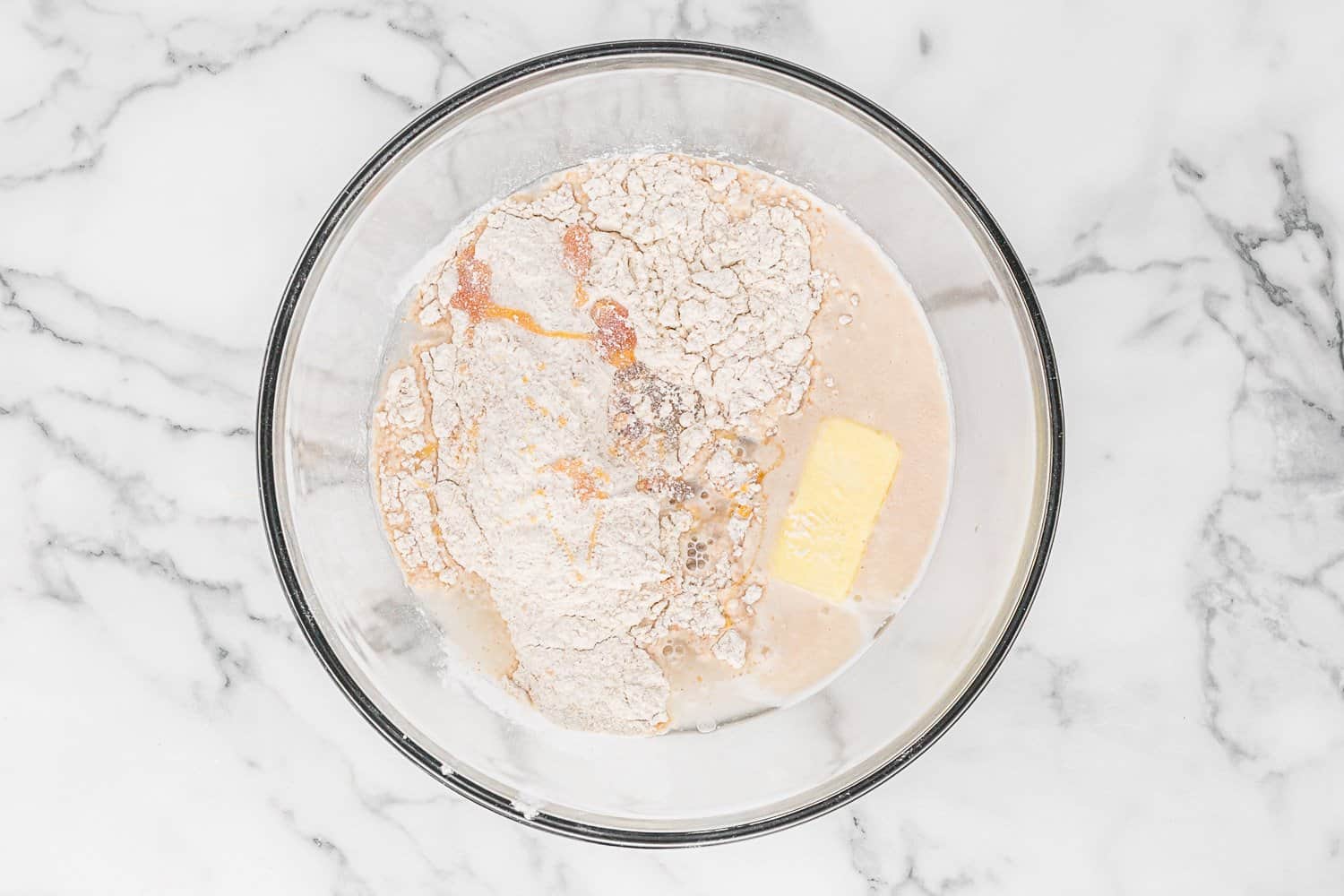 On medium speed, using the paddle attachment, mix the batter for two minutes. You can also do it by hand, mixing until the batter is completely smooth.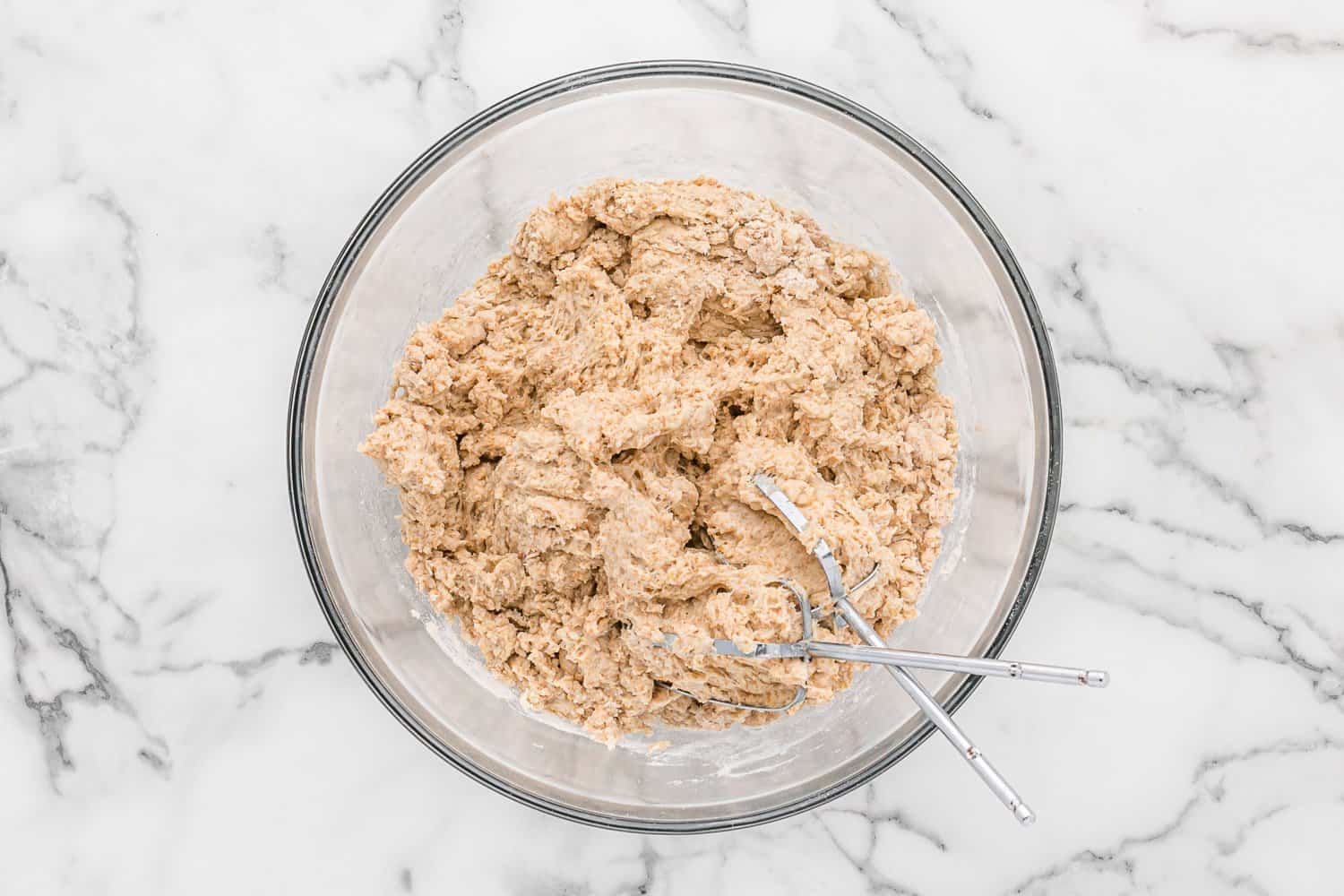 Add the remaining flour and beat again, until the flour is incorporated and the batter/dough looks smooth. It will be very thick. If you're doing it by hand, you will need a sturdy wooden spoon or dough whisk.
Cover the bowl with plastic wrap or a clean lint-free dish towel. Put the dough in a warm place, 75°F to 80°F, to rise for thirty minutes, or until the dough is doubled in size.
Newer ovens may have a "Proofing" setting that is made just for this purpose. King Arthur Baking has some great ideas if your kitchen is too cool to proof bread dough properly.
The first time I tested this bread, my oven was on for another purpose so I set the dough near the back of the stovetop where the oven vented, a nice warm spot. Well, actually, it was pretty hot and my bread dough baked a bit around the edges. Oops! I pushed the cooked bits into the center of the dough and proceeded with the recipe and guess what? It turned out fine! This bread is really quite fool-proof!
Okay, you're doing great, almost there now! Grease a couple of bread tins with shortening, butter, or nonstick spray. Punch down the dough and divide it in half.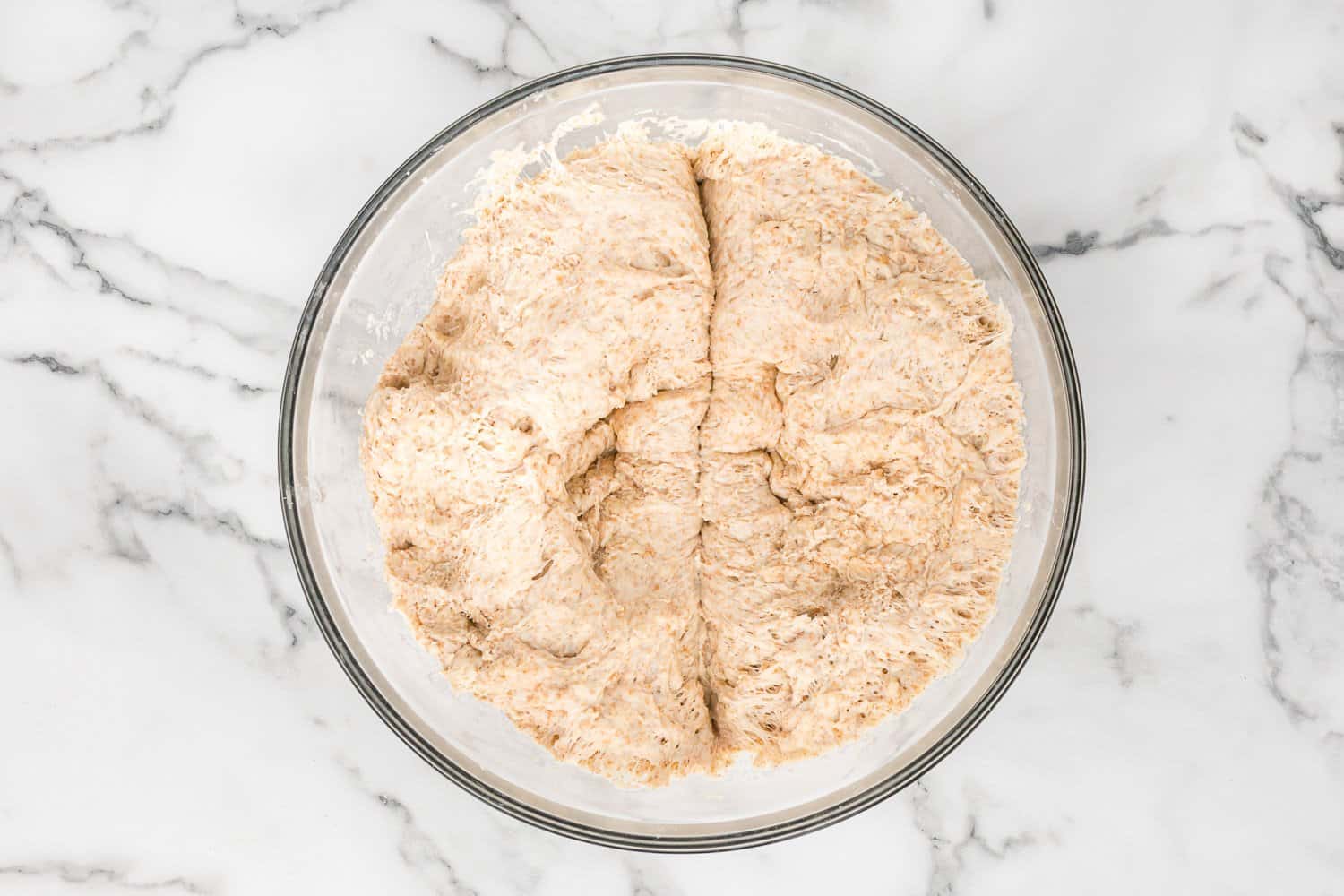 Shape the halves into 2 loaves, putting one into each tin.
Cover the tins with plastic wrap or a towel, put them in a warm place, and let the dough rise again until it's nearly to the top of the pan.
Preheat the oven with the rack in the lower third of the oven. When the oven is completely preheated, put the bread on the rack to bake. Bake it about 35 minutes or until the top is nicely golden brown. Take time to enjoy the heavenly aroma as the bread bakes.
If you're uncertain whether the bread is done, use your trusty instant read thermometer. The internal temperature should be 190°F.
Take the pans out of the oven and let the bread cool for five to ten minutes in the pan.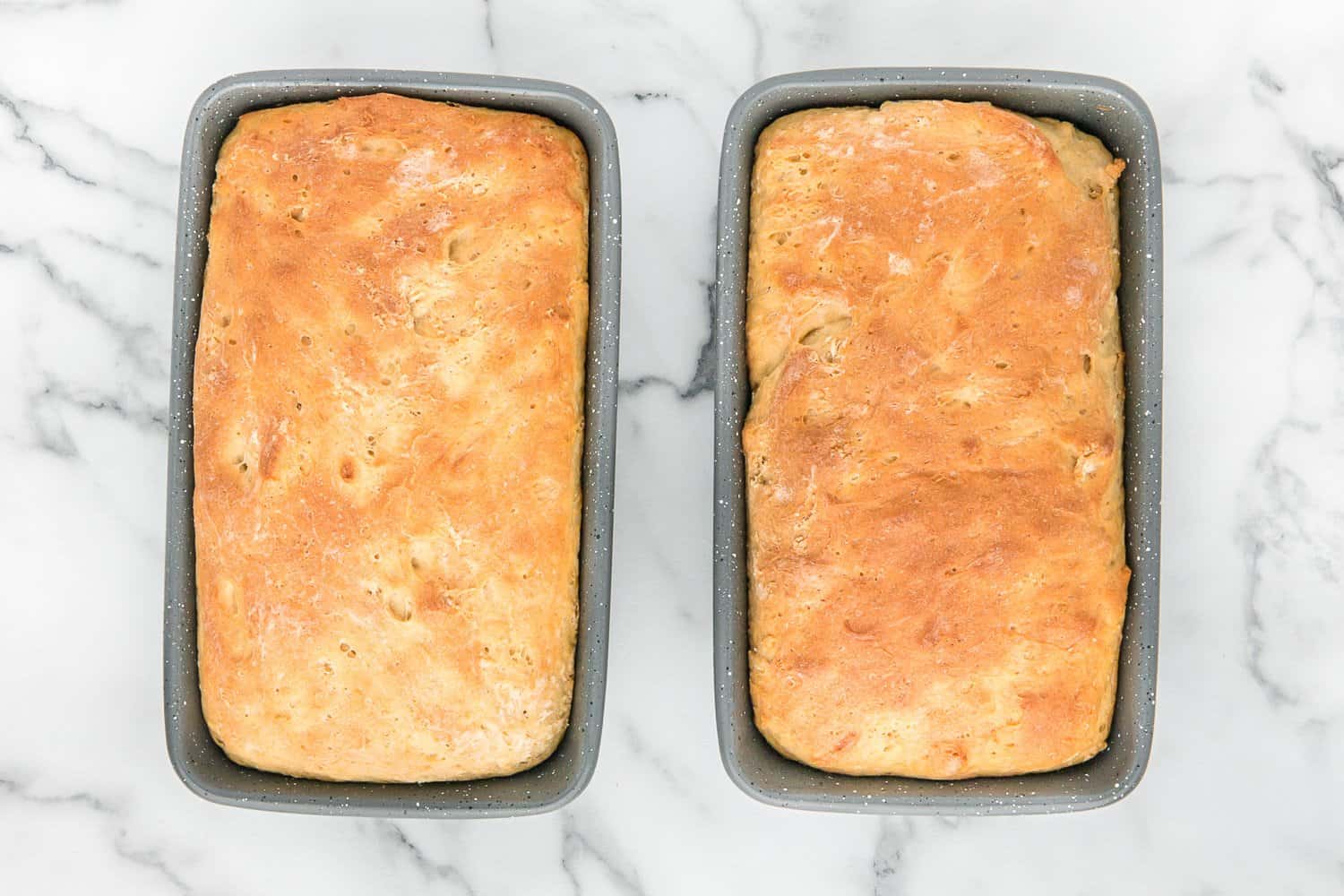 While it's still warm, brush the tops of the loaves with butter for a nice shiny crust (plus it tastes delicious!). If you want to keep things super simple, just rub a stick of butter on the top of the loaf. It gets the job done!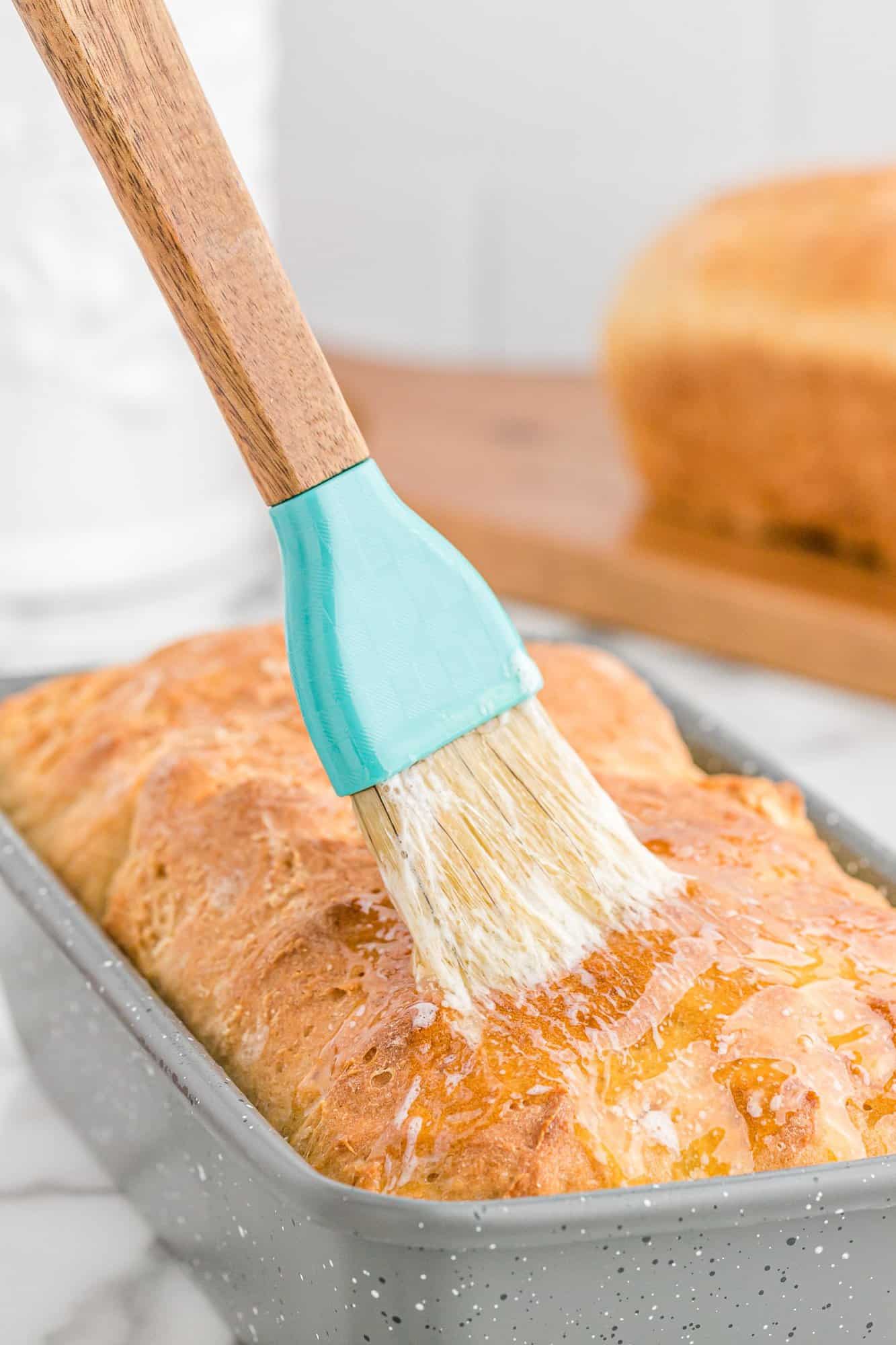 Remove the loaves from the pan, putting them on a wire rack to cool completely.
Use a long serrated knife to slice the bread. It will slice best if it's completely cool but I totally understand if you can't wait that long! We never can wait either and always enjoy a slice while the bread is still warm. They may not be the most beautiful slices but they are sure are wonderful!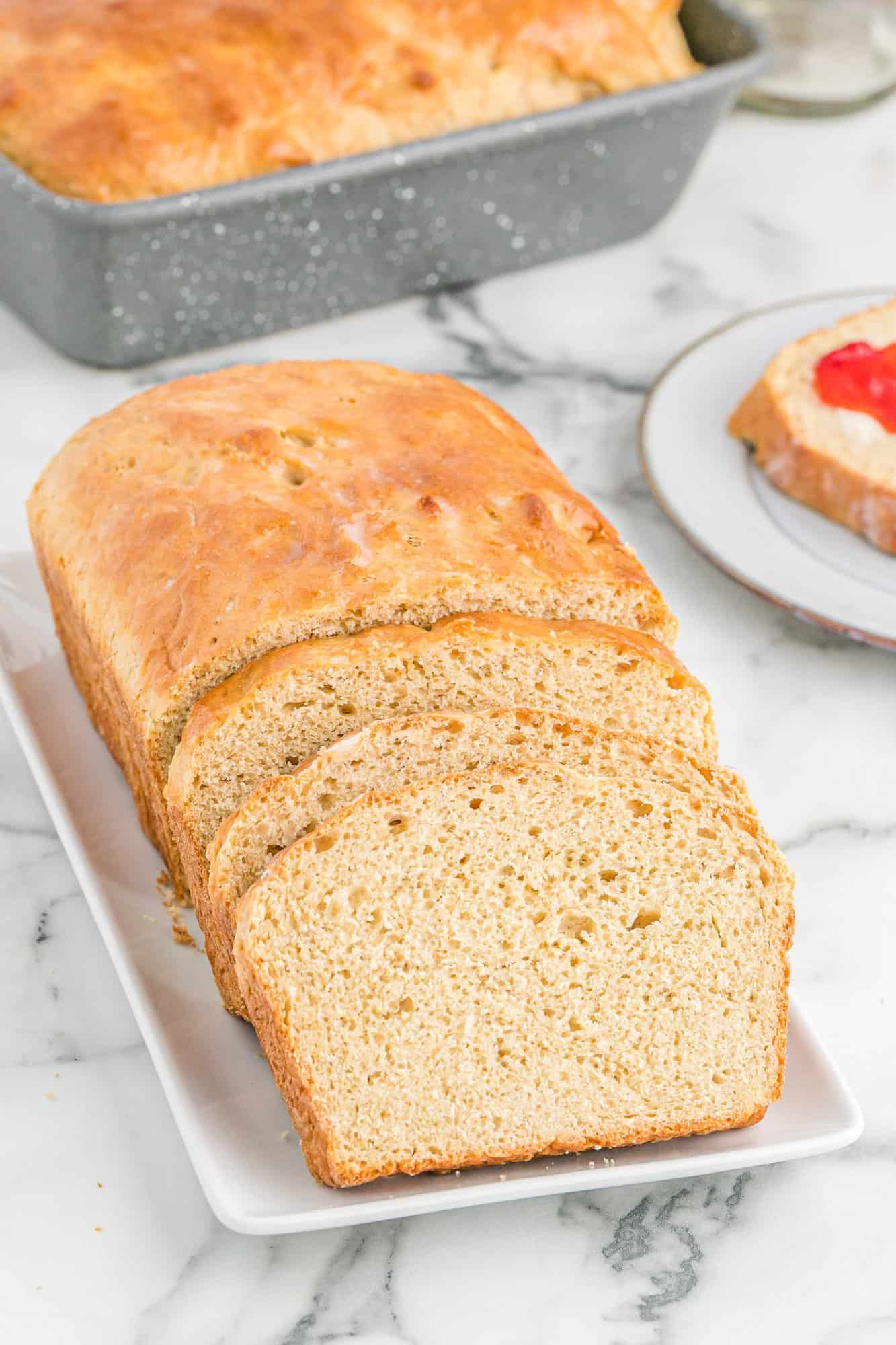 Aren't you glad you baked your own honey whole wheat bread? With only seven simple ingredients, no added anything, and lots of love stirred in, this bread tastes far better than any bread you can purchase!
FAQs
Is whole wheat bread healthy?
Whole wheat bread is healthier than white bread because it is made with a whole grain: bran, endosperm, and germ. White all-purpose flour has been processed to remove the bran and germ, leaving only the endosperm portion of the wheat grain. The endosperm portion contain most of the carbs, whereas the bran and germ contain fiber, minerals, antioxidants, and protein.
Why is my no-knead bread dense?
Perhaps you are adding too much flour. When you measure the flour, be sure to scoop it lightly into the measuring cup. Level the cup using a straight edge, such as a table knife, not by shaking it down.
Be sure to use yeast that hasn't expired. If it doesn't bubble up or foam when you proof it with warm water, it probably isn't any good. If the yeast isn't active, your bread won't rise.
Allow enough time for the bread to rise. If the temperature in your kitchen is a bit cool, the dough may take longer to rise.
Finally, allow the baked loaf to cool completely before slicing it. Slicing a hot loaf tends to compress the bread which can make it feel dense.
How do you make wheat bread less dense?
Whole wheat bread tends to be heavier or more dense than white bread. The flour is more grainy and has more fiber. If you'd rather have a lighter textured bread, make your bread with part whole wheat flour and part white flour. The bread will still have lots of the benefits of whole wheat but won't be as dense or heavy.
Make-Ahead Ideas
Make 2 loaves and freeze one loaf. It will keep for up to six months. If you have lots of bread tins, make 2 batches (4 loaves) so you have plenty of bread to last.
A loaf of homemade bread makes a wonderful gift that is always appreciated. Brighten someone's day by dropping off bread that's still warm from the oven! Try delivering it with some bread dipping oil!
I just know someone is going to ask if this bread dough can be frozen to be baked later. I haven't tried it yet but I'd love to hear back from anyone who gives it a try! I often freeze pizza crust dough and that always turns out beautifully .
Storage Tips
Most store-bought breads are made with added preservatives so they have a longer shelf life. Homemade bread is made without preservatives (yay!) or any other artificial ingredients so it won't keep as long as the bread you buy.
It doesn't last long in my house because it's so good! Here's a couple of tips to make sure your bread keeps well:
Cool the bread completely before storing it in a resealable bag or container. Bread that is still warm when it's sealed in a bag will produce condensation on the inside of the bag (steam). That condensation will cause your bread to get moldy more quickly which you definitely don't want.
If you don't plan on eating all of the bread within a few days, keep it in the refrigerator or another cool place. It should keep for a week. If you want to keep it longer than a week, double wrap it and freeze it. It will keep for up to six months. Slice the loaf before you freeze it so you can remove a slice or two at a time. It will thaw very quickly.
More yeast bread recipes
Give these delicious bread recipes a try! I'm sure you'll love them.
Did you make this? Be sure to leave a review below and tag me @rachelcooksblog on Facebook, Instagram, or Pinterest!
You can bake your own bread! It's easy with this no knead whole wheat bread recipe. Perfect for both beginners and experts.
Ingredients
2

cups

whole wheat flour

4

cups

bread flour

3

teaspoons

salt

2 ½

cups

warm water

(110°-115°F)

4 ½

teaspoons

active dry yeast

(

2

packets)

¼

cup

honey

¼

cup

(

½

stick) unsalted butter, softened

Additional butter for crust, optional
Instructions
Have water at 110°-115°F and all other ingredients at room temperature.

Measure bread flour, whole wheat flour, and salt into a bowl; whisk to combine. Set aside.

Proof the yeast: Pour the warm water into a large mixing bowl; add the yeast. Let stand for 3 to 5 minutes; stir.

Add the honey, butter, and half of the flour mixture. Beat 2 minutes with a stand mixer on medium speed, or by hand until smooth.

Add remaining flour mixture and beat again either with a stand mixer, using the paddle attachment, or by hand with a sturdy wooden spoon or dough whisk, until smooth and dough comes together. Cover. Let dough rise in a warm place until doubled, about 30 minutes. Meanwhile, grease two 5 x 9- or 4½ x 8½ – inch loaf pans.

Punch down dough, and divide in half. Place dough in prepared pans. Let it rise again until the dough comes to within one inch of the tops of large pans or reaches the tops of smaller pans, about 30 minutes.

Position oven rack in the lower third of your oven. Preheat oven to 375°F.

Bake loaves for 35 minutes, or until well browned on sides and tops (internal temperature should be 190°F at the center of the loaf when measured with an instant read thermometer). Remove loaves from the oven. For a softer crust, brush tops with butter.

Let bread cool for 5 to 10 minutes in the pans; remove from pans and cool completely on a wire rack before slicing.
Notes
Makes 2 loaves, 10 slices each. Nutrition information is based on 1 slice.
To store bread, cool completely before slicing and storing in an airtight container or resealable bag. It will keep at room temperature for a few days, in the refrigerator for up to a week, or in the freezer for up to six months.
Recipe developed in partnership with Red Star Yeast, 10/2013; revised 4/2022.
Nutrition Information
Serving:
1
slice
,
Calories:
173
kcal
,
Carbohydrates:
31
g
,
Protein:
6
g
,
Fat:
3
g
,
Saturated Fat:
2
g
,
Polyunsaturated Fat:
1
g
,
Monounsaturated Fat:
1
g
,
Trans Fat:
1
g
,
Cholesterol:
6
mg
,
Sodium:
351
mg
,
Potassium:
97
mg
,
Fiber:
3
g
,
Sugar:
4
g
,
Vitamin A:
72
IU
,
Vitamin C:
1
mg
,
Calcium:
10
mg
,
Iron:
1
mg
This website provides approximate nutrition information for convenience and as a courtesy only. Nutrition data is gathered primarily from the USDA Food Composition Database, whenever available, or otherwise other online calculators.