Dutch Oven Bread (no knead!)
Rather amazingly, Dutch oven bread tastes like expensive artisan bread. It's easy to make, no kneading necessary!
Recipe Overview
Why you'll love it: The ingredients are so simple: all-purpose flour, salt, yeast, water, honey, and olive oil. That's all you need for really wonderful artisan-style bread.
How long it takes: This is an overnight recipe. The prep time is 10 minutes (do it before you go to bed) and the bake time is 45 minutes.
Equipment you'll need: large bowl, Dutch oven
Servings: makes one round loaf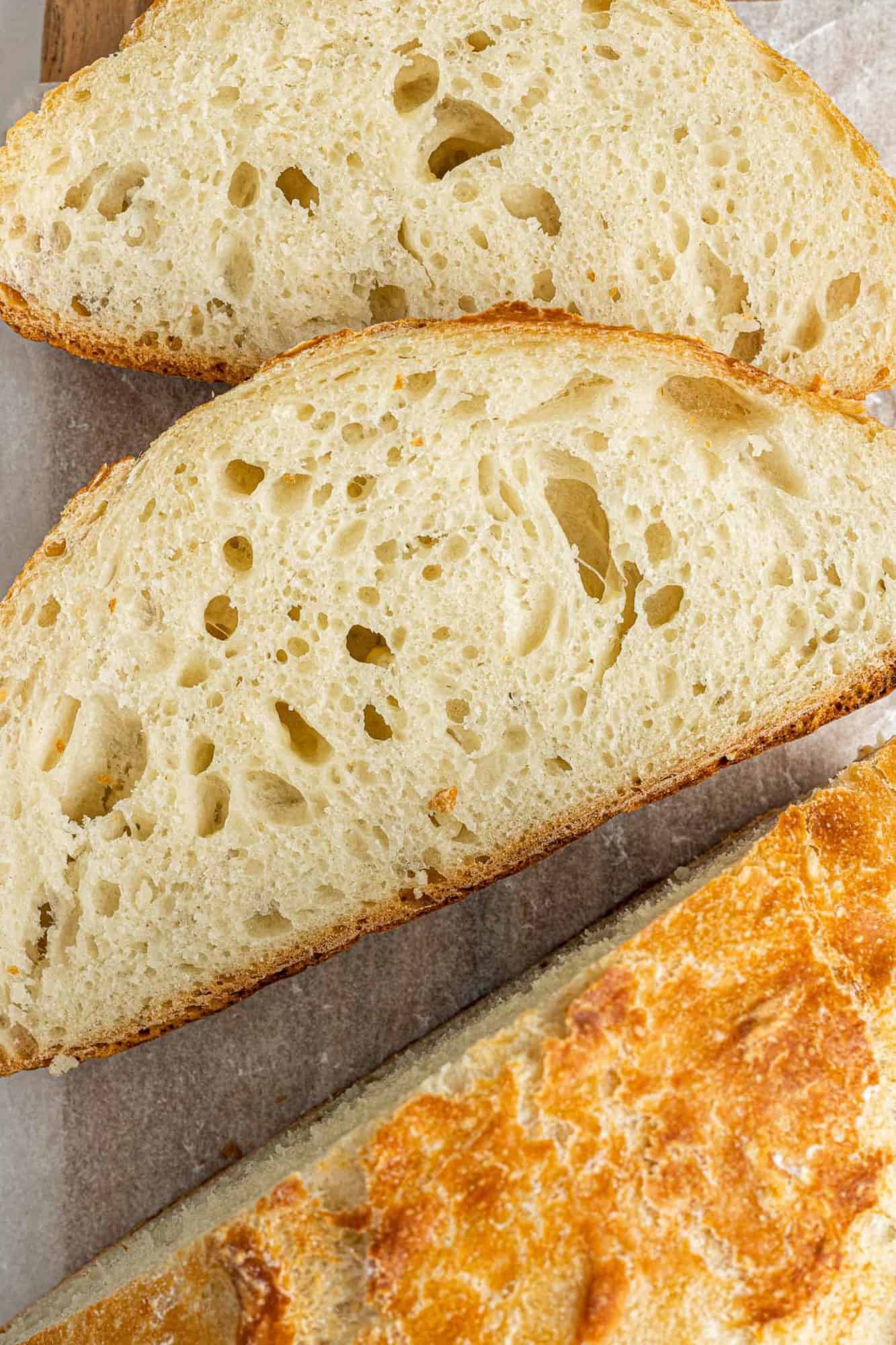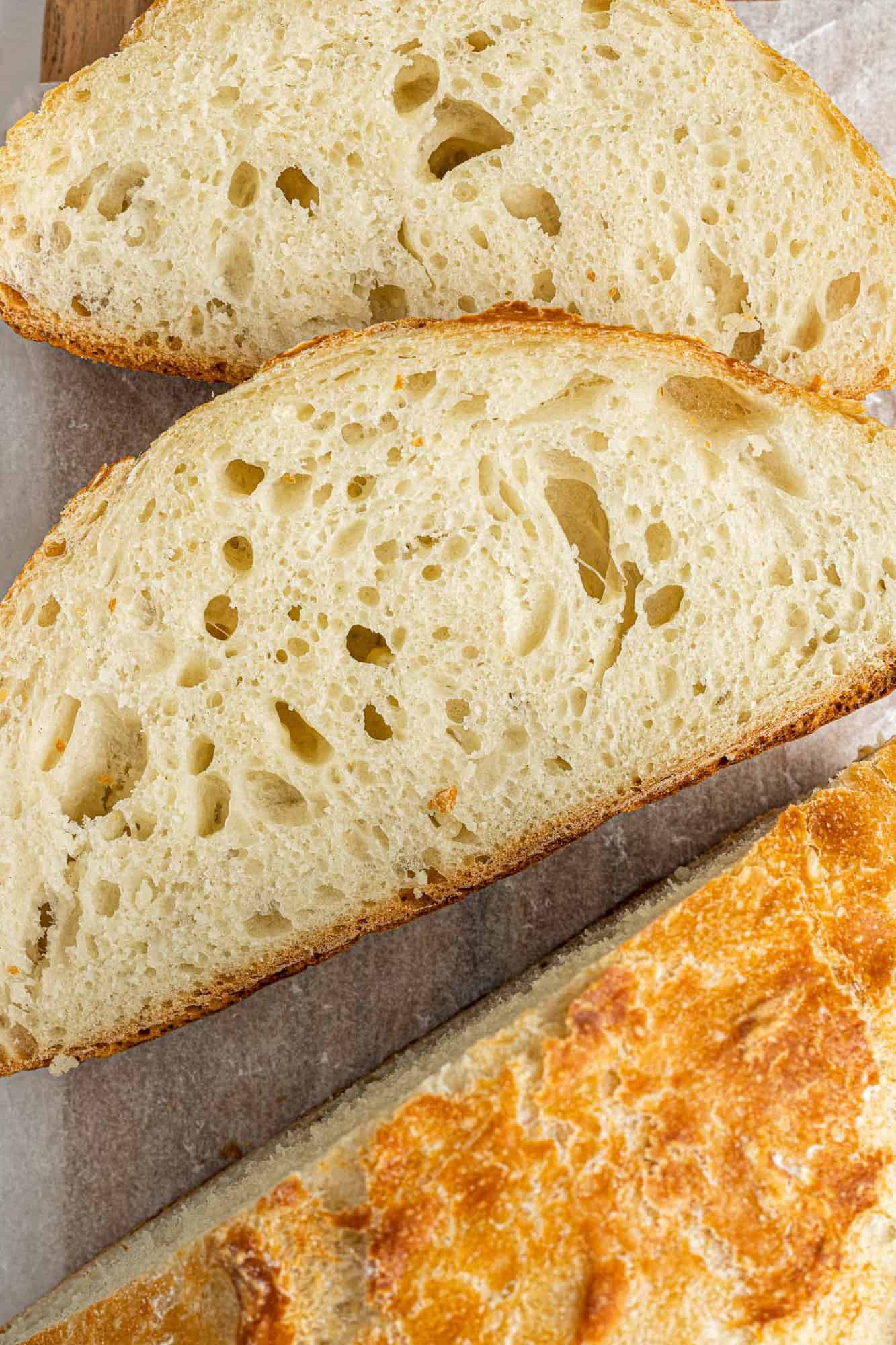 There's really nothing quite like home baked bread! The yeasty smell, crusty edges, and soft interior just beckon you to the kitchen for one more warm slice slathered with melting butter.
Maybe, if you're like me, you approach the idea of making bread with a small amount of trepidation. The yeast! The kneading! The sticky dough! The rising times! Yikes, it sounds so complicated. While I do have some yeast bread recipes that I like, particularly this no knead whole wheat bread and no knead cheesy bread, generally I'm a quick bread baker.
But guess what? Dutch oven bread is the timid baker's liberator. You will be freed from bread baking anxiety! Enjoy delicious homemade artisan yeast bread that yes! you made yourself.
Enjoy the process and savor the smells, texture, and taste of this wonderful bread! You're at the beginning of a beautiful journey … okay, perhaps that's laying it on a little too thick. Your family and friends will think you're the best though, I can guarantee that!
What's a Dutch oven?
According to Wikipedia, it's a thick-walled cooking pot with a tight fitting lid, usually made of cast iron, and often enameled. A Dutch oven is used for braising meat, cooking soups and stews, or baking casseroles. Who would think it would make such an excellent bread baking pan? Le Creuset is a popular brand but there are many other, less expensive options.
Why a Dutch oven for this bread?
The empty pan is heated to a high temperature in the oven for at least a half hour before you even put the dough inside. How hot? We're talking about 450°F and that's pretty smokin' hot, too hot for most pans or dishes. A cast iron pot can take the heat without any problem.
In addition, a Dutch oven has a heavy lid which seals in moisture, and again, it's made out of cast iron which can take the heat. A lid is essential for the success of this bread recipe.
If you don't have a cast iron Dutch oven yet, I would recommend getting one. I use mine often. It's a great all-purpose pan, perfect for simmering because it holds the heat so well.
What size Dutch oven is best?
I love using my 4-quart Dutch oven for this recipe, but a more standard 5- or 6-quart size also works well for this bread recipe.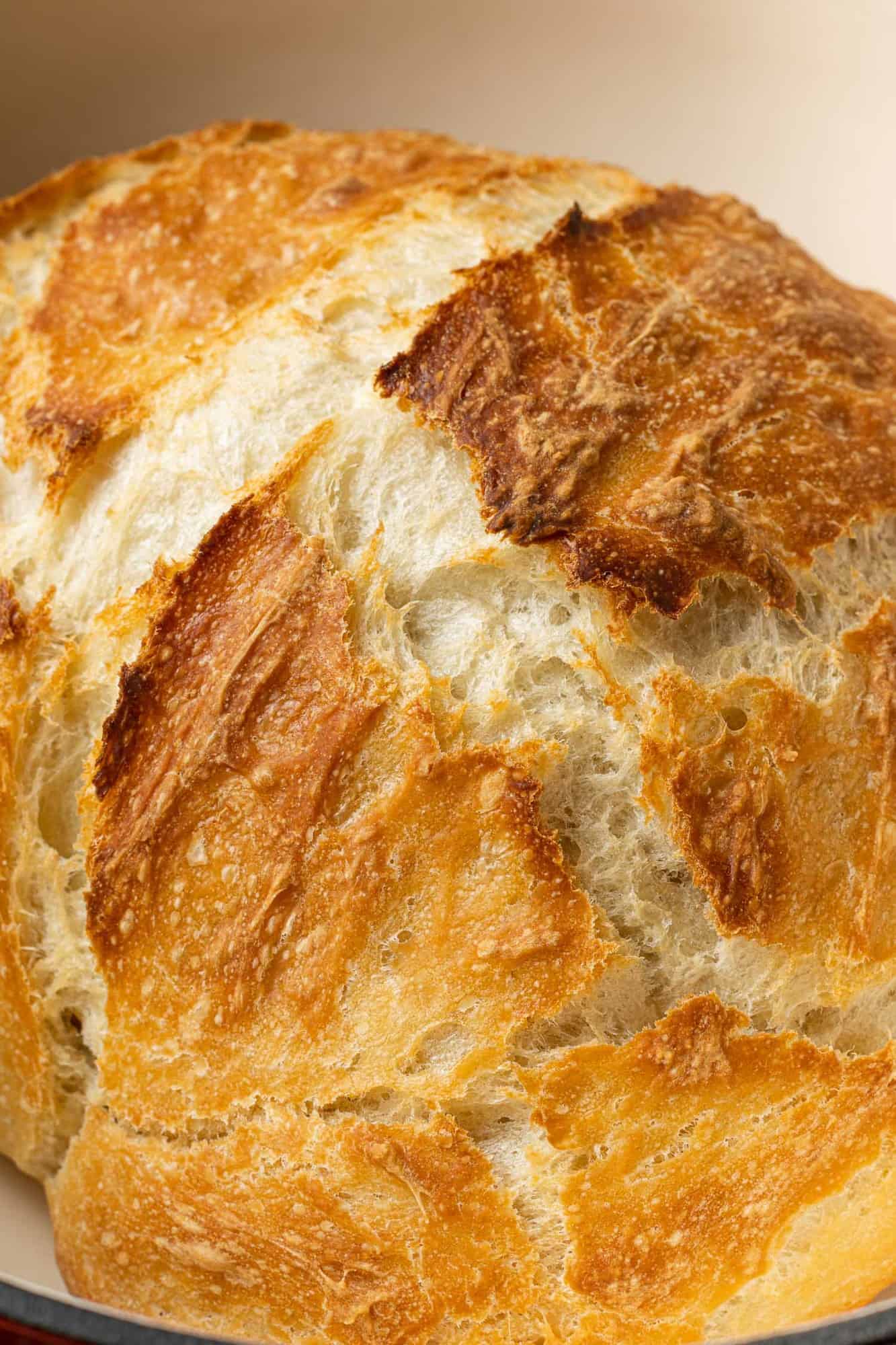 What you'll need
The ingredient list is very simple. As always, scroll down for the printable recipe.
All-Purpose Flour – All-purpose will give you the fluffiest, softest loaf.
Instant Yeast – Make sure to get instant for this recipe (not active dry yeast). You may also find it labeled rapid-rise.
Honey – We've tested the bread with and without the honey, and while it's not completely necessary, we do love the flavor it adds.
Olive Oil – Like the honey, we tested the bread with and without the oil, and it's also not completely necessary, but again, it adds great flavor and helps create a soft inside and crispy crust.
Salt – Salt provides so much flavor to your bread but it also is a yeast inhibitor. Without it, the yeast will go crazy and cause the bread to rise too much. If you want to know more, check out this explanation on King Arthur Baking Company's website.
Cool Water – No need for a thermometer here! Water out of the tap is fine.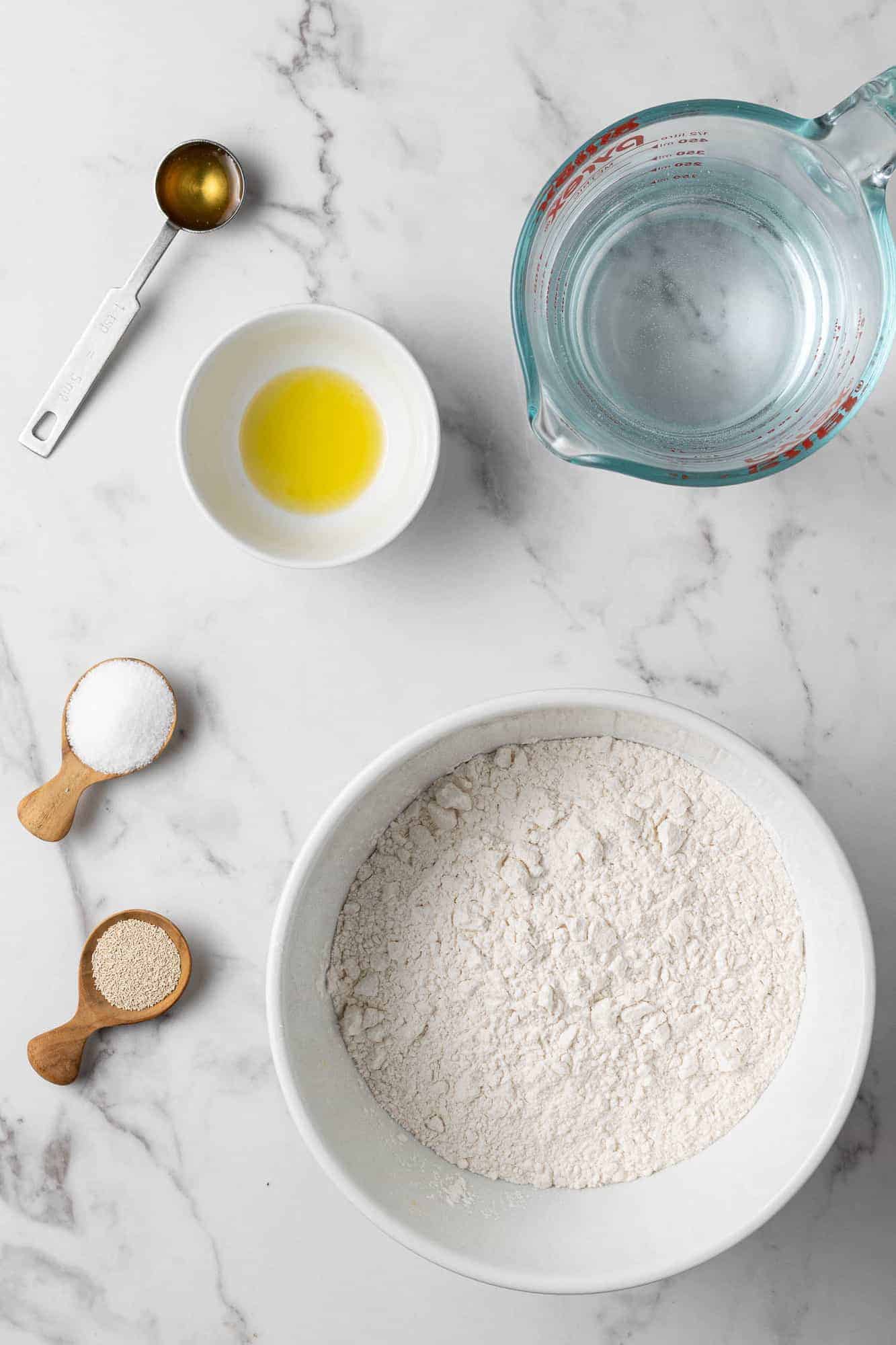 How to make it
Remember, the detailed, printable instructions for baking Dutch oven bread are on the recipe card below. You'll find specific measurements, instructions, and nutrition information.
First, stir together all of the ingredients in a large bowl to form a loose dough.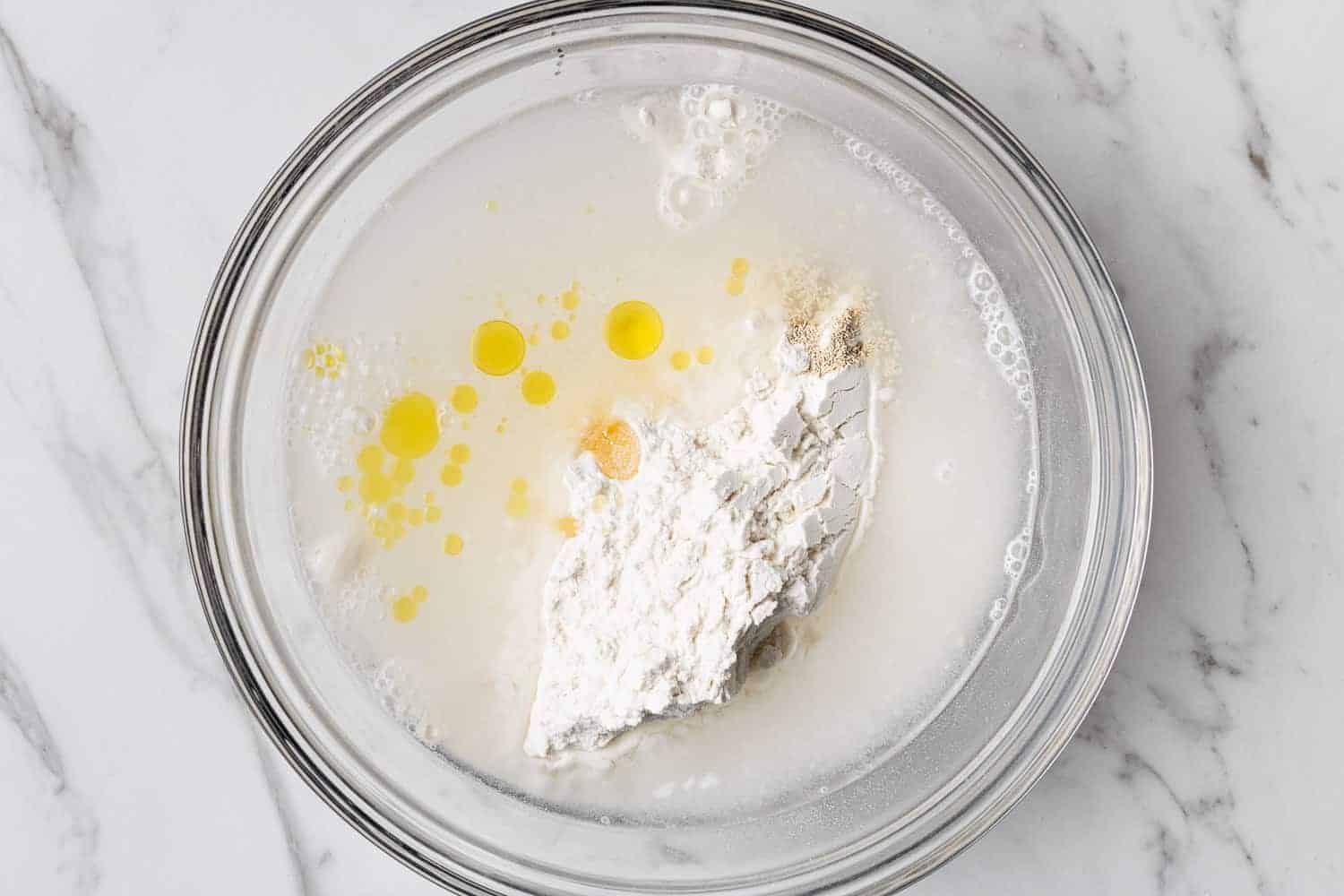 Grease the dough a bit, cover it tightly with plastic wrap, and set it aside overnight, twelve to eighteen hours.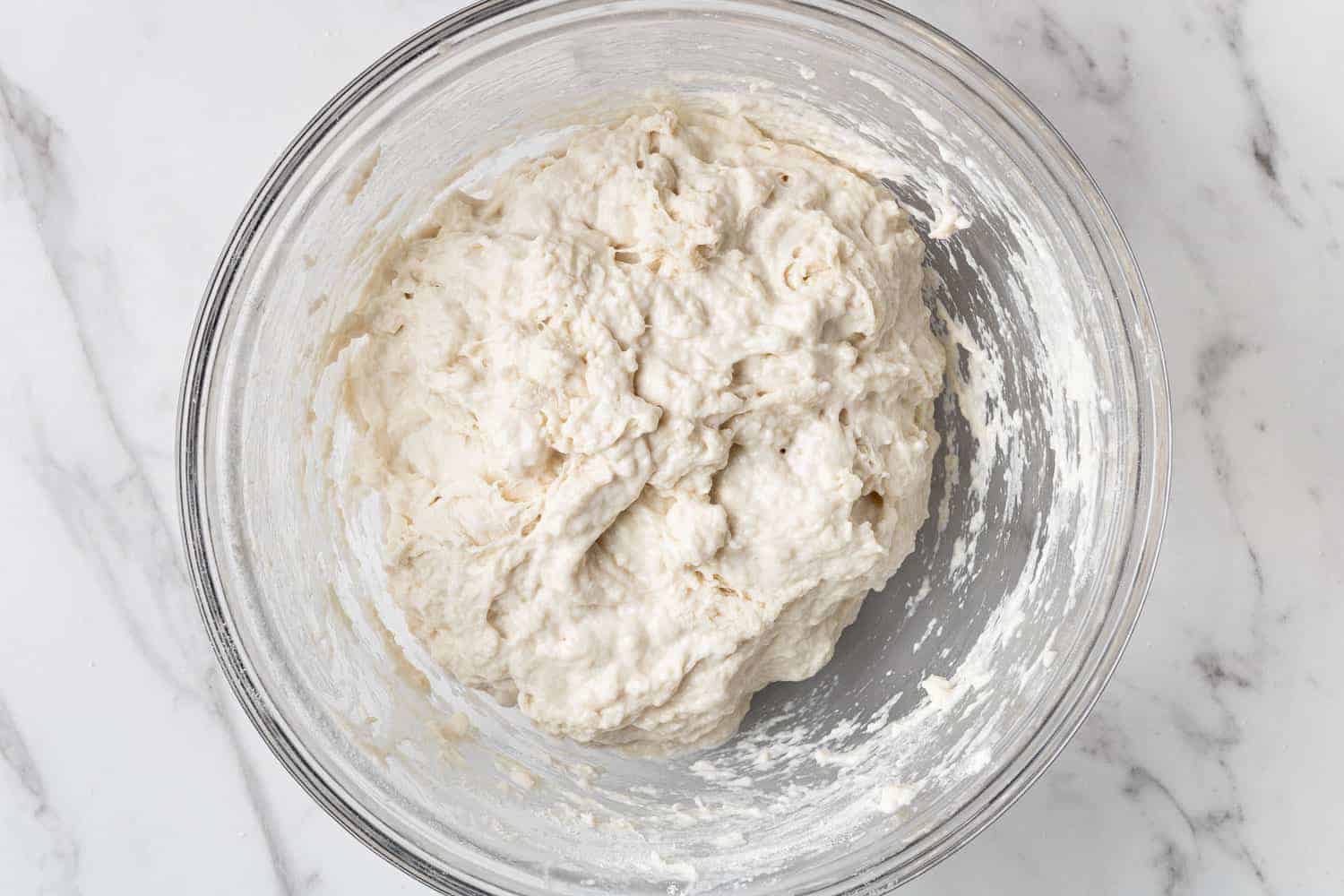 The dough will g-r-o-w in size until it's nearly doubled.
When you're ready to bake, get your Dutch oven with the lid heating up in the oven. This will take at least a half hour.
While the oven is heating, remove the dough from the bowl and put it on a floured surface. Don't be afraid to add a fair amount of flour to the counter, your hands, the top of the dough, etc. Use a dough scraper if you have one. Fold the dough over a few times, forming a dough ball. You're not kneading the dough, rather, you're shaping it. It should only take a minute or so.
Place the dough on a wide strip of parchment paper (parchment is optional but it helps when trying to move the dough) and reshape it if necessary. It does NOT have to be a perfect ball. Cover it and let it rise until the oven is hot.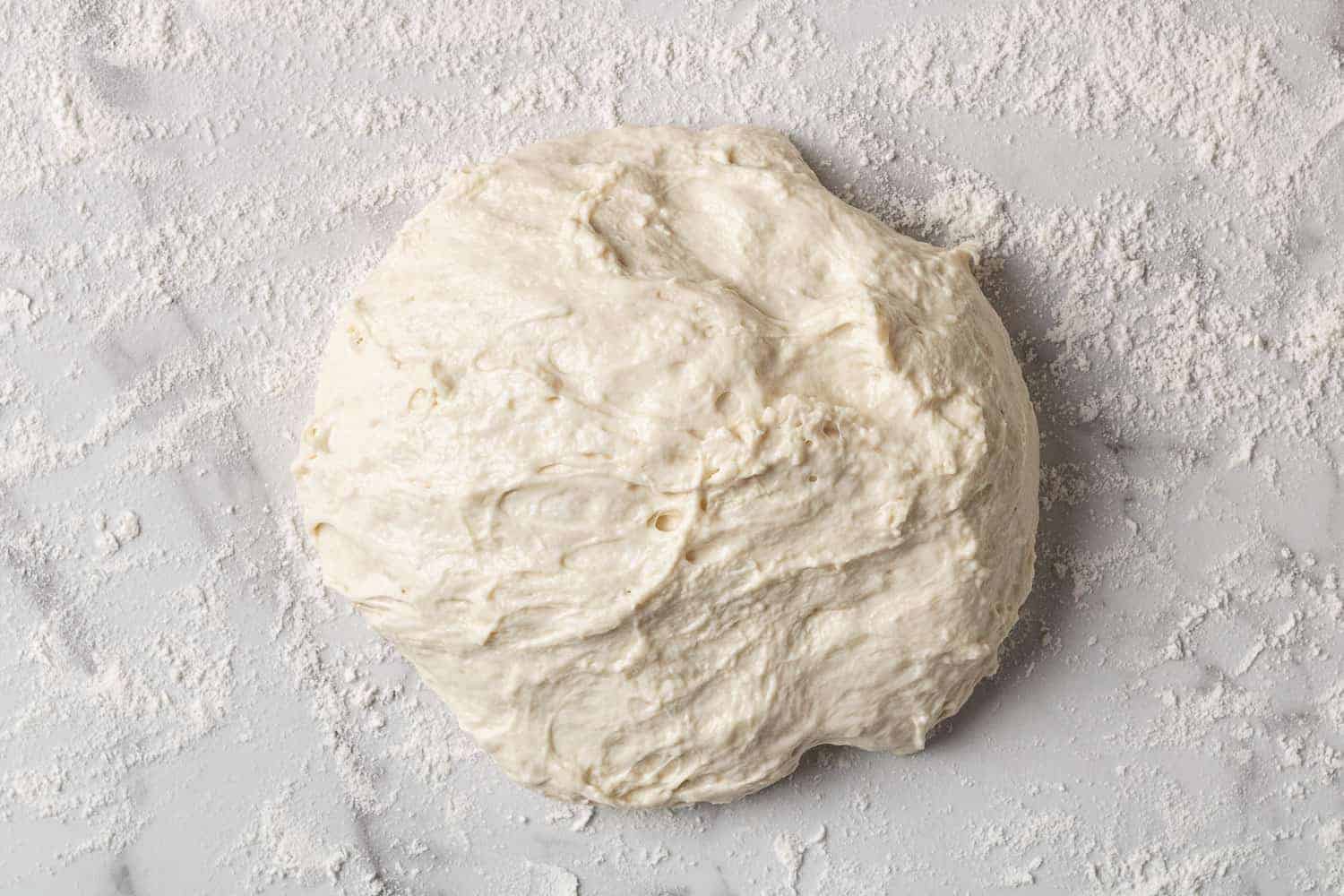 When the Dutch oven is good and hot, carefully remove it from the oven. Please, please be careful! Using an oven mitt, remove the lid from the pan and set it aside. Uncover the dough, and grabbing the corners of the parchment paper, transfer the paper and dough ball to the Dutch oven, just nestling it right in there, paper and all.
Note: If you choose to not use parchment, just put the dough right in the Dutch oven. No need to spray or grease the Dutch oven!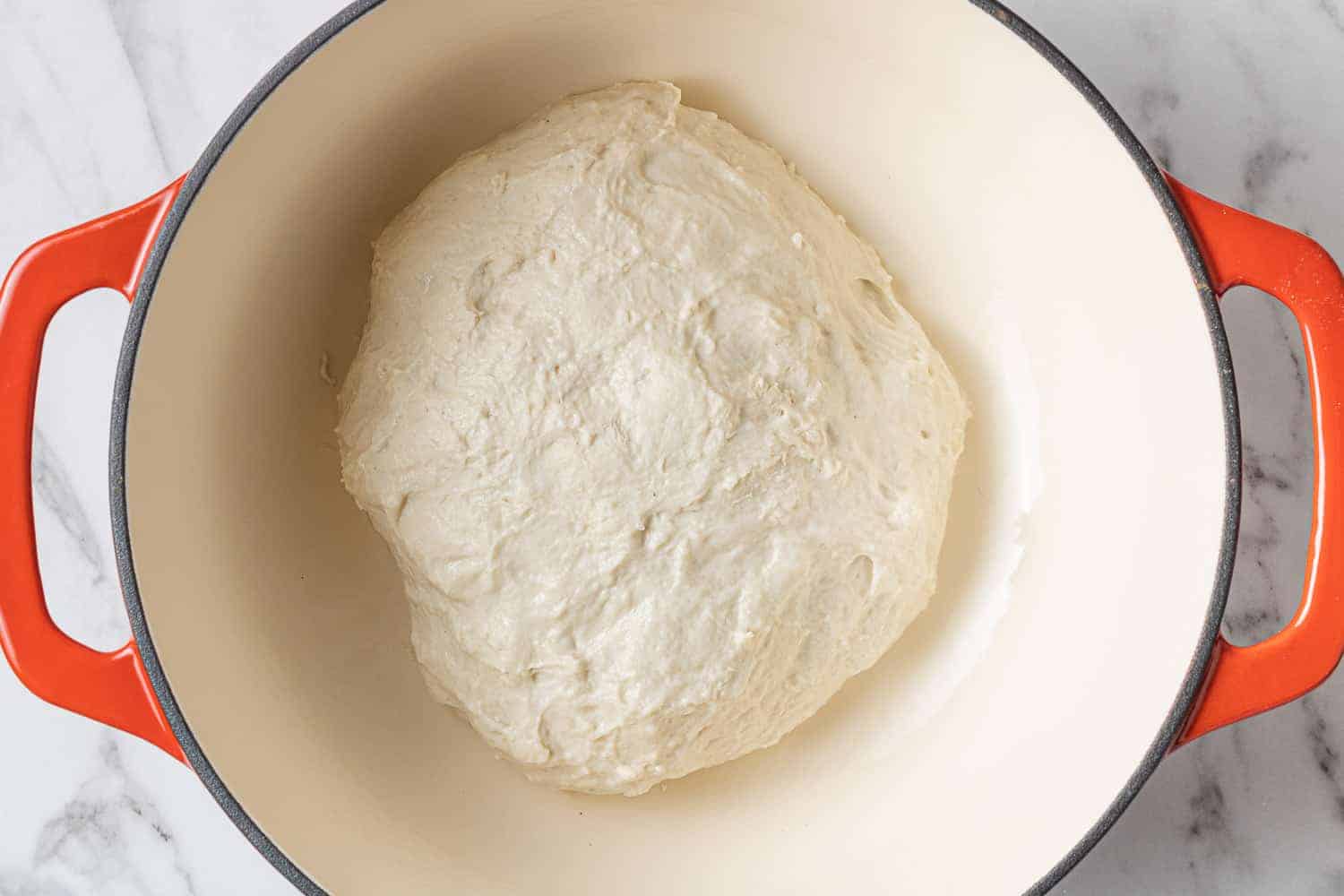 Using a mitt, put the lid back on the Dutch oven, and put it back into the hot oven. Bake for 30 minutes, uncover, and bake 10 minutes more.
Take the pan out of the oven, lift the bread out using the parchment paper and set it on a wire rack to cool. You won't want to leave it in the pan to cool because the pan is so hot, the bread will continue to bake even though it's out of the oven.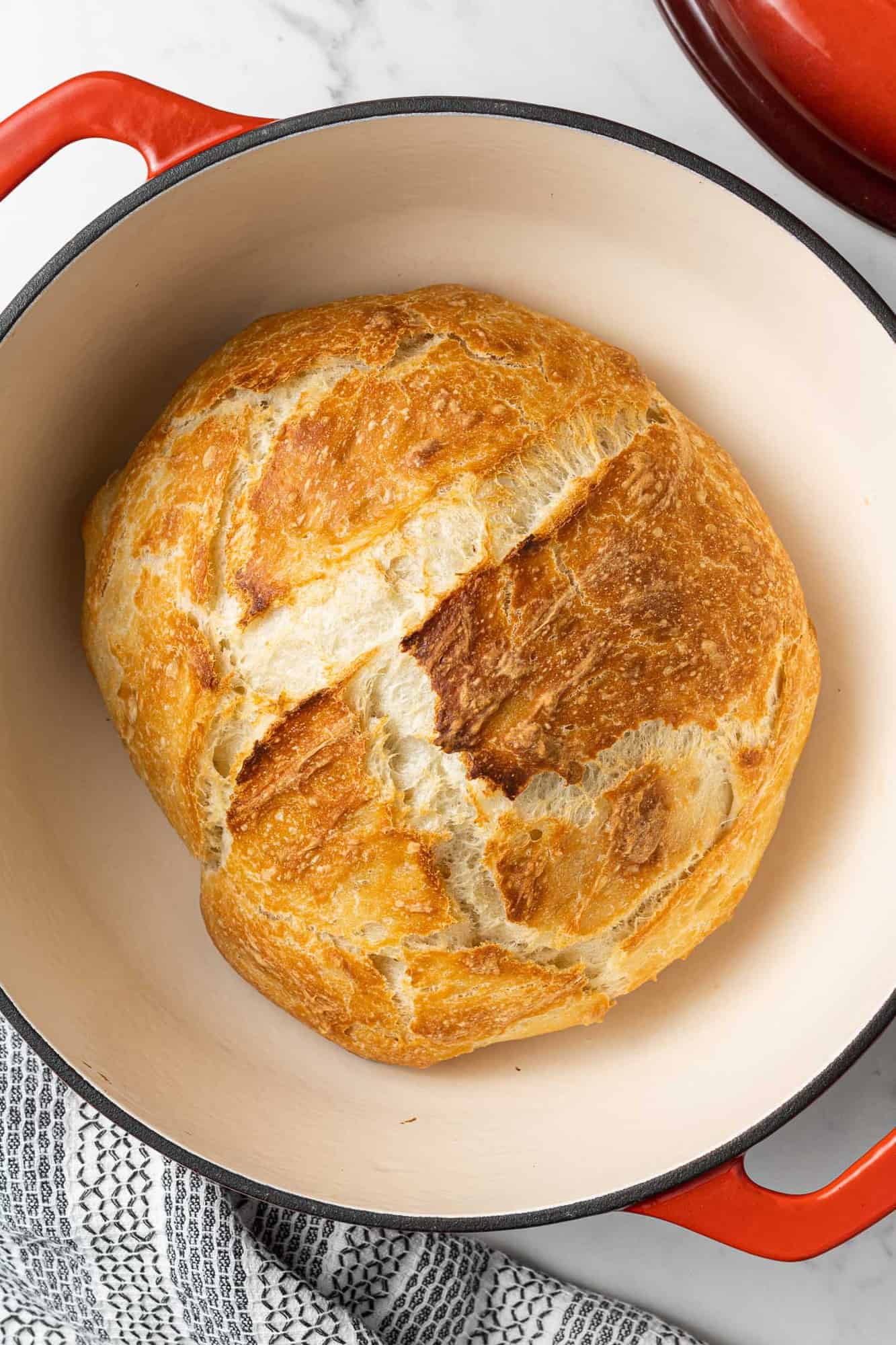 And that's it! I guess that wasn't really a "quick run down" but now you know, it isn't difficult to make homemade artisan bread. You're a bread artisan now, whatever that is.
The hardest part is you should wait at least 30 minutes before slicing the loaf. I know, I know, you really want to sample it right away but I know from experience that if you want decent slices, you just have to wait.
Don't care if it's in decent slices? Ha, neither do I! Nibble away! Don't forget the butter and honey.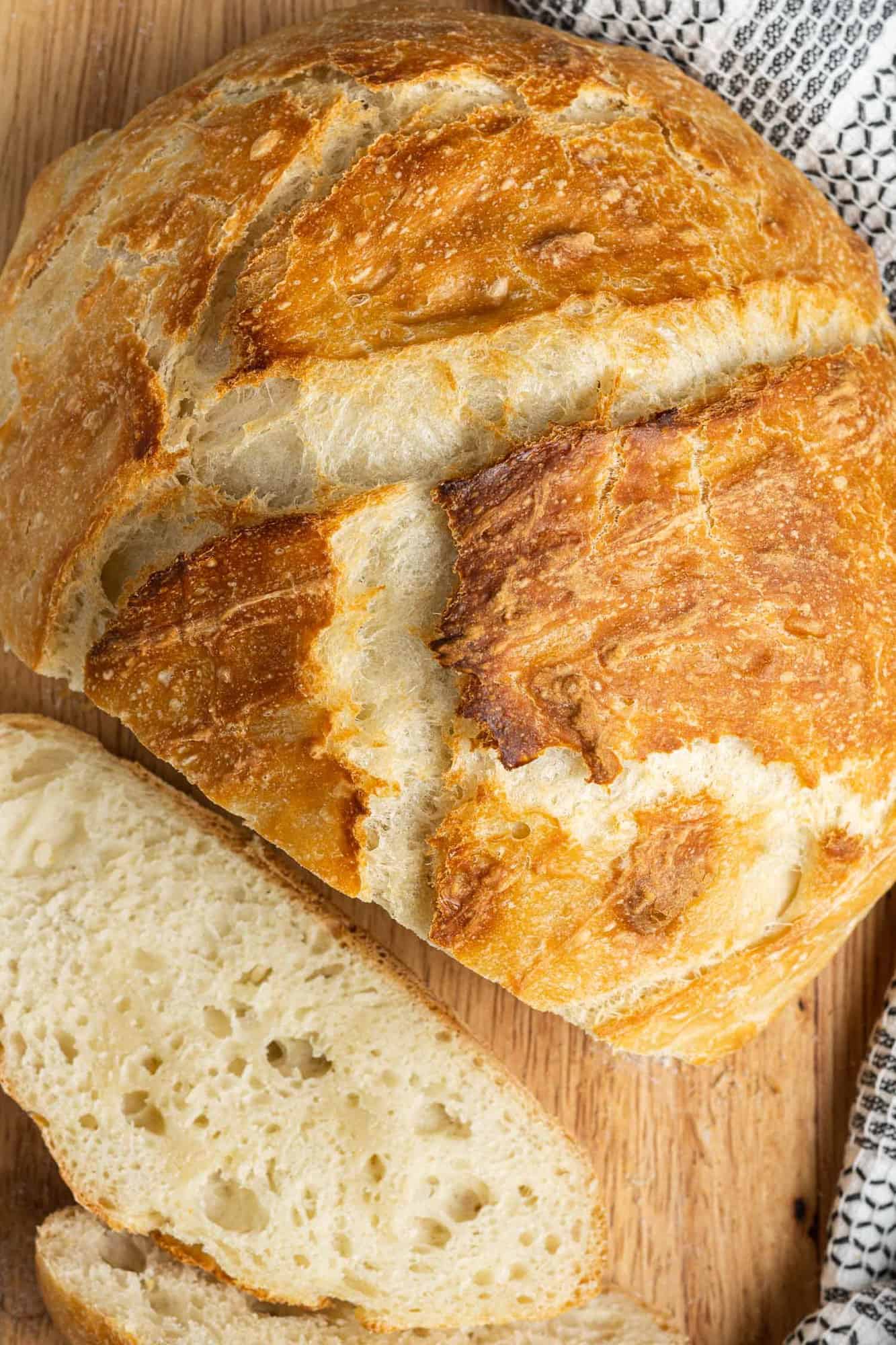 FAQs
Do you oil a Dutch oven when baking bread?
Although it seems like common sense to oil the Dutch oven, resist the temptation. Because of the high heat, the oil tends to burn and scorch the bread. The bread rather miraculously does not stick to the hot pan.
Do you need parchment paper for Dutch oven bread?
Your bread will turn out about the same way whether you use parchment paper or not. I find that parchment really facilitates getting the bread dough into the hot pan. You'll have paper handles to lower the dough into the pan and to lift it out when it's finished baking.
Do you have to preheat a Dutch oven before baking bread?
The Dutch oven should be preheated in a hot oven for at least 30 minutes. The bread dough is added to the hot pan and covered, creating a sort of mini-oven. Steam is quickly produced, causing the bread to rise quickly, and get a perfect crust. For more about the hows and why, check out this King Arthur Baking Company post.
Make It Your Own
Once you have mastered the easy technique of making Dutch oven bread, you can experiment with variations. Try mixing in Parmesan cheese, or little chunks of sharp cheddar or smoked Gouda. Add herbs and roasted garlic. Try raisins and cinnamon. Other dried fruits like apricots or cherries are great, especially with chopped nuts or fresh herbs. Be creative! You're a bread artisan now, right?
Top the bread with a homemade compound butter: orange honey butter, maple cinnamon butter or gingerbread butter.
Strawberry basil freezer jam is so good, too. If you love jam, be sure to try homemade mixed berry jam or salty sweet bacon jam. If you're more in the dipping mood, try this restaurant style bread dipping oil recipe.
Looking for sourdough bread? Try this sourdough Dutch oven bread from The Clever Carrot that looks really great. It has a step-by-step guide.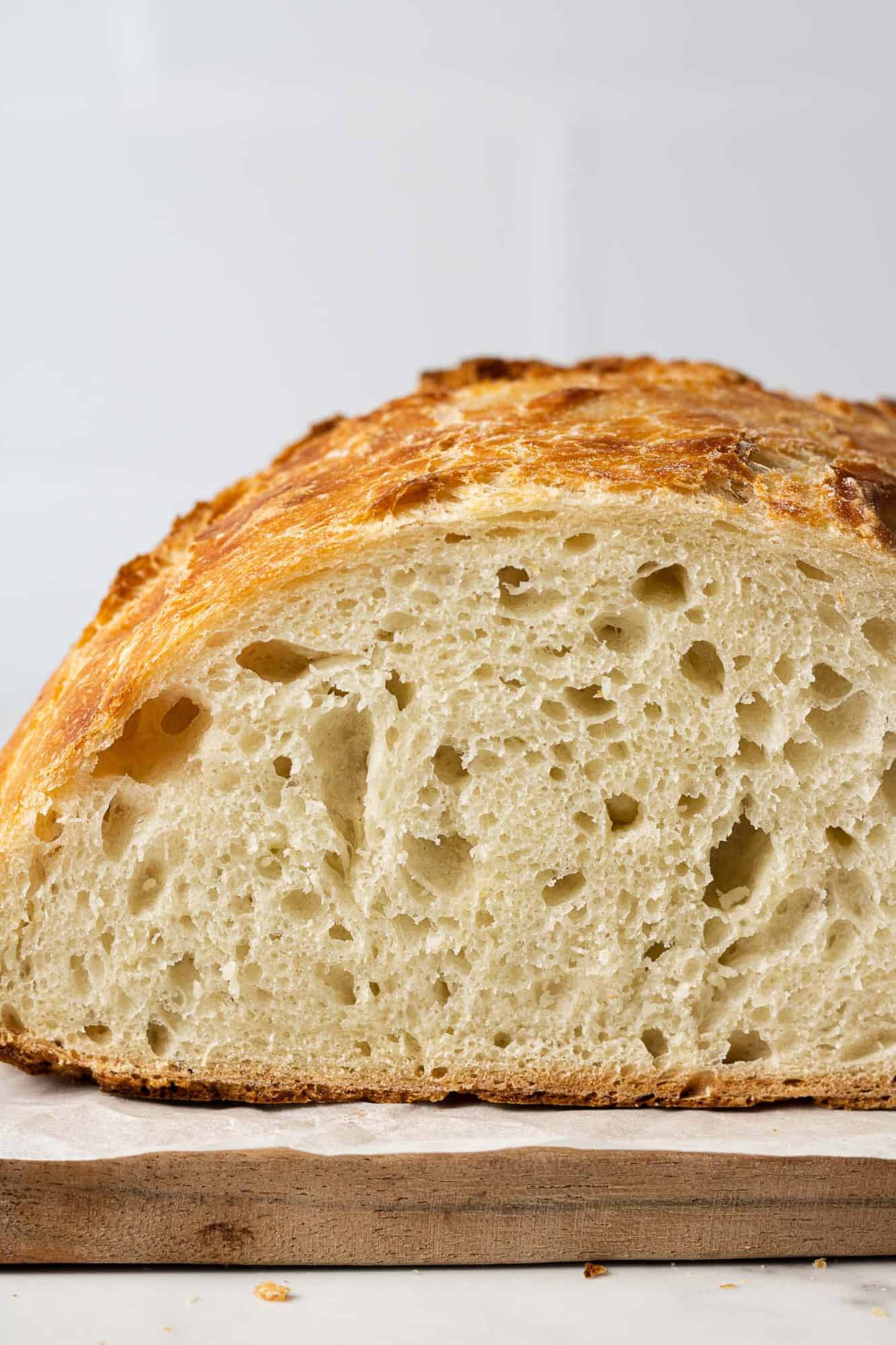 Storage Tips
Cool the bread thoroughly before wrapping and storing. It will keep well on the counter for a couple of days. It toasts beautifully.
Be a bread baker!
Many home cooks find such satisfaction in baking their own bread, whether it's yeast breads or quick breads. Here's a few more recipes I like and if you have any favorite recipes to share, I'd love to hear from you.
Did you make this? Be sure to leave a review below and tag me @rachelcooksblog on Facebook, Instagram, or Pinterest!
Rather amazingly, Dutch oven bread tastes like expensive artisan bread. It's easy to make — no kneading necessary!
Instructions
In a large mixing bowl, combine flour, salt, yeast, water, honey, and olive oil. Mix until mixture is combined. It will be sticky.

Cover bowl tightly with plastic wrap and set aside for 12 to 18 hours, or overnight.

Preheat oven to 450ºF. When the oven is preheated, place a cast iron Dutch oven (a 4 quart works great!) with a lid inside the oven and continue to heat for 20 to 30 minutes.

Meanwhile, pour dough out of bowl onto a floured surface. Form into the shape of a ball (it doesn't have to be perfect, and will still be sticky). Place on a sheet of parchment paper, if desired. Cover lightly with plastic wrap.

When the pot has been in the oven for 20 to 30 minutes, carefully remove pot from oven, remove plastic wrap from dough and, grabbing the corners of the parchment paper, place dough (and the paper) in hot pan (be careful!). Cover and bake for 30 minutes. Uncover, and bake for another 10 to 15 minutes or until golden brown.

Remove bread from pot and let cool on a rack. Slices best when completely cool, but we don't blame you if you can't wait.
Notes
Cool bread completely before storing in a plastic bag or airtight container.
Bread can be made in a 5 to 6 quart Dutch oven if that's what you have.
If you like, add embellishments like shredded cheese, or small cubes of cheese, herbs, chopped nuts, raisins, etc.
Nutrition Information
Serving:
1
slice
,
Calories:
155
kcal
,
Carbohydrates:
32
g
,
Protein:
4
g
,
Fat:
1
g
,
Saturated Fat:
0.1
g
,
Polyunsaturated Fat:
0.2
g
,
Monounsaturated Fat:
0.4
g
,
Sodium:
408
mg
,
Potassium:
50
mg
,
Fiber:
1
g
,
Sugar:
1
g
,
Vitamin C:
0.01
mg
,
Calcium:
7
mg
,
Iron:
2
mg
This website provides approximate nutrition information for convenience and as a courtesy only. Nutrition data is gathered primarily from the USDA Food Composition Database, whenever available, or otherwise other online calculators.