With only a few ingredients, you can bake an artisan-style loaf of crusty bread. This beer bread recipe makes the best bread and it's unbelievably easy!
Recipe Overview
Why you'll love it: There's no kneading, no rising time, and no special ingredients in this recipe. It's so good warm out of the oven!
How long it takes: 10 minutes to prep, 50 minutes in the oven
Equipment you'll need: mixing bowl, loaf pan
Servings: makes 1 loaf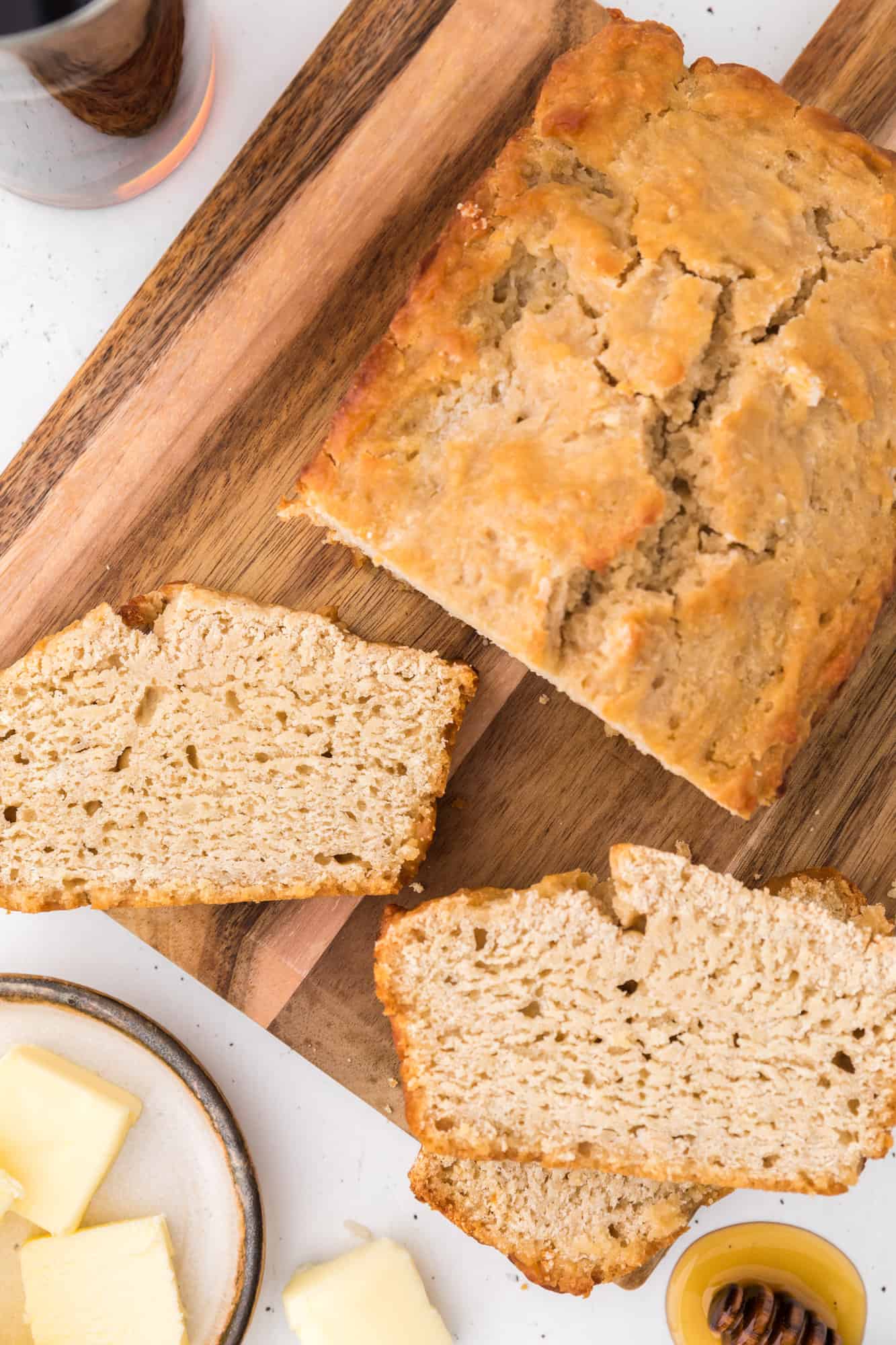 Don't you agree that a slice of home baked warm crusty bread is just one of the most wonderful things in life? Restaurants know what they're doing when they bring a warm basket of bread to the table before you even order. They know that first impressions are the most lasting and customers will come back again and again for that bread.
Perhaps you've heard of beer bread or even bought a beer bread kit. They can be a little pricey. I checked on Amazon and a 19 oz. package (to make for one loaf) was more than ten dollars! And you still had to add your own beer and butter. (At my local grocer, the price was more reasonable.)
The good news is that you absolutely don't need a kit to make this beer bread recipe. The ingredients are very simple: all-purpose flour, baking powder, salt, honey, butter, and beer. You don't even have to use beer if you don't want to.
If you haven't tried beer bread yet, now's the time. You've been missing out. Beer bread is rich, slightly sweet, super moist, and flavorful. It has a rustic crunchy crust and a hearty texture. It's sort of amazing and it's very easy to make.
Beer bread is similar to Irish soda bread (you'll see a recipe for that in March, just in time for St. Patrick's Day). Beer bread and hearty beef stew (or make Instant Pot beef stew or crockpot beef stew) are a perfect match.
About This Recipe
Beer bread is a quick bread, that is, it's made without yeast and doesn't require time to rise. It tastes yeasty because beer contains yeast but, like other quick breads, baking powder is the agent that causes the bread to rise.
When we tested the recipe, we wanted to make sure our beer bread recipe worked with variations. We found it to be pretty forgiving. You can use light beer, dark beer, cheap beer, or craft beer. We even skipped the beer and found that the bread turned out fine with soda water (unflavored carbonated water). The only beer that we didn't care for was beer with high IBU, such as IPAs, because of the bitter flavor it gave the bread.
There are other variations you can make, too. You can bake the bread in a round casserole dish or muffin tins. You can add cheese, herbs, or dried fruit. You can skip the honey and use sugar instead.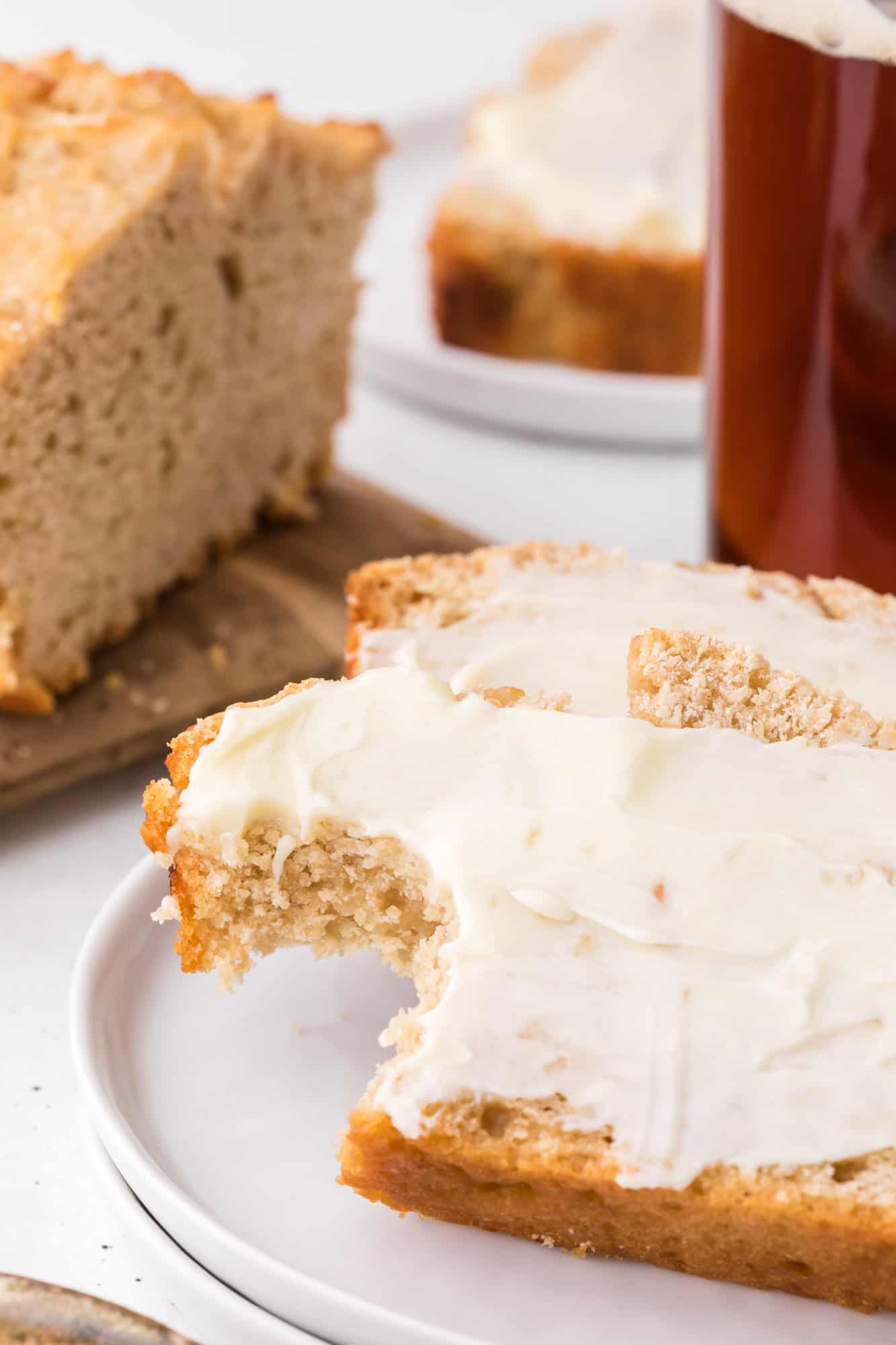 I'll run through the recipe here to get you started on your artisan bread baking. Look for the specific measurements, instructions, and nutrition information on the recipe card below.
What You'll Need
All-Purpose Flour: You don't need bread flour for this easy recipe, just regular flour. I usually choose unbleached flour rather than bleached flour. Unbleached flour is treated with fewer chemicals; it has a slightly coarser texture and darker color. Although some bakers prefer bleached flour for pastries and cookies because it's softer, I've found that the difference is indiscernible and I'd rather use flour that is less processed.
Baking Powder: This recipe is a quick bread, since it's made with baking powder, not yeast. It doesn't require time to rise and ferment. However, beer contains yeast, so I guess technically you could call it a yeast bread.
Salt: Bread without salt is very flat-tasting.
Beer: There are many, many different kinds of beer. Take a look at the note below for more about which beer works well for beer bread. For best results, the beer should be at room temperature.
What Is The Best Beer To Use For Beer Bread?
Any kind of beer works in this recipe, from Budweiser to Guinness stout. Dark beers will make the bread taste maltier, more robust; light beers flavor the bread less. Avoid extra hoppy beers, like IPA which can make the bread taste a little bitter. Our favorite? Modelo Negra, a medium-bodied dark beer.
Honey: Sometimes honey gets thick or crystallized. If that describes your honey, warm it up briefly in the microwave so it will blend into the batter more easily. You can substitute sugar, if you don't happen to have honey in the house.
Butter: Although normally I recommend unsalted butter for baking, I like to use salted butter for this bread. The extra saltiness really enhances the flavor of the bread.
How To Make Beer Bread
This really is a very easy recipe to make. The first thing you'll want to do is turn your oven on. The oven needs to be fully preheated before you put the bread in to bake. Since this bread is so easy to stir up, you may be ready to bake it before the oven is hot!
Next, prep the pan you're going to use. A generous coating of butter will give you an amazing crust all the way around. However, go ahead and spray the pan with nonstick spray, if you'd rather not get your hands greasy.
You'll need a large mixing bowl to mix the ingredients. Measure out the flour carefully. Use a spoon to lightly scoop the flour out of the storage container into a dry measuring cup. If you use the measuring cup to scoop out the flour, the flour will be too compacted and you'll end up with too much flour in your bread.
Level the measuring cup off with a straight edge, such as the flat side of a table knife. Don't shake the flour down to level it off because again, that will cause it to compact. Put the flour in the mixing bowl and add the salt and baking powder. Whisk the dry ingredients together.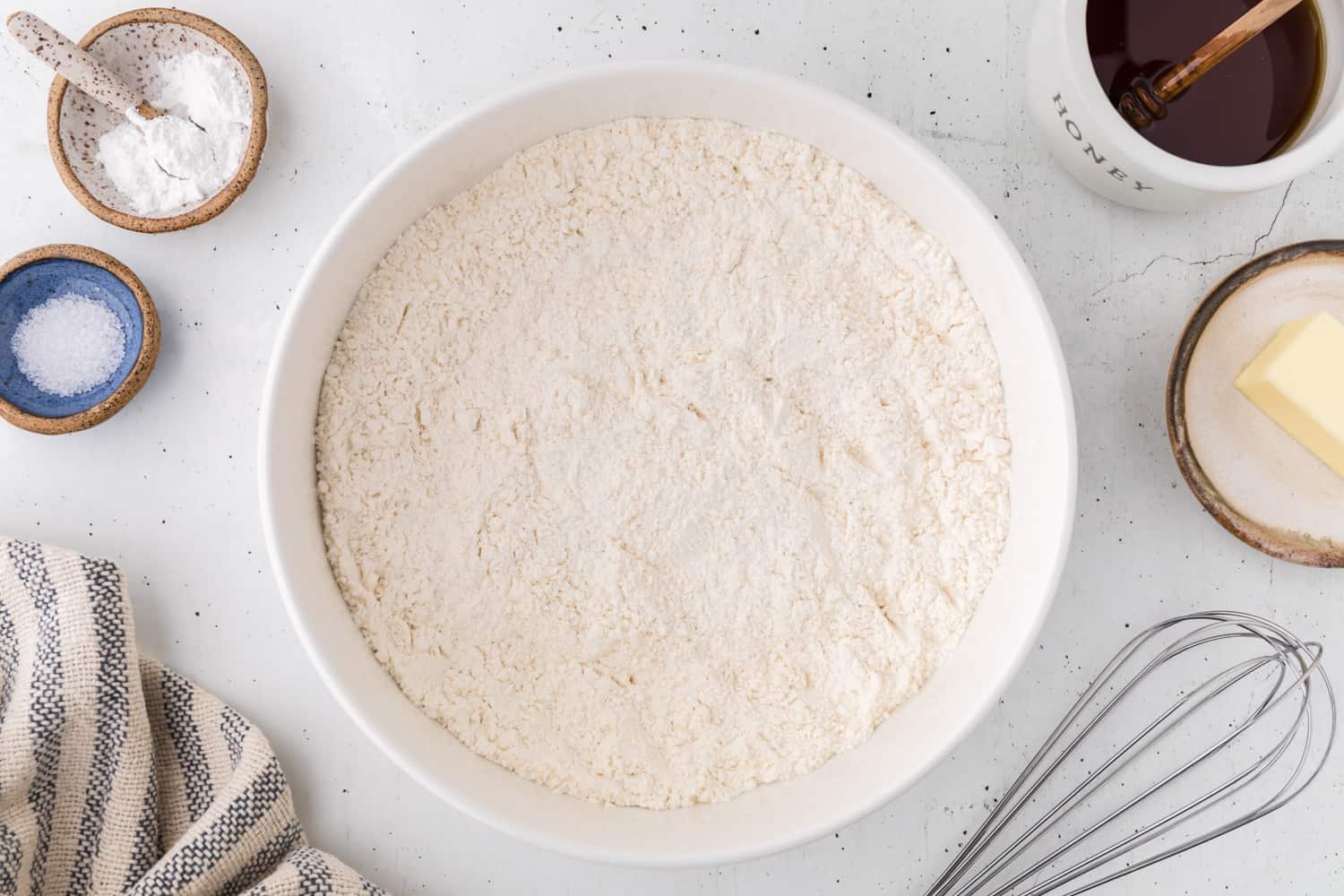 Melt the butter in the microwave or in a small saucepan. If your honey seems to be really thick or crystallized, heat that up too. It should be very liquid.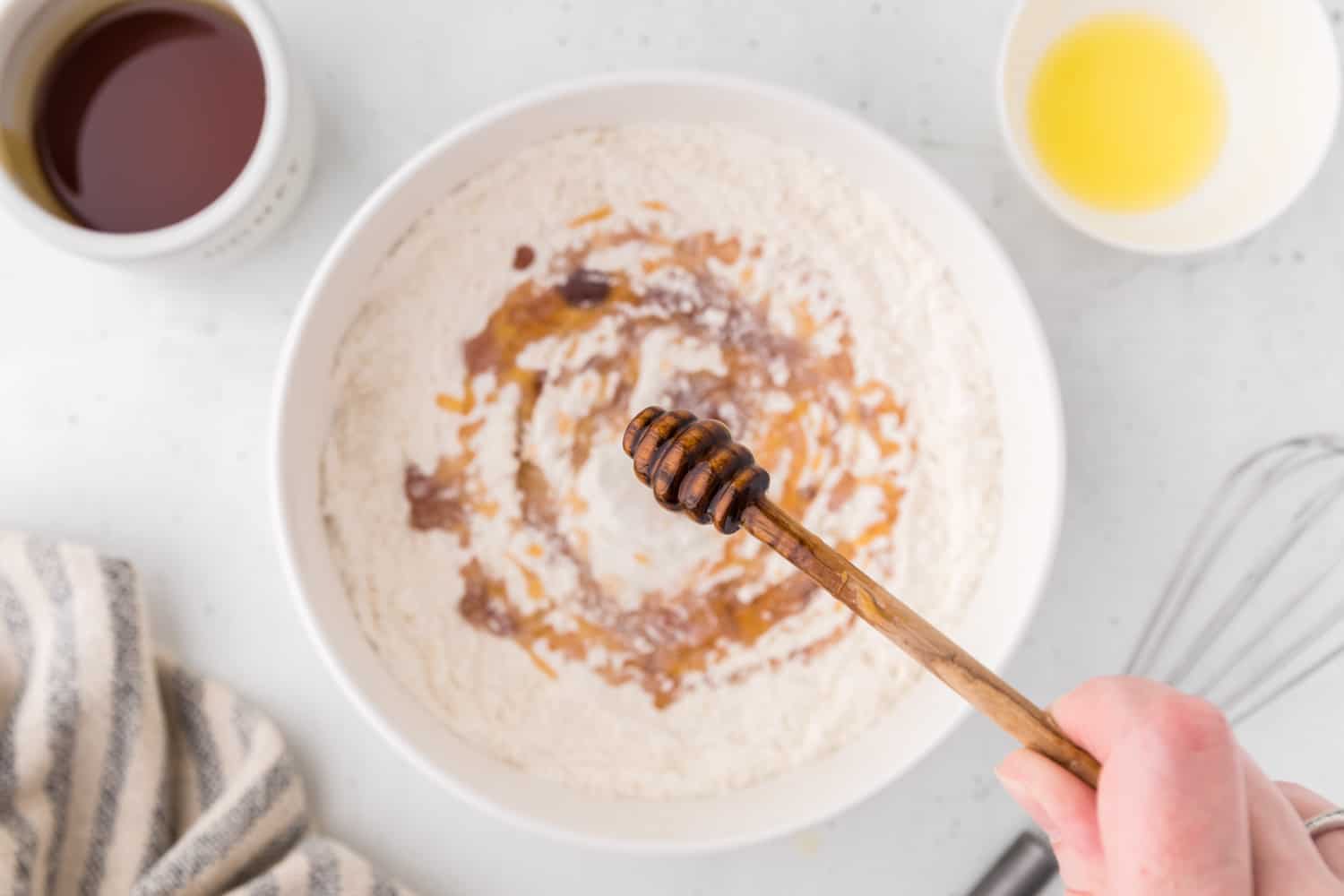 Add the beer, half the butter, and the honey to the dry ingredients in the bowl. Stir the batter together just until the flour is incorporated. The beer will foam up.
That's normal, just stir it in but don't over stir the batter. You should still see some bubbles.
Scrape the batter into your prepared pan and smooth the top.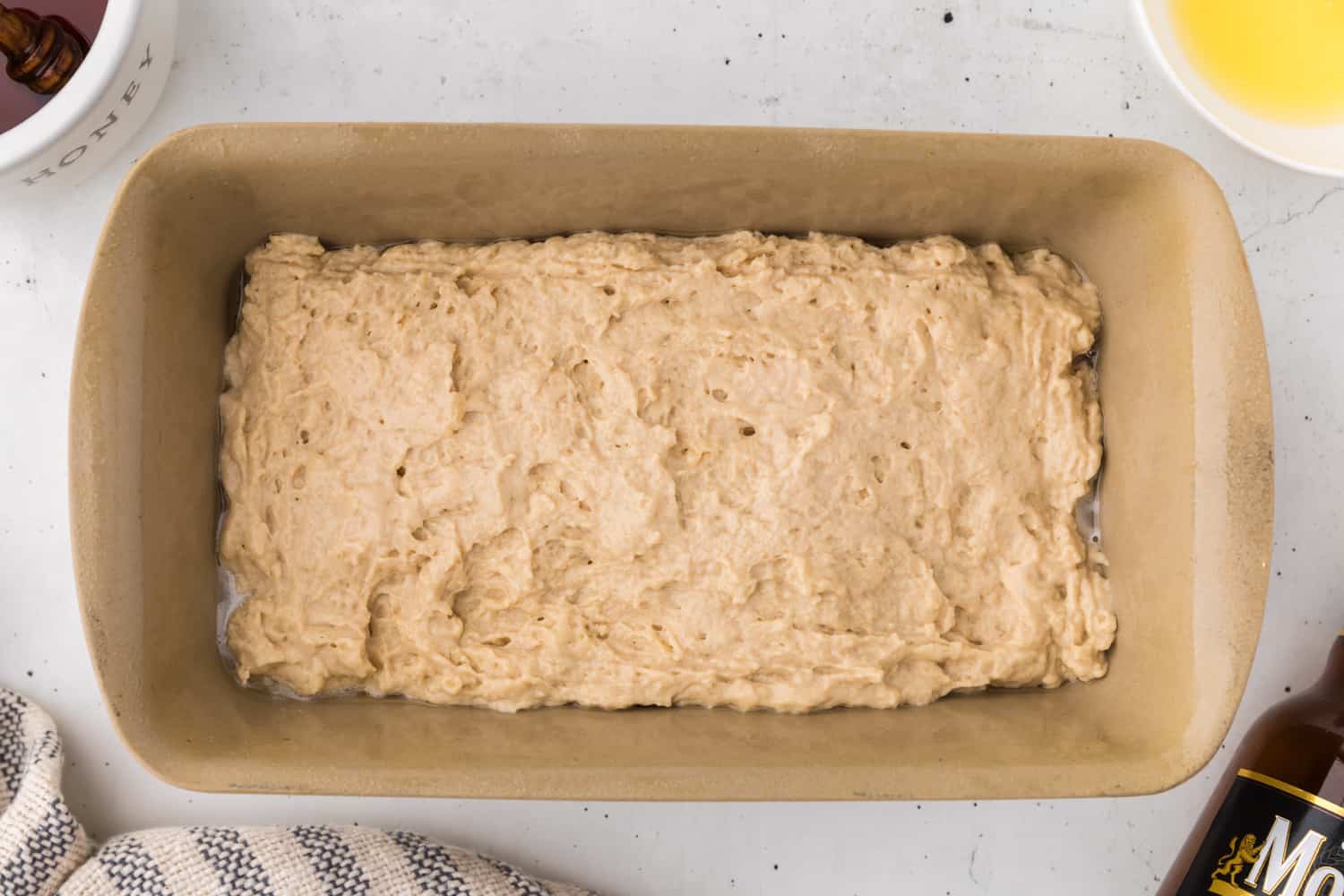 Pour the rest of the melted butter over the top of the batter.
Bake the bread for fifty minutes. It should be dry and golden brown on top. To test for doneness, insert a toothpick in the center of the loaf. It should come out clean or with a few crumbs, but not sticky batter.
You may notice that your bread does not have a smooth crust on top. Beer bread is more rustic in style, with a shaggy top. It's always interesting to see how it's going to look and that's part of the appeal.
Take the bread out of the oven and let it cool in the pan for ten minutes or so. Remove it from the pan onto a wire rack to cool completely. It slices best when it's cool but you can certainly serve it warm, if you prefer.
Enjoy your bread spread with softened butter and/or honey. Beer bread goes great with homemade soup. Try one of my 12 easy crockpot soup recipes.
FAQs
Why is my beer bread tough?
There could be couple of reasons why your beer bread turned out tough. Too much flour can cause the bread to be too dense and hard.
Another reason could be that you stirred the batter too much. Quick breads rely on the chemical reaction that occurs when baking powder is mixed with a liquid. If you stir the batter too much, the gases will be released before the bread is even in the oven, and the bread won't rise.
One reminder: Be sure your oven is preheated before you stir the bread ingredients together.
Does the alcohol cook out of beer bread?
Most of the alcohol cooks out of the bread but not a hundred percent. Beer is pretty low in alcohol already and what's left after baking is inconsequential. However, if it's a concern, use soda water instead of beer. The bread is just as delicious (it really is, I'm not just saying that!).
Make It Your Own
There are a lot of ways to make this beer bread recipe your own! Try these ideas:
There are plenty of beer options and each will impart a different flavor to the bread. Have fun experimenting!
Add shredded cheese, herbs, or dried fruit to the batter.
Make the bread without beer. Use soda water instead. Or try my Irish soda bread. It's also a quick bread, similar to beer bread but without the beer.
Bake the bread in muffin tins or a round casserole dish.
Storage Tips
Cool the bread completely before storing it in an airtight container. It will keep on the counter for a couple of day. Remember, your homemade bread does not contain preservatives like store bought bread. For longer storage, keep it in the refrigerator or freeze for up to 3 months.
To refresh the leftover bread, toast it lightly.
Did you make this? Be sure to leave a review below and tag me @rachelcooksblog on Facebook, Instagram, or Pinterest!
With only a few ingredients, you can bake an artisan-style loaf of crusty bread. This beer bread recipe makes the best bread and it's unbelievably easy!
Ingredients
3

cups

all-purpose flour

3

teaspoons

baking powder

1

teaspoon

kosher salt

3

tablespoons

honey

(see note)

12

oz.

beer, at room temperature

(see note)

¼

cup

salted butter, melted, additional for pan
Instructions
Heat oven to 350ºF. Spray a 9 x 5-inch loaf pan with nonstick cooking spray or rub with butter.

In a large bowl, whisk together the flour, baking powder, and salt until combined.

Add the honey, beer, and half of the melted butter; stir until just combined. Do not overstir.

Spoon the batter into the prepared pan and pour remaining butter over the top of batter.

Bake for 50 minutes or until a toothpick inserted into the middle of the loaf comes out clean or with a few crumbs on it.

Let cool in pan for 10 minutes before removing to a cooling rack to cool completely.
Notes
If your honey is very thick or crystallized, warm in the microwave 10 to 15 seconds. You can substitute

¼ cup sugar, if you prefer.

What is the best beer to use? Any kind of beer will work, from Budweiser to Guinness stout. Dark beers will make the bread taste maltier, more robust. Light beers will flavor the bread less. Avoid extra hoppy beers, like IPA which can make the bread taste a little bitter. Our favorite? Modelo Negra, a medium-bodied dark beer.
Alcohol-Free Beer Bread: Substitute 1½ cups (12 oz.) soda water (unflavored) for the beer or use a non-alcoholic beer.
Beer Bread Muffins: Preheat oven to 375

ºF.

Divide batter between 12 greased muffin cups and bake 14 to 18 minutes or until golden brown.
Cheesy Beer Bread: Stir in 1 cup shredded cheddar cheese, 1 teaspoon dried Italian seasoning, and ½ teaspoon garlic powder.
Nutrition Information
Serving:
1
slice
,
Calories:
212
kcal
,
Carbohydrates:
35
g
,
Protein:
4
g
,
Fat:
5
g
,
Saturated Fat:
3
g
,
Polyunsaturated Fat:
0.3
g
,
Monounsaturated Fat:
1
g
,
Trans Fat:
0.2
g
,
Cholesterol:
12
mg
,
Sodium:
399
mg
,
Potassium:
54
mg
,
Fiber:
1
g
,
Sugar:
5
g
,
Vitamin A:
142
IU
,
Vitamin C:
0.03
mg
,
Calcium:
79
mg
,
Iron:
2
mg
This website provides approximate nutrition information for convenience and as a courtesy only. Nutrition data is gathered primarily from the USDA Food Composition Database, whenever available, or otherwise other online calculators.