Cozy, hearty beef stew – does anything say "comfort food" more? This crockpot beef stew is chock full of tender beef, vegetables, and flavorful gravy.
Recipe Overview
Why you'll love it: Beef stew is so hearty and satisfying, and it cooks all day in your slow cooker.
How long it takes: 4 to 8 hours, depending on whether you cook it on Low or High
Equipment you'll need: large skillet, slow cooker
Servings: 8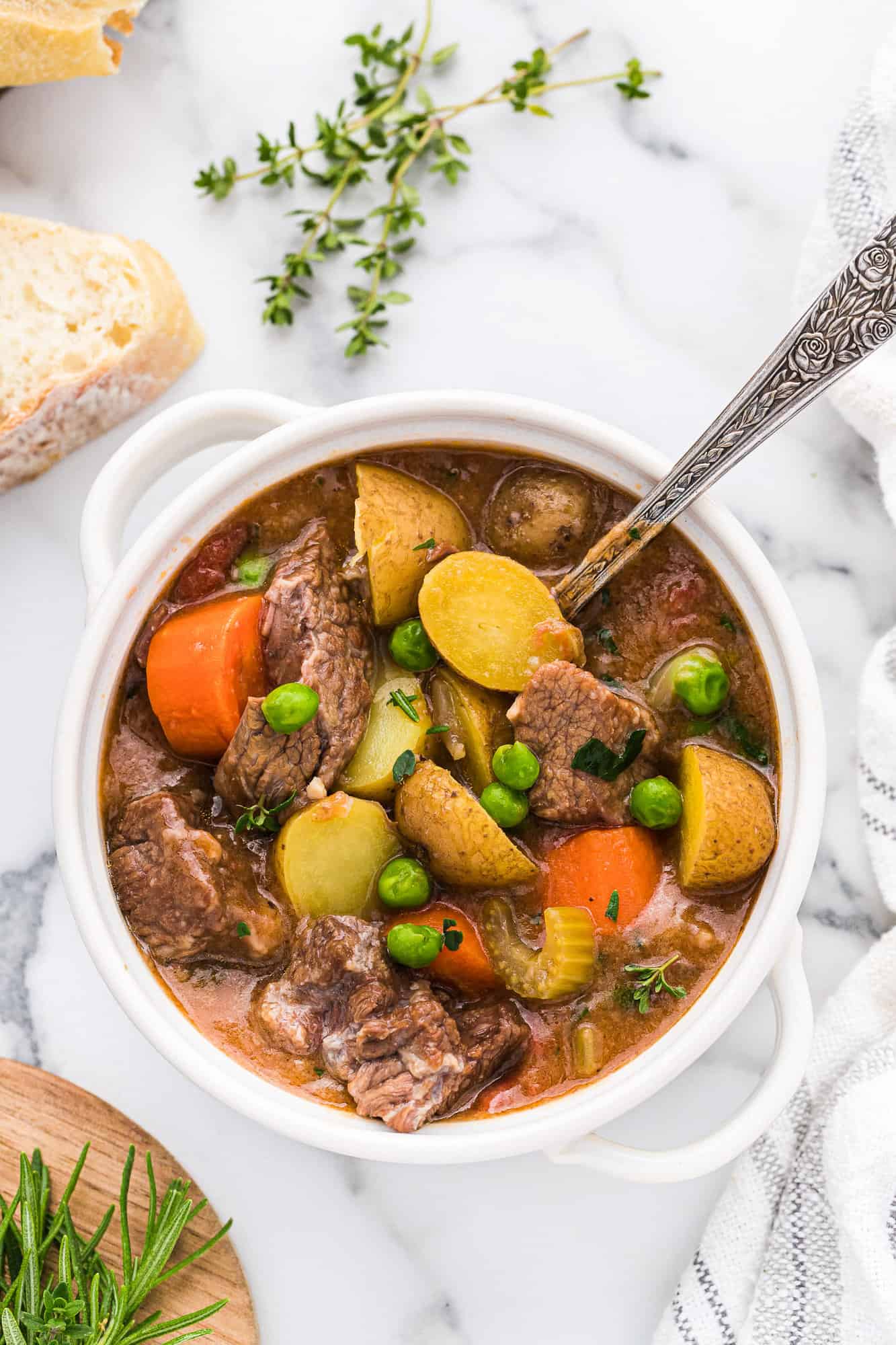 There's a definite nip in the air here in Michigan and we are craving lots of cozy soups and stews. They warm you up from the inside out and are a welcome change from the lighter fare of summer.
Slow cooker beef stew is great for weekends when you want to start dinner cooking in the morning, spend the day with lots of outdoor activities, and then come back and have a nice hearty dinner waiting for you.
It's also great for busy weeknights, when you have a little time to prep in the morning, but won't have any time in the afternoon or evening to cook. Imagine coming into your house and being welcomed by the smell of good old-fashioned stew. It doesn't get much better than that!
About this Stew
Cooking beef stew in the slow cooker is an easy way to do it. It's almost completely hands-off once you get it started, and it makes your house smell amazing.
The low, slow heat breaks down the beef, making it ultra-tender, exactly how you want it to be in a good beef stew. It's pretty much a stand alone meal, with protein, potatoes, and vegetables.
I love to serve it with warm Dutch oven bread or Parker House rolls. Lately we've been loving this crusty beer bread. It's super easy to make. Truly, you can stir it together in 10 minutes, and it smells so good when it's baking. Finish the meal with homemade vanilla pudding and oatmeal raisin cookies.
I'll get you started on the recipe here and give you some extra tips, plus ways to make it your own. You'll find that beef stew is very versatile. Hate carrots? Leave them out. Hate onions? Leave them out. Hate potatoes? Leave them out. Just don't leave all three out, k? Hate beef? Make a different recipe. Maybe you'd like Moroccan stew with butternut squash and chickpeas!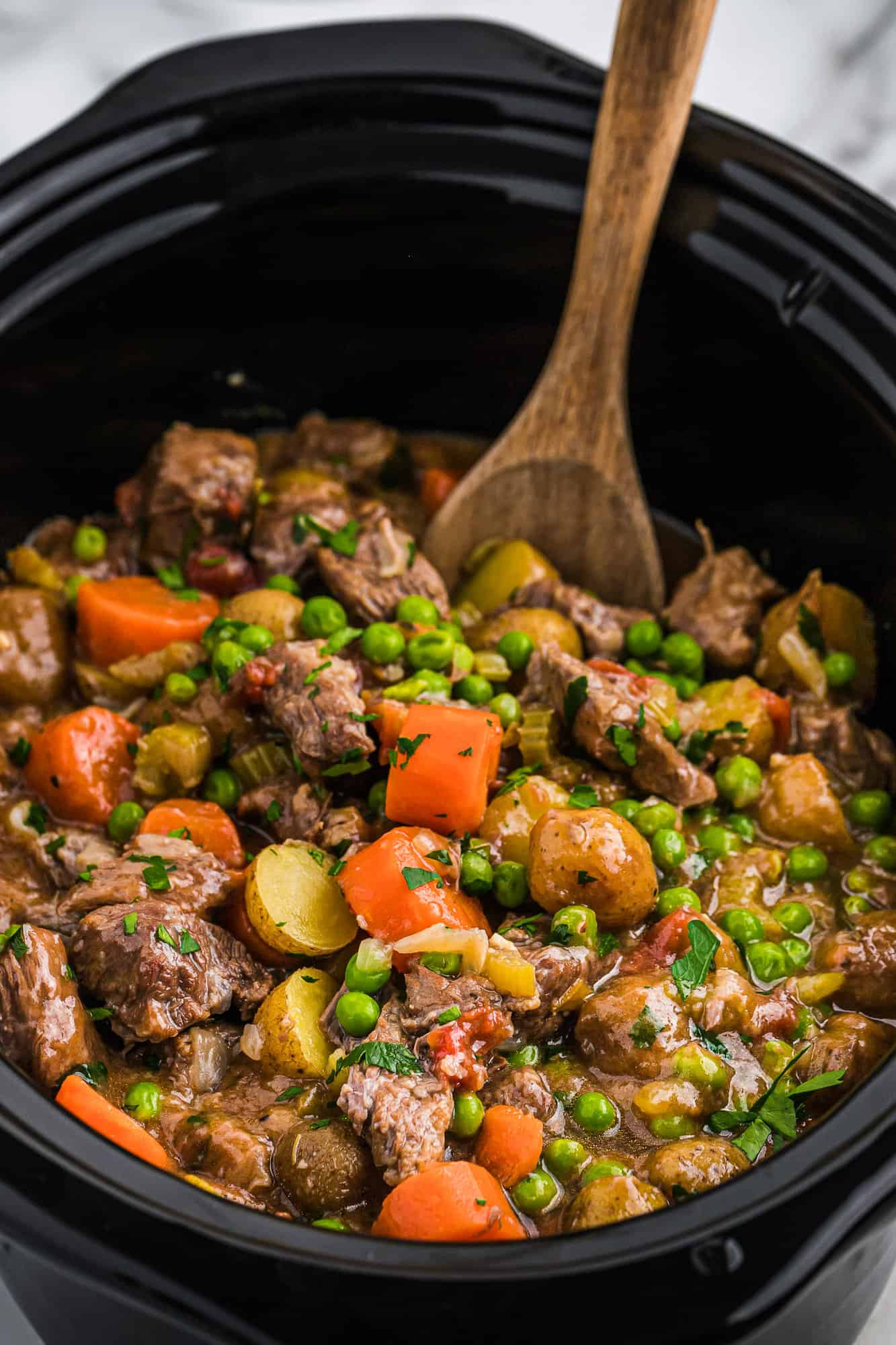 As always, look for the printable recipe card near the end of the post with complete instructions, measurements, and nutrition information.
Ingredients You'll Need
Beef Chuck Roast: You can buy already cubed stew meat but I find that a chuck roast is less expensive and it's easy to cut yourself. Chuck roast is a cheaper cut of meat and requires braising or slow cooking, which breaks down the tough connective tissue. Put the meat in the freezer an hour or so before cutting it. You'll be amazed at how easily you'll be able to slice through it.
Flour, with Salt, Pepper, Paprika, and Garlic Powder: The beef cubes are tossed in this mixture to add flavor and thickening for the gravy.
Carrots, Celery, Onion, Potatoes: Vegetables typically found in beef stew. They are longer cooking vegetables that are perfect for long slow simmering. I like to use whole baby potatoes because they hold their shape better.
Tomato Paste: This rich tomato concentrate adds umami to the stew.
Red Wine: Wine makes everything taste better, right? Use a dry red wine so your stew doesn't taste sweet.
Beef Broth: Some folks add water but why not up the flavor profile with rich beef broth? Look for low or no sodium.
Canned Diced Tomatoes: Again, look for no-salt added tomatoes.
Herbs: A sprig each of rosemary and thyme, along with a dried bay leaf and chopped fresh parsley, add plenty of flavor, Dried herbs can be substituted but use less.
Frozen Peas: Bright green peas add a pop of color and freshness. It's best if you add them near the end of the cooking time so they don't get overcooked.
Cornstarch: Used to make a slurry which thickens the stew so you'll have a nice rich gravy.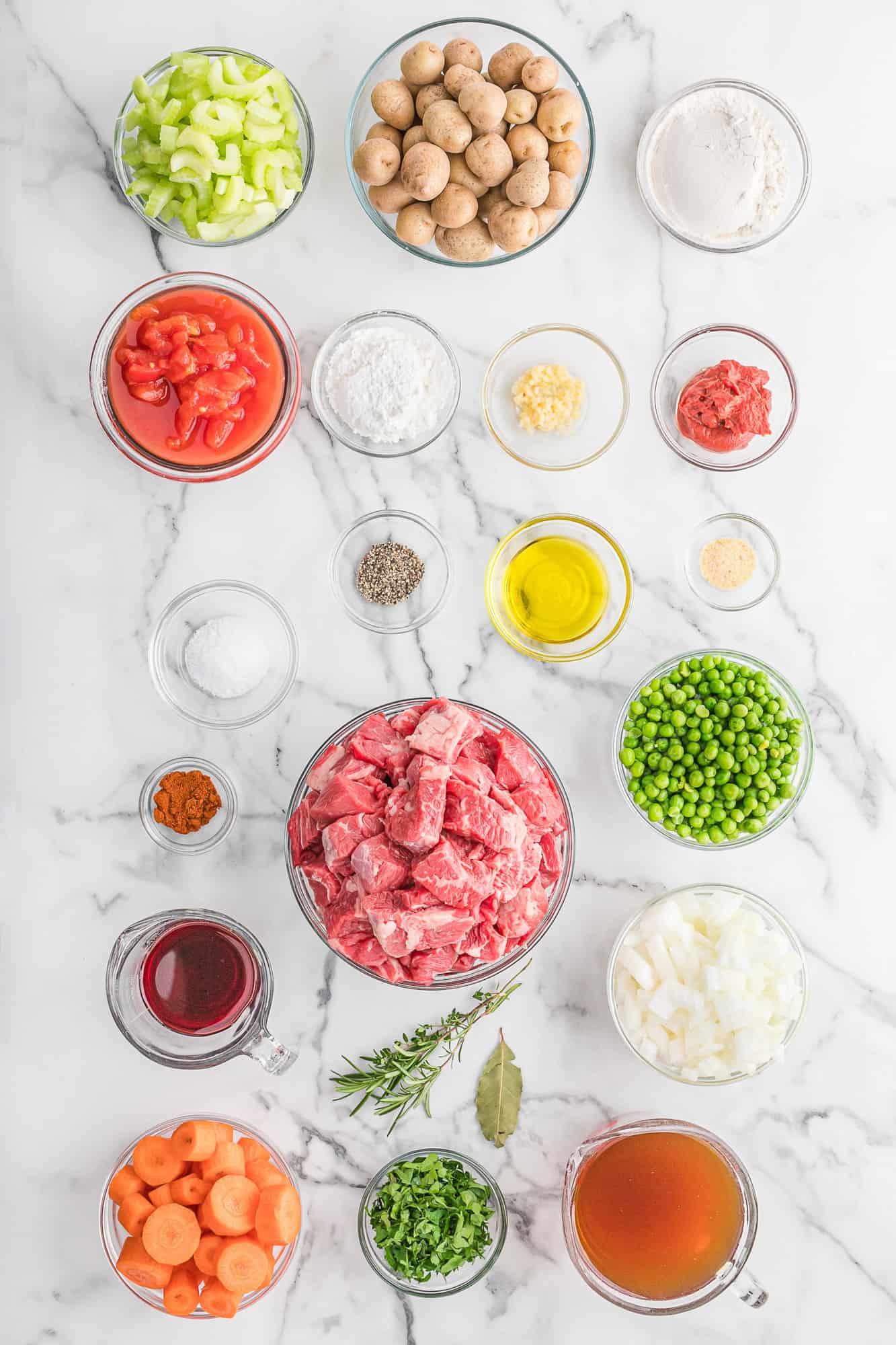 How to Make This Beef Stew Recipe
It's important to sear or brown the beef before you add it to the slow cooker. It adds so much flavor and the beef looks better too. Don't be tempted to skip this step!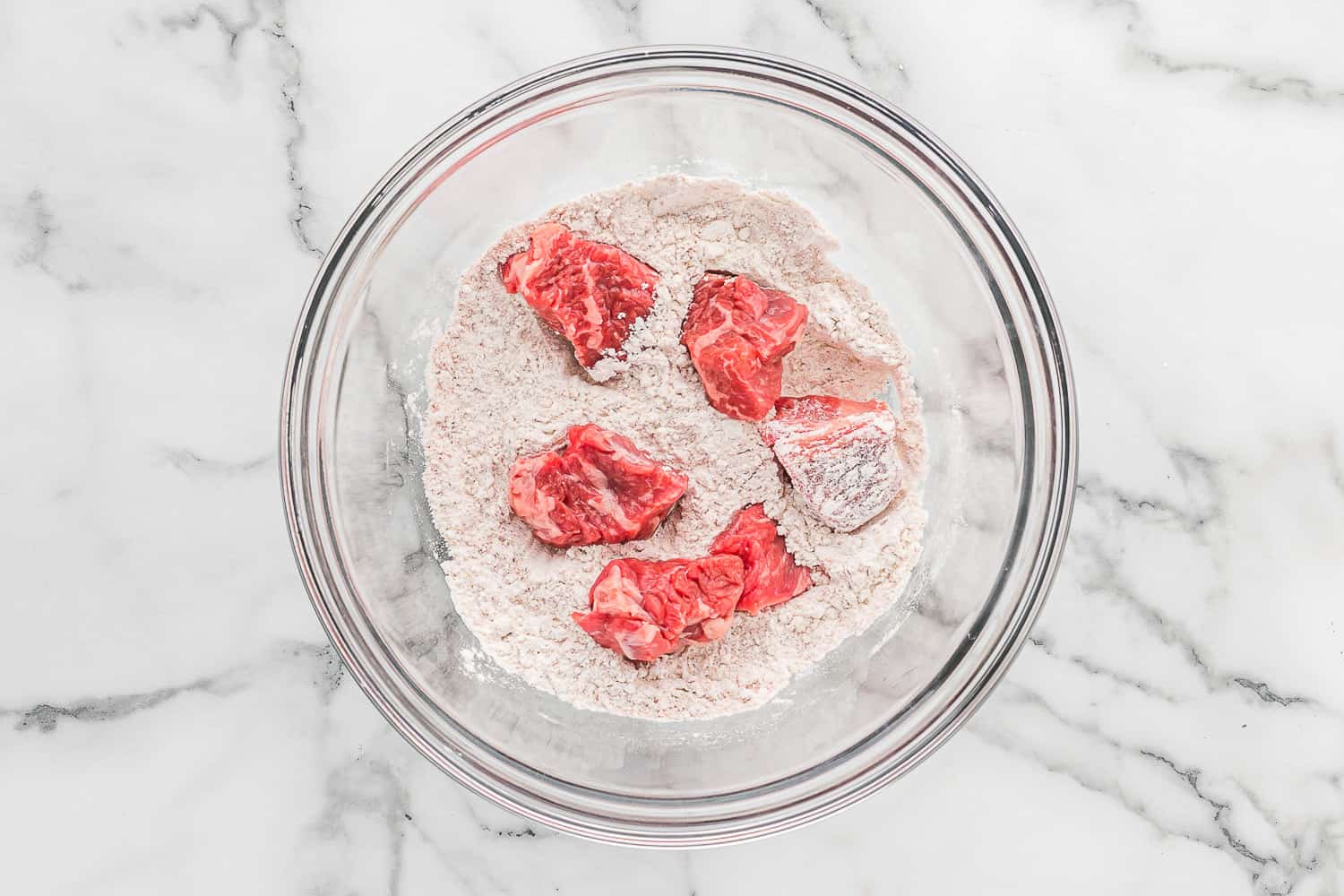 Dredge the beef cubes in seasoned flour (save the excess flour) and add them to a large skillet with hot oil.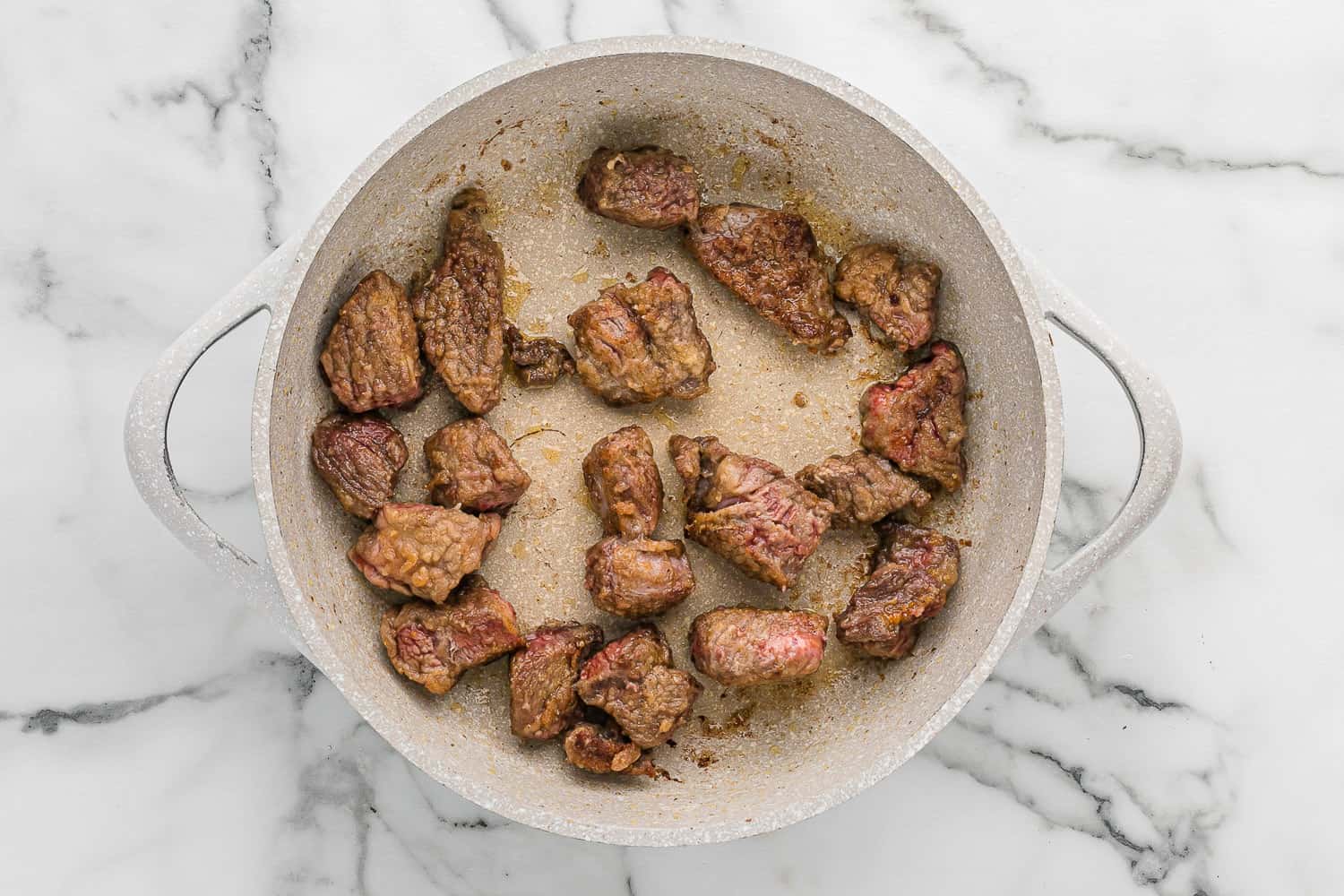 Sear the cubes on all sides. You'll have to do it batches unless you have a huge skillet. The beef won't be nearly cooked through but will just have a nice brown appearance. Transfer it to the crockpot.
Don't wash the skillet yet! Put the carrots, celery, and onions in the skillet and sauté them lightly. Throw the garlic in for a minute, stirring and cooking until it's fragrant, and then add that excess flour that you saved from the beef. Cook and stir for another minute or two.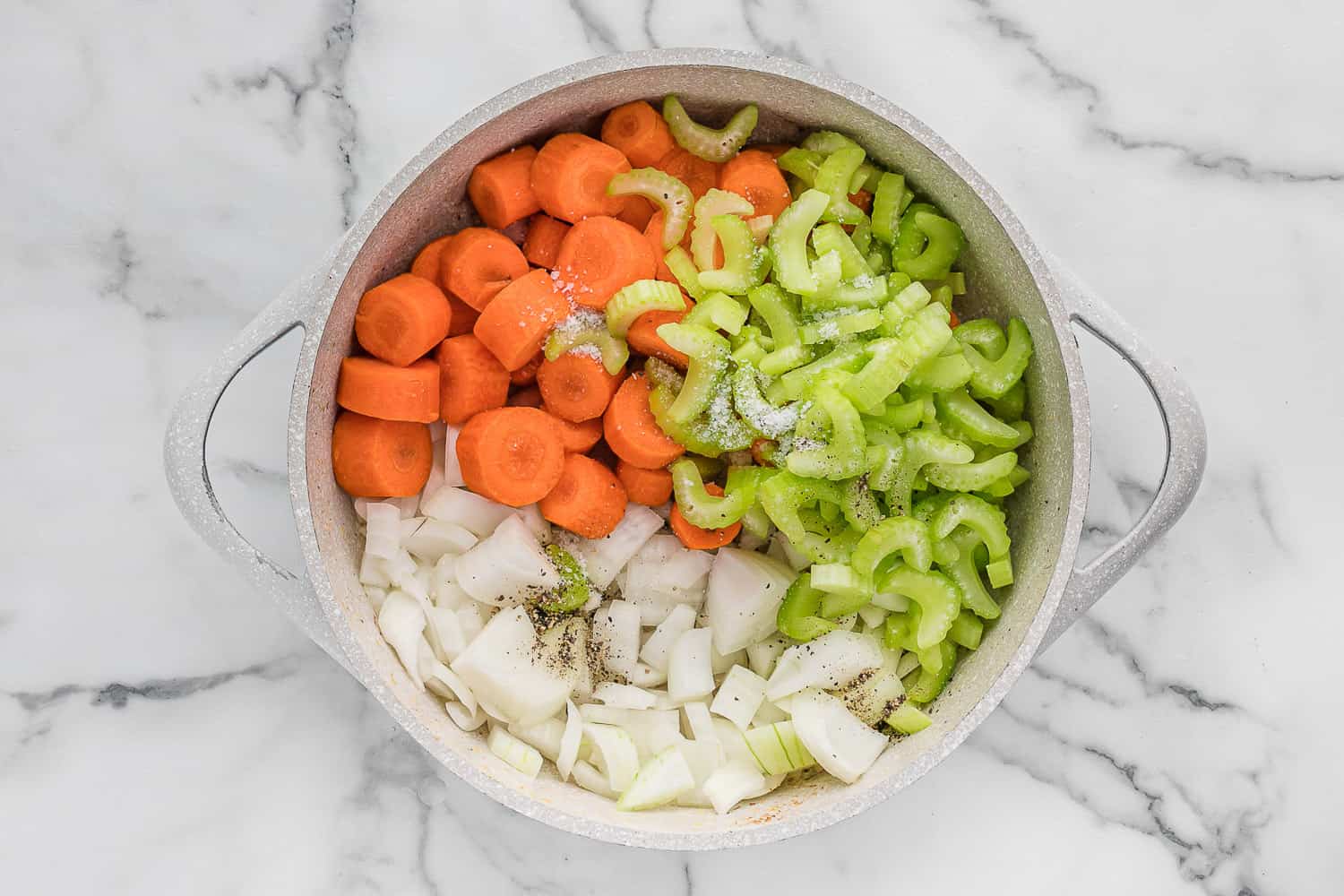 Add the tomato paste to the skillet and then the red wine. Simmer the mixture briefly to deglaze the pan (remove the browned bits) and reduce the wine a bit.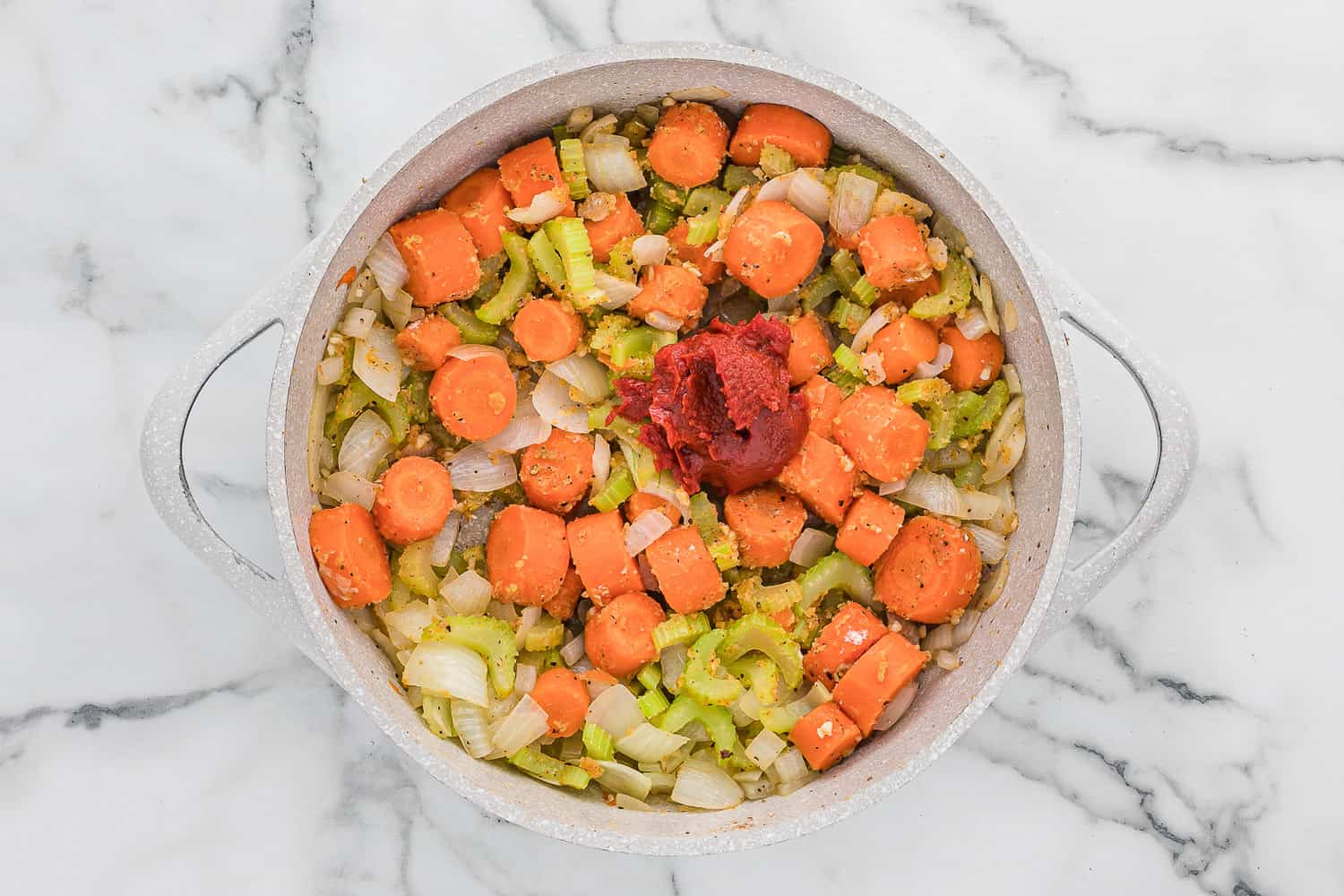 Now add everything to the crockpot! Well, not everything! Save out a half cup of the broth and the cornstarch to make a slurry later. You'll also want to add the peas and parsley right near the end of the cooking time so they retain their bright green color.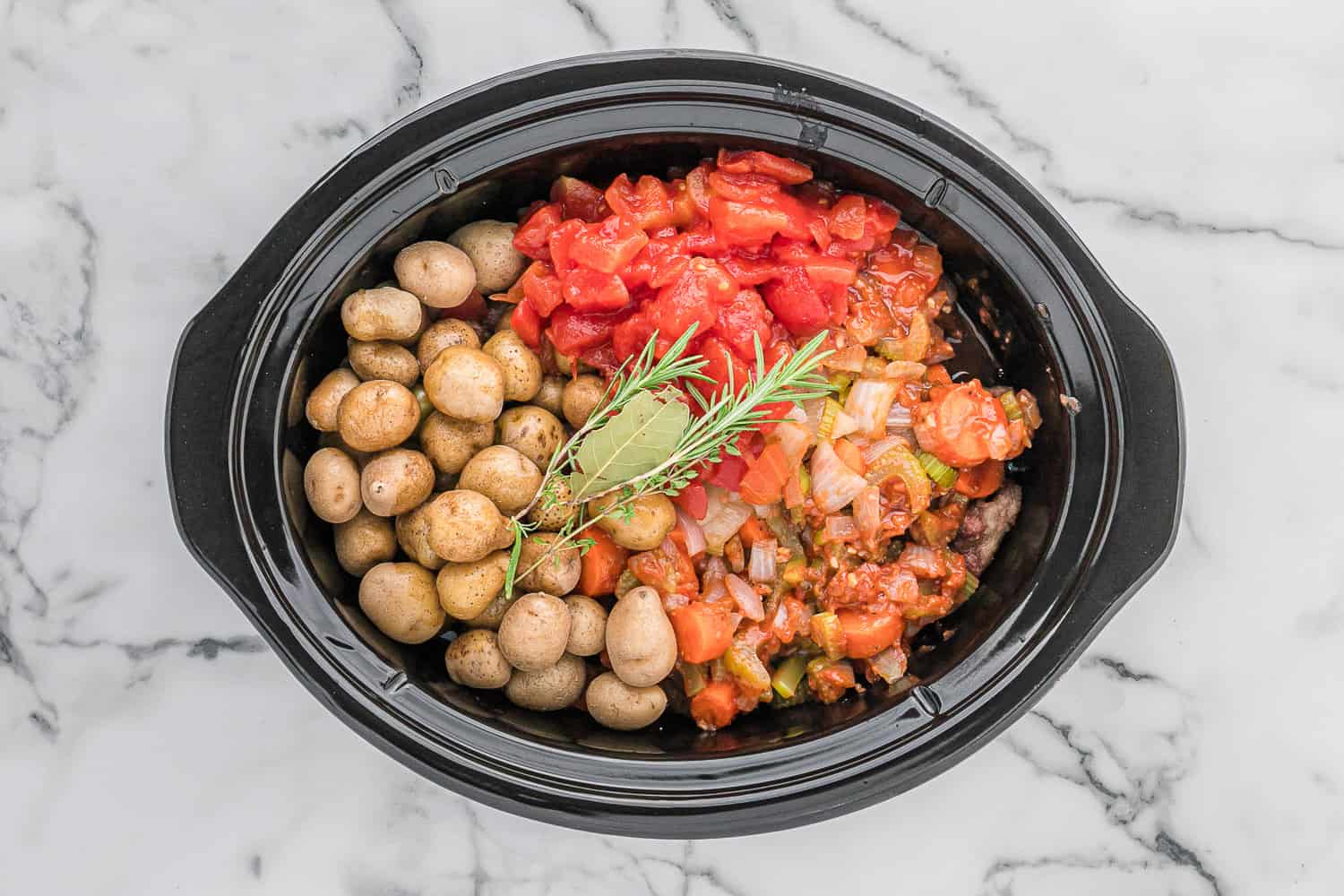 After almost everything gets added to the crockpot, let the stew cook for 4 to 5 hours on High, or 8 to 9 hours on Low. Don't "stew" if it's more time than that. This meal is really easy going about delayed dinnertimes. Life happens, right?
To finish up, stir the cornstarch into the reserved half cup of broth until the mixture is smooth. Stir the cornstarch slurry back into the stew and cook it for an additional half hour. The cornstarch will thicken the stew to the perfect stewy consistency that you want.
Add the peas and parsley, check the seasoning, and your crockpot beef stew is ready to go.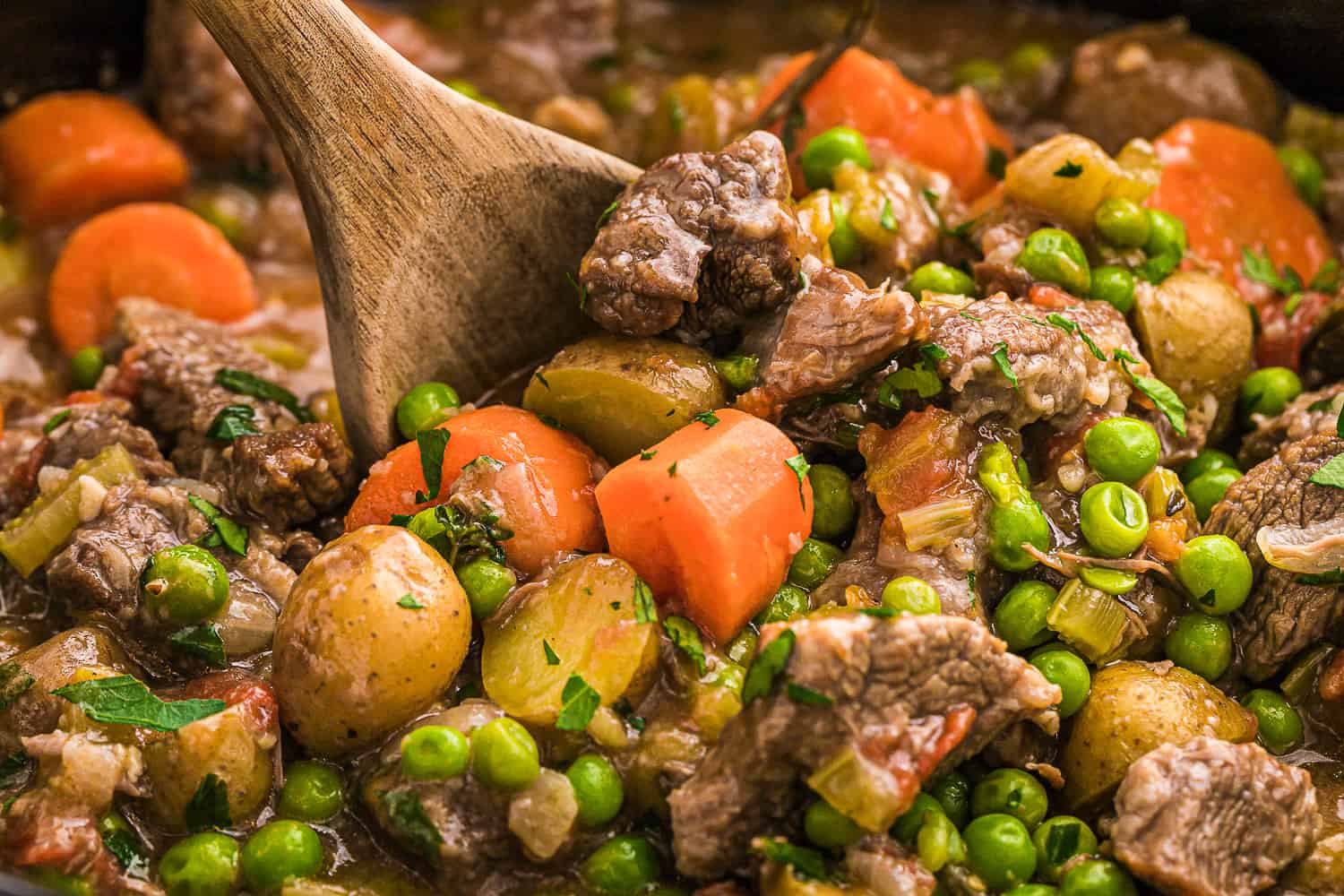 All that's left to do is to dig in!
FAQs
Can you put raw beef in a slow cooker?
Yes! You can, and by the time it's done cooking, you'll have tender, fall-apart meat. It's magical! In this recipe, you brown it a bit first but it won't be cooked all the way through when you place it in the crockpot.
If you're concerned about food safety, be assured that both raw beef and seared beef can be added safely. The cooking heat is high enough to kill any harmful bacteria.
Do you need to brown meat before adding to the slow cooker?
For the best flavor, you should brown the meat before adding it to the slow cooker. Searing the meat at a high heat caramelizes the outside and adds so much flavor to your stew. It also is more visually attractive.
What is the best meat to use for stew?
The best meat for beef stew is a cut with a good marbling of fat. A chuck roast works great. You can cut it yourself or have your butcher cut it into cubes for you.
Why is my stew meat tough in the slow cooker?
Beef chuck can be rather tough. Cooking it at a low temperature for an extended period of time will melt down the tough connective tissue. If the meat is still tough, chances are it needs more time to cook.
Can you overcook beef stew in a slow cooker?
Actually, it is possible to overcook beef stew. The meat may be dry and the vegetables can become mushy. It's all edible but it won't be the best quality. You may prefer the shorter cooking time on High compared to all day on Low. For more detailed "stew science", check out Serious Eats.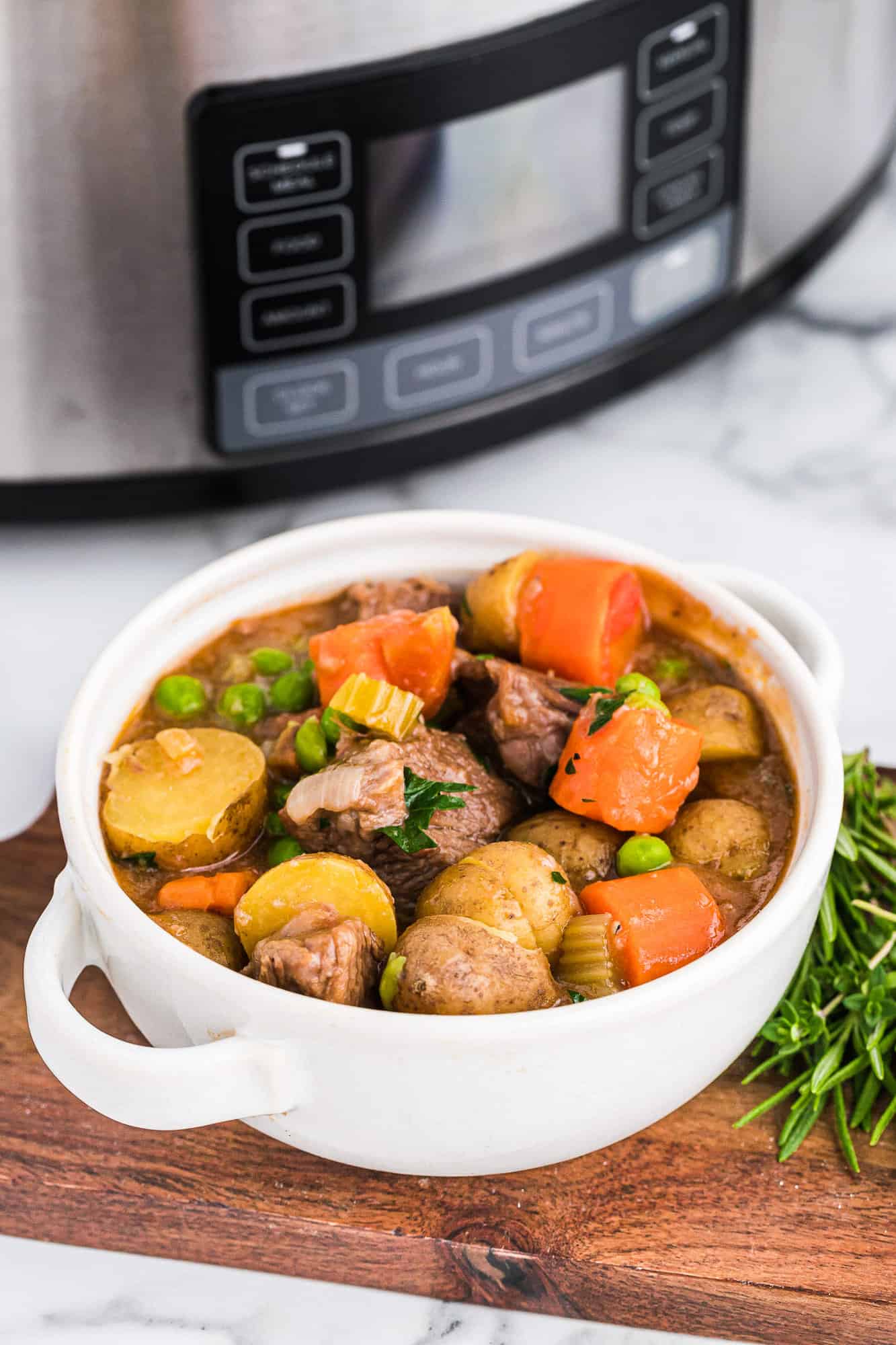 Make It Your Own
This is a very traditional beef stew recipe but you can definitely put your own twist on it.
Substitute beef stew seasoning. Instead of using the spices in this recipe, try using homemade beef stew seasoning mix. If you have a jar of beef stew seasoning in your pantry, it is amazing in this recipe and simplifies it a bit.
Use onion soup mix. It's a really flavorful, delicious alternative to beef stew seasonings. Better yet, use homemade onion soup mix.
Brighten up the flavor. Add acidity with a splash of balsamic vinegar when the stew is done cooking. It really adds depth to the flavors. Start with a tablespoon and add more to taste.
Sub in beer for the wine. Prefer beer to red wine in your stew? It's perfect for game day! You can definitely substitute beer for the red wine in this recipe. Choose a stout, porter, or dark ale.
Don't have a slow cooker? Try Instant Pot beef stew or beef stew simmered on the stovetop.
Make-Ahead Ideas
If I know I'm going to be in a pinch for time in the morning, I prep the veggies a day ahead. Prep the carrots, celery, and onions, put them into a zip-top bag and refrigerate. Put cut potatoes in a bowl of water, making sure they are covered by water completely, and cover. Drain the water off before adding the vegetables to the stew.
How to freeze beef stew
I find that potatoes don't do super well if they're frozen and then thawed. They tend to get mushy. You could leave them out if you plan to freeze this, and then add boiled or roasted potatoes when you reheat the stew, or serve it over mashed potatoes (yum!). Another alternative is my beef barley soup, with tender chunks of beef but no potatoes. It freezes really well.
Storage & Reheating Tips
You'll be so happy you have stew left over. It warms up beautifully and tastes just as good the second time, if not better. Simply put the leftover stew in a covered container and refrigerate for up to 4 days. Enjoy another hearty dinner or lunch that's already made! Don't you just love it?!
To reheat the stew, put it into a saucepan or large skillet and heat it gently on the stove. You can also heat individual bowls of stew in the microwave.
Did you make this? Be sure to leave a review below and tag me @rachelcooksblog on Facebook, Instagram, or Pinterest!
Crockpot beef stew is chockfull of tender beef, vegetables, and flavorful gravy. It's the ultimate comfort food.
Ingredients
3

pounds

beef chuck roast, cut into 1-inch pieces

½

cup

all-purpose flour

1 ½

teaspoons

kosher salt, divided

1

teaspoon

paprika

1

teaspoon

coarse ground black pepper, divided

½

teaspoon

garlic powder

2

tablespoons

oil or ghee

4

medium carrots, cut into ½ -inch slices

(about

2

cups)

4

stalks celery, cut into ¼ -inch slices

(about

2

cups)

1

large onion, chopped

(about

3

cups)

2

cloves

garlic, minced

2

tablespoons

tomato paste

½

cup

dry red wine

1

pound

baby potatoes, or potatoes, cut into 1 inch pieces

2 ½

cups

beef broth, divided

(low sodium preferred)

1

can

(14.5 oz) diced tomatoes, undrained

1

sprig

fresh rosemary

1

sprig

fresh thyme

1

large bay leaf

2

cups

frozen peas

½

cup

chopped fresh parsley

¼

cup

cornstarch
Instructions
In a large bowl, combine flour,

1 teaspoon

salt, paprika,

½ teaspoon

pepper, and garlic powder. Add beef and toss, coating all sides of beef with flour mixture. If there is additional flour mixture at the bottom of the bowl, do not discard.

In a large pot or skillet, heat oil over medium-high heat. Add floured meat to pan in a single layer (you will have to do this in batches, don't overcrowd) and brown on all sides, about 5 minutes per batch. Add more oil if needed. Remove from pan and place in slow cooker when browned. Repeat until all the meat is browned. The meat won't be fully cooked, just browned.

Add carrots, celery, onion,

½ teaspoon

salt, and

¼ teaspoon

pepper to skillet and cook, stirring, for 7 to 8 minutes or until onions are translucent.

Add garlic and cook for one minute or until fragrant. Add any leftover flour mixture and stir and continue to cook for 1 to 2 minutes. Add tomato paste, stirring to combine. Add red wine and scrape the bottom of the pan to loosen all the brown bits. Cook for 1 to 2 minutes or until wine starts to reduce. Add vegetable mixture to beef in slow cooker.

Add potatoes, 2 cups of broth, and tomatoes to slow cooker. Add rosemary, thyme, and bay leaf (you'll remove and discard these later). Stir to combine.

Cover and cook on high heat for 4 to 5 hours or until meat is tender.

In a small bowl, stir together

½ cup

beef broth and cornstarch until cornstarch is dissolved. Slowly stir this mixture into stew and cook stew, covered, another 30 minutes to thicken.

After 30 minutes, stir in peas (no need to thaw!) and parsley. Taste and season with salt and pepper as needed.
Notes
Pop your beef into the freezer for about an hour before cutting into chunks. It will be easier to slice.
Substitute a

½ cup of

my homemade beef stew seasoning mix instead of the flour, salt, paprika, pepper, garlic powder, rosemary and thyme.
If you prefer, cook the stew on low heat for 8 to 9 hours. Turn to high after adding cornstarch mixture to thicken the stew, for about 30 minutes.
Nutrition Information
Serving:
2
cups
,
Calories:
580
kcal
,
Carbohydrates:
38
g
,
Protein:
45
g
,
Fat:
27
g
,
Saturated Fat:
10
g
,
Polyunsaturated Fat:
3
g
,
Monounsaturated Fat:
14
g
,
Trans Fat:
1
g
,
Cholesterol:
134
mg
,
Sodium:
985
mg
,
Potassium:
1587
mg
,
Fiber:
7
g
,
Sugar:
8
g
,
Vitamin A:
6801
IU
,
Vitamin C:
47
mg
,
Calcium:
107
mg
,
Iron:
7
mg
This website provides approximate nutrition information for convenience and as a courtesy only. Nutrition data is gathered primarily from the USDA Food Composition Database, whenever available, or otherwise other online calculators.