Crockpot Ham with Maple Dijon Sauce
Whether you're entertaining or just looking for an easy dinner with great leftovers, crockpot ham is the answer. Hands off and delicious!
Recipe Overview
Why you'll love it: Your plain ham will resemble a more expensive spiral-sliced ham with lots of sweet flavor.
How long it takes: 10 minutes to prep, 4 hours to cook
Equipment you'll need: slow cooker (crockpot)
Servings: 6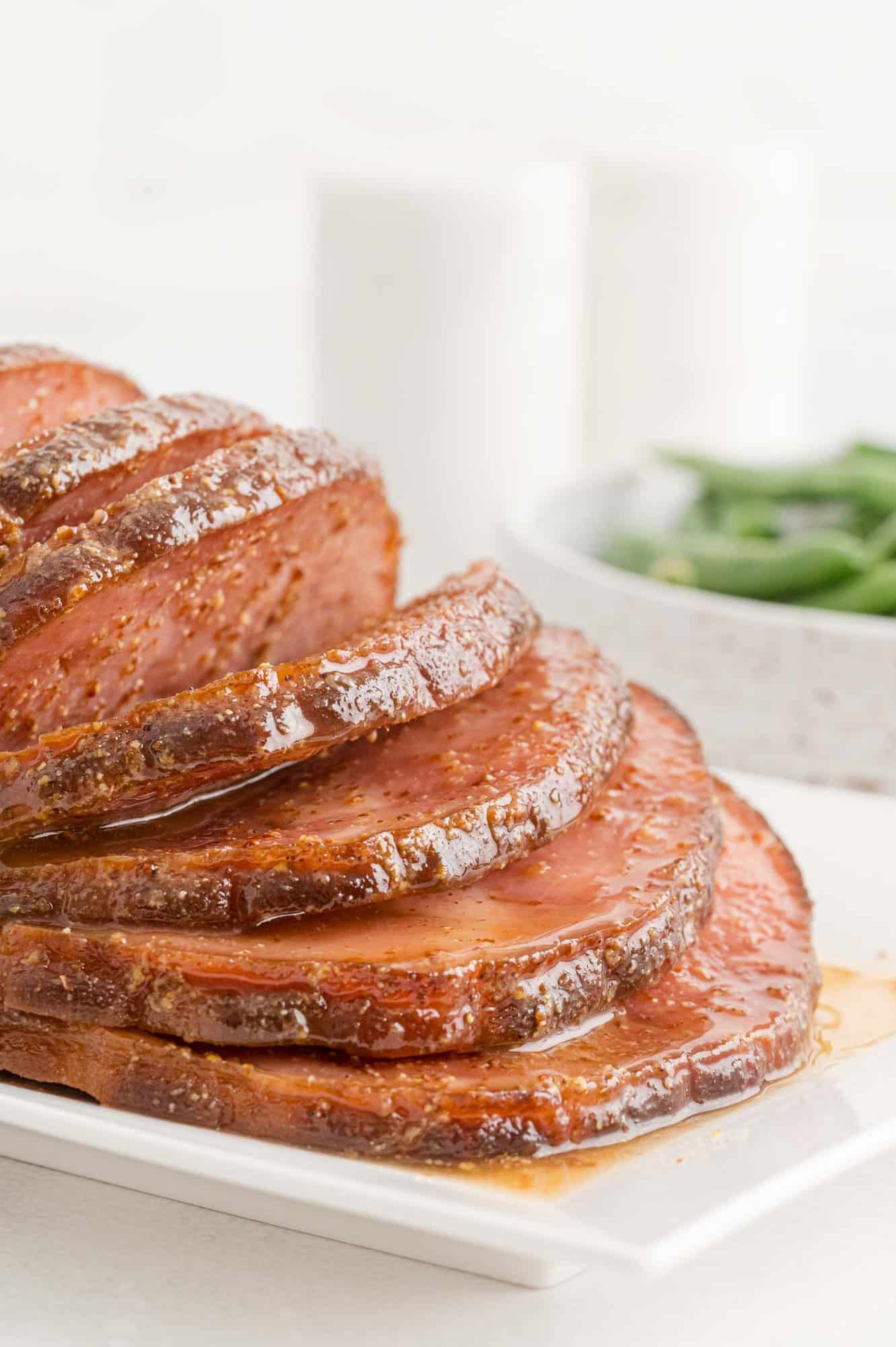 You know what kind of meals I love? Five ingredient meals. Bonus points if it's cooked in a slow cooker. Spend ten minutes at lunch time making this crockpot ham and you're all set for dinner.
A slow cooker ham dinner is great for entertaining, too. It's totally hands off for four hours, giving you plenty of time to cook side dishes, clean your house, take a nap, make a French 75, or whatever you need to do before company comes over.
Looking for an easy Sunday dinner? Put the ham on before you leave for church.
The ham isn't fussy with time either. If you're not ready to have dinner yet, another hour won't make a whole lot of difference. If it's going to be a lot longer, set your crockpot on Warm, no problem.
Serve the ham with baked potatoes, another easy and hands off recipe. Mashed potatoes are classic, too! Add an easy salad (try creamy coleslaw), cornbread, and roasted broccoli, and you're good to go. Dinner is served.
About This Recipe
There are two steps to prepping the ham. The ham is sliced first, hasselback style. I'll show you how and don't worry, it's easy to do.
You may wonder why you need to slice the ham before cooking it. One, it makes for a pretty presentation to have the ham evenly sliced, still intact but with the slices fanning out. Two, the maple Dijon glaze can make contact with every slice as the ham cooks, ensuring maximum flavor in every bite. Three, it's easier to slice a cold ham than a burning hot ham!
The second step is easy, too. Mix up the sauce and spoon it onto the ham. Your slow cooker will do the rest of the work. If you're home, it doesn't hurt to baste the ham a few times with the sauce, making sure it seeps down between every slice.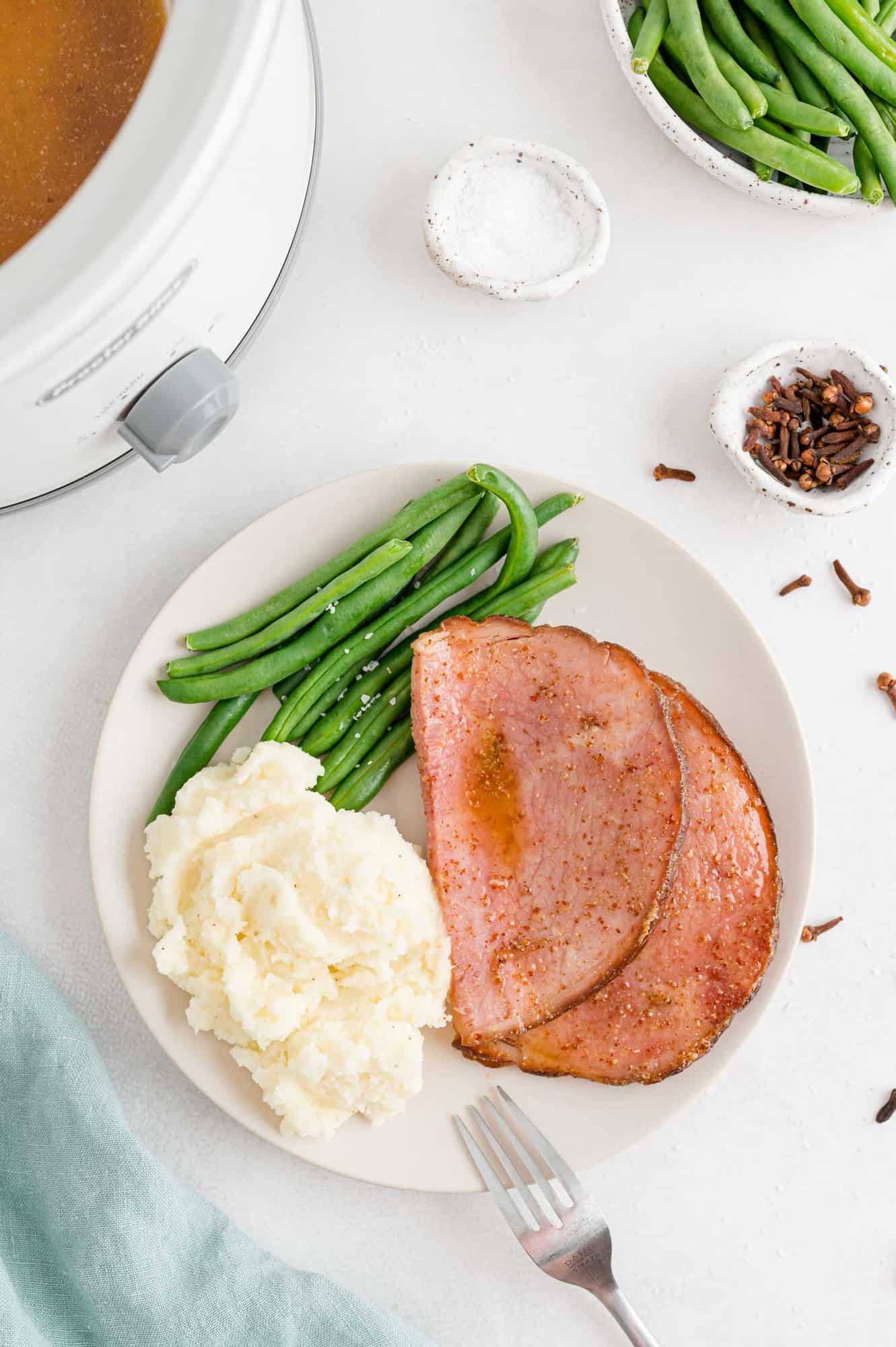 I'll get you started here with helpful tips and photos. You'll find the recipe card near the end of the post with complete instructions, measurements, and nutrition information.
What You'll Need
Boneless Ham: Look for a quarter ham, which is usually around two and a half pounds. It will serve six to eight people, depending on how much ham they eat. If you want to serve a larger ham, that's fine as long as it fits in your crockpot with the cover on.
Maple Syrup: Use real maple syrup, not pancake syrup which is really just corn syrup, artificial maple flavor, and a bunch of other (yucky) stuff. Some folks like to make their ham with Coke for the sweet/salty flavor but maple syrup is 100% natural.
Coarse Ground Dijon Mustard: Most types of mustard will work fine but I would avoid regular yellow mustard. Save that for your hotdogs and hamburgers.
Brown Sugar: We're going for the sweet and salty flavor combo here so yes, brown sugar and maple syrup. You could make the ham without brown sugar but it thickens the sauce slightly and helps it adhere.
Ground Cloves: Just a pinch of ground cloves adds a subtle flavor. Traditional baked hams often are decoratively studded with whole cloves. We're cheating a little by adding ground cloves. You have to admit, it's a whole lot easier!
How To Make This Ham
So, let's slice that ham. First, line up wooden spoons next to the ham and cut it into slices down to the spoons. If you've ever made hasselback sweet potatoes or hasselback stuffed chicken it's similar to the method you use to make those.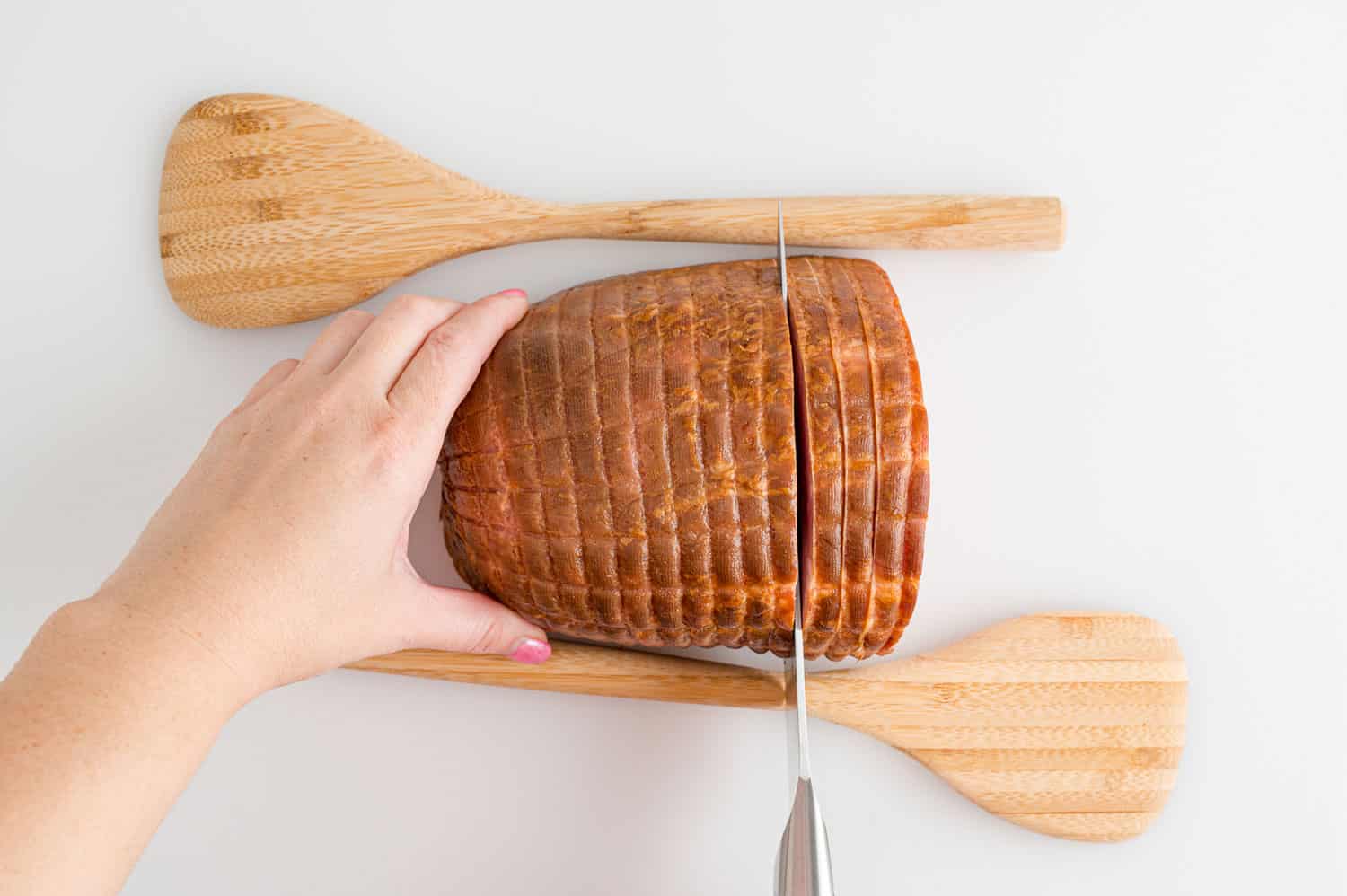 If you happen to slice all the way through the ham, it's totally fine. In fact, if you prefer to cook the ham completely sliced, it's your choice, You're the cook!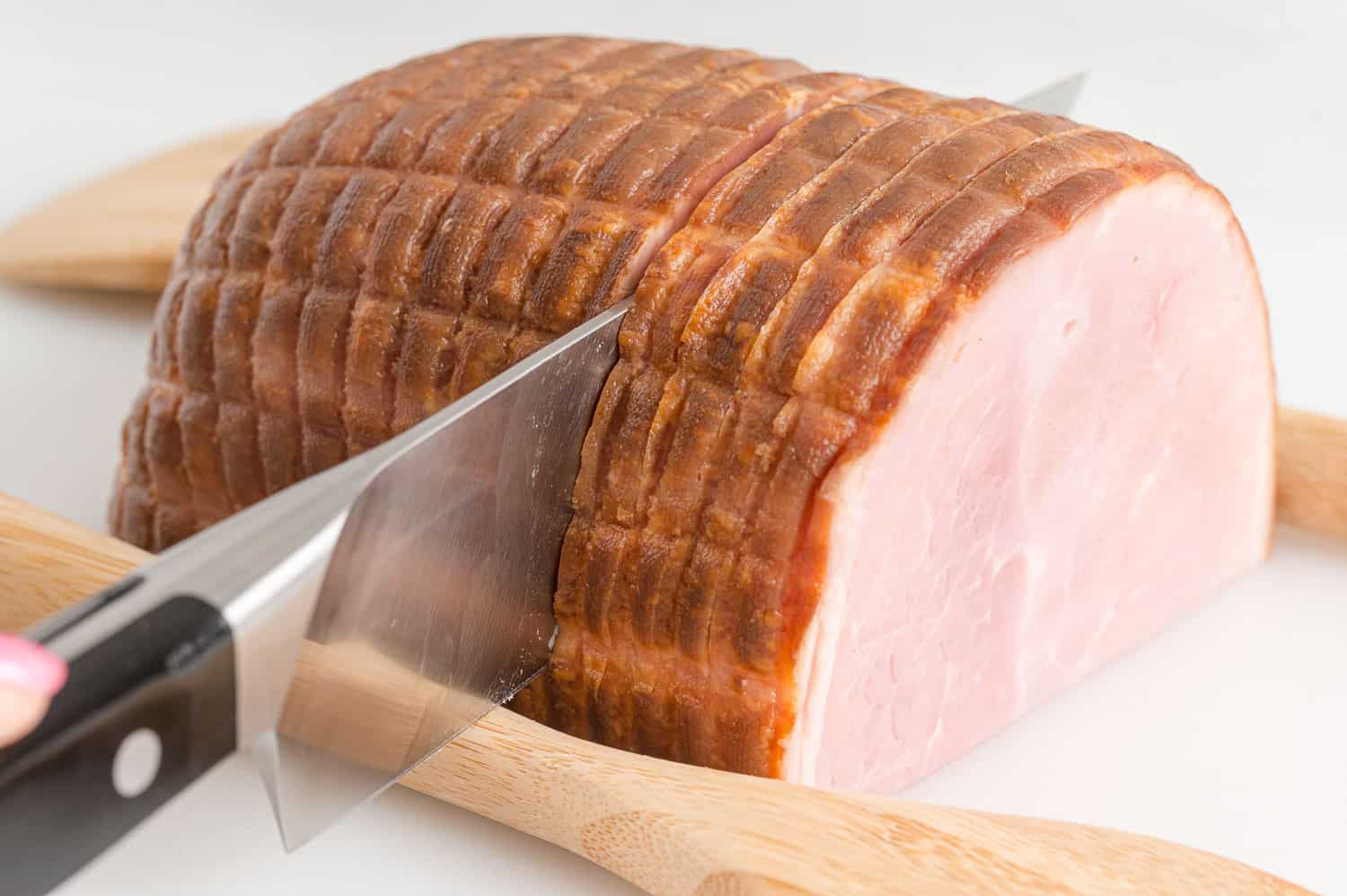 Next, mix up the four ingredient sauce: maple syrup, dijon, brown sugar, cloves. Put the ham in the slow cooker and spoon the sauce over the sliced ham. Separate the slices slightly and try to get some of the sauce between each slice.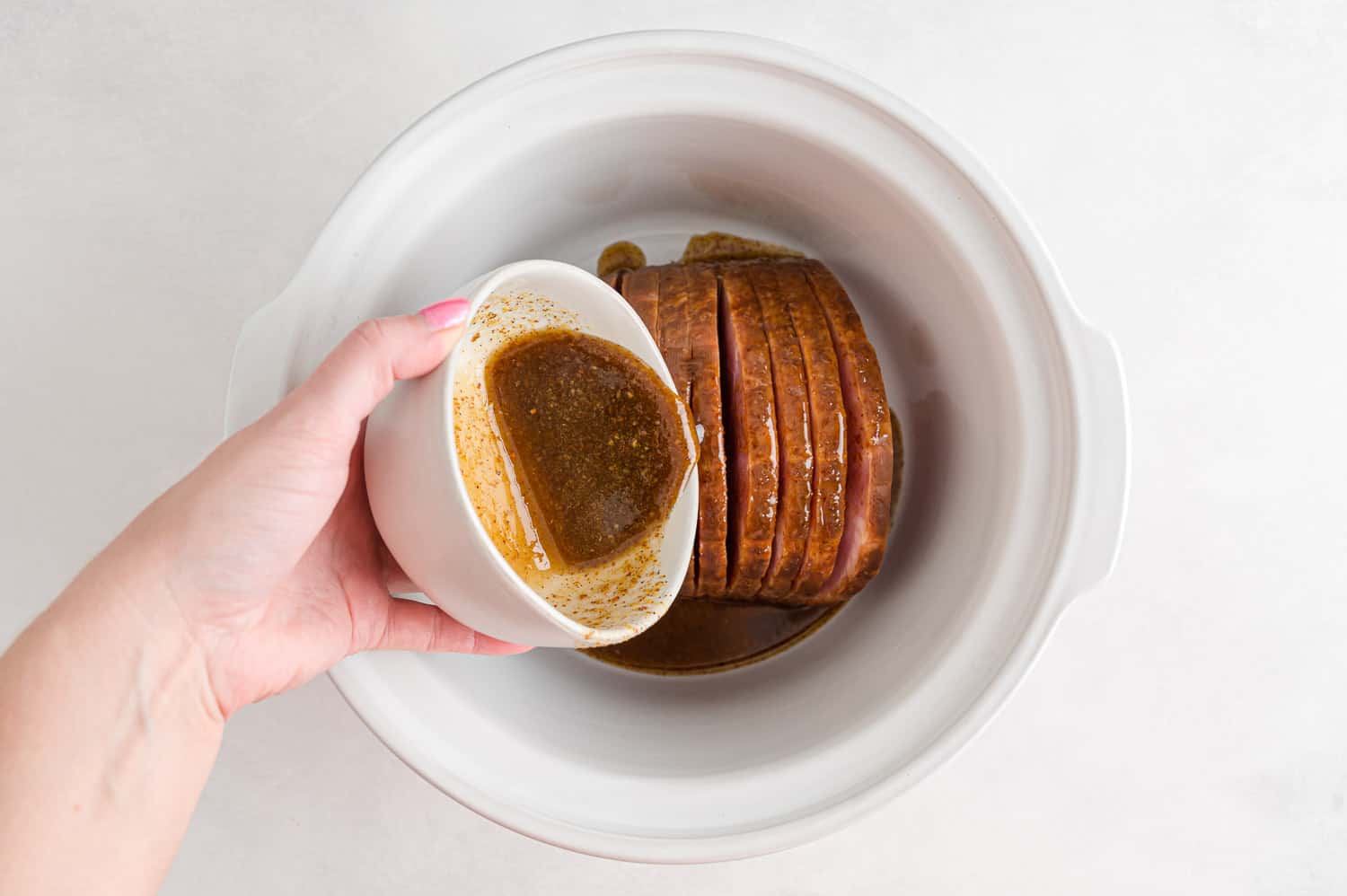 Cover the crockpot and select the low setting. Cook the ham for four hours or until it's heated through.
I like to baste the ham a few times if I can, ensuring that every bite of ham will be flavored with sauce.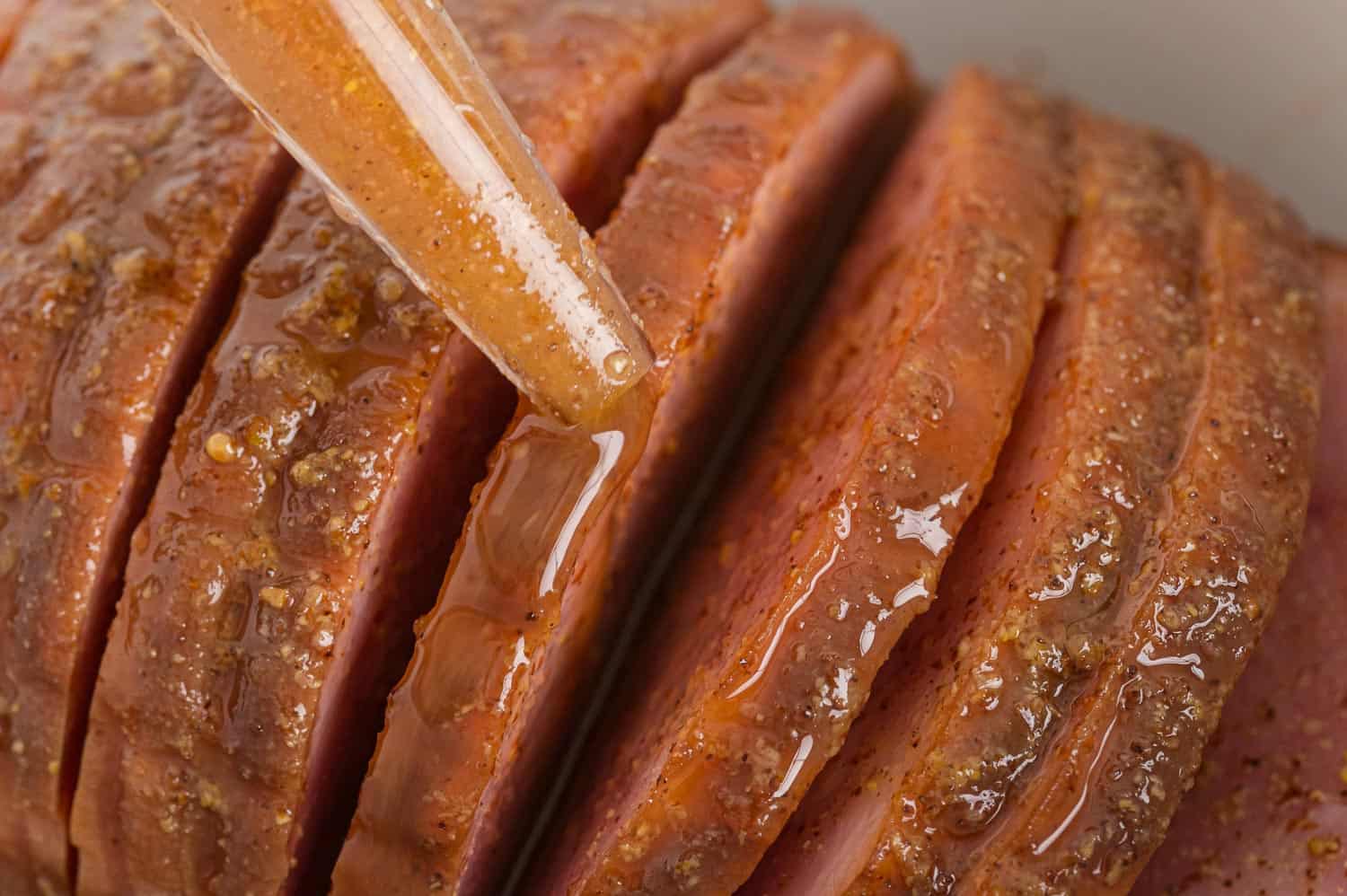 Transfer to a platter to serve, if desired.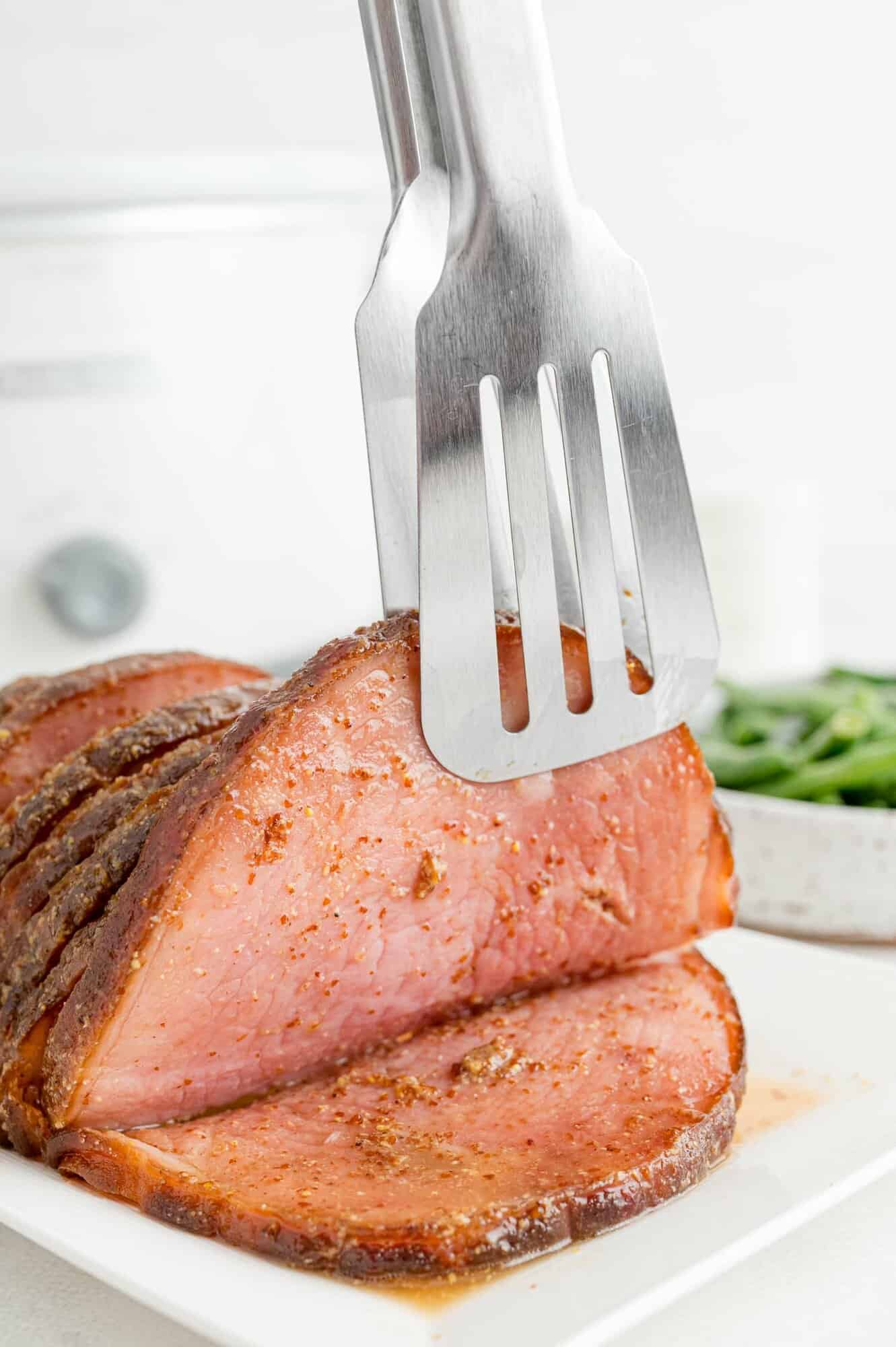 FAQs
Can you heat a fully cooked ham in the slow cooker?
Most hams are fully cooked when you purchase them. Check the label to verify that they are fully cooked; if so, they are safe to eat right from the package. Most people like to warm the ham up before serving it. A slow cooker is a good way to reheat a ham.

How do you cook a ham so it doesn't dry out?
A crockpot is ideal because all of the moisture is trapped inside. Adding a sauce and putting the lid on the crockpot as the ham cooks ensures that the ham will be juicy and flavorful.
Remember that the ham is fully cooked before you heat it. Try not to overcook the ham; it should be reheated to an internal temperature of 145°F (Food Safety.gov).
Does meat need to be submerged in a slow cooker?
A slow cooker is an ideal way to cook less expensive cuts of meat which can be tough or dry if prepared incorrectly. It's best to submerge these types of meat so they tenderize. However, not all meat is the same. A ham simply has to be reheated so it does not need to be submerged. The crockpot acts like a mini oven.
Make-Ahead Ideas
Make a big batch of crockpot ham and freeze it in portions that work for your family. Dice it before freezing it if that's the way you want to use it. It will thaw quickly. Use it to make one of the meals listed below.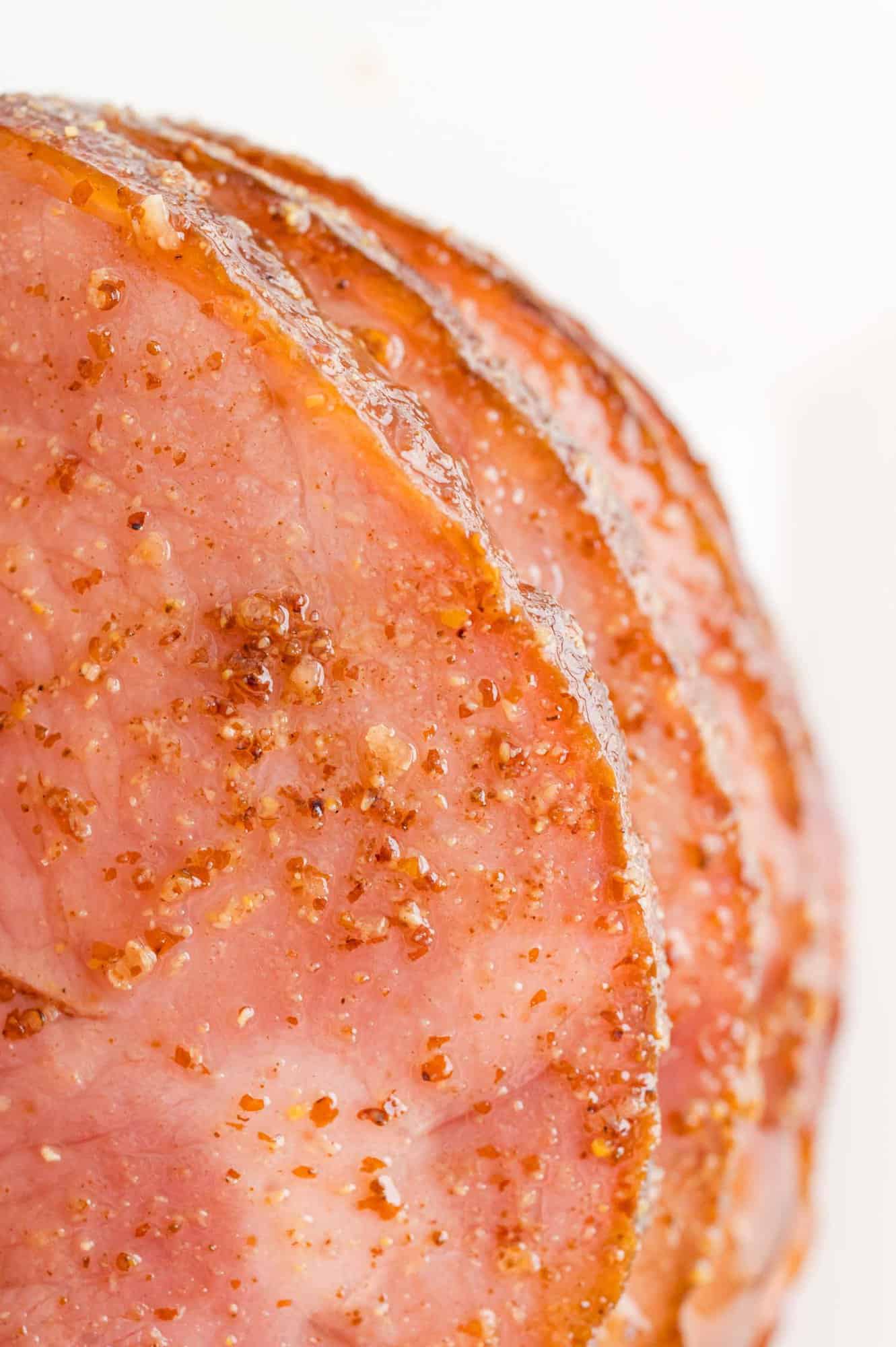 Storage & Reheating Tips
Refrigerate leftover ham promptly in a covered container. It will keep three to four days. Ham can be frozen in a freezer-safe container for up to two months.
Reheat individual sized portions in the microwave until heated through. Don't overheat ham; it will become tough and dry.
Larger portions can be wrapped in foil and baked in a low oven (275°F) until heated. Sliced ham can also be fried in a skillet if you prefer.
Interested in a weekly meal plan (it's free!) that includes this ham recipe? Take a look at my Meal Plan #12. You'll find a wholesome recipe for each weekday plus a categorized grocery list. Let me do the planning for you this week! We'll be adding a new meal plan weekly. If you're interested, browse all of our meal plans.
Ways To Use Leftover Ham
Did you make this? Be sure to leave a review below and tag me @rachelcooksblog on Facebook, Instagram, or Pinterest!
Whether you're entertaining or just looking for an easy dinner with great leftovers, crockpot ham is the answer. Hands-off and delicious!
Ingredients
1

boneless quarter ham, approx. 2.5 lbs

(see note)

¼

cup

pure maple syrup

2

tablespoons

coarse ground Dijon mustard

2

tablespoons

brown sugar

¼

teaspoon

ground cloves
Instructions
Lay ham on cutting board. Place two wooden spoons on either side of it and cut ham in ¼ to ½ inch thick slices, cutting just to spoons but not cutting all the way through (hasselback).

Place ham, sliced side up, in slow cooker.

Mix together maple syrup, Dijon mustard, brown sugar and cloves in a small bowl. Pour this mixture over ham, trying to get as much sauce between the slices as you can.

Cook on low for 4 hours or until heated through, basting with sauce (spoon it over the top) every hour or so.
Notes
Cover and refrigerate ham promptly. It will keep three to four days. Ham can be frozen in a freezer-safe container for up to two months.
You can cook a larger ham if it fits into your crockpot.
If you prefer, slice the ham completely (not hasselback). Put the slices into the crockpot, retaining the original shape of the ham as much as possible.
Nutrition Information
Calories:
514
kcal
,
Carbohydrates:
13
g
,
Protein:
41
g
,
Fat:
32
g
,
Saturated Fat:
11
g
,
Polyunsaturated Fat:
3
g
,
Monounsaturated Fat:
15
g
,
Cholesterol:
117
mg
,
Sodium:
2301
mg
,
Potassium:
584
mg
,
Fiber:
1
g
,
Sugar:
12
g
,
Vitamin A:
4
IU
,
Vitamin C:
1
mg
,
Calcium:
35
mg
,
Iron:
2
mg
This website provides approximate nutrition information for convenience and as a courtesy only. Nutrition data is gathered primarily from the USDA Food Composition Database, whenever available, or otherwise other online calculators.