Crockpot Teriyaki Chicken Recipe
Boneless skinless chicken breasts and homemade teriyaki sauce served over rice make this crockpot teriyaki chicken a perfect weeknight meal.
Recipe Overview
Why you'll love it: So easy and so delicious!
How long it takes: only 10 minutes to prep and 4 to 8 hours in the slow cooker
Equipment you'll need: slow cooker, saucepan, stove
Servings: 6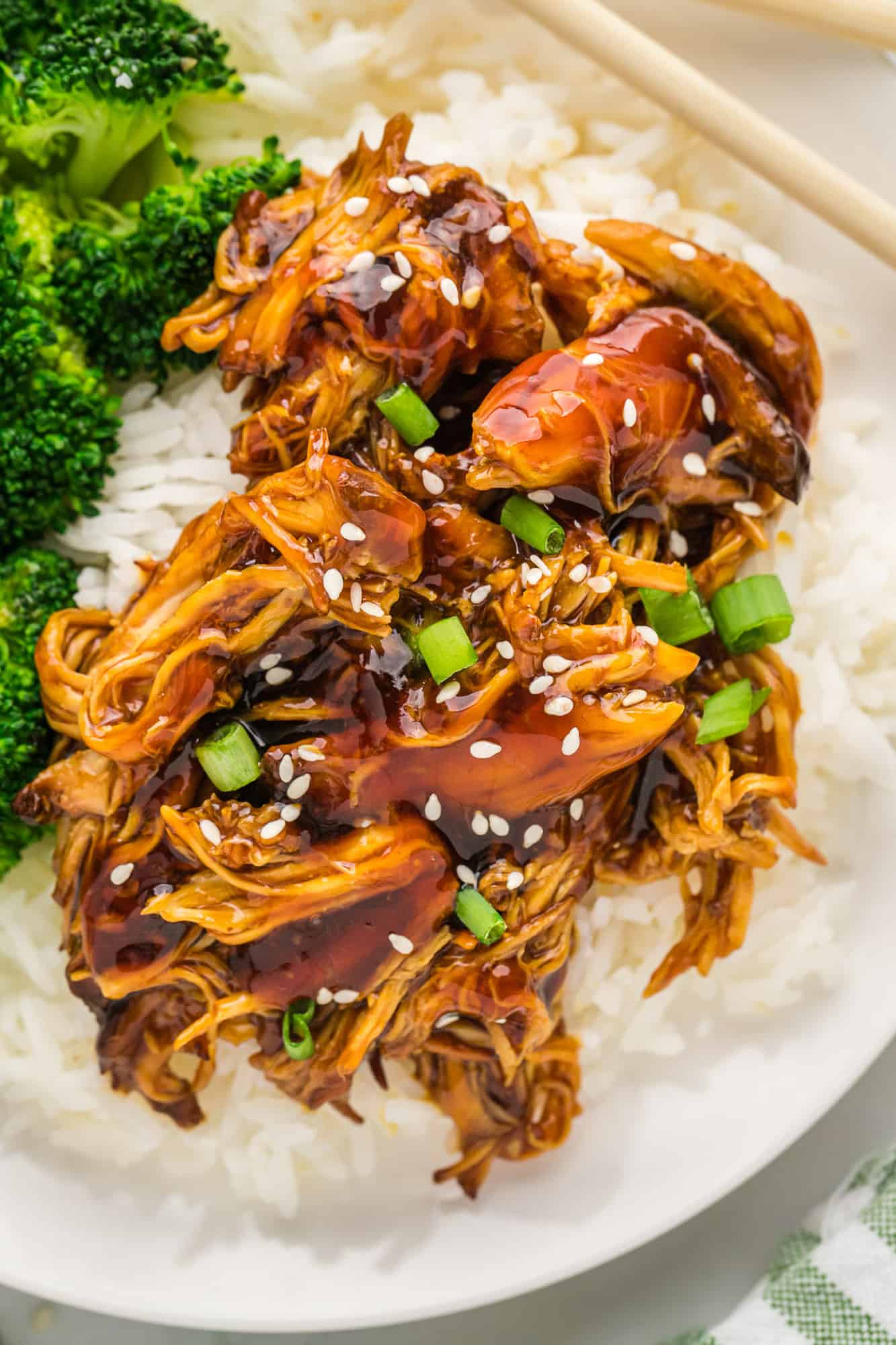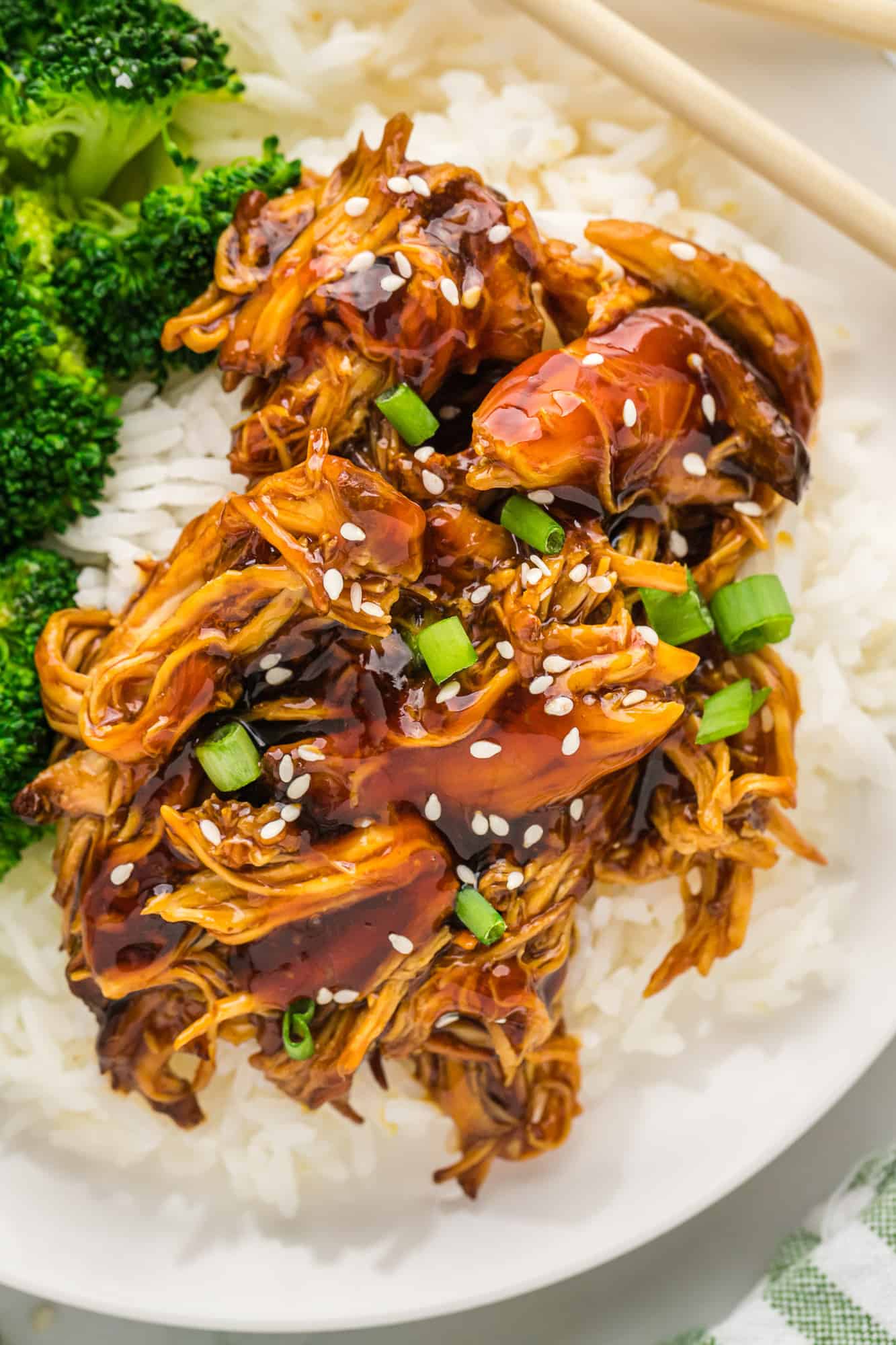 If you're looking for a new way to cook chicken that's easy and super flavorful, give this teriyaki chicken recipe a try. It's become one of my favorite ways to make chicken.
If we're being perfectly honest, boneless skinless chicken breasts can be pretty bland and boring. They're a good source of protein and are low in calories so they have that going for them but yeah, kind of blah and sometimes a little dry.
I buy a family sized pack of them every other week or so when they're on sale and then I'm often stumped when it comes time to cook them. I don't know why, I have lots of recipes for chicken. My list of 27 boneless skinless chicken breast recipes attests to that. I guess sometimes I'm just in the mood for something a little different and then it's time to create a new recipe.
Why You'll love this Teriyaki chicken
It's a slow cooker recipe. One of the things I really love about this recipe is that it's made in my slow cooker. It's easy to get started. I can get it going in 10 minutes or less. Then I put on the cover and cook it, and I don't have to pay a bit of attention to it for three or four hours.
Lots of delicious sauce! The sauce is salty, sweet, and tangy, full of umami, and won't leave your tastebuds yawning. It jazzes up the chicken in an unforgettable way. There's plenty of sauce to flavor everything on your plate.
I like to serve teriyaki chicken with broccoli and steamed rice. There's just something about that combination that really does it for me. Sautéed Brussels sprouts are wonderful with it, too.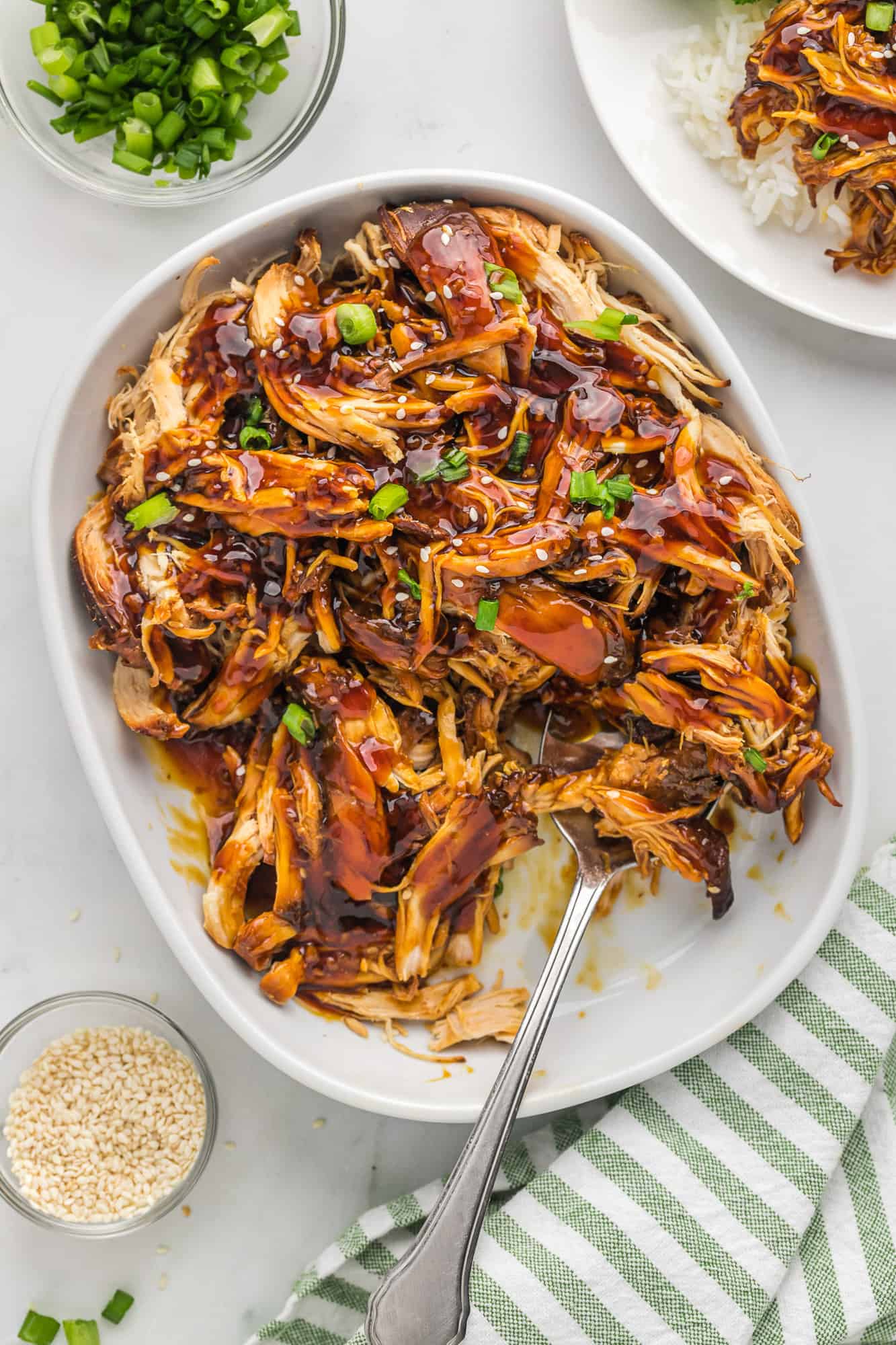 What Is Teriyaki?
Maybe you're wondering what exactly is teriyaki? So here's a tidbit of conversational trivia for you. Teriyaki is a Japanese word and it describes a cooking method. Teri means shine or luster, and yaki means to broil or grill. Traditional teriyaki sauce contains mirin (a sweet cooking wine), soy sauce, sugar, and sake (New World Encyclopedia). It has sweet, salty, and tangy flavors with lots of umami.
If you don't have mirin or sake in your pantry, you'll be pleased to know that my recipe for teriyaki sauce is made with honey, soy sauce, vinegar, brown sugar, and garlic. It's not authentic, but it still has that teriyaki flavor that you know and love!
I'll get you started on this slow cooker teriyaki recipe and give you a few extra tips.
Look for the printable recipe card near the end of this post for complete instructions, measurements, and nutrition information.
What You'll Need
Boneless Skinless Chicken Breasts: You'll need around one and a half pounds of chicken, about three large breast halves. This isn't super exact. You can definitely add a bit more if you like. If dark meat is more your thing, use boneless skinless chicken thighs.
Soy Sauce: To keep the sodium content down, choose a low sodium soy sauce. I've tried this with tamari, but I like it better with soy sauce.
Apple Cider Vinegar: Vinegar adds a nice tart balance to the honey and brown sugar and counteracts the saltiness of the soy sauce. Rice wine vinegar is a good substitute but don't use seasoned rice wine vinegar because that has added salt and sugar.
Honey: Honey and brown sugar add sweetness to the sauce.
Brown Sugar: Either light or dark brown sugar is fine. White sugar will do in a pinch, but we like the molasses flavor the brown sugar adds.
Garlic: A couple cloves of fresh garlic is pretty essential to the sauce. I left it out once and the teriyaki just wasn't the same. Add more if you like lots of garlic.
Cornstarch: You'll make a slurry (a mixture) of cornstarch and water to thicken the sauce a bit.
Sesame Seeds and Sliced Green Onions: Optional garnishes. We don't do sesame seeds at my house because of allergies, but the green onions really add a nice fresh onion flavor. I'd say they are pretty essential.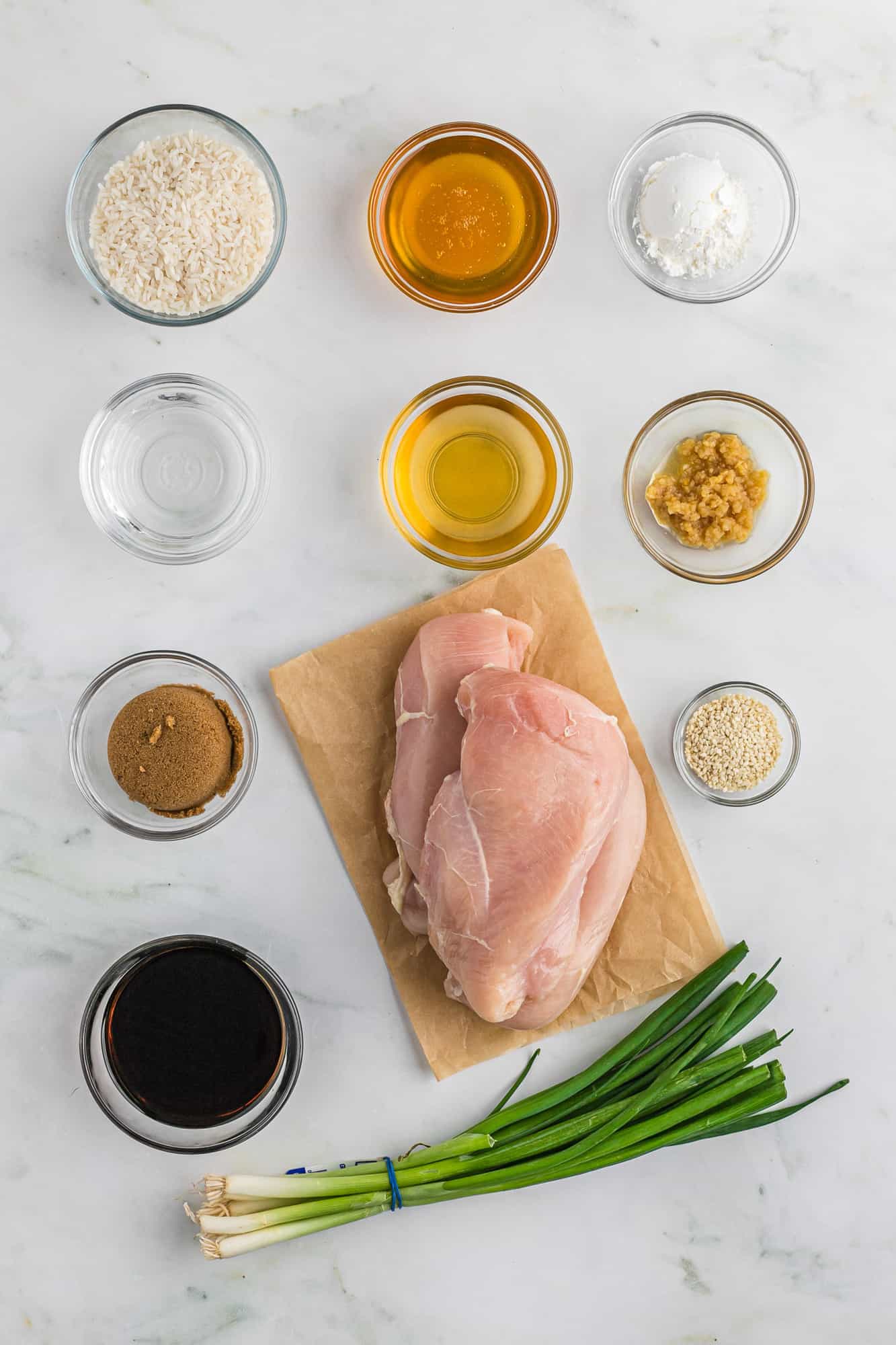 How To Make Slow Cooker Teriyaki
Dust off your crockpot and plug it in. I like to spray the inside with a light misting of nonstick spray for easier cleanup.
Put the chicken in the slow cooker. You can just take it out of the package and set it in there. No cutting or trimming or anything, unless you want to trim it.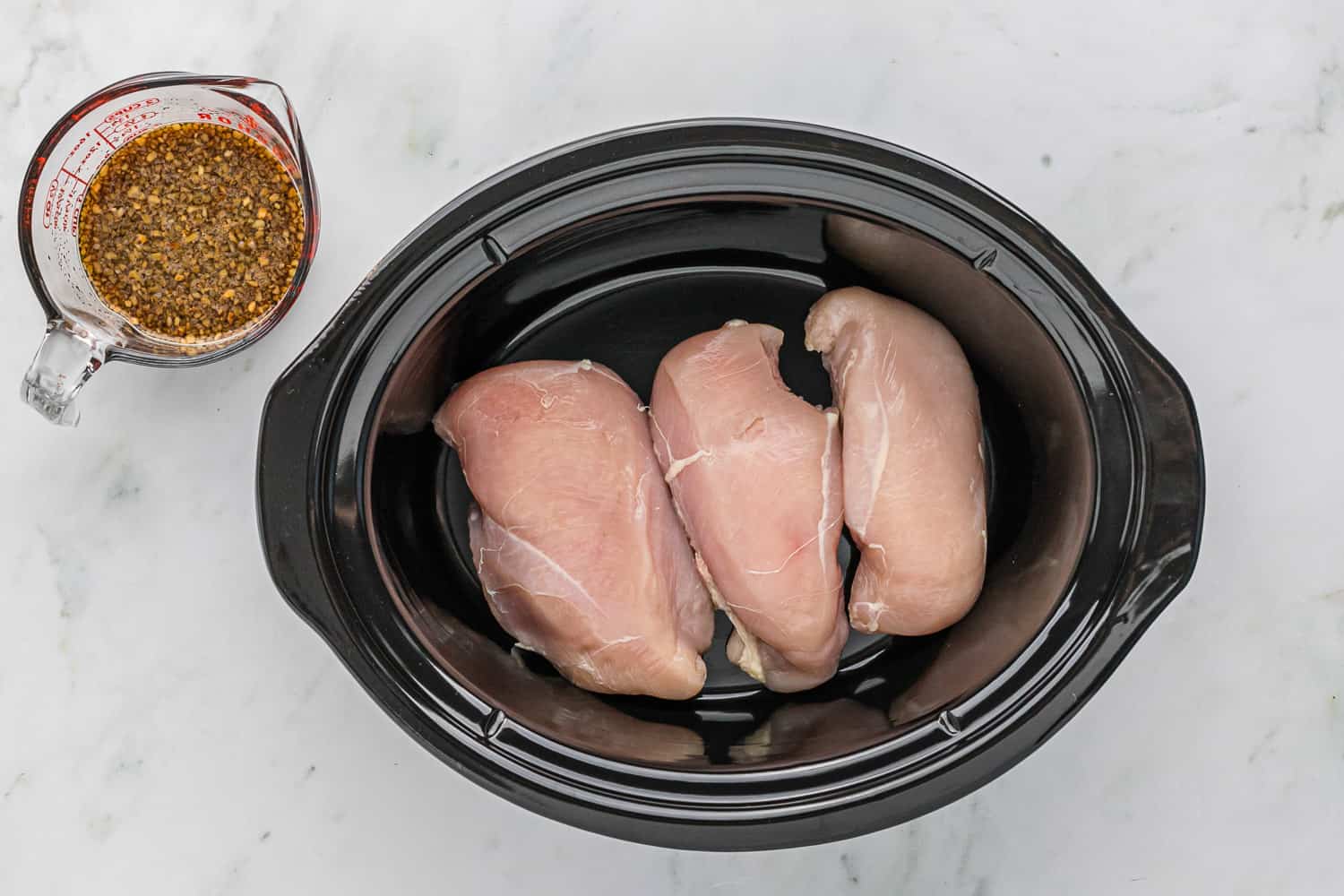 Combine the sauce ingredients in a large measuring cup. Measure out the soy sauce right in the measuring cup, then the vinegar, then the honey. By now you should have one cup of sauce ingredients in there. Good so far?
Next, add the brown sugar and minced garlic and give the sauce a good stir. Pour it over the chicken, cover the crockpot, and set it for either High or Low.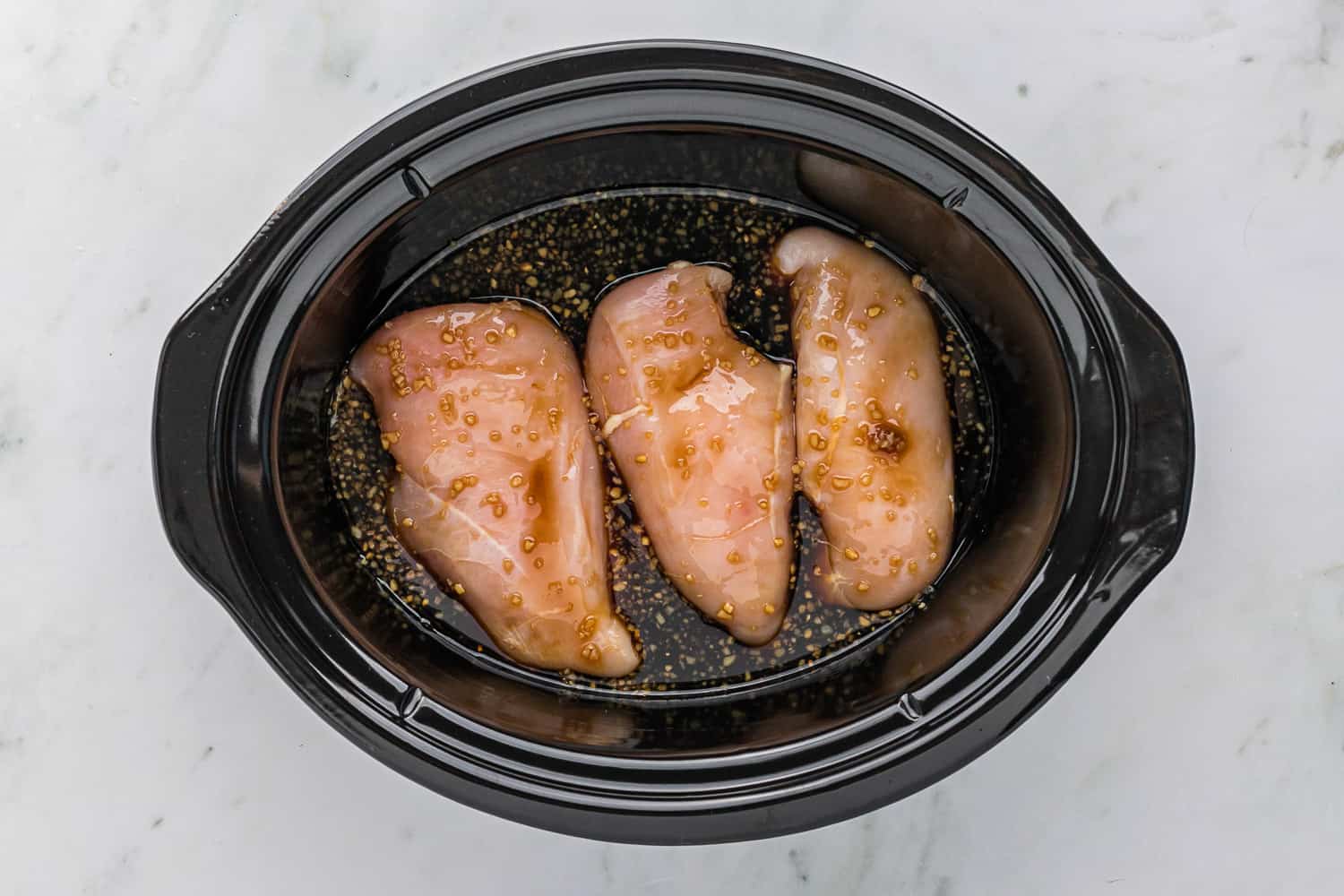 It will take 3-4 hours on High and 6-8 hours on Low.
When the chicken is tender, it's done. Take it out of the crockpot and let it cool slightly on a plate. You'll notice that the sauce looks pretty thin and juicy. We'll fix that!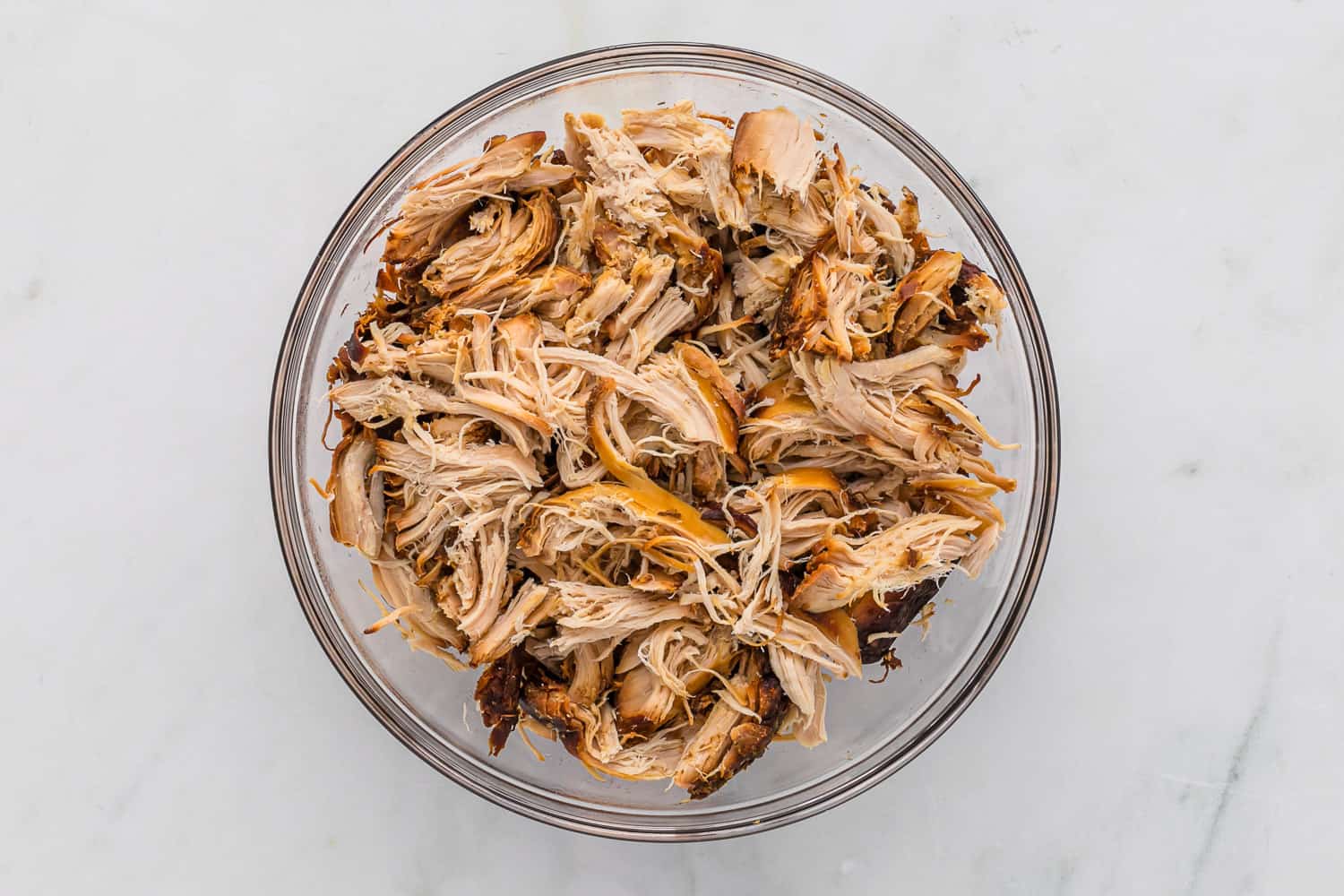 Carefully pour it into a small saucepan. Make a slurry of cornstarch and water, stirring the two ingredients together until the mixture is smooth. Stir it into the sauce and heat it until it comes to a boil. Let it boil for a minute or so. It should thicken up nicely.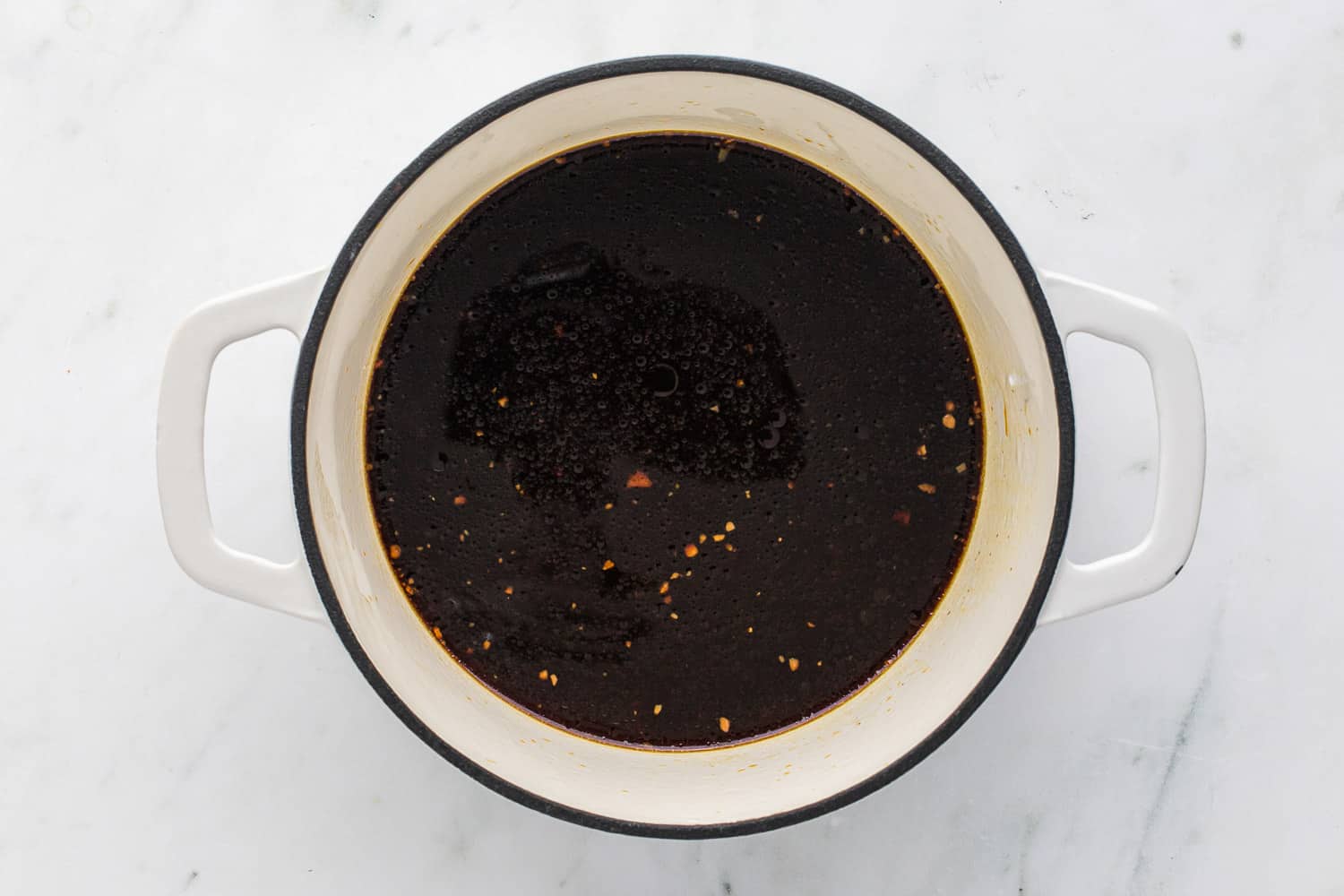 Shred the chicken and pour the sauce over it. It's ready to serve! If you're not ready yet, put everything back into the slow cooker and keep it on Warm. It will be fine for an hour or so.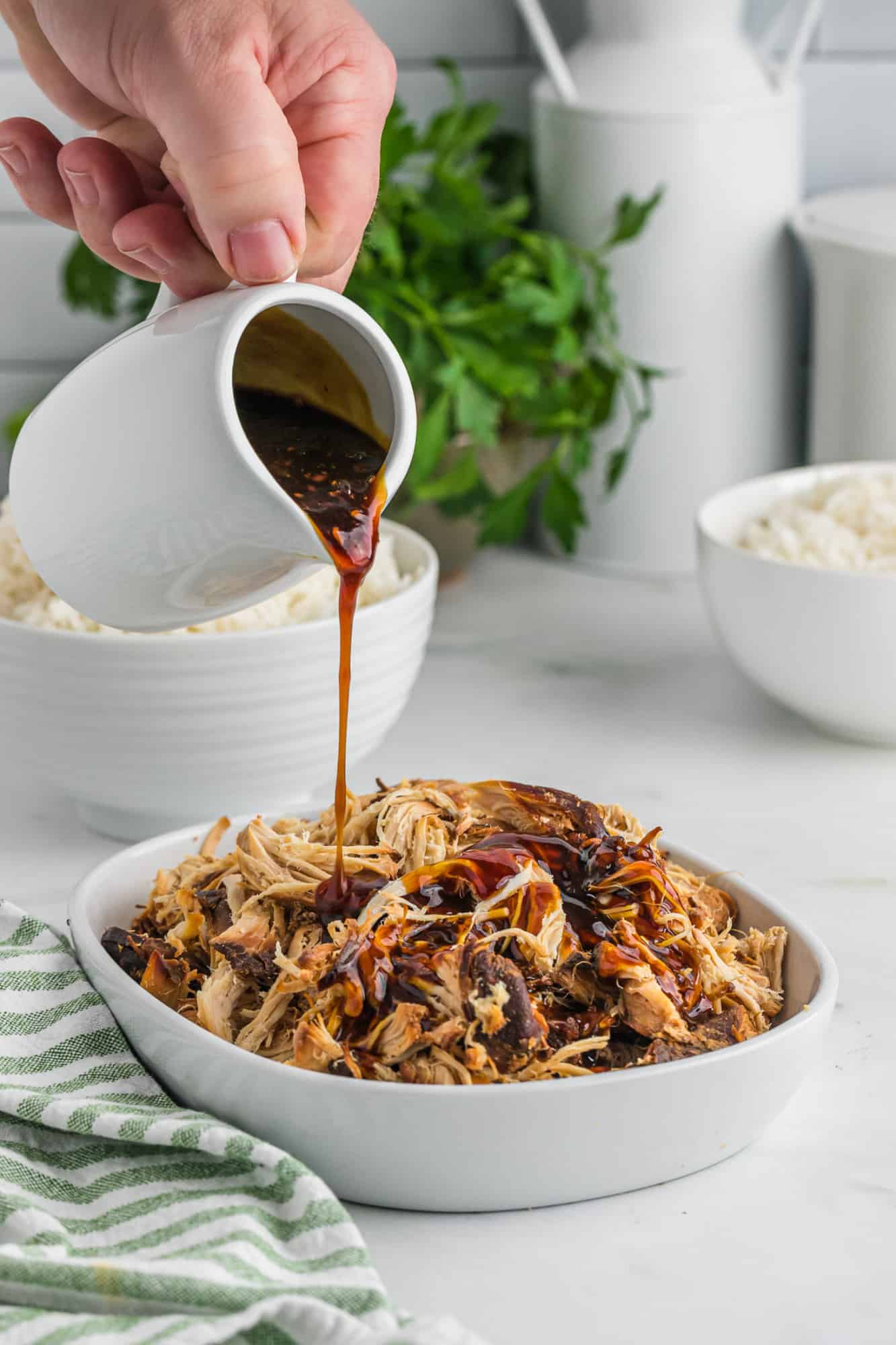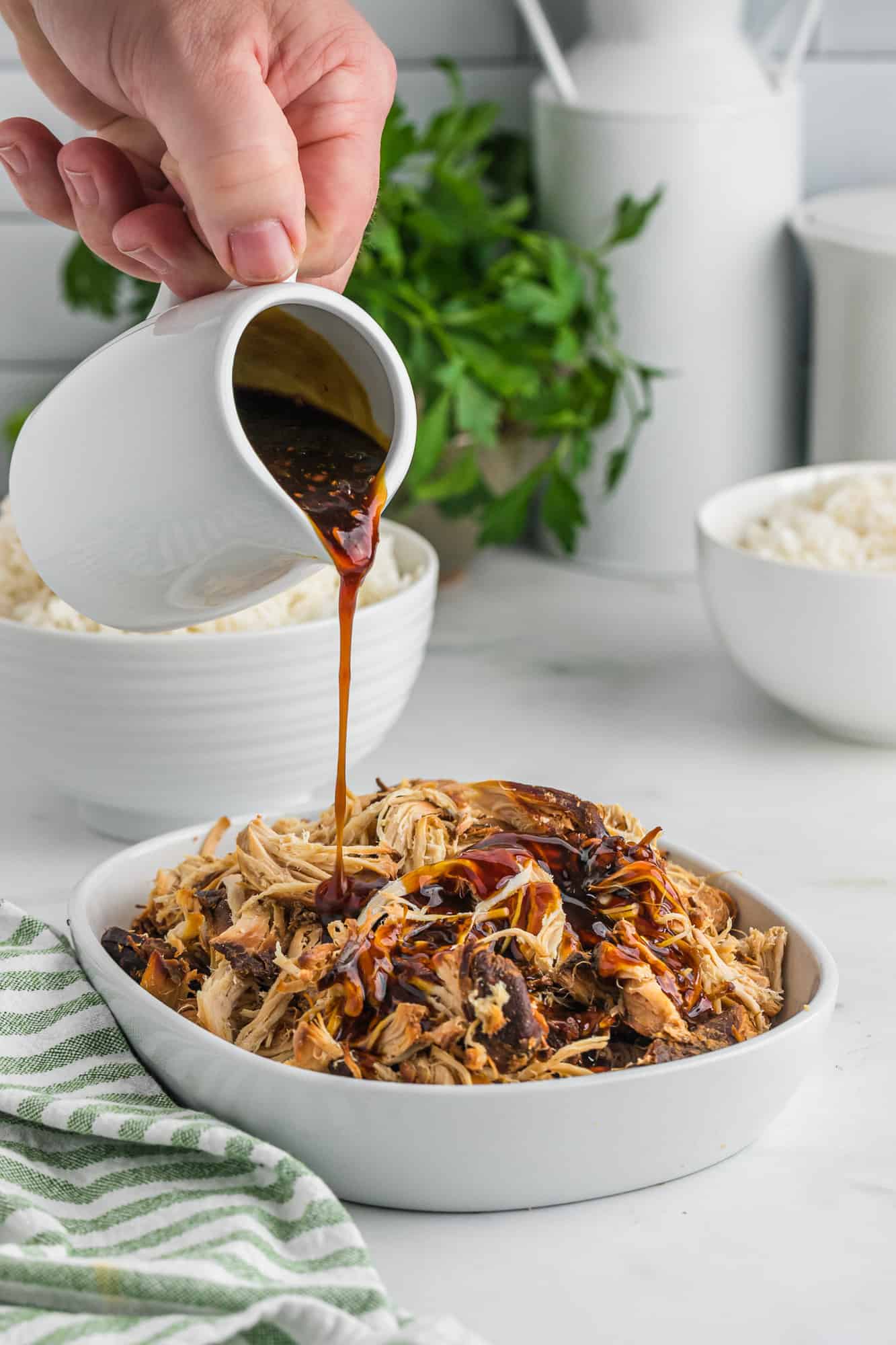 What To Serve With Teriyaki Chicken
Beyond rice and steamed broccoli, pretty much anything goes with it! We love it with jasmine rice or brown rice or especially fried rice! Cauliflower rice is a great low carb and nutritious alternative to rice. Broccoli is a great choice but any vegetable your family loves is a good choice. Make a vegetable stir fry! Cooked carrots or roasted green beans are always a hit, too.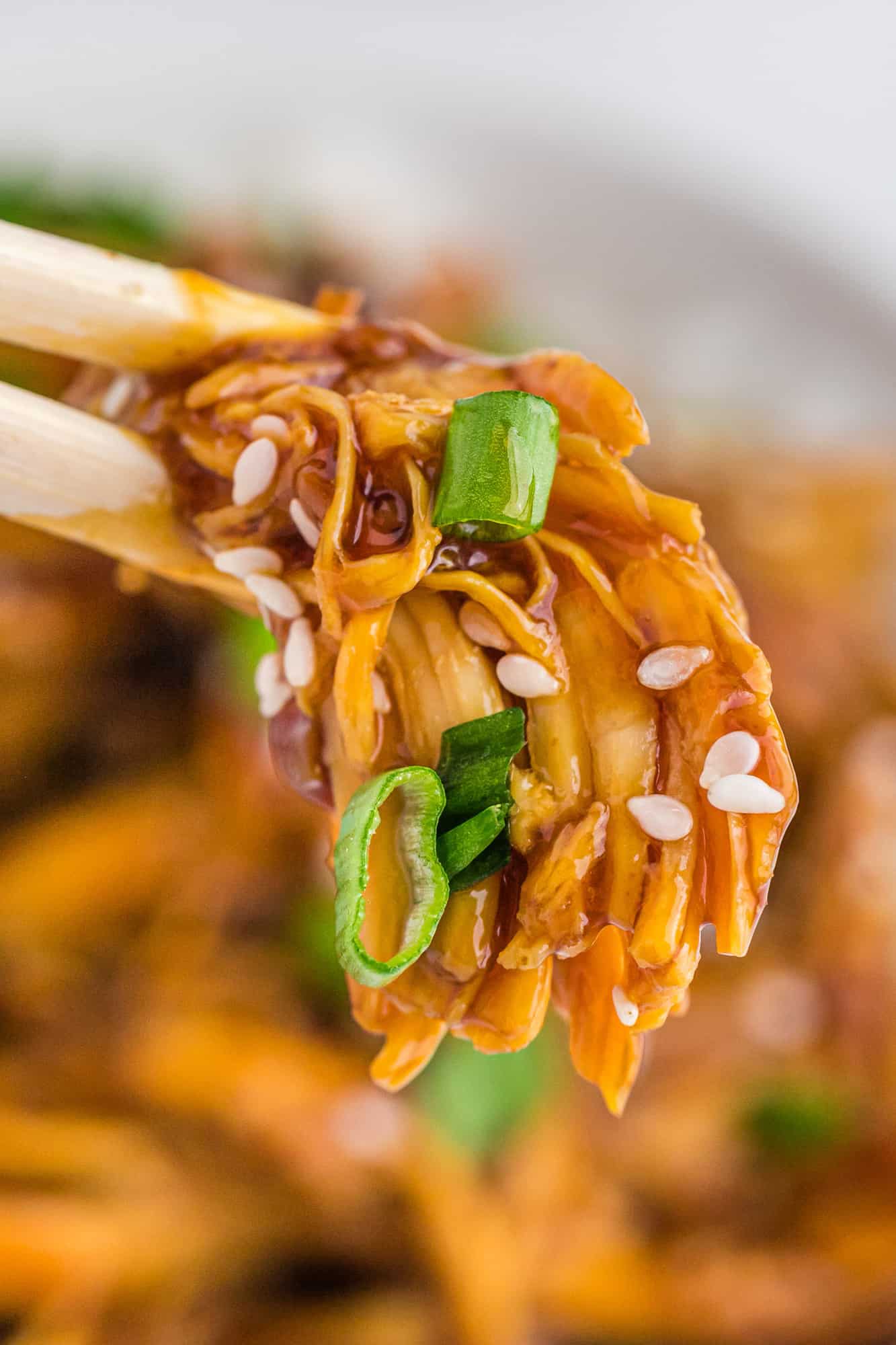 FAQs
Can I make this recipe with bottled sauce?
Of course, if you're in a pinch, that will definitely work. But you probably have all the ingredients for the homemade version, and you'll love the flavor!
Can you put raw chicken in a slow cooker?
Yes, the chicken will be thoroughly cooked in a slow cooker. You can even safely put frozen chicken in a slow cooker. If it's in one huge solid mass, try to break it up into smaller pieces first. Frozen chicken will take a bit longer to cook and just to be safe, I would start it on High.
How long does it take chicken to cook in the crockpot?
Cook time depends on a lot of factors: how much chicken, how large the pieces are, if it's frozen, whether you're cooking it on High or Low, what else is in the crockpot with the chicken, etc. For the best results, follow the recipe directions.
Make It Your Own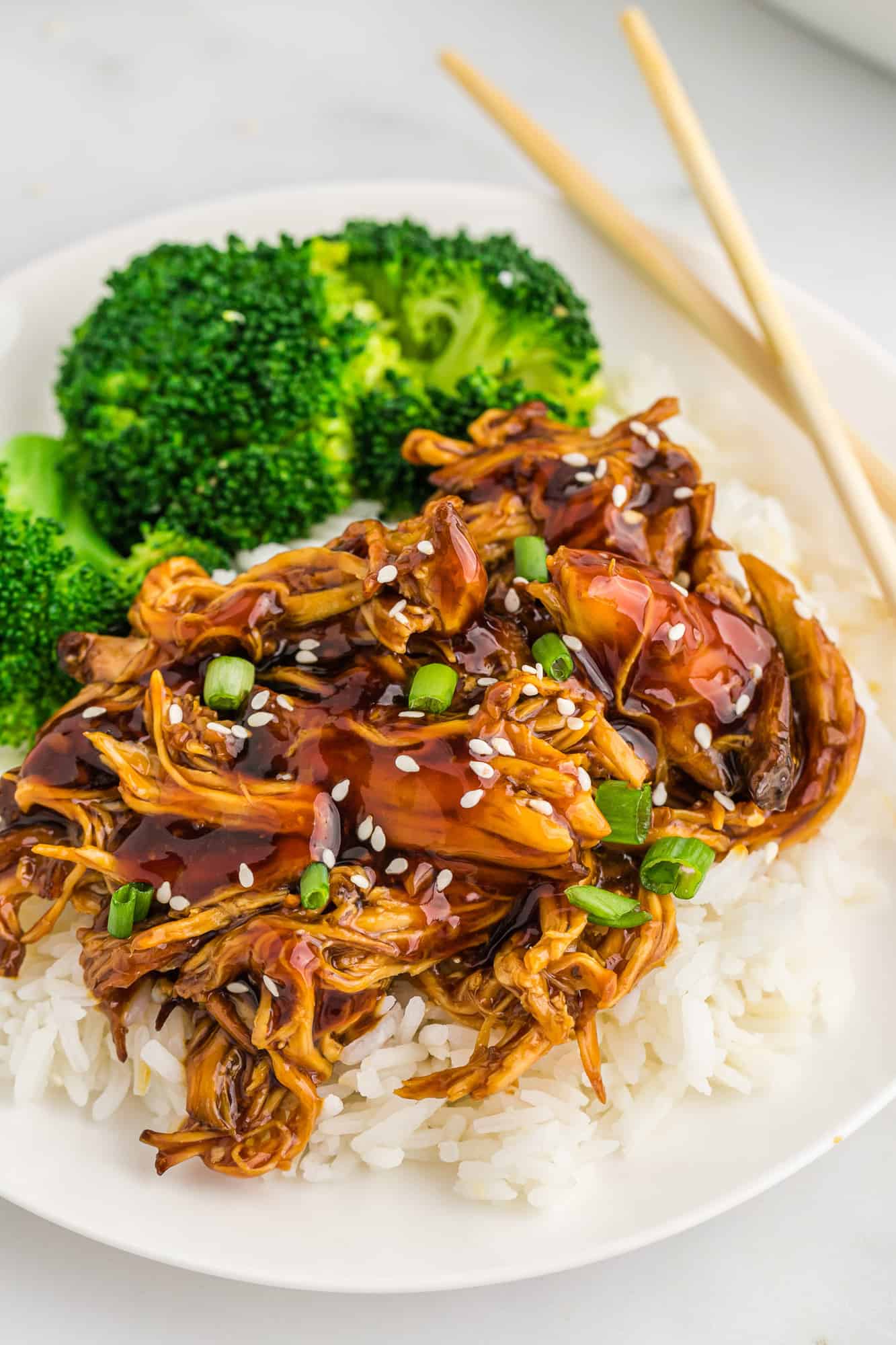 Make-Ahead Ideas
This recipe is a good one for meal prepping. Teriyaki chicken is great reheated. Make a double batch, divide it into freezer containers, label and freeze for up to six months. Thaw it overnight in the refrigerator before reheating for best results.
Storage & Reheating Tips
Leftover teriyaki chicken will keep in the fridge for up to 4 days. It makes a good lunch or another dinner.
To reheat, put it into a skillet or saucepan and heat it over medium-low heat on the stove until heated through. For individual portions, you can heat in the microwave, but our recommended method would still be on the stove to prevent the chicken from becoming dry or tough.
Leftover Love
If you want to do something a little different with leftover teriyaki chicken, serve it warm on a bun or a wrap, or make a lettuce wrap. Add shredded lettuce, bean sprouts, or alfalfa sprouts. Chopped peanuts or crispy rice noodles are a great topper, too.
Did you make this? Be sure to leave a review below and tag me @rachelcooksblog on Facebook, Instagram, or Pinterest!
Boneless skinless chicken breasts and homemade teriyaki sauce served over rice make this crockpot teriyaki chicken a perfect weeknight meal.
Ingredients
1 ½

lbs.

boneless skinless chicken breasts

(about 3 large)

½

cup

soy sauce

¼

cup

apple cider vinegar

¼

cup

honey

¼

cup

brown sugar

2

cloves

garlic, minced

2

tablespoons

cornstarch

¼

cup

water

rice or quinoa, for serving

sesame seeds, for garnish

sliced green onions, for garnish
Instructions
Lightly spray the bottom and sides of slow cooker with nonstick spray, if desired. Place chicken breasts on bottom of slow cooker.

Combine soy sauce, vinegar, honey, brown sugar, and garlic in a small bowl or measuring cup. Pour over chicken breasts.

Cook on High setting for 3-4 hours or 6-8 hours on Low setting, until chicken breasts are tender.

Remove chicken from slow cooker and shred with forks. Set aside.

Pour sauce into small saucepan. Combine cornstarch with water, and add to sauce. Over medium heat, bring sauce to a low boil, stirring often, and cook another minute, until sauce is thickened. Pour thickened sauce over shredded chicken.

Serve over rice or quinoa, topped with sesame seeds and sliced green onions. Enjoy!
Notes
Nutrition information does not include rice, quinoa, or garnishes.
Use low sodium soy sauce to cut the sodium content.
Boneless skinless chicken thighs may be substituted if you prefer dark meat.
To make on stovetop, cut chicken into bite sized pieces, saute in frying pan until browned and cooked through. Continue with recipe by making sauce and combining with chicken.
Nutrition Information
Calories:
232
kcal
,
Carbohydrates:
25
g
,
Protein:
25
g
,
Fat:
3
g
,
Saturated Fat:
1
g
,
Polyunsaturated Fat:
1
g
,
Monounsaturated Fat:
1
g
,
Trans Fat:
1
g
,
Cholesterol:
73
mg
,
Sodium:
844
mg
,
Potassium:
489
mg
,
Fiber:
1
g
,
Sugar:
21
g
,
Vitamin A:
34
IU
,
Vitamin C:
2
mg
,
Calcium:
21
mg
,
Iron:
1
mg
This website provides approximate nutrition information for convenience and as a courtesy only. Nutrition data is gathered primarily from the USDA Food Composition Database, whenever available, or otherwise other online calculators.