Slow Cooker Pork Loin with Balsamic Glaze
Tender and juicy pork with a sweet balsamic glaze, this slow cooker pork loin is a dinner favorite. Fix it and forget it!
Recipe Overview
Why you'll love it: The pork turns out so well and can be served 2 ways: sliced or shredded.
How long it takes: 15 minutes to prep, 4 to 9 hours in the crockpot
Equipment you'll need: slow cooker, sharp knife, small saucepan
Servings: 10 (depending on the size of your roast)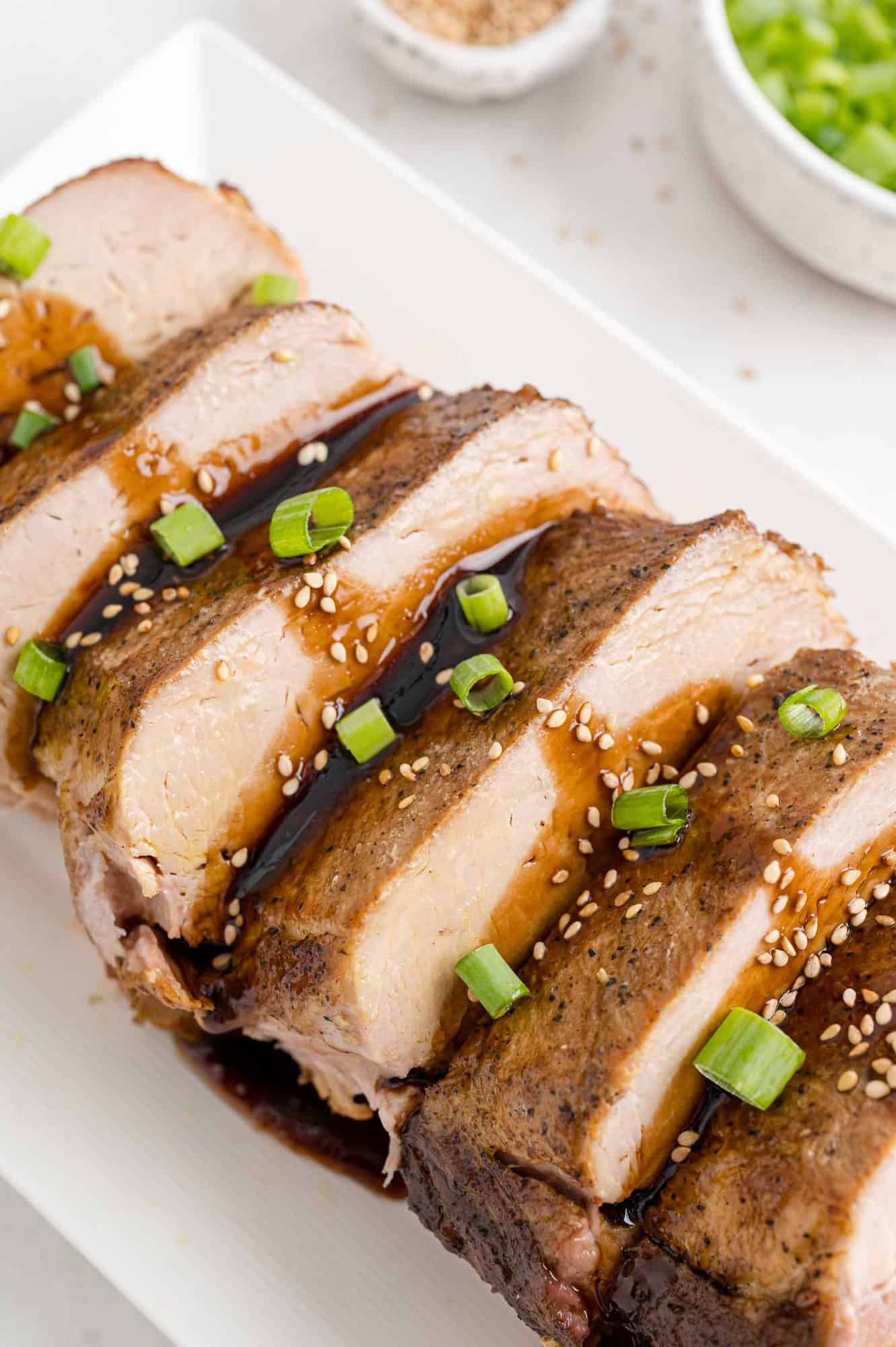 Looking for creative new ideas for weekday dinners? Or, having company over for dinner and you need an easy foolproof entrée? This slow cooked pork loin roast may be just what you're looking for. Imagine thick slices of tender pork roast, perfectly seasoned and slowly simmered all day, served with a rich dark balsamic glaze.
Even though it sounds like it could be complicated, this crockpot pork loin recipe is super easy. You can put it on in the morning or right after lunch and let the slow cooker do its thing. The slow gentle heat ensures that the pork loin, a lean cut of pork, will be tender and juicy.
Pork loin roasts are easy to serve, too. Because it is boneless, a pork loin roast slices neatly and beautifully, particularly if you have a good sharp knife. Served with a drizzle of dark balsamic glaze, and topped with a sprinkle of sesame seeds and sliced scallions, it makes a dramatic appearance on the dinner table.
This slow cooker pork loin recipe really could not be any easier. I highly recommend it. Serve it simply with rice (to soak up any extra glaze!) and a side of steamed broccoli or air fryer green beans. If you happen to have a couple of crockpots, make a batch of crockpot cheesy potatoes to go along with the pork roast. Perfect for a crowd!
Rather have a sandwich? Shred the pork, stir the glaze into the pork, and serve it on a bun for a tasty pulled pork sandwich. This option is a good way to use any leftover pork roast, too.
About This Recipe
The pork roast is seasoned with a brown sugar rub before placing it in the slow cooker, ensuring that every bite will be flavorful as the rub slowly permeates the pork. The rub is easy to make and the ingredients are pantry items: balsamic vinegar, mustard, garlic, and brown sugar.
Should you brown the pork before adding it to the slow cooker? While it certainly is an option, I've found that for this recipe, the difference is negligible. The rub and the glaze are dark in color and give the meat a nice appearance, and they also add plenty of flavor to the meat. Why make an extra pan dirty and mess up your stove? Let's keep things easy.
The last step of the recipe is making a rich glistening balsamic glaze for the pork. It's thickened with cornstarch and simmered on the stove. It's beautiful and so, so good! Drizzle the glaze over the sliced pork on a platter and serve the extra on the side.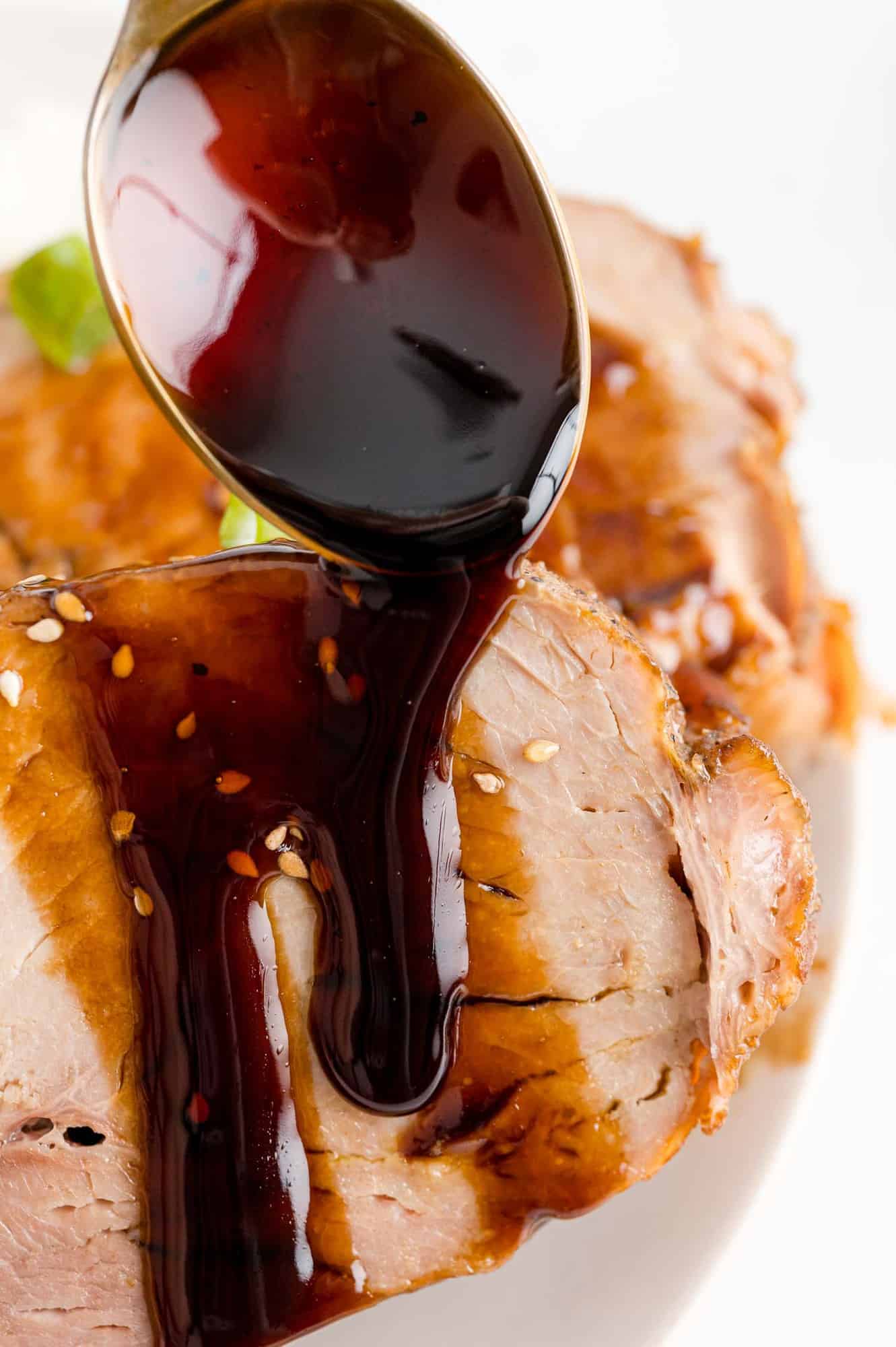 I'll get you started on the recipe here and give you some helpful tips. Look for the printable recipe card near the end of the post. It has complete instructions, measurements, and nutrition information.
What You'll Need
Boneless Pork Loin: Look for a roast weighing four to six pounds, or as large as your crockpot will accommodate. You can eliminate some of the fat by trimming the fat cap off with a sharp knife. It's up to you. The fat does add flavor to the meat as it slowly melts down and most of it will remain in the crockpot and discarded after the meat is removed.
Brown Sugar: This recipe features lots of brown sugar, both in the the rub and in the glaze. The sweet and salty combination is a winner.
Dijon Mustard: if you don't happen to have Dijon, spicy brown mustard is a good substitute in the rub.
Balsamic Vinegar: This dark brown vinegar has such a rich tangy flavor. It's present in the rub and plays an important role in the glaze. Be sure to try my balsamic marinade sometime soon, too.
Garlic: The pork is cooked with fresh garlic. Start with 2 cloves but if you're a garlic lover, you may want to add more. It smells so good while the pork slowly roasts.
Soy Sauce: Soy sauce kicks up the flavor of the glaze with plenty of salty umami.
Cornstarch: Look for cornstarch in the baking aisle. This white powder is often used as a thickener for cooked sauces.
Pork Loin or Pork Tenderloin?
Although the labels are similar, they are two very different cuts of pork. Pork loin is much wider and larger in size, about 4 to 6 pounds, and is cut from the back of the animal. It often has a thick layer of fat on one side and the meat is lighter in color.
Pork tenderloin is a long narrow cut of meat, a muscle that runs near the backbone, usually weighing about a pound. It is darker meat that tastes best if it's cooked quickly and not overdone. Try pork tenderloin with apples and onions.
How To Make This Recipe
This crockpot pork loin is infused with so much savory flavor: first with a rub, and then with a delicious glaze.
Begin by stirring together the rub.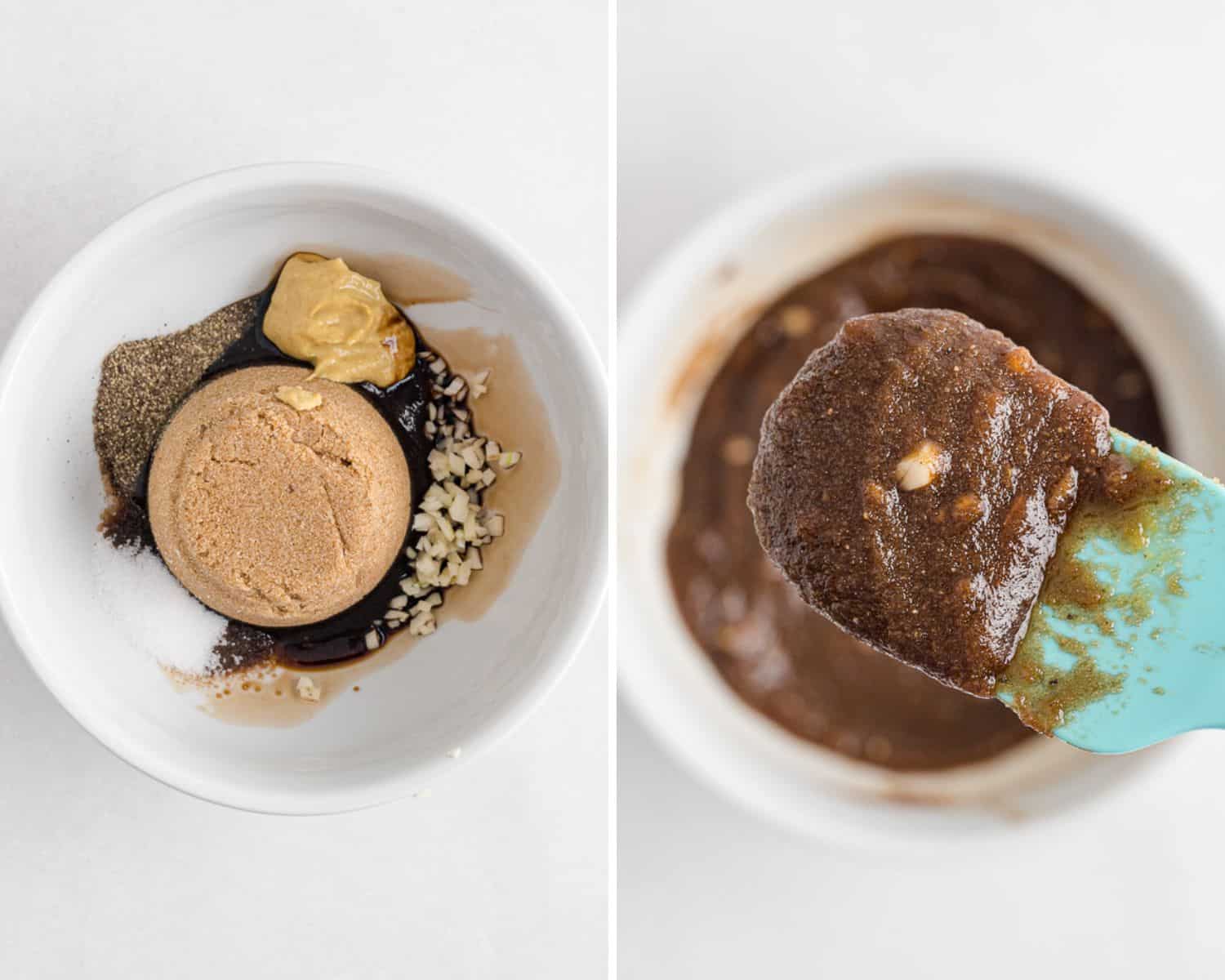 Trim the pork loin, if desired, pat it dry and place it in the crockpot. Spread the rub on the pork, rubbing it into the meat on all sides.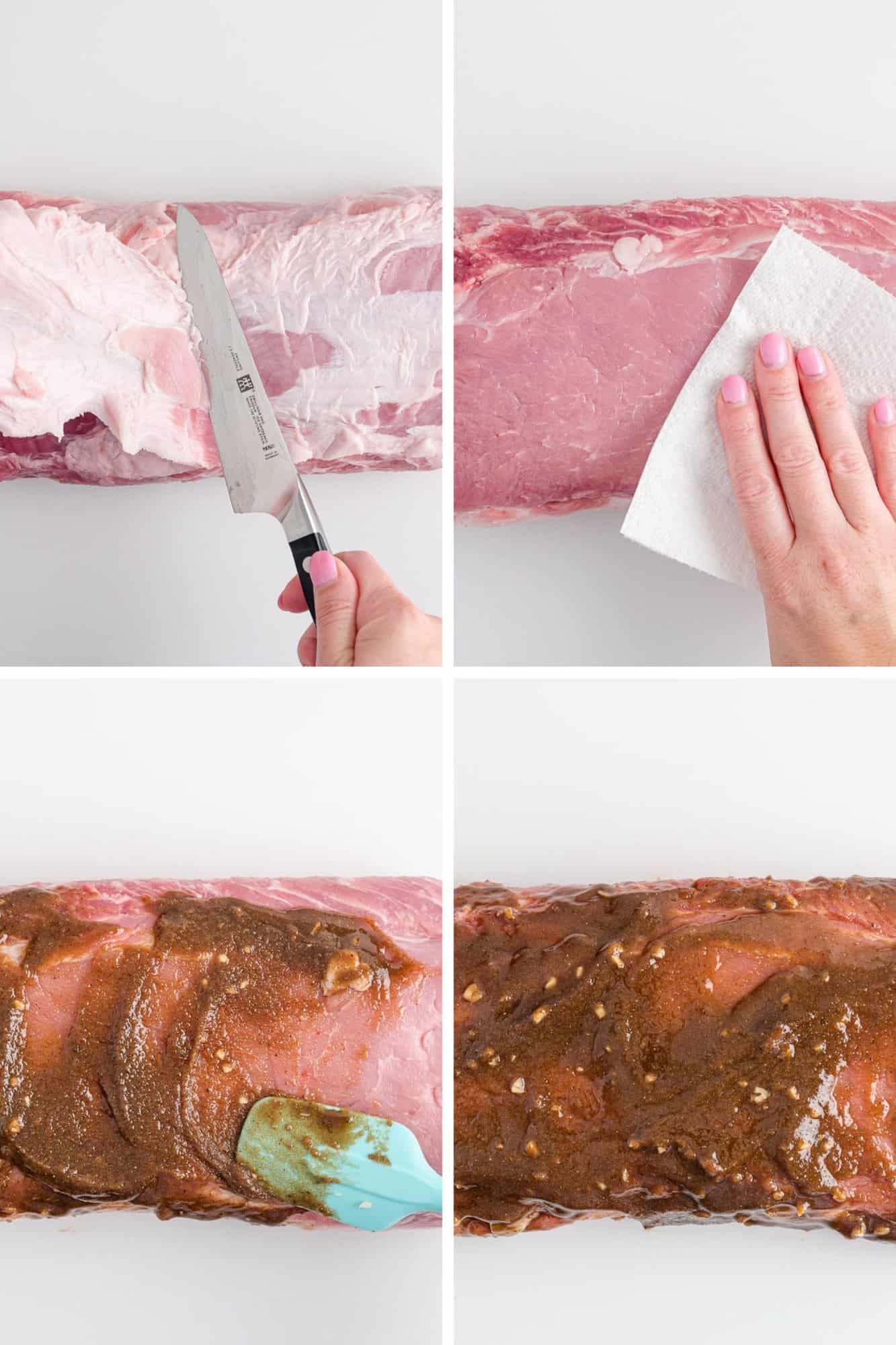 Let the pork cook on low, covered, for seven to nine hours. If you didn't get it started in the morning, set the cooker on high. It will take about 4 hours to cook the pork. This is why I love slow cookers! Put it in there and forget about it for the rest of the day until you're ready to eat dinner.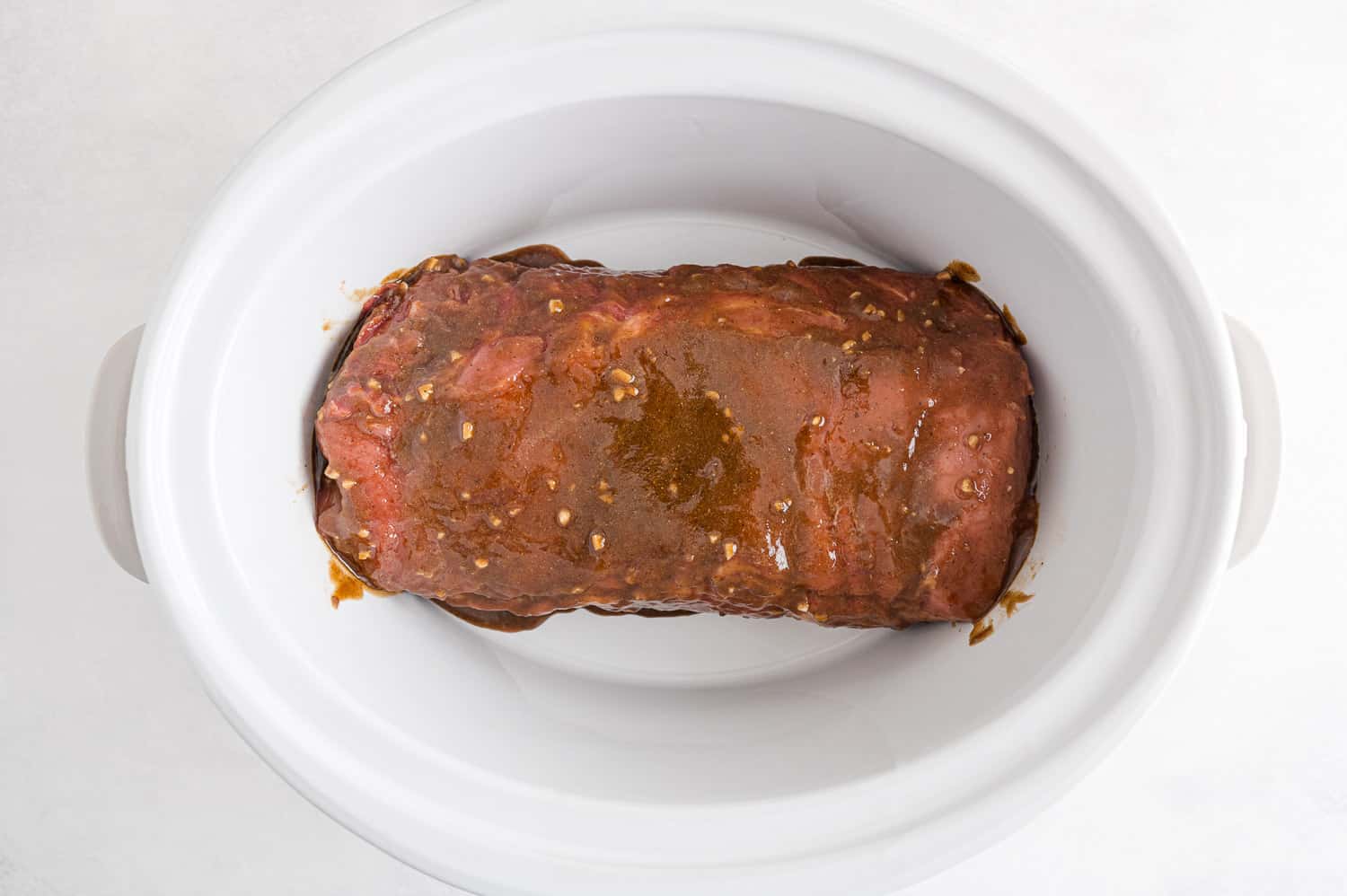 After the brown sugar pork loin has finished cooking, turn off the slow cooker and let the meat rest. Meanwhile, you can make the glaze. Stir together the glaze ingredients in a small saucepan. Simmer it for ten to fifteen minutes, until the glaze is thickened slightly.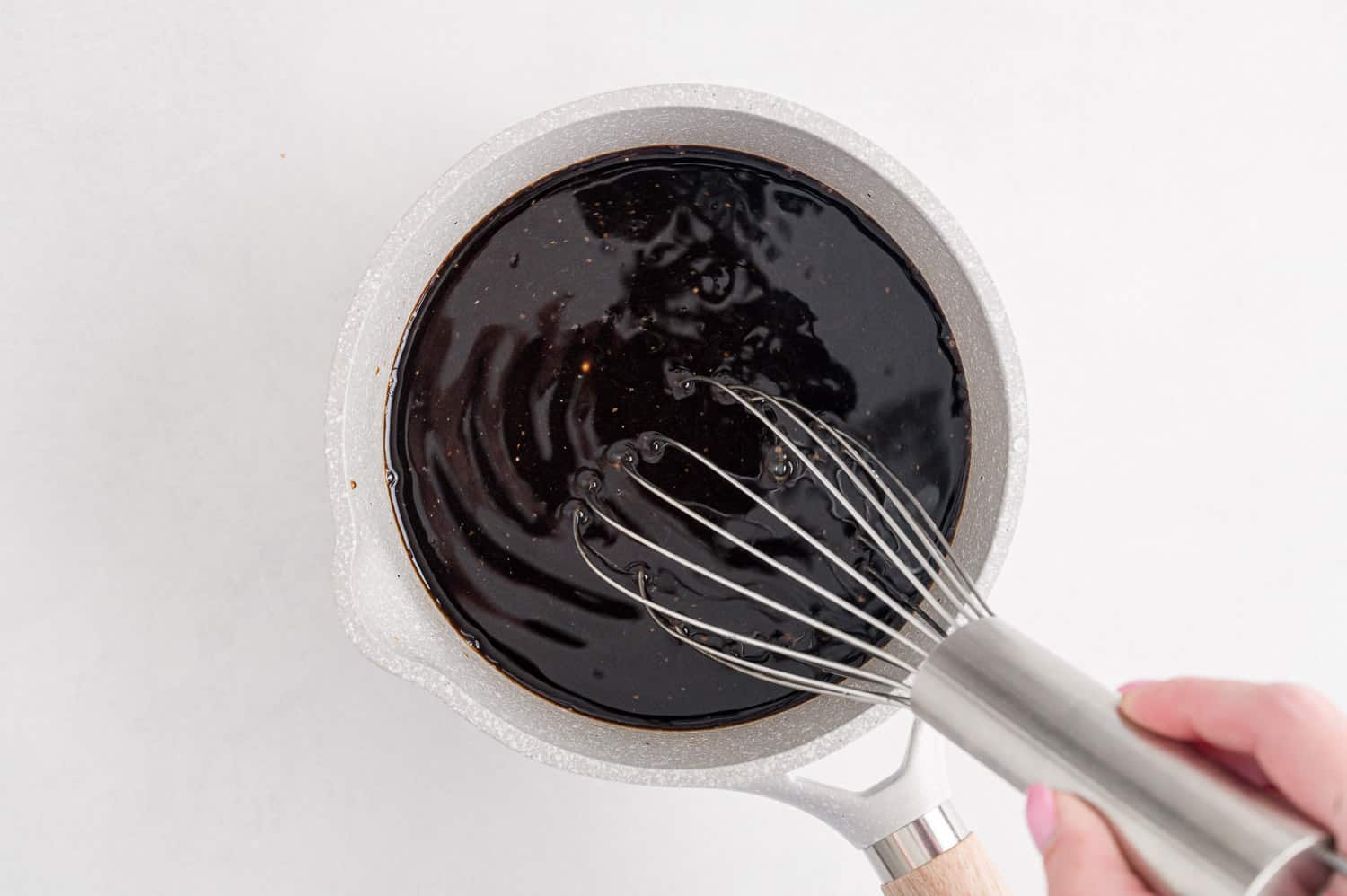 Now you decide: How do you want to serve this delicious meal? There are options here: Slice the pork loin roast and drizzle the glaze over it. Serve it with rice, mashed potatoes, or roasted sweet potatoes. For a green vegetable, try roasted Brussels sprouts or quick cooking sugar snap peas.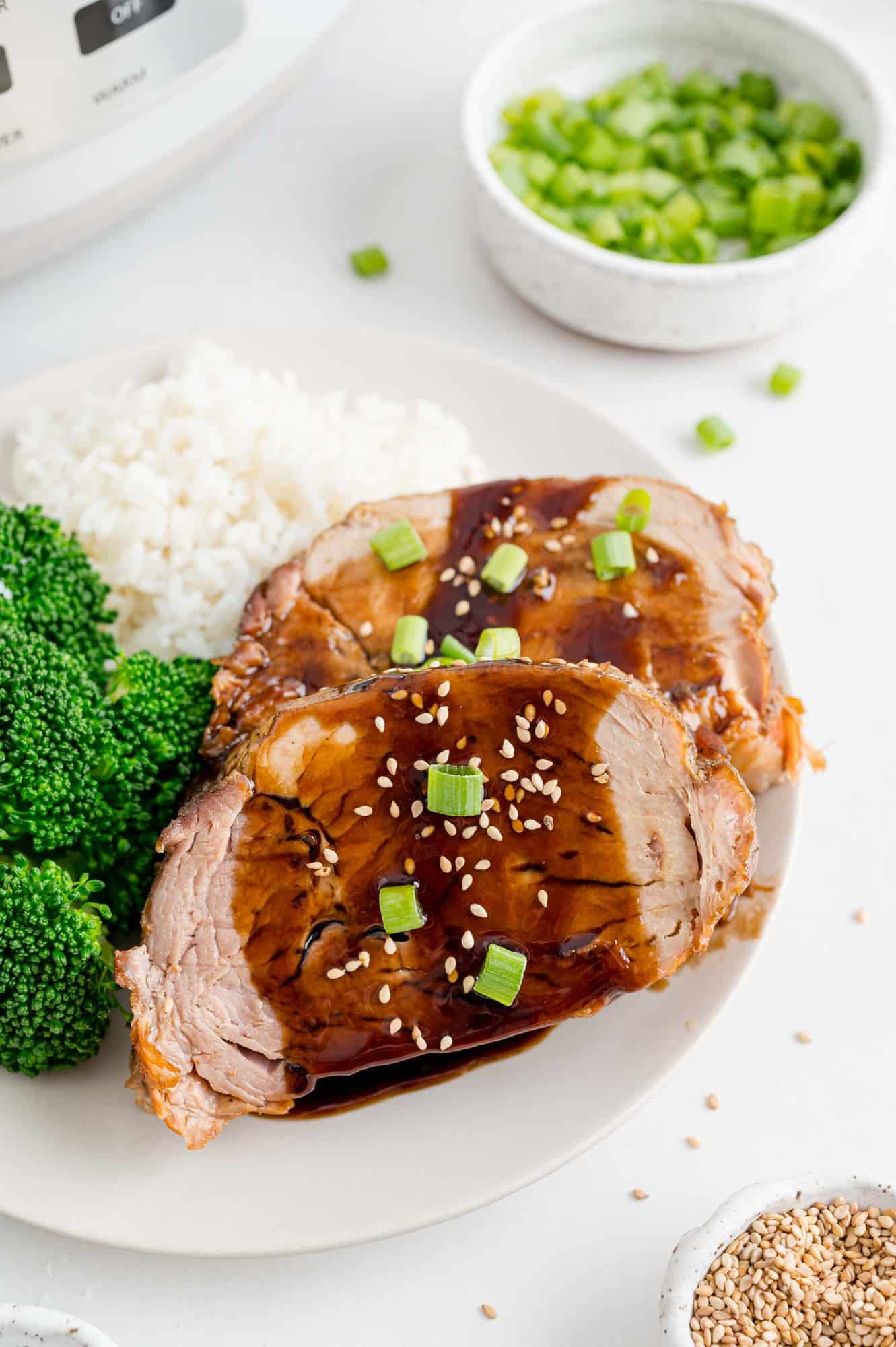 Or, shred the pork, mix in the glaze, and serve it with sides, like roasted broccoli or spicy sweet roasted butternut squash. Or, pile it on a bun and make a delicious pulled pork sandwich and serve it with crispy air fryer French fries or air fryer zucchini chips.
Because a pork loin is a pretty large cut of meat, you may have enough for dinner tonight (sliced pork roast) and dinner tomorrow night, too (shredded pork).
FAQs
Can you put raw pork in a slow cooker?
Yes! The slow cooker will thoroughly cook the pork to a safe temperature (145°F) assuming that your crockpot is in good working condition and you cook the pork the required amount of time. Always cover the crockpot. The lid holds in the heat and ensures that the food will cook properly.
Do you need to add water to slow cooker for pork?
There is no need to add water to the slow cooker. The pork will produce plenty of moisture as it cooks. Adding too much liquid to a crockpot will boil the meat.
Should I brown meat before slow cooking?
Often I brown meat before adding it to the slow cooker. When pork or beef is seared on all sides, there are a few benefits: the cooking process is jump started, the caramelization improves the flavor, and the finished product has a nicer appearance and looks more appetizing.
Ground meat should always be browned before adding it to the slow cooker so some of the grease can be eliminated and the larger chunks broken down.
Make It Your Own
Rather have an oven roasted pork loin? This recipe can be cooked in the oven, too. You'll need a large roasting pan (9×13 inches); prep the roast as directed. Preheat the oven to 375°F and roast the pork for one to two hours, depending on the size of the roast (internal temperature should be at least 145°F). If it's browning too quickly, cover the pan with foil. Let pork rest for 10 to 15 minutes before slicing. Serve with glaze.
Short of time? Try my Instant Pot pork loin roast. It turns out so well every time and it's ready to eat in an hour and a half. It has a really tasty sauce, too.
Change it up by substituting BBQ sauce or another favorite sauce for the glaze. Sometimes I skip the glaze and serve the pork with caramelized onions or sautéed mushrooms. So good!
Make-Ahead Ideas
If you want to get a head start on things so you don't have so much to accomplish in the morning, prep the raw pork the night before and season with the rub. Put the pork loin in a large container or pan, cover and refrigerate. In the morning, transfer it to the crockpot and start it cooking. The glaze can be made ahead too. Reheat it to serve.
This recipe makes a big batch of meat and may be more than most families will consume at one meal. That's a bonus! You can either have it for dinner tomorrow or freeze the meat and sauce for a meal in the future.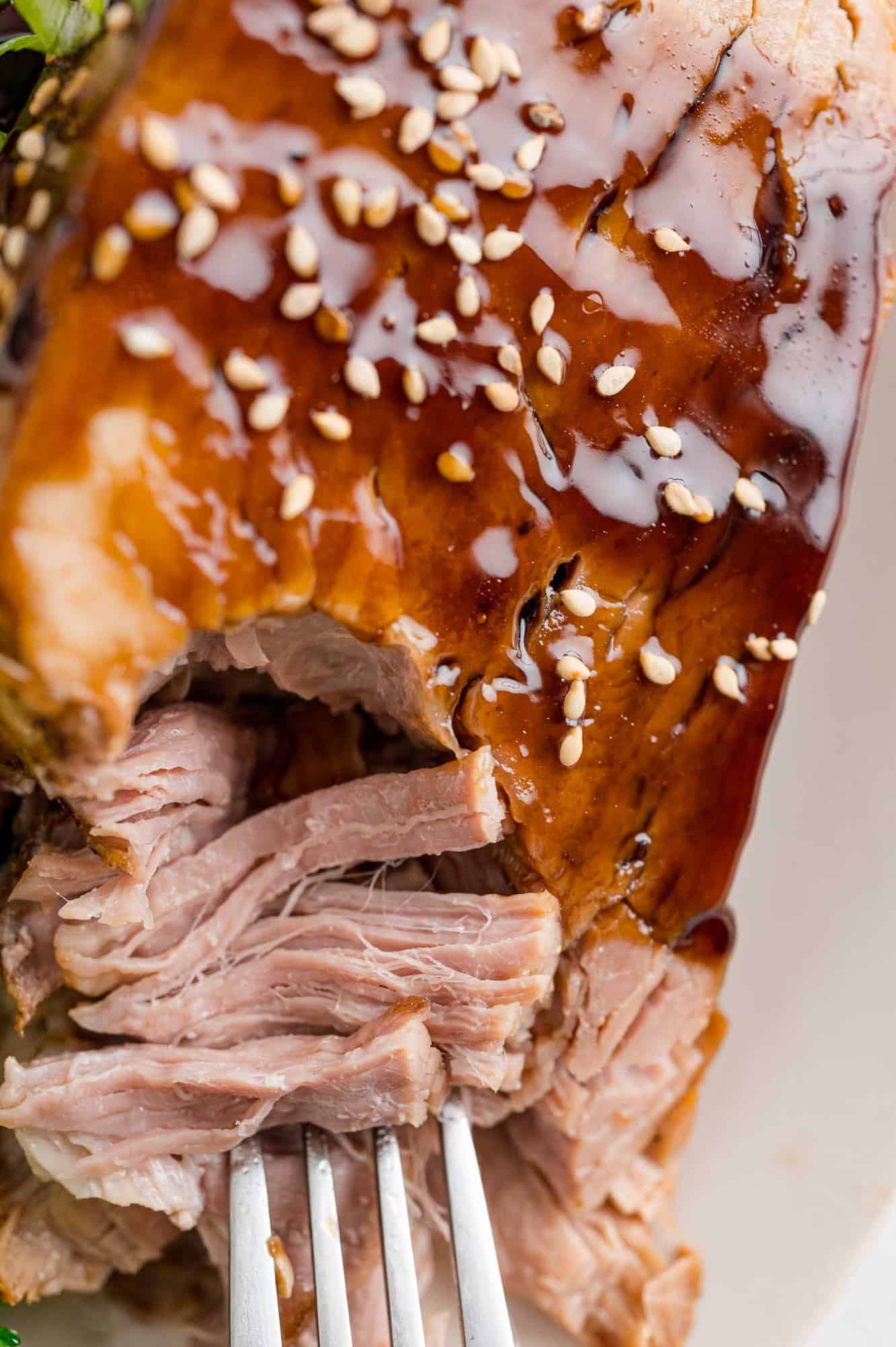 Storage & Reheating Tips
Promptly refrigerate leftover pork in a covered storage container. It will keep for three to four days. Cooked pork can be frozen for two to three months. Thaw overnight in the fridge before reheating.
To reheat, warm up single servings in the microwave. Shredded pork with glaze can be warmed in a saucepan or skillet over low heat.
Try not to overheat the pork slices or they may become dry. If you have a lot to reheat, put it into a shallow pan, add a bit of broth, cover with foil and bake at 325°F until warmed through.
Leftover Love
Try repurposing leftover pork by turning it into something new. Mince the pork finely and add it to fried rice to make a main dish. It would be really good in egg roll in a bowl, too, instead of the ground chicken.
Did you make this? Be sure to leave a review below and tag me @rachelcooksblog on Facebook, Instagram, or Pinterest!
Tender and juicy pork with a sweet balsamic glaze, this slow cooker pork loin is a dinner favorite. Fix it and forget it!
Ingredients
For the Pork:
1

boneless pork loin roast

(4 to 6 pounds)

½

cup

light brown sugar

1

tablespoon

Dijon mustard

1

tablespoon

balsamic vinegar

2

garlic cloves, minced

1

teaspoon

salt

½

teaspoon

ground black pepper
For the Glaze:
1

cup

light brown sugar

2

tablespoons

cornstarch

½

cup

balsamic vinegar

1

cup

water

¼

cup

reduced sodium soy sauce

Ground black pepper, to taste

toasted sesame seeds and green onions (optional)
Instructions
For the Pork:
Spray the inside of large slow cooker lightly with nonstick spray. Trim fat from pork loin, if desired, and pat dry with paper towels (see note).

In a small bowl, combine

½ cup

brown sugar, mustard,

1 tablespoon

balsamic vinegar, garlic, salt and pepper. Rub mixture on all sides of the pork loin and put the meat into the prepared slow cooker.

Cook, covered, on high for 4 hours, or on low for 7-9 hours.
For the Glaze:
When pork has finished cooking, turn off heat to let pork rest, and begin glaze.

In a small saucepan, whisk together sauce ingredients:

1 cup

brown sugar, cornstarch,

½ cup

balsamic vinegar, water, soy sauce, and black pepper. Bring to a boil over medium-high heat, reduce to a simmer (medium-low heat), and simmer until thickened, 10 to 15 minutes. Stir occasionally.

Cut pork into thick slices, about 1 inch thick. Drizzle glaze over pork and garnish with sesame seeds and green onions. Alternatively, shred the pork with two forks and mix with glaze.
Notes
If desired, season pork with salt and pepper and sear on all sides in a large skillet or Dutch oven before placing in slow cooker and adding the rub.
Leftover pork will keep in the refrigerator for three to four days or in the freezer for two to three months.
Oven roasted pork loin: You'll need a large roasting pan; prep the roast as directed. Preheat the oven to 375°F and roast the pork for one to two hours, depending on the size of the roast (internal temperature should be at least 145°F). If it's browning too much, cover the pan with foil. Let pork rest for 10 to 15 minutes before slicing. Serve with glaze.
Nutrition Information
Serving:
8
oz.
,
Calories:
449
kcal
,
Carbohydrates:
37
g
,
Protein:
52
g
,
Fat:
9
g
,
Saturated Fat:
3
g
,
Polyunsaturated Fat:
1
g
,
Monounsaturated Fat:
4
g
,
Cholesterol:
143
mg
,
Sodium:
604
mg
,
Potassium:
937
mg
,
Fiber:
0.2
g
,
Sugar:
34
g
,
Vitamin A:
2
IU
,
Vitamin C:
0.2
mg
,
Calcium:
48
mg
,
Iron:
2
mg
This website provides approximate nutrition information for convenience and as a courtesy only. Nutrition data is gathered primarily from the USDA Food Composition Database, whenever available, or otherwise other online calculators.