Pork Medallions with Lemon Garlic Sauce
Tender and succulent seared pork medallions, with a lemony white wine sauce, are elegant enough for entertaining but easy enough to prepare for every day meals.
Recipe Overview
Why you'll love it: The pork is tender and delicious, never tough and dry. The sauce is amazing!
How long it takes: 40 minutes
Equipment you'll need: meat mallet, skillet
Servings: 4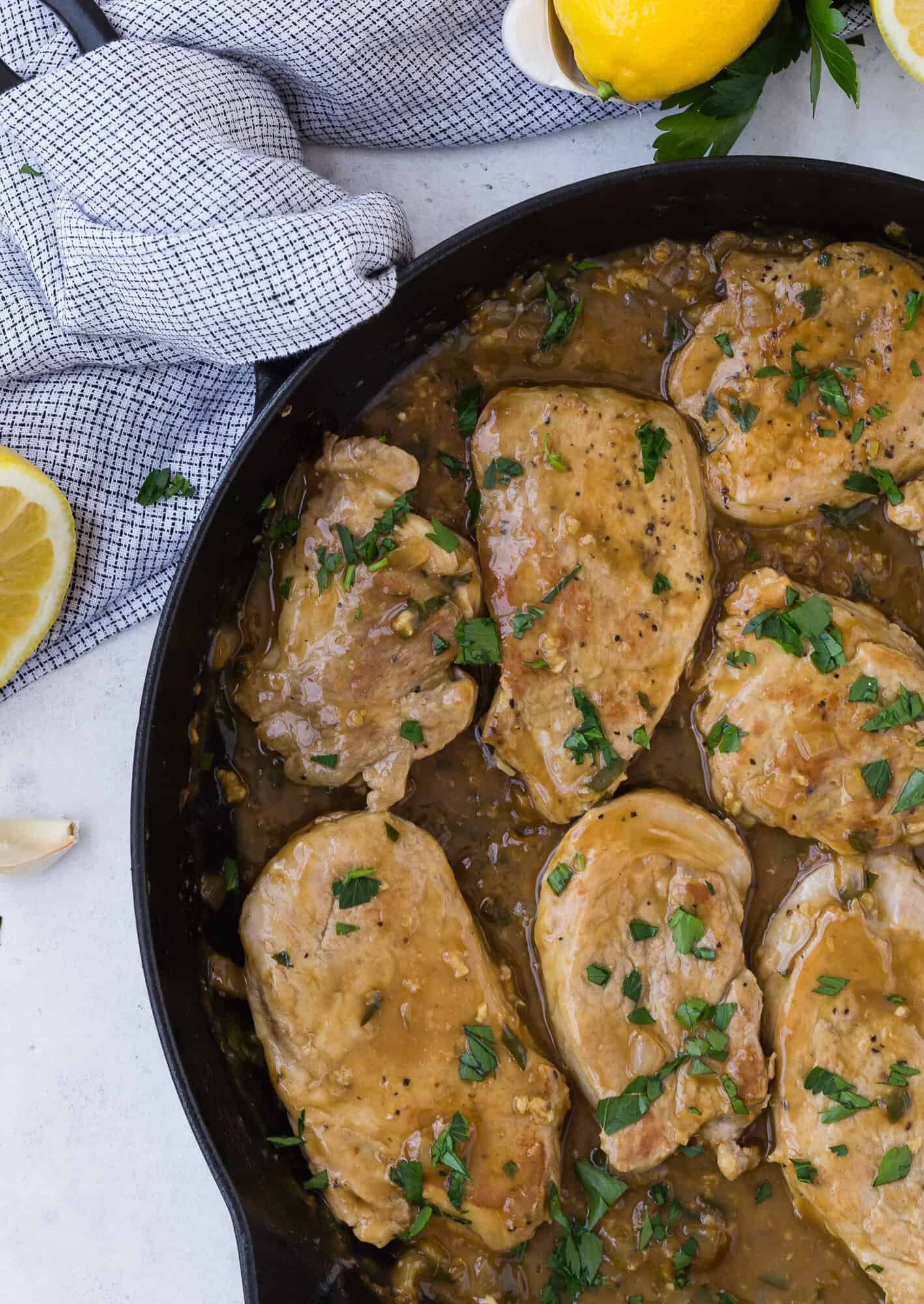 Using a meat mallet or a rolling pin to flatten meat into a thin, even thickness is one of the best ways to cook quick dinners. And quick dinners are what I'm all about here at Rachel Cooks. I am always looking for ways to make cooking easy and fun, so that you can prepare healthy delicious dinners without stressing out.
How does flattening meat with a mallet help you get dinner on the table quickly? It's all about cooking time. Thin slices of meat which are uniform in size cook faster. It's that simple. A quarter-inch thick medallion of pork tenderloin or chicken breast will cook in a matter of minutes. A quick sear on both sides (about 5 to 6 minutes total time) is all it takes.
Top it with a delicious sauce. Once the meat is cooked, you can add any manner of sauces. Today we're cooking a lemon garlic sauce but we also just love creamy Tuscan mushrooms with both pork and chicken. Or make delicious baked chicken Parmesan. The chicken bakes in less than 20 minutes!
A side benefit: You have a good excuse for hammering something! You're also tenderizing the meat by breaking down the connective tissue that can make meat tough. That's actually two side benefits.
I'm excited to bring you this pork medallions recipe. Quick and elegant, with a white wine and lemon pan sauce, pork tenderloin medallions are nothing short of a dream. You're going to love them!
Get fancy! Use the French pronunciation for médaillon, a small flat roundish cut of meat. Say it "mā-dä-'yōn."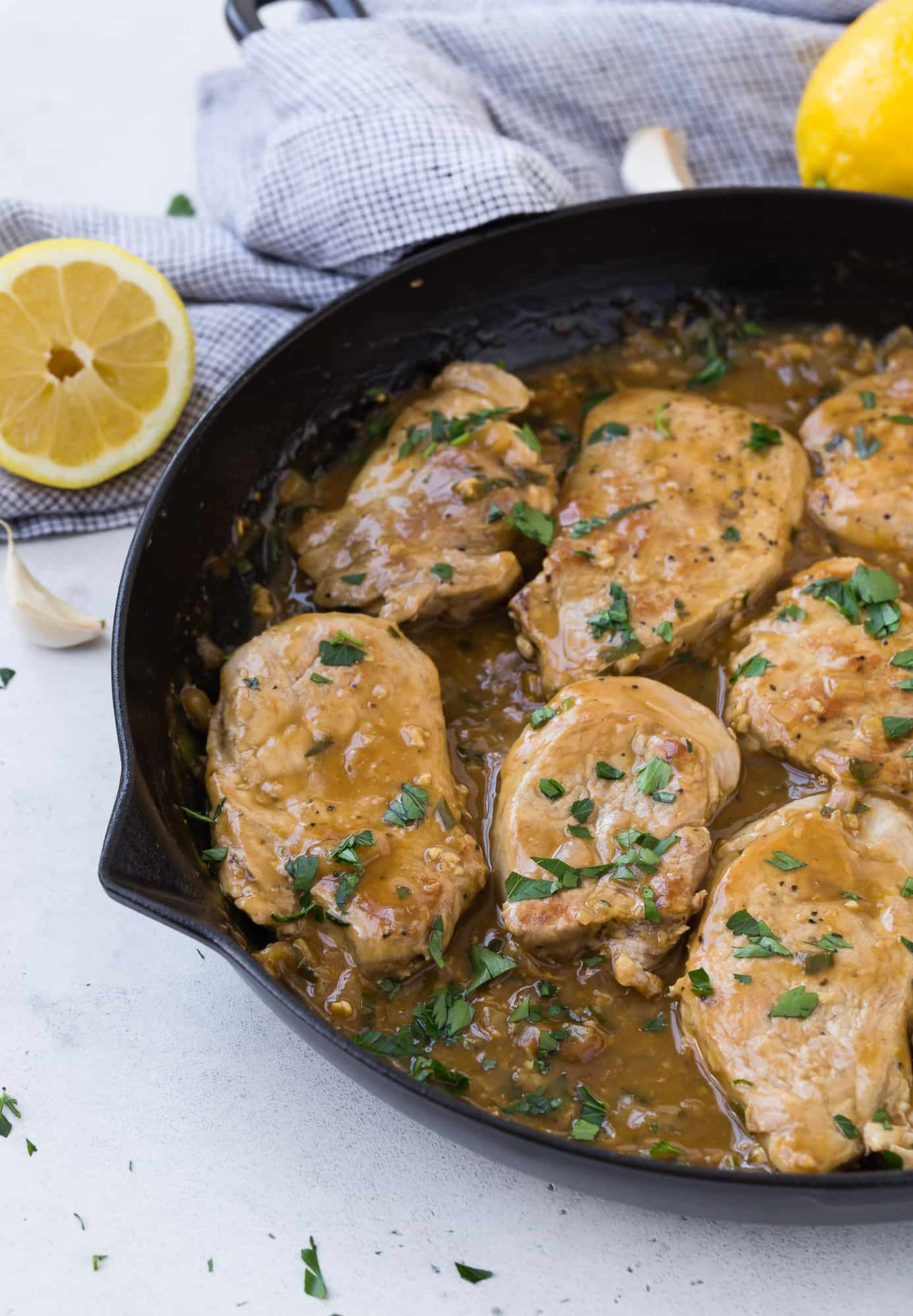 About this recipe
Cook the pork. After you've established who's boss and you've pounded your pork tenderloin slices so they are tender and thin, a hot skillet and a quick sear will get you started. Once the pork is cooked, set it aside to rest while you prep the white wine sauce.
Make the sauce. In the same skillet, briefly sauté chopped shallots until they're tender; add garlic and sauté briefly. Add a little flour to brown for a minute, then add white wine to deglaze the pan and reduce. You're almost there now.
Next you'll add a cup of chicken broth to simmer and thicken for about 5 minutes. Finally, stir in a tablespoon of butter, lemon zest, lemon juice, and fresh parsley. Briefly return the pork to the pan to coat it with the sauce.
Serve. Pork tenderloin medallions with lemony white wine sauce are perfect served with rice, or even better, creamy risotto. I love them with baked spaghetti with spinach. Round the meal out with roasted green beans or Brussels sprouts, or a fresh salad.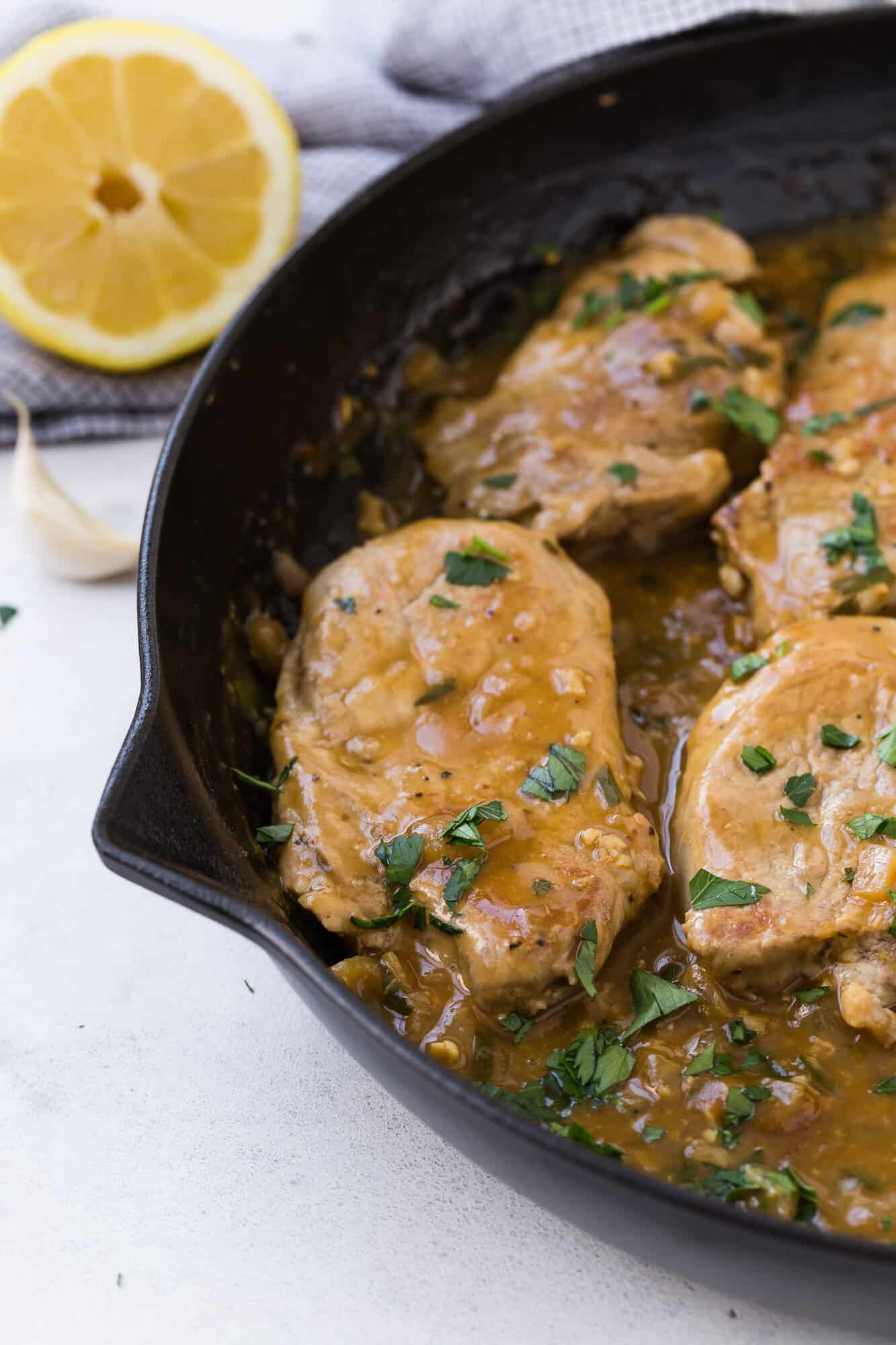 How To Slice Pork Tenderloin Medallions
On a cutting board, use a sharp knife to cut the tenderloin in ½ inch slices. Lay plastic wrap over the slices and, using a meat mallet, rolling pin, wine bottle, or even the heel of your hand, gently pound each slice into ¼ inch thickness. Watch a short video demonstrating this method if you like.
Tip: Instead of plastic wrap, you can use waxed paper, parchment paper, or a zip top bag.
How to know when pork Is Safely Cooked
Pork is considered fully cooked when the internal temperature reaches 145°F. You can use an instant read thermometer to ascertain the temperature. However, since these pork medallions are only a half inch thick, it's a little more difficult to get an accurate reading.
Take a look at your pork. Use a sharp knife to cut one in half if you need to. The pork should be mostly white with a hint of pink. The juices should be clear or faintly pink. This is medium rare, perfect for pork. Allow the pork to rest for a few minutes, and serve. Allowing the pork to rest for at least 3 minutes is important because the meat continues to cook just a bit longer and the juices settle down.
Cooking Tip
Don't cut into all of the medallions. Cutting them before they have a chance to rest will allow all the juices to come out and they'll become dry.
If you see dark red in the center of your medallion or the juice is bloody, the pork hasn't finished cooking, Return it to the pan and cook a bit longer.
Try not to overcook the pork. In the past, it was recommended that pork be cooked to an internal temperature of 160°F. This is considered well done. The pork will be completely white all the way through, but it will be rather dry and tough. The USDA has changed its recommendation to 145°F in recent years. The pork should be tender and juicy.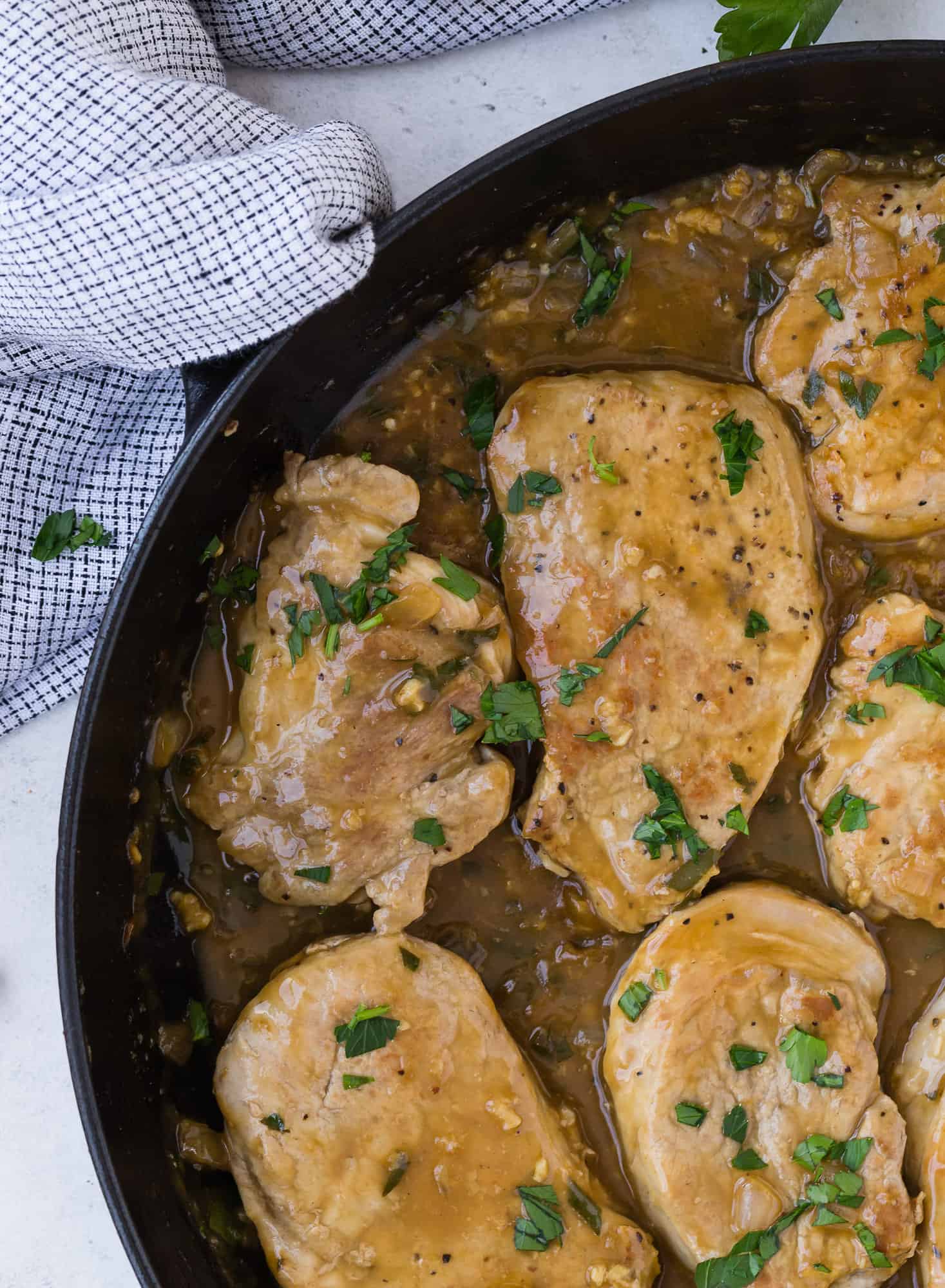 FAQs
What part of the pig are pork medallions?
Pork medallions are usually cut from the tenderloin which is a narrow muscle that runs along the backbone. It's boneless, averaging about one pound in weight.
Are pork medallions the same as pork chops?
No, a pork chop usually has a T-shaped bone (the rib) and is cut from the loin of a pig, perpendicular to the spine.
Are pork medallions lean?
Yes, the tenderloin is the leanest part of the pig. A 3 oz. serving contains only 125 calories and 3.4 grams of fat (Nutritionix).
Storage & Reheating Tips
Refrigerate: Cooked pork tenderloins, wrapped well, will keep in the fridge for 3 to 4 days.
Freeze: You can also freeze them for up to 3 months.
Reheat: To serve, place on a plate, cover to prevent spatters, and gently reheat in the microwave until warmed through. Try not to overheat the medallions. Alternatively, place cold pork medallions in a skillet and gently reheat over low heat.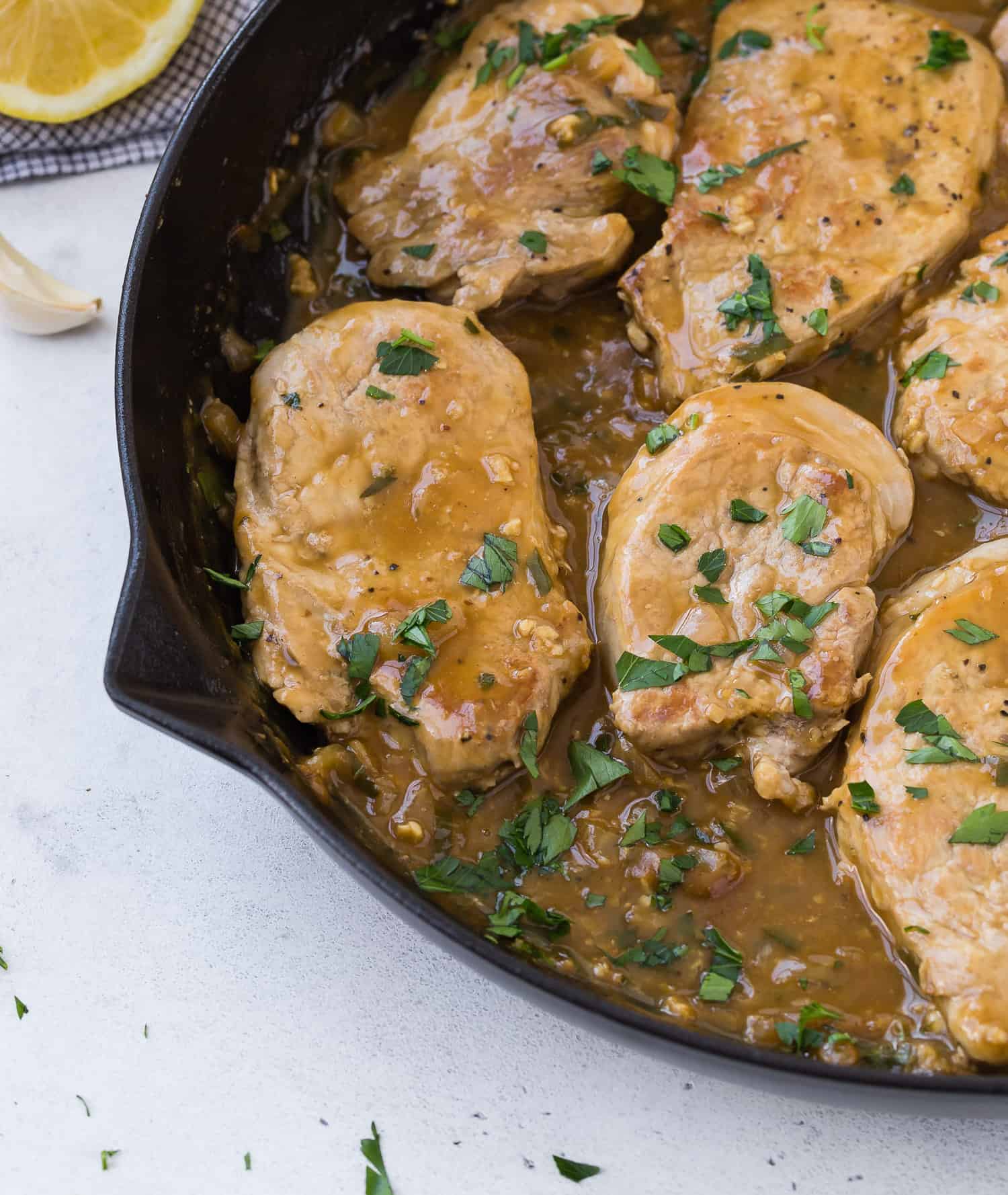 More great pork recipes
Looking for more ways to cook delicious pork entrees? Try:
Did you make this? Be sure to leave a review below and tag me @rachelcooksblog on Facebook, Instagram, or Pinterest!
Tender and succulent seared pork medallions, with a lemony white wine sauce, are elegant enough for entertaining but easy enough to prepare for every day meals.
Ingredients
2

teaspoons

olive oil

1

pound

pork tenderloin

½

teaspoon

kosher salt

¼

teaspoon

coarse ground black pepper

1

shallot, finely chopped

3

cloves

garlic, minced

1

tablespoon

all-purpose flour

½

cup

dry white wine

1

cup

unsalted or low-salt chicken broth

½

teaspoon

lemon zest

(from

1

lemon)

1

tablespoon

freshly squeezed lemon juice

(from

1

lemon)

1

tablespoon

fresh parsley,

(more for garnish)

1

tablespoon

unsalted butter
Instructions
Slice pork tenderloin into 8 pieces of equal thickness. Place each piece between two layers of plastic wrap and use a mallet or a rolling pin to pound into a thickness of about ½ -inch. Season each piece with salt and pepper.

Heat oil in a large skillet over medium-high heat. Add pork to pan in a single layer (you will likely have to do this in batches depending on the size of your skillet) and cook for 2 to 3 minutes per side, or until internal temperature reaches 145ºF. Remove from pan and place on a plate and cover with foil. Repeat with remaining pork.

Reduce heat to medium and add shallots to the same pan (add another ½ to 1 teaspoon olive oil if pan is too dry) and cook for 2 to 3 minutes or until translucent. Add garlic and continue to cook for 1 minute or until fragrant. Add flour, and cook while stirring constantly, for 1 minute.

Add wine and increase heat to medium-high. Simmer wine until reduced by about half, about 2 minutes. Add chicken broth slowly while stirring, and continue to cook until thickened slightly, about 5 minutes.

Reduce heat to low. Add lemon zest, lemon juice, parsley, and butter. Stir until butter is melted. Return pork to pan to coat in lemon-garlic sauce. Serve immediately, sprinkled with additional parsley if desired.
Notes
Cooked pork tenderloins, wrapped well, will keep in the fridge for 3 to 4 days. You can also freeze them for up to 3 months.
To reheat, place in skillet and warm over low heat or gently microwave in 30 second increments. Try not to overheat the pork.
Nutrition Information
Serving:
2
slices
,
Calories:
229
kcal
,
Carbohydrates:
5
g
,
Protein:
25
g
,
Fat:
9
g
,
Saturated Fat:
4
g
,
Polyunsaturated Fat:
1
g
,
Monounsaturated Fat:
4
g
,
Trans Fat:
1
g
,
Cholesterol:
81
mg
,
Sodium:
371
mg
,
Potassium:
562
mg
,
Fiber:
1
g
,
Sugar:
1
g
,
Vitamin A:
175
IU
,
Vitamin C:
4
mg
,
Calcium:
22
mg
,
Iron:
2
mg
This website provides approximate nutrition information for convenience and as a courtesy only. Nutrition data is gathered primarily from the USDA Food Composition Database, whenever available, or otherwise other online calculators.