You'll fall in love with these creamy Tuscan mushrooms with sun dried tomatoes, Parmesan cheese, and baby spinach. They're irresistibly good! Serve them as meatless main dish or a side.
Recipe Overview
Why you'll love it: These mushrooms may be the best you've ever had!
How long it takes: 25 minutes
Equipment you'll need: skillet, stove, sharp knife
Servings: 4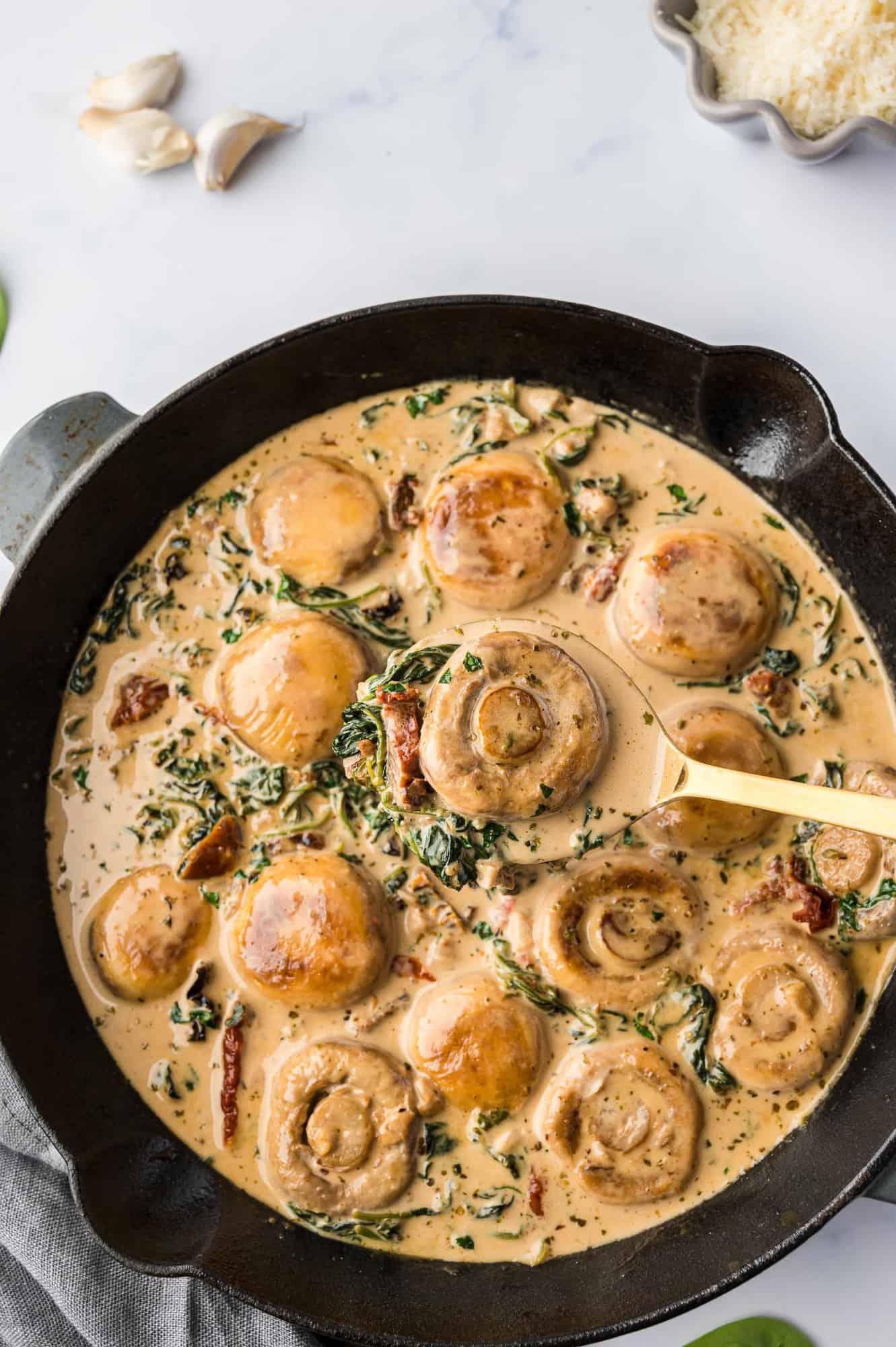 There's so much to get excited about with these Tuscan mushrooms. What do I list first? The creamy garlic sauce loaded with Parmesan? The tangy flavorful sun dried tomatoes? The meaty, juicy mushrooms? The emerald baby spinach leaves? The fresh basil? I don't know, it's all so good and when you wrap it all together in a single extravagant recipe, it's just pure bliss!
I'm a mushroom lover from way back. I love simple sautéed mushrooms with garlic butter. They often have a place on my dinner plate. When I'm feeling a bit fancier, I like sautéed mushrooms with wine and garlic. Wine just makes everything a little better, doesn't it?
Roasted mushrooms are wonderful, too, and lately I've discovered how well air fryer mushrooms turn out (much like roasted).
And stuffed mushrooms! A stuffed portobello makes a wonderful dinner. One of my favorites right now is this vegetarian stuffed portobello mushrooms with three cheeses and a crispy breadcrumb topping (and also starring sun dried tomatoes!)
If you're bored with your current mushroom situation, you have to try these Tuscan mushrooms. I can't wait for you to tell me how good they are!
About this Mushroom Recipe
This recipe can be on the table in about twenty-five minutes depending on how fast you are with a knife (sorry, that sounds kind of scary, doesn't it?). The mushrooms can be served as a main dish or a side. Keep reading for more ideas.
You'll need a good-sized skillet. A pound of mushrooms takes up quite a bit of real estate. They do shrink down as they cook so if the pan seems a bit over-full at first, don't worry about it. However, you don't want it too crowded or the mushrooms won't brown at all and you'll miss out on flavor!
Tuscan mushrooms are not low calorie with all that cream and cheese but mushrooms themselves are surprisingly healthy. Mushrooms are fat-free, high in fiber, with lots of vitamins and minerals, particularly B vitamins (Healthline).
If you serve this recipe as a meatless main meal, accompanied by whole wheat pasta, brown rice, or crusty bread, mushrooms can be a nutritious meal. Add a leafy green salad, like this refreshing classic arugula salad with lemon vinaigrette.
I'll run you through the basics of this recipe here, with lots of extra tips and info. Keep reading for the printable recipe card with full directions and nutrition information found at the end of the post.
What you'll need
Mushrooms: You'll need a pound of white mushrooms. White mushrooms are the typical button mushrooms commonly found in grocery stores. Baby bella mushrooms are a good substitute. See the FAQ section if you're not sure how to clean mushrooms.
Onion and Garlic: Mince them up finely so the flavor gets evenly dispersed.
Heavy Cream: Yes, heavy cream! That's one of the reasons these mushrooms are so good!
Baby Spinach: Tender dark green spinach leaves add nutrition and color to the mushrooms. Chop them roughly if you don't like long pieces of spinach.
Sun Dried Tomatoes: Choose a jar of tomatoes packed in oil. You can usually find them by the pasta sauces in your grocery store. You'll be using the tomatoes and the yummy tomato-infused oil that they're packed in.
Dried Oregano: Just a pinch adds Italian flavor to this dish. Fresh oregano is fine, too, but add a bit more (a teaspoon ).
Shredded Parmesan Cheese: You'll need a cup of shredded cheese. If you decide to use grated cheese instead, use half as much.
Fresh Basil: This flavorful herb adds just the right touch as a fresh garnish. There's really no substitute.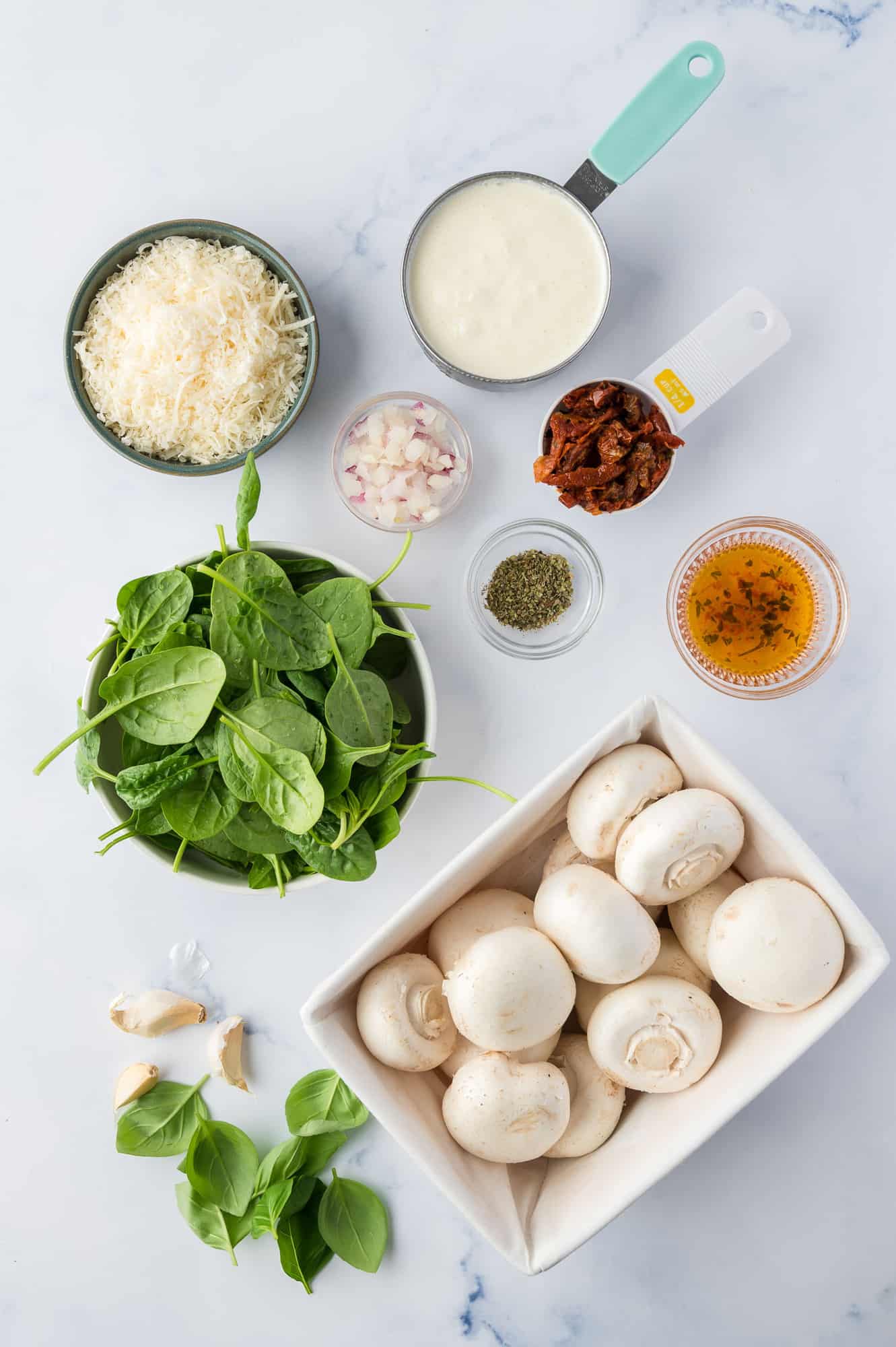 How To Store Fresh Mushrooms
Fresh mushrooms have a lot of moisture so they like to breathe. Store them in the fridge, unwashed, for up to a week. For best results, remove them from the original plastic packaging and put them in a paper bag, loosely closed, or wrap them in paper towels. Fresh mushrooms should never be frozen (The Mushroom Council).
How to make This Recipe
Begin by cleaning the mushrooms. Halve or quarter them if they're really large so they are bite-sized. Some of those mushrooms can be gigantic! Mince the onion and garlic and prep the spinach.
Drain the sun dried tomatoes but make sure to reserve the oil. Why not use that tomato-infused oil to sauté the mushrooms? It will add lots of extra flavor. (If you forget, don't worry, you can use olive oil instead.) Pat the excess oil off the tomatoes with a paper towel and chop into small pieces.
Shred a cupful of Parmesan cheese. It's one of the last things to go in but it's nice to have everything ready. Once you get going, this recipe goes pretty fast.
Whew, I think we're ready! Let's get cooking!
Over high heat, heat the oil in a large skillet that has room for the mushrooms. They do shrink as they cook but at first there's quite a pile of them.
Once you get the mushrooms in the pan, season them with salt and pepper, and let them sit for at least a couple of minutes. Don't be tempted to keep stirring them. They need time to hang out there and turn a lovely golden brown on the bottom. They'll begin to release liquid as they cook. Once they're nice and browned, take them out of the pan and put them into a bowl; set it aside.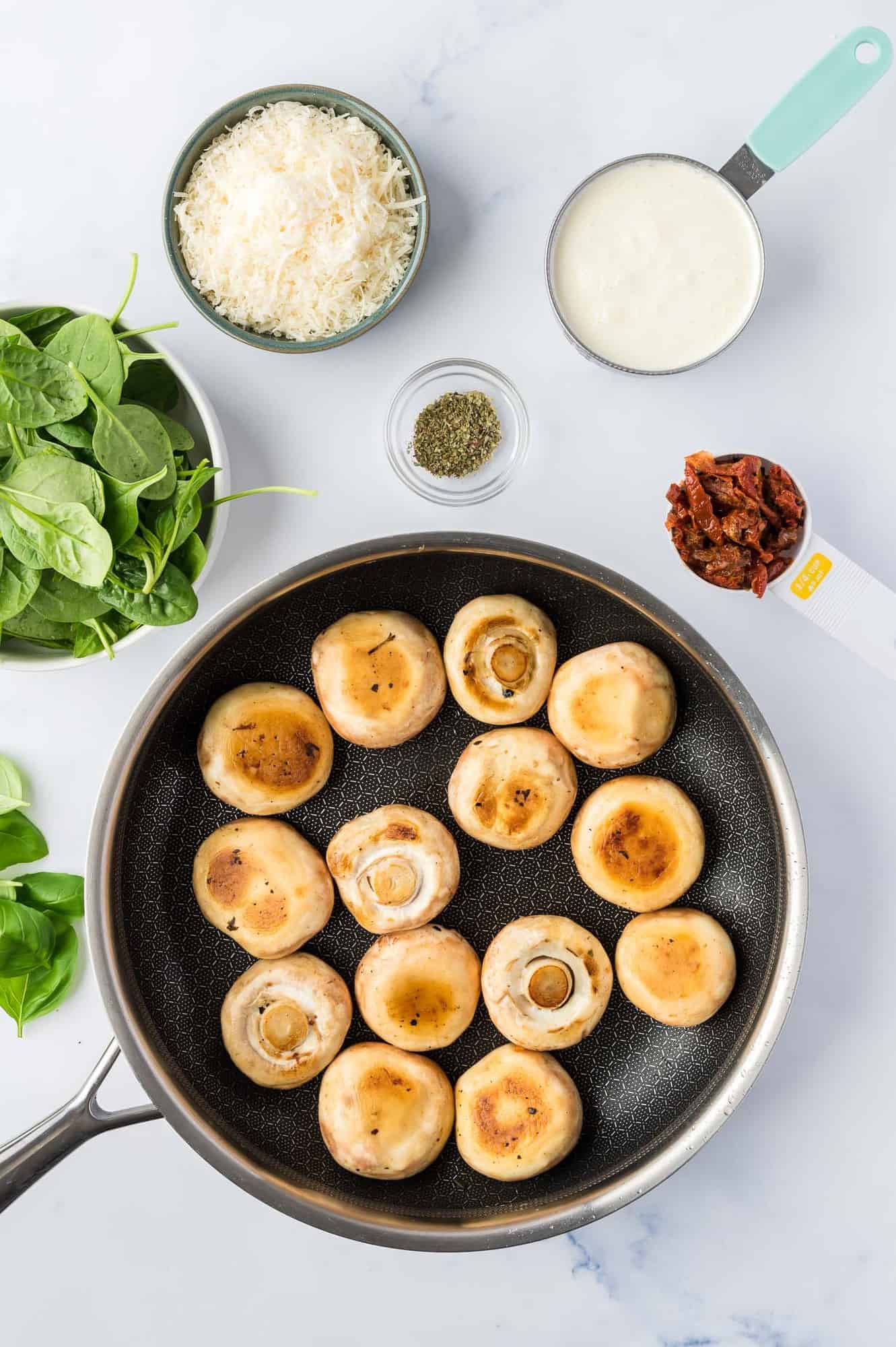 Now, add the onions and garlic. Cook those over medium heat for a few minutes until they begin to soften.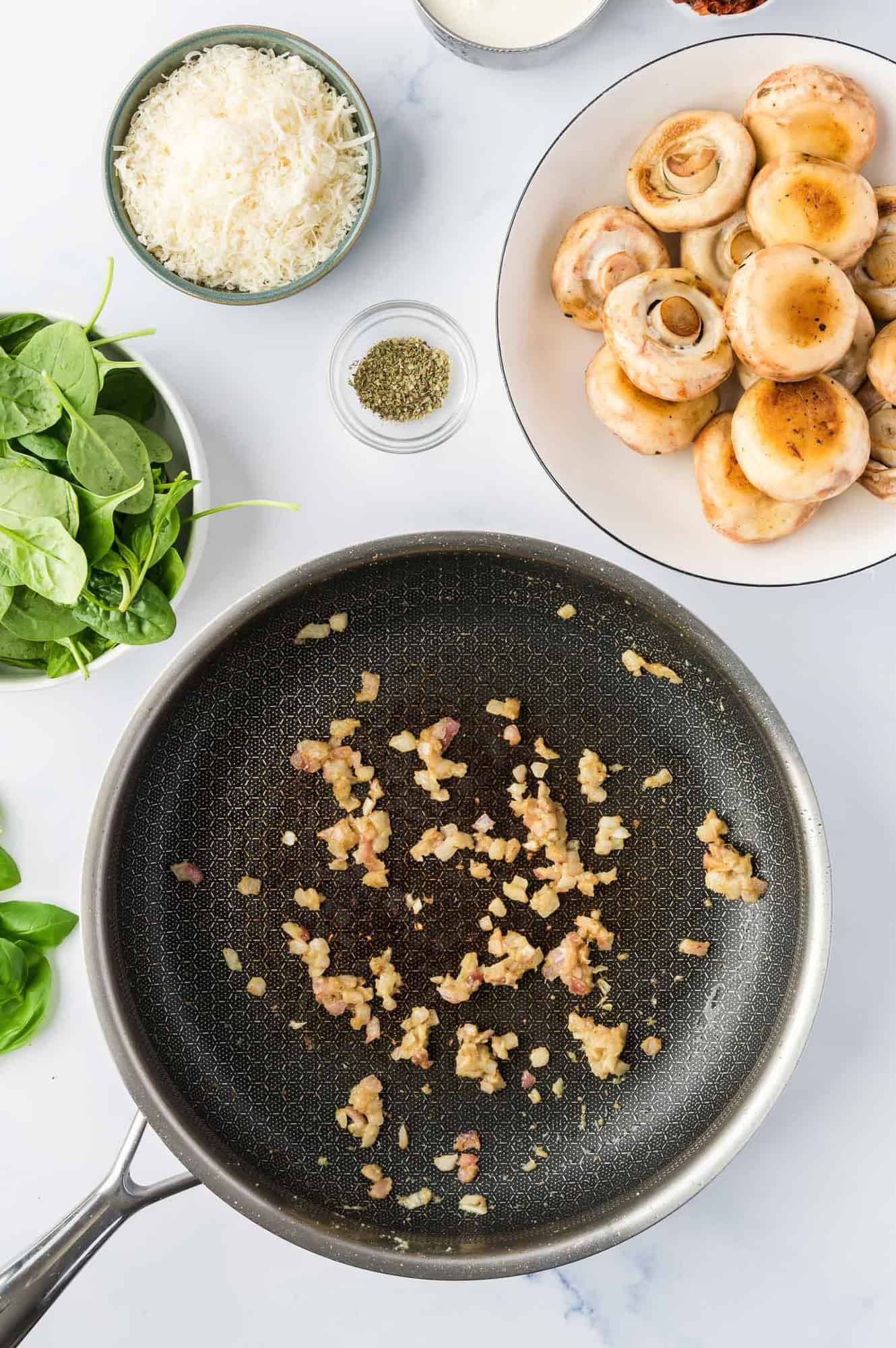 Add the heavy cream, tomatoes, and the dried oregano. Cook and stir until the sauce begins to thicken a bit, just a few minutes. You can either add your mushrooms now or wait until the end, depending on how you like them cooked.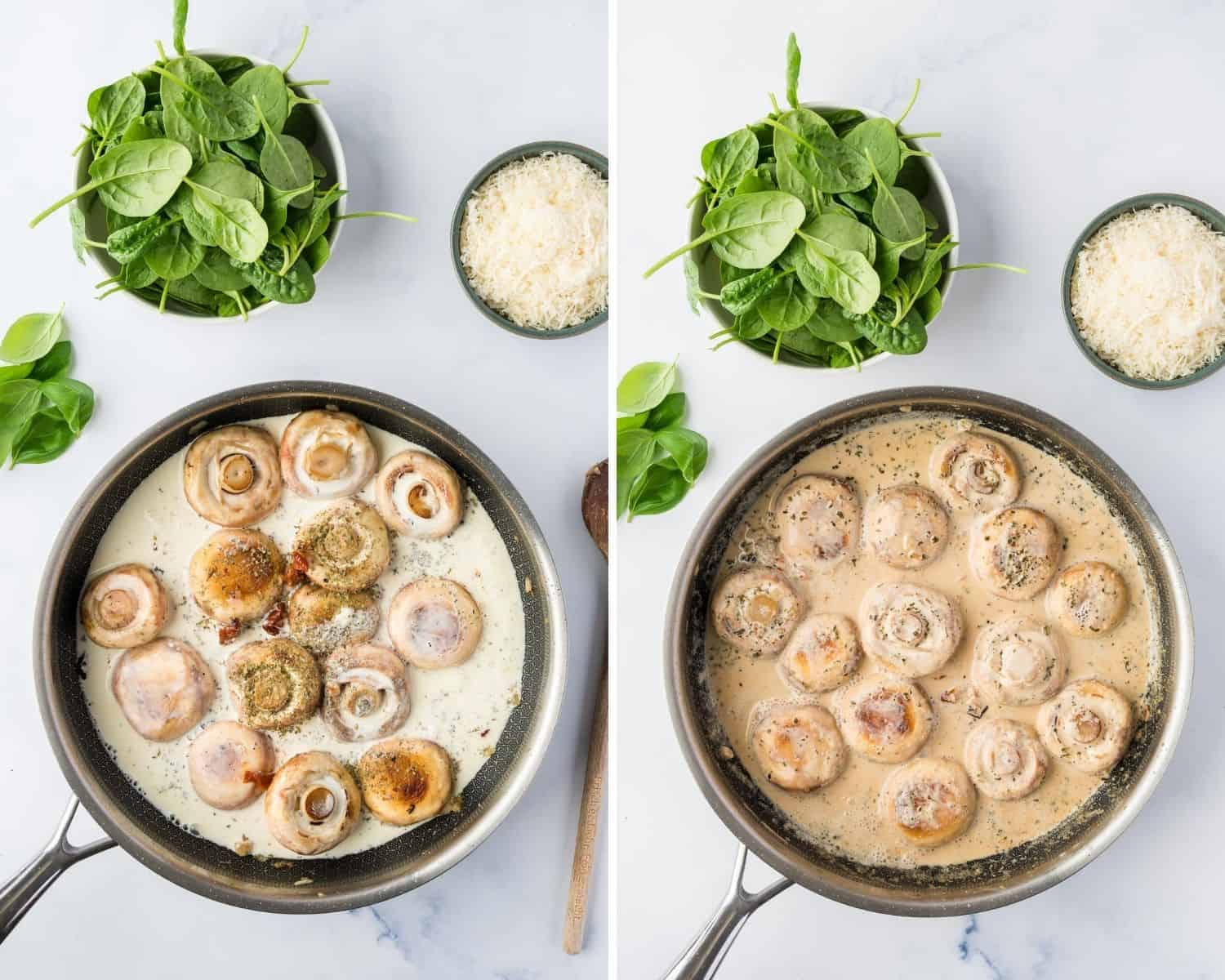 We haven't left you out, spinach! You're joining the party next. Stir the spinach into the sauce and cover the pan. The spinach will steam really quickly. Cook it just until the leaves wilt. It should be dark green yet.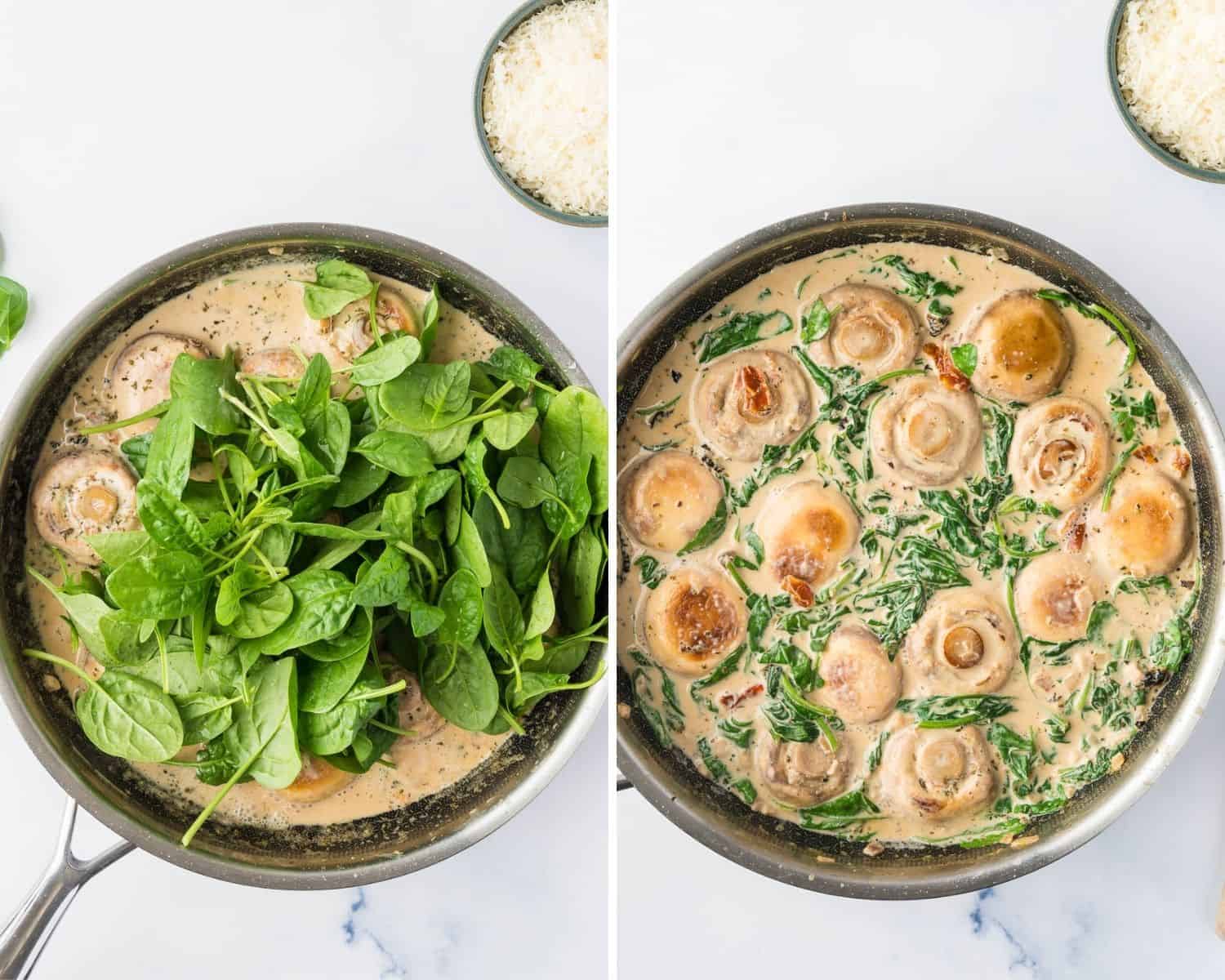 Almost there now! Stir in the cheese and return the mushrooms to the pan if they're not there already. That's it! Doesn't it smell and look just heavenly? The first time I made these mushrooms, we couldn't wait to eat them. We just scooped them right from the pan!
Oops, don't forget that fresh basil! Sprinkle it on right before serving the mushrooms.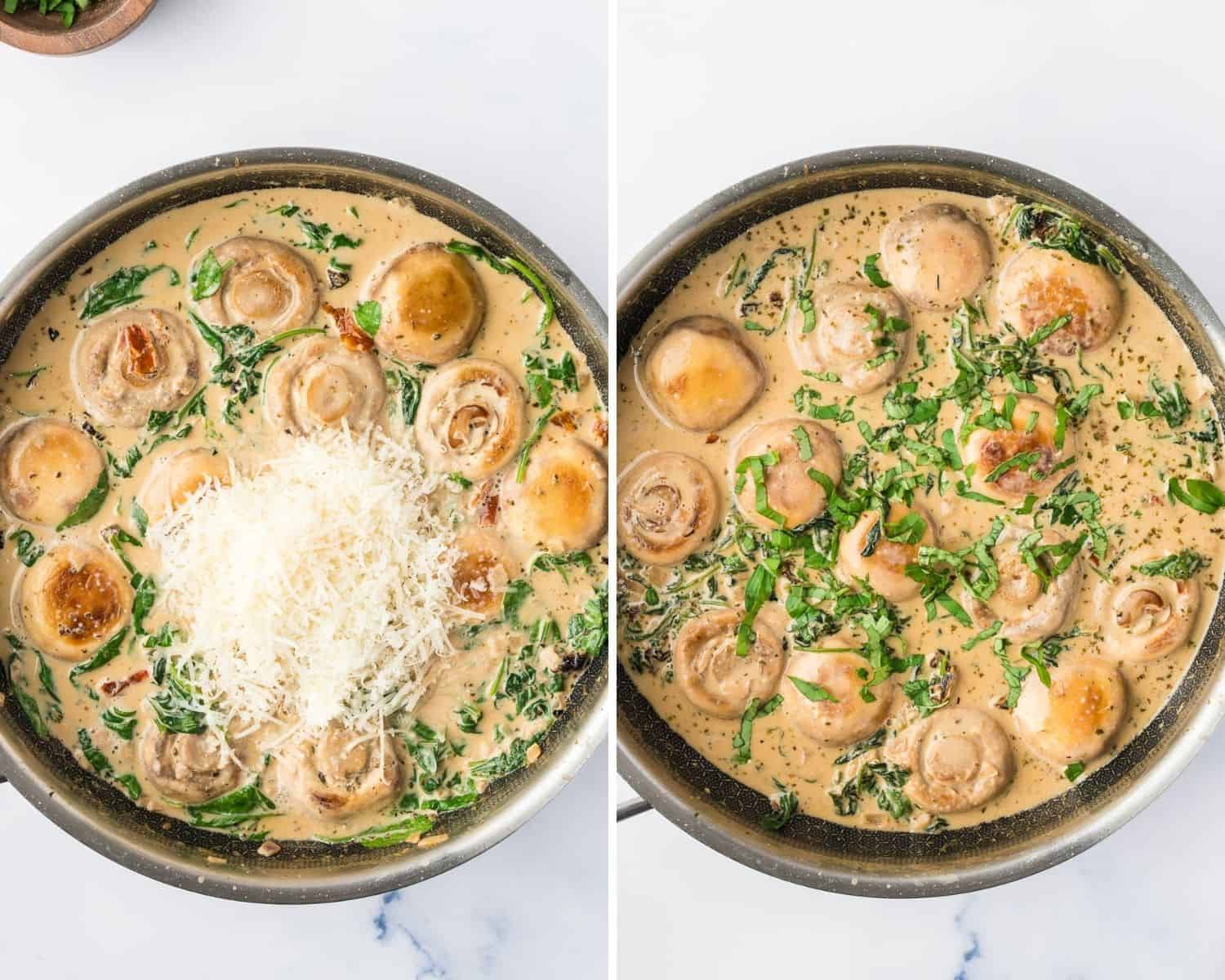 Serve Tuscan mushrooms as a meatless main course for four people, with pasta (any type), crusty warm bread, or steamed rice. They make a stunning side dish, too, with chicken, steak, or pork.
FAQs
What is the best way to clean a mushroom?
There are a couple of good ways. Use a soft-bristled brush or damp paper towel to clean off the remnants of dirt. Alternatively, give the mushrooms a quick rinse in a colander. Once mushrooms are washed, use them right away.
How do you know if a mushroom is bad?
Spoiled mushrooms may have dark soft spots and a slimy or sticky surface. If your mushrooms look like that or have an off smell, chances are they are too far gone. Throw them on your compost pile.
If you're wondering which kinds of wild mushrooms are safe to eat, my advice is never go foraging for mushrooms in the woods unless you're an expert, or at least accompanied by one. Never eat a mushroom you're unsure of.
Make It Your Own
These Tuscan mushrooms are so perfectly good, I can't think of a way to change them! Let me put my thinking cap on … okay, here's a few suggestions. They are pretty minor changes though.
Can't find oil-packed sun dried tomatoes? Substitute dry or vacuum packed sun-dried tomatoes, or maybe you've dried your own tomatoes. Use olive oil to sauté the mushrooms.
Add a little spiciness to the recipe with a 1/4 teaspoon of dried red pepper flakes.
Make this dish a bit lighter by substituting half-and-half for the heavy cream. Add a teaspoon of tomato paste to thicken the sauce, if necessary.
This recipe can easily be doubled (use a larger pan) or halved, if necessary. I personally think doubling it would be a great choice.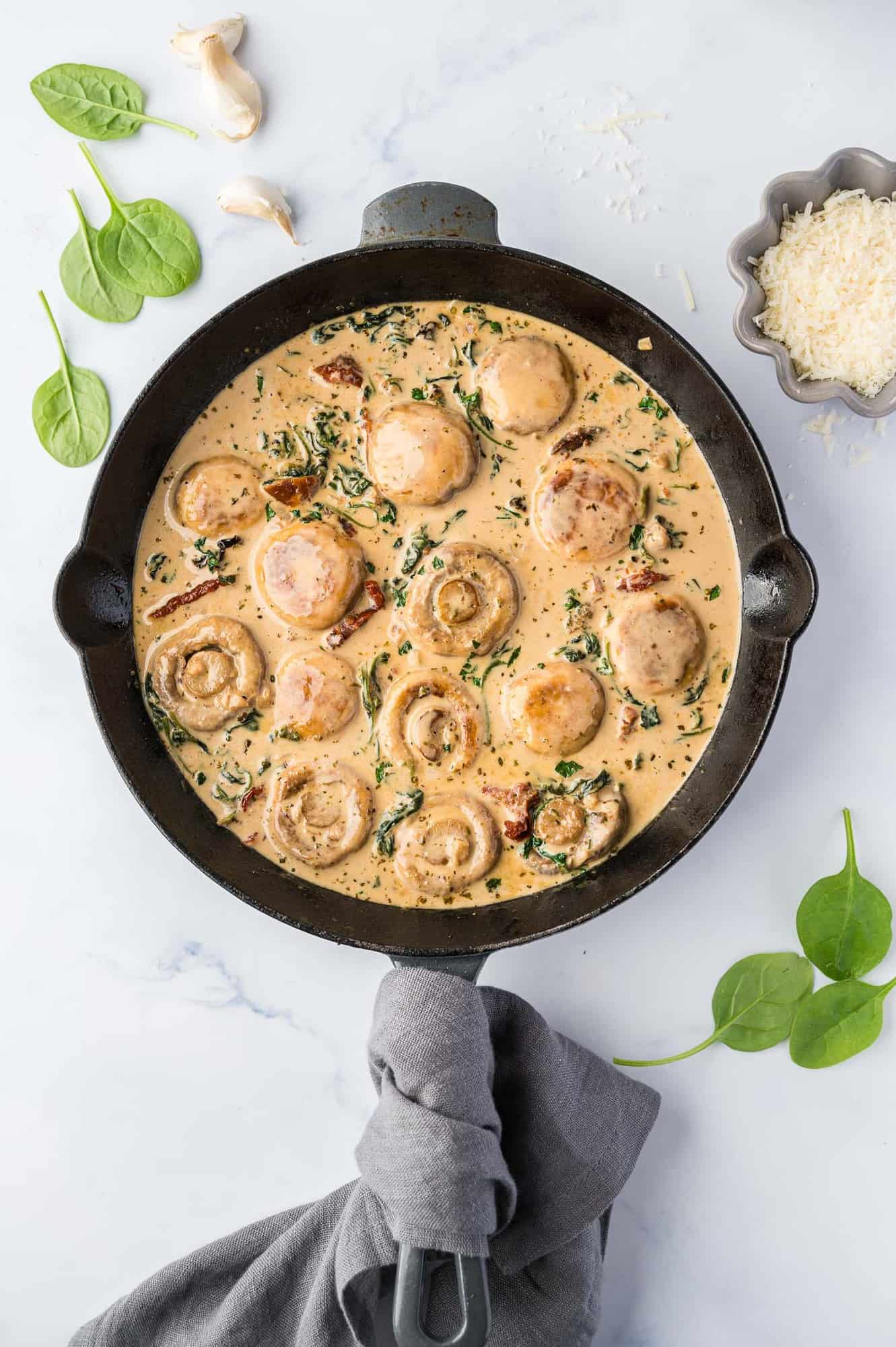 Make Ahead Ideas
You can make this recipe ahead and refrigerate it up for up to three days. Unfortunately, these mushrooms don't freeze well.
Storage & Reheating Suggestions
Leftover Tuscan mushrooms can be stored in the fridge for up to three days. Reheat in a skillet over low heat until the mushrooms are warmed through. Try not to overheat or boil the mushrooms. They can be reheated in the microwave as well.
Leftover Love
Make a delicious white pizza. Cover a flatbread or pre-baked pizza crust with leftover Tuscan mushrooms and sauce (you might want to give them a rough chop first). Sprinkle with shredded mozzarella cheese. Bake at 425°F until cheese is melted and golden. Serve with additional chopped fresh basil. You could also add thinly sliced cooked chicken breast to make it heartier.
Did you make this? Be sure to leave a review below and tag me @rachelcooksblog on Facebook, Instagram, or Pinterest!
You'll fall in love with these creamy Tuscan mushrooms with sun dried tomatoes, Parmesan cheese, and baby spinach. They're irresistibly good!
Ingredients
3

tablespoons

olive oil, divided

(or oil from sundried tomatoes)

1

pound

(16 oz.) mushrooms

(white, button, or baby bella)

1/2

teaspoon

kosher salt

1/4

teaspoon

coarse ground black pepper

1/2

cup

diced onion

(about 1 small onion)

3

cloves

garlic,

minced

1

cup

heavy cream

¼

cup

sun dried tomatoes packed in oil, drained (reserve oil!), patted dry, chopped

1/4

teaspoon

dried oregano

5

ounces

baby spinach,

roughly chopped

1

cup

shredded Parmesan cheese,

lightly packed

6-8

fresh basil leaves,

chopped
Instructions
Clean mushrooms and cut into halves or quarters if large.

Heat

2 tablespoons

of oil in a large skillet over high heat. Add mushrooms, sprinkle with salt and pepper, and cook, stirring occasionally (not constantly!), until they are golden brown and starting to release liquid, 3-4 minutes. Remove mushrooms from pan, place in a bowl, and set aside.

Add remaining

1 tablespoon

oil to pan and reduce heat to medium. Add onion and garlic, and cook, stirring frequently, for 2-3 minutes or until onions are soft and translucent.

Add heavy cream, sun dried tomatoes, and oregano. Bring to a simmer and cook for 1-2 minutes or until starting to thicken.

Reduce heat to medium-low, add spinach, and cover. Cook with lid on for 2-3 minutes or until the spinach has wilted, stirring once or twice if needed.

Stir in cheese and mushrooms and cook for another 2-3 minutes or until the sauce has desired consistency.

Stir in basil and serve as desired. See notes for suggestions.
Notes
If using sun dried tomatoes that are not packed in oil, soak them in water before draining and patting dry. Refer to the package of sun dried tomatoes for directions.
Serving suggestions: Serve with pasta, rice, or bread, or as a side for steaks, chicken, or pork.
Nutrition Information
Calories:
456
kcal
,
Carbohydrates:
12
g
,
Protein:
15
g
,
Fat:
41
g
,
Saturated Fat:
19
g
,
Polyunsaturated Fat:
2
g
,
Monounsaturated Fat:
16
g
,
Cholesterol:
99
mg
,
Sodium:
767
mg
,
Potassium:
775
mg
,
Fiber:
3
g
,
Sugar:
4
g
,
Vitamin A:
4485
IU
,
Vitamin C:
22
mg
,
Calcium:
388
mg
,
Iron:
2
mg
This website provides approximate nutrition information for convenience and as a courtesy only. Nutrition data is gathered primarily from the USDA Food Composition Database, whenever available, or otherwise other online calculators.