Roasted mushrooms are so easy to make but boast a complex flavor, enhanced by tangy balsamic vinegar and fragrant thyme.
Recipe Overview
Why you'll love it: Roasted mushrooms are an easy way to dress up a meal and they are nutritious, too.
How long it takes: 5 minutes to prep, 20 minutes to roast
Equipment you'll need: mixing bowl, rimmed baking sheet, oven
Servings: 4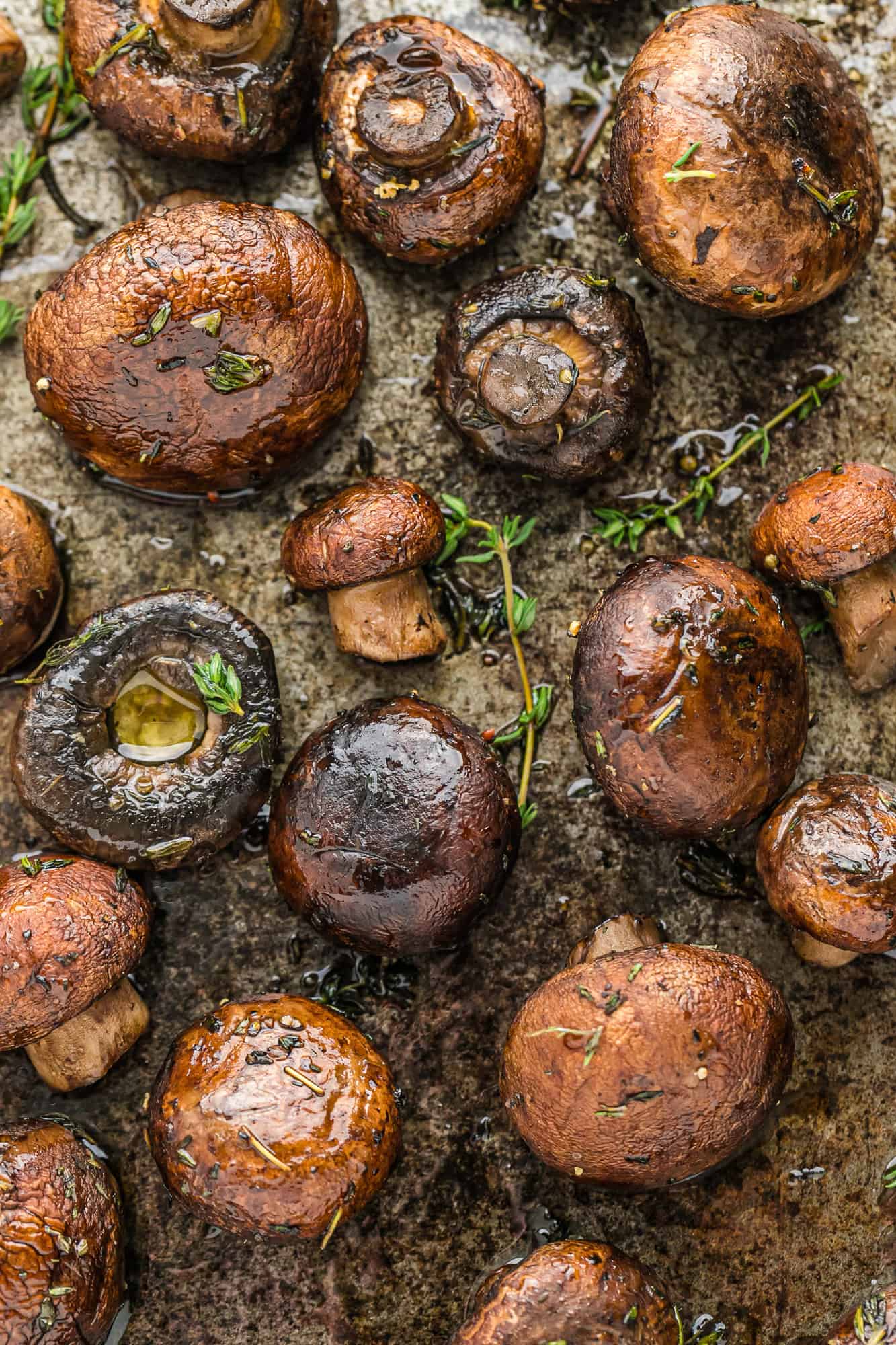 I'm on a roasted vegetable kick. Actually, that "kick" has been going on for quite awhile now. Maybe I'm just plain in love with roasted vegetables.
I also happen to love thyme. It's one of the easiest herbs to grow. Mine comes back year after year so I don't even need to plant it anymore. I can't say the same about my cilantro. I have the hardest time growing that.
And roasted mushrooms are my favorite of all roasted vegetables. I could eat an embarrassing amount of them, but I guess it is better than jelly beans, right? And don't get me going on roasted mushroom risotto.
Once you master roasting mushrooms, sautéed mushrooms should be next on your list. I'll teach you how to sauté mushrooms perfectly every single time – there's a specific method! Dress up sautéed mushrooms with Marsala; they are out-of-this-world good!Marinated mushrooms are amazing, too, and make a great side or appetizer.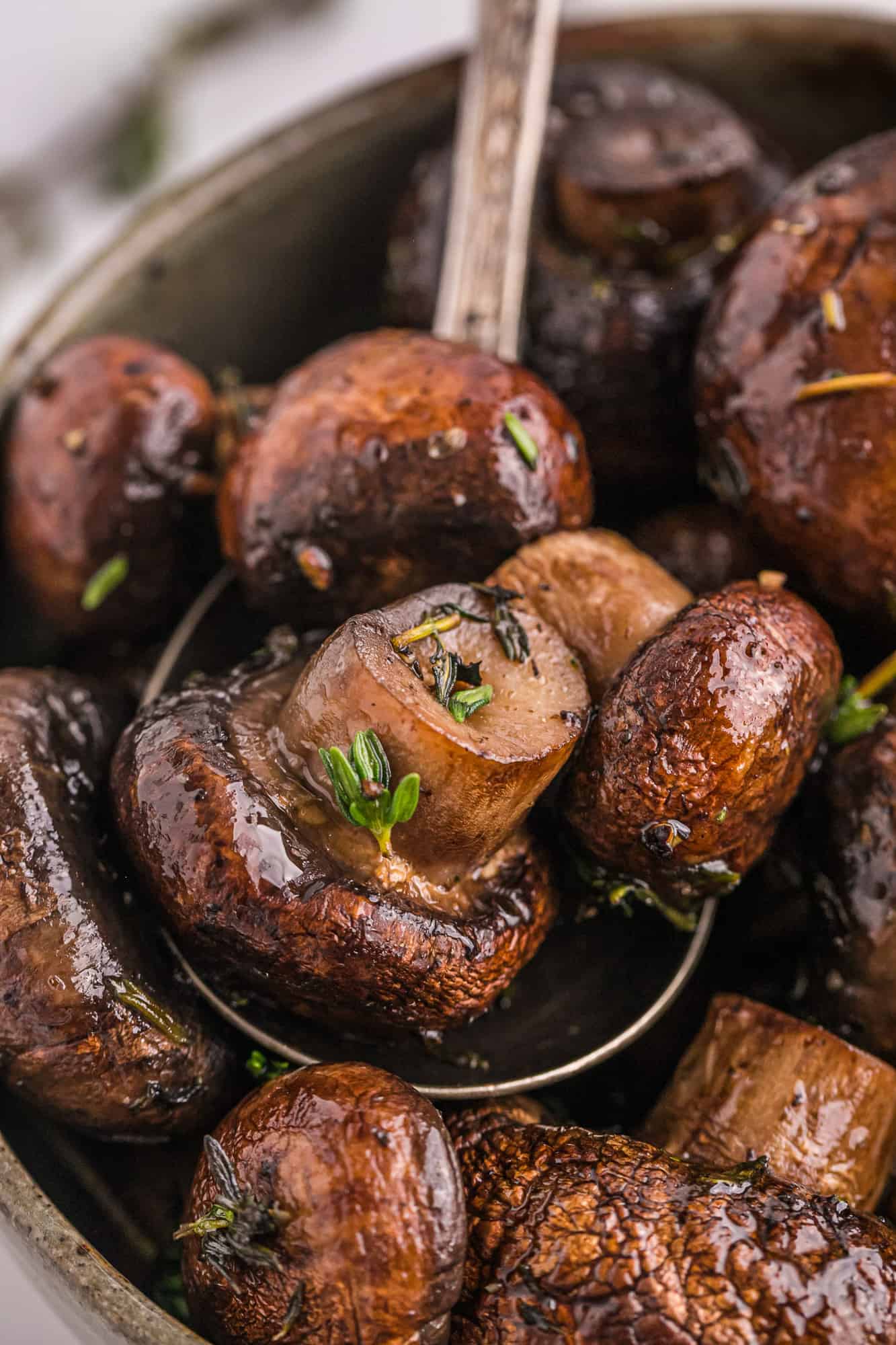 About These Roasted Mushrooms
They are super flavorful. These roasted mushrooms boast deep earthy flavors, thanks to the thyme I already mentioned, and a nice bit of tang from balsamic vinegar and Dijon mustard. Lots of umami and good flavor!
Roasted mushrooms are easy to make. With only five ingredients, you can have them in the oven in ten minutes! Most of that time is spent cleaning the mushrooms.
I'll run you through the recipe and get you started with lots of extra helpful tips.
As always, you'll find the printable recipe card with complete instructions, measurements, and nutrition information near the end of the post.
What You'll Need
Mushrooms: Yup, you definitely need mushrooms to make roasted mushrooms. Any meaty variety will work. White button mushrooms are the most common type found in supermarkets. Baby bellas or cremini mushrooms are a good choice, too.
Olive Oil: Olive oil adds great flavor and keeps the mushrooms from sticking to the pan. If you prefer grapeseed or avocado oil, that's fine.
Balsamic Vinegar: You'll love the rich flavor and color that dark balsamic adds to this dish. White balsamic vinegar works well, too.
Salt and Pepper, to taste
Fresh Thyme: If you happen to be out of fresh thyme, use dried thyme but use less, about ¼ teaspoon.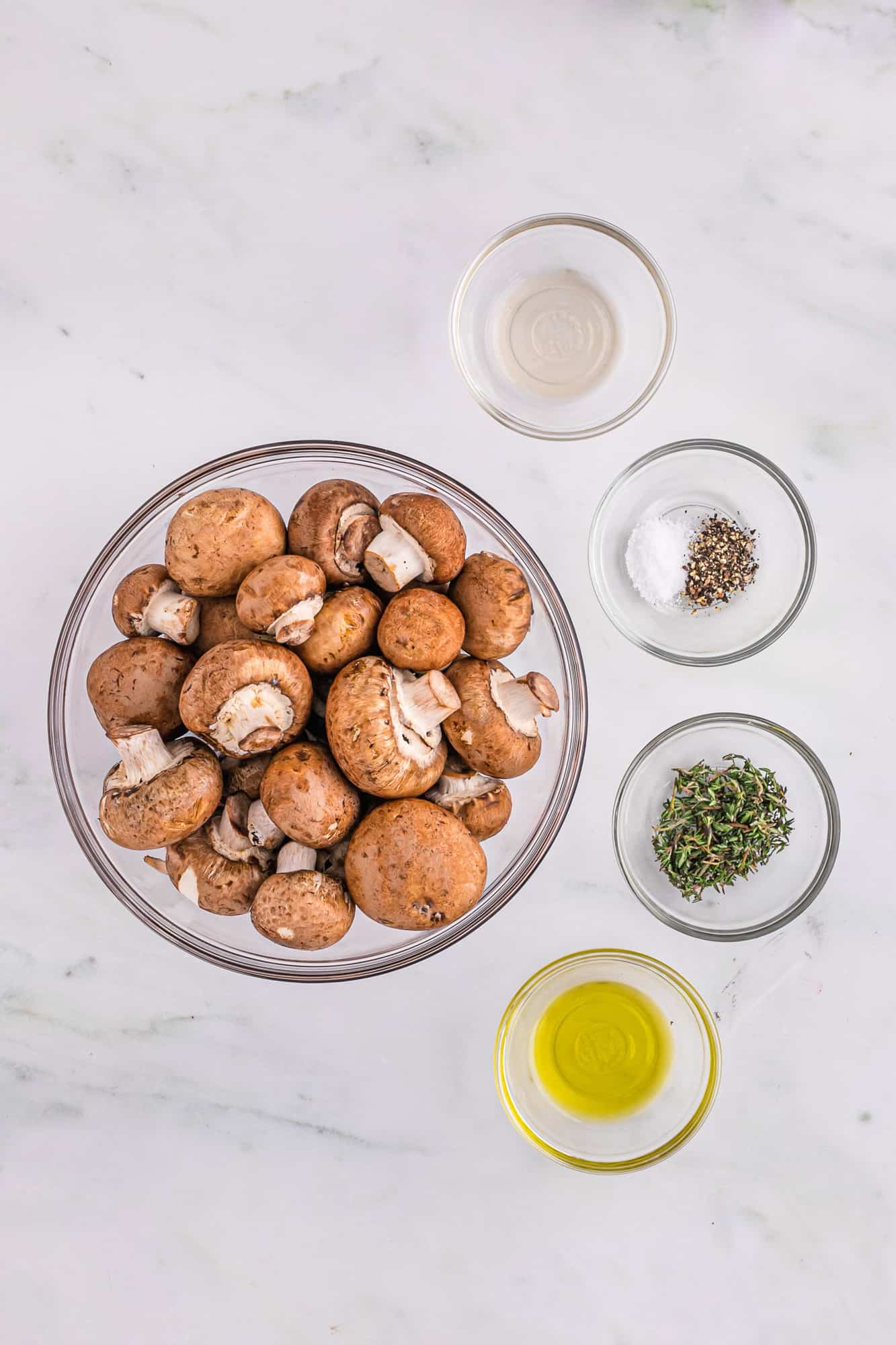 Cleaning Mushrooms
Mushrooms are like sponges – they absorb water. To clean mushrooms, lightly brush off the specks of dirt with a soft brush or damp paper towel. A very quick rinse is okay as long as you dry them quickly on paper towels or a clean lint-free dish towel.
How To Make Easy Roasted mushrooms
Begin by preheating your oven. Anytime you roast anything, the oven should be good and hot before you stick the pan in. Sometimes I even preheat the oven with the empty sheet pan so it's sizzling hot when I add the mushrooms.
Season the mushrooms. Blend together the olive oil, balsamic vinegar, and black pepper in a large bowl. Add the clean mushrooms, and toss until the mushrooms are well-coated.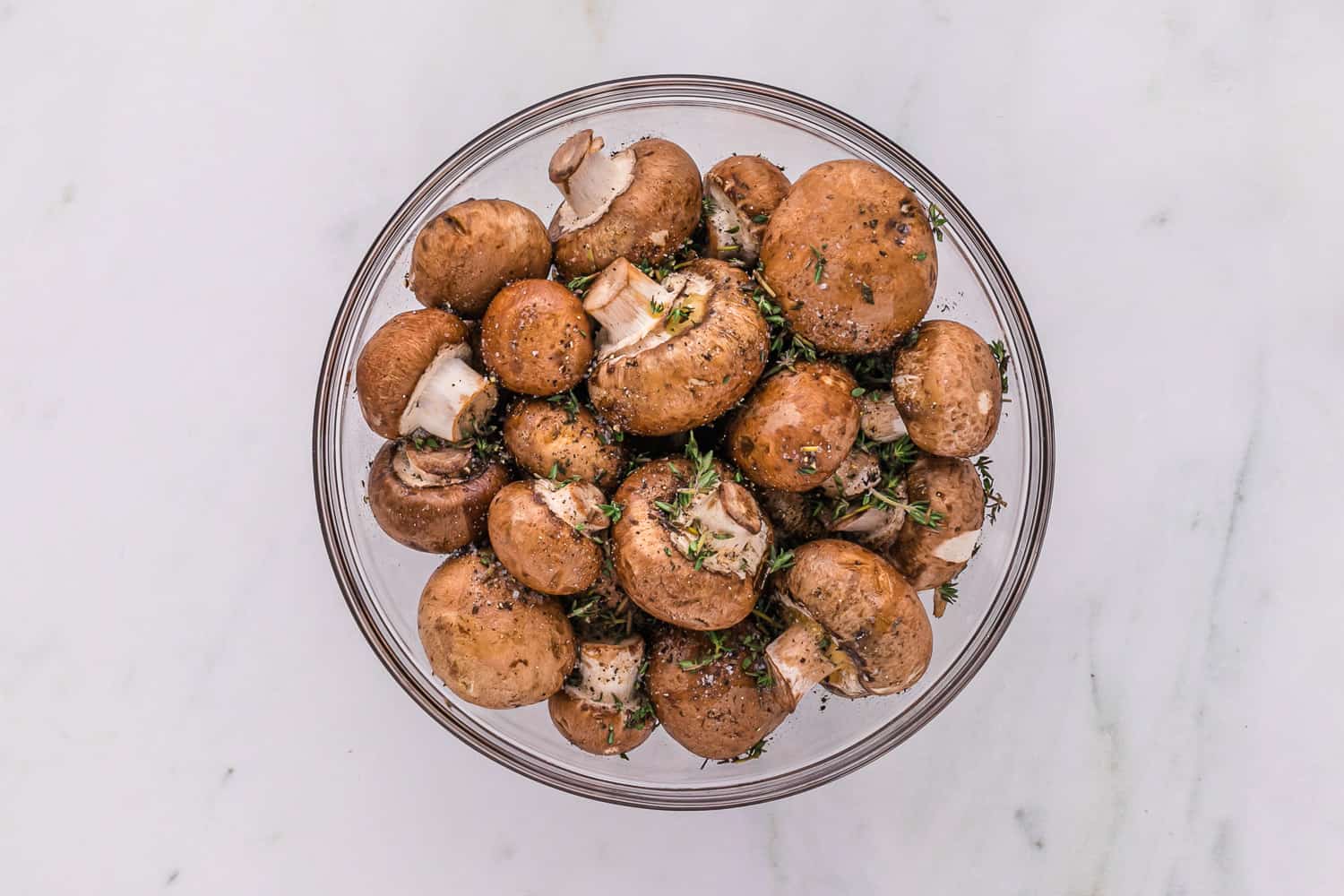 Put them on a sheet pan. Arrange the mushrooms in a single layer on a large rimmed baking sheet. Don't overcrowd the mushrooms – they need air to roast properly and not steam.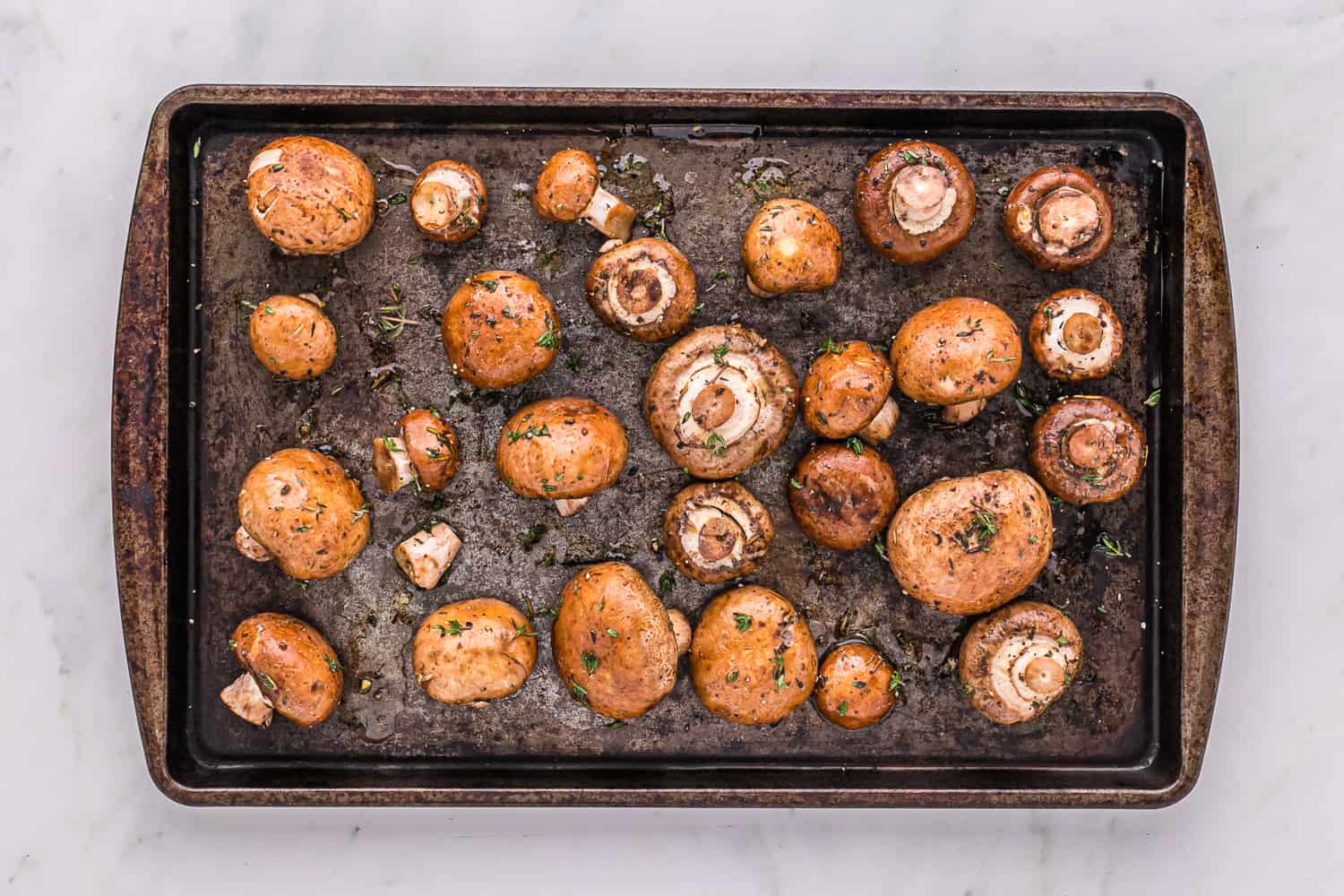 Bake for fifteen to twenty minutes, stirring once. The mushrooms should be golden brown and tender. Sprinkle with the thyme and salt to taste. That's all there is to it!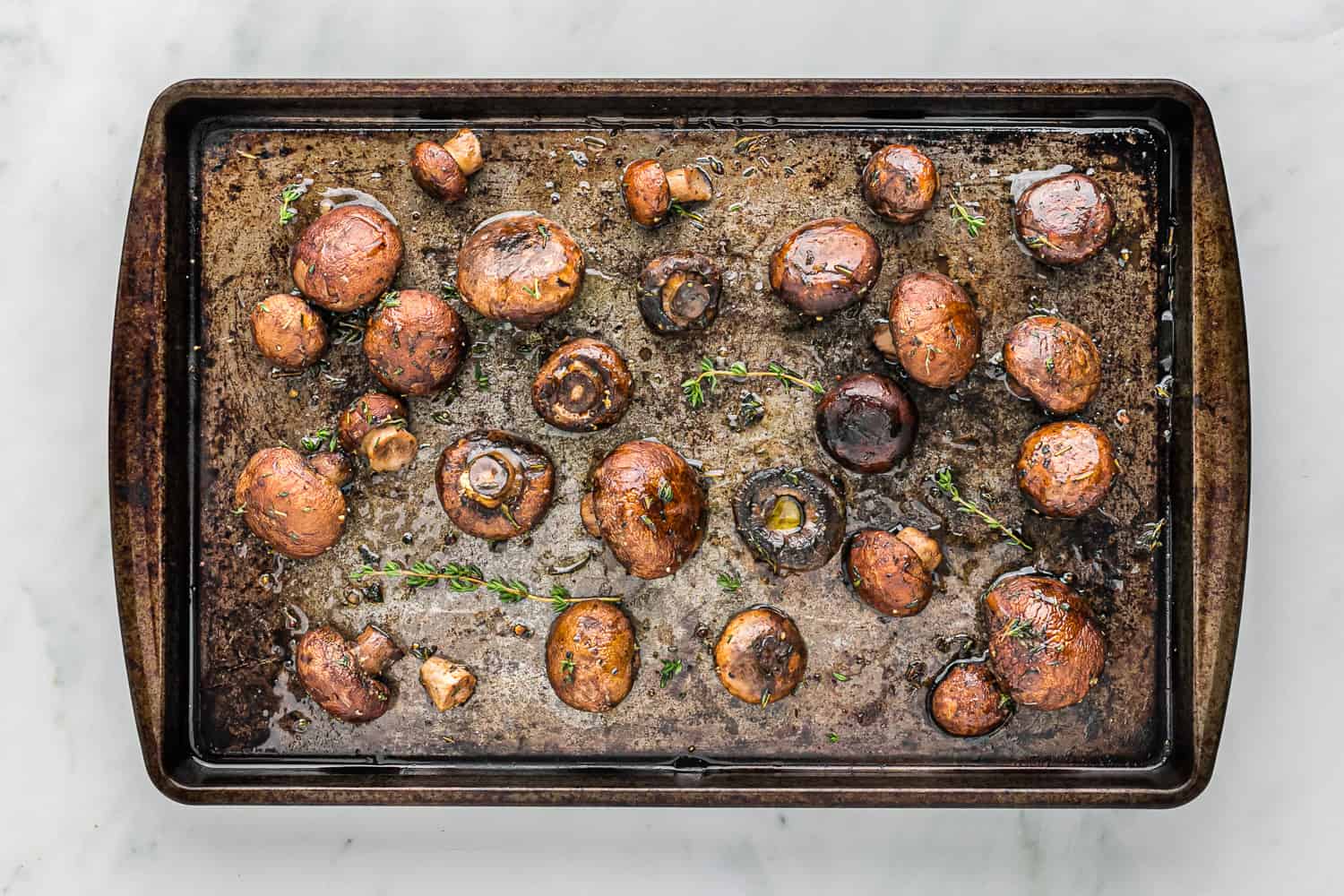 Roasted mushrooms are good served hot out of the oven or at room temperature.
How To Serve Roasted Mushrooms
As a side dish: Roasted mushrooms are a perfect with any great meal — pork, chicken, steak, tofu, you name it. Try mushrooms with roasted salmon. You can roast them both at the same time.
On a salad: Roasted mushrooms are fantastic tossed on a green salad. Double the amount of the oil/vinegar mixture that you use to roast the mushrooms and use half as a vinaigrette for your salad. Easy!
In a wrap: Try my roasted vegetable wrap with creamy pesto mayo.
In bowls and grain salads: Roasted mushrooms add so much to bowls and grain salads, like this farro salad with butternut squash, bacon and cranberries. Add them to pizza, tacos or nachos. Make amazing appetizers like wild mushroom crostini with goat cheese.
As a snack: I like to just munch on these roasted gems like candy. It's almost the same, right?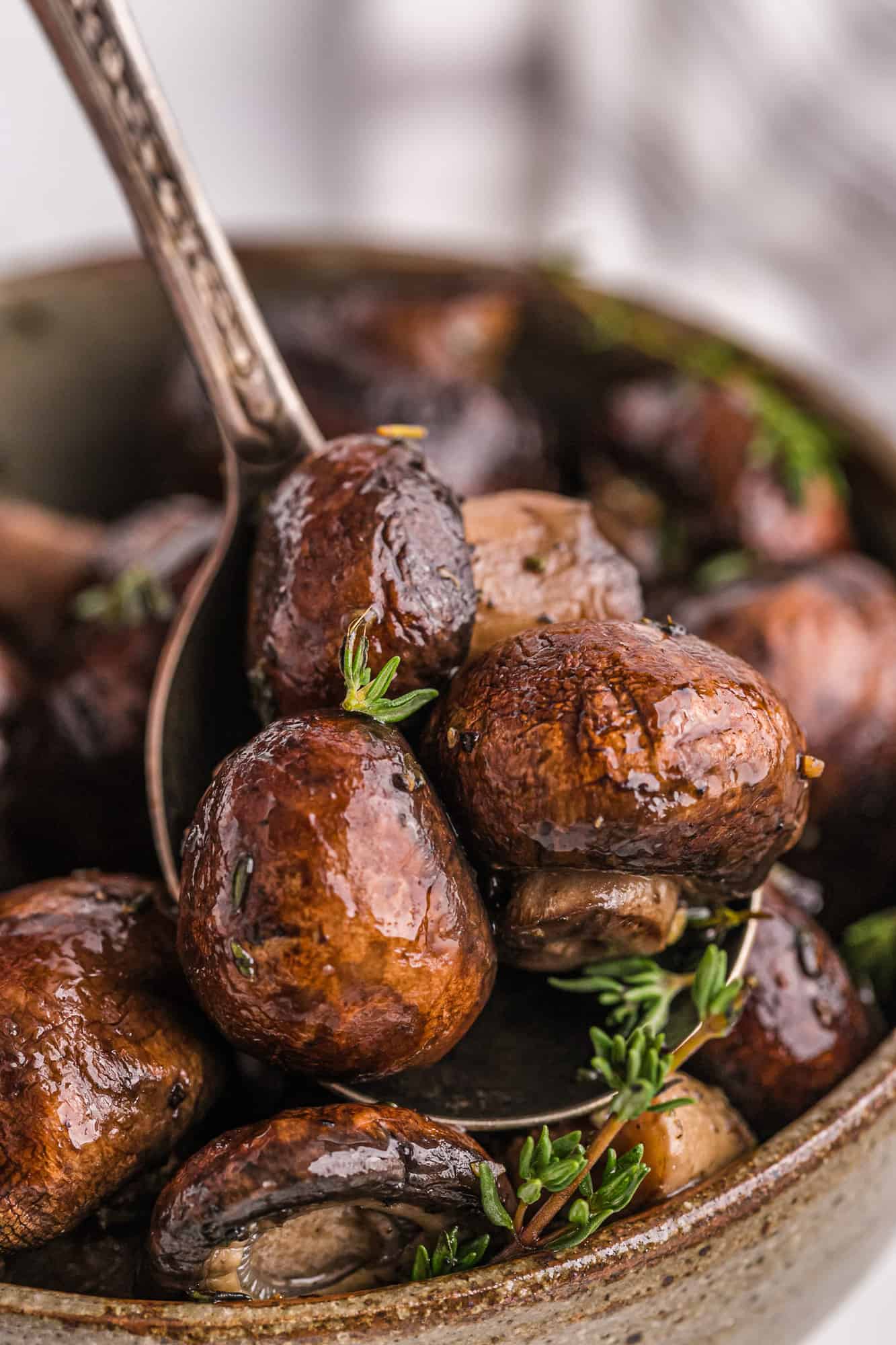 FAQs
Are roasted mushrooms good for you?
According to our friends at Kitchn, scientific research tells us that the healthiest way to cook mushrooms is to grill or microwave them. Less nutrients are lost during the cooking process than if you fried or boiled them because cooking water or oil leaches nutrients out. While they do not address roasting directly, I would surmise that roasting is a healthy way to cook mushrooms because very little oil or water is used.
How do you bake mushrooms without making them soggy?
Mushrooms are always going to have a somewhat meaty texture. They don't get crispy unless they are battered and deep-fried. Here's a few hints for delicious roasted mushrooms:
*Don't soak the mushrooms when you wash them. They are very absorbent. Simply brush the dirt off with a brush or damp paper towel.
*Make sure your oven is good and hot.
*Don't overcrowd the mushrooms on the pan. Good air circulation is crucial so you don't steam the mushrooms.
Do you salt mushrooms before roasting?
Salt draws moisture out so if you add salt before roasting, you run the risk of excess moisture in the pan which leads to excess steam.
Season the mushrooms with coarse salt, to taste, after they've finished cooking.
Make It Your Own
Substitute a different variety of mushroom. I'd love to try this recipe with morels if I can only get my hands on some!
Tweak the seasoning. Add ¼ teaspoon garlic powder (or more if you love garlic). Dried herbs such as Italian seasoning, rosemary, oregano, or basil are good. Really, the seasoning is totally up to you. Be creative!
Don't like mushrooms? Okay, this recipe may not be the one for you but guess what? You can substitute a different vegetable for the mushrooms. Try Brussels sprouts, broccoli, green beans, carrots, asparagus, parsnips, etc. The balsamic and thyme combo is good on everything! P.S. A mixture of vegetables is good, too, as long as you combine vegetables that cook in about the same amount of time.
Don't want to turn the oven on? This recipe can be made in a skillet or air fryer. Try air fryer mushrooms with garlic and shallots; they turn out really well. Another choice is sautéed mushrooms with wine and garlic or creamy Tuscan mushrooms.
Make-Ahead and Storage Tips
Roasted mushrooms can be made ahead. They'll keep in the refrigerator in a tightly covered container for up to five days. While fresh mushrooms can't be successfully frozen, roasted mushrooms can be frozen for up to three months.
Make a double or triple batch while you've got everything out and the oven is on, and store some for future use.
To reheat: Thaw frozen mushrooms overnight in the fridge if you can. Gently reheat them in a skillet on the stove until heated through. If necessary, add a drop or two of water, broth, or balsamic vinegar to rehydrate.
More Roasted Vegetables
Roasting vegetables brings out so much natural sweetness and flavor. It's an easy cooking method and you can even use your air fryer to roast. Try:
Did you make this? Be sure to leave a review below and tag me @rachelcooksblog on Facebook, Instagram, or Pinterest!
Roasted mushrooms are so easy to make but boast a complex flavor enhanced by tangy balsamic vinegar and fragrant thyme.
Instructions
Preheat oven to 400°F.

In a large bowl, toss mushrooms with oil, balsamic vinegar (if using), and pepper. Spread on a rimmed baking sheet in a single layer.

Bake for 10 minutes, toss with a spatula or spoon, and bake for 5-10 minutes more or until mushrooms are tender and golden brown. Sprinkle with salt and thyme, and serve warm or at room temperature.
Notes
Most types of mushrooms can be roasted such as baby bella, cremini, morel, shitake, etc.
Make Ahead: Mushrooms can be roasted a day or two ahead and refrigerated. Warm gently in small skillet or oven.
To Freeze: Make a double batch and freeze the extra roasted mushrooms for up to 3 months. If you can, thaw them overnight in the fridge, and reheat gently in a skillet or the oven. If necessary, add a splash of balsamic or broth to rehydrate them.
Nutrition Information
Calories:
91
kcal
,
Carbohydrates:
5
g
,
Protein:
4
g
,
Fat:
7
g
,
Saturated Fat:
1
g
,
Polyunsaturated Fat:
1
g
,
Monounsaturated Fat:
5
g
,
Sodium:
297
mg
,
Potassium:
368
mg
,
Fiber:
1
g
,
Sugar:
3
g
,
Vitamin A:
13
IU
,
Vitamin C:
3
mg
,
Calcium:
6
mg
,
Iron:
1
mg
This website provides approximate nutrition information for convenience and as a courtesy only. Nutrition data is gathered primarily from the USDA Food Composition Database, whenever available, or otherwise other online calculators.